I love when the sweet corn comes in, here in the midwest.  You practically don't even need to cook it.  The farm stands are a treasure trove right now, so with fresh, local corn, potatoes, onions and tomatoes, I tried making a corn chowder for the first time.  Just a simple, basic corn chowder that I tweaked slightly.  This Summer Corn Chowder is fantastic, tastes like summertime in a bowl.
I wanted the vegetables to shine, so no bacon or heavy cream here, sorry.  This is straight forward and delicious.  When I was making it, the cobs simmering in water and the onions and potatoes sautéing, Meathead yelled from the living room, "Man, it smells incredible in here!".  It really did smell good, fresh and sweet and corny ~ that's how I'd describe it.
After cutting off the kernels, the cobs simmer in water for about 20 minutes and becomes the basis of the broth.  Milk is added at the end.  It is a thin broth that's loaded with flavor.  I also add some jalapeño for a little kick.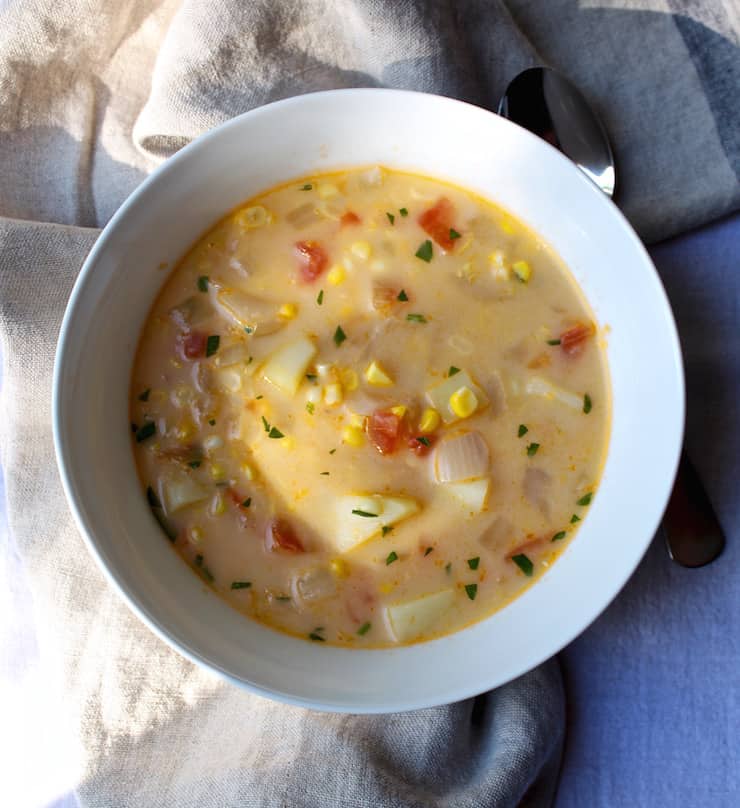 You won't miss the bacon or heavy cream, I didn't, and we love bacon and cream anything in this house.  Summer Corn Chowder ~ simple, fresh and satisfying.  Go ahead, make it now while the corn is at it's delicious peak of corniness 🌽
Best, Kelly
Summer Corn Chowder
Seasonal corn chowder with summer sweet corn, simmering the cobs to extract all the flavor for the chowder base, with potatoes and onions and a little kick from jalapeño.
Ingredients
6

ears of corn

1

tablespoon

butter

1

medium

onion, chopped

2

medium

Yukon gold or other waxy potatoes, peeled and diced

Kosher salt and fresh cracked pepper

1

large

in-season tomato, cored, seeded and chopped

1

jalapeño, finely diced

1

cup

whole or low-fat milk

Chopped parsley, for garnish (optional)
Instructions
Shuck corn and remove/strip kernels into a bowl. Put the cobs in a pot and cover with 4 cups of water. Bring to a boil, cover and turn heat down to simmer for about 20 minutes.

Melt butter in a large saucepan until hot and then add onions and potatoes. Sprinkle with salt and pepper and cook, stirring frequently, until onions soften, about 5 minutes or so. Add the chopped tomato and jalapeño and cook another 2 - 3 minutes.

After the cobs have simmered 20 minutes, strain the liquid into the onion/potato mixture. Bring to a boil and then lower heat to a simmer. Check potatoes with small knife and when tender, add corn kernels and milk, and heat through. Taste and adjust for salt and pepper. Garnish with chopped parsley and serve.
*Adapted from Mark Bittman
You might also like this minestrone using farm fresh summer ingredients.