I'm sure you've heard about the flooding in Missouri.  We live outside of St. Louis in the Eureka-Pacific area, and boy oh boy, did we get hammered.  It started raining pretty hard and steady the day after Christmas and by the afternoon, our creek flooded and we couldn't access the driveway.  Then all the rivers around us started rising and cresting and flooding roads shut.  We couldn't get anywhere for a week.  We did not experience any damage because we live up on a hill.  But my friends and neighbors in Eureka saw a lot of water and destruction.  My thoughts and prayers are with them as they clean and rebuild.
We made it to a grocery just before that area had a boil water order put in effect.  The store said once the deli sells out, that's it.  Anyway, I decided I wanted soup.  Vegetable beef soup.  I got all the ingredients and made it the next day.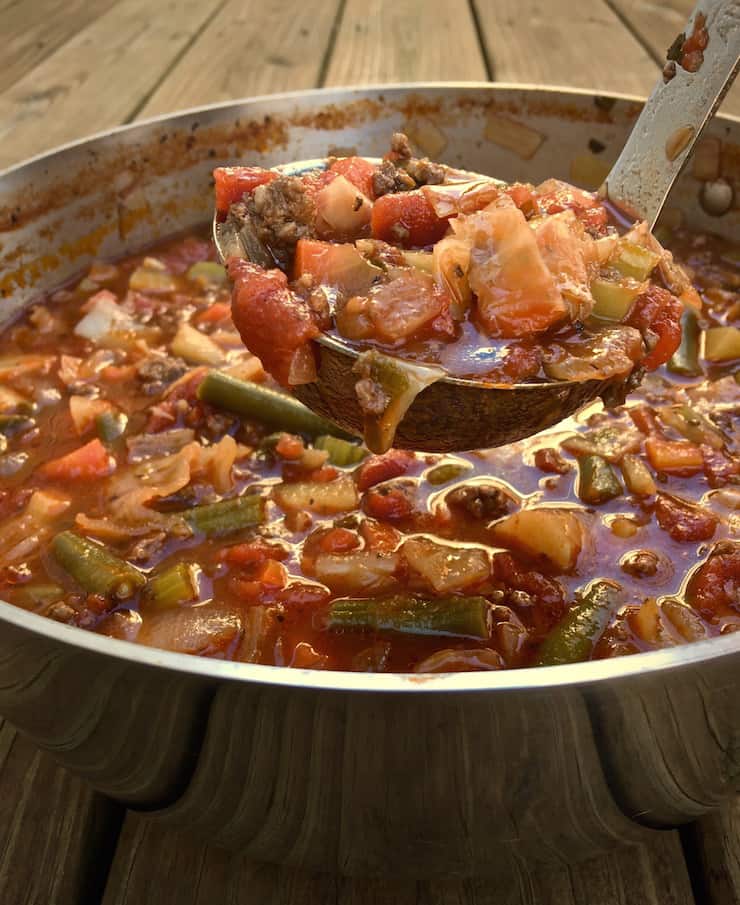 When my mom was recuperating from hip replacement surgery a few years ago, my aunt brought us some homemade soup.  It was freezing outside in Chicago and we heated up the soup and I was in heaven.  I kept saying, "Did she put wine in this?  I think I taste wine, a lot of wine, do you?  What's in this soup, it's so good?!?".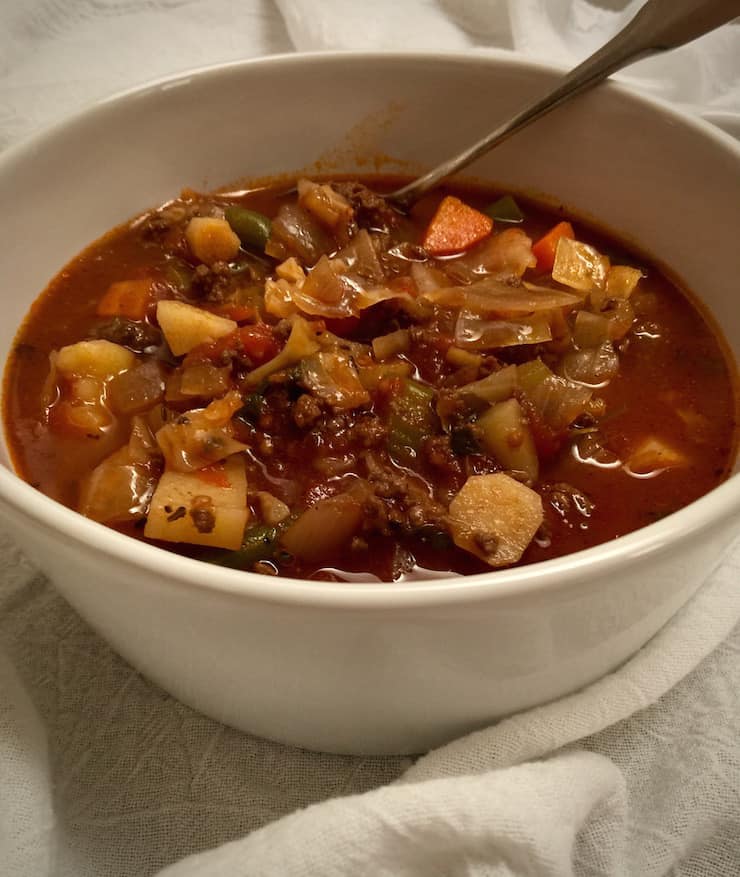 Once again, like so many of the recipes in my drawer, I have a piece of a notepad that my mom jotted down how to make the soup, while she was on the phone with my aunt.  And let me tell you, she jotted down the ingredients and a few instructions.  But I have managed to make it many times, and it's delicious, almost as good as my aunt Nancy's.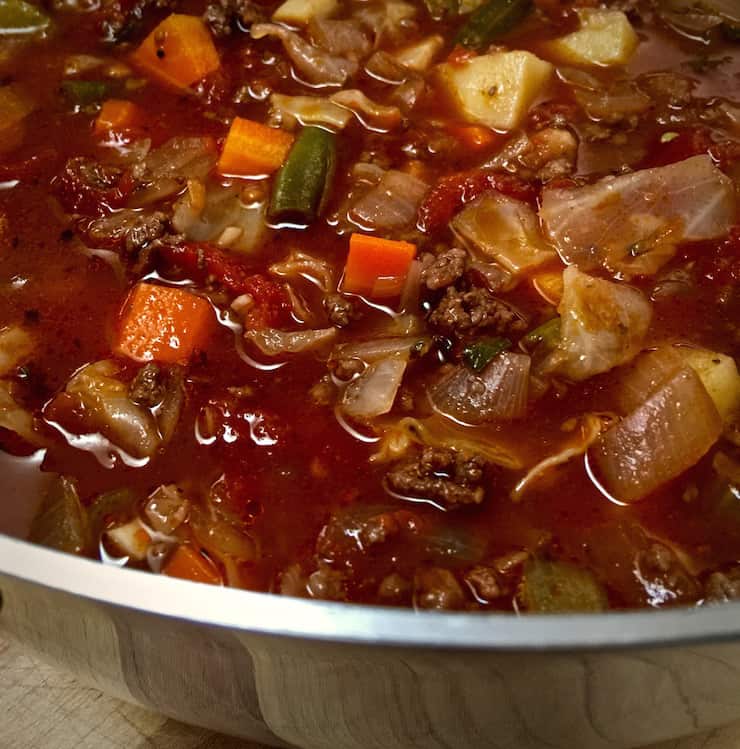 Holidays are over, we survived the 2015 Christmas flood and the weather is getting colder. Soups and stews and slow braises are what I crave this time of year.  Try this soup, it will warm you up and put a smile on your face.
Here's a little video to watch, just click on link below.
Best, Kelly
Vegetable Beef Soup
Makes a big pot of soup, 8-10 servings, maybe?
Ingredients
3 medium onions, chopped
2 tablespoons butter
1 pound ground beef sirloin
2 – 3 cloves garlic, finely chopped
1 cup potatoes, cubed
1 cup celery, sliced
1 cup fresh green beans, cut into 1-inch pieces
1 cup carrots, chopped
1 cup parsnips, chopped
1/2 head small green cabbage, roughly chopped
2 tablespoons fresh parsley, chopped
½ teaspoon basil
¼ teaspoon thyme
3 cups beef broth or stock
1 cup red wine (a little more, if you prefer)
2 large 29-ounce can whole tomatoes and their juices, crushed by hand
Kosher salt and pepper, to taste
Optional: small amount of corn, peas or baby lima beans
Instructions
In a large dutch oven, melt 2 tablespoons butter.  Add chopped onions, a pinch of salt, and cook until translucent, about 5 minutes.  Add garlic, cook 1 minute until fragrant and then add the ground beef.  Break up beef with wooden spoon and cook until no longer pink.
Add the tomatoes, beef broth and wine.  Stir well and then add the parsley, basil and thyme.  Season with salt and pepper.  Add the vegetables: potatoes, celery, green beans, carrots, parsnips and cabbage (and any other optional veggies).  Stir well to combine and bring to a boil.  Reduce heat to low, cover and simmer for 1½ hours, until the vegetables are all tender and the soup broth has fully developed.
If soup seems too thick and needs more liquid, thin it with some chicken stock.