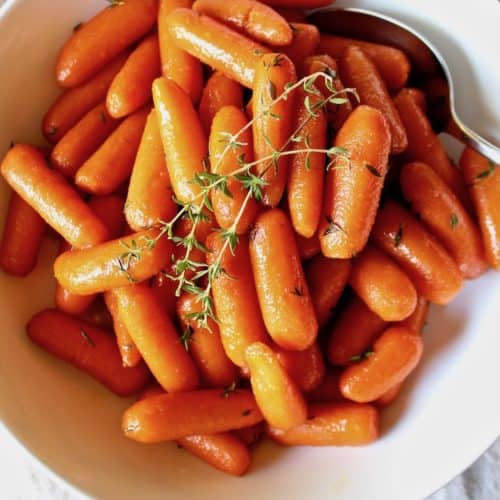 Print
Honey Brown Sugar Glazed Carrots
Baby carrots cooked on the stovetop in butter, honey and brown sugar until tender and glazed, finished off with a sprinkling of fresh thyme.
Rinse baby carrots in cool water and pat dry. Melt butter in large skillet over medium high heat. Add carrots and stir to coat in butter.

Add brown sugar and honey, stir and toss to coat well and brown sugar melts. Cook carrots until tender and glazed, stirring often, about 10 - 15 minutes, depending on size of carrots.

Season with a bit of salt and then stir in fresh thyme leaves. Transfer to serving bowl, spooning glaze over top of carrots.
Like I mentioned above, be picky and choose fresh looking baby carrots.  You can also use 2 pounds of regular fresh carrots (nice ones with the greens attached), peeled and cut into 1½-inch pieces.  Whatever looks best and is easier for you!
The smaller the carrot, the faster it'll cook.
I use salted butter, use what you like and taste and adjust for salt.