The best, and my personal favorite, cherry pie ~ tart cherries, in season or canned, tossed simply with sugar and tapioca and baked in a perfectly flaky crust.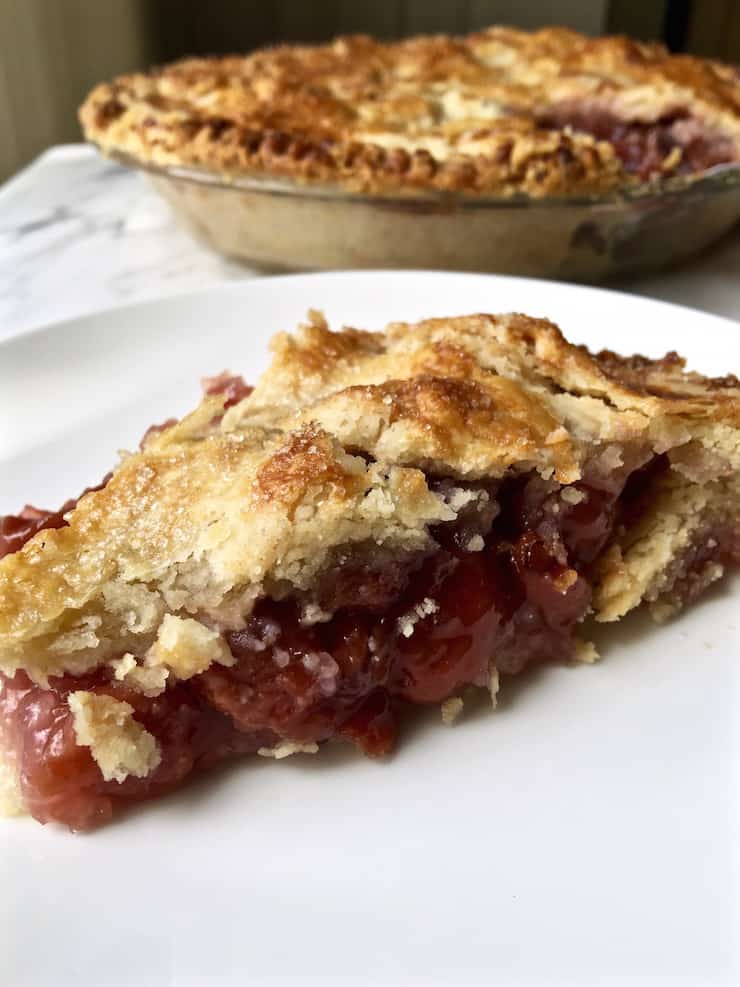 Here I go again with one of my stories from "long ago". When we lived in Chicago, near Wrigley Field, I would get up early on Saturday mornings and go to the farmers market in Lincoln Park. This really was before farmers markets became plentiful and popular. I knew most of the vendors and often chit-chatted away with them about their produce and flowers. I absolutely loved those Saturday mornings. And then, my friend and I would talk that weekend about what we found that week at the market. "Did you see the gladiolas? Sweet corn is in. They had cherries today!"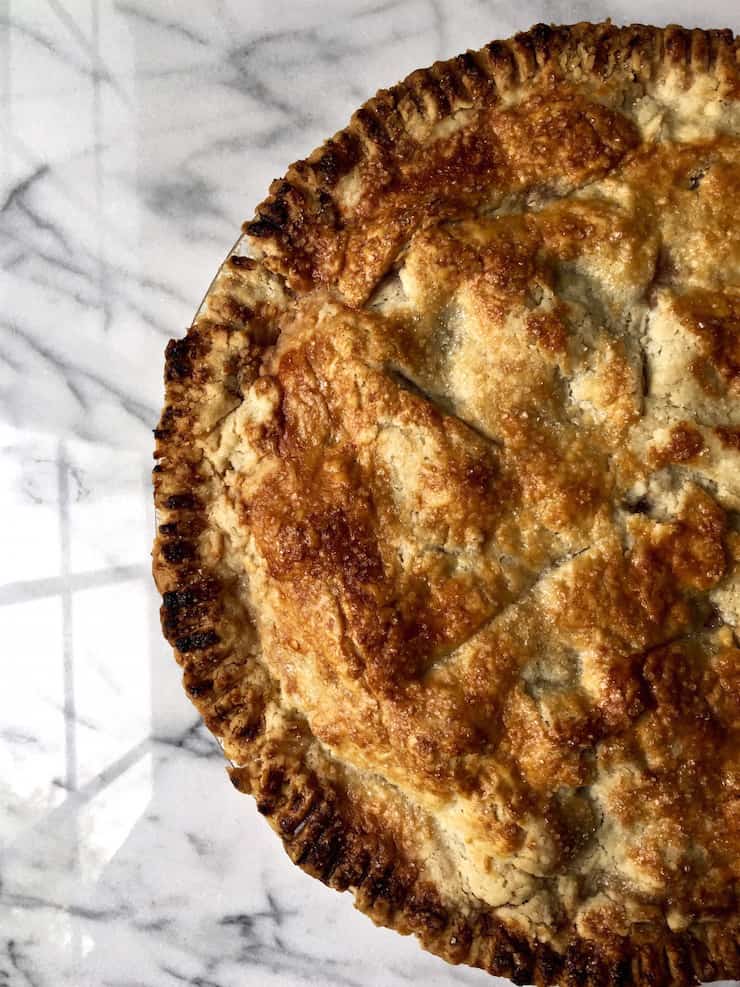 The "Fruit Man" was from Michigan. For a very short window, two weeks, maybe three, he had tart cherries. Gorgeous, unblemished, just picked tart cherries. I'd buy a couple containers and go home and make a cherry pie that day. If Almost Hungry, who was about three years old, saw the cherries on the counter, she would squeal "Cherry pie!!". Then the three of us, when it was done, would eat that cherry pie right up. I also usually gave a piece or two to neighbors.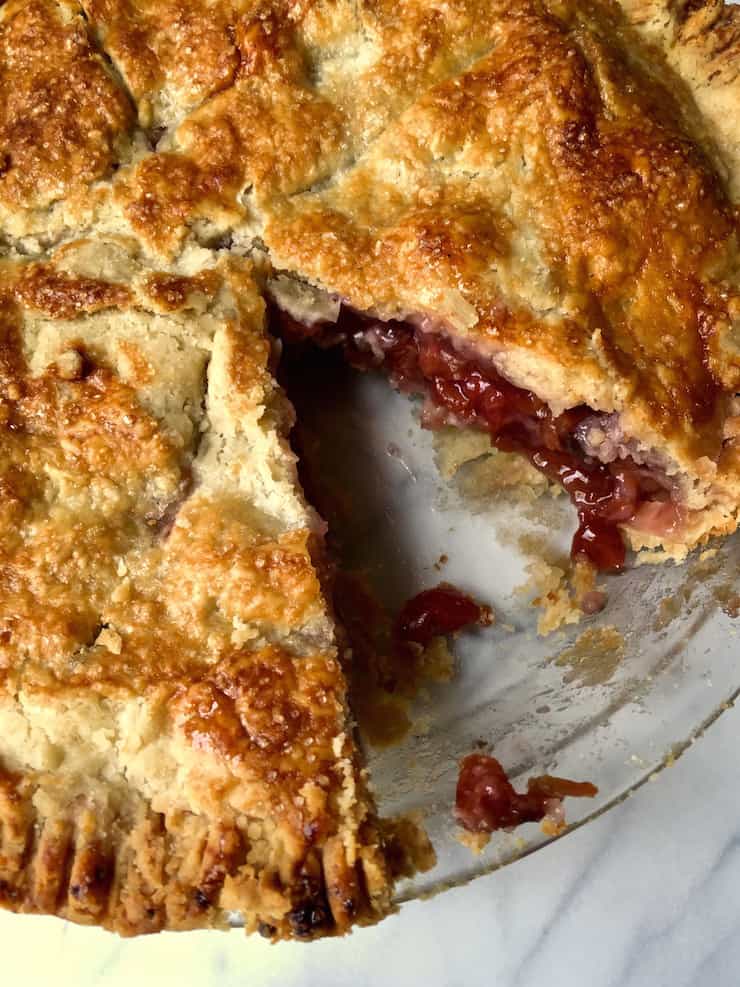 Then we moved. First to Minnesota and then to Missouri. No more Michigan cherries. Someone recently told me of a farm stand here that once in a blue moon gets them in. I may have to check it out. So what to do when the cherry pie cravings hit and the requests come in? Use canned tart cherries. They are very good and will more than please when fresh aren't available, or the fresh don't look so hot. They have a very short shelf life.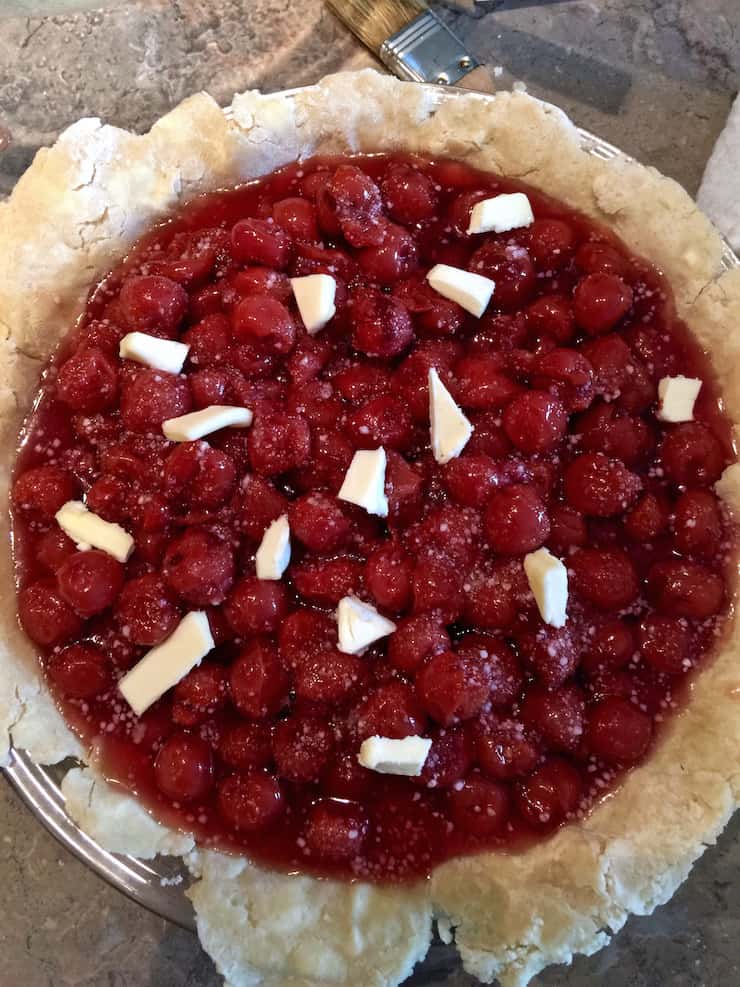 The filling couldn't be easier. Fresh cherries are not hard to pit, and the canned ones are already pitted. The crust is a different story. Back then I made a crust that used butter and shortening. Sometimes it turns out great, other times not so great. Nowadays I don't really like to use shortening (or any partially hydrogenated oil) when I cook or bake. But I will use lard. Don't get grossed out. Butter and lard make the best pie crust. Use shortening if you must, or better yet, I heard you could freeze vegetable oil, rendering it solid. Try that if you can't bring yourself to use lard. Adding the right amount of ice water is also tricky.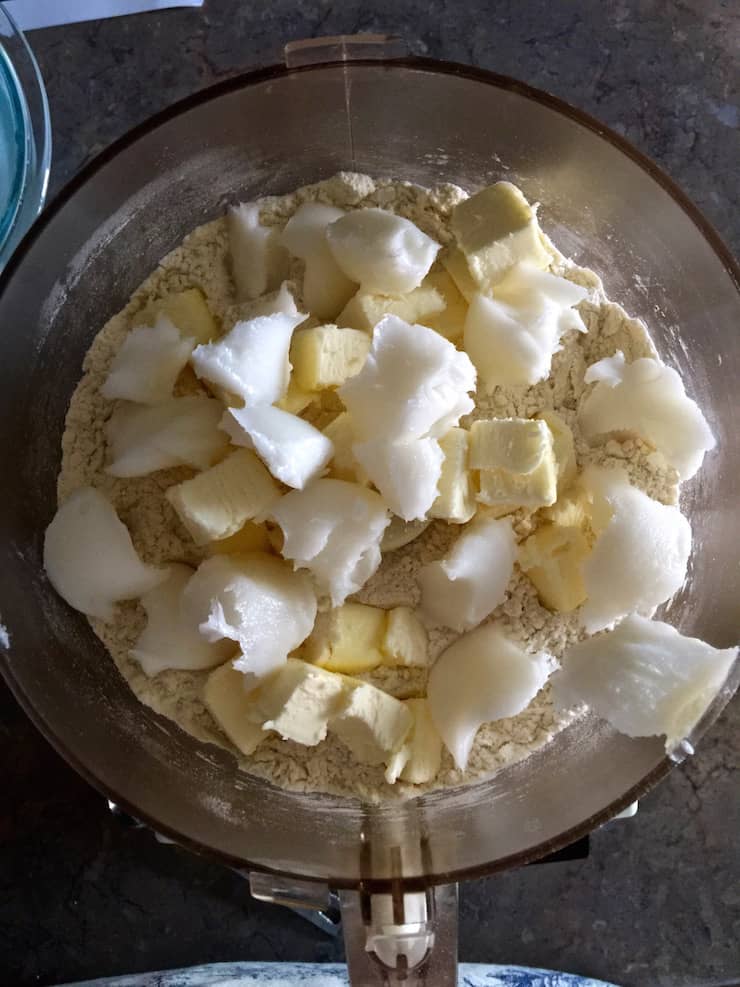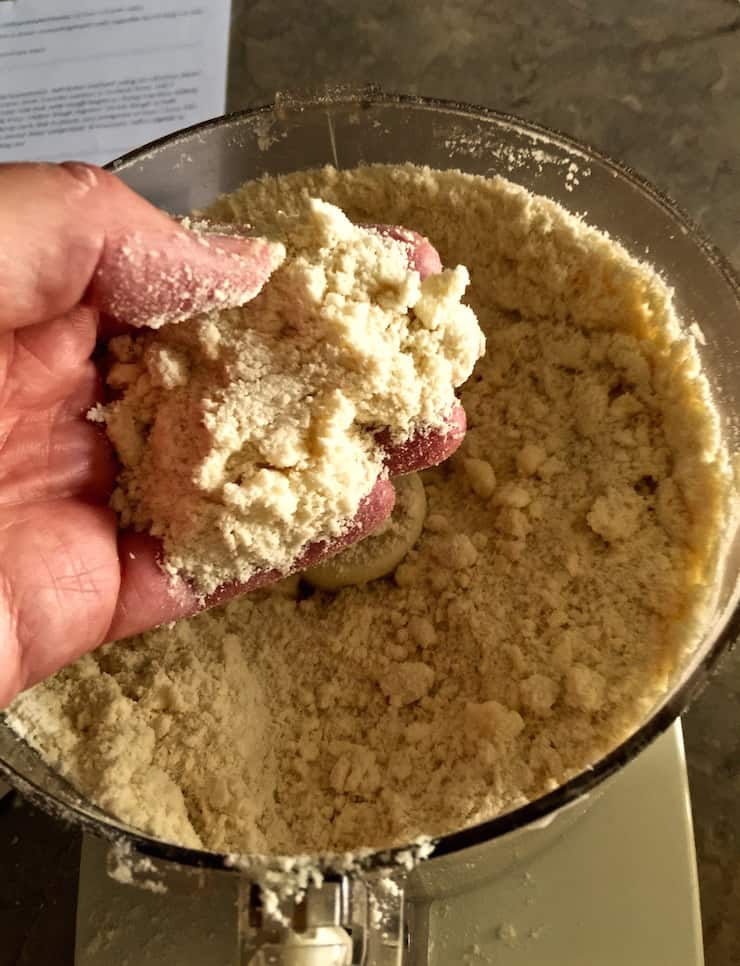 The pie crust in these photos was hard to work with, very crumbly and didn't hold together when I rolled it. No worries though, just patch the dough where necessary. It may not have looked perfect but I'm telling you, it was the best crust I've ever made. Even Meathead noticed, saying it was the best pie I've ever made, especially the crust. I made it a second time when a couple of the girls came in for the weekend. I added a lot more water and the dough held together much better, way easier to work with. It tasted just as great but I still think the "drier" dough was a bit more flaky and crispy, just a little bit.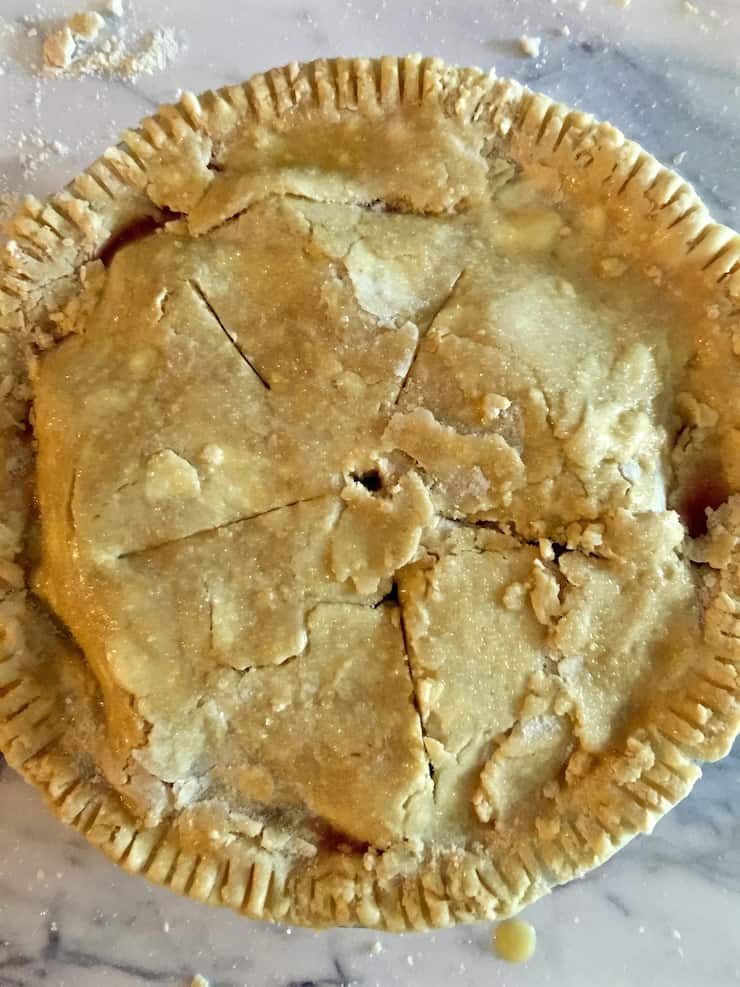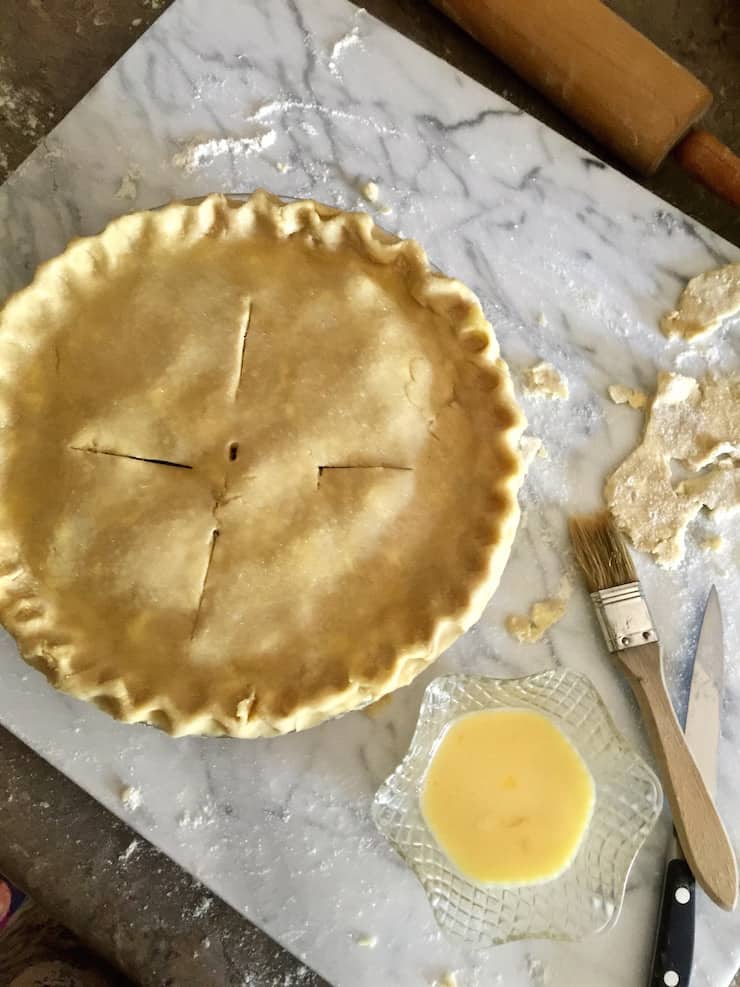 So, go ahead and make a cherry pie if you see fresh tart cherries at the market, tis the season for cherries. If not, go ahead and used canned. Always Hungry still squeals when she sees her momma's cherry pie on the counter. Happy summer! 😎 🍒 Best, Kelly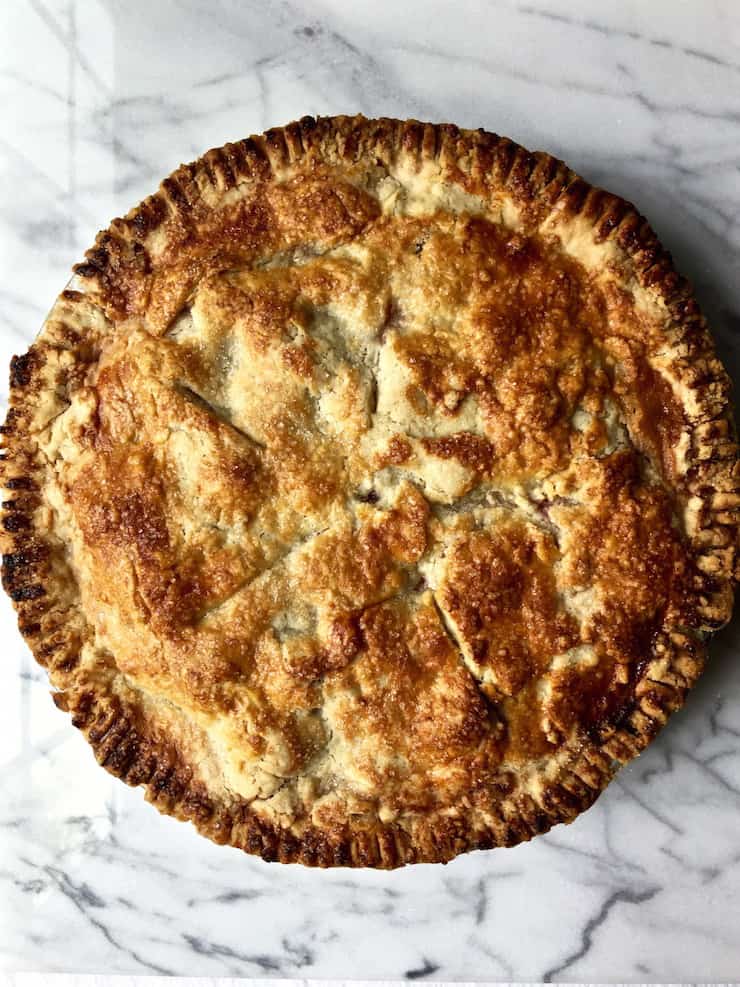 If you've tried my favorite Cherry Pie, please rate it below in the comments and let me know how it went ~ I love hearing from you! HUNGRY FOR MORE? Subscribe to my Newsletter and come hang out with me on PINTEREST, INSTAGRAM and FACEBOOK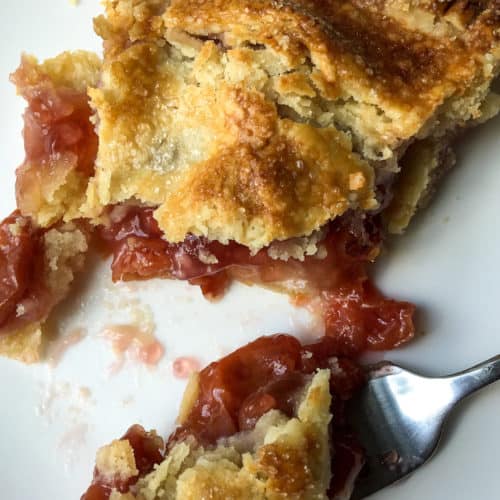 Cherry Pie
Classic cherry pie ~ tart cherries, in season or canned, in a perfectly flaky crust.
Print
Pin
Rate
Prep Time:
1
hour
30
minutes
Total Time:
2
hours
30
minutes
Ingredients
For Crust:
2½

cups

unbleached, all purpose flour

1½

teaspoons

sugar, more to sprinkle on finished top

1

teaspoon

salt (I use Kosher salt, even for baking)

½

cup

(1 stick) chilled unsalted butter (I actually like salted Kerrygold for this crust), cut into ½-inch cubes

½

cup

chilled lard, ½-inch pieces

5

tablespoons,

at least, ice water

1

egg and 1 tablespoon milk or water, for egg wash
For Filling:
4

cups

canned tart cherries, drained (2 cans) or fresh tart cherries, washed and pitted

1

cup

sugar

3

tablespoons

tapioca

1

tablespoon

butter, to dot on top
Instructions
Make crust. In a food processor, pulse flour, sugar and salt to blend. Add cubed butter and lard and pulse on/off until mixture resembles coarse meal. You should still see pieces of butter and lard. Transfer mixture to bowl and add 5 tablespoons of ice water. Mix with a fork until dough starts to clump together. If too dry, add more ice water by teaspoonfuls until you can gather dough into ball. Divide in half and flatten each half into a disc. Wrap tightly in plastic wrap and refrigerate for AT LEAST 1 hour.

Preheat oven to 425º. About 15 minutes or so before dough is ready to roll, make filling. In bowl, combine drained cherries, 1 cup sugar and tapioca. Set aside and let sit for 15 minutes.

In small dish, whisk together egg and milk, set aside.

Remove 1 disc of dough. Lightly flour work surface and rolling pin. Roll dough from center out, turning frequently and adding more flour if sticking. Transfer dough to glass pie dish and gently press into place. Trim excess dough but leave some overhang. Patch any holes or tears with dough scraps. Return to refrigerator while you roll the 2nd disc for the top.

As with the bottom, roll the top disc into a large round to top the pie. Remove bottom crust in the plate from refrigerator. Fill with cherry mixture and then dot with 1 tablespoon butter.

Carefully place top crust over filling. If you can, try rolling the dough around the pin and then unroll it over the filling. Trim excess dough and roll under edges and crimp, with a fork or flute with thumb and index finger. Brush top and edges with egg wash and sprinkle with sugar. Using a small knife, cut 4 or 5 slits in top crust to vent.

Place pie on baking sheet and bake in middle of oven for 20 minutes. Turn heat down to 375º and continue baking until crust is browned and juices are bubbling, about 30-35 minutes. Cool completely before cutting.
Notes
Makes one double-crust 9" pie
Keyword:
easy cherry pie recipe from scratch, cherry pie recipe with tapioca, homemade cherry pie, fresh or canned tart cherries
You might also like my two other favorite fruit pies ~ peach and apple.