Classic Buckeyes recipe for peanut butter balls dipped in chocolate, a popular treat in the midwest, especially Ohio, and must-have on the holiday dessert table.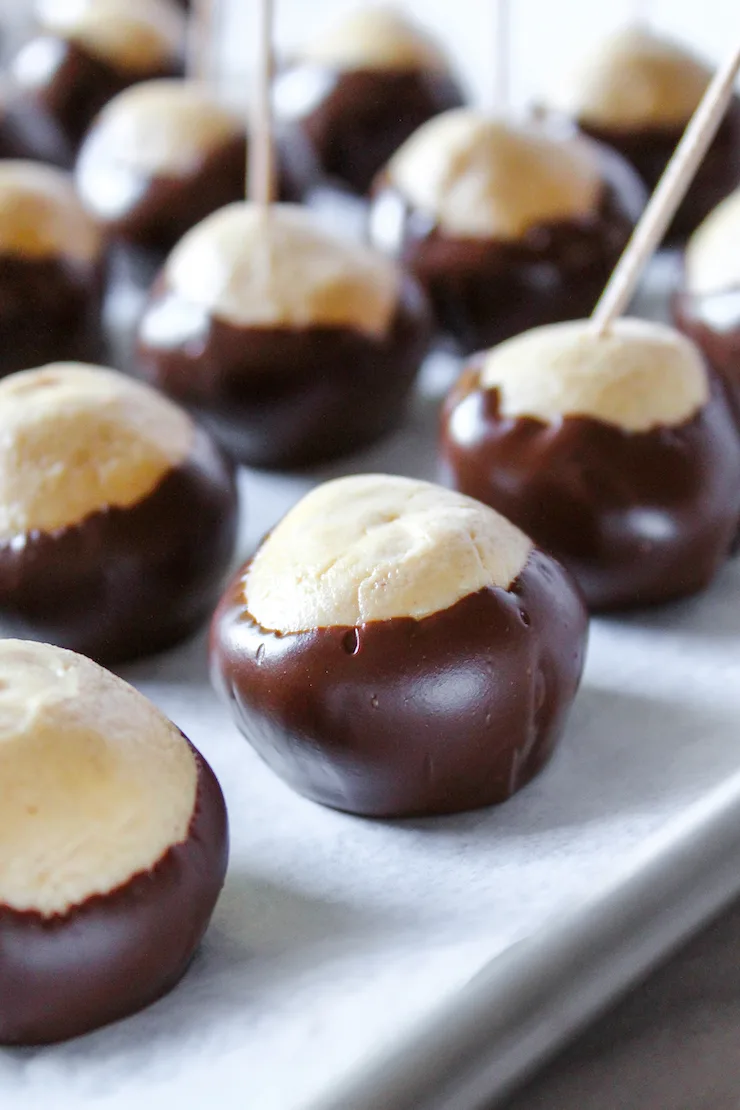 I had my first buckeye years ago in Ohio, when I married into family from Dayton. On the buffet at the holidays when we were visiting one year were a tray of chocolate covered peanut butter balls. Oh my gosh, my husband was shoveling them in his mouth and I was like, what are these? Buckeyes! You've never had these? Nope, but I want the recipe.
The next time I saw my sister-in-law's mom, she handed me a card with the recipe for her delicious (and famous) buckeyes. Neatly written in cursive, I have treasured this recipe for years. And it's so interesting with her generation, the ingredients, which are few, call for specific brands. My mom and aunt are the same way. Like, instead of saying Worcestershire sauce, they'll say add some Lea & Perrins.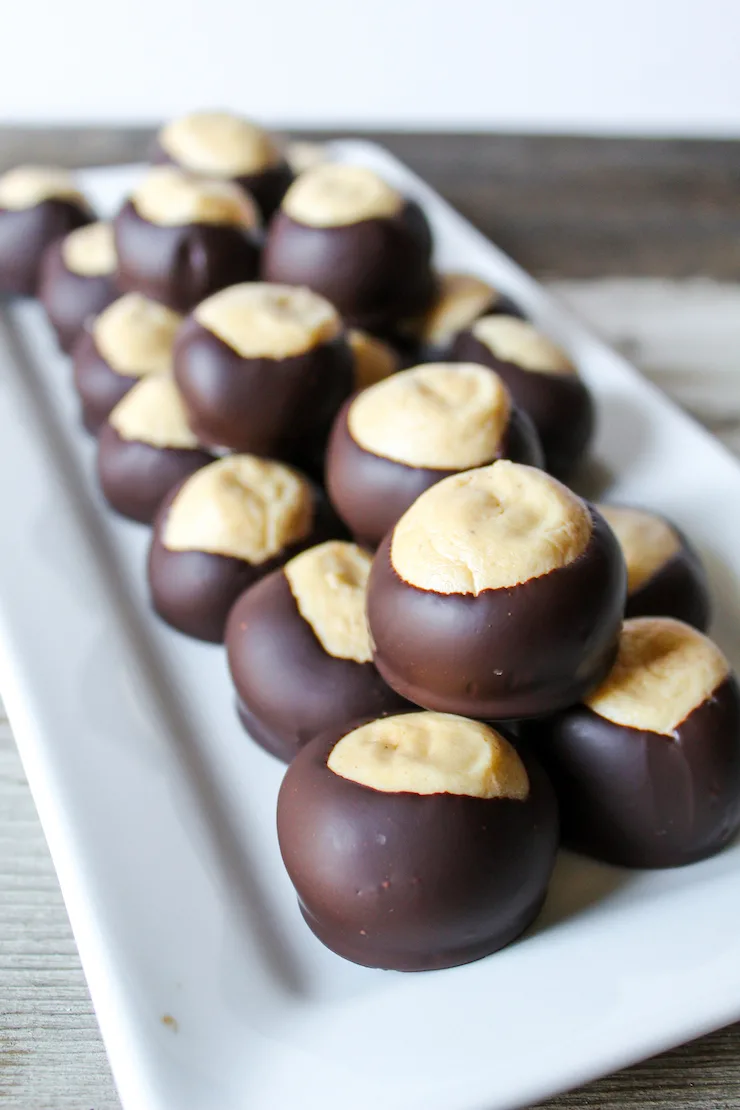 WHAT ARE BUCKEYES?
I would describe a buckeye as a peanut butter cup-like confection, that's what the taste reminds me of the most. Peanut butter, butter, confectioners sugar and vanilla are mixed together into a somewhat stiff consistency, then rolled into balls and dipped in melted chocolate.
Only dip about three-quarters of the ball, leaving a small circle at the top resembling chestnuts, or buckeyes, hence the name. Many recipes call for paraffin or shortening to be melted with the chocolate, including my original recipe. I say no to that and they turn out just fine.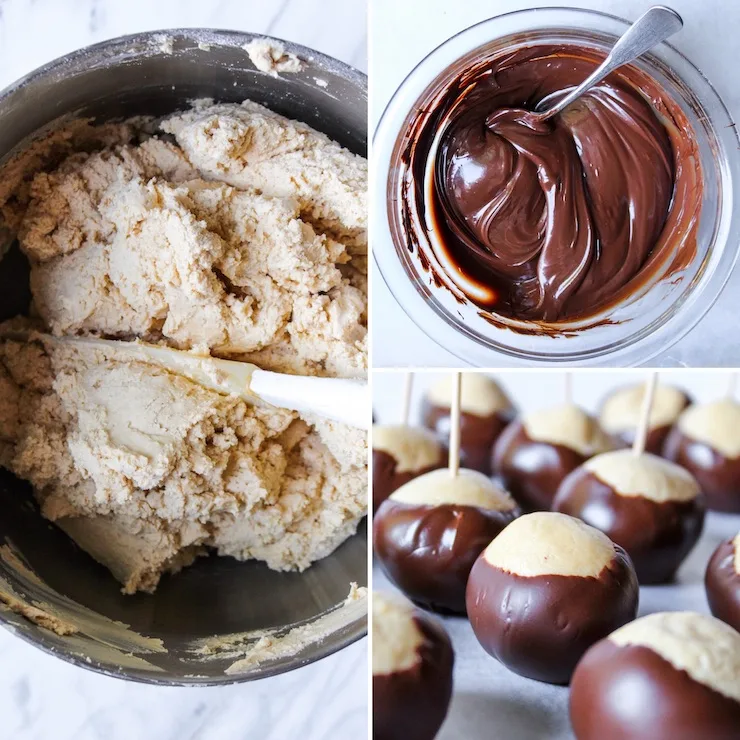 A couple notes about the chocolate. You can melt in the microwave or in a double boiler. I like the double boiler, which for me is a small glass bowl over a pan of simmering water, stirring until melted. I also have tried all kinds of brands and types from semi-sweet to milk chocolate to bittersweet or dark chocolate. Love them all. I mostly use bittersweet because my husband loves dark chocolate. (Ghirardelli bittersweet chocolate chips are my favorite and I think melt into the best consistency for dipping. Just sayin')
Thank you Ohio family for turning me on to buckeyes, and to Mrs. Hanes for her recipe. Mine don't look as good as hers, my dipping skills need some work, but they taste just like hers. It's a favorite crowd pleaser (this makes a ton!) anytime of year, but most especially at the holidays. Enjoy, Kelly🍴🐦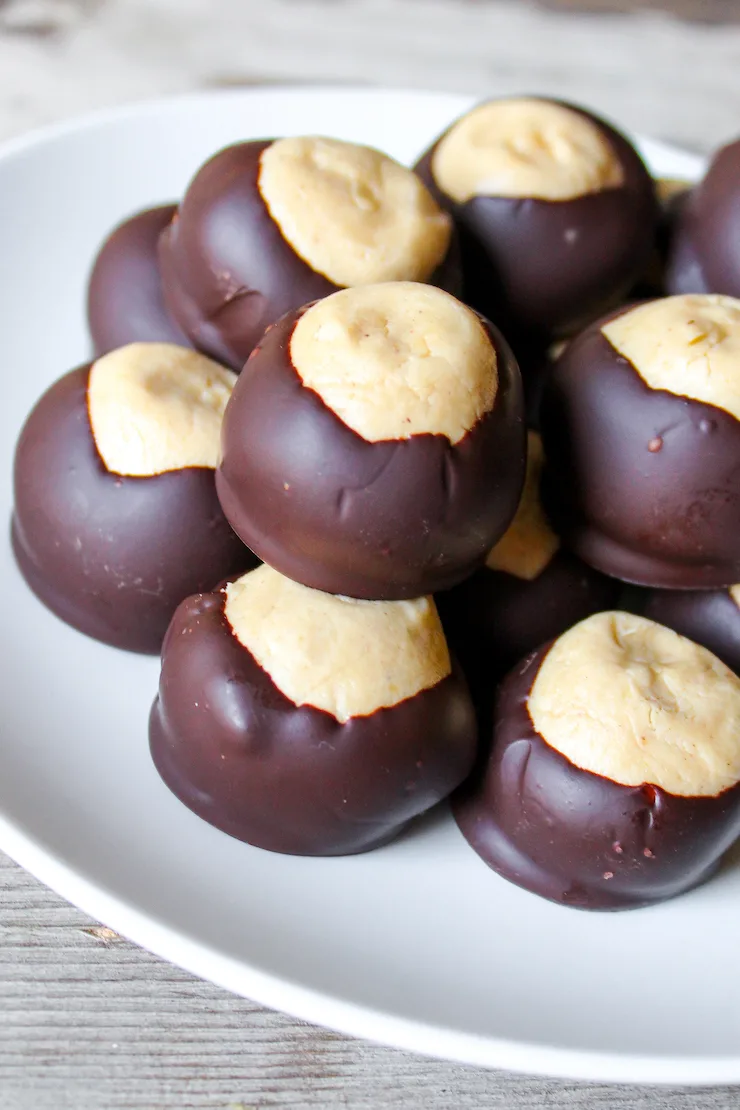 Along with Buckeyes at Christmastime, I always make Kolachkes and Peanut Butter Blossoms.
HUNGRY FOR MORE? Subscribe to my Newsletter and come hang out with me on INSTAGRAM, or give me a follow on FACEBOOK or see what I'm pinning on PINTEREST.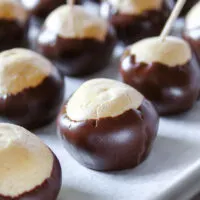 Classic Buckeyes
Classic buckeyes recipe for peanut butter balls dipped in chocolate, a treat year round and especially on the holiday dessert table.
Print
Pin
Rate
Ingredients
1

pound

butter (or margarine), room temp

2

cups

creamy peanut butter, not natural

(I used an entire 18-ounce jar)

2½ to 3

pounds

confectioners sugar

3

teaspoons

vanilla

12

ounces

semi-sweet chocolate chips
Instructions
In bowl of stand mixer fitted with paddle, cream butter and peanut butter. Add powdered sugar a cup at a time and mix until needed consistency to roll into balls (about 8 to 10 cups). Add vanilla and mix thoroughly.

Form into large marble-size balls and place on baking sheet lined with wax paper. Refrigerate until well chilled, at least one hour.

Melt chocolate in a double boiler (or microwave). Place toothpick in center of ball and dip in chocolate to cover about two-thirds of the ball, making it look like a buckeye. Place on waxed paper, remove toothpick, gently pinch hole together. Chill in refrigerator until set.

Store buckeyes in refrigerator. They also freeze well. Enjoy!
Recipe Notes
If you use unsalted butter, add ½ teaspoon salt to the peanut butter mixture.
You can also use a hand mixer or wooden spoon to mix the peanut butter/butter dough.
My original recipe calls for ¼ pound of paraffin wax to be melted along with the chocolate in the double boiler, your call if you want to do that. I think it makes the buckeyes shiny.
I don't find 12 ounces of chocolate enough, I went through almost 3 (12-ounce) bags to have enough to dip all the balls. Buy two bags, at least.
Nutrition
Calories:
87
kcal
Carbohydrates:
15
g
Protein:
1
g
Fat:
8
g
Saturated Fat:
4
g
Polyunsaturated Fat:
1
g
Monounsaturated Fat:
3
g
Trans Fat:
1
g
Cholesterol:
10
mg
Sodium:
54
mg
Potassium:
52
mg
Fiber:
1
g
Sugar:
2
g
Vitamin A:
120
IU
Calcium:
6
mg
Iron:
1
mg