Corn Soufflé, simple and delicious corn casserole, an easy side dish for the holidays, and a family favorite!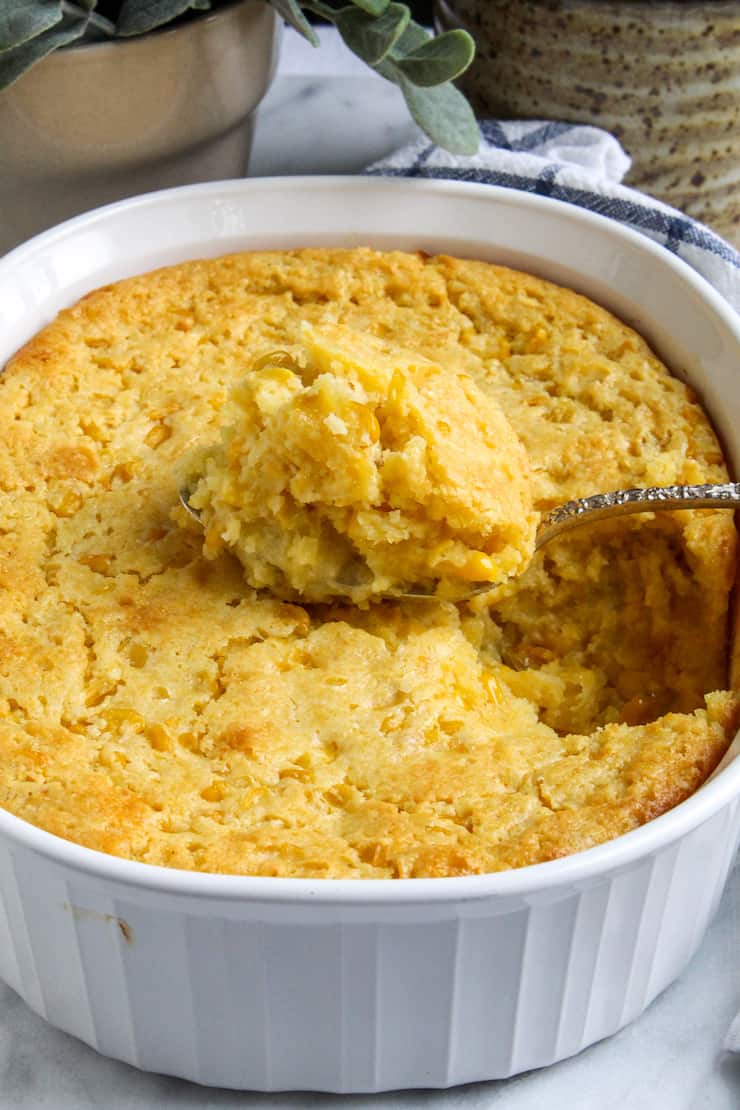 Thanksgiving is fast approaching and that means I'll be making this corn casserole for PB&G. She calls it corn soufflé, but technically speaking, it's not really a soufflé. But I can't call this anything else.
So who is PB&G anyway? She is my middle child. My daughter with a heart of gold, full of empathy for other people, principled, sometimes stubborn and feisty. She's very creative and hilarious, quick to giggle and make us laugh.
She was also a vegetarian for over 7 years. When she was 13, she announced at the dinner table that she was no longer going to eat meat. From that day forward, no red meat, chicken or fish, at all. She also dabbled in veganism, but that didn't last. Once she walked in the house and the first thing she said, yelled actually, was "It smells like dead animals in here". Nice to see you, too.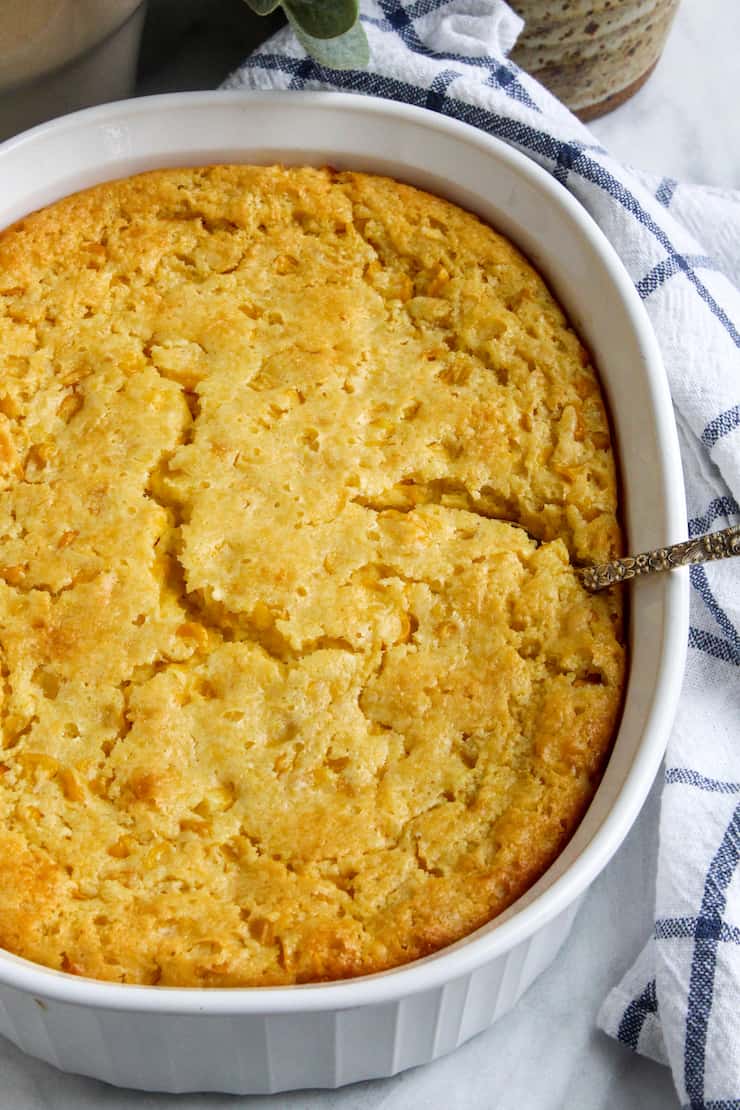 The thing about going vegetarian at such a young age is that she really didn't eat very healthy. I swear she was surviving off of simple carbs and nothing else. Lots of bagels and PB&J sandwiches. Then one day when she was 20 and home for Thanksgiving, she decided she wanted bacon. So she had bacon and went back to eating meat, but now, no pork. She and Always Hungry do not eat pork because they say the pig is the smartest animal. This is what they tell me.
Grace still loves peanut butter and eats it all the time, hence I'm calling her PB&G. So now you know my family and the diverse palates I cook for: Meathead, Always Hungry, PB&G and Picky Eater. And me, the normal one. (My family would probably call me "What? Huh?" or "Can you pour me another glass of wine, please?" or "Just half a glass".)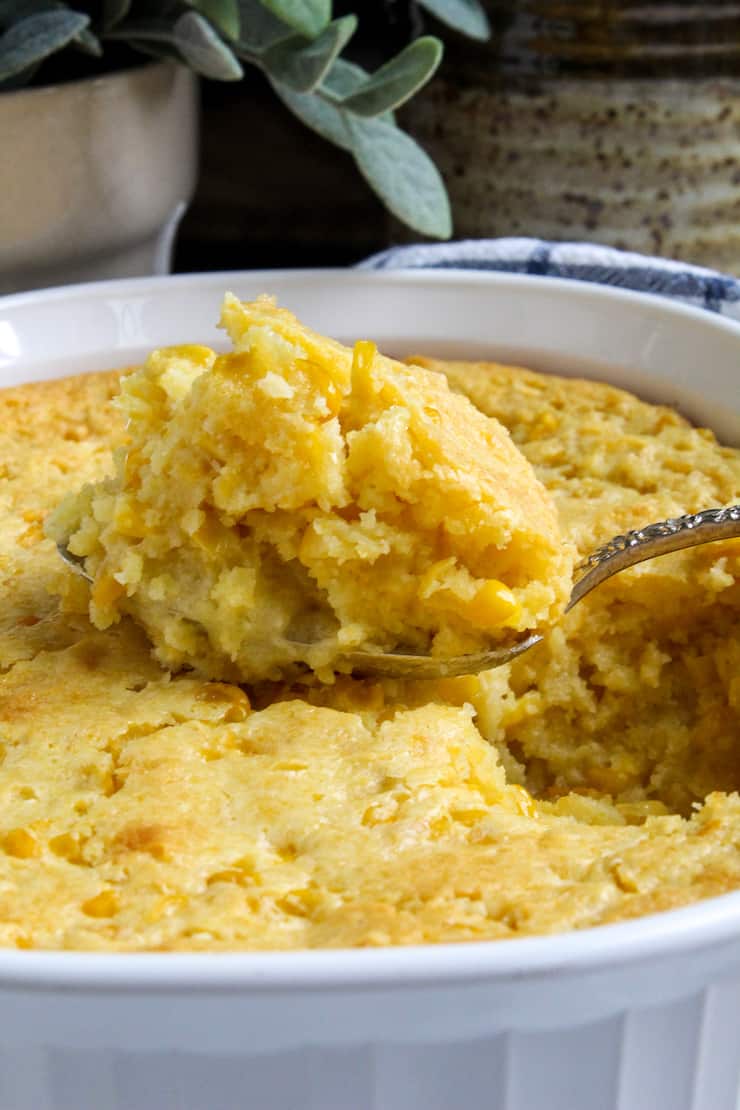 During the holidays, especially Thanksgiving, there wasn't much PB&G could eat. No turkey, gravy, stuffing, ham. She had corn casserole somewhere and loved it, so I started making it for her. Then everyone else started asking for it, my aunt and cousin, my mom. It is a required holiday side dish in our house, as is Cheesy Potatoes. PB&G was home a week ago and said she was craving these two dishes, so I made them for her.
What is this corn soufflé I speak of? I clipped this recipe out of the paper years ago, and when I recently did some research, I found lots of versions of this corn casserole. I'm thinking this might have originated with Jiffy corn muffin mix.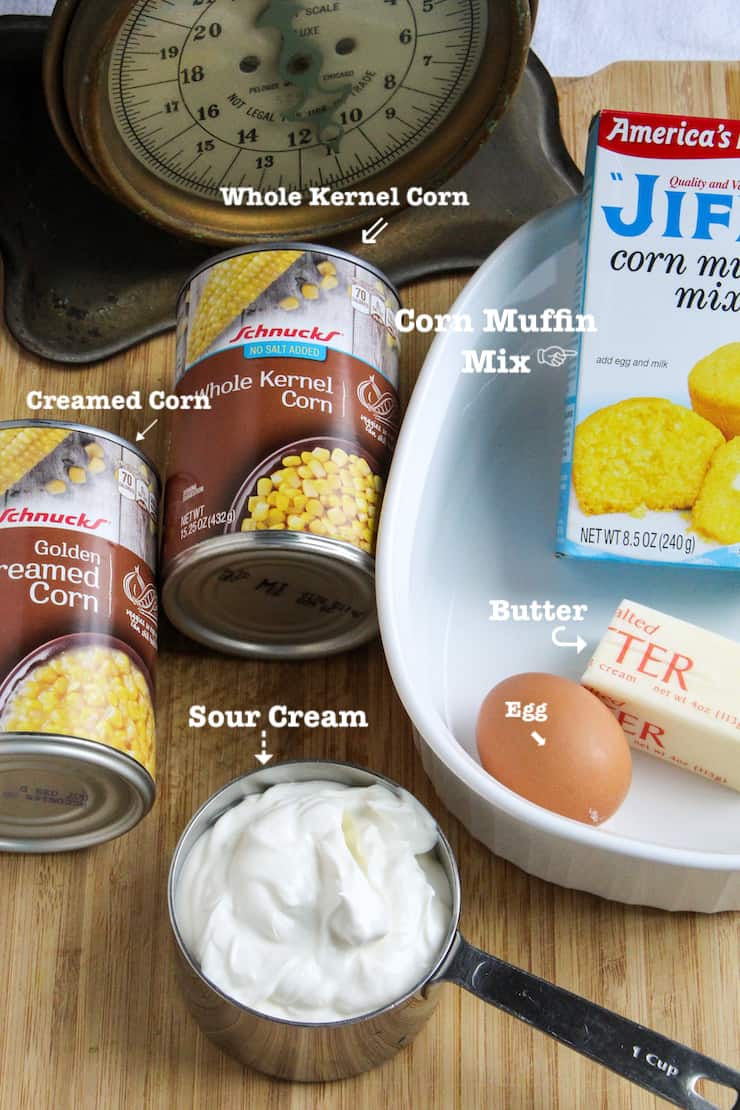 This corn soufflé (or escalloped corn, or corn casserole) is very simple to throw together. Canned corn, egg, butter, sour cream and corn muffin mix. Mix it all up, pour in a casserole dish and bake. This time, the canned corn I used had sea salt, pretty trendy. Also, the corn muffin mix I used said it was vegetarian, never saw that before. I wonder what is in the regular corn mix (wink, wink)? And there you have it, probably the easiest side dish I make on Thanksgiving.
So PB&G, here is your corn soufflé recipe. It's time for you to start making this yourself. You don't have to save it for the holidays, make it any time you have the craving. Enjoy, Mom.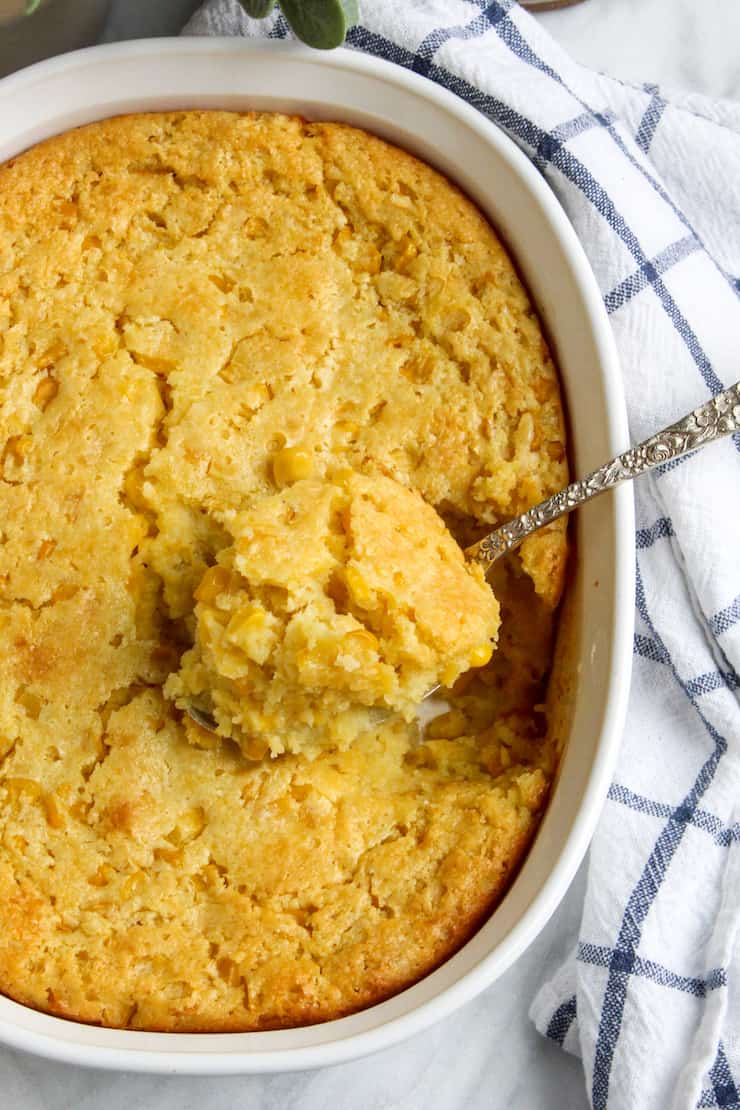 Other easy sides for the holidays are these Brussels sprouts and honey brown sugar glazed carrots, super easy and delicious.
HUNGRY FOR MORE? Subscribe to my Newsletter and come hang out with me on INSTAGRAM, or give me a follow on FACEBOOK or see what I'm pinning on PINTEREST.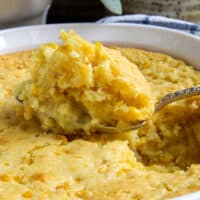 Corn Soufflé
Easy corn casserole for the holidays, made with corn muffin mix, canned corn, egg, butter and sour cream, a favorite holiday side dish.
Print
Pin
Rate
Course:
Holiday side, Side Dish
Ingredients
1

15-oz. can whole kernel corn

drained

1

15-oz. can cream-style corn

1

egg

lightly beaten

4

tablespoons

butter

melted

1

cup

sour cream

1 8 1/2

oz

box corn muffin mix
Instructions
Preheat oven to 350 º

Lightly butter a 2-quart casserole dish.

Combine all ingredients and mix well. Pour into casserole dish and bake 45 – 55 minutes, until set but not too firm and dry. (It depends on the shape/size of your casserole dish. A deeper dish takes longer.)
Keyword:
corn souffle, easy corn casserole, jiffy corn casserole