Mustard and herb rubbed and roasted leg of lamb, Gigot à la Moutarde, adapted from a Julia Child recipe. Adding lemon, onion and fresh herbs to the roasting pan yields a delicious pan gravy.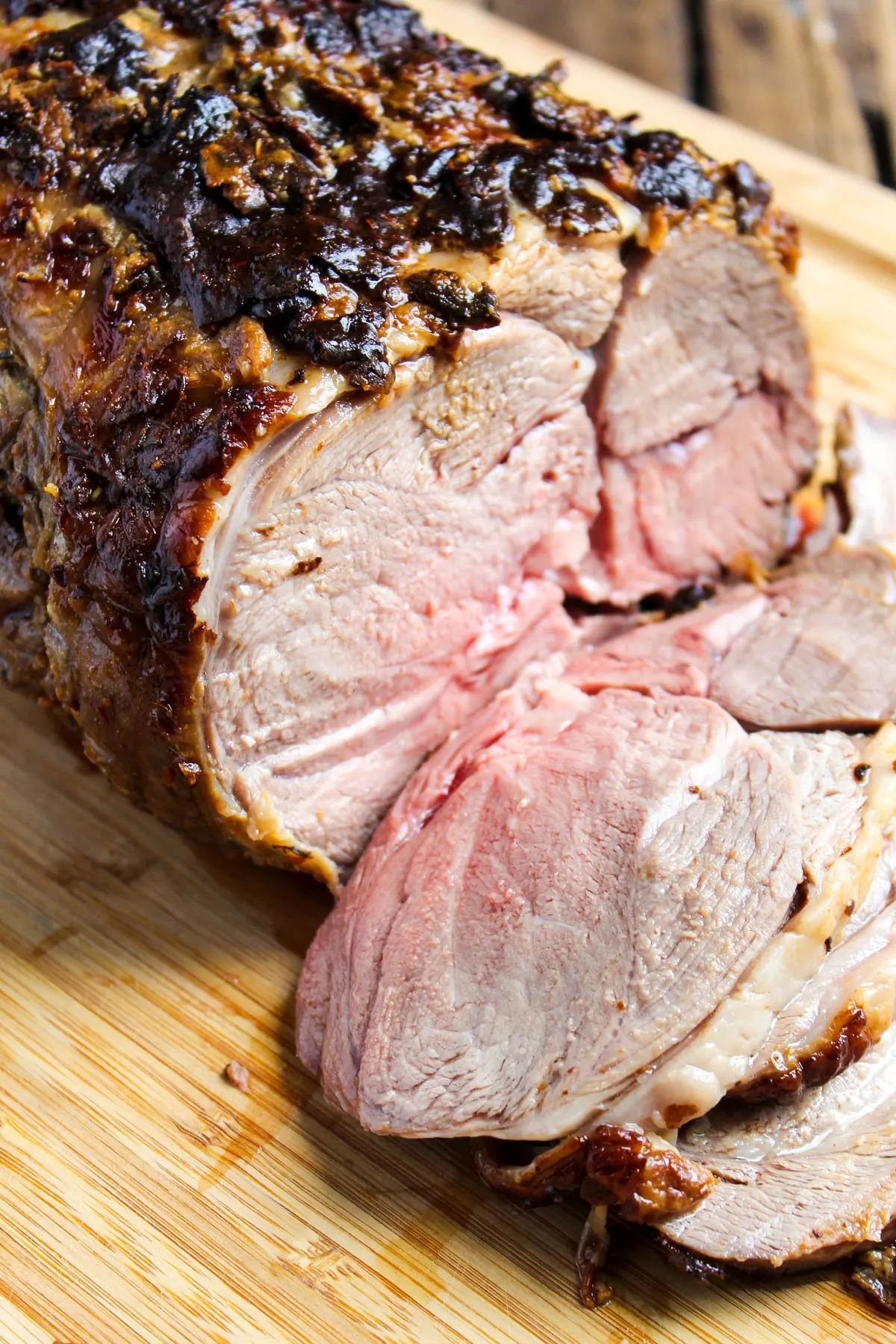 Some of the links in this post are affiliate links. This means if you click on the link and purchase the item, I will receive an affiliate commission at no extra cost to you. All opinions remain my own.
Growing up, weekends were my dad's time to cook and Sundays almost always involved a roast of some kind ~ beef, pork, lamb, chicken, an occasional duck. I've always been a little intimidated with roasts, always worried about overcooking and not being able to deliver on the gravy, my dad's specialty. I got over my fear because I love lamb and really want lamb this Easter. Mustard and Herb Roasted Leg of Lamb did not disappoint and I must say, I nailed it!
I turned to my cookbooks and immediately looked to Julia Child to help me with this lamb roast. I have a nice collection of cookbooks that sit on the shelf neglected ~ some I've used a lot over the years, others not so much, but I mark recipes to try. I am going to make more of an effort to cook from my cookbooks, trying something new or mastering a classic every week (might be a lofty goal, but the desire is there!).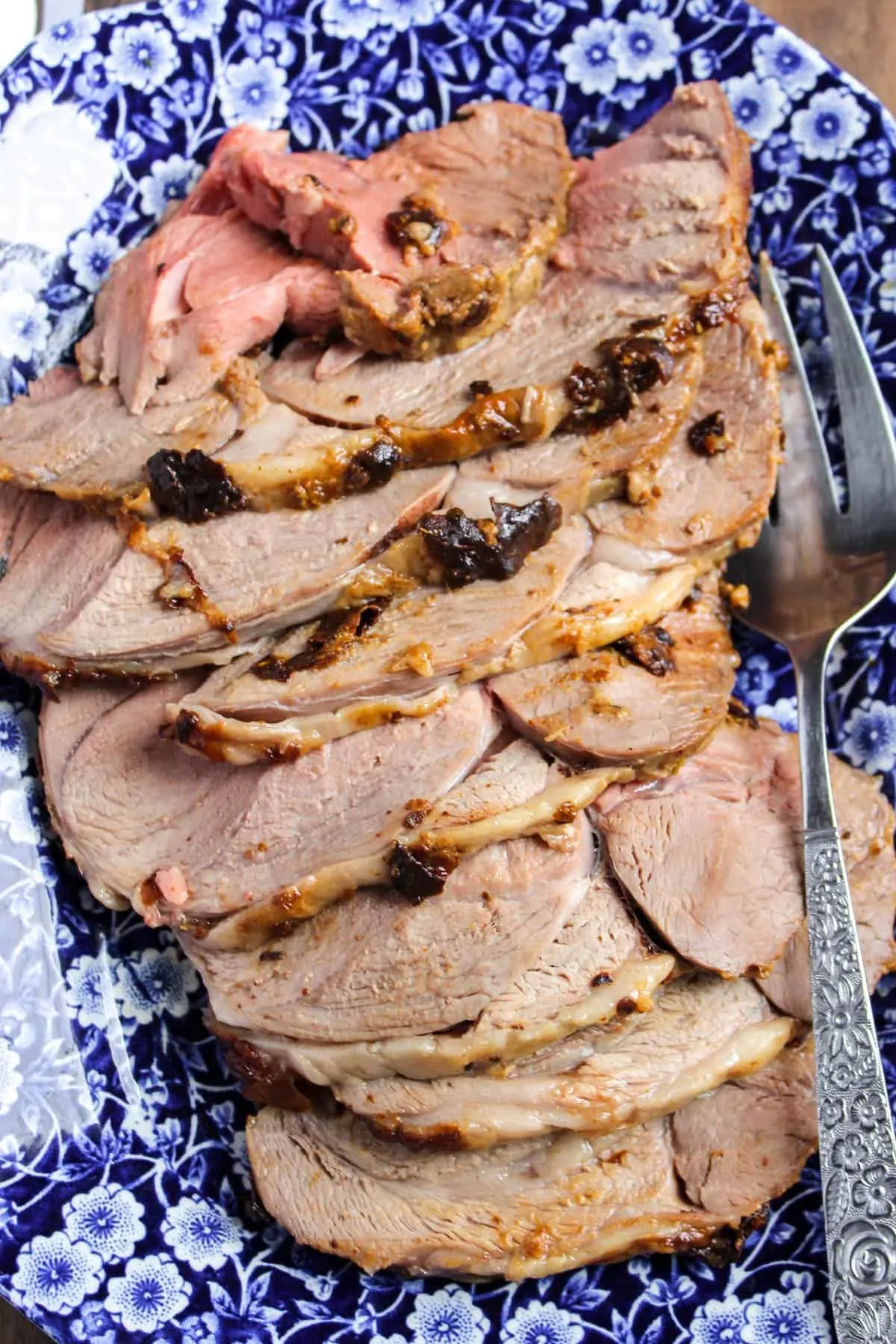 Ingredients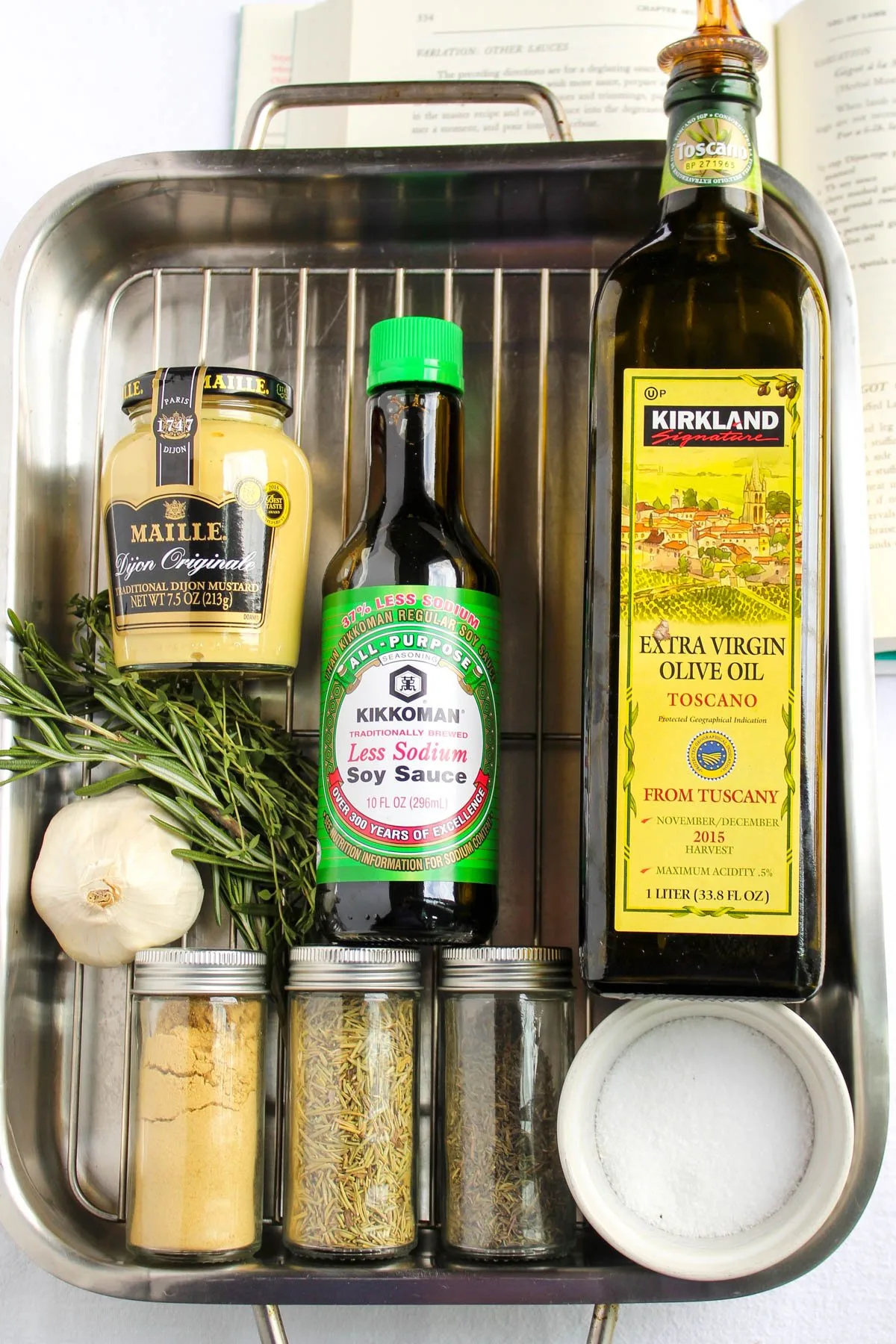 I chose a boneless leg of lamb which is very easy to find and then "painted" it with a very simple mustard and herb mixture. My dad always put some onion in the bottom of the roasting pan so I did, too, also adding some lemon slices and sprigs of fresh rosemary and thyme. The mustard glaze turns golden brown as it roasts and so do the aromatics in the pan ~ my kitchen smelled amazing.
Here's what you'll need:
Boneless leg of lamb about a 5-pound roast. It will be rolled and tied or most likely in a mesh netting.
Dijon mustard, soy sauce, garlic, thyme, rosemary, ginger and olive oil for the mustard coating for the lamb.
Onion, lemon and fresh herbs for the roasting pan.
Chicken stock to add to the pan as it roasts to ensure enough juices for gravy.
Flour, water and white wine to make the pan gravy.
How to make roast leg of lamb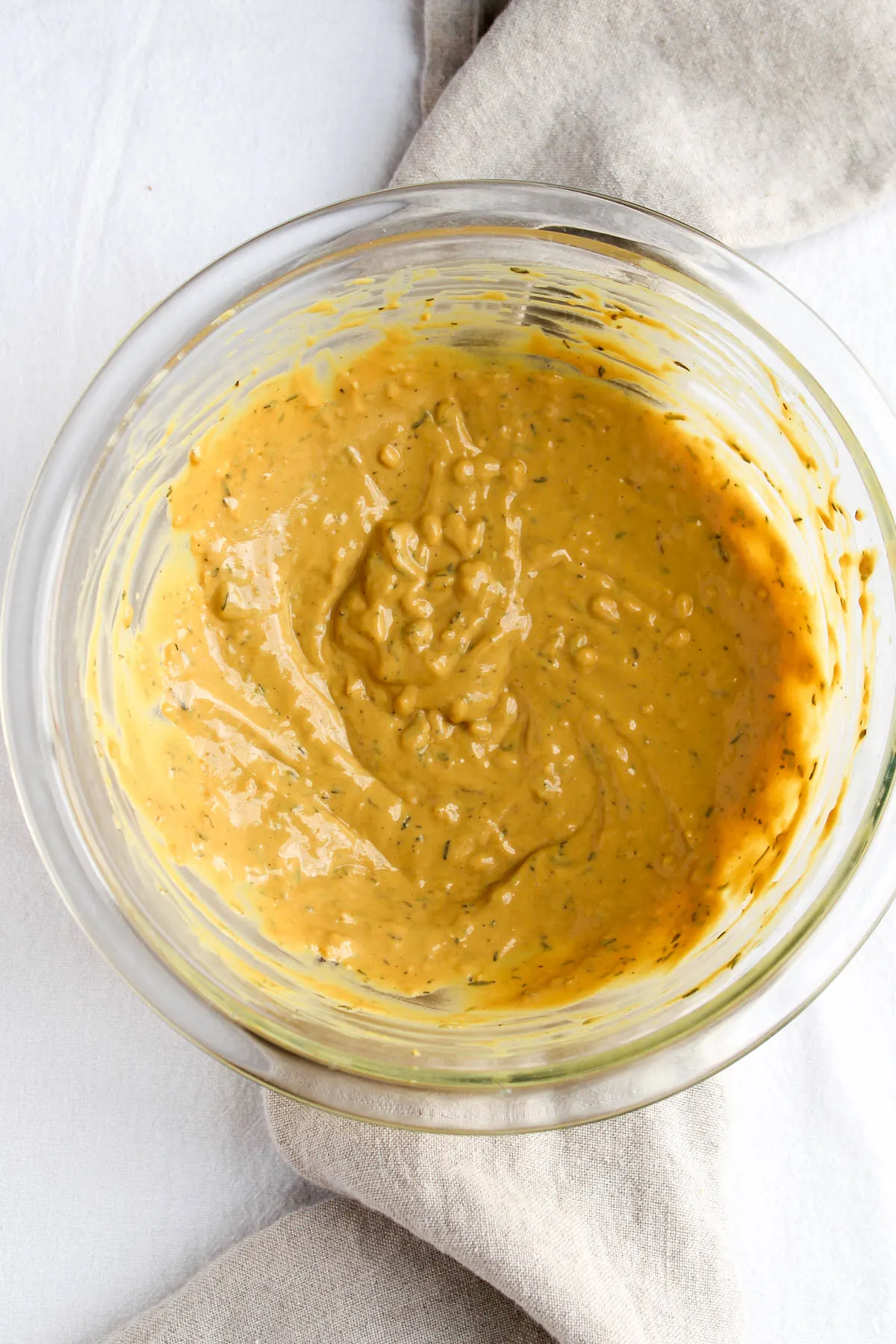 Mix all the ingredients for the mustard and herb mixture until emulsified and thickened. Paint the lamb all over with the mixture and place on rack in roasting pan.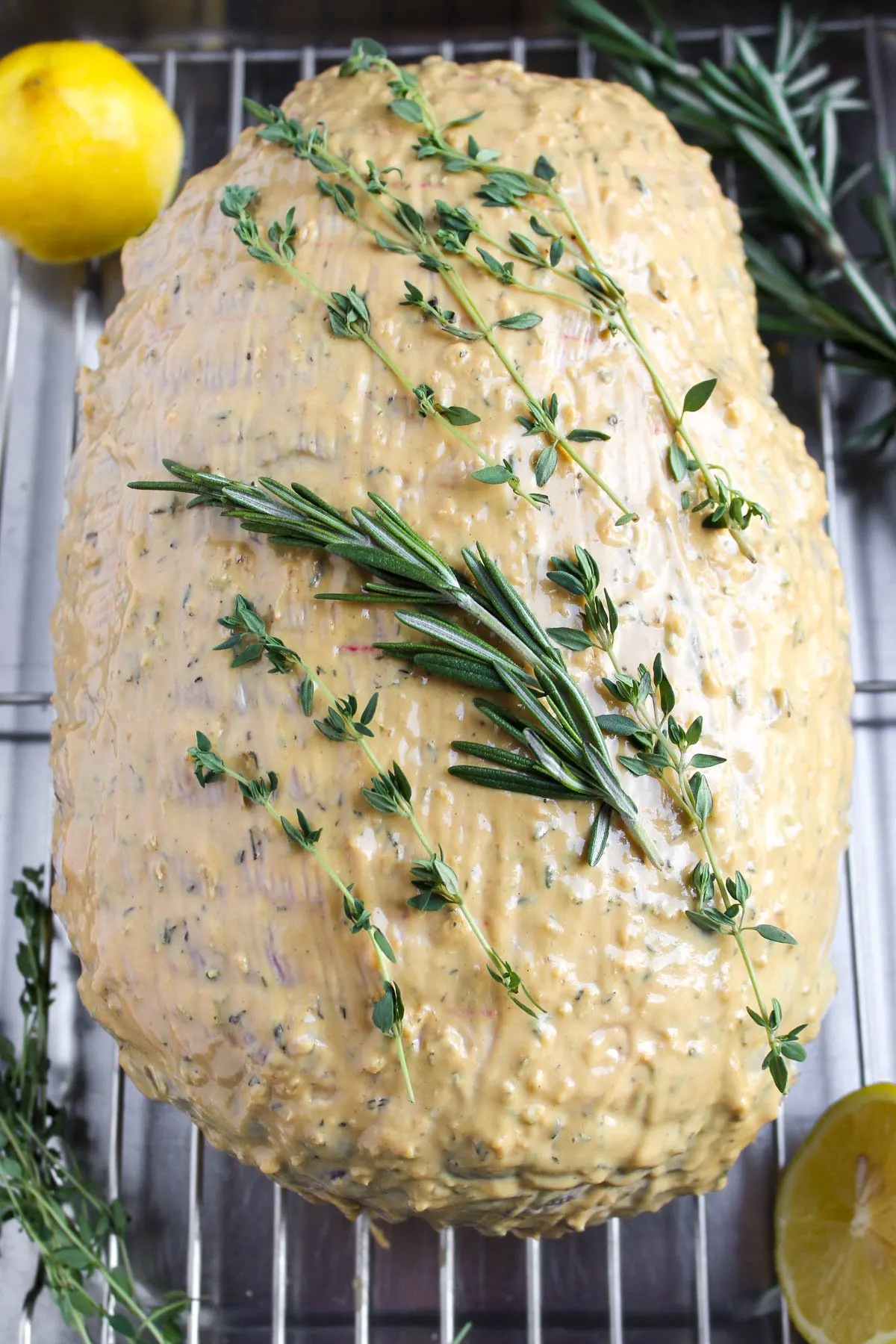 Scatter onion, lemon and herb sprigs around lamb and in bottom of pan. Roast according to directions below in the recipe card. When lamb is done, make the gravy following the directions below. Slice and serve.
Recipe Notes and Tips
I think this lamb is best medium-rare (135º) or medium (145º). I use a fast and accurate instant read thermometer and pull the roast when internal temperature reaches between 130º and 140º. Our favorite is ThermoWorks Thermapen ONE. Keep in mind the temperature will rise as it rests out of the oven.
My dad always added chicken stock to the pan as the meat roasted and he told me to use chicken, not beef stock. If you don't add some stock, you will not have enough pan drippings for gravy, you just won't. It's best to add some broth to the pan after it's roasted a bit and starting to release some fat and juices. Any aromatics added to the pan will have had a chance to brown and caramelize, so adding stock at this point is a good thing. And I eyeball it, probably adding 1 - 2 cups, and then some more if needed so that I have enough for some gravy.
Keep the netting on the roast, just carefully snip it away before serving. Don't worry if some of the mustard crust comes off, just take your time and press it back on the roast.
My Mustard and Herb Roasted Leg of Lamb was perfect, a beautiful medium-rare and the gravy, well, my dad would have been proud. I served it with creamy garlic buttermilk mashed potatoes and some braised turnip greens. Julia Child's recipe for Gigot à la Moutarde is classic for a reason, I have no words for how good it is, you'll have to try it for yourself. Bon appétit and Happy Easter.
I also love this Greek Instant Pot Leg of Lamb, it's easy and out of this world, another option for making boneless leg of lamb.
HUNGRY FOR MORE? Subscribe to my newsletter and follow along on PINTEREST, FACEBOOK and INSTAGRAM for all the latest updates.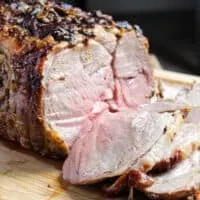 Mustard and Herb Roasted Leg of Lamb
Mustard and herb rubbed and roasted leg of lamb, Gigot à la Moutarde from Julia Child. Adding lemon, onion and fresh herbs to the roasting pan yields a delicious pan gravy.

Print
Pin
Rate
Ingredients
1

5-pound

boneless leg of lamb

½

cup

Dijon mustard

2

tablespoon

soy sauce

3

cloves

garlic, minced

~ I used a garlic press

1

teaspoon

dried thyme

1

teaspoon

dried rosemary

¼

teaspoon

ground ginger

2

tablespoon

olive oil

½

small onion, roughly sliced

½

lemon, sliced

Several sprigs fresh rosemary and thyme

2-4

cups

chicken stock

2

tablespoon

flour

2-4

tablespoon

water

½

cup

white wine
Instructions
Mix mustard, soy sauce, garlic, rosemary, thyme and ginger together in a bowl. In a steady, slow stream, whisk in olive oil until well-combined and emulsified, like a mayonnaise-like cream.

Paint the lamb all over with the mustard mixture and set it on rack, fat side up, in roasting pan. Let sit at room temperature for 2 hours before roasting.

Preheat oven to 425º. Scatter chopped onion, lemon slices and fresh herbs in bottom of pan, under the rack. Roast for 30 minutes and then turn oven temperature down to 350º. Roast until desired doneness, 135º for medium-rare, 145º for medium; about 1½ hours more. Add about 2 cups chicken stock to the pan after 1 hour and add some more as needed after about another ½ hour. Pull the roast out of oven 5 degrees shy of goal temperature, transfer to cutting board or platter, tent with foil and let rest 20 to 30 minutes.

Meanwhile, make the gravy. Strain and de-fat pan juices and drippings into large measuring cup and set aside. If necessary, add more chicken stock to make at least 2 cups. Make a slurry by mixing flour and water until a thick liquid, but not a paste. Place roasting pan on stove and turn 1 to 2 burners on high. Pour wine into pan and deglaze, scraping up any browned bits, and reduce by half. Pour reserved pan juices into pan and whisk to combine. Slowly pour slurry into pan while whisking constantly until pan sauce starts to thicken; cook at a steady simmer until thickened and flour taste is cooked off, about 5 to 10 minutes. Taste for salt and pepper.

Snip netting/string on roast and carefully lift out roast, removing the string. Slice lamb and serve with gravy on the side.
Recipe Notes
When using dried herbs, I like to crush/rub them in my hand to release oils and flavor.
You certainly can marinate the lamb longer for more flavor, for several hours, or even overnight, in the refrigerator. Pull out 2 hours before roasting to bring to room temp.
Cooking time will vary depending on the size of roast and your ideal doneness. My 5-pound roast took 2 hours total for medium-rare and I pulled it out when it registered 130º on an instant read thermometer.
I start adding chicken stock to the pan after about an hour and use my judgement, anywhere from 2 to 4 cups total during the last hour of cooking to ensure enough pan juices/drippings for gravy.
Removing the netting/string can be messy and feel like you're destroying the beautiful crust. Do your best, you can easily press the crust back down as you're removing the string. Removing the netting before you cook is not a good idea unless you are stuffing the roast, otherwise you risk it coming apart and not cooking evenly.
Nutrition
Calories:
319
kcal
Carbohydrates:
7
g
Protein:
40
g
Fat:
13
g
Saturated Fat:
4
g
Polyunsaturated Fat:
1
g
Monounsaturated Fat:
7
g
Trans Fat:
1
g
Cholesterol:
116
mg
Sodium:
621
mg
Potassium:
651
mg
Fiber:
1
g
Sugar:
2
g
Vitamin A:
20
IU
Vitamin C:
5
mg
Calcium:
33
mg
Iron:
4
mg
Adapted from Julia Child, Mastering the Art of French Cooking