King Ranch Chicken Casserole with layers of tortillas and chicken in a creamy cheesy homemade sauce and topped with crunchy corn chips. Tex-Mex comfort food casserole!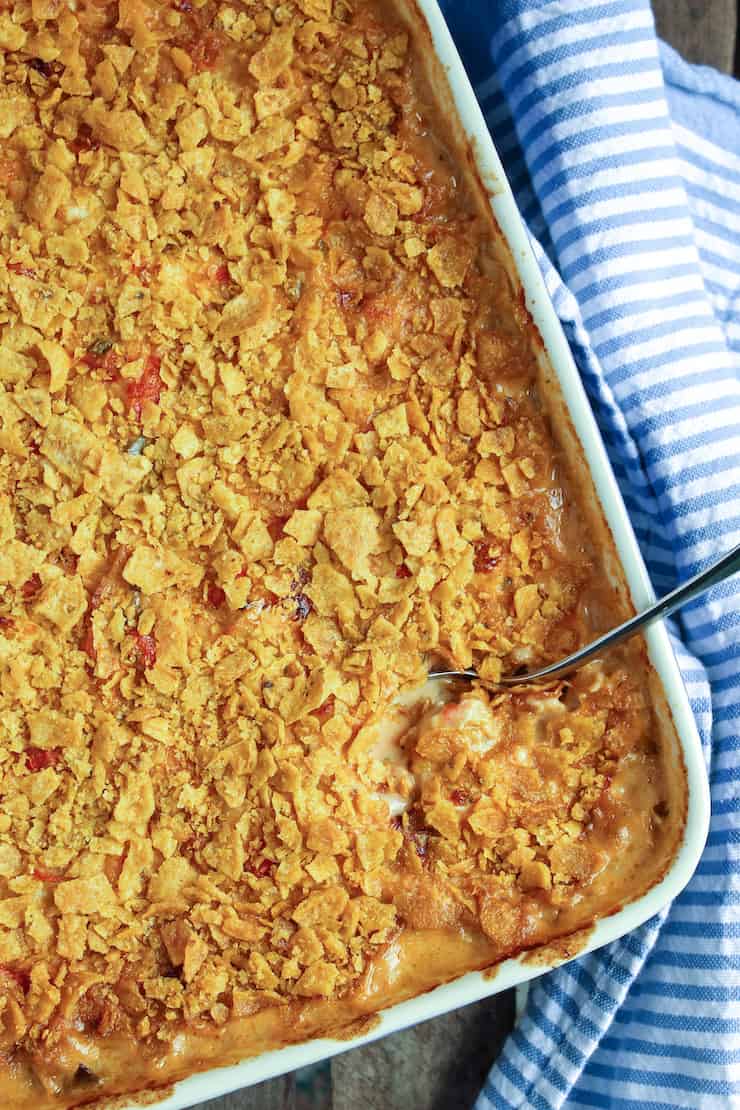 I made a casserole! Not just any casserole ~ King Ranch Chicken Casserole. I have a thing about casseroles and things made with cream-of-whatever soups. I do not know why, but I do. Meathead's favorite dinner growing up was his mom's tuna noodle casserole with potato chips on top. Say what?!?! I will no longer stick my nose up at that. This version has crunchy Fritos on top, sure to make Meathead's day.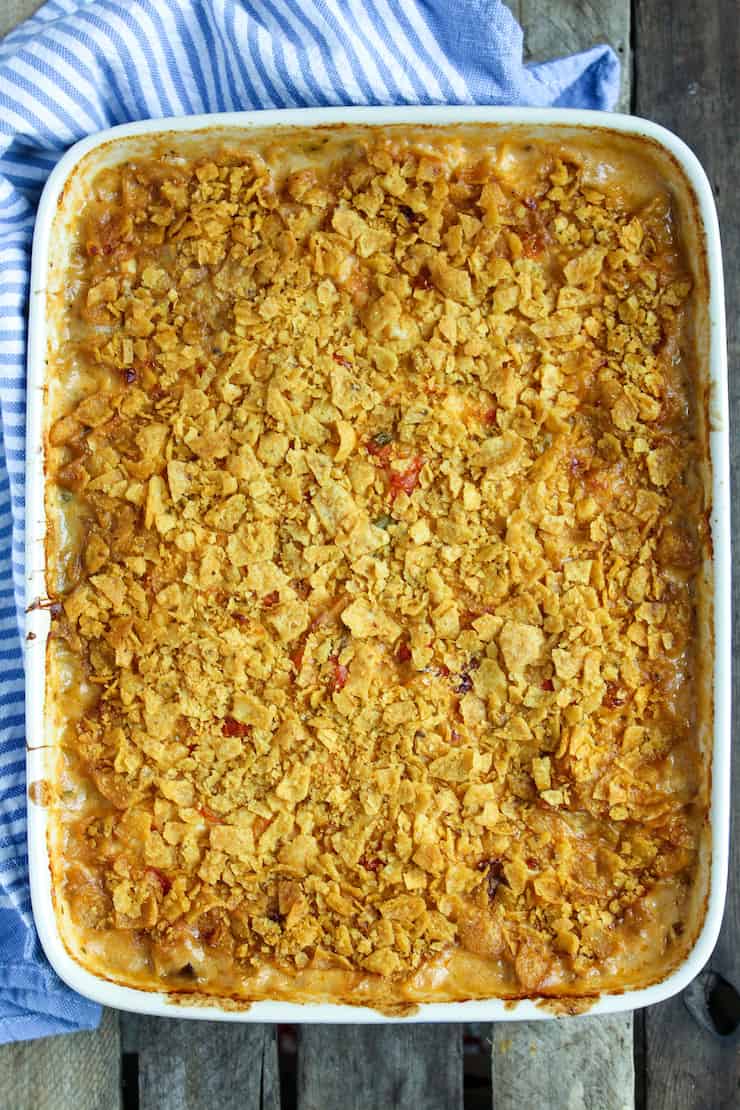 I don't know much about the origins of King Ranch Chicken, but it is Tex-Mex-inspired and instead of noodles, broken tortilla pieces are used in the layers. And the sauce is made with diced tomatoes and green chilies, heavy cream, chicken stock and a pound of cheese. Lordy, this is good stuff, my friends.
HERE'S WHAT YOU NEED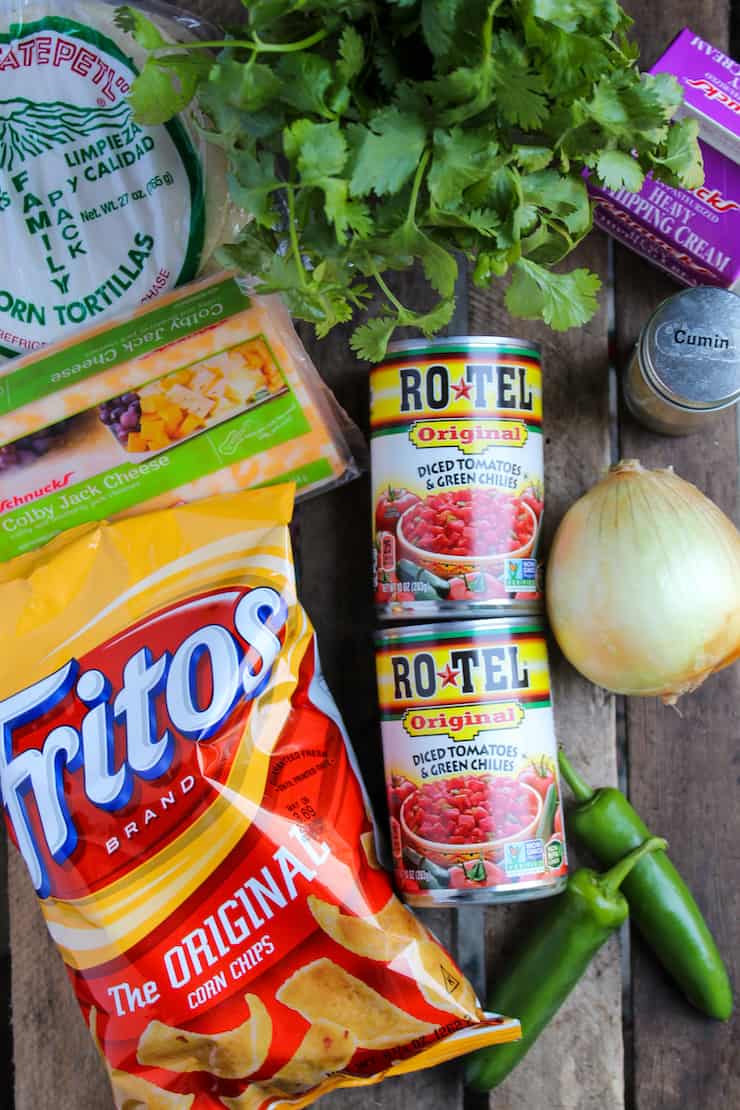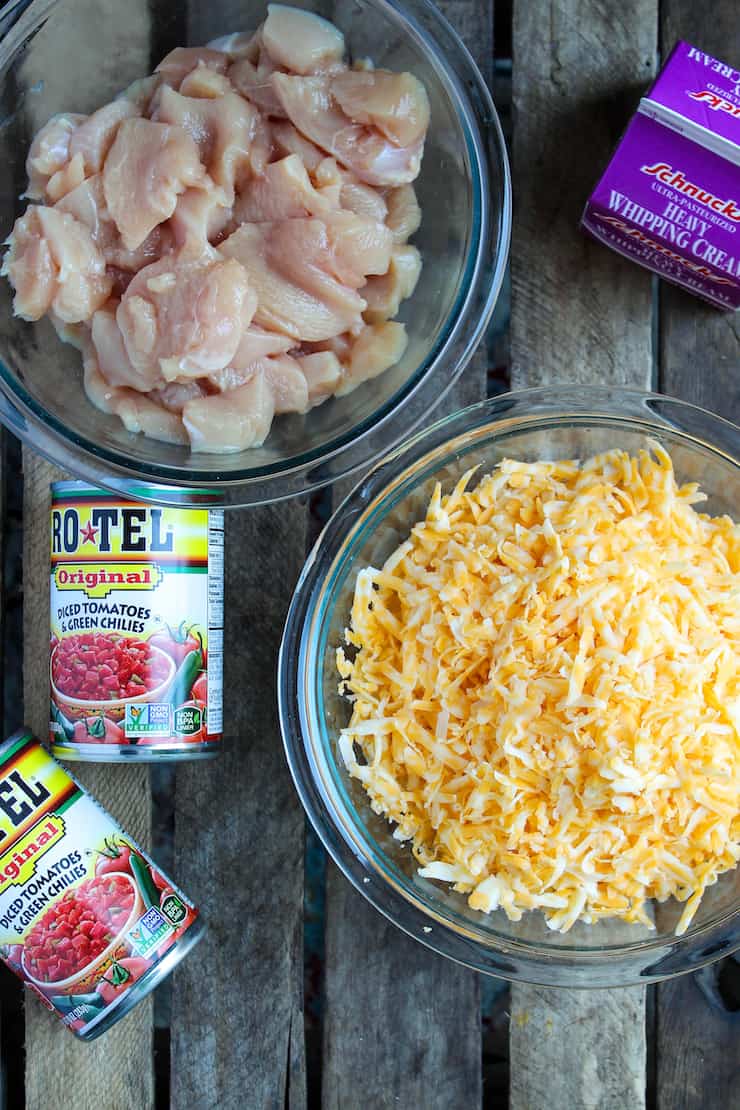 Sometimes canned tomatoes/green chiles are spicy and this recipe also has a couple added jalapeños. Not too spicy at all ~ the cream and cheese mellow the heat and temper it a bit, but not too much. This King Ranch Chicken is really balanced in flavors ~ spicy, creamy, savory, fresh tasting and dare I say, bright? Think cilantro, jalapeño, cumin and the absence of cream-of-whatever soup taste ~ I know you know what I mean.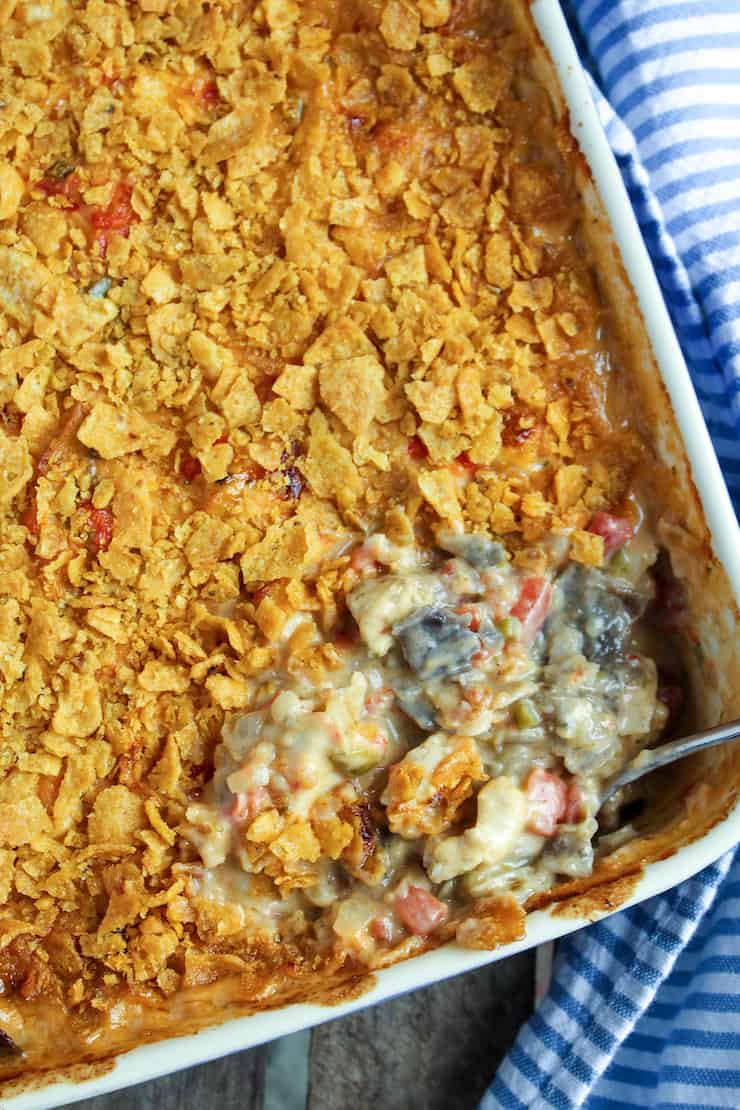 I first had King Ranch Chicken years and years ago, in Chicago. A local grocer occasionally had it in their hot food case and I would get it for lunch once in awhile. I hadn't had it since, and then a couple years ago a recipe appeared in the food section of our paper. I clipped it out and tossed it in my messy recipe drawer. My friend had us over for dinner a couple weeks later and she made this casserole! She beat me to it, and it was delicious. Took me two years to finally make it myself, but who notices these things but me, right?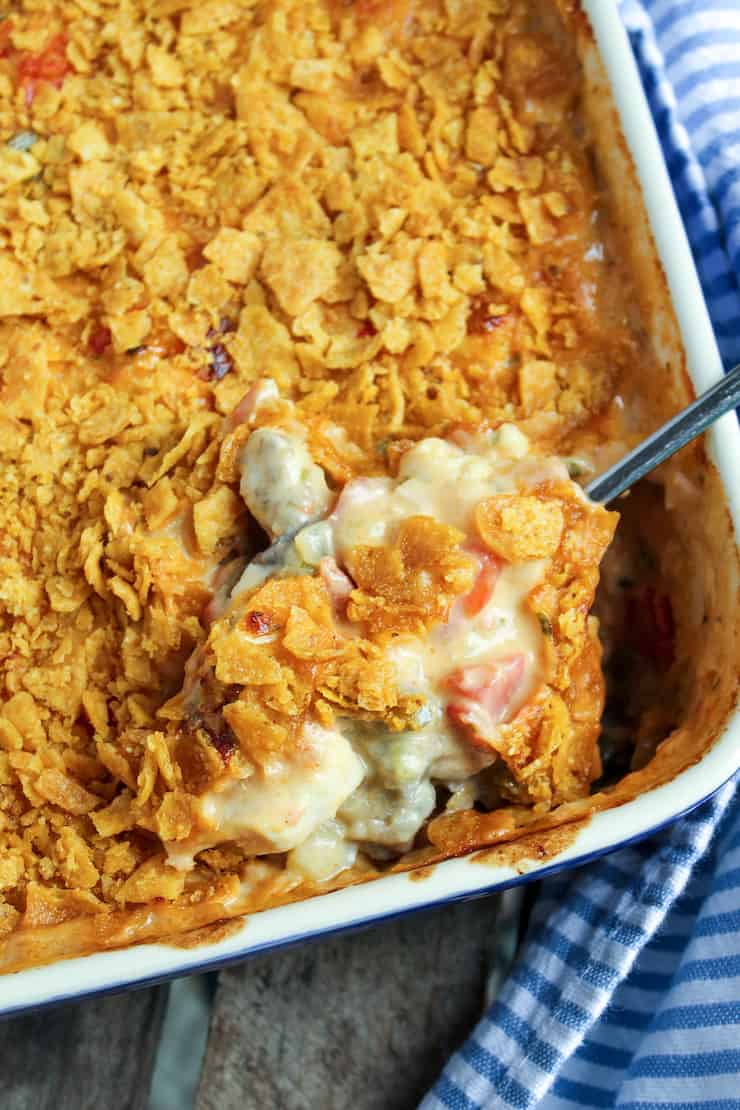 This Tex-Mex chicken casserole is crazy good and guaranteed to wow your family and friends. It's homey and comforting, like casseroles are, and real and authentic, like I kind of have a thing about. And the best part? Those crunchy Fritos on top ~ just ask Meathead. Best, Kelly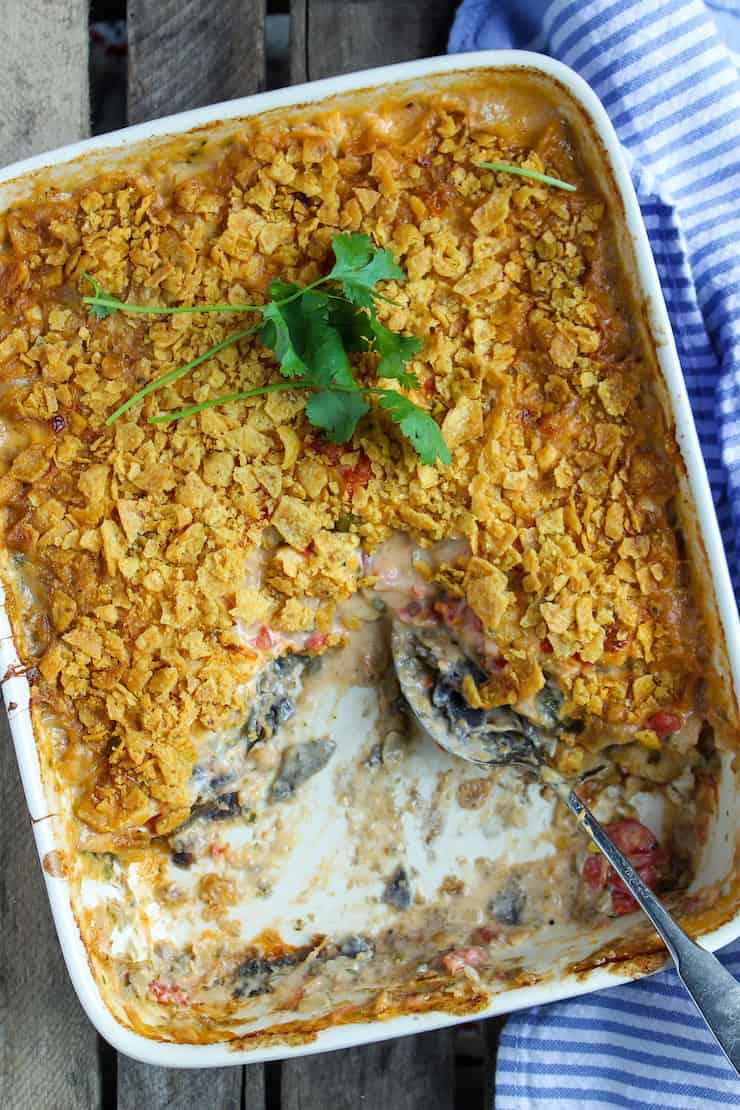 HUNGRY FOR MORE? Subscribe to my Newsletter and come hang out with me on INSTAGRAM, or give me a follow on FACEBOOK or see what I'm pinning on PINTEREST.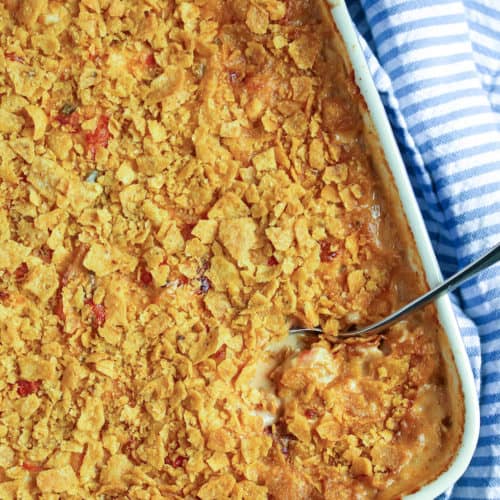 King Ranch Chicken Casserole
King Ranch Chicken Casserole with layers of tortillas and chicken in a creamy cheesy homemade sauce and topped with crunchy corn chips. Tex-Mex comfort food casserole!
Print
Pin
Rate
Course:
Casserole, Main Course
Ingredients
12

(6-inch)

corn tortillas (I used a mix of white and blue tortillas)

Vegetable oil spray

1

tbsp

butter

2

small

onions, finely chopped

2

jalapeños, seeded and minced (use gloves!)

2

tsp

ground cumin

2

(10-ounce)

cans diced tomatoes and green chiles, like Ro-tel

5

tbsp

flour

1

cup

heavy cream

3

cups

chicken broth/stock (preferably homemade)

Kosher salt and fresh cracked black pepper

1½

lbs

boneless, skinless chicken breasts, halved lengthwise and cut crosswise into ½-inch slices

1

lb

Colby Jack cheese, shredded

2

tbsp

minced fresh cilantro

2½

cups

corn chips (Fritos), crushed
Instructions
Adjust oven racks to upper-middle and lower-middle positions and preheat oven to 450º. Lay tortillas on two baking sheets and lightly spray both sides with vegetable oil spay. Bake until lightly crisped and browned, rotating halfway, about 12 minutes. Let cool slightly and then break into pieces and set aside.

Meanwhile, melt butter in large Dutch oven over medium-high heat. Add onions, minced jalapeños and cumin, and cook until lightly browned, about 8 minutes. Stir in tomatoes/chiles and their juices and cook until most of the liquid is gone, about 10 - 12 minutes.

Add flour and cook and stir for 1 minute. Slowly stir in broth and then cream, bring to a simmer and cook until thickened, about 2 - 3 minutes. Season with salt and pepper, to taste. Carefully add chicken and stir and cook until no longer pink, about 5 minutes ~ chicken should be slightly underdone. Remove from heat, gradually add cheese and cilantro, stir until cheese is melted.

Place half of tortilla pieces in bottom of 9" X 13" baking dish set on a baking sheet. Spoon half of mixture over chips. Scatter remaining tortilla pieces over filling, then top with remaining filling.

Bake casserole on lower rack until bubbly, about 15 minutes. Sprinkle with crushed corn chips and bake until lightly browned, about 10 minutes. Let casserole cool for 10 - 15 minutes before serving.
Keyword:
king ranch chicken, casserole, from scratch, best king ranch chicken casserole
*Adapted from The New Family Cookbook, by the editors at America's Test Kitchen.