St. Louis BBQ pork steaks, a regional specialty ~ doused in BBQ sauce and slow cooked on the grill until tender.
I've moved around quite a bit since college, staying mostly in the Midwest. Always takes some getting used to new digs, and there's always new food to try that's unique to the city or region. Fifteen years ago, we moved to St. Louis where Provel cheese, toasted ravioli and paper-thin crust pizza are mainstays. But guys, pork steaks are King and rule the land. I had never seen or heard of them before we moved to St. Louis.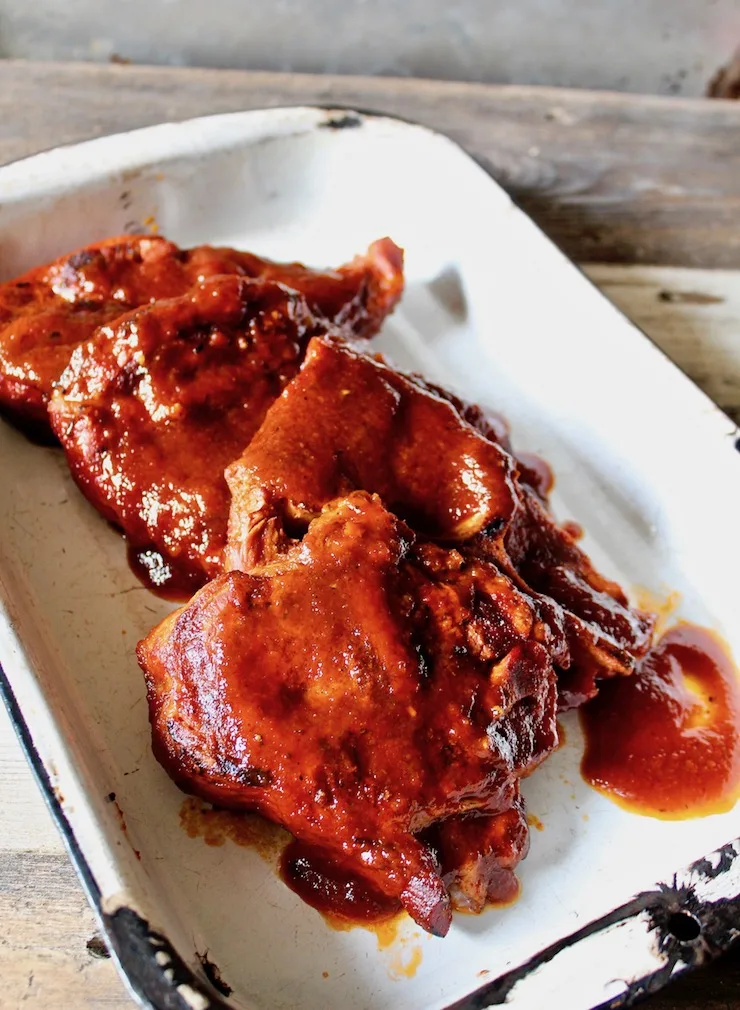 What is this St. Louis pork steak I speak of? It's a blade steak cut from a pork butt. The kind of pork cut you slow-cook for hours. Pork steaks are cheap and ALWAYS on sale in the grocery stores here in St. Louis. And, yes, these steaks are tough ~ you cannot just throw them on the grill, they will be inedible. Trust me, I learned the hard way the first time I made them.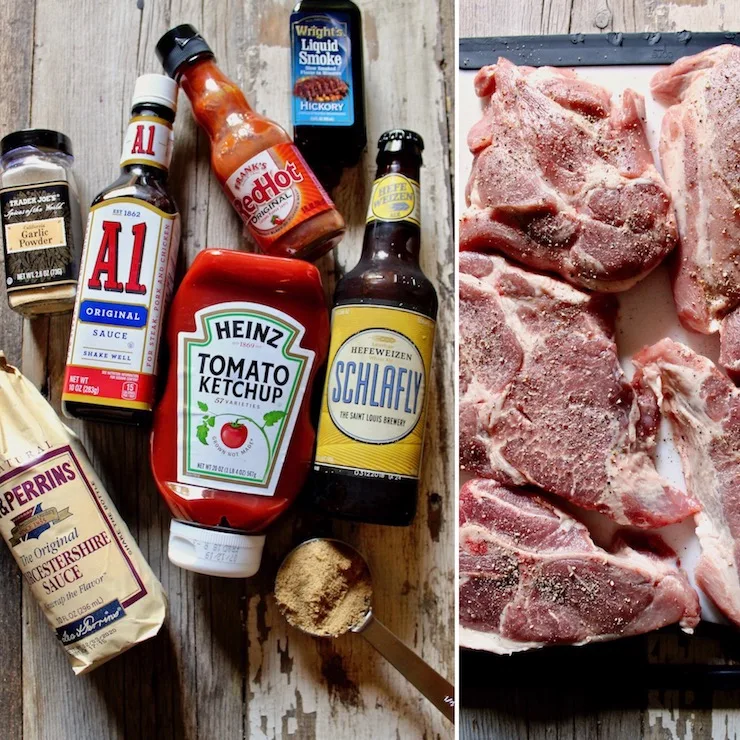 A properly cooked St. Louis pork steak is a little chewy but tender, and doused in BBQ sauce, usually something local, like Maull's. My first attempt was awful and I honestly didn't understand the appeal of a pork steak. But then a neighbor told me to cook them in the oven in barbecue sauce until tender, then finish off on the grill. So I tried it that way, so much better.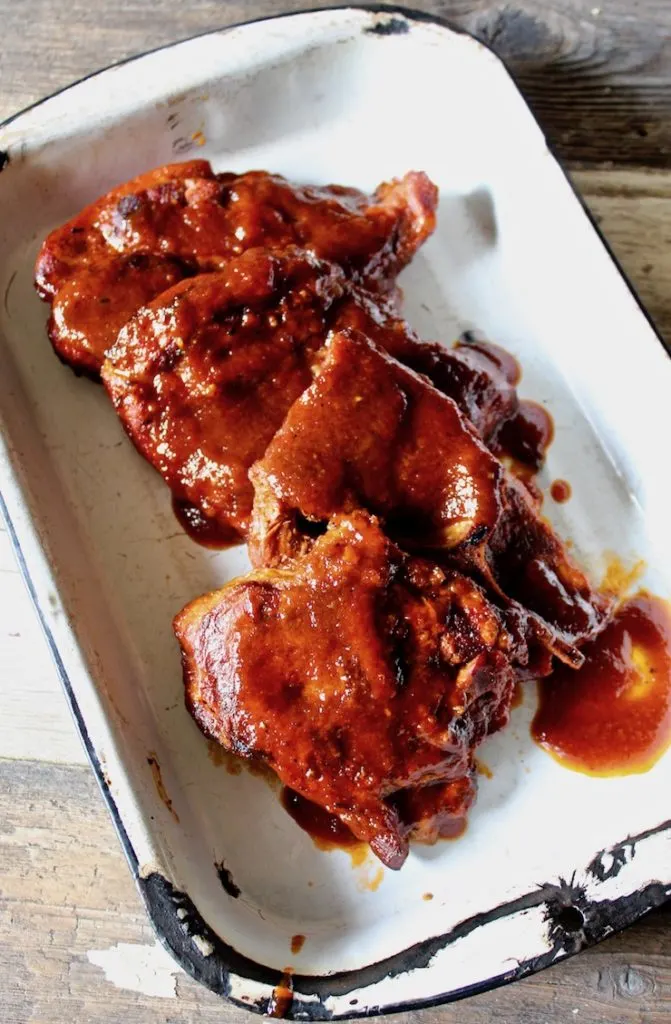 I have several St. Louis-style pork steak recipes clipped out from newspapers and magazines. My favorite is the one from Cook's Country magazine that was published in our local newspaper. It's all done on the grill and it's easy. Make a tasty BBQ sauce with beer, brown the pork steaks, pour the sauce over the steaks in a big disposable pan, cover and cook for about an hour and a half. Pretty darn easy and delicious!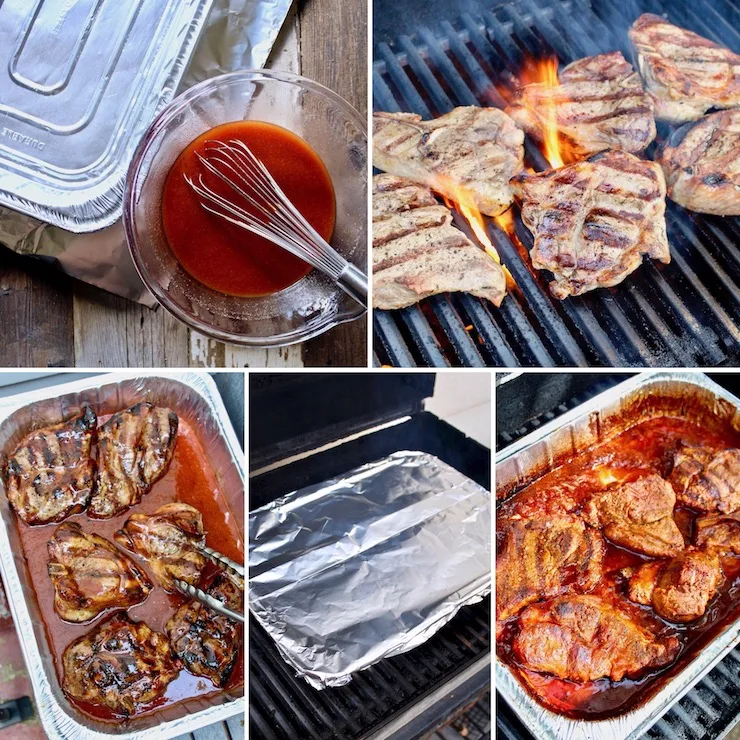 Nope, I never saw a pork steak in Chicago, Minnesota, Iowa or Ohio. But BBQ pork steaks are practically on every street corner pop-up BBQ stand in St. Louis during the summer, and on many a backyard grill for the summer holidays. It's just what we do in St. Louis ~ Kelly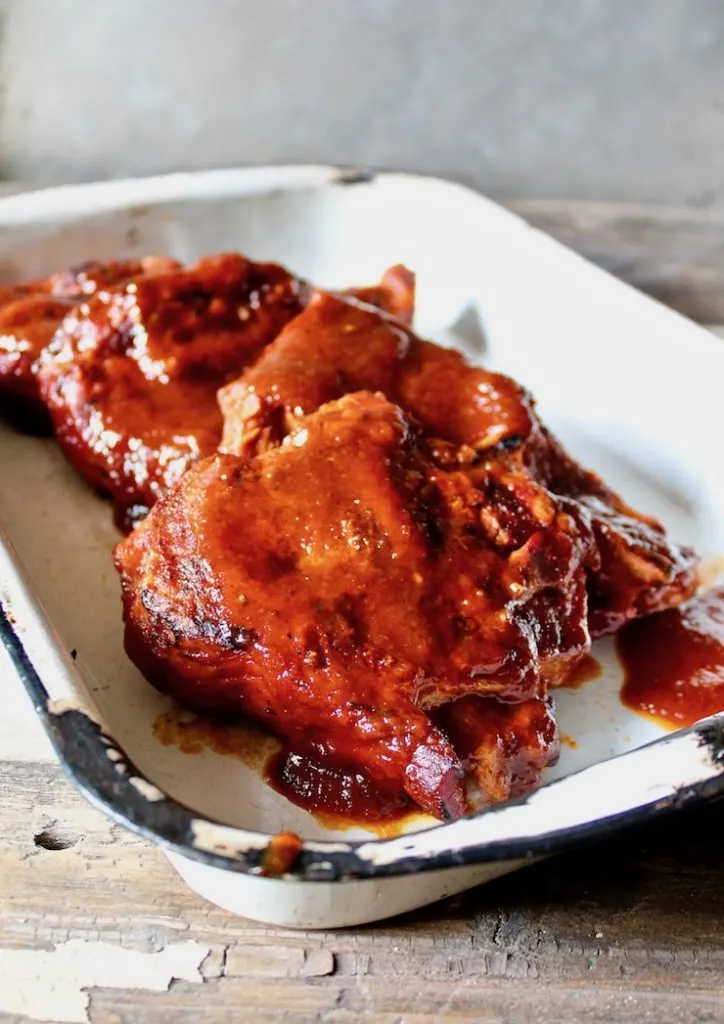 You might also want to try my St. Louis-style BBQ Ribs.
If you try these BBQ Pork Steaks or any other recipe on the blog, then don't forget to rate the recipe and let me know how yours turned out in the comments below ~ I love hearing from you! You can also FOLLOW ME on FACEBOOK, TWITTER, INSTAGRAM and PINTEREST to see more of what I'm cooking in my kitchen and recipes.
St. Louis BBQ Pork Steaks
St. Louis-style pork steaks cooked in BBQ sauce until tender, all in one pan on the grill.
Print
Pin
Rate
Ingredients
1½

cups

ketchup

2

cups

light-bodied American beer

¼

cup

steak sauce, like A.1.

¼

cup

dark brown sugar, packed

2

tablespoons

apple cider vinegar

2

tablespoons

Worcestershire sauce

1

teaspoon

garlic powder

1

teaspoon

hot sauce, like Frank's

½

teaspoon

liquid smoke

6-8

pork steaks

(mine were huge, I cut in half for 6 steaks)

Freshly ground black pepper
Instructions
Preheat grill. For gas, turn all burners on high for 15 minutes. For charcoal, make sure you to use enough charcoal to cover the circumference of the grill.

Make the sauce. Whisk together the first 9 ingredients in a large bowl. Transfer BBQ sauce to a large, disposable aluminum pan and set aside.

Season the pork steaks to taste with black pepper and grill until well-browned, 6 or 7 minutes a side. Transfer the steaks to the pan with the sauce and turn to coat. Cover the pan with foil and place back on the grill. Turn the burners down to low and cook for about 90 minutes until tender. Check after about an hour to see if the sauce looks too thick or dry; if so, add a little water.

Carefully remove the pan from grill. Remove steaks to serving platter or pan. Skim any excess fat from sauce and spoon over steaks or serve on the side.
Recipe Notes
The pork steaks I bought were huge (from Costco, natch!) so I cut three in half for 6 steaks. Use your judgement, I don't think they're this big outside of St. Louis.
You can turn the grill back up to high and finish off the steaks, just grill a few minutes a side until lightly charred around the edges. I don't think it's necessary, but you're the boss.
You can easily adapt this to the oven by browning the steaks on the stovetop or grill, placing them in a roasting pan with the sauce, and then into the oven, covered, for a couple of hours.
I'm not a beer person, so I deferred to my husband. He chose a local beer, Schlafly. Appropriately good call.
Adapted from St. Louis Post-Dispatch/Cook's Country Magazine
Nutrition
Calories:
278
kcal
Carbohydrates:
24
g
Protein:
25
g
Fat:
7
g
Saturated Fat:
3
g
Polyunsaturated Fat:
1
g
Monounsaturated Fat:
3
g
Trans Fat:
1
g
Cholesterol:
77
mg
Sodium:
687
mg
Potassium:
649
mg
Fiber:
1
g
Sugar:
17
g
Vitamin A:
257
IU
Vitamin C:
3
mg
Calcium:
39
mg
Iron:
2
mg