A spicy and creamy Cajun pasta dish with blackened shrimp and andouille sausage.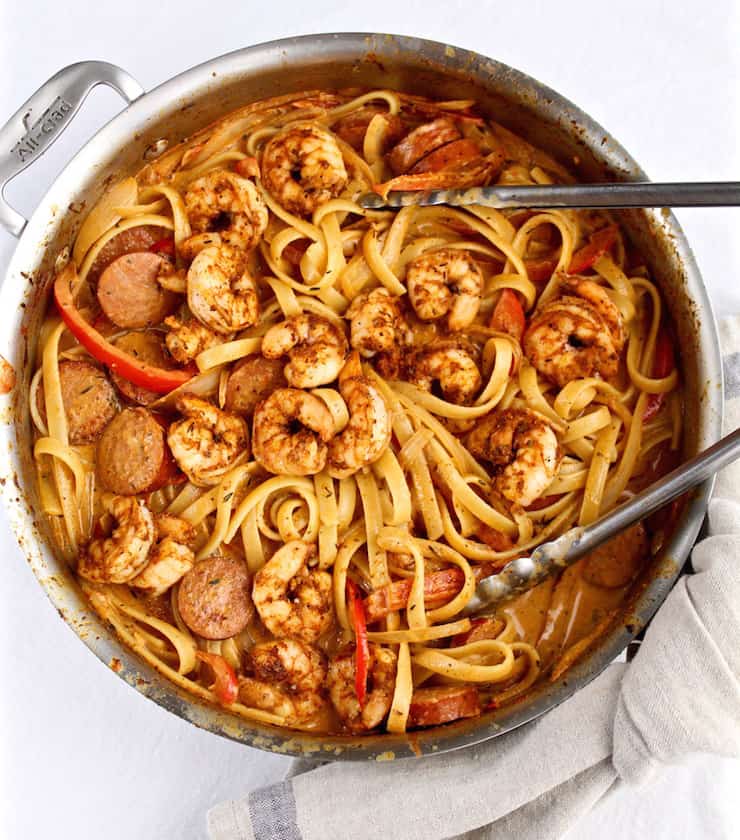 Do you have a dish that you always order at a favorite restaurant? I do, and it's Creole Pasta at this lovely little bistro in our new neighborhood. I crave it and I wish I could try something else from the menu, but I just can't. Obsessed and inspired, I set out to make something like it at home. It took a few tries, but I came up with a creamy cajun shrimp and sausage pasta dish that can compete ~ alleluia.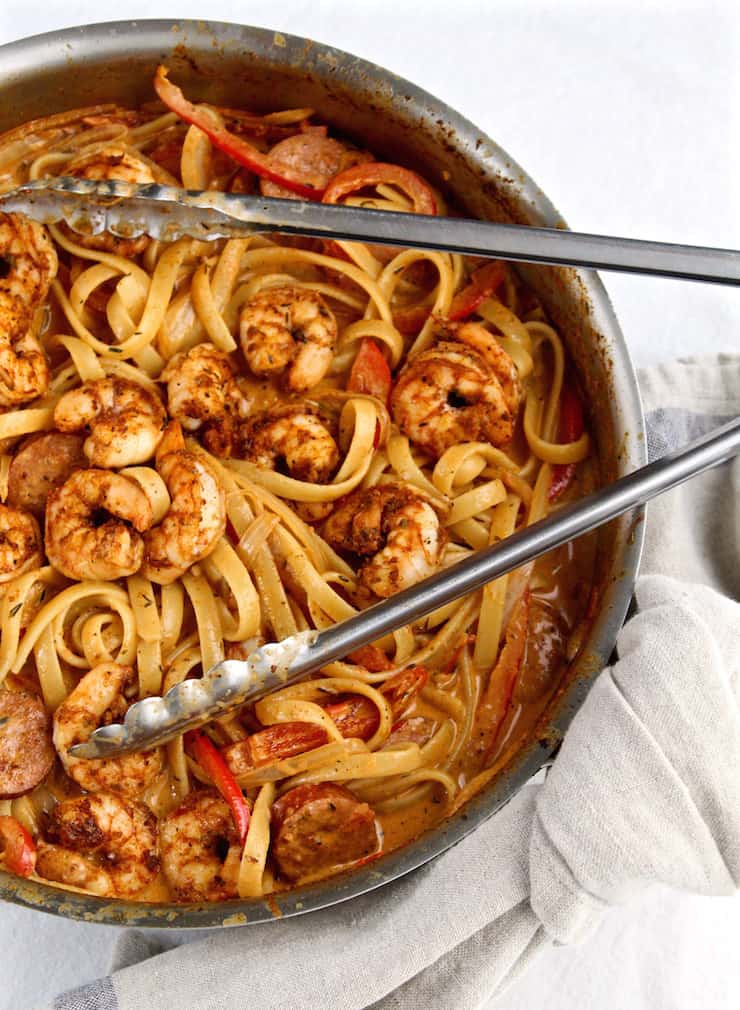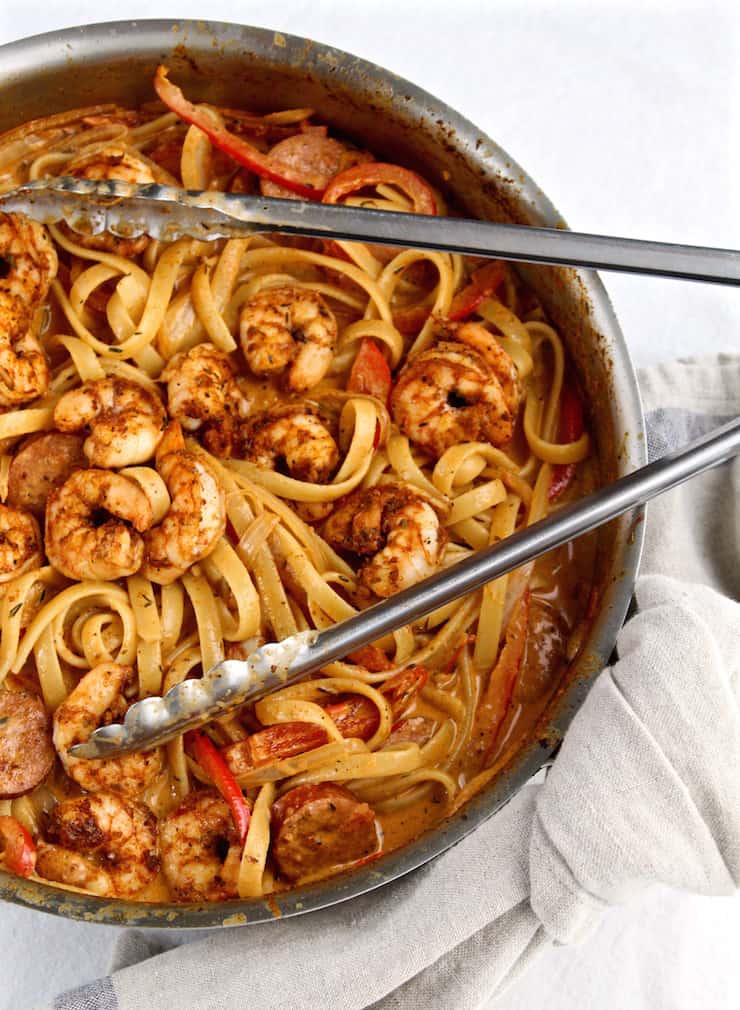 I love cajun spices or creole seasonings, both terms seem to be used interchangeably, but they are actually a little different. I'm no expert but, simply put, some label Creole food as "city food" and Cajun as "country food". I'm just gonna go with cajun here, and leave the nuanced differences to others.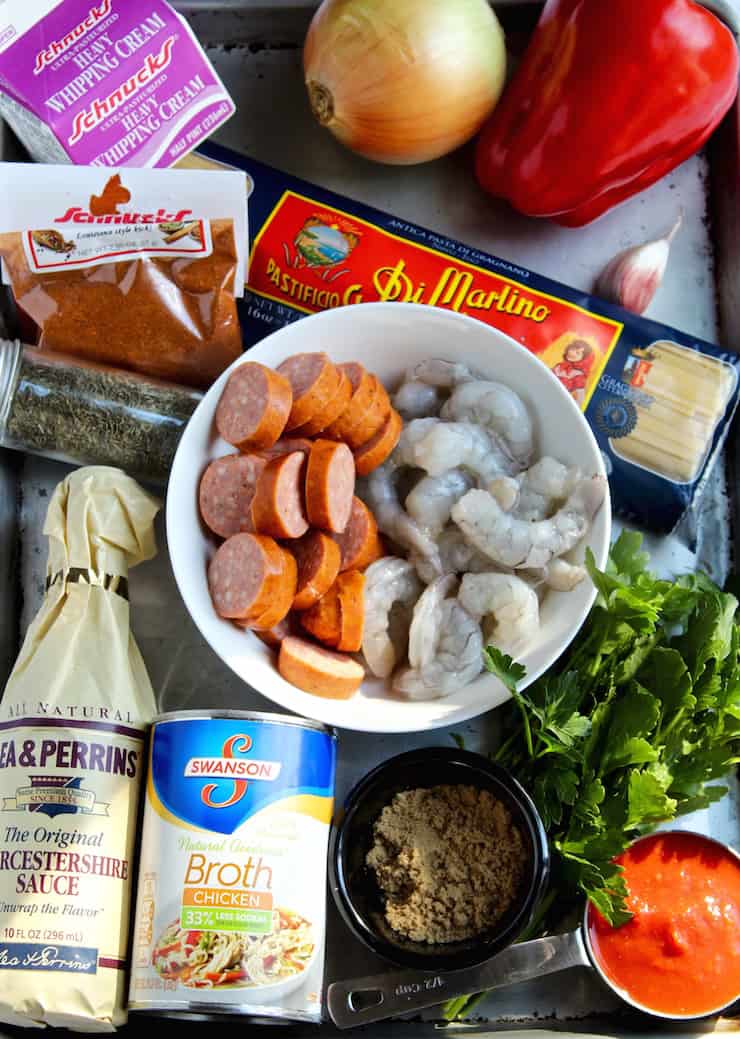 I'm not from St. Louis ~ I'm a Chicago girl, through and through ~ but after living here for almost 14 years, I would definitely say St. Louis is more southern than midwestern.
There's a huge French influence here and St. Louis is home to the largest Mardi Gras celebration outside of New Orleans. Just a little observation I thought I'd share. ?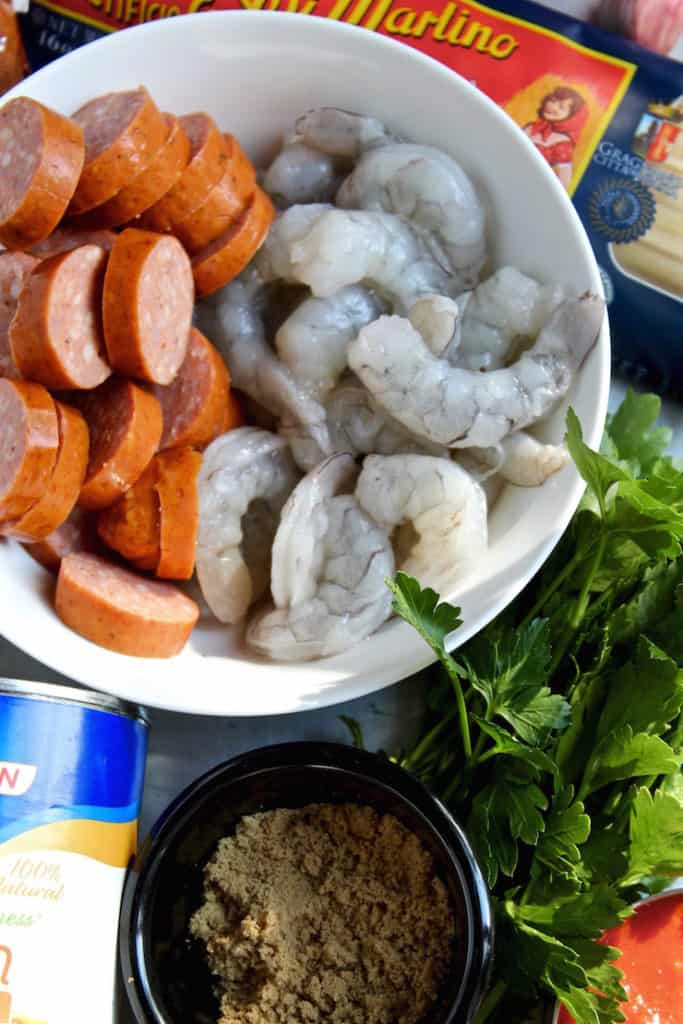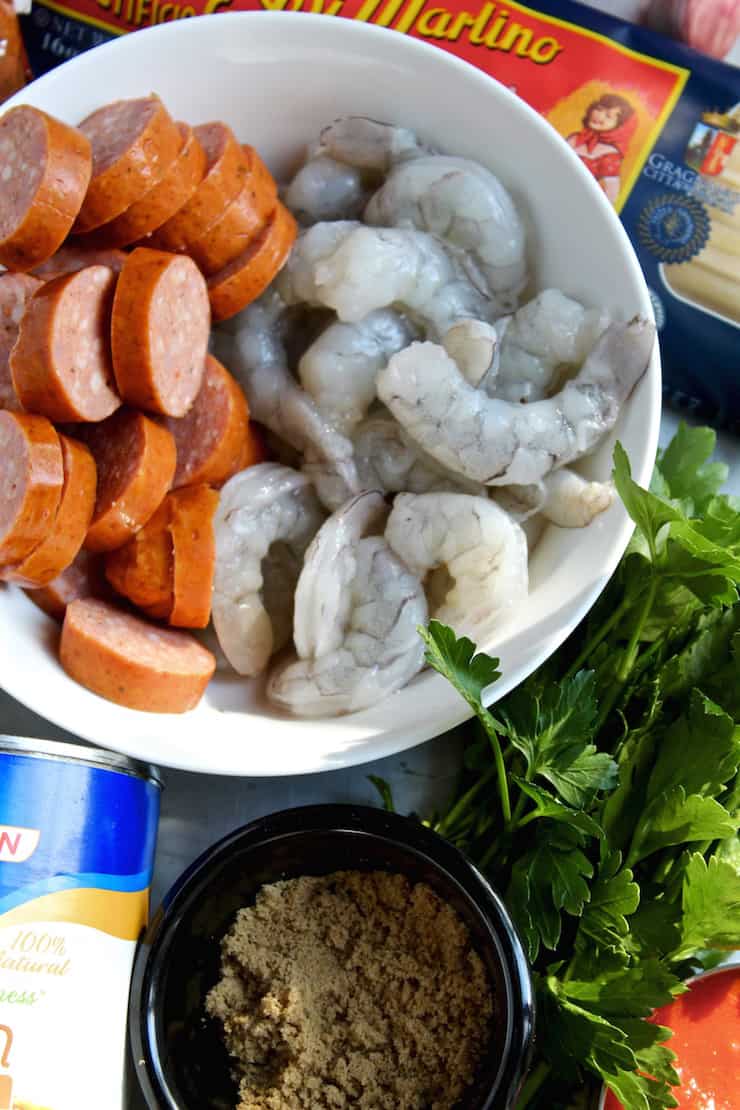 This dish has such great flavor and heat, neither of which overwhelms the other. The sauce is creamy and decadent and tossed with fettuccine, blackened shrimp and andouille sausage. Cajun spices are great on shrimp, seared or "blackened" for a few minutes so they're not overcooked and rubbery.
Andouille is a smoked sausage full of wonderful Louisiana cajun spices. The combination of shrimp and andouille ~ a perfect match. And lately, I've been making this with bowtie pasta, I like the leftovers with bowties, a little easier to reheat.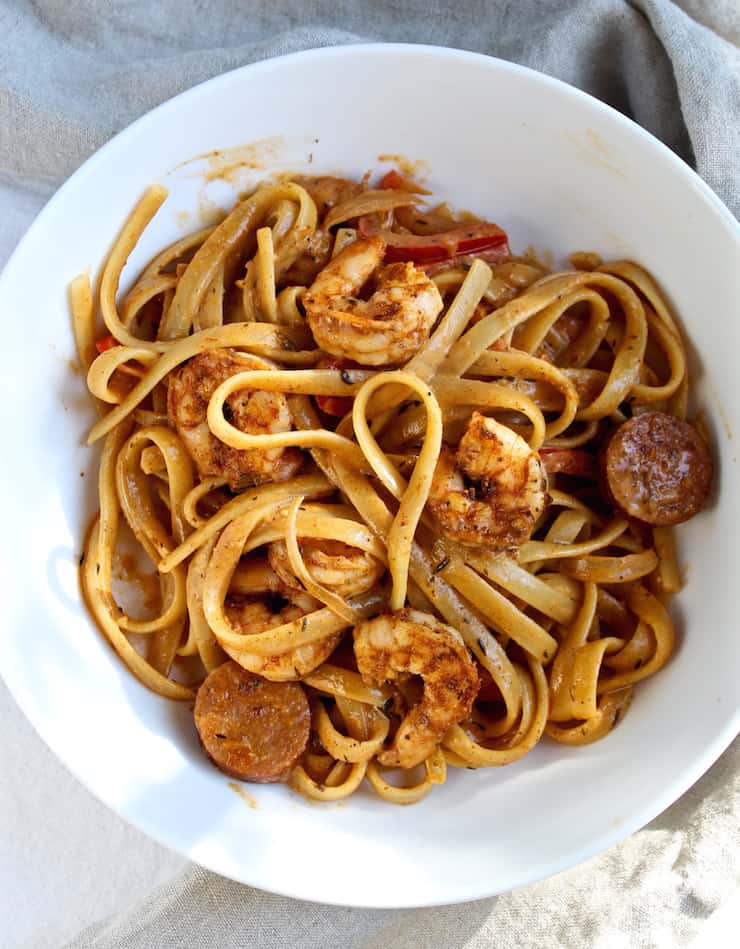 This pasta dish comes together easily if you have all your ingredients prepped and ready to go, mise en place. It's perfect for a weeknight dinner or entertaining. Creamy cajun pasta with blackened shrimp and andouille sausage ~ not gonna lie, I licked my plate and then the pan, before Meathead could beat me to it! ~ Kelly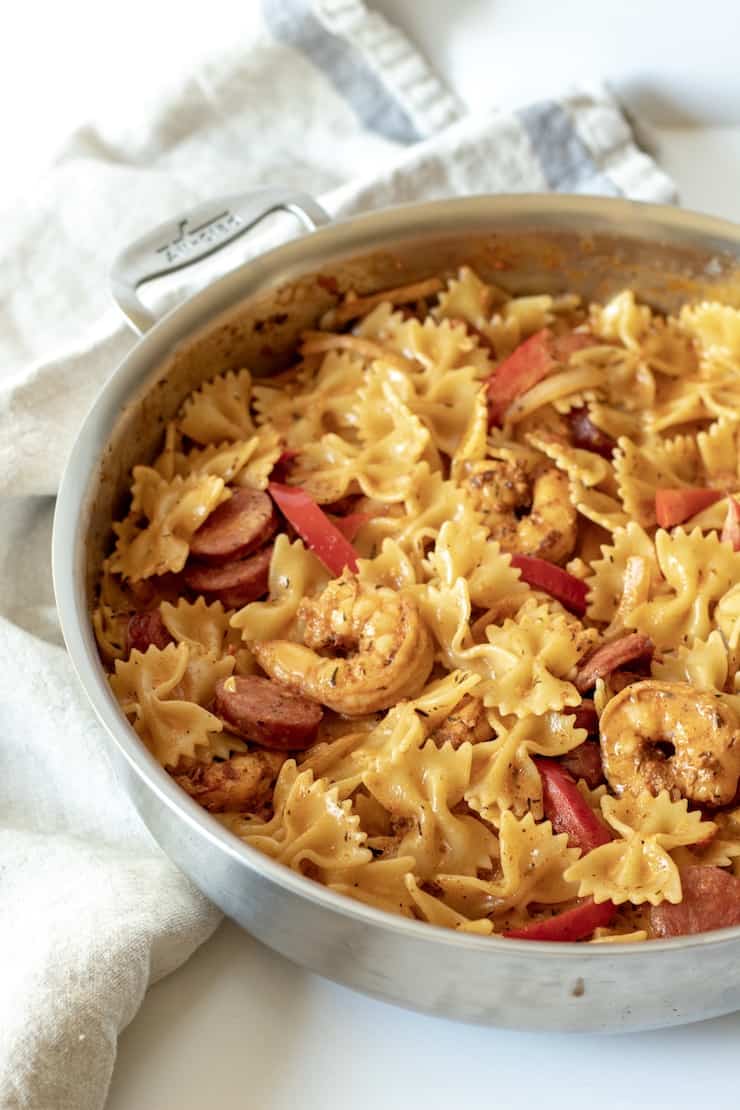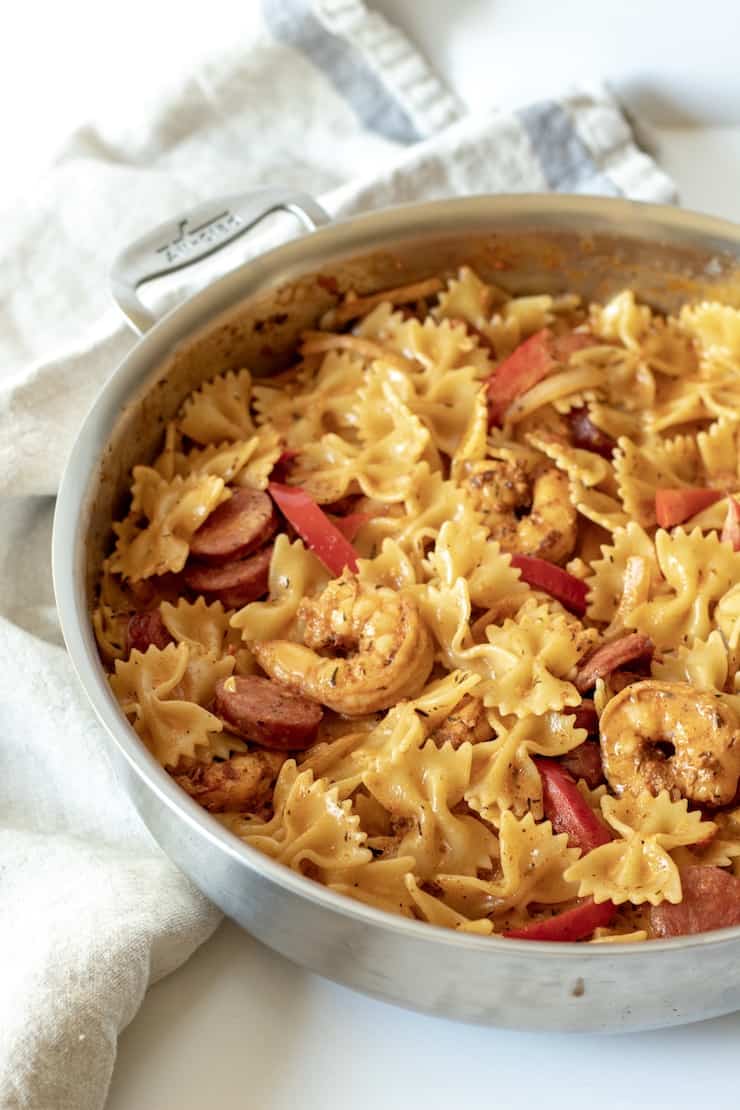 If you have a love of Cajun spiced southern dishes, then try these recipes, too:
HUNGRY FOR MORE? Subscribe to my Newsletter and come hang out with me on INSTAGRAM, or give me a follow on FACEBOOK or see what I'm pinning on PINTEREST.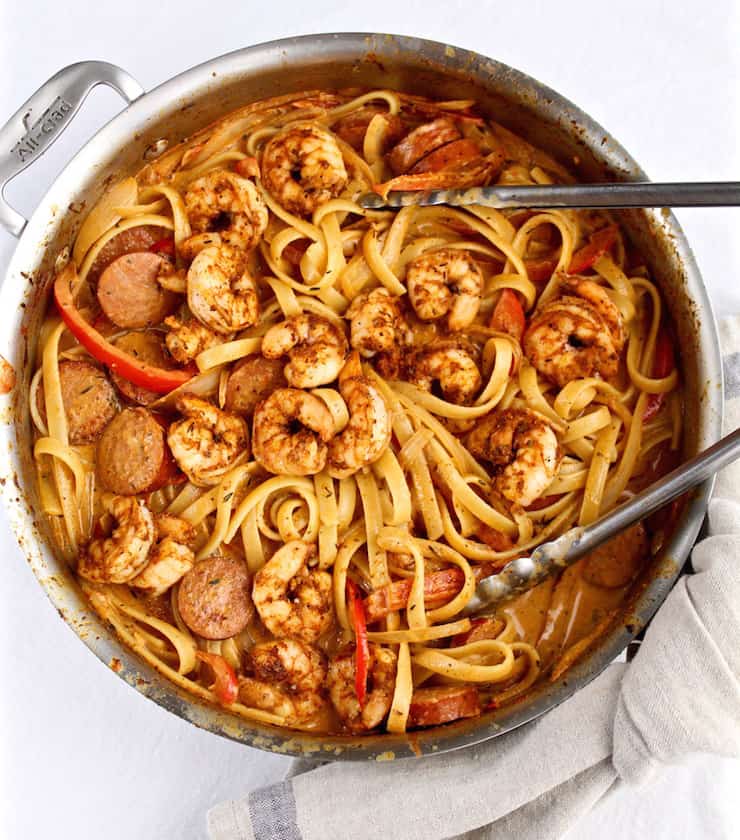 Creamy Cajun Shrimp Pasta with Sausage
A spicy and creamy cajun shrimp pasta dish with blackened shrimp and andouille sausage.
Print
Pin
Rate
Ingredients
½

pound

large shrimp, peeled and deveined, tails removed

1

andouille sausage, about ½ pound, sliced into rounds

1 - 2

tablespoons

cajun/creole spice mix, adjust to your spice/heat level

Olive oil

½

medium yellow onion, thinly sliced

½

red bell pepper, thinly sliced

1

teaspoon

dried thyme

1

teaspoon

smoked paprika

1

tablespoon

cajun/creole spice mix

1

teaspoon

brown sugar

1 - 2

cloves

garlic, finely chopped (1 large or 2 small)

½

cup

crushed tomatoes

¾

cup

chicken broth

1

teaspoon

Worcestershire sauce

¾

cup

heavy cream, or ½ & ½ (I prefer heavy cream!!)

12

ounces

fettuccine or farfalle (bowties)

Kosher salt and fresh cracked black pepper

Grated Parmesan and chopped parsley, for serving
Instructions
Bring large pot of water to boil for pasta. Toss shrimp with 1 - 2 tablespoons of cajun seasoning and coat well. Heat a large skillet over medium high heat and drizzle bottom of pan with olive oil. Add shrimp and cook for 2 minutes or so until starting to curl. Flip shrimp over and cook another minute or two and then remove to a plate and set aside. Drizzle pan with a little more olive oil, add sausage and brown until nicely caramelized, about 4 - 5 minutes. Remove to plate, set aside.

Add pasta to salted boiling water and cook until al dente, a minute less than package instructions.

Lower heat to medium and add another good drizzle of olive oil to the pan, add the onion, red bell pepper, thyme, smoked paprika, 1 tablespoon cajun seasoning, brown sugar and a generous pinch of salt. Sauté until onion and pepper have softened a bit, scraping up any browned bits that you can. Add the garlic and cook until fragrant, about 30 seconds.

Add crushed tomatoes, chicken broth and Worcestershire sauce and bring to a simmer, stirring and scraping up any brown bits from bottom of pan, simmer a couple minutes. Add cream and stir to combine, bring to a simmer. Once simmering, add cooked pasta and andouille sausage and stir to combine and heat through, 2 - 3 minutes. Add more chicken broth or cream if it seems dry or you'd like more sauce (I added ¼ cup of each). Salt and pepper to taste and then lastly, add blackened shrimp and combine, or place shrimp on top of pasta. Sprinkle with some more freshly cracked black pepper, grated Parmesan and chopped parsley. Enjoy!
Nutrition
Keyword:
creamy cajun shrimp pasta with sausage, cajun shrimp and sausage pasta, cajun shrimp pasta, creole pasta
*Inspired by Immaculate Bites and The Flavor Bender and, of course, Roux Royale ~ St. Charles, Missouri