Summer farm-fresh okra soaked in buttermilk, dredged in seasoned cornmeal then fried, with homemade rémoulade sauce for dipping.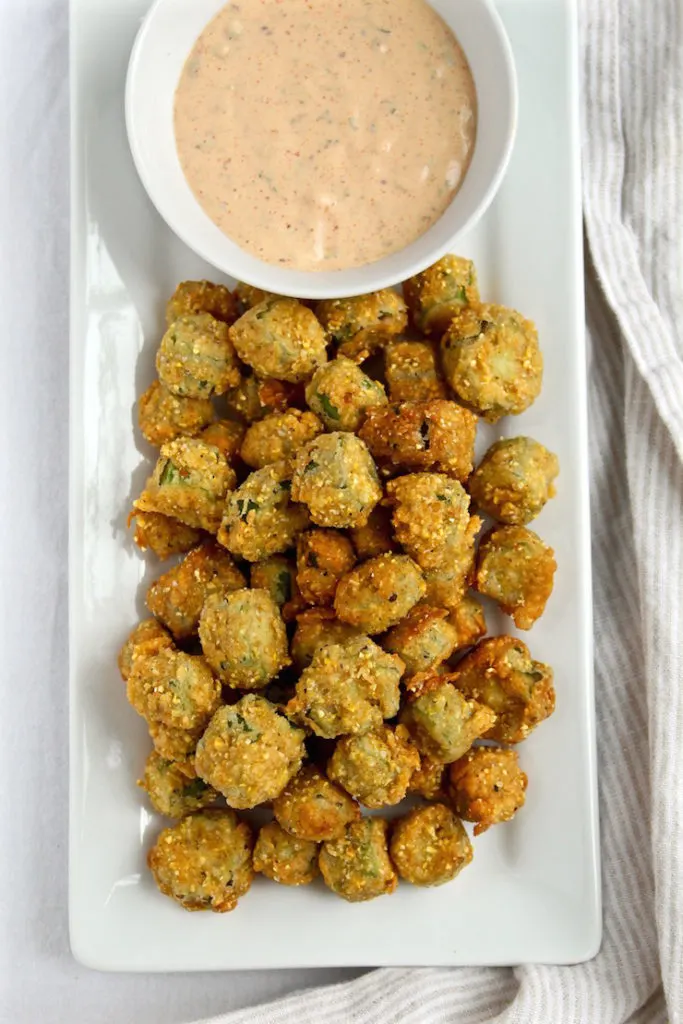 Meathead and I went to a real dive last week for dinner. We heard they had good food so we checked it out. First, we had to eat outside because of the smoke. I reeked after just two minutes inside. Second, the place was full of regulars and they were friendly, loud and hilarious, but mostly welcoming to us newbies. Third, the catfish special was very good.
We were sitting at a big table on the front porch when a man in overalls ~ no shirt ~ started rummaging through a box at the end of the table. Turns out the local farmers put excess produce on the table and you can help yourself. This Popeye farmer-like guy was grabbing okra. I've never had or cooked okra. We started talking about all the ways to cook okra and then he said, "The worse you can do is do it wrong". I took his advice and grabbed myself a bag of okra.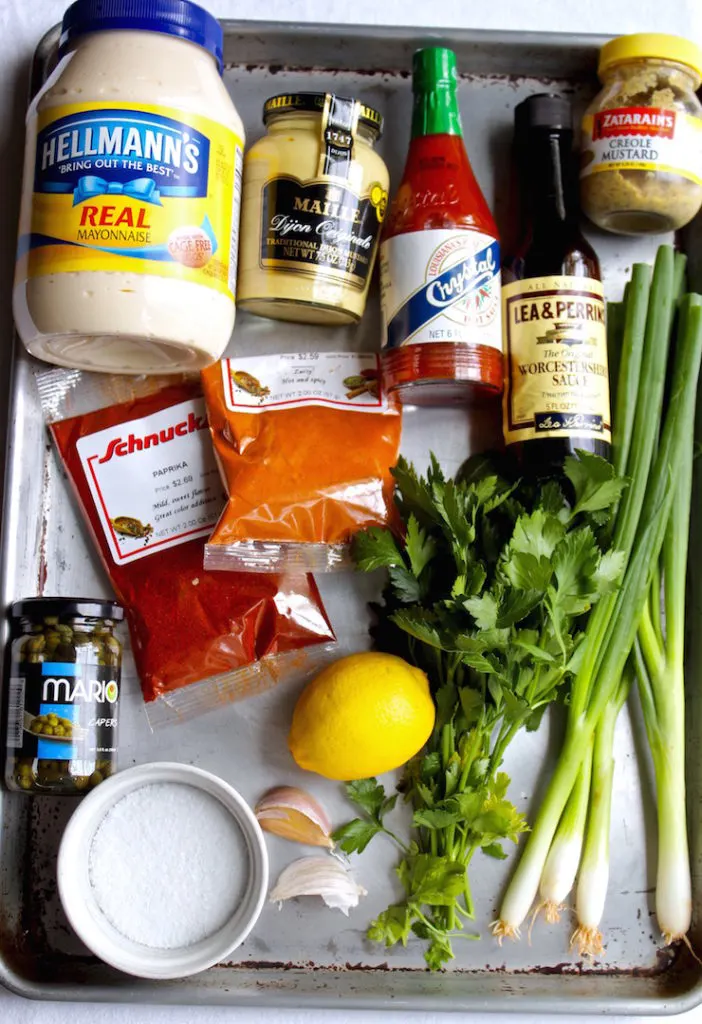 So, the next morning I'm staring at all this okra and wondering what to do with it. A little research, and based on what I had on hand, I decided to make fried okra with a Louisiana-style rémoulade sauce. I was very pleased, and my neighbor who is from the south gave it a big thumbs up.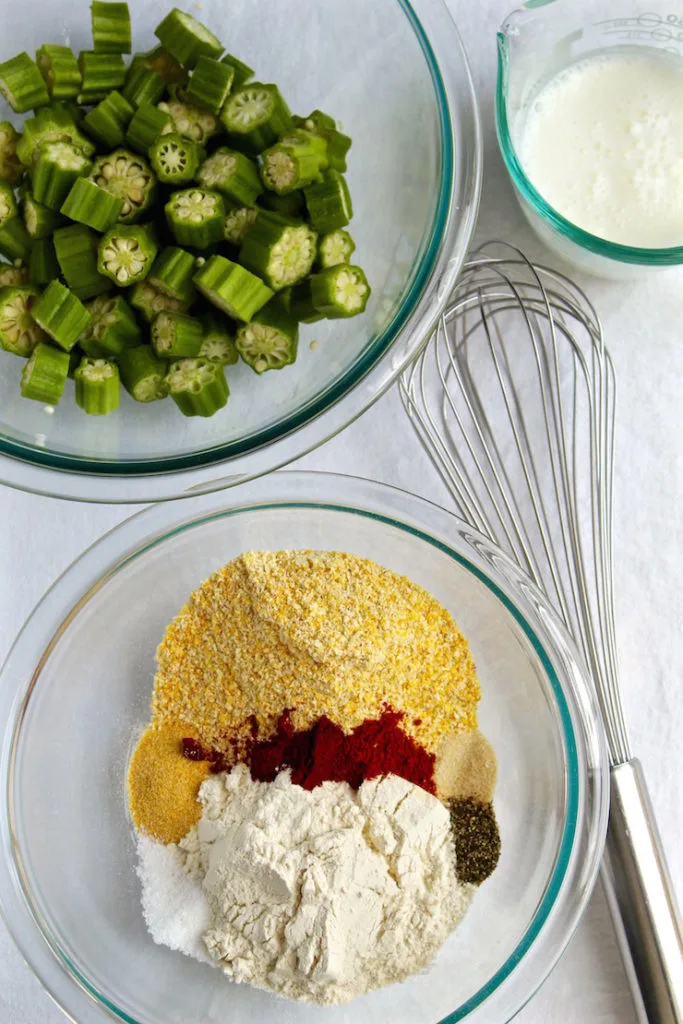 I asked Meathead what okra tastes like and he said mushy. I've also heard the term slimy used to describe okra. Okra definitely gets a bad wrap. I think it is a misunderstood vegetable. I still don't really get okra or what it's used for. But I do like this fried version. It wasn't mushy or slimy. After it sat awhile and cooled down to room temp, I would say maybe a little mushy. For the most part, I don't think okra has much flavor, kind of like yellow squash I'd say.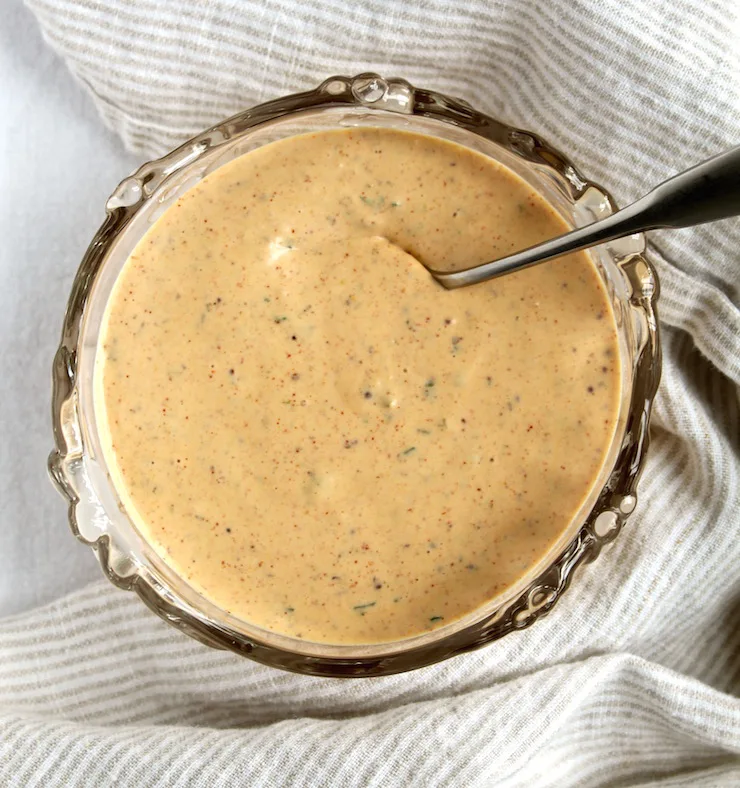 But all is good with a tangy, Louisiana-style rémoulade sauce to dip the crispy nuggets of okra in. It's a mayonnaise-based sauce that has many variations. This is what I've heard is Louisiana, cajun or southern rémoulade ~ it's perfect, I love it.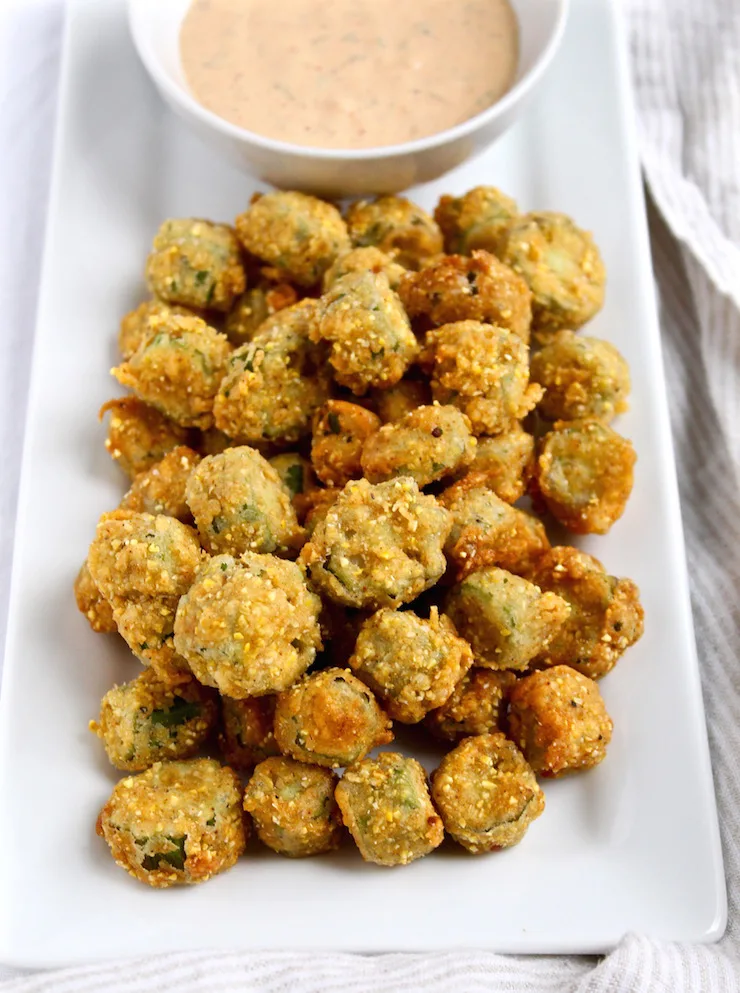 If you find yourself with okra and don't know what the heck to do with it, try this fried okra with Louisiana rémoulade. I definitely didn't do it wrong ~ farmer Popeye would be proud. Enjoy, Kelly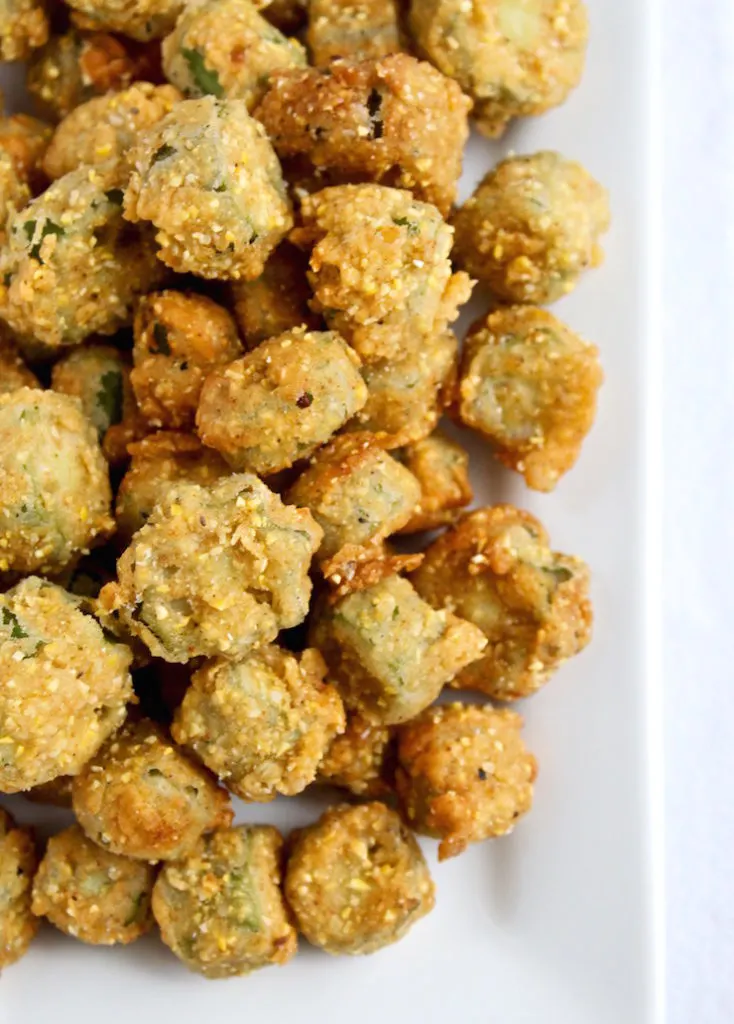 You know what else is super good and Southern and I've also learned how to make? Fried Green Tomatoes!! And, yes, you need the rémoulade sauce for dipping, too!
If you've tried this Fried Okra with Louisiana Rémoulade Sauce, please rate it below in the comments and let me know how it went ~ I love hearing from you! HUNGRY FOR MORE? Subscribe to my Newsletter and come hang out with me on PINTEREST, INSTAGRAM and FACEBOOK.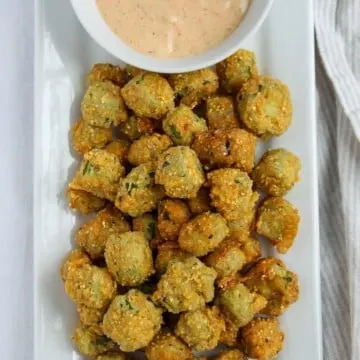 Fried Okra with Louisiana Rémoulade
Farm-fresh okra fried in seasoned cornmeal crust with homemade rémoulade sauce for dipping.
Print
Pin
Rate
Course:
Appetizer, Side Dish
Ingredients
For Rémoulade Sauce:
1

cup

good quality mayonnaise

I like Hellmann's but Duke's would be the southern choice

2

tablespoons

Dijon mustard

1

tablespoon

lemon juice

1

tablespoon

finely chopped flat-leaf parsley

1

tablespoon

Louisiana-style hot sauce

2

teaspoons

creole mustard, whole-grain mustard

2

cloves

garlic, minced

2

teaspoons

capers, finely chopped

1

teaspoon

Worcestershire sauce

1

teaspoon

paprika

1

scallion, finely chopped

¼

teaspoon

kosher salt
For Okra:
¾

cups

cornmeal

¾

cup

all purpose flour

1

teaspoon

garlic powder

½

teaspoon

onion powder

½

teaspoon

smoked paprika

¼

teaspoon

cayenne pepper

½

cup

buttermilk

1 - 2

pounds

okra

I have no idea how much okra I had, this recipe will certainly accomodate 2 lbs, trimmed and cut into ½-inch rounds

6

cups

vegetable oil for frying
Instructions
Make rémoulade sauce~ whisk together all rémoulade ingredients in a small bowl until well-combined and smooth. Let sit for 1 hour so flavors meld while you prepare okra. (Cover and refrigerate any leftover sauce.)

In a dutch oven, heat oil to 350º. Place okra rounds in a bowl and cover with buttermilk, tossing to make sure all pieces are coated.

In another bowl, whisk together cornmeal, flour and seasonings. Transfer okra to flour mix in batches (I did 2 - 3 batches) and toss well to coat.

Fry okra in hot oil for about 4 - 5 minutes, stirring frequently to evenly brown. Do not crowd pan, fry in batches ~ again, I fried in 2 - 3 batches.

Remove to paper towels to drain and generously sprinkle with kosher salt while hot. Trust me, okra can take a lot of salt! Serve immediately with rémoulade sauce.
Recipe Notes
Makes 4 - 6 appetizer servings
Do use a thermometer for your frying oil. Frying at the correct temperature is what ensures your okra doesn't soak up the oil and instead fries to a crispy perfection.
Nutrition
Calories:
728
kcal
Carbohydrates:
70
g
Protein:
14
g
Fat:
46
g
Saturated Fat:
8
g
Polyunsaturated Fat:
26
g
Monounsaturated Fat:
11
g
Trans Fat:
1
g
Cholesterol:
27
mg
Sodium:
803
mg
Potassium:
1268
mg
Fiber:
15
g
Sugar:
8
g
Vitamin A:
2865
IU
Vitamin C:
87
mg
Calcium:
341
mg
Iron:
5
mg
*Adapted from instructables and Serious Eats