Easy St. Louis-style ribs, these are the best BBQ ribs of summer! Pork spareribs cooked low and slow on the grill and basted with BBQ sauce until tender and practically falling off the bone!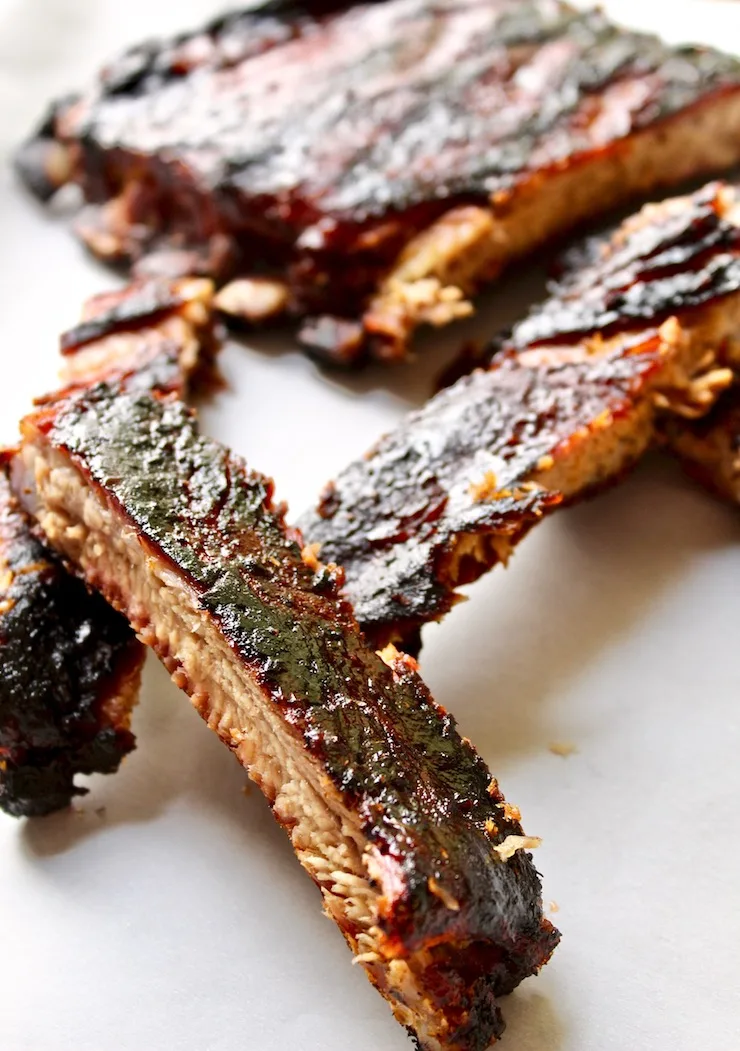 My husband. It's time to name him I think. I wasn't sure if I wanted to use his real name or a pseudonym. His name is Mark. I might nickname him once in a while, we'll see. A few things about Mark. He likes his meat, or protein as he says. Mark consumes a "protein" three times a day. Breakfast, lunch and dinner, he prefers a meat item on his plate. Ugh, so much fun cooking for Meathead and my middle daughter, the Vegetarian (although she just recently started eating meat again after seven years).
Next, Mark eats ice cream every day. Every. Single. Day. I kid you not. If we are out of ice cream, panic ensues and he, and the kids, go out for ice cream. My sister-in-law, Paula, once asked me if Mark ate ice cream every day. So does his brother. Paula doesn't get it and neither do I. We both think the ice cream thing is a bit much. I've only seen him give it up for Lent. And he is responsible for our three girls developing the same habit.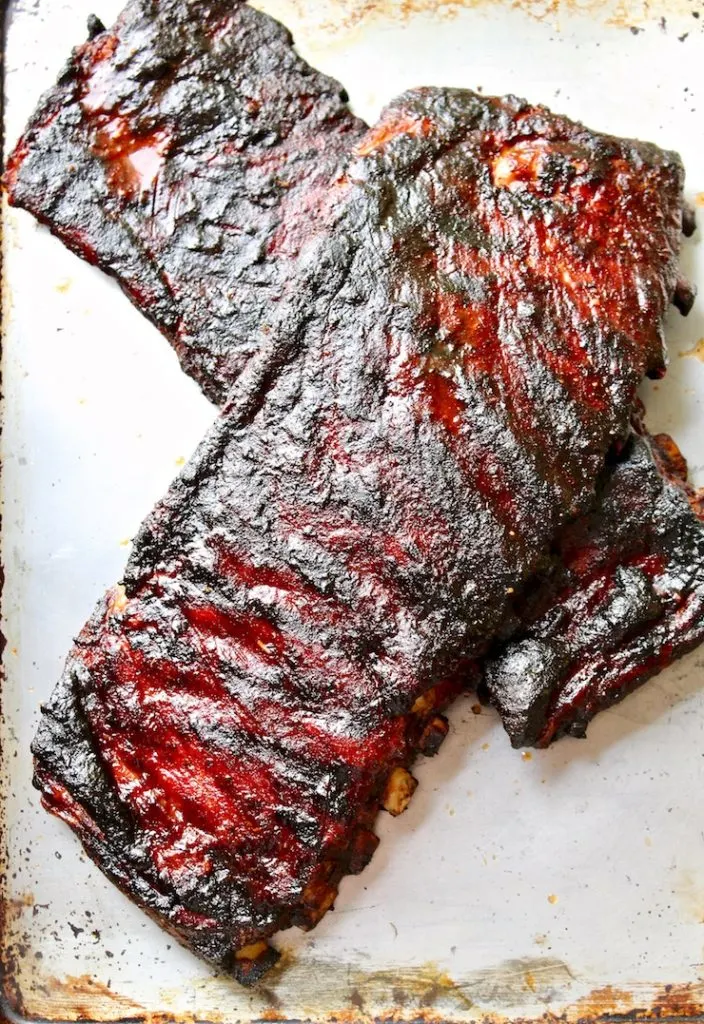 And my last tidbit about my husband is he really likes crunchy things -- potato chips, crackers, the crunchier the better. You do not want to be any where near him when he's in a zone crunching away, it's like nails on a chalkboard.
I might share more interesting things about Mark another time. He's a great guy and father and we love him. Which brings me to his ribs. He is the king of the grill around here. We have a gas grill that is about 23 years old. In the middle of winter in Chicago, a brand new shiny Weber gas grill arrived at our house. My husband worked on the Weber account and they wanted him to have a gas grill to really know the product. Well, Mark knows that gas grill inside and out and has been grilling on it for 23 years.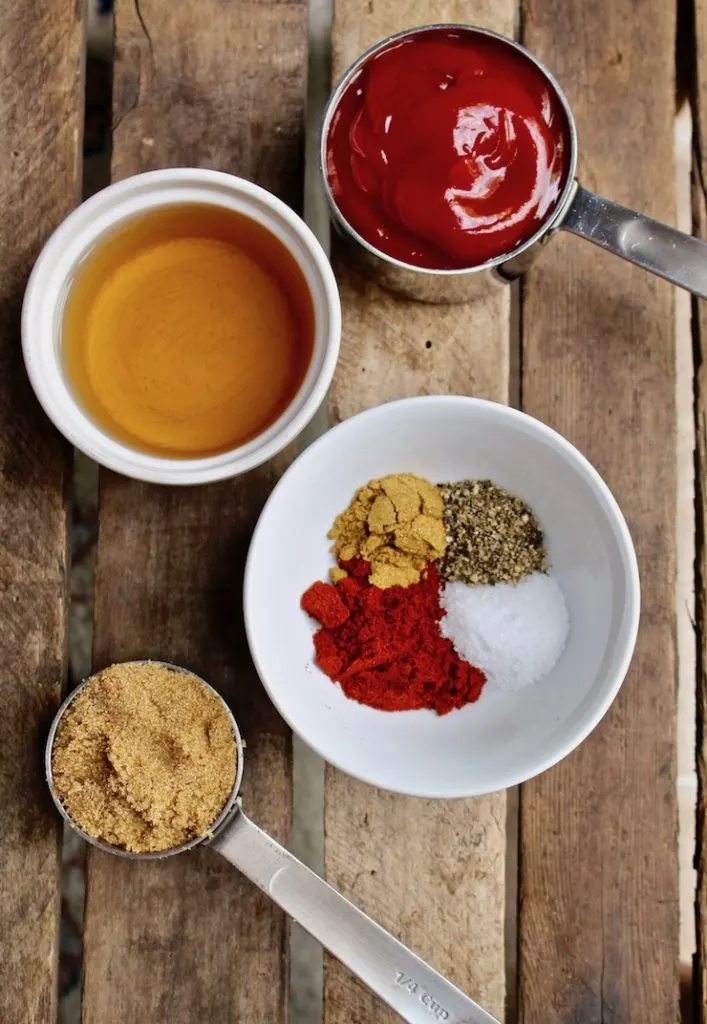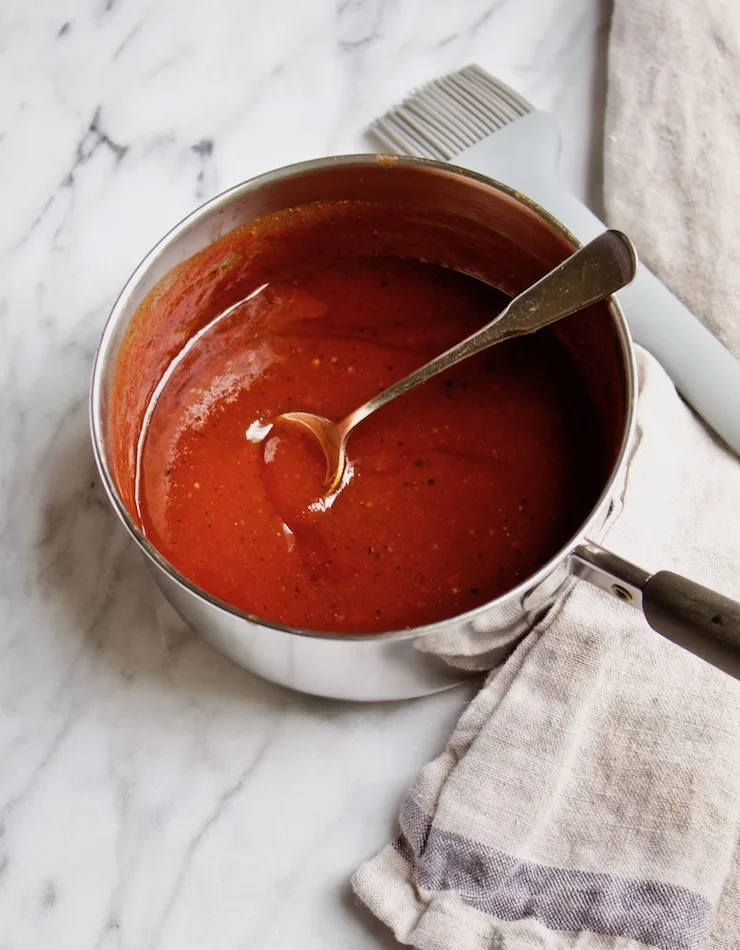 Mark grills a lot of chicken and he loves veggies on the grill. But I think his favorite is ribs. We have been living in St.Louis now for 14 years and he never makes the St. Louis-style ribs. He says they're not good and he likes baby backs. I kept saying we really should try again, maybe we're not cooking them right. St. Louis-style ribs are spareribs with the rib tips and brisket flap removed. I did a little researching and we decided to try again.
So first I made some barbecue sauce. I've never made sauce before, we always use bottled and he definitely has some favorites. I had all the ingredients on hand, it was a simple sauce and very good. I also learned about a technique of thinning the sauce with water and basting the ribs with it frequently throughout the cooking process. By basting coat after coat, it builds flavor and a caramelized crust instead of burning too quickly.
We used two slabs of ribs. I prepped them for him by removing the membrane on the bone side. I got it started with a knife and my fingers and then used a paper towel to rip it off. You don't want that membrane on your ribs.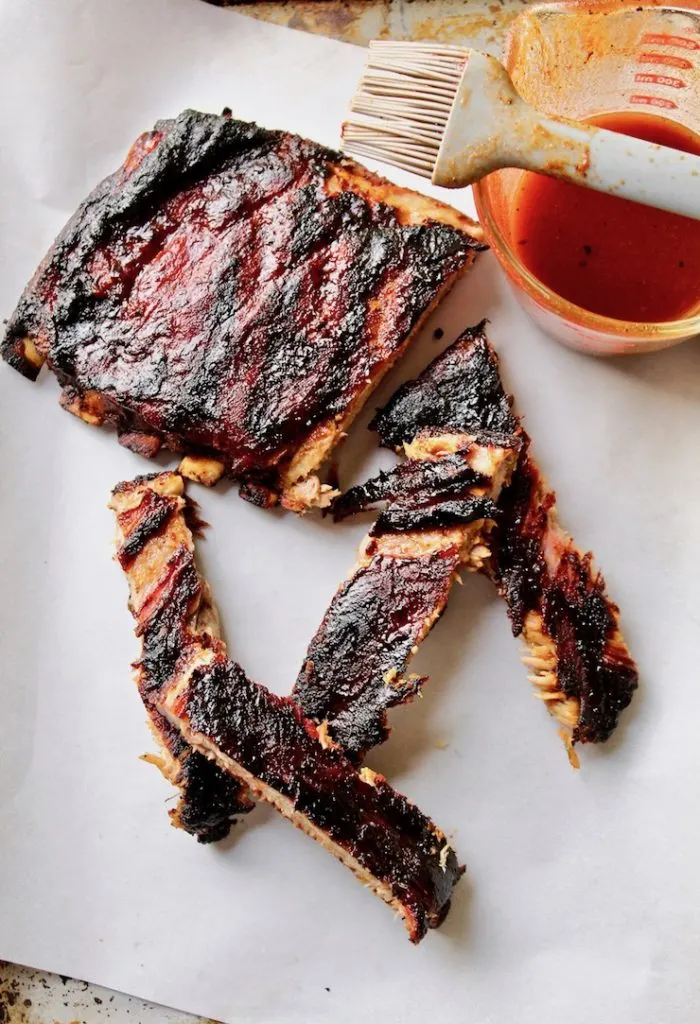 There are so many ways to barbecue ribs, dry rub vs. sauce, gas grill vs. charcoal vs. smoker vs. adding smoking chips, etc. There's a reason for all the rib competitions. This is how we make them, feel free to adjust and tailor to your grill type.
I am going to have to get Meathead now and defer to him on his technique this time for BBQ St. Louis-style ribs. They were fantastic, the best he's ever made in my opinion. I think we have a new favorite rib around here. xxo- Kelly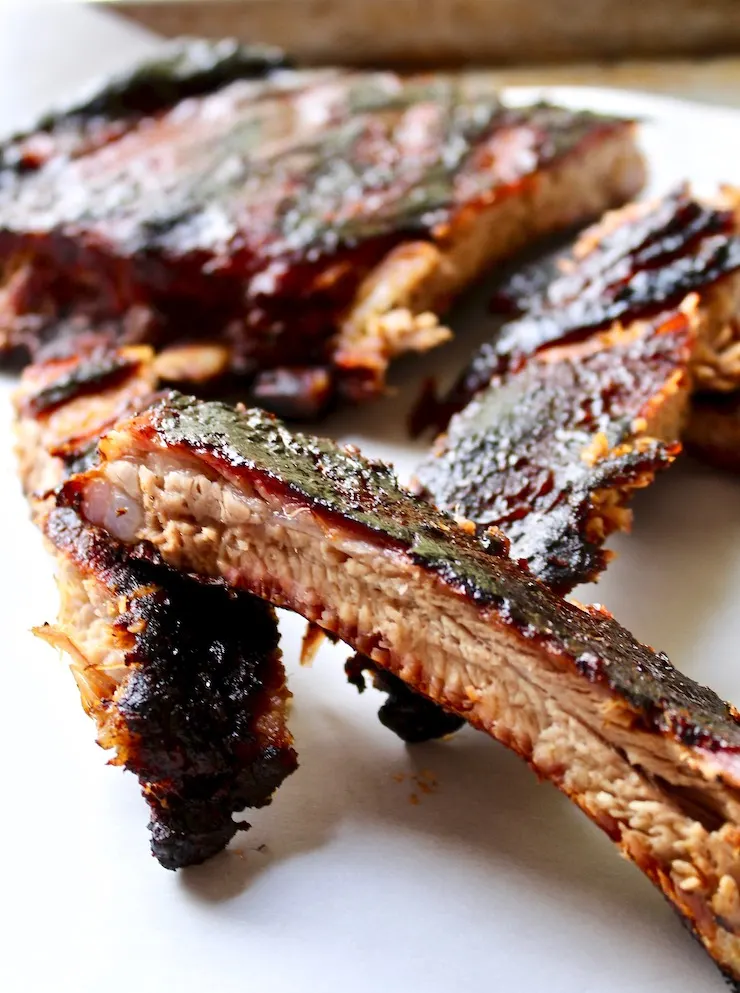 HUNGRY FOR MORE? Subscribe to my Newsletter and come hang out with me on INSTAGRAM, or give me a follow on FACEBOOK or see what I'm pinning on PINTEREST.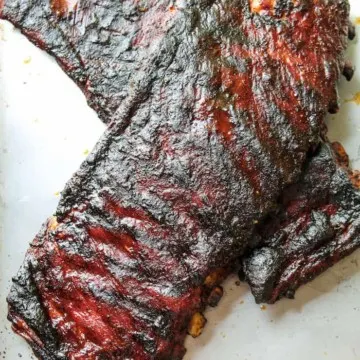 BBQ St. Louis-Style Ribs
Easy St. Louis-style ribs, the best BBQ ribs of summer! Pork spareribs cooked low and slow on the grill and basted with BBQ sauce until tender.
Print
Pin
Rate
Ingredients
Your favorite dry rub

1

cup

of your favorite barbecue sauce

(see note for a simple homemade sauce)

2

slabs

St. Louis-style pork spareribs, thin membrane removed from the back side

Salt and pepper
Instructions
Season ribs with dry rub, starting with the back side first. Don't use too much rub, just a nice coating. Season with salt and pepper. Let sit for a half hour.

Heat your gas grill on high, clean and then turn off the center flame and set the two outer flames to medium. You are aiming for a temperature of 250º to 300º.

Combine barbecue sauce with one cup of water and set aside.

Place ribs on the grill, bone-side down for 30 minutes. Flip ribs and grill for another 30 minutes.

After one hour, start basting the ribs with the thinned sauce every 10 minutes. Here's how: start with the meat side up and baste twice, 20 minutes. Flip and baste the back side, 10 minutes, then flip and repeat basting the meat side two more times, 20 minutes.

The meat at this point should be pulling away from the ends of the bone like in the first photo above. This is what you're looking for. Baste the ribs one more time, meat side up and turn the heat off. Keep the lid closed for 10 more minutes. Our ribs were done after about 2 hours. If needed, keep basting and flipping every 10 minutes until done, about 2 to 2 ½ hours.

Remove from grill. Cut into individual ribs and devour. Serve undiluted barbecue sauce on the side.
Recipe Notes
To make the barbecue sauce I made, in a small saucepan combine the following ingredients:
⅔ cup ketchup
½ cup cider vinegar
¼ cup brown sugar
2 teaspoons smoked paprika
1 teaspoon ground cumin
1 teaspoon kosher salt
1 teaspoon black pepper
and bring to a simmer and cook for 5 minutes.
Nutrition
Calories:
962
kcal
Carbohydrates:
15
g
Protein:
51
g
Fat:
76
g
Saturated Fat:
24
g
Polyunsaturated Fat:
13
g
Monounsaturated Fat:
28
g
Trans Fat:
1
g
Cholesterol:
260
mg
Sodium:
631
mg
Potassium:
869
mg
Fiber:
1
g
Sugar:
12
g
Vitamin A:
80
IU
Vitamin C:
1
mg
Calcium:
61
mg
Iron:
3
mg
* Barbecue sauce adapted from the NY Times.