Sausage Gravy and Biscuits ~ Southern-style comfort food for breakfast or brunch. Creamy country-style sausage gravy over split warm buttermilk biscuits.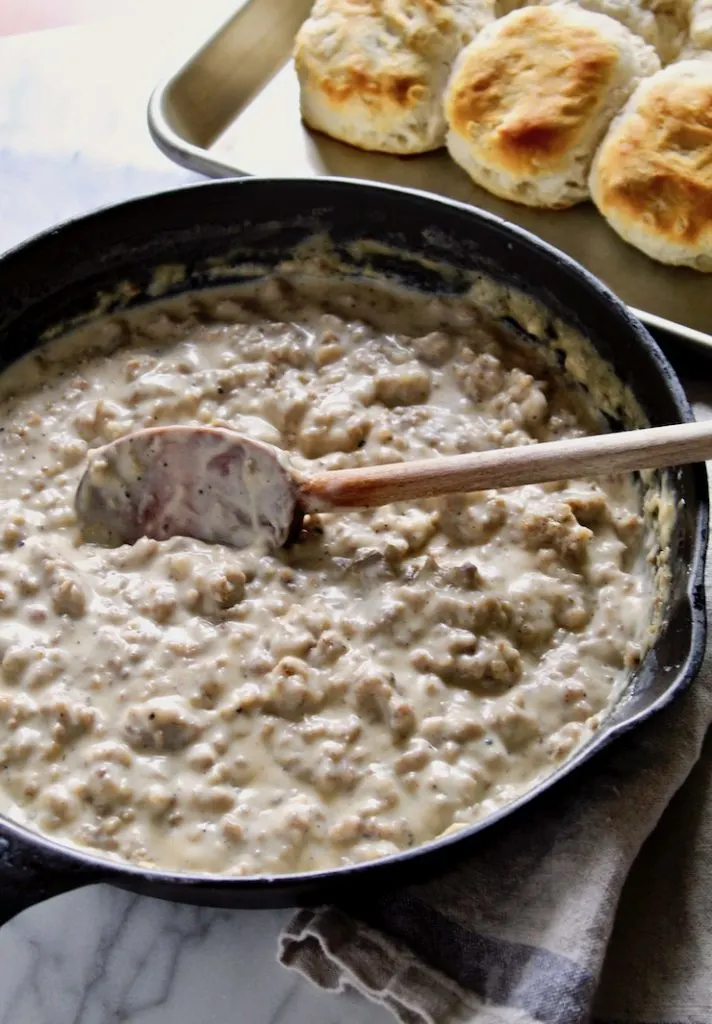 I don't even know where to start with this post. This is the kind of food that is just good old comfort food, plain and simple. It's homey, hearty, down-home delicious. And it is so easy to make.
Here I go with another Ohio story. When we visit my husband's family, we stay with his brother, Don, and sister-in-law, Paula. She often makes us a big breakfast before we hit the road to go back home. This is where my kids fell in love with biscuits and gravy. Picky Eater ordered it in a restaurant here at home and said it was good but not as good as Aunt Paula's. My other two girls say the same thing.
In Ohio, the sausage to use is Bob Evans. That's what everybody eats and Paula swears by the stuff. It comes in a pound package, and to brown it, Paula wields some sort of utensil with prongs on it to help break up the meat. Never seen anything like it.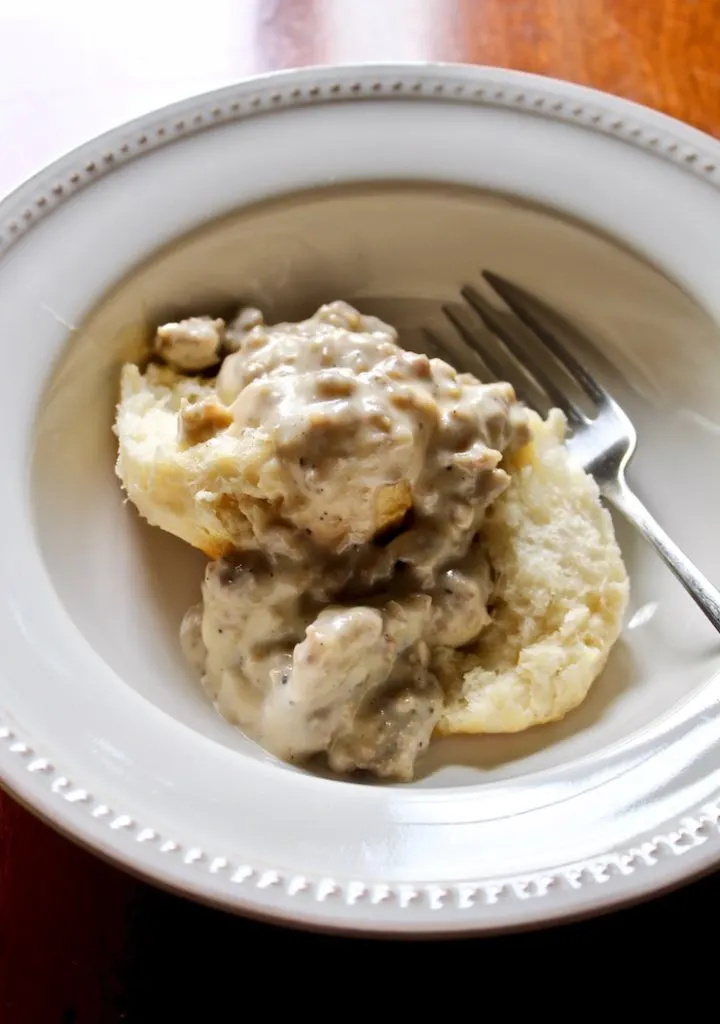 So I started making sausage gravy and biscuits for these guys on an occasional Sunday morning or holiday. Well, I don't make the biscuits, for two reasons. One, I do not like to bake first thing in the morning. And, two, I am not a great baker.
There are really good frozen biscuits out there and that's what I use. They taste great, better than my attempt at homemade. If you make good biscuits, then by all means, make a batch.
The gravy is pork breakfast sausage, flour, butter and milk. And lots of fresh, cracked pepper, and I like to add a little Old Bay seasoning. That's it. I wanted to make this for Picky Eater before she headed off to college but it just didn't happen. So I just made it for Meathead and me and froze the leftovers for her when she comes home soon.
The store I was at did not have Bob Evans sausage. So, blasphemy, I used Jimmy Dean. I'm sorry Don and Paula, please forgive me. Use whatever kind of sausage you like, mild or spicy or even turkey sausage. It will be just fine.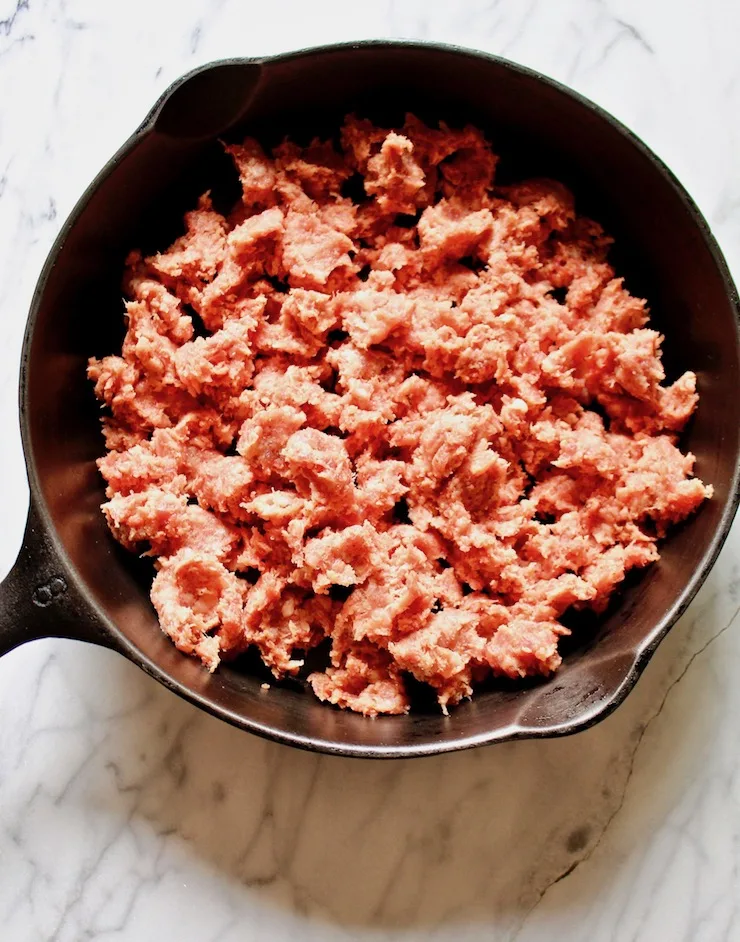 Also, it is kind of hard to break up the sausage while it's browning. I take the big hunk of sausage and tear off little pieces into the pan, then turn on the heat and brown it. Much easier this way, I think.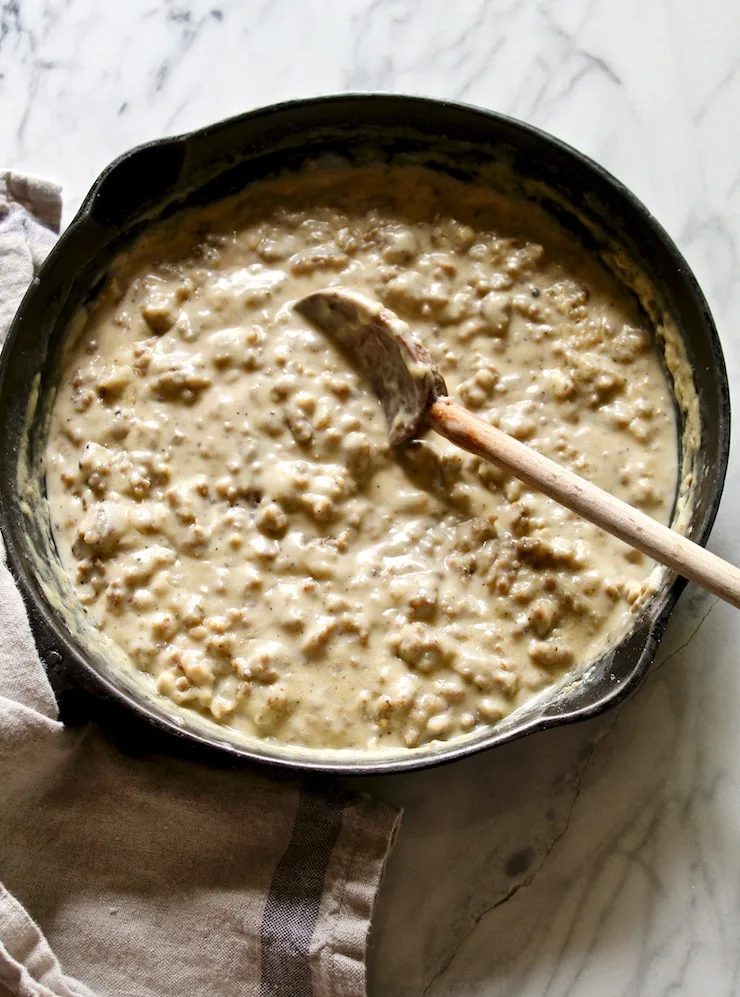 When we are all home and I make this, we always have scrambled eggs with it. My husband and I decided on over easy eggs and it was the best. Nothing like a runny yolk and sausage gravy and biscuits. Only thing missing was some hot sauce. We were out of it. Next time I'll be sure to have some, it just elevates it a notch with a good shake of hot sauce.
I think of this as hearty breakfast food but it occurred to me as Meathead and I were stuffing our faces that this would be good for dinner some time. He agreed wholeheartedly. So dinner it is sometime soon. We're still talking about how good this is ~ Kelly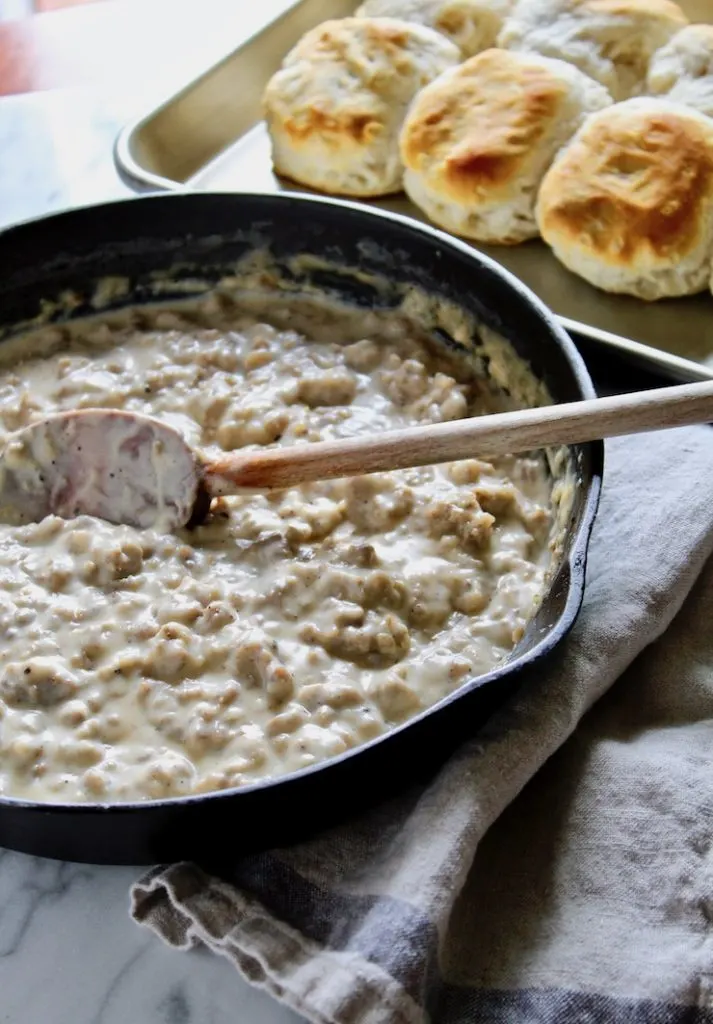 I make this all the time for the family breakfast on holidays, and usually this sour cream coffee cake, too!
HUNGRY FOR MORE? Subscribe to my Newsletter and come hang out with me on INSTAGRAM, or give me a follow on FACEBOOK or see what I'm pinning on PINTEREST.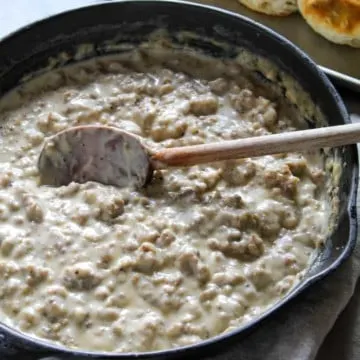 Sausage Gravy and Biscuits
Creamy country-style sausage gravy over warm, split buttermilk biscuits.
Print
Pin
Rate
Ingredients
1

pound

of pork breakfast sausage

(any darn kind you like)

2

tablespoon

butter

2

tablespoon

all purpose flour

2

cups

of whole milk (plus more to thin, as needed)

lots of fresh

, cracked pepper, like 2 teaspoons at least
Instructions
Prepare biscuits, either homemade or frozen.

Cut open cylinder package of pork sausage and tear into small pieces and place in a single layer in a large, heavy skillet, preferably cast iron.

Turn heat on to medium and let brown before stirring, you want to hear a good sizzle before you start stirring and browning until just done. While sausage browns, make roux: melt butter in small saucepan, stir in flour and mix well, cook and stir for one minute.

Do not drain grease. Add the roux to the browned sausage/drippings and mix well and cook another minute or so. Stir in some freshly cracked black pepper.

Slowly add the milk and stir the whole time until it starts to thicken. Be sure to scrape up any browned bits and be careful not to burn the gravy while it's thickening. Stir frequently until thick, adding more milk to thin, as necessary.

When desired thickness is reached, add a little salt and more freshly cracked black pepper. Taste. Add some more pepper.

Split a biscuit and generously spoon the sausage gravy over it. Add an over easy egg or two if desired (highly recommended) and a few shakes of hot sauce.
Recipe Notes
I like to add a little Old Bay seasoning, it's so good! Or a little seasoned salt. You're the boss, apple sauce.
Nutrition
Calories:
321
kcal
Carbohydrates:
6
g
Protein:
14
g
Fat:
26
g
Saturated Fat:
11
g
Polyunsaturated Fat:
3
g
Monounsaturated Fat:
10
g
Trans Fat:
1
g
Cholesterol:
74
mg
Sodium:
542
mg
Potassium:
313
mg
Fiber:
1
g
Sugar:
4
g
Vitamin A:
305
IU
Vitamin C:
1
mg
Calcium:
108
mg
Iron:
1
mg