Tacos de Carnitas, cubes of pork simmered in water and seasonings until tender, then crisped up in a skillet and ready for tacos.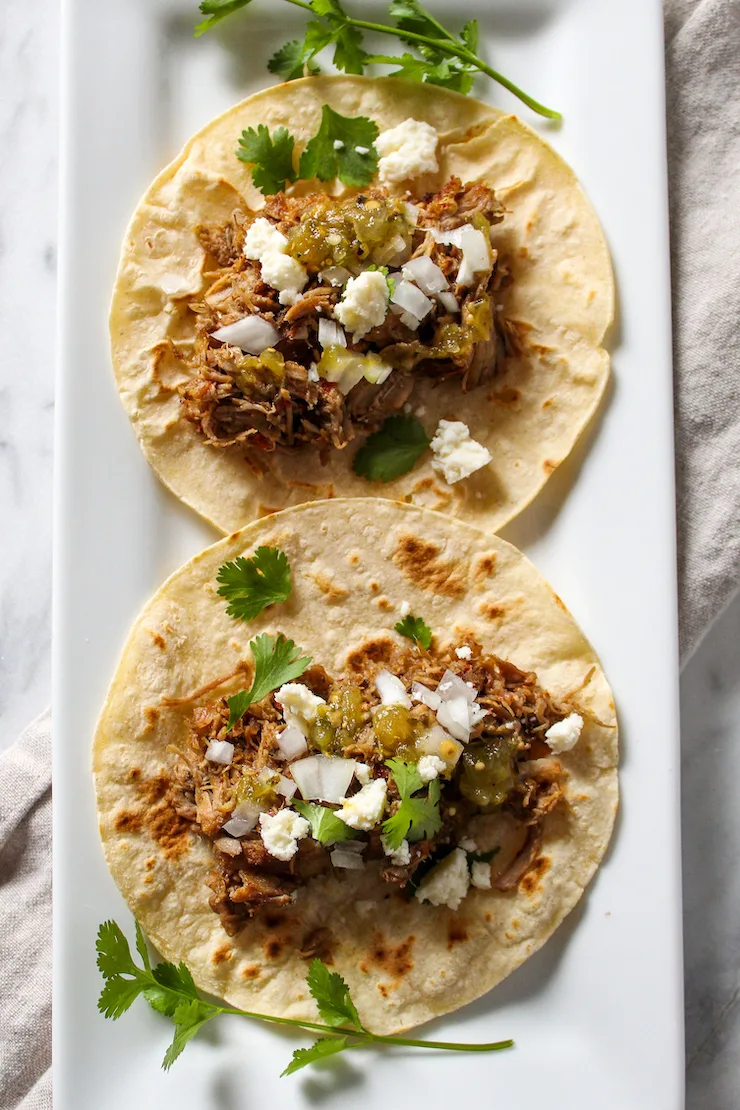 I had a houseful for the 4th and rain all weekend long! Ugh, after days of blue skies, heat and humidity, the long weekend was rained out. For the most part though, it didn't keep us from having fun. I made sure we had plenty of food and I seemed to cook all weekend long.
I made tacos de carnitas one night and, man, were they good. I've never made at home but came across a recipe that piqued my interest and decided to try. And pork butt was on sale for a ridiculously low price, had to do it.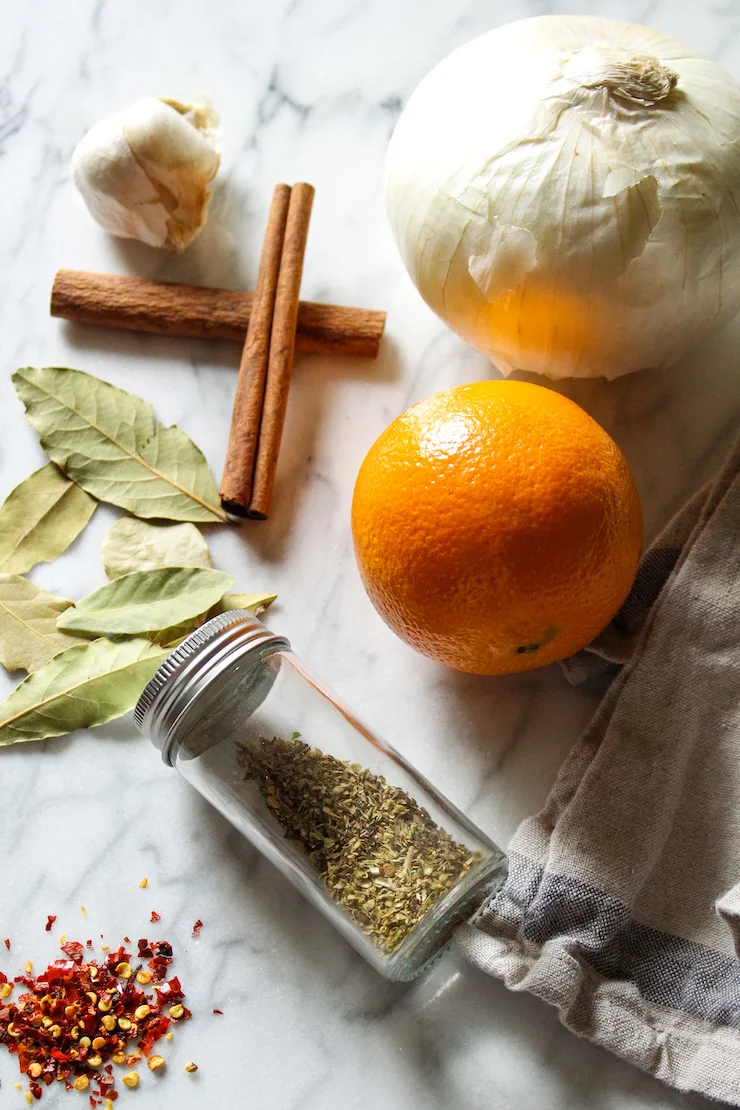 There are quite a few things I don't attempt at home because I have my favorite restaurants for said things, like carnitas, tacos al pastor, bahn mi sandwiches, pho, etc. Get my drift? And believe me, my recipe drawer is filled with clippings for such dishes.
I came across this recipe for carnitas a week or so ago and thought it'd be perfect for a crowd. It's pretty simple, super flavorful and well, just delicious.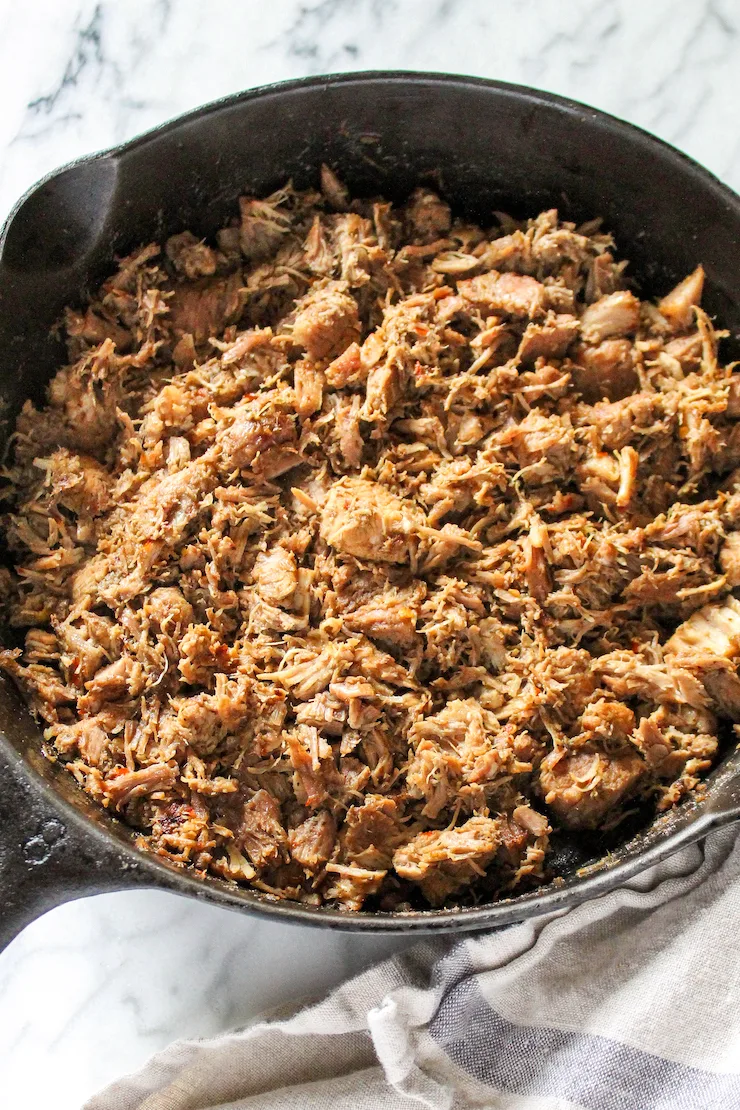 The pork is simmered in water and aromatics until tender and the water has evaporated, then the pork "fries" in its own fat until browned and a little crispy. I think that is what intrigued me, simmering cubes of pork. I also liked the flavors of cinnamon, orange zest and cloves.
Typically, carnitas would be served on tortillas with chopped onion, cilantro and little salsa verde or hot sauce. But my family also had to have avocado and sour cream, and I put out some crumbled queso fresco.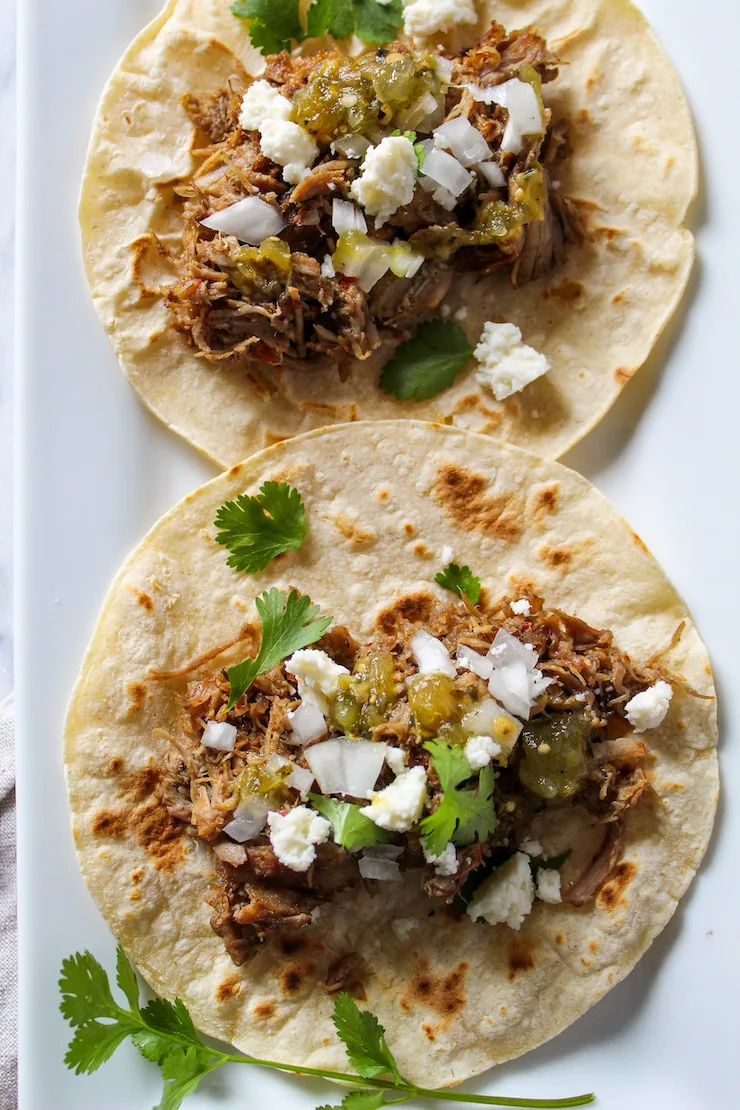 I am going to try and make more dishes at home that I've been afraid to try, for whatever reason. I will definitely make these carnitas again. I really think they stack up to a good food truck or restaurant, really good.
Try Tacos de Carnitas, you will not be disappointed, promise. You might also like this easy pork chile verde. Best, Kelly??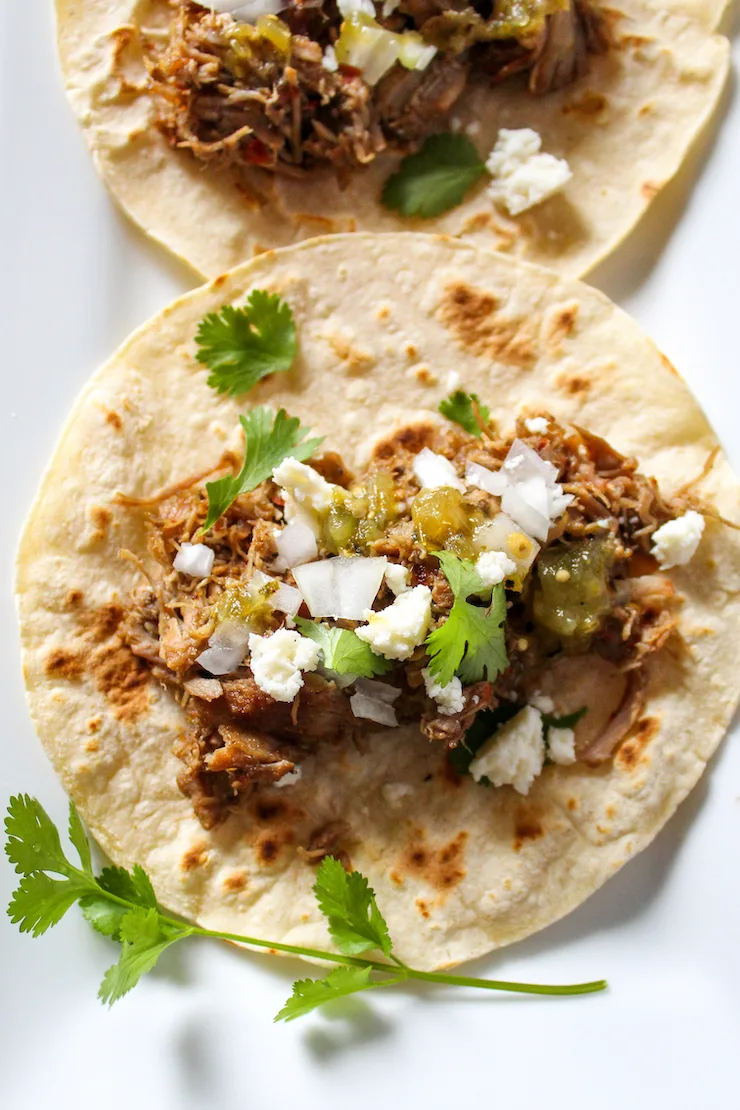 HUNGRY FOR MORE? Subscribe to my Newsletter and come hang out with me on INSTAGRAM, or give me a follow on FACEBOOK or see what I'm pinning on PINTEREST.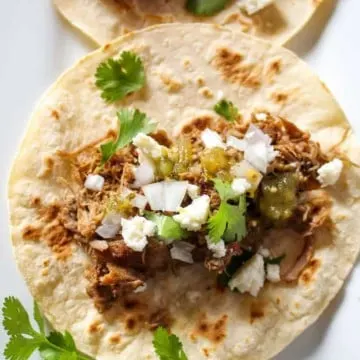 Tacos de Carnitas
Cubes of pork simmered in water and seasonings until tender, then crisped up in a skillet and ready for tacos de carnitas.
Print
Pin
Rate
Ingredients
3-4

pounds

pork butt

6

cups

water

7

strips orange zest

5

garlic cloves, minced

1

large white onion, diced (plus more for garnish, finely chopped)

1

cinnamon stick (preferably Mexican canela, I used regular)

1¼

teaspoons

crushed red pepper

2

bay leaves

1½

teaspoons

crushed oregano leaves

1½

teaspoons

kosher salt

¼

teaspoon

ground cloves

24

small corn tortillas, warmed

Chopped fresh cilantro

Finely chopped white onion

Salsa verde, hot sauce or your favorite salsa
Instructions
Trim any thick fat from the pork butt. Cut the meat into 1-inch cubes, discarding any that are pure fat, but don't try and trim away all the fat in the meat, that's needed for flavor and to help with browning later!!

Put the pork cubes in a large pot and cover with water. Bring to a boil and then reduce to a simmer. Skim off any scum that forms on the surface during the first 15 minutes. After scum is skimmed off, add the chopped onion, garlic, orange zest, crushed red pepper, cinnamon, bay leaves, oregano, cloves and salt. Simmer uncovered for another 1¼ hours until pork is very tender, adding more water if necessary to keep it submerged. Season with more salt. (I add the aromatics after removing most of the surface scum because otherwise, too much of it gets skimmed out with the scum.)

Continue simmering at a gentle boil until the water has evaporated, about 30 more minutes. Remove bay leaves and cinnamon. Cook a little longer to fry the meat, stirring often and adding a little water it it seems to be sticking and/or burning. (Alternately, at this point you could transfer the meat to a nonstick skillet to fry it longer for crispier meat.)

Spoon some carnitas onto each tortilla. Top tacos with chopped onion, cilantro and salsa. Serve.
Recipe Notes
I like to heat and lightly brown the tortillas in a nonstick skillet.
If you want to brown the carnitas a little more to finish, use a nonstick skillet or well-seasoned cast iron pan. Spoon pan fat drippings/cooking juices over carnitas while browning.
Nutrition
Calories:
278
kcal
Carbohydrates:
27
g
Protein:
25
g
Fat:
8
g
Saturated Fat:
3
g
Polyunsaturated Fat:
1
g
Monounsaturated Fat:
3
g
Trans Fat:
1
g
Cholesterol:
68
mg
Sodium:
398
mg
Potassium:
523
mg
Fiber:
5
g
Sugar:
1
g
Vitamin A:
99
IU
Vitamin C:
11
mg
Calcium:
85
mg
Iron:
2
mg
*Adapted from The San Francisco Chronicle and The NY Times