Grilled harissa shrimp, brined and marinated shrimp grilled to perfection ~ succulent and smoky with a spicy kick. Perfect for summer grilling season.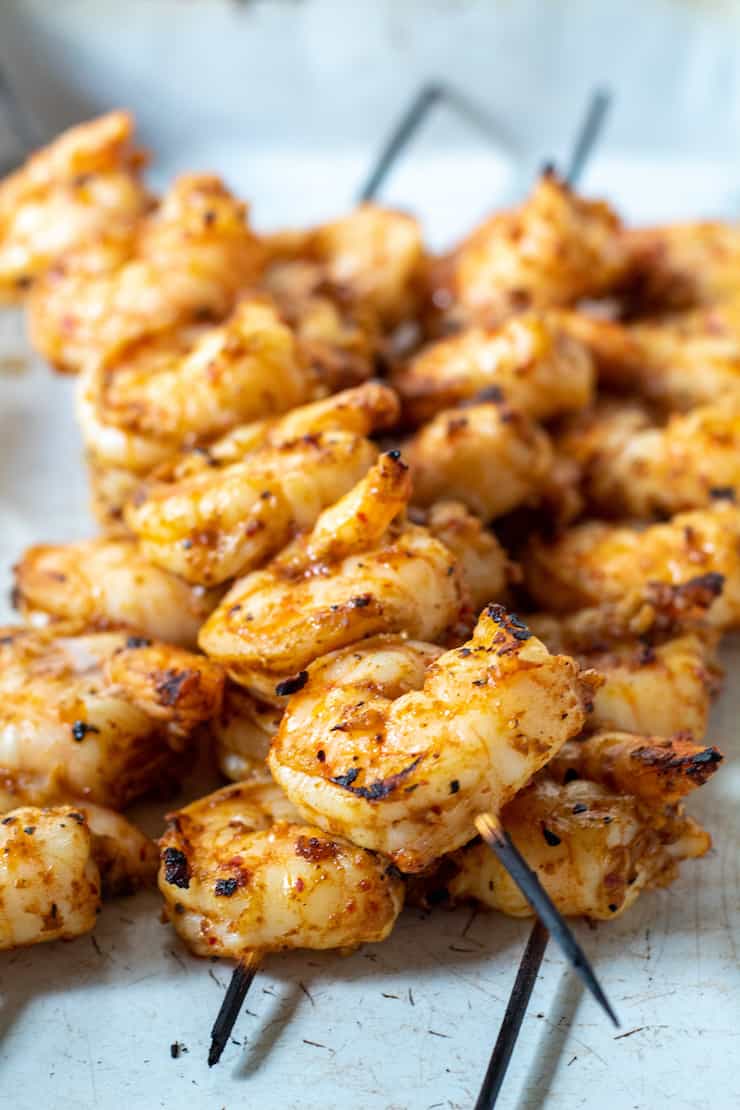 We love grilling season and while it's usually meat, chicken and veggies we're throwing on the grill, occasionally we do shrimp. It's so easy and delicious with a quick harissa marinade.
Why this grilled harissa shrimp recipe works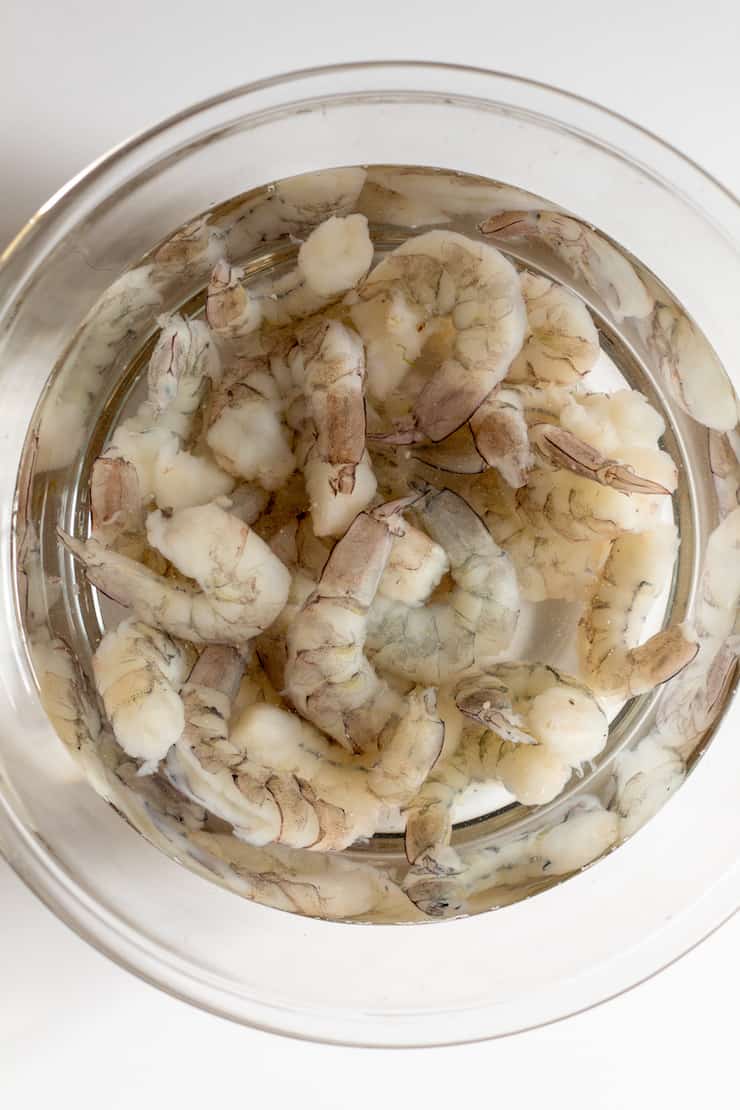 Simple, brining the shrimp first. A quick soak in water with salt and sugar guarantees a tender shrimp. Shrimp cooks quick and if overcooked, it becomes a little tough and rubbery.
You know what I'm talking about. A brine will keep them moist and give you a little wiggle room in case you overcook a little. Moist shrimp with a firm texture is the goal.
What is harissa?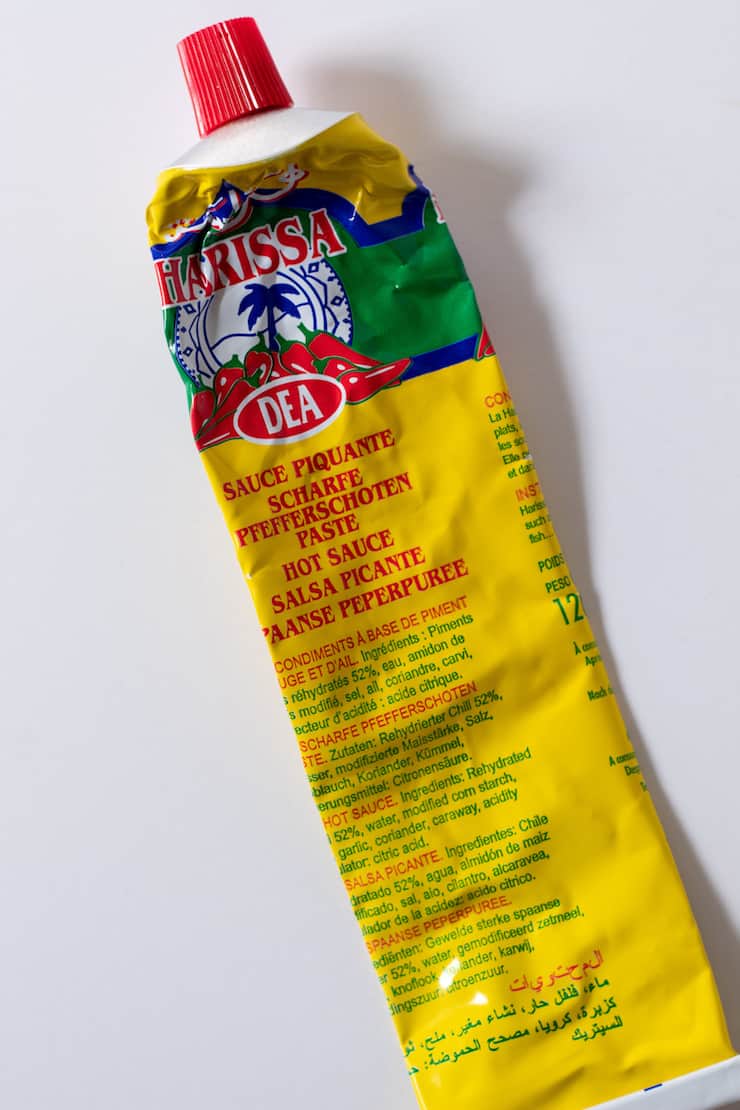 Harissa is a North African fiery and garlicky chili pepper paste. While recipes vary, it's usually made from chilis blended into a thick paste with garlic, olive oil, caraway, cumin and coriander.
I buy it in a tube and have also seen it in jars. Check the spice aisle or ask store personnel, you might have to go to a specialty store that specializes in Middle Eastern foods, like I do.
What is a good substitute for harissa?
If you can't find harissa or are out of it, you really can use most any chili-based hot sauce or paste. Some options include berbere spice paste, peri-peri sauce, sriracha and sambal oelek chili paste.
It all varies by heat level, so pick to suit your taste and adjust accordingly. I don't find harissa too fiery, it packs some heat with tons of flavor.
How to make grilled harissa shrimp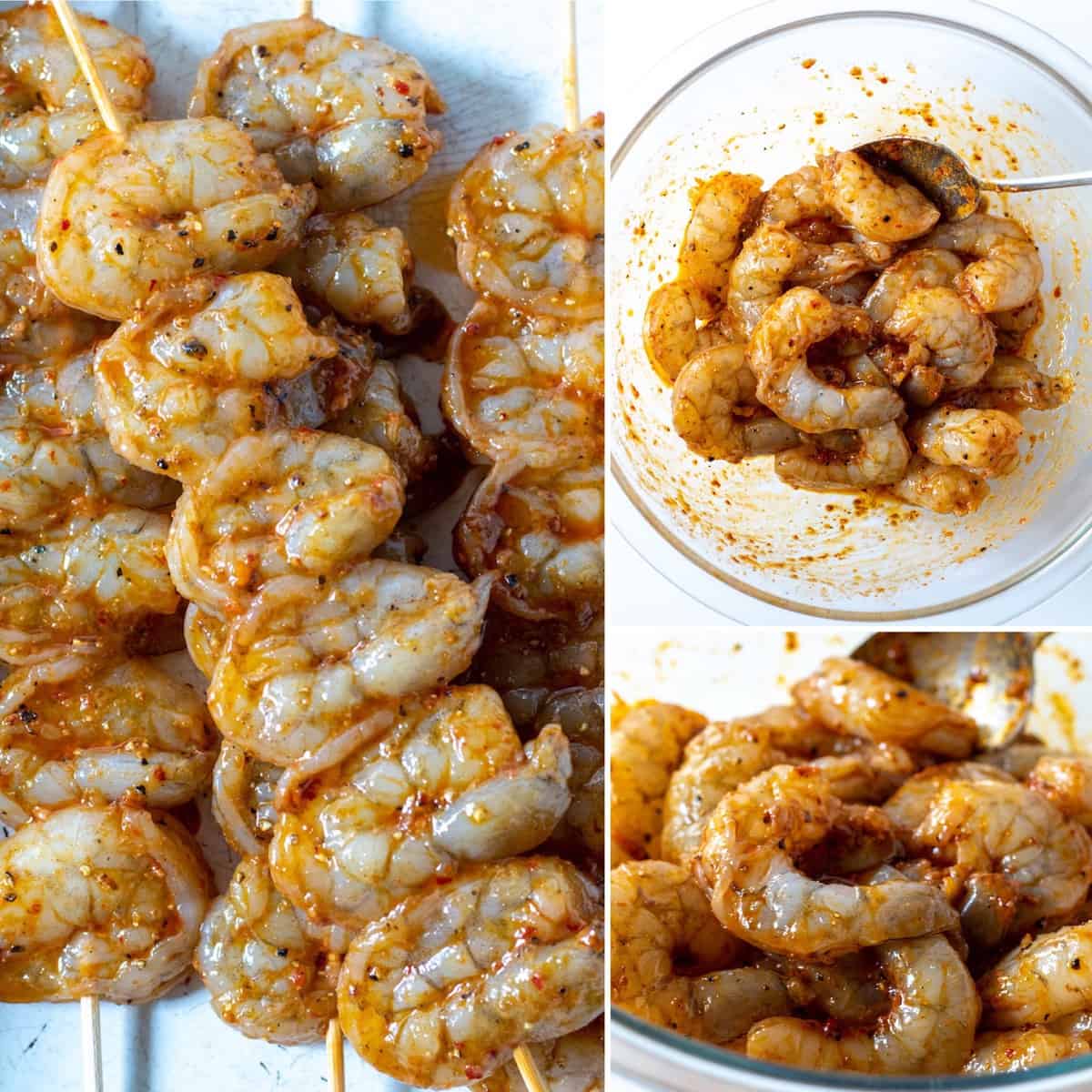 Just a few easy steps:
Brine the shrimp for 30 minutes.
Pat the shrimp dry and toss in harissa mixture and marinate for 15 minutes.
Thread shrimp on wooden skewers that have been soaked in water.
Cook about 2 minutes a side on a hot grill.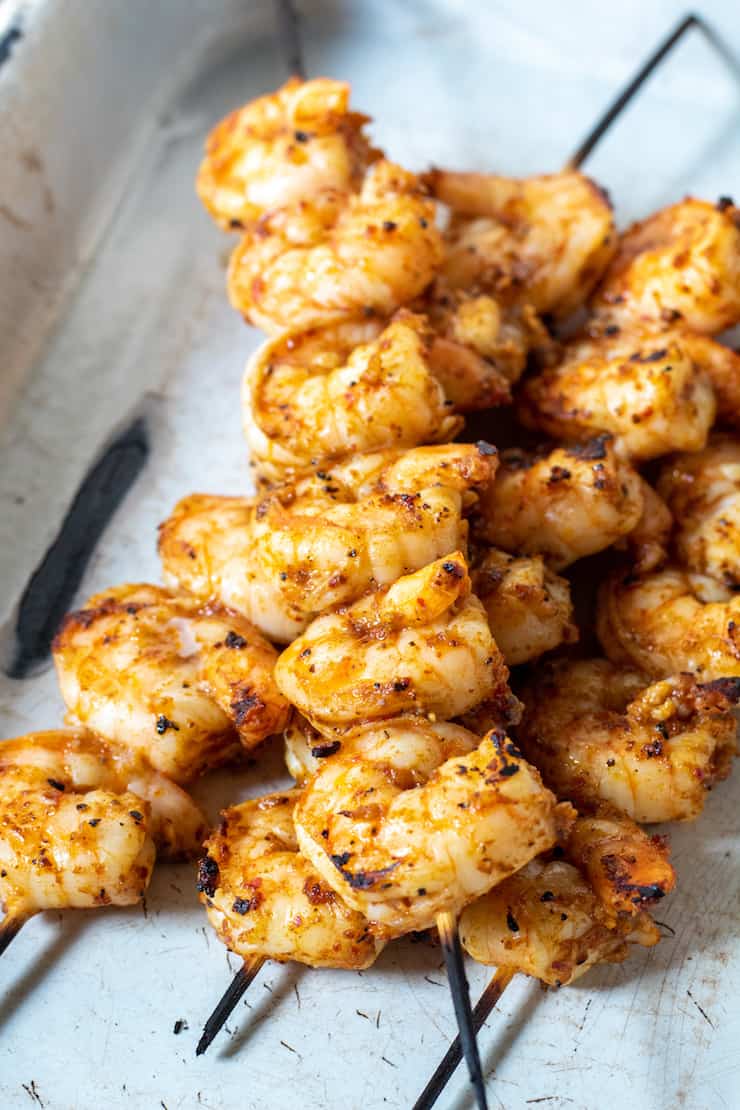 The shrimp has that smoky grill taste with a nice kick of heat from the harissa, and not at all rubbery thanks to the brining beforehand. Serve as an appetizer or the main dish with a summer salad or maybe some grilled veggies. This is summer cooking at it's best. Enjoy ~ Kelly🍴🐦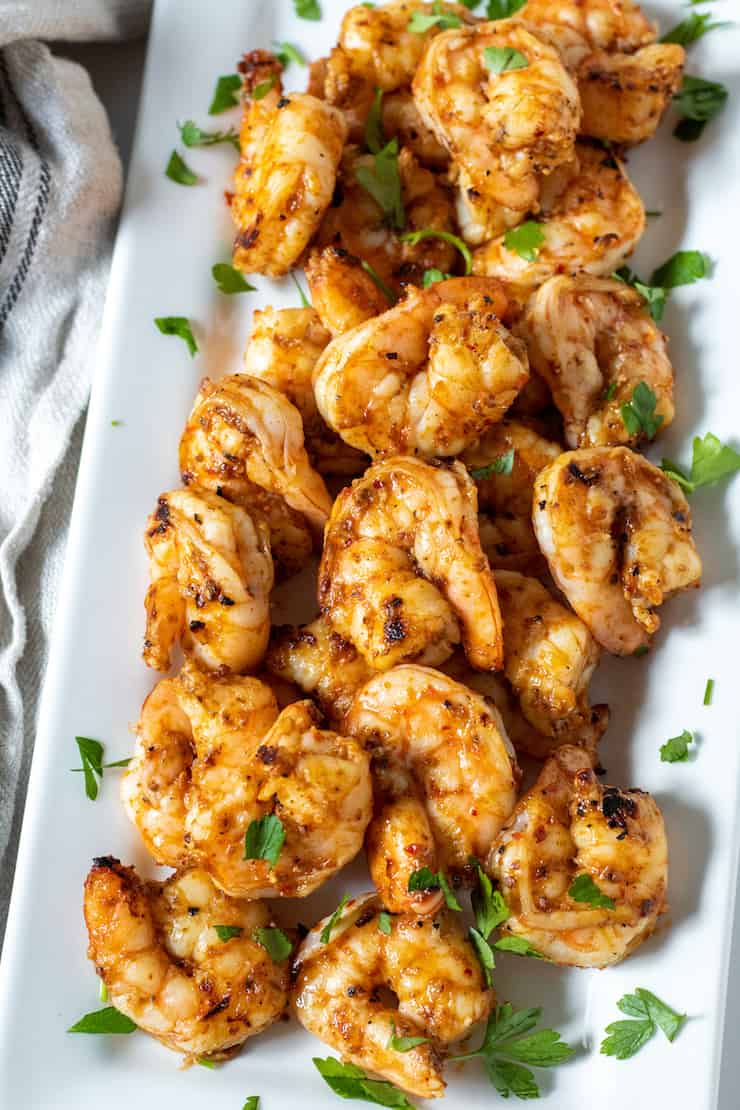 You might also like these recipes for the summer grilling season:
HUNGRY FOR MORE? Subscribe to my Newsletter and come hang out with me on INSTAGRAM, or give me a follow on FACEBOOK or see what I'm pinning on PINTEREST.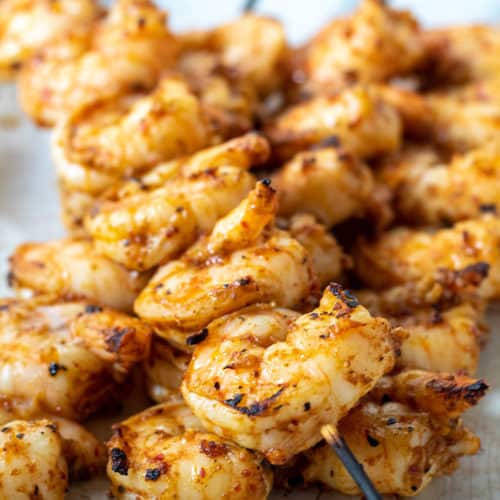 Grilled Harissa Shrimp
Grilled harissa shrimp, brined and marinated shrimp grilled to perfection ~ succulent and smoky with a spicy kick. Perfect for summer grilling season.
Print
Pin
Rate
Ingredients
1

pound

large shrimp, shelled, deveined and tails removed (24 large shrimp)

¼

cup

kosher salt

½

cup

sugar

2

quarts

(8 cups) water

4

wooden skewers

2

tablespoons

harissa paste

2

tablespoons

olive oil

½

teaspoon

kosher salt

½

teaspoon

black pepper

½

teaspoon

cumin
Instructions
Soak wooden skewers in water and set aside.

Prepare brine. In large bowl, combine salt, sugar and water. Stir until dissolved. Add shrimp and let brine on countertop at room temp for 30 minutes.

In meantime, make harissa marinade. In large bowl combine harissa paste, olive oil, salt, pepper and cumin. Remove shrimp from brine and pat dry. Add to harissa marinade and toss to coat. Let sit for 15 minutes.

Heat grill to medium-high heat. Skewer 6 shrimp on each of 4 skewers. Grill shrimp skewers for about 2 minutes a side until just cooked through. Remove shrimp from skewers and serve.
Keyword:
grilled harissa shrimp, harissa recipes, grilled shrimp