Chicago-style bakery apple slices. Apple filling between two crusts in a sheet pan, topped with vanilla glaze and cut into squares. These slices are very portable and travel well for your potluck or next get-together!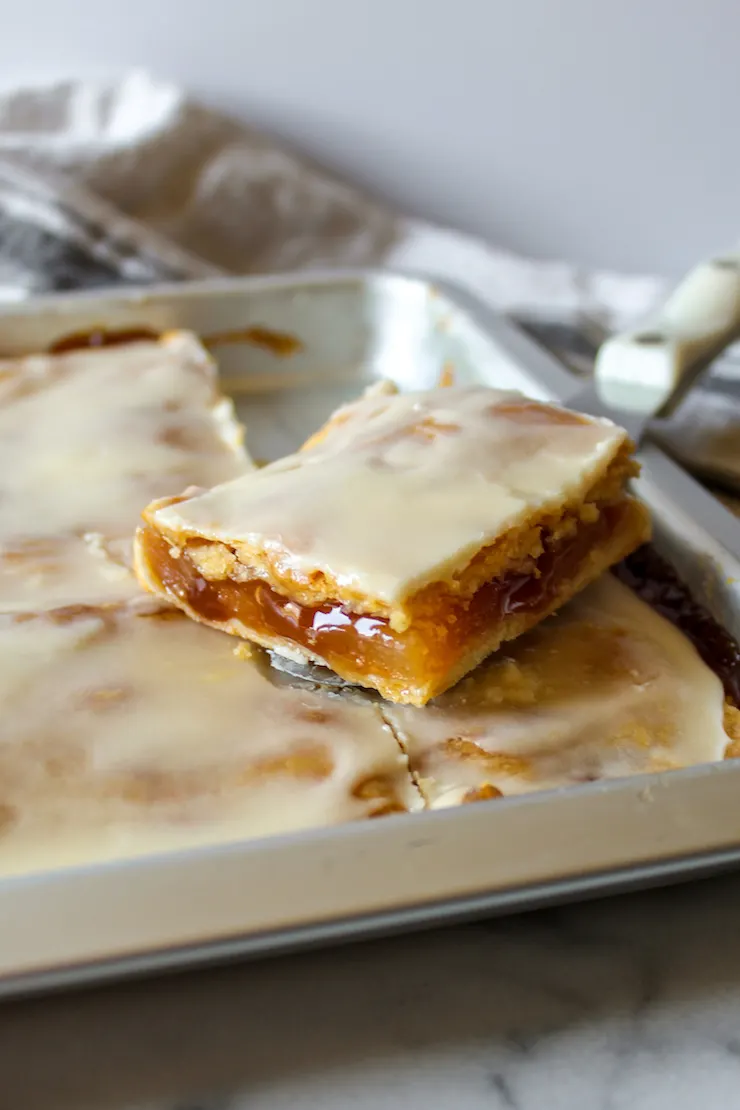 I grew up in the Chicago suburbs and as an adult I lived in the city. I love Chicago neighborhood bakeries. I have my favorite back home that I still stop in for something sweet when I visit my mom. And I had my favorites in the city, mostly on the north side.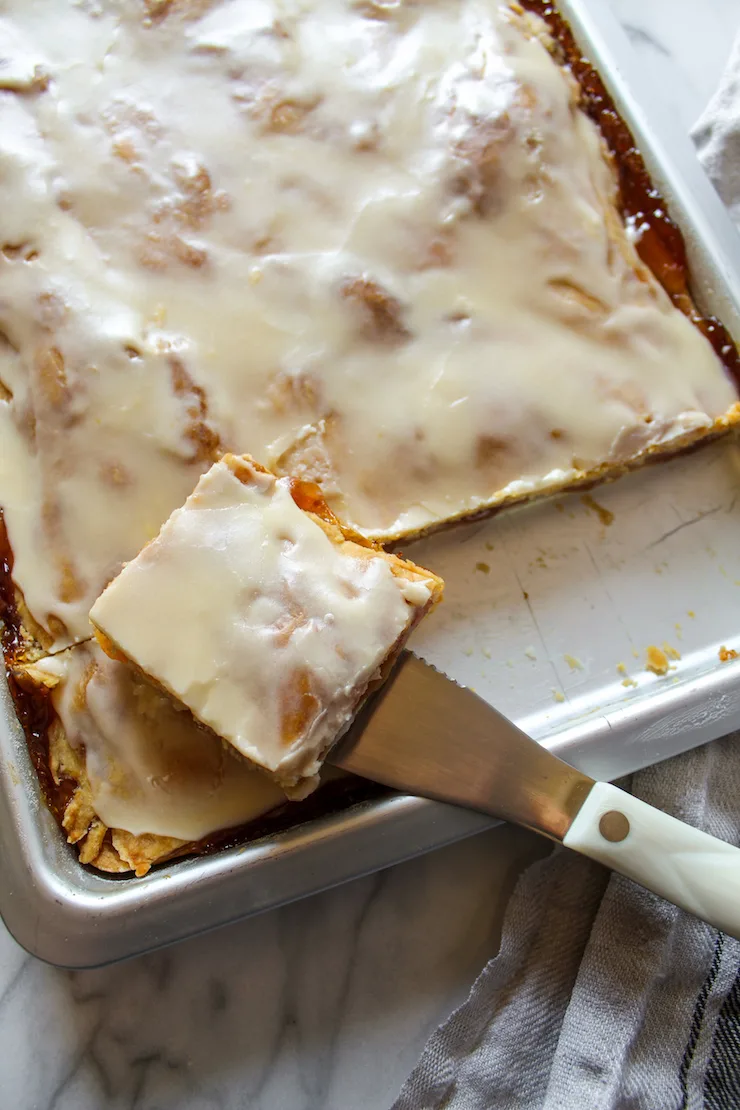 One thing these bakeries had in common were big sheet pans of apple slices in their cases or sitting out on the counter. Often times, they were next to a big sheet pan of frosted fudge brownies, which I'm also crazy about. The bakery always had Apple Slices and I loved them.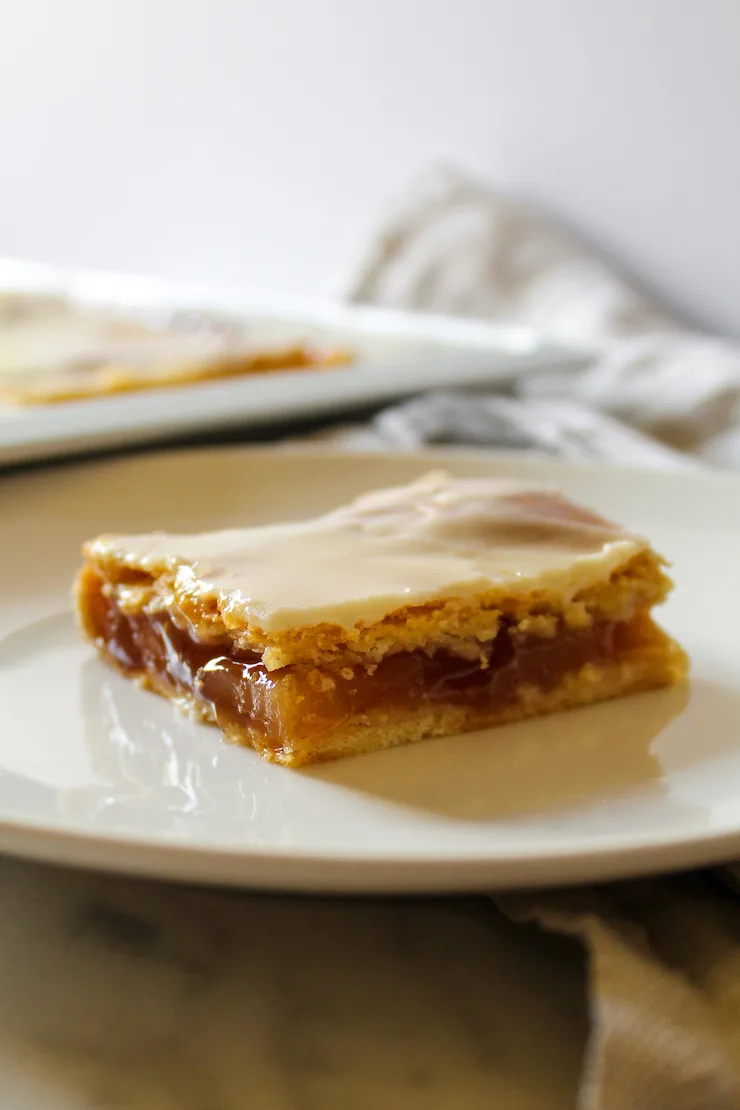 How can I describe them? Not apple pie, not a bar, and not slab pie either. Apple filling between two crusts with a thin glaze on top, and they are cut into squares like brownies. That's my best description and if you've seen or had these apple slices, you know exactly what I'm talking about.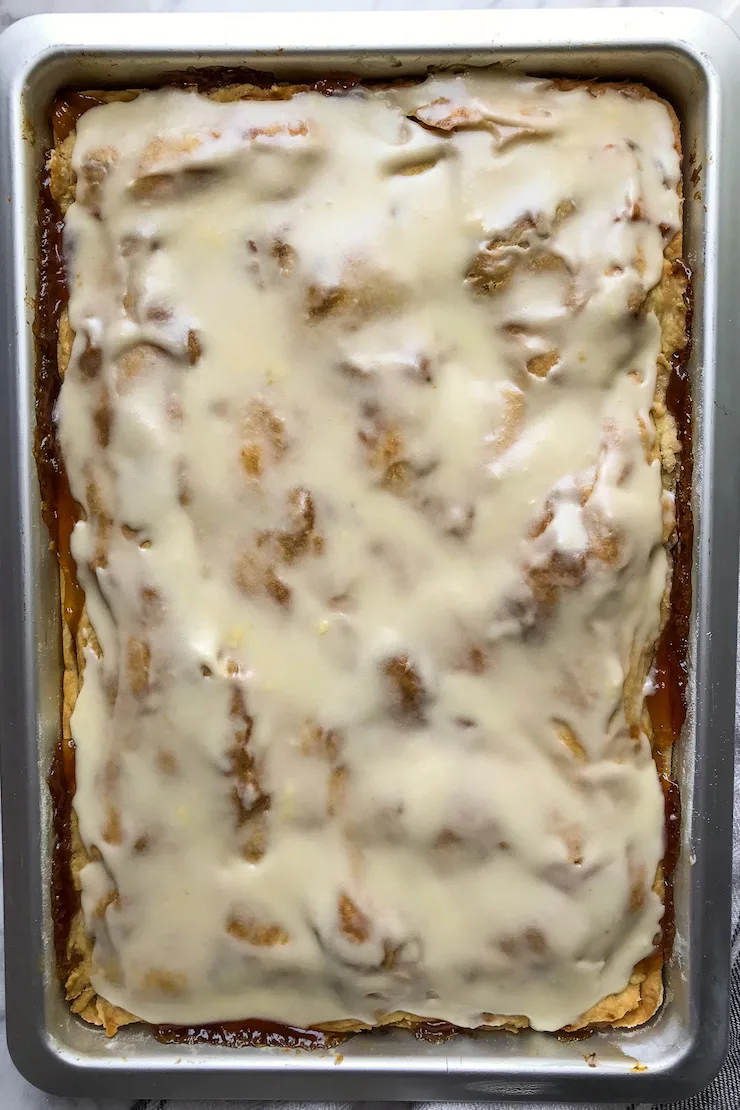 Okay, let's talk my baking skills. Not the best and I debated about this post since my top crust was rather pathetic-looking. But it tasted perfect, the glaze camouflaged any imperfections ~ so no worries for me. Besides, there's no way my sheet pan of apple slices would look like it was from the bakery. But close, damn close.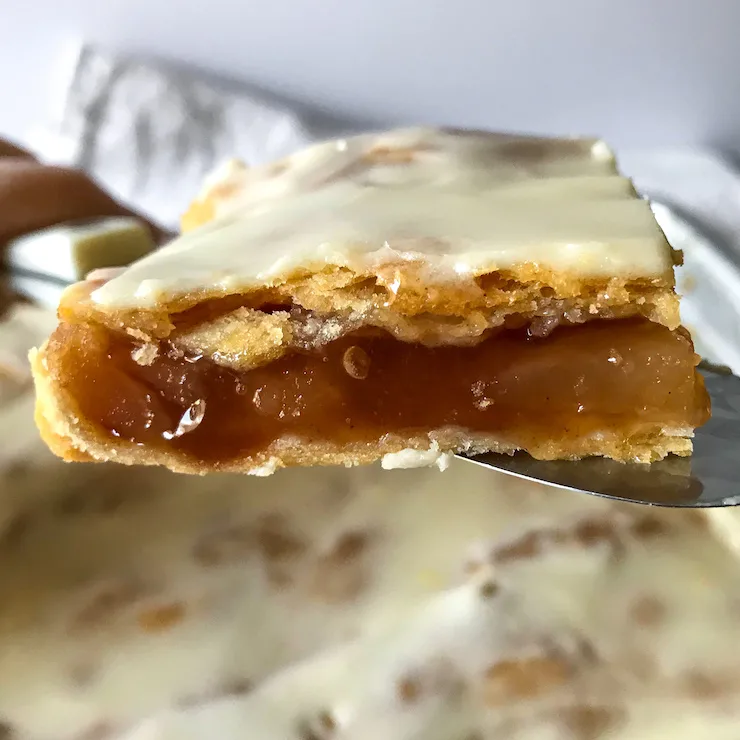 I found a few recipes for these Chicago-style bakery apple slices that were pretty much the same, apparently adapted from a 1972 edition of the Chicago Tribune. That would be the source I wanted and the recipe I chose to adapt.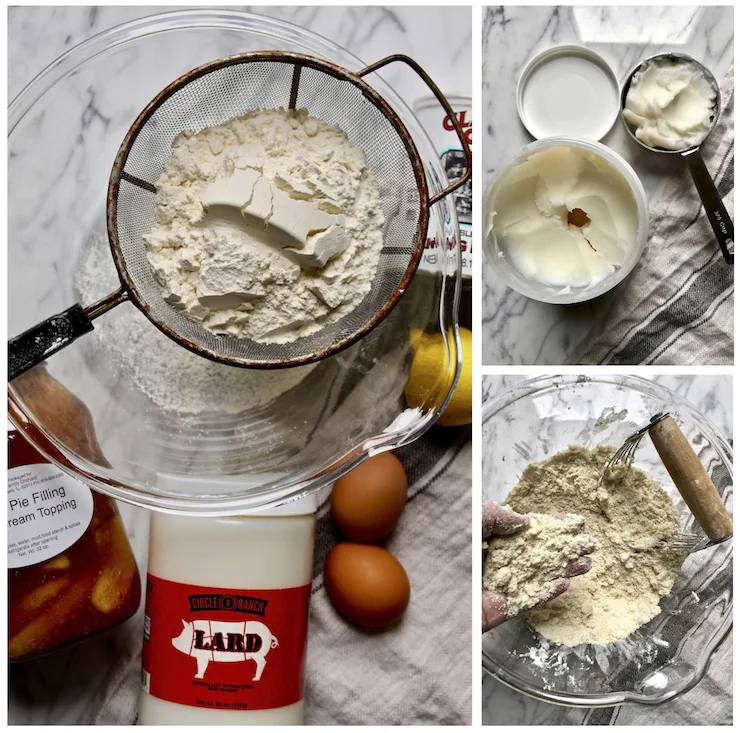 I use lard for all my pie crusts and I highly recommend it. This recipe called for lard, no butter. Try and find a non-hydrogenated, unprocessed lard ~ that's the best to use. The other hydrogenated stuff isn't so good, just sayin'.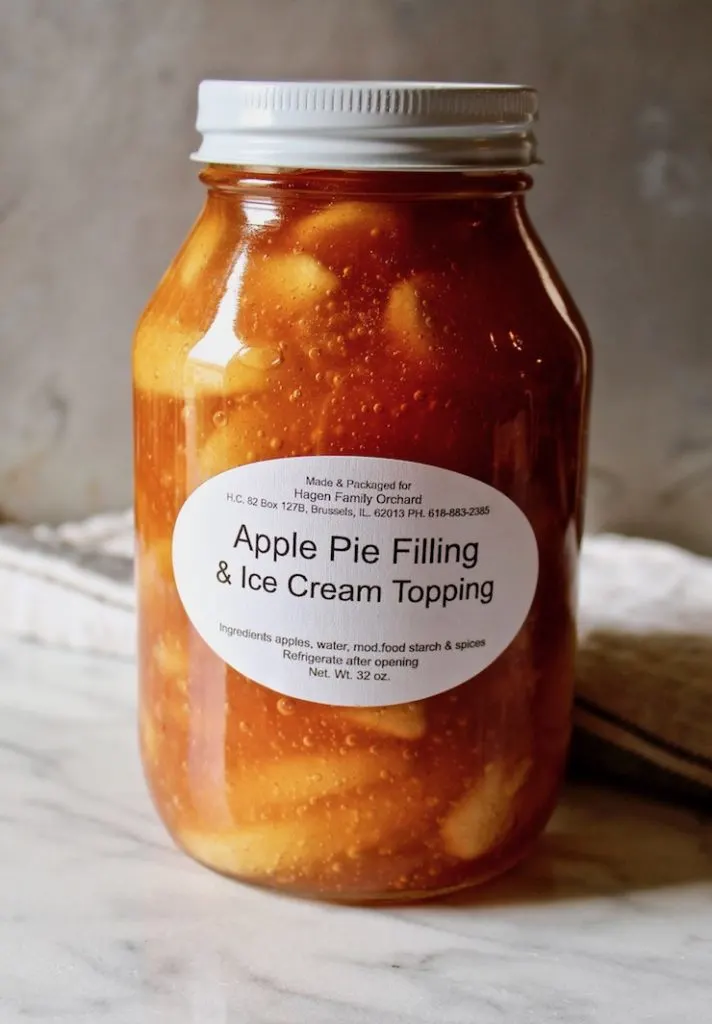 I used a quart jar of Amish apple dessert filling I had in the pantry. It was perfect for these apple slices. Use any pie filling you prefer, and I'll also put the apple filling directions from the recipe I used in the recipe notes, in case you want to make your own filling. And I used a smaller jelly roll pan, not a full or even half sheet size. You could double the recipe for a larger sheet pan.
The dough is a bit hard to work with, at least I thought so. I pressed the dough in the bottom of the pan with my fingers. I rolled the top sheet of dough on the back of a well-floured sheet pan and then transferred it. It still tore in the corners and my attempts to patch it were comical.
This isn't like working with a traditional pie dough. But I don't think it matters, it tasted great, was brown and crispy, and the vanilla-butter glaze on top covers any glaring goofs. Just patch the dough the best you can.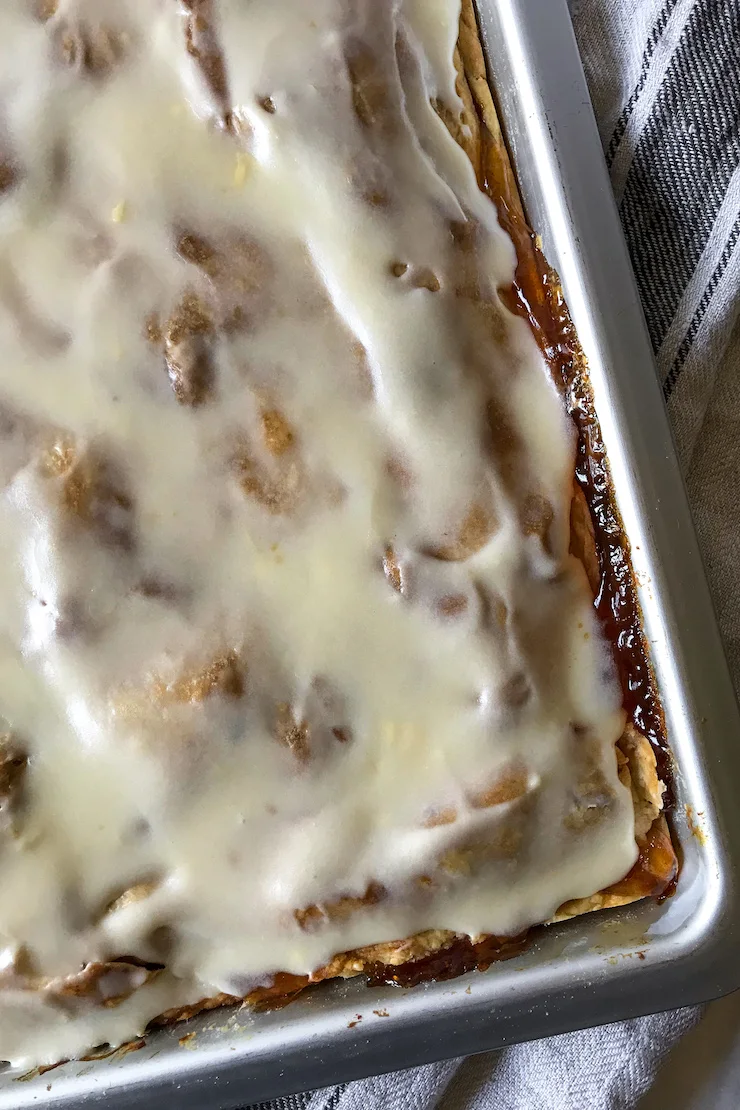 I used to get an apple slice for the car ride home from the bakery, they're very portable. I'd gobble it up right out of the bag, holding it with the little piece of white bakery tissue. So, off you go! Make these Apple Slices and you'll have this iconic Chicago-style bakery treat at home. They disappear fast! ~ Kelly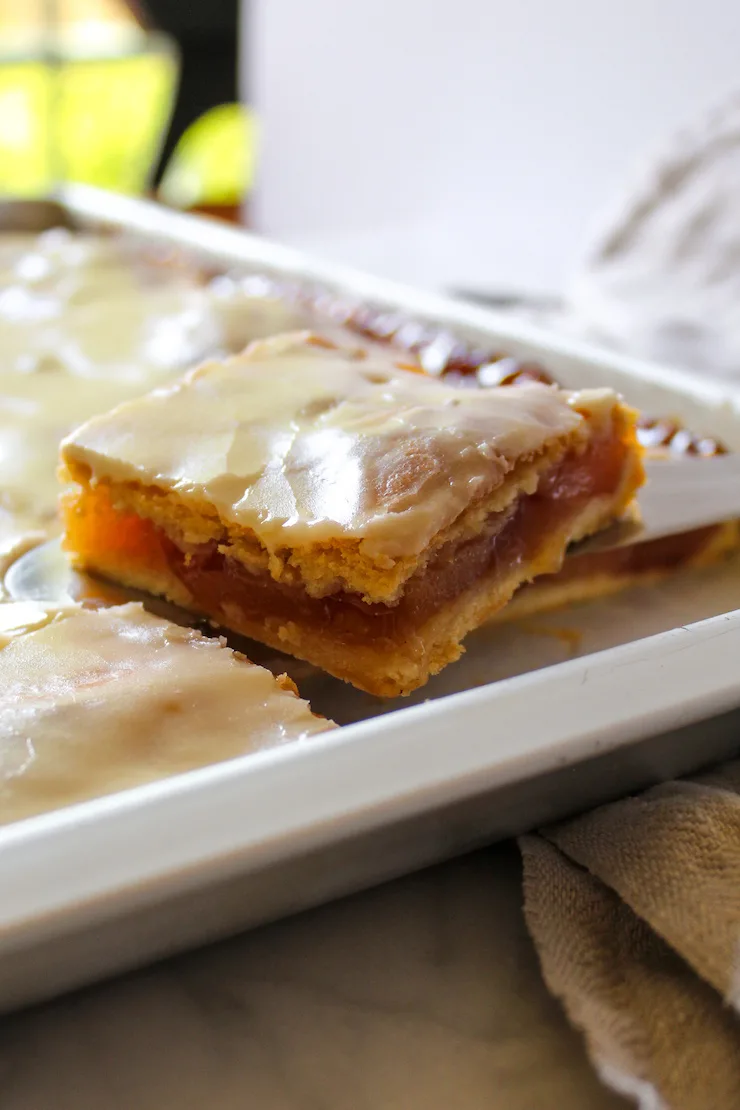 You might also like these baked goodies:
HUNGRY FOR MORE? Subscribe to my Newsletter and come hang out with me on INSTAGRAM, or give me a follow on FACEBOOK or see what I'm pinning on PINTEREST.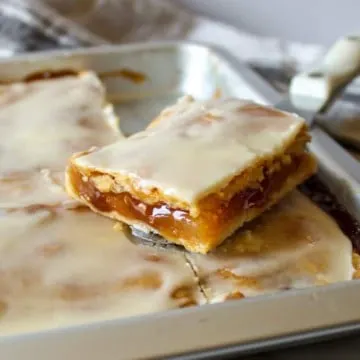 Apple Slices
Chicago-style bakery apple slices. Apple filling between two crusts in a sheet pan, topped with vanilla glaze and cut into squares.
Print
Pin
Rate
Ingredients
2

cups

all purpose flour

½

teaspoon

baking powder

½

teaspoon

salt (I use Diamond kosher salt, even for baking)

¾

cup

lard (preferably non-hydrogenated, unprocessed)

½

cup

water

2

egg yolks

1

teaspoon

lemon juice

32

ounces

apple dessert filling/topping
Glaze:
1

cup

powdered sugar

2

tablespoons

melted or softened butter

½

teaspoon

vanilla

2

tablespoons

whole milk (more to thin, if necessary)
Instructions
Sift together flour, baking powder and salt in large bowl. Add lard and cut in with pastry cutter or fingertips until the mixture resembles coarse crumbs. In a measuring cup, mix water, egg yolks and lemon juice together and pour over flour mixture. Blend gently with a fork until combined; mixture will be very moist.

Divide dough in half. Roll or pat one half of dough directly into 9" by 13" jelly roll pan, bringing dough slightly up the edges. I patted with my hands, you could also try a mini roller. Spread apple filling evenly over the dough. Roll remaining dough to fit the top, either on a well floured pastry board or the back of a sheet pan and then carefully flip it over the top. Press or pinch the edges together, don't worry if it doesn't seal completely, as long as top is completely covering apples. Patch where necessary. Cut several slits in top dough for steam vents.

Bake in 400º oven for 40 minutes, until crust is nicely browned, rotating pan halfway. Remove to rack to cool.

Make glaze. Combine sugar, softened butter, vanilla and milk until smooth, adding more milk if necessary for consistency. Spread glaze over top of crust with an offset spatula and let glaze set and harden. Cut into 2- or 3-inch squares and enjoy!
Recipe Notes
The recipe I adapted included the following directions to make the apple filling: Mix 1¼ cups sugar, 2 tablespoons cornstarch, 1 teaspoon cinnamon and ¼ teaspoon salt in a saucepan; add 1¼ cups water. Cook, stirring frequently, for 5 minutes. Add 3 pounds peeled and pared cooking apples, cut into ¼"-thick slices; simmer for 10 minutes.
The dough is very moist and a little hard to work with. You may wrap it in waxed paper and chill for 6 hours or overnight, then roll out for the pan.
The recipe yields about 12 to 24 slices, depending on the size you cut them.
Nutrition
Calories:
166
kcal
Carbohydrates:
23
g
Protein:
1
g
Fat:
8
g
Saturated Fat:
2
g
Polyunsaturated Fat:
2
g
Monounsaturated Fat:
3
g
Trans Fat:
1
g
Cholesterol:
19
mg
Sodium:
85
mg
Potassium:
32
mg
Fiber:
1
g
Sugar:
10
g
Vitamin A:
62
IU
Vitamin C:
1
mg
Calcium:
12
mg
Iron:
1
mg
*Adapted from Chicago Tribune and Farm Bell Recipes