Creamy spring risotto with asparagus and smoked salmon and sugar snap peas ~ finished with lemon, parmesan and a sprinkling of fresh herbs, a perfect spring-time rendition.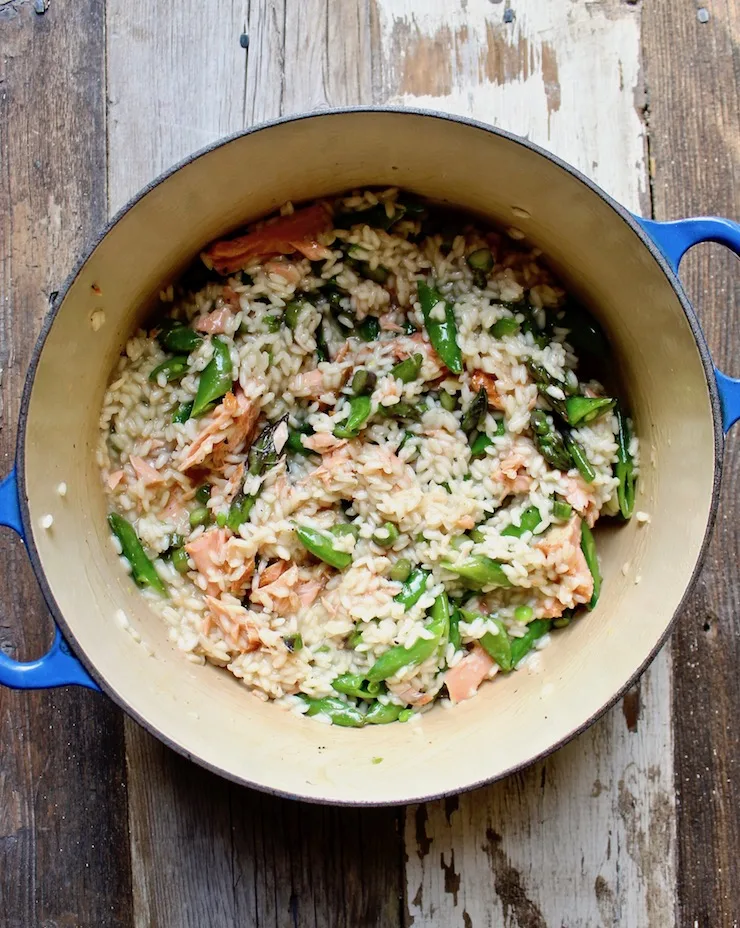 I'll admit I don't often make risotto at home, thinking it too difficult with all the stirring that I'll somehow manage to screw it up. But it's not hard guys, in fact it's very forgiving.
Once you understand what to do and have all your ingredients prepped, it's done in no time ~ like about 25 minutes to creamy deliciousness!
So many ways to make risotto and for spring, let's go with some asparagus, sugar snap peas and smoked salmon. Yep, that's the ticket.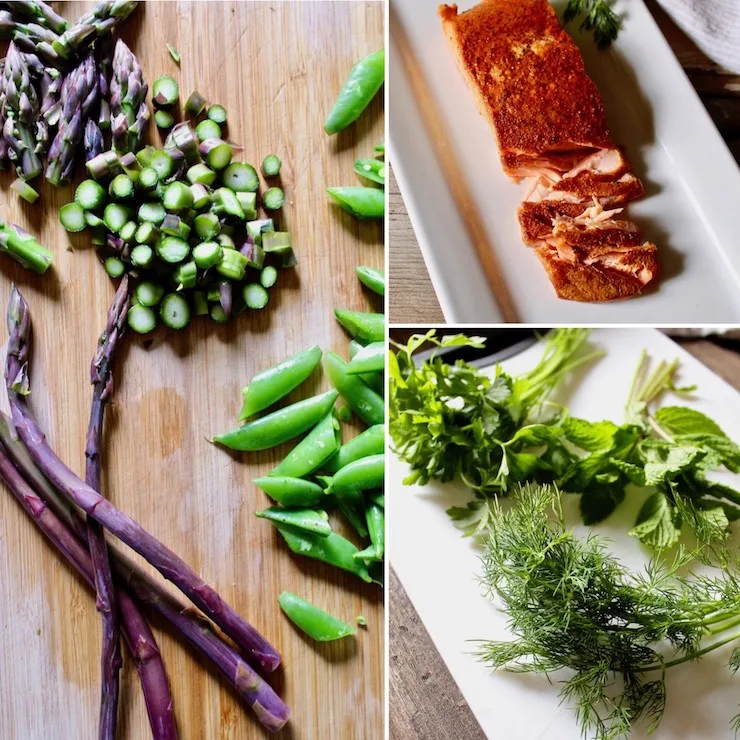 Look for local asparagus this time of year, I used a purple variety from the farm in my neighborhood. Cut the tender tips off, set aside, and then cut the tender stalks into little disks. At the store, I grabbed a big handful of sugar snap peas, and simply cut in half diagonally.
For the salmon, a piece of hot-smoked salmon that is firm and flaky is what you want, not the flat stuff in vacuum-sealed bags (like lox, which is good, but not for risotto). And lastly, some fresh herbs like dill, mint and parsley. Thinking spring!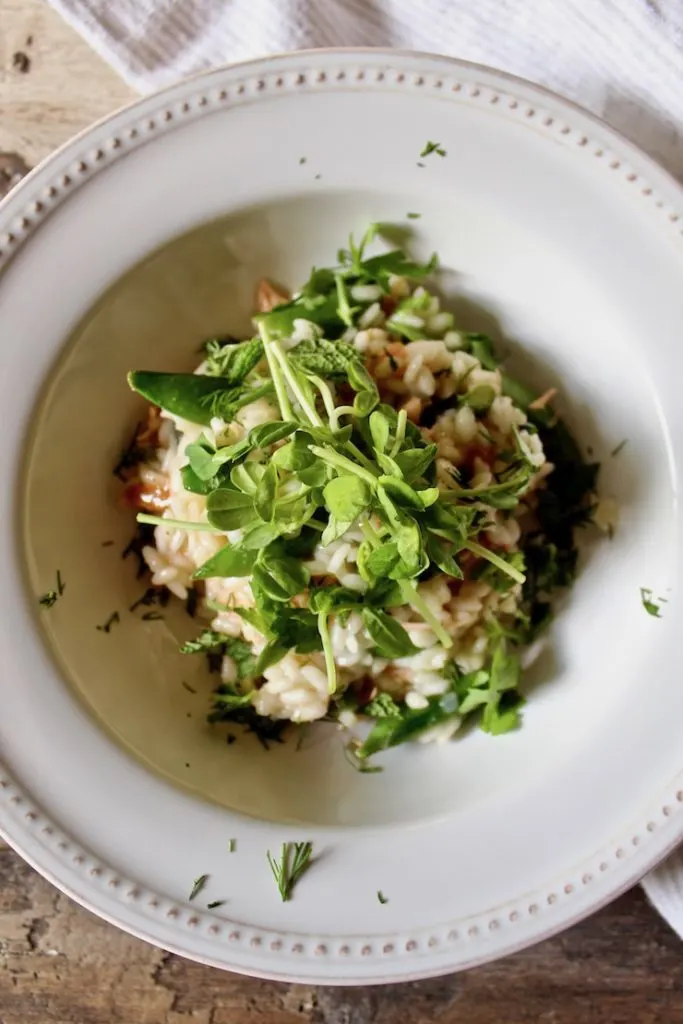 What rice to use in risotto?
Funny you should ask, well, not funny, but good question. You want an Italian short-grain rice like Arborio, the grains are pearl-like and have a high starch content which yields the resulting creaminess/chewiness you want in dishes like risotto. It's also a great choice for rice pudding.
Arborio is the most popular and readily available, but other types good for risotto are Carnaroli, Maratelli, Baldo, and Vialone Nano.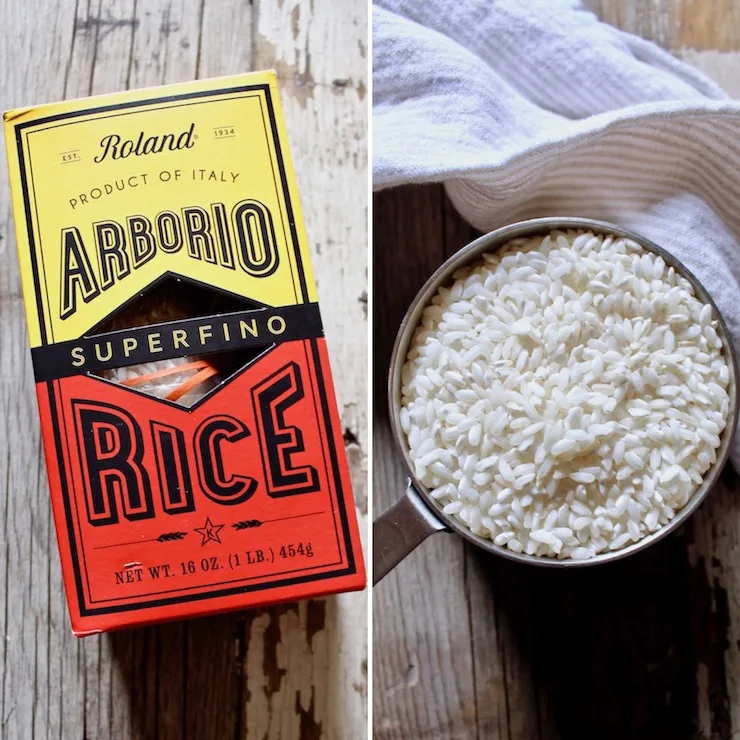 Making risotto - simmer and stir, simmer and stir
We have our main ingredients but probably the most important ingredient is simmering stock, preferably homemade chicken stock. You need four to six cups simmering in a pot on the stove the entire time.
When it's time, after the aromatics have softened a bit and the rice has toasted, I add some wine and stir and deglaze until it's fully absorbed. Then a ladle or two at a time, add hot chicken stock and stir. And stir.
When almost absorbed, add another ladle and do the same. In about 20 minutes, the rice will be creamy yet al dente, with a little chew to it. That's what you want.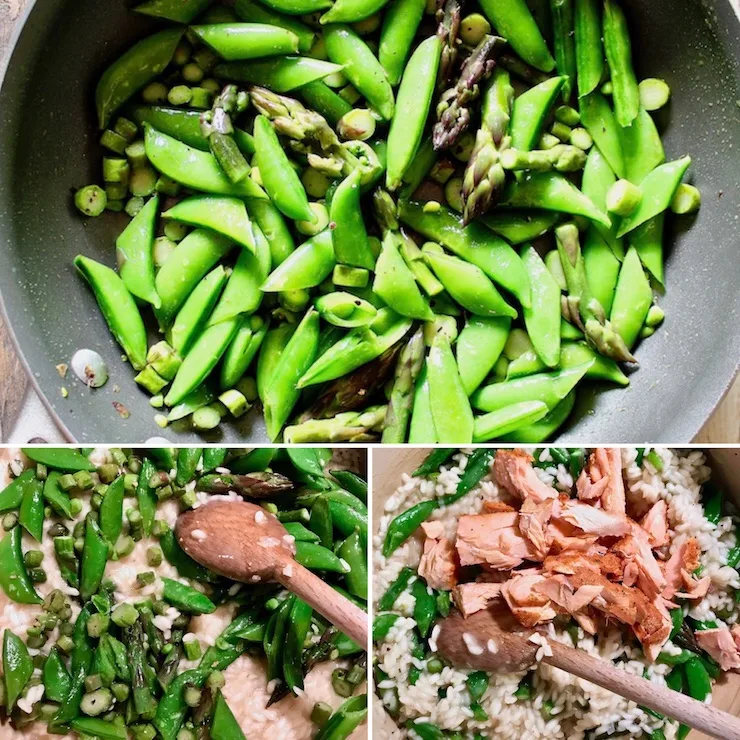 Once the risotto is done, stir in some lemon juice and Parmesan, and then fold in the briefly sautéed asparagus and sugar snap peas, then the flaked salmon. There you have it ~ Spring Risotto.
Wait, you need some fresh herbs and because, you know, salmon, I like dill, mint and parsley. So fresh and adds that last pop of flavor to complement all the flavors in this spring risotto. This risotto is so creamy and dreamy and lovely for dinner at home or entertaining. Try it, you'll love it ~ Kelly ??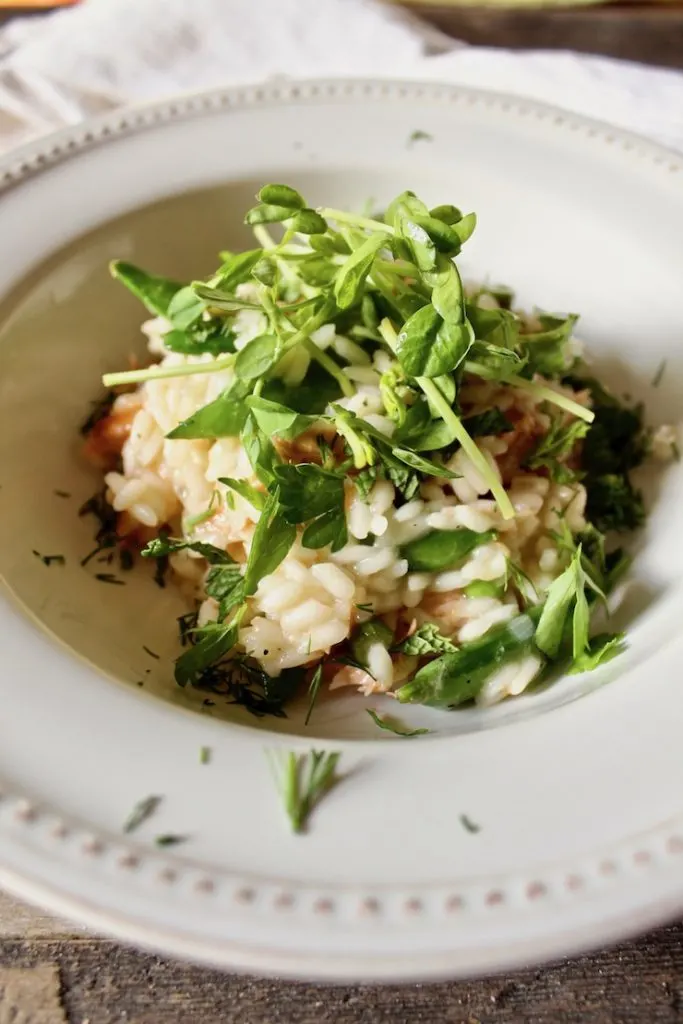 HUNGRY FOR MORE? Subscribe to my Newsletter and come hang out with me on INSTAGRAM, or give me a follow on FACEBOOK or see what I'm pinning on PINTEREST.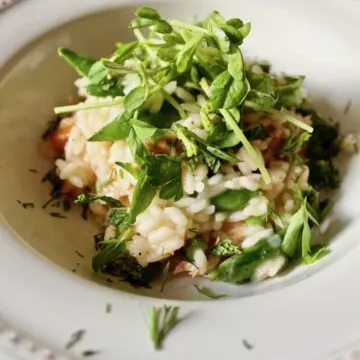 Spring Risotto with Asparagus and Smoked Salmon
Creamy smoked salmon risotto with asparagus and sugar snap peas. Finished with lemon, parmesan and a sprinkling of fresh herbs. Hello Spring!
Print
Pin
Rate
Ingredients
2

tbsp

olive oil

½

lb

asparagus, tips and tender part of stalks cut into disks

6

oz

sugar snap peas, cut in half diagonally

Kosher salt and pepper

2

tablespoon

butter

1-2

shallots, finely chopped (about ¼ cup)

2

small

cloves garlic, finely chopped

1½

cups

Arborio rice, or other Italian risotto rice

½

cup

dry white wine

4-6

cups

chicken stock, preferably homemade

½

lemon, juiced

¼

cup

grated Parmesan

6-8

oz

smoked salmon, flaked, room temperature

Chopped herbs for garnish, such as dill, mint and parsley

Optional: pea shoots or microgreens
Instructions
Heat chicken stock in a sauce pan and keep at low simmer on stove.

Heat olive oil in a skillet and sauté asparagus and sugar snap peas with a pinch of slat until just crisp-tender, about 3 to 5 minutes. Set aside.

In heavy-bottomed Dutch oven or pot, melt butter over medium-high heat and sauté shallots and garlic, with a pinch of salt, until slightly softened, about 2 minutes. Add rice, stir to coat thoroughly and lightly toast for a couple minutes.

Add wine and stir, scraping up any browned bits, and simmer until wine is almost completely absorbed by the rice. Adjust heat to medium.

Add 1 - 2 ladles, about a ½ cup, of hot stock to the pot and stir constantly, allowing the rice to to almost fully absorb the stock before adding more, and repeat with 1 - 2 more ladles of stock. Keep adding stock and stirring, until rice is tender and creamy but still firm to the bite/chewy, about 20 - 25 minutes.

Remove from heat. Stir in lemon juice, a small knob of butter and Parmesan, season with salt and pepper. Stir in the sautéed vegetables and then gently fold in the salmon. If risotto seems to firm, stir in another ladle or two of hot stock.

Serve immediately with a sprinkling of fresh dill, mint and parsley. Enjoy!
Recipe Notes
You can swap out the sugar snaps for peas, or omit if you want. See what looks good at the market!
I've heard risotto is done when you run a wooden spoon through it and it slowly creeps back, like lava. I rely on tasting it, not that method! Although, it is by sight and feel if it gets too firm. Just add a little more stock.
Use a wooden spoon to do all your stirring ~ a metal spoon is too harsh and will actually break the rice.
Nutrition
Calories:
607
kcal
Carbohydrates:
78
g
Protein:
23
g
Fat:
20
g
Saturated Fat:
7
g
Polyunsaturated Fat:
2
g
Monounsaturated Fat:
9
g
Trans Fat:
1
g
Cholesterol:
37
mg
Sodium:
837
mg
Potassium:
663
mg
Fiber:
5
g
Sugar:
8
g
Vitamin A:
1167
IU
Vitamin C:
37
mg
Calcium:
114
mg
Iron:
6
mg