This is how to make perfect guacamole at home, simple and fresh, better than your favorite Mexican restaurant. And you have to serve with homemade tortilla chips, you just do! Instructions included with recipe.
Guac. Chips. Queso. Margaritas. Doesn't that just hit the spot sometimes? That could easily be dinner for me. For most, though, guacamole and chips are an appetizer to enjoy with margaritas and friends. I stumbled across this recipe for perfect guacamole to make at home.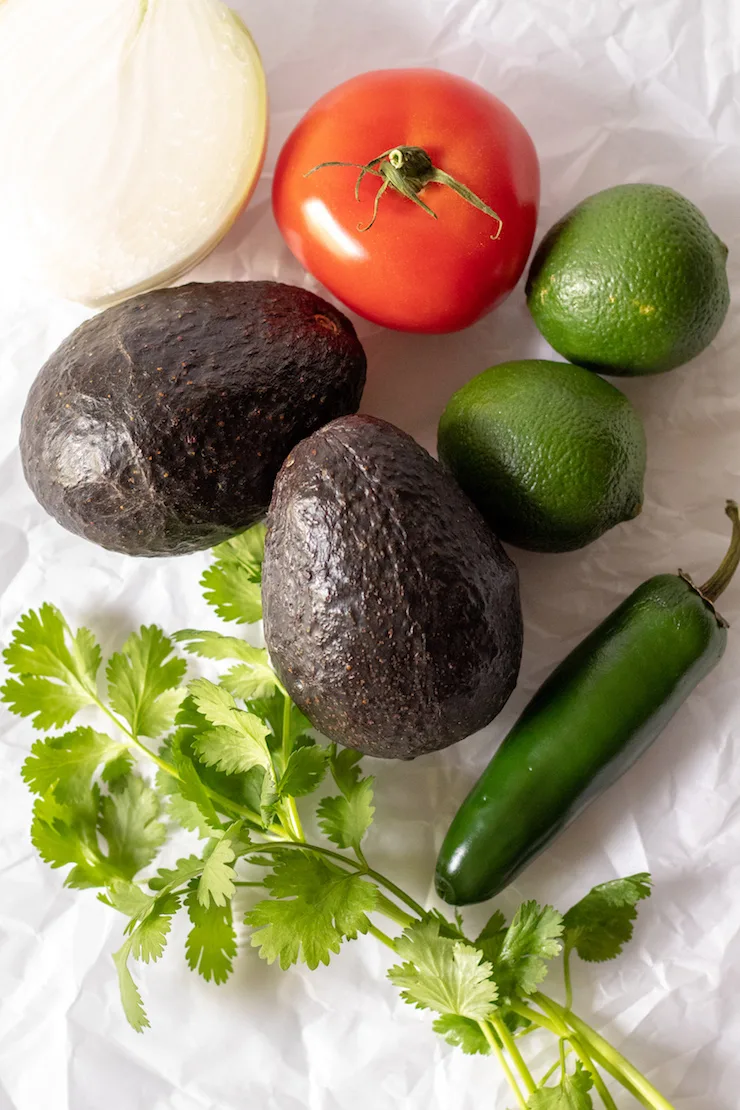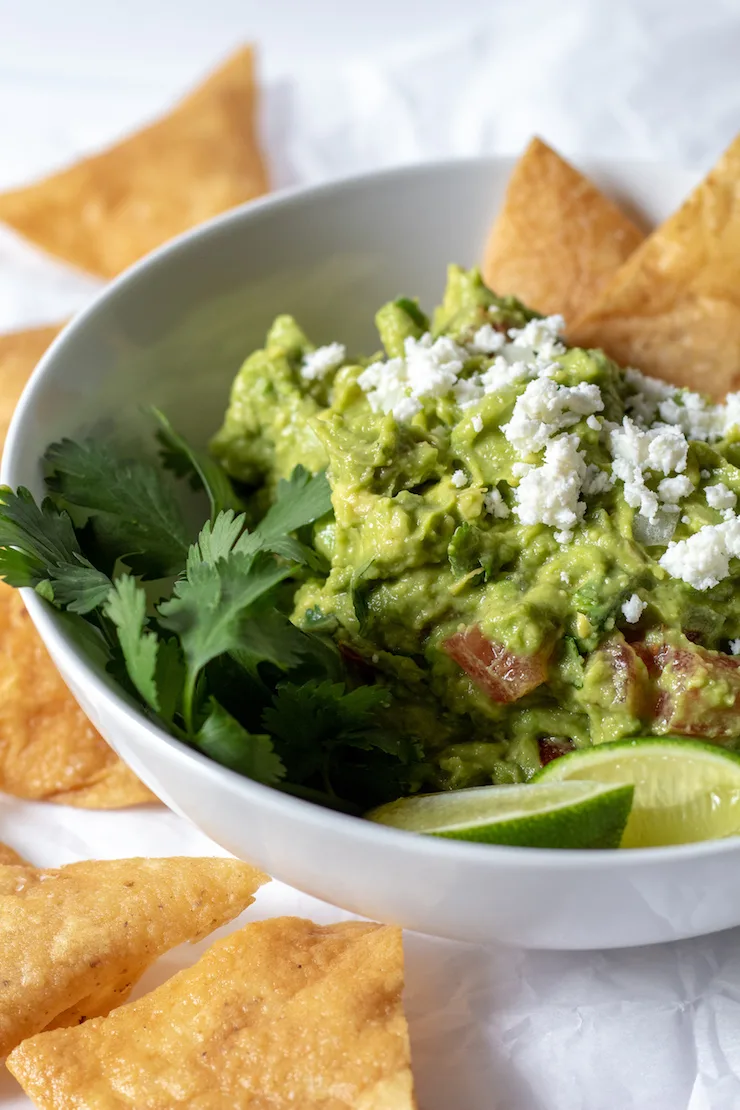 There must be a gazillion guacamole recipes, all pretty similar to each other, the star being good, ripe avocados. Don't you hate it when you cut into an avocado you think is perfectly ripe and it's bad inside? It happens more often than I like but what can you do, I usually buy an extra or two in case I get a dud.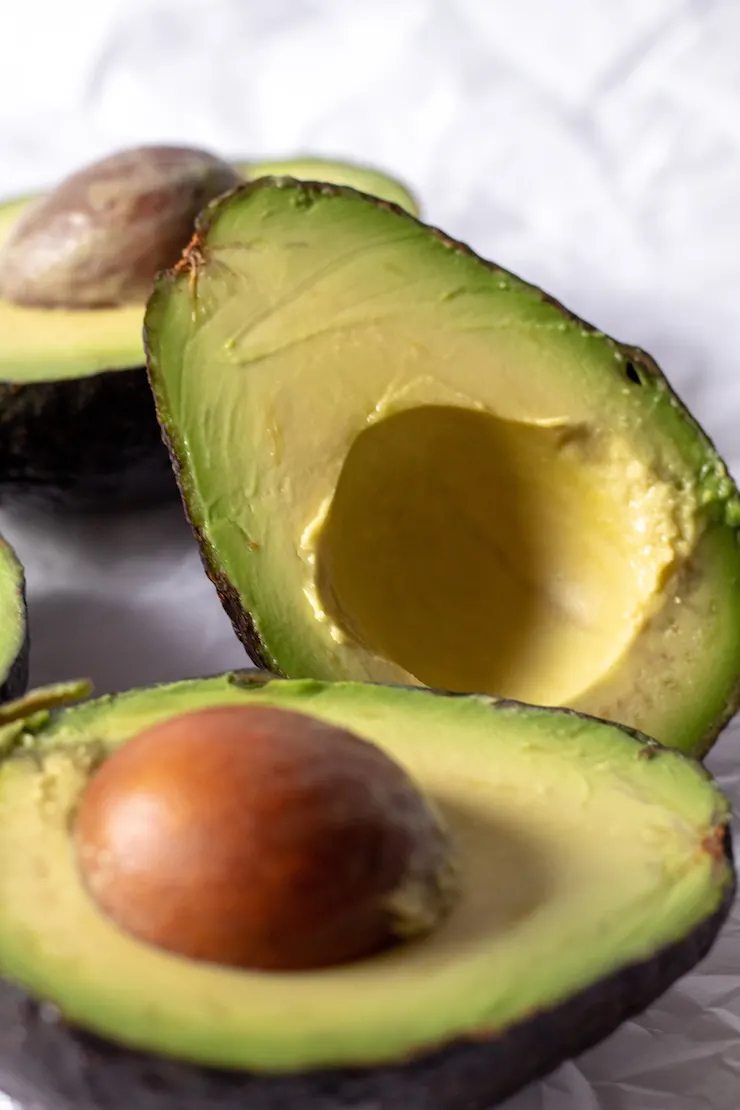 Mashing the avocado for guacamole is a matter of preference I guess, chunky or smooth? I say definitely on the chunky side. Use a spoon or fork, or even a potato masher. Just mash it lightly so it's still chunky.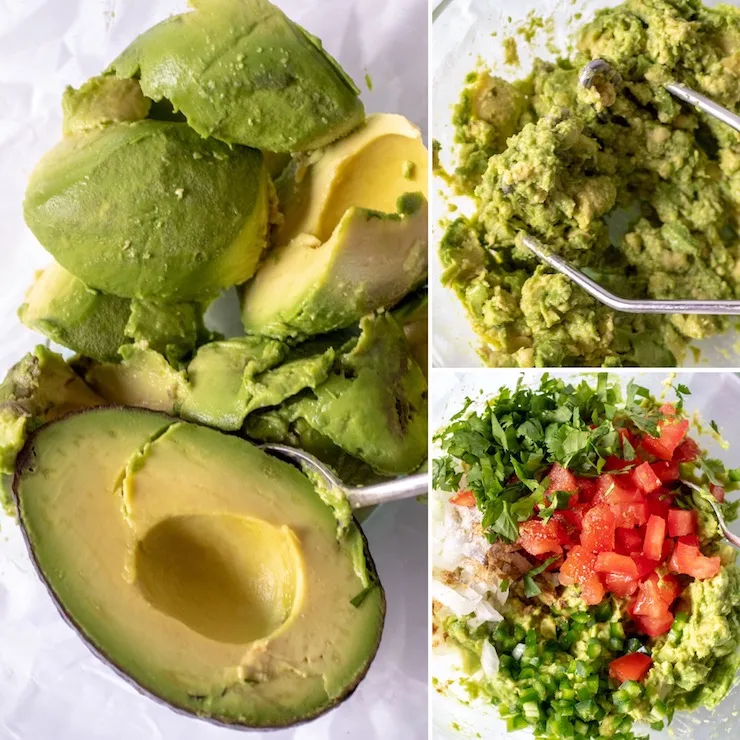 As with most recipes, you get out what you put in. I'm talking quality, freshness here. White onion, fresh jalapeños, ripe tomato, freshly squeezed lime juice, fragrant cilantro, it all adds up to one perfect bowl of guac. A little cotija cheese grated on top is a nice finishing touch. I couldn't find any so I crumbled some queso fresco on top.
And really good tortilla chips. Buy the best local chips you can find, or better yet, make your own homemade tortilla chips, like I do. Great homemade guacamole isn't so great with mediocre chips.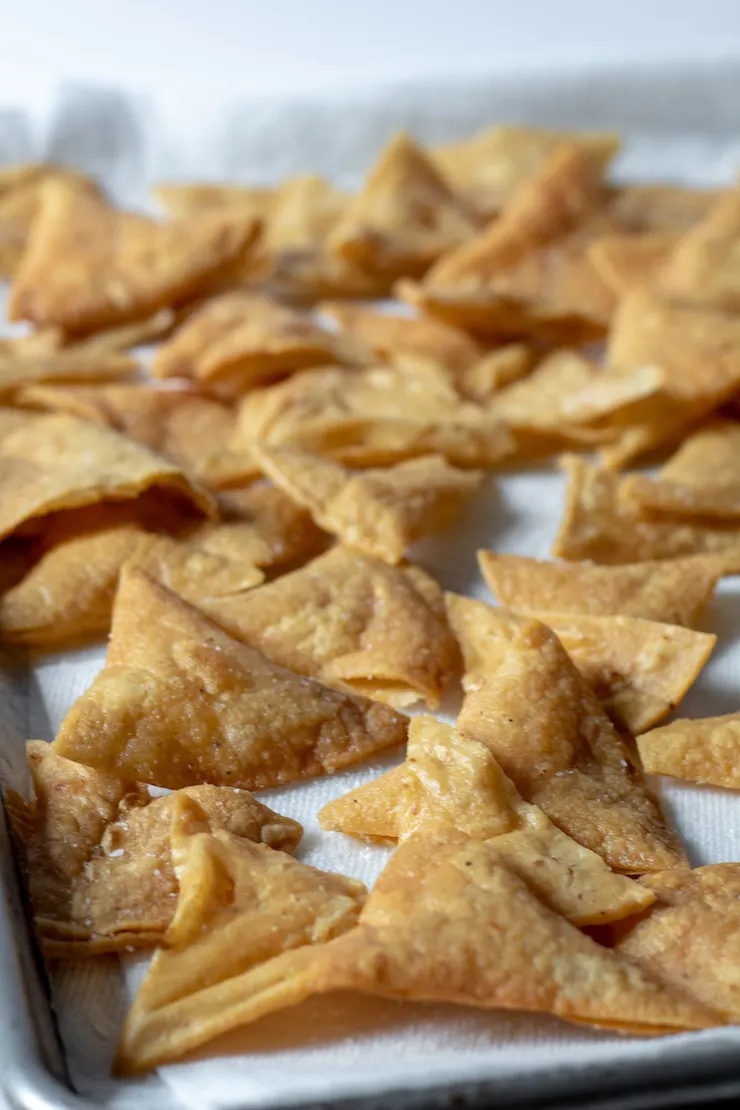 This is a great time of year to make guacamole. Tomatoes are in season, as are jalapeños and onions. Look for avocados that give just a little, not too soft or overripe. If you're lucky, you won't get any bad ones. Buy three for this recipe, just in case. You want perfect guacamole. Kelly🍴🐦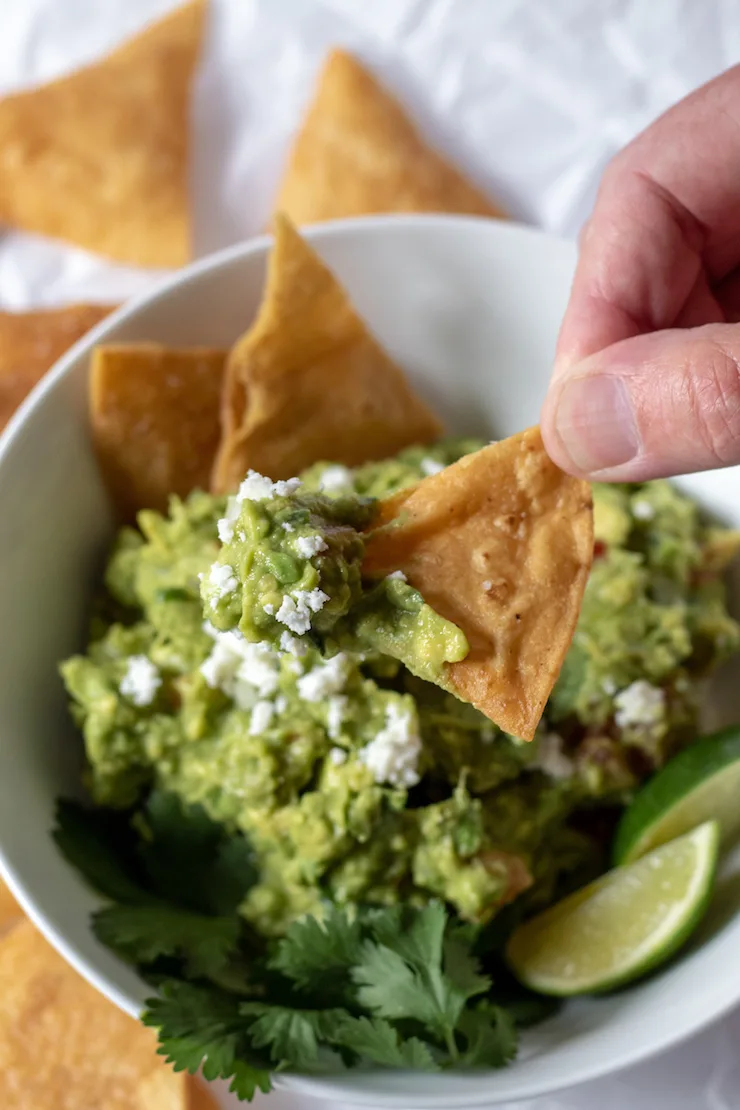 Make a Classic Margarita to go with your guac and chips! You might also like these Loaded Steak Nachos made with homemade tortilla chips, too!
HUNGRY FOR MORE? Subscribe to my Newsletter and come hang out with me on INSTAGRAM, or give me a follow on FACEBOOK or see what I'm pinning on PINTEREST.
UPDATED May 1, 2019: no changes to original recipe, just spiffed things up a bit and included instructions for making homemade tortilla chips.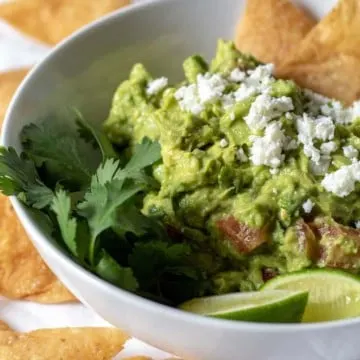 Perfect Guacamole
How to make simple and fresh perfect guacamole at home. See recipe notes for making homemade chips, a must for perfect guac and chips.
Print
Pin
Rate
Ingredients
2

ripe avocados, halved and pitted

2

tablespoons

finely chopped white onion

½

cup

chopped fresh tomato, seeded

1

tablespoon

finely diced jalapeño

1

tablespoon

fresh lime juice

2

tablespoons

chopped cilantro

¼

teaspoon

kosher salt

¼

teaspoon

cumin

1

tablespoon

grated cotija cheese (or crumbled queso fresco)

Good quality tortilla chips

or make your own! Instructions below.
Instructions
Spoon the avocado flesh from the skins into a bowl. Lightly chop the avocado with the edge of the spoon, or mash it lightly with a potato masher, it should be chunky.

Add the onion, jalapeño, tomato, lime juice, cilantro, cumin and salt. Stir gently to combine. Taste and adjust seasonings if needed. Transfer guacamole to serving dish, sprinkle with cotija and serve with chips.
Recipe Notes
Homemade Tortilla Chips:
Cut 12 corn tortillas into 6 wedges each. Use 6-inch yellow or blue tortillas, or both. In medium skillet, heat about ¼ to ½ inch neutral oil, like canola, until hot and shimmering but not smoking. The tortilla wedges should sizzle when they hit the oil. Fry 6 - 8 tortilla pieces at a time for about 2 minutes, until just crisp. Remove to paper towel-lined plate or pan to drain, sprinkle with a little kosher salt while warm. Repeat with all pieces, layering with paper towels and salting.
Nutrition
Calories:
180
kcal
Carbohydrates:
11
g
Protein:
3
g
Fat:
16
g
Saturated Fat:
3
g
Polyunsaturated Fat:
2
g
Monounsaturated Fat:
10
g
Cholesterol:
4
mg
Sodium:
202
mg
Potassium:
558
mg
Fiber:
7
g
Sugar:
2
g
Vitamin A:
377
IU
Vitamin C:
19
mg
Calcium:
38
mg
Iron:
1
mg
* Adapted from Sauce Magazine, July 6, 2016