Chocolate cream pie ~ rich, dark chocolate pastry cream topped with whipped cream in an Oreo cookie crust.
I make two really good pies, cherry and chocolate cream pie. The cherry pie I used to make when I could get my hands on fresh Michigan tart cherries, that was long, long ago. The chocolate cream pie I started making about 14 years ago, when we were living in Minnesota. I brought it to a pool party, I was asked to bring a dessert. The hosts were major foodies, kind of snobby foodies, and I didn't want to disappoint. So I flipped through my cooking magazines and found the dessert I wanted to make. Chocolate cream pie. Who doesn't like chocolate cream pie?!?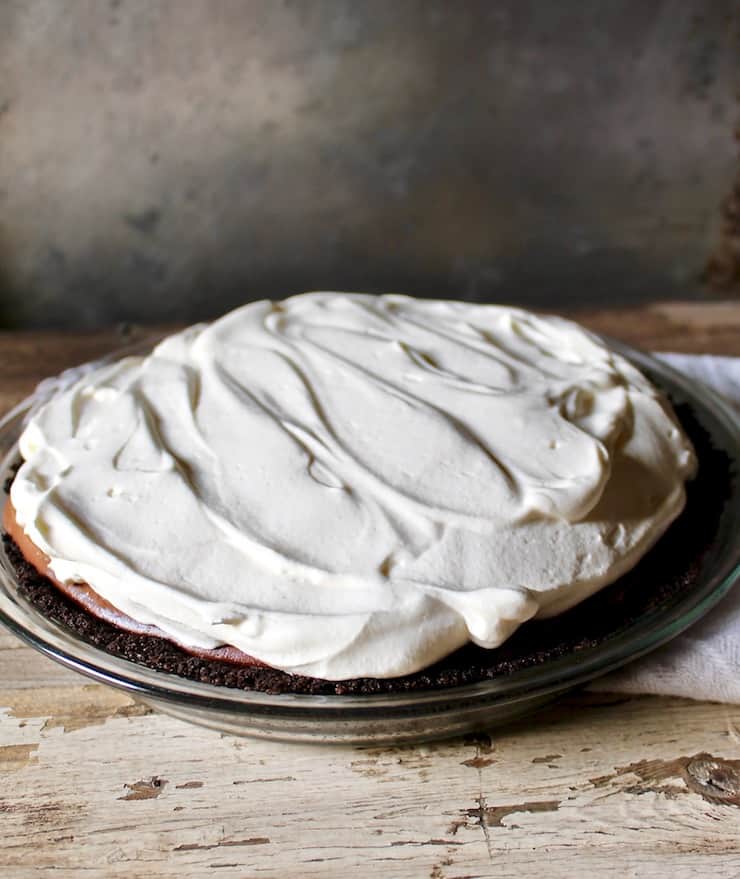 I learned how to make this pie from Cook's Illustrated. It's a really good pie with Oreo cookie crust and a rich, dark chocolate pastry cream and, of course, fresh whipped cream mounded on top. It's not hard to make at all, and I have made it so many times that I'm kind of known for my chocolate cream pie.
What is the chalazae and why remove it for pastry cream?
You'll need 6 egg yolks for the pastry cream and I advise you remove the chalazae from each one, the strands of white protein attached to the yolk. If you do, you won't have to strain the pastry cream when it's done. I remove the chalazae all the time from eggs, when baking or even just scrambling for breakfast. I guess you could say it's a habit of mine.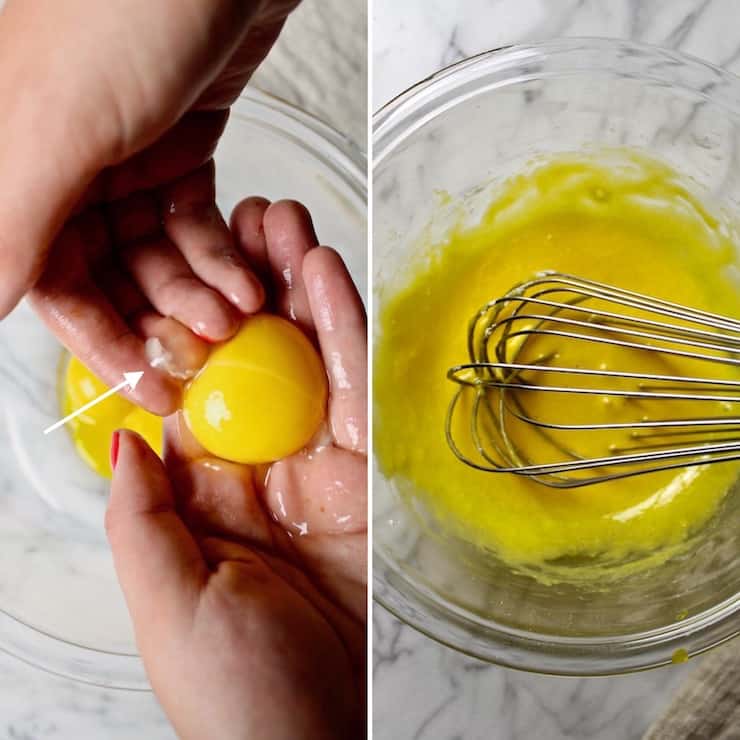 The chocolate. Much debate and differences in quality out there. I used Ghirardelli unsweetened chocolate and Hershey's Special Dark. I would also use Ghirardelli bittersweet but the Hershey's Special Dark is very good and costs about half. It's what I always use. If you can readily find Callebaut, and cost is of no concern, then use both their unsweetened and bittersweet chocolate. That said, my brands are perfectly fine and delicious in this pie.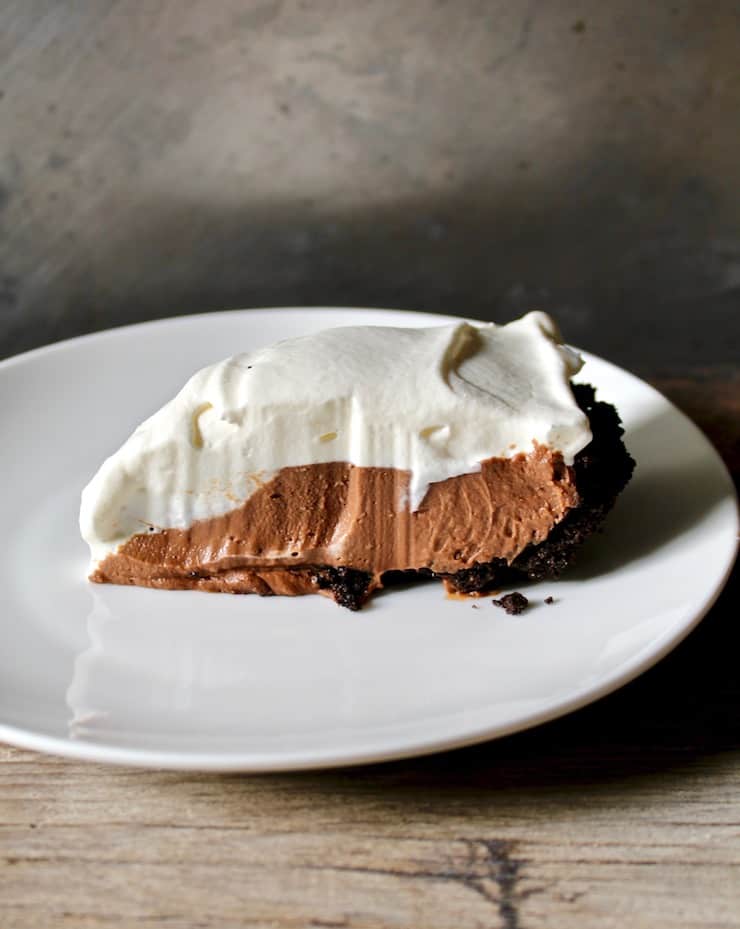 If you're a chocolate cream pie fan, then this is the pie for you. It's Meathead's favorite and he always overdoes it, he doesn't have a filter that tells him to stop after one giant piece. You'd think he'd learn after all these years. And if you're lucky, there might be a piece left for breakfast the next day ~ Kelly
If you've tried this Chocolate Cream Pie or any other recipe on the blog, then don't forget to rate the recipe and let me know how yours turned out in the comments below ~ I love hearing from you! You can also FOLLOW ME on FACEBOOK, TWITTER, INSTAGRAM and PINTEREST to see more of what I'm cooking in my kitchen and recipes.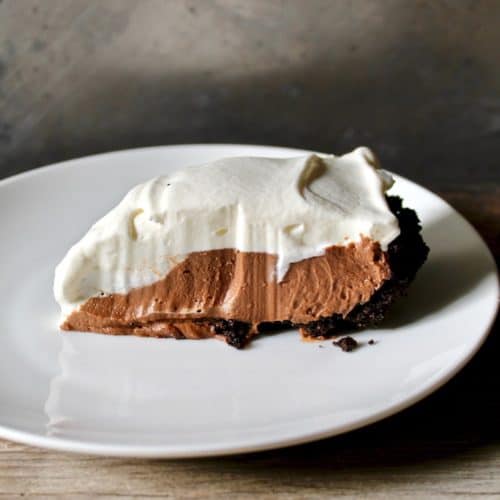 Chocolate Cream Pie
Chocolate cream pie ~ rich chocolate pastry cream topped with whipped cream in an Oreo cookie crust.
Print
Pin
Rate
Ingredients
16

regular Oreo cookies with filling, broken into pieces

2

tablespoons

unsalted butter, melted and cooled

2½

cups

half & half

Pinch

salt

⅓

cup

sugar

2

tablespoons

cornstarch

6

large egg yolks, chalazae removed, room temp

6

tablespoons

cold unsalted butter, cut into 6 pieces

6

ounces

bittersweet chocolate, finely chopped

1

ounce

unsweetened chocolate, finely chopped

1

teaspoon

vanilla extract
For Whipped Cream:
1½

cups

cold heavy cream

1½

tablespoons

sugar

½

teaspoon

vanilla
Instructions
Make the crust: Preheat oven to 350 degrees. In a food processor, process cookies with 15 pulses and then let machine run for about 15 seconds straight until crumbs are uniformly fine. Put crumbs in a bowl and drizzle with butter. Use fingers to combine well.

Pour crumbs into 9-inch Pyrex pie plate. Press crumbs evenly over bottom and up the sides. Cover with a piece of plastic wrap and use a spoon or measuring cup to help press evenly. Keep covered and refrigerate for 20 minutes. Bake until crumbs are fragrant and set, about 10 minutes. Cool on wire rack and make pastry cream.

Bring half & half, salt and 3 tablespoons sugar to a simmer in a medium saucepan, stirring occasionally with a wooden spoon. Stir together remaining sugar and cornstarch and sprinkle over yolks. Whisk until mixture is glossy and sugar has begun to dissolve, about 1 minute. Whisk yolks thoroughly until slightly thickened. Temper the egg yolks by drizzling ½ cup of simmering half & half over the yolks, whisking constantly. Then whisk the yolk mixture into the simmering half & half, return to simmer, whisking constantly until thick and bubbly and glossy. It takes just a few minutes.

Remove from heat and whisk in the cold butter until incorporated. Add the two chocolates and whisk until melted, scraping the bottom and sides with a spatula to mix it all with no streaks. Stir in vanilla and then pour into baked crust. Press plastic wrap on the surface and refrigerate until cold and firm, about 3 hours.

Just before serving, make the whipped cream. Use chilled beaters and a chilled bowl. Beat cream, sugar and vanilla until soft peaks form. Takes a couple of minutes. Spread whipped cream over top of chilled pie and serve.
Keyword:
chocolate cream pie, chocolate cream pie with oreo crust, gourmet chocolate cream pie
*Adapted from Cook's Illustrated, May, 2001, Baking Illustrated