Homemade peach pie made with seasonal, fresh peaches and a perfectly flaky, crispy crust made with lard and butter. This is the quintessential summer fruit pie!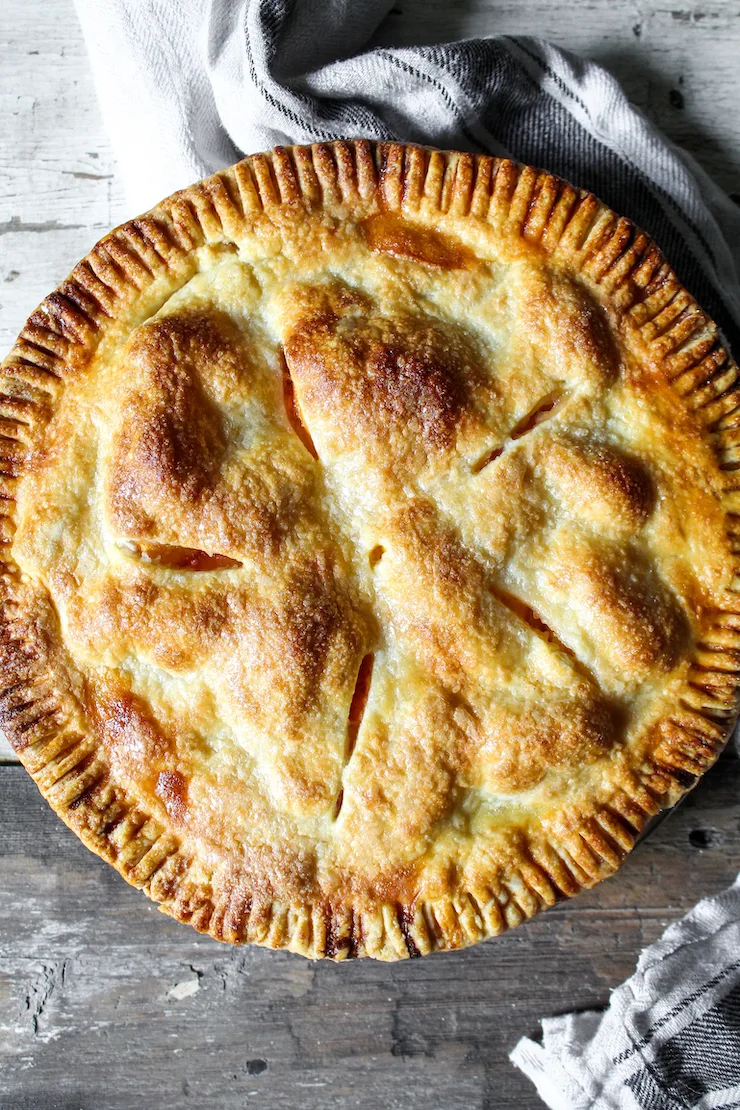 Summer peach season is in full swing. I've been having a blast with peaches this year. Peach bellinis, grilled peaches and peach pie. I've made peach pie twice so far this summer and both times the pie was gone in a day.
Every time someone went in the kitchen, they helped themselves to a piece. My mom was visiting and I asked her if she liked the pie and she said, "I didn't get any, they ate it all up before I got a piece". Pie disappears fast in my house.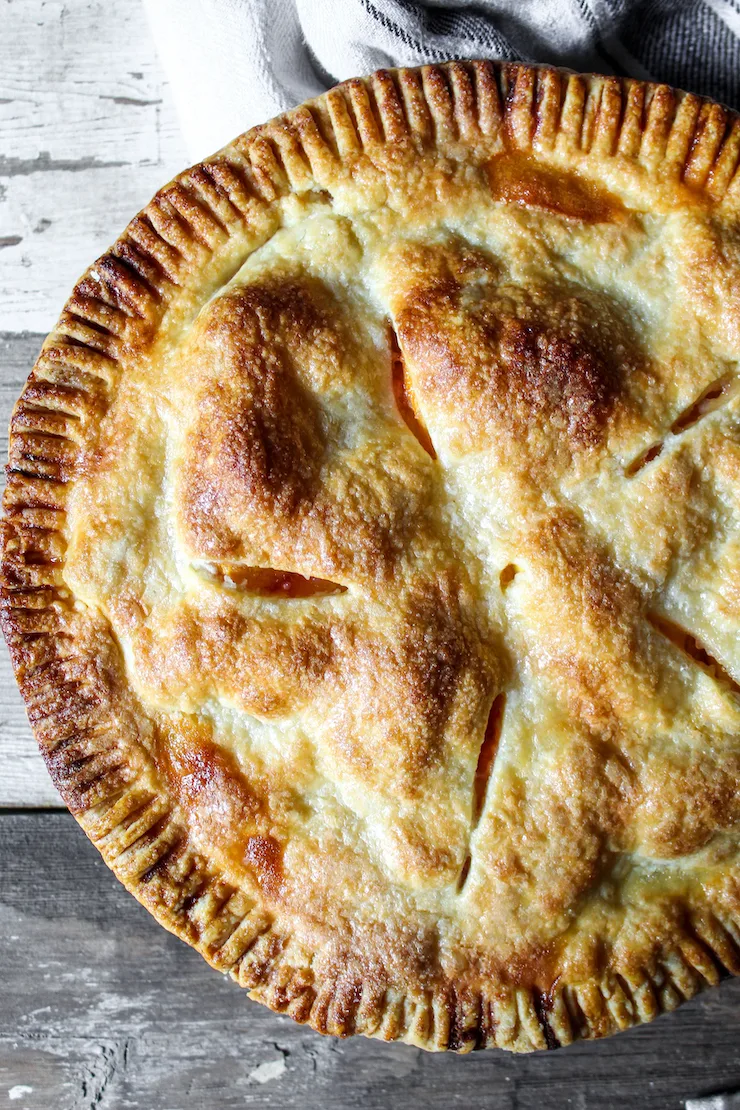 How To Make Flaky Pie Crust
I make three kinds of pie ~ cherry pie, chocolate cream pie and peach pie. Summer fruit pies are simply the best. I have played around with the crust over the years and I really think it's the best part. Flaky and crispy and tender, this crust uses butter and lard. It's perfect.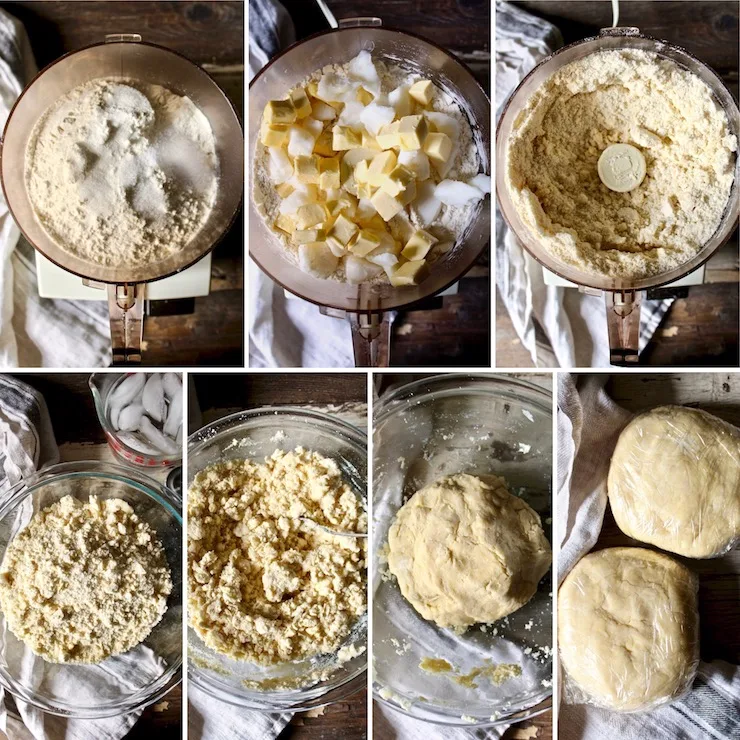 Pulse flour, sugar and salt in food processor.
Add chilled butter and lard.
Pulse on/off until mixture resembles coarse crumbs.
Transfer to bowl and add ice water.
Mix with a fork until it starts to clump together and...
You can form a ball.
Divide into two discs, wrap in plastic wrap and refrigerate.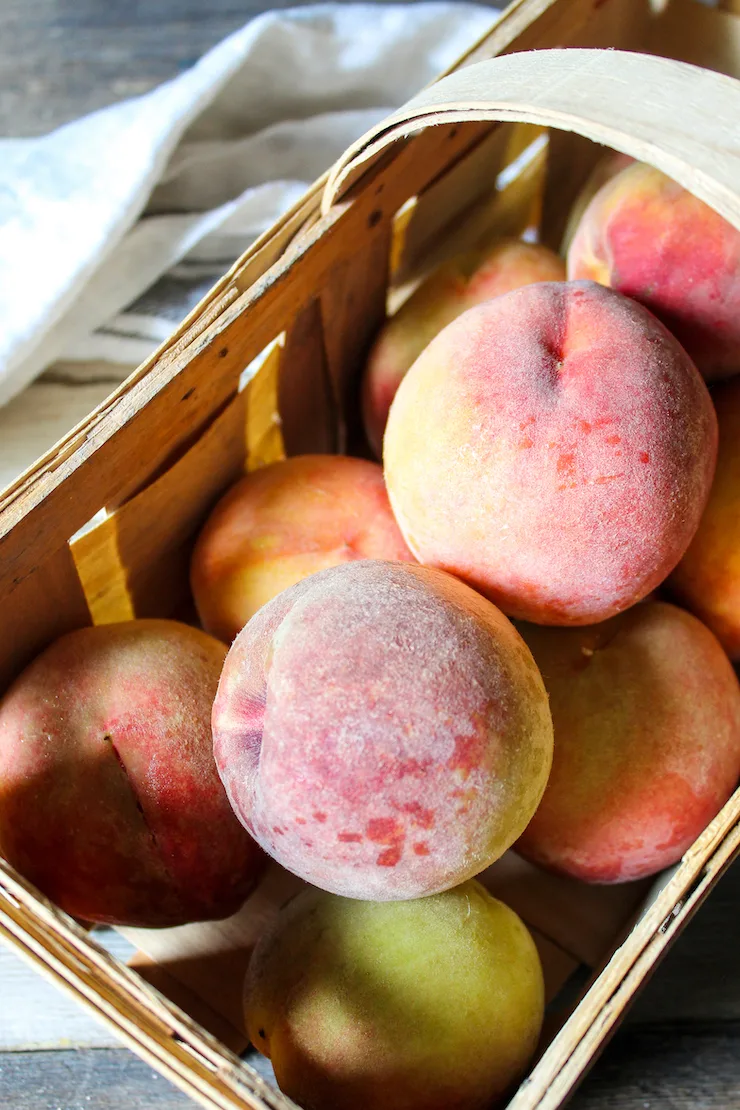 How to Make Peach Pie
Peel and slice peaches.
Toss with tapioca, sugar and lemon juice.
Fill bottom portion of rolled out dough with peach mixture and dot with butter.
Seal and crimp top dough, brush with egg wash and cut slits to vent.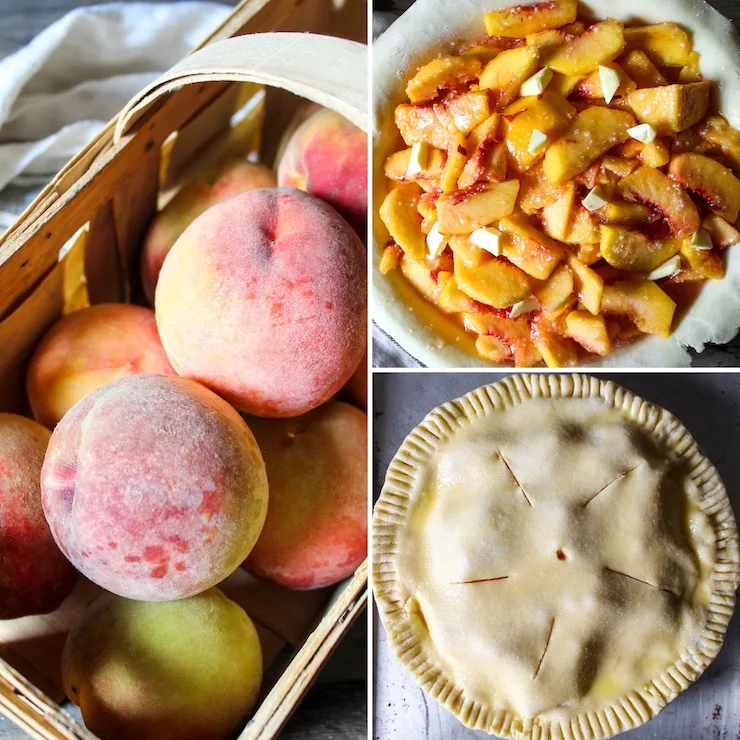 The best peaches for this pie are seasonal and local, it makes all the difference. I bought them in the morning at the farmer's market and made peach pie that afternoon. The peaches were perfectly ripe and fragrant. The only thing missing was ice cream ~ a scoop of vanilla would be perfect with a warm piece of peach pie.
I hope you're having a fun and relaxing summer and I hope you try this peach pie ~ it's just peachy. Sorry, I couldn't resist ~ Kelly🍴🐦
HUNGRY FOR MORE? Subscribe to my Newsletter and come hang out with me on INSTAGRAM, or give me a follow on FACEBOOK or see what I'm pinning on PINTEREST.
Peach Pie
Homemade peach pie made with seasonal, fresh peaches and a perfectly flaky, crispy crust made with lard and butter.
Print
Pin
Rate
Ingredients
For Crust:
2½

cups

unbleached all purpose flour

1½

teaspoons

sugar, more to sprinkle on finished top

1

teaspoon

salt (I use Kosher salt, even for baking)

½

cup

(1 stick) chilled unsalted butter (I actually like salted Kerrygold for this crust), cut into ½-inch cubes

½

cup

chilled lard, ½-inch pieces

5

tablespoons, at least, ice water

1

egg and 1 tablespoon milk or water for egg wash
For Filling:
6

large ripe peaches, peeled, pitted and sliced

¾

cup

sugar

¼

cup

tapioca

1

tablespoon

lemon juice

1

tablespoon

butter, to dot on top of filling
Instructions
Make crust. In a food processor, pulse flour, sugar and salt to blend. Add cubed butter and lard and pulse on/off until mixture resembles coarse meal. You should still see pieces of butter and lard. Transfer mixture to bowl and add 5 tablespoons of ice water. Mix with a fork until dough starts to clump together. If too dry, add more ice water by teaspoonfuls until you can gather dough into ball. Divide in half and flatten each half into a disc. Wrap tightly in plastic wrap and refrigerate for AT LEAST 1 hour.

Preheat oven to 425º. About 15 minutes or so before dough is ready to roll, make filling. In bowl, combine sliced peaches, sugar, tapioca and lemon juice. Set aside and let sit for 15 minutes.

In small dish, whisk together egg and milk, set aside.

Remove 1 disc of dough. Lightly flour work surface and rolling pin. Roll dough from center out, turning frequently and adding more flour if sticking. Transfer dough to glass pie dish and gently press into place. Trim excess dough but leave some overhang. Patch any holes or tears with dough scraps. Return to refrigerator while you roll the 2nd disc for the top.

As with the bottom, roll the top disc into a large round to top the pie. Remove bottom crust in the plate from refrigerator. Fill with peach mixture and then dot with 1 tablespoon butter.

Carefully place top crust over filling. If you can, try rolling the dough around the pin and then unroll it over the filling. Trim excess dough and roll under edges and crimp, with a fork or flute with thumb and index finger. Brush top and edges with egg wash and sprinkle with sugar. Using a small knife, cut 4 or 5 slits in top crust to vent.

Place pie on baking sheet and bake in middle of oven for 20 minutes. Turn heat down to 375º and continue baking until crust is browned and juices are bubbling, about 30-35 minutes. Cool completely before cutting.
Recipe Notes
Makes one 9 -inch, double crust pie
The best peaches for this pie are seasonal and local, it makes all the difference.
Nutrition
Calories:
517
kcal
Carbohydrates:
65
g
Protein:
6
g
Fat:
27
g
Saturated Fat:
12
g
Polyunsaturated Fat:
4
g
Monounsaturated Fat:
9
g
Trans Fat:
2
g
Cholesterol:
55
mg
Sodium:
327
mg
Potassium:
193
mg
Fiber:
3
g
Sugar:
29
g
Vitamin A:
796
IU
Vitamin C:
5
mg
Calcium:
19
mg
Iron:
2
mg