Classic all-American apple pie with a perfectly flaky and crispy yet tender crust, the quintessential fall pie.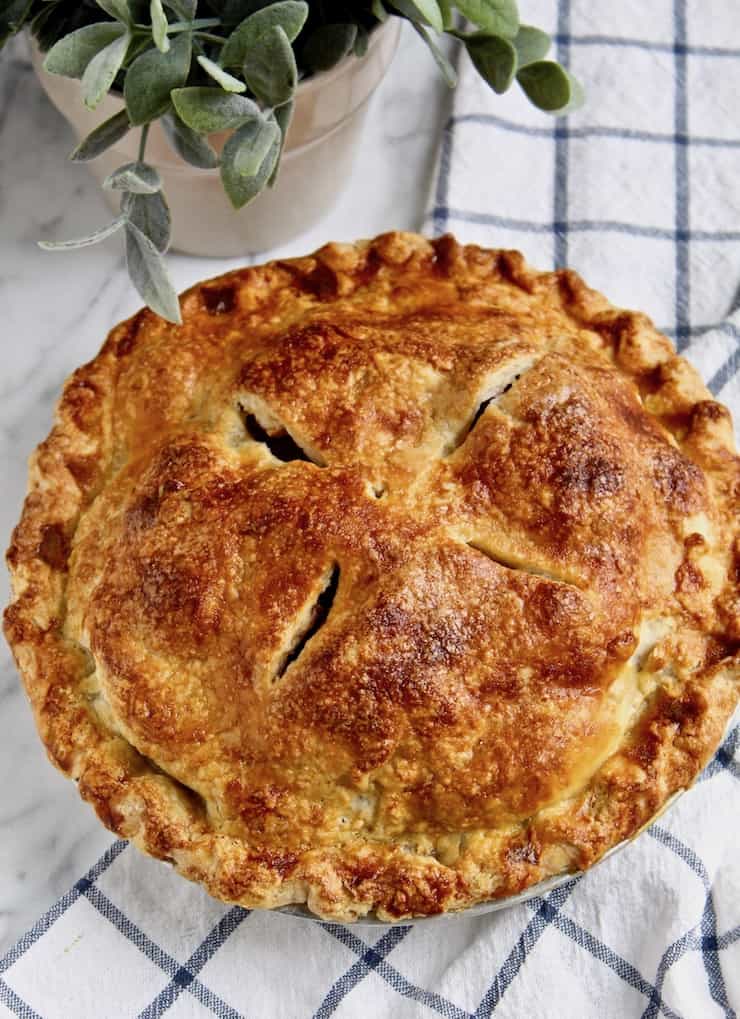 Fall is finally here, although I keep having to turn the A/C on here in St. Louis. What is the deal?? Anyway, I have managed to make an apple pie with the beautiful apples from the orchard down the street. They had Jonagold and that's what I used. I like my apple pie simple, and with a good crust, of course.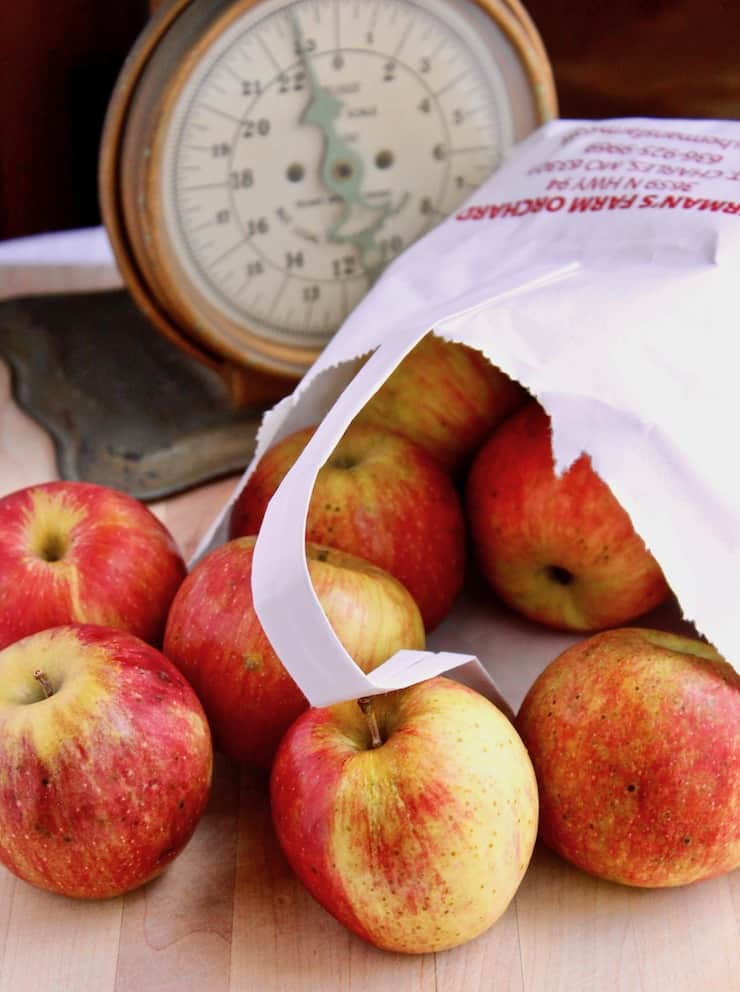 How do you make the perfect pie crust for apple pie?
I use lard and butter in my pie crusts. Use a mixture of chilled butter and lard and a pastry blender or your fingertips to cut them into the flour mixture until it resembles coarse crumbs. Add cold water until it clumps together, cover in plastic and chill before you roll it out. This is the same crust I use for peach pie and cherry pie. Lard makes the best pie crust. If that grosses you out, you can use vegetable shortening.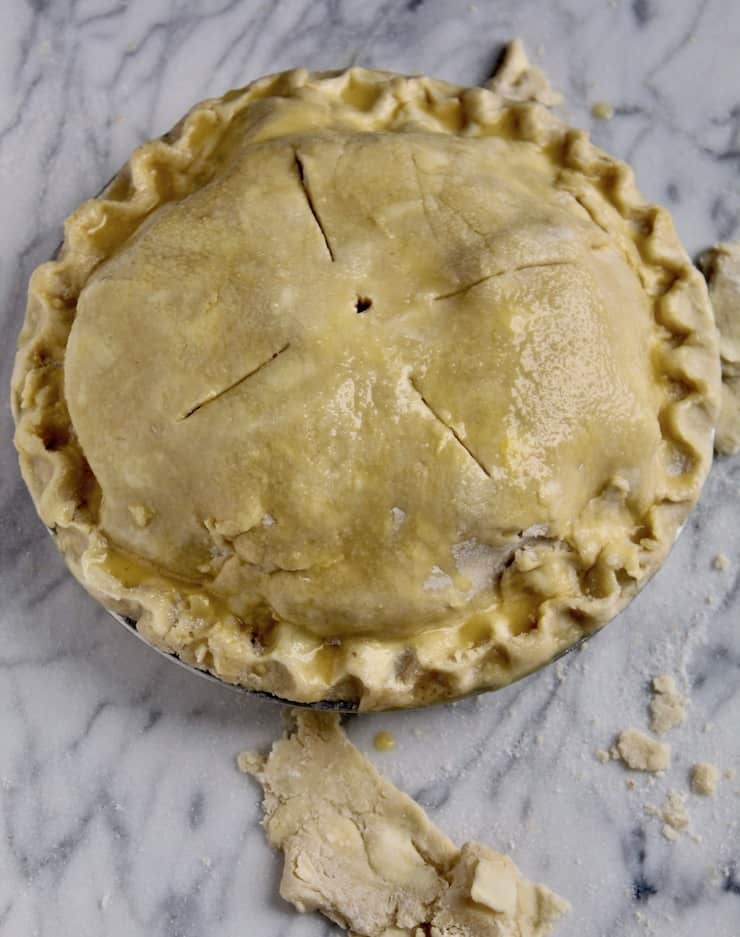 I have no idea where I got my apple pie recipe, in fact, I have nothing written down. I just remember I used cinnamon and ginger, and a little flour. This is pretty straightforward. I really like simple ingredients that let the apples shine through.
While I used Jonagold, any baking apple will do. I've also heard that a mix of three varieties is a good way to go, like Jonathon, Golden Delicious and Honeycrisp. They all have different textures and flavors.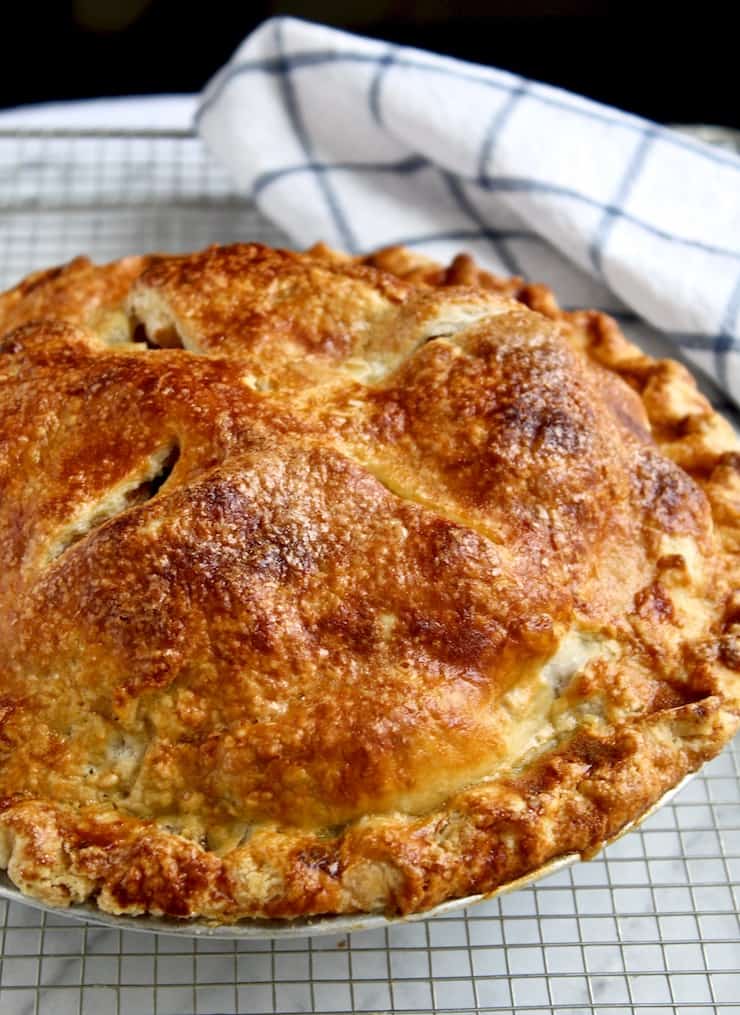 Fall is here ~ apple picking, pumpkins and leaves crunching underfoot. If you like apple pie, and have some great apples to use from the orchard, then this is your pie.
"Cut my pie into four pieces, I don't think I could eat eight." ~ Yogi Berra. ??? Kelly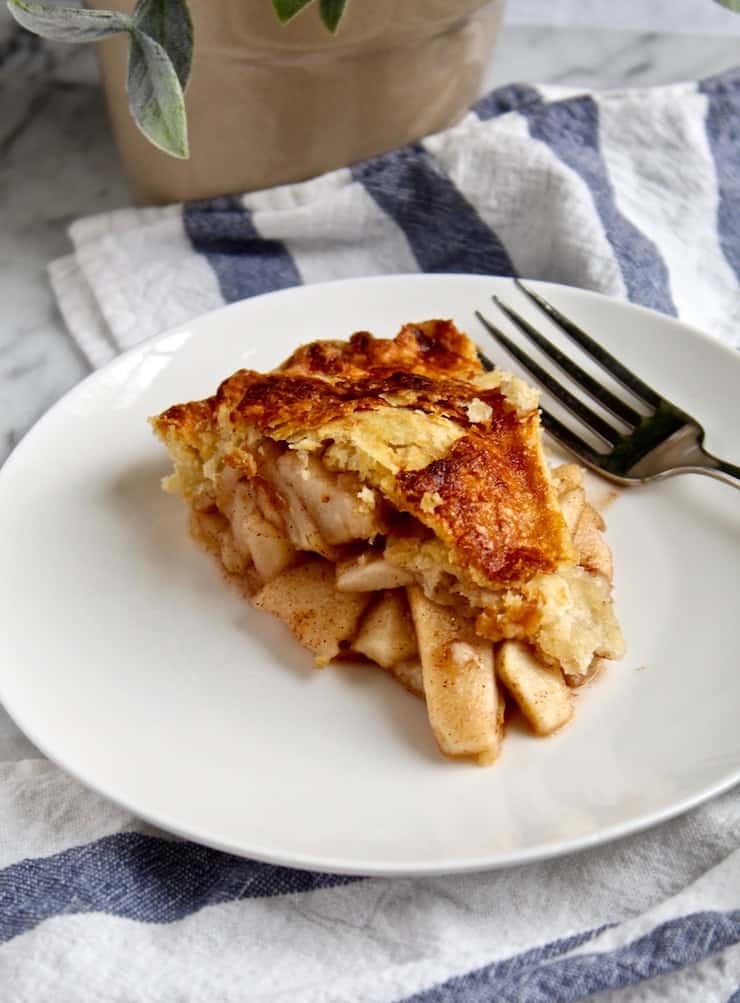 HUNGRY FOR MORE? Subscribe to my Newsletter and come hang out with me on INSTAGRAM, or give me a follow on FACEBOOK or see what I'm pinning on PINTEREST.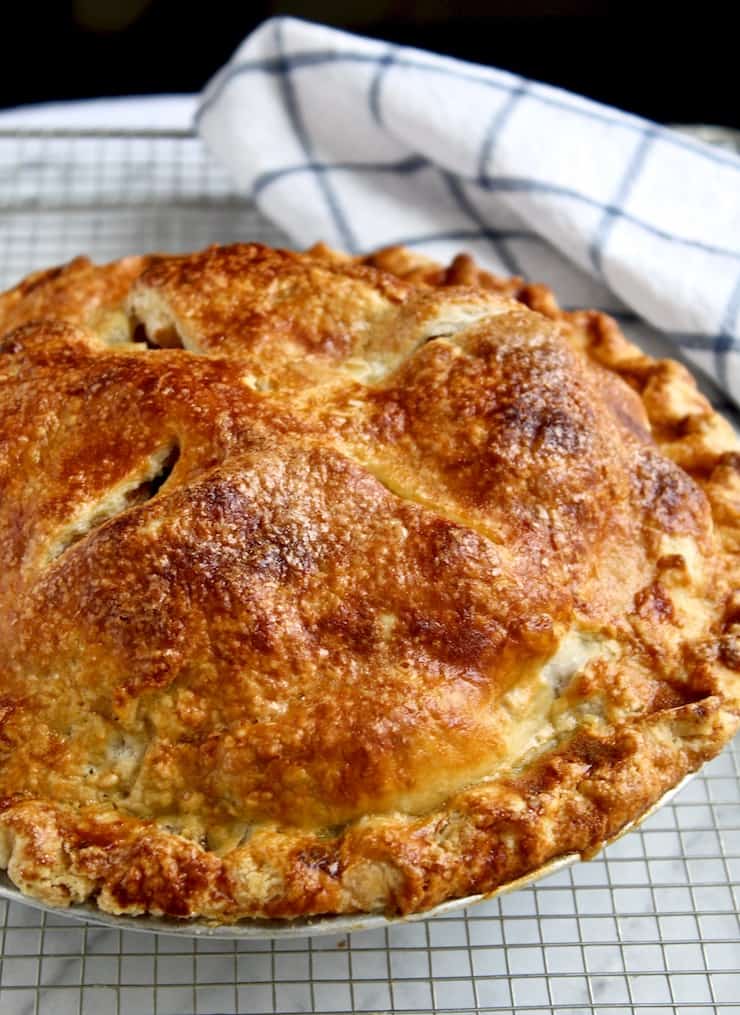 Apple Pie
Classic apple pie with a perfectly flaky and crispy yet tender crust.
Print
Pin
Rate
Ingredients
For the Crust:
2½

cups

unbleached all purpose flour

1½

teaspoons

sugar,

more to sprinkle on finished top

1

teaspoon

salt (I use Kosher salt

even for baking)

½

cup

(1 stick) chilled unsalted butter

(I actually like salted Kerrygold for this crust)

½

cup

chilled lard,

½-inch pieces

1

tablespoon

egg and 1 tablespoon milk or water

for egg wash
For the Filling:
3-4

pounds

apples,

peeled, cored and sliced (Jonagold, Jonathan, Golden Delicious or a mix of 2 - 3 apple varieties)

⅔

cup

sugar

1

tablespoon

lemon juice

1

tablespoon

cinnamon,

or to taste

1

teaspoon

ground ginger

½

teaspoon

salt

2

tablespoons

flour

1

tablespoon

butter,

to dot pie filling
Instructions
Make crust. In a food processor, pulse flour, sugar and salt to blend. Add cubed butter and lard and pulse on/off until mixture resembles coarse meal. You should still see pieces of butter and lard. Transfer mixture to bowl and add 5 tablespoons of ice water. Mix with a fork until dough starts to clump together. If too dry, add more ice water by teaspoonfuls until you can gather dough into ball. Divide in half and flatten each half into a disc. Wrap tightly in plastic wrap and refrigerate for AT LEAST 1 hour.

Preheat oven to 425º. About 15 minutes or so before dough is ready to roll, make filling. In bowl, combine apples, lemon juice, sugar, cinnamon, ginger and salt. Sprinkle with flour and toss to combine.

In small dish, whisk together egg and milk, set aside.

Remove 1 disc of dough. Lightly flour work surface and rolling pin. Roll dough from center out, turning frequently and adding more flour if sticking. Transfer dough to glass pie dish and gently press into place. Trim excess dough but leave some overhang. Patch any holes or tears with dough scraps. Return to refrigerator while you roll the 2nd disc for the top.

As with the bottom, roll the top disc into a large round to top the pie. Remove bottom crust in the plate from refrigerator. Fill with apple mixture and then dot with 1 tablespoon butter.

Carefully place top crust over filling. If you can, try rolling the dough around the pin and then unroll it over the filling. Trim excess dough and roll under edges and crimp, with a fork or flute with thumb and index finger. Brush top and edges with egg wash and sprinkle with sugar. Using a small knife, cut 4 or 5 slits in top crust to vent.

Place pie on baking sheet and bake in middle of oven for 20 minutes. Turn heat down to 375º and continue baking until crust is browned and apples are tender, about 35 – 40 minutes. Cool completely before cutting.
Keyword:
classic apple pie, apple pie with flaky crust, how to make pie crust