Shrimp, brined and grilled, and served with fresh Chimichurri sauce. Easy and delicious grilled shrimp dish for summer.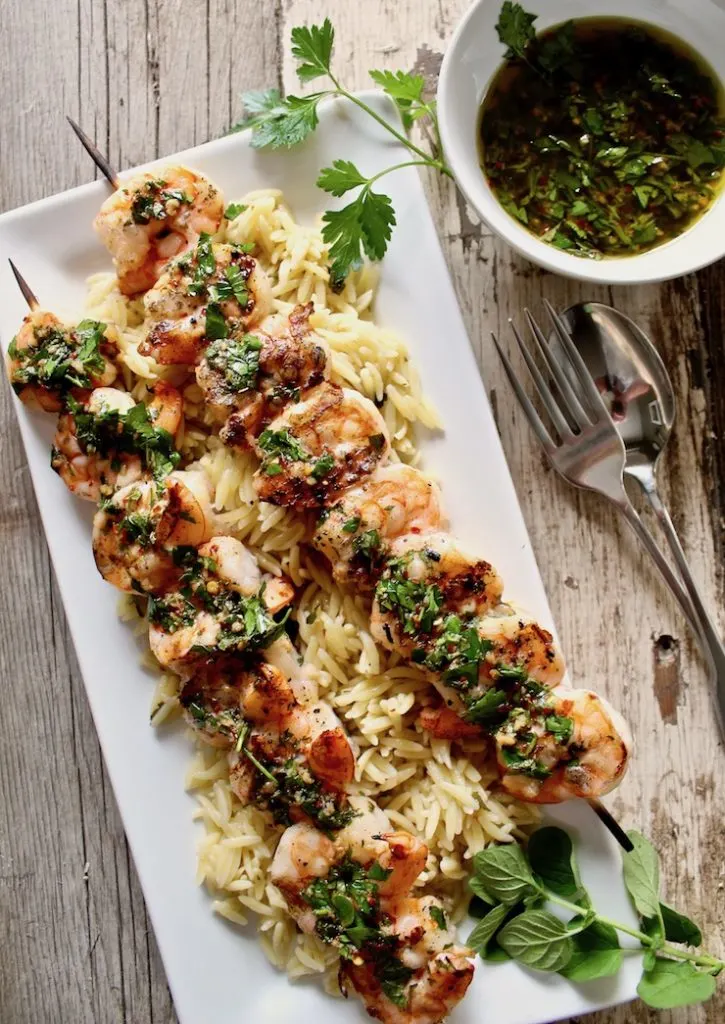 Summertime is grilling season, for sure, and not just steaks and chicken. I love shrimp on the grill. Last summer, I made shrimp skewers on the grill in a honey-lime marinade. This summer, I was looking at my abundance of overflowing pots of herbs out back and decided to make a Chimichurri sauce, and thus Grilled Shrimp with Chimichurri Sauce was born.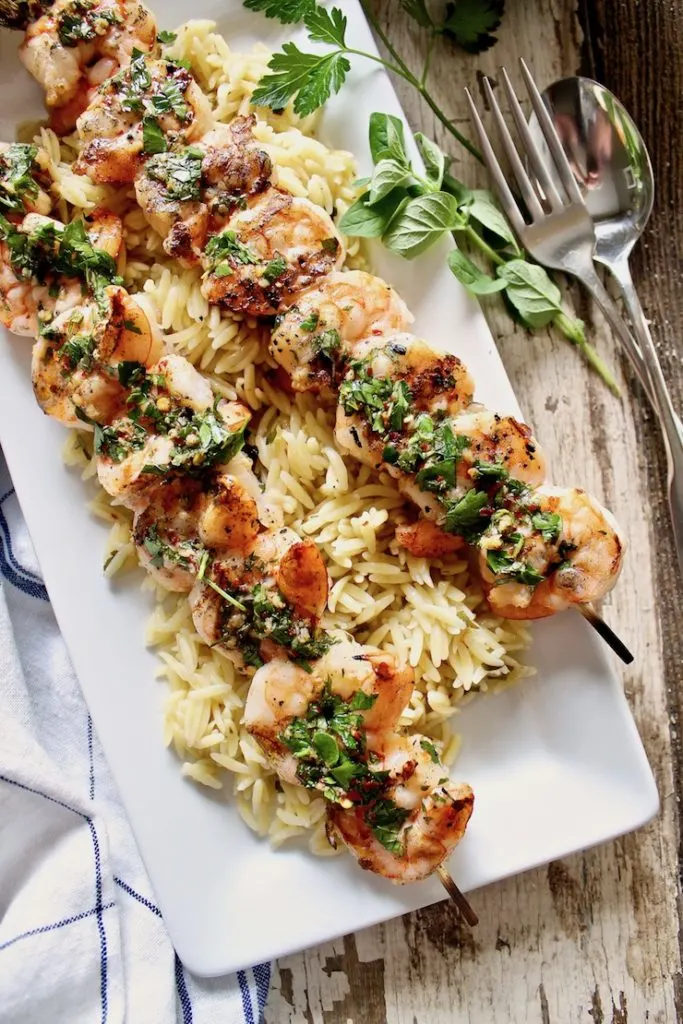 Chimichurri sauce is popular in Argentina and often served with beef. It's commonly made from parsley, garlic, oil and red pepper flakes. That said, it's a starting point, with lots of variations to be found. I settled on fresh parsley and oregano, both from my herb garden, and red pepper flakes, foregoing fresh hot pepper. And that's for two reasons ~ I like crushed red pepper a lot and always have it on hand, and I don't usually have fresh hot peppers laying around. Just a no-brainer for me.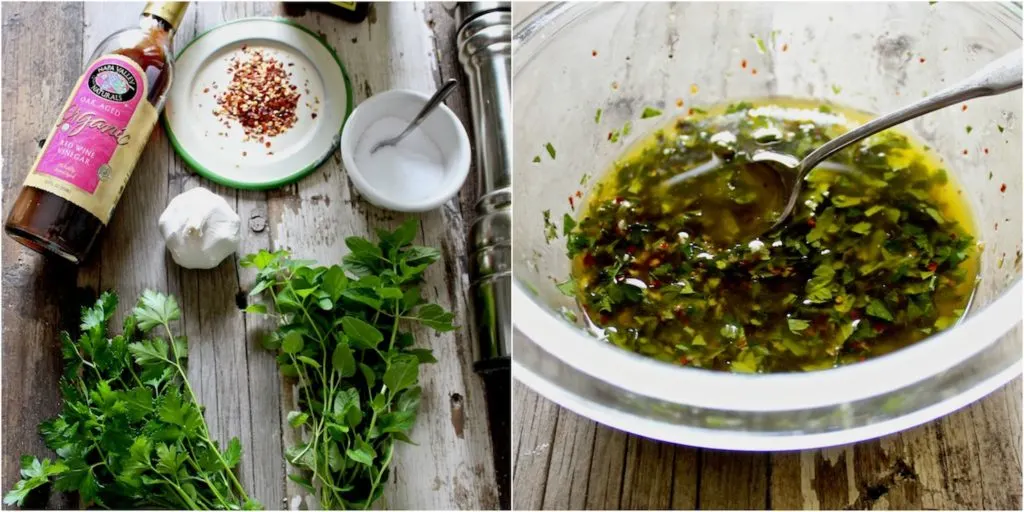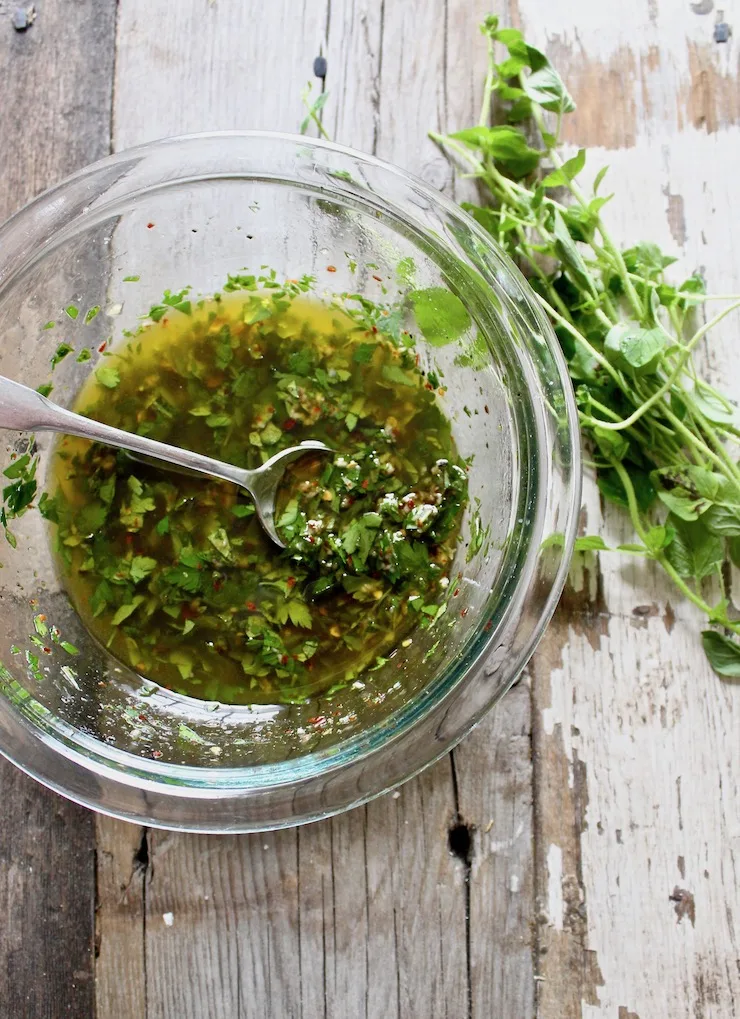 Regarding the shrimp, I discovered brining them this year. I didn't know brining shrimp was a thing, but it is, and it keeps the shrimp from turning tough and rubbery when cooked. That said, it doesn't give you license to overcook the shrimp, but it will ensure tender and juicy shrimp, even if you overcook them by a minute or two.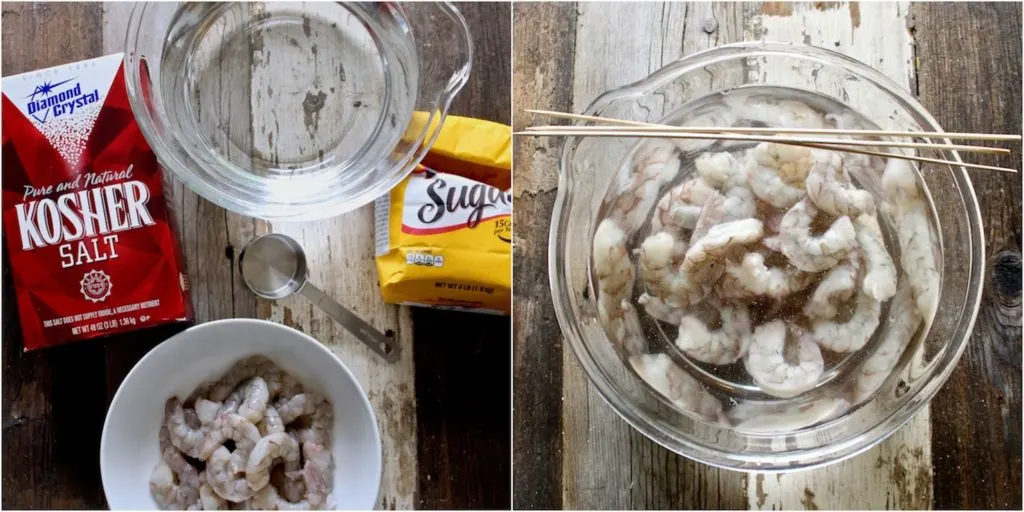 So, throw some shrimp on the barbie and try them with some Chimichurri sauce. I like to serve with some orzo pasta tossed with some fresh herbs, or even some Chimichurri stirred in. Grilled Shrimp with Chimichurri Sauce ~ simple, fresh and summer-delicious. Kelly🍴🐦
Grilled skirt steak is also delicious with chimichurri!
HUNGRY FOR MORE? Subscribe to my Newsletter and come hang out with me on INSTAGRAM, or give me a follow on FACEBOOK or see what I'm pinning on PINTEREST.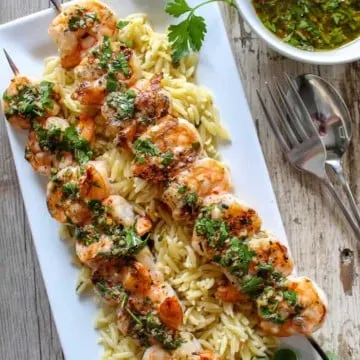 Grilled Shrimp with Chimichurri Sauce
Shrimp, brined and grilled, and served with fresh Chimichurri sauce. Easy and delicious grilled shrimp dish for summer.
Print
Pin
Rate
Ingredients
Shrimp
1

pound

large shrimp, shelled, deveined and tails removed

(24 large shrimp)

¼

cup

kosher salt

½

cup

sugar

1

quart

water

4

wooden skewers
Chimichurri Sauce
¼

cup

coarsely chopped parsley

3

tablespoon

red wine vinegar

4

cloves

garlic, finely chopped

2

tablespoon

coarsely chopped oregano leaves

2

teaspoon

crushed red pepper

Kosher salt and freshly cracked pepper

½

cup

extra-virgin olive oil
Instructions
In large bowl, combine the sugar and salt in water and whisk until sugar dissolves. Add shrimp to brine solution and let sit for 30 minutes on the counter. Do not stir, just leave alone. Soak wooden skewers in water, in another container, for 30 minutes also.

Make the Chimichurri sauce; place the parsley and oregano, garlic, vinegar, crushed red pepper and olive oil in a small mixing bowl. Using a fork or whisk, stir to combine. Season with salt and pepper. Set aside.

Remove shrimp from brine, pat dry, and thread on skewers, 6 - 8 on each one, for a total for 3 or 4 skewers. Lightly salt shrimp and drizzle with a little bit of Chimichurri, not much, just a little to add some oil and flavor. Place on grill and cook 2 - 3 minutes a side, until just done and no longer pink.

Remove shrimp from grill, plate and drizzle with Chimichurri sauce. Serve, passing remaining Chimichurri on the side.
Recipe Notes
See my Grilled Shrimp Skewers for the honey-lime marinade if you'd like to try that version. It, too, would be good with Chimichurri sauce.
The Chimichurri is mixed by hand with a fork to combine, not in a processor like pesto. I've seen Chimichurri recipes that use a processor, I do not recommend that method, that's just me, though.
You can skip the brine, but it really does keep the shrimp tender and moist. The key to good shrimp is always, don't overcook!
Nutrition
Calories:
449
kcal
Carbohydrates:
28
g
Protein:
23
g
Fat:
28
g
Saturated Fat:
4
g
Polyunsaturated Fat:
3
g
Monounsaturated Fat:
20
g
Trans Fat:
1
g
Cholesterol:
183
mg
Sodium:
7241
mg
Potassium:
390
mg
Fiber:
2
g
Sugar:
25
g
Vitamin A:
655
IU
Vitamin C:
6
mg
Calcium:
139
mg
Iron:
2
mg
* Chimichurri sauce adapted from Food & Wine