Sour Cream Coffee Cake, buttery and tender with a pecan-cinnamon-brown sugar streusel filling and topping. Warm and comforting on a weekend morning.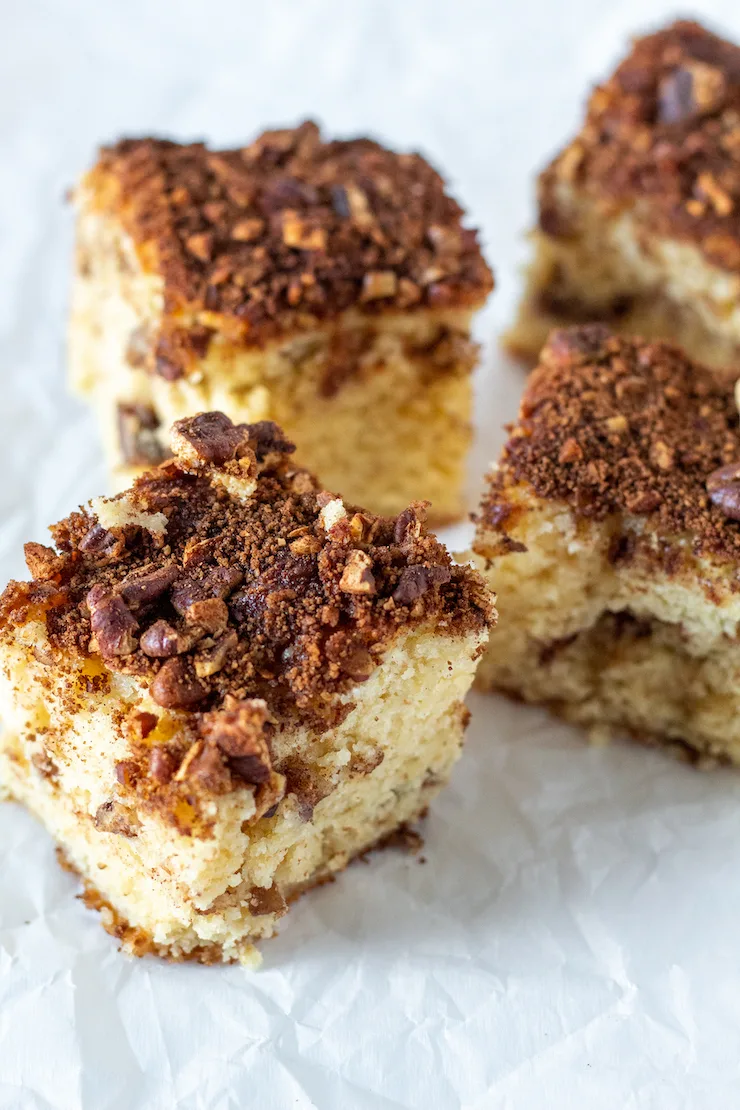 My best friend from college and I try and visit each other once a year. Sometimes by ourselves, sometimes with our husbands and kids. We have so much fun and gab away and laugh until we're crying and our stomachs hurt.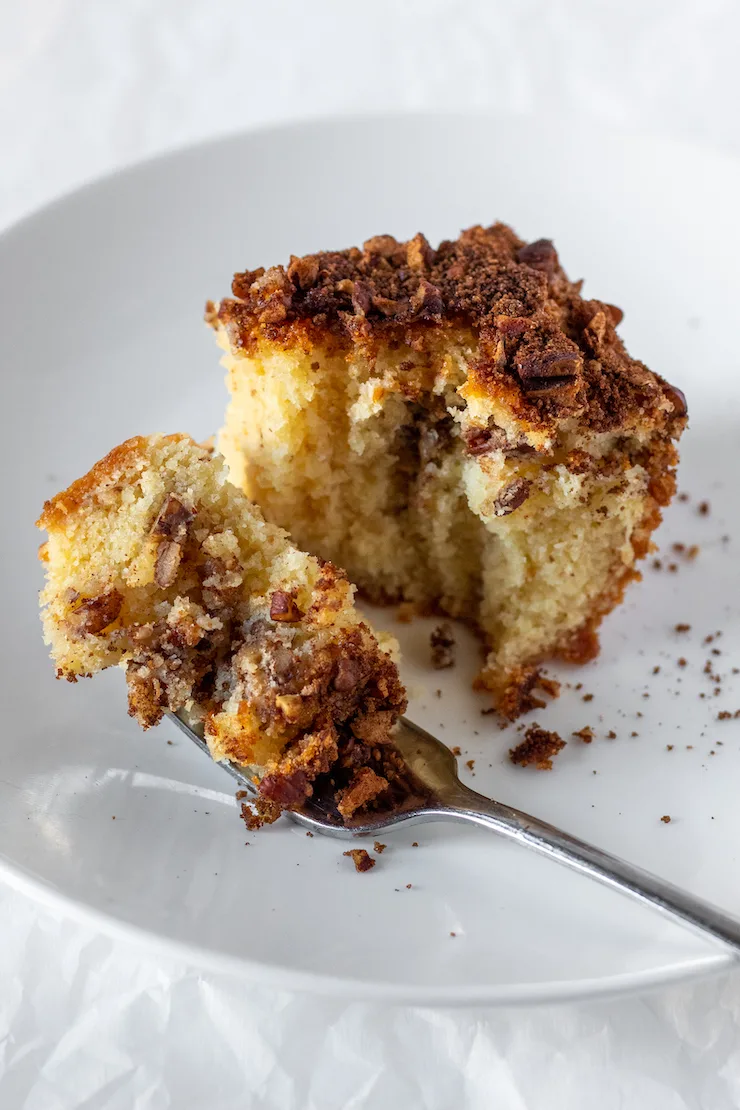 There is usually quite a bit of wine at our annual get-togethers. Beth and her husband are such great hosts and cooks. Many years ago, I was visiting and she made a coffee cake for breakfast that was out of this world.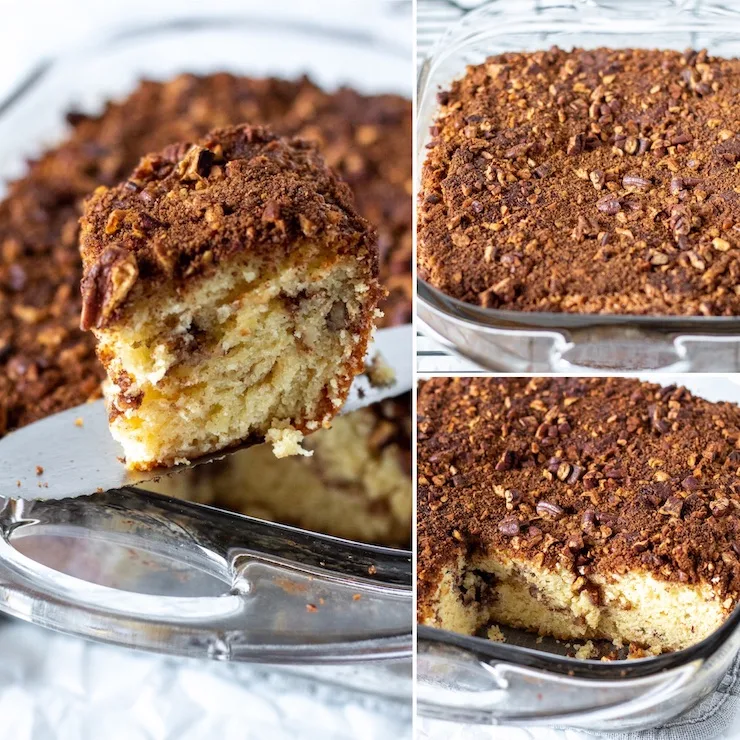 We're both early risers and I came downstairs and she was in her robe making a coffee cake from scratch. I am a morning person but the last thing I want to do when I get up is bake.
Although I'm not one of those people who can't function until they get their coffee, I do prefer a cup, the newspaper and maybe the morning news on TV. And no problem making breakfast, like eggs or oatmeal or toast, etc. You get my drift, full on baking first thing in the morning isn't my thing.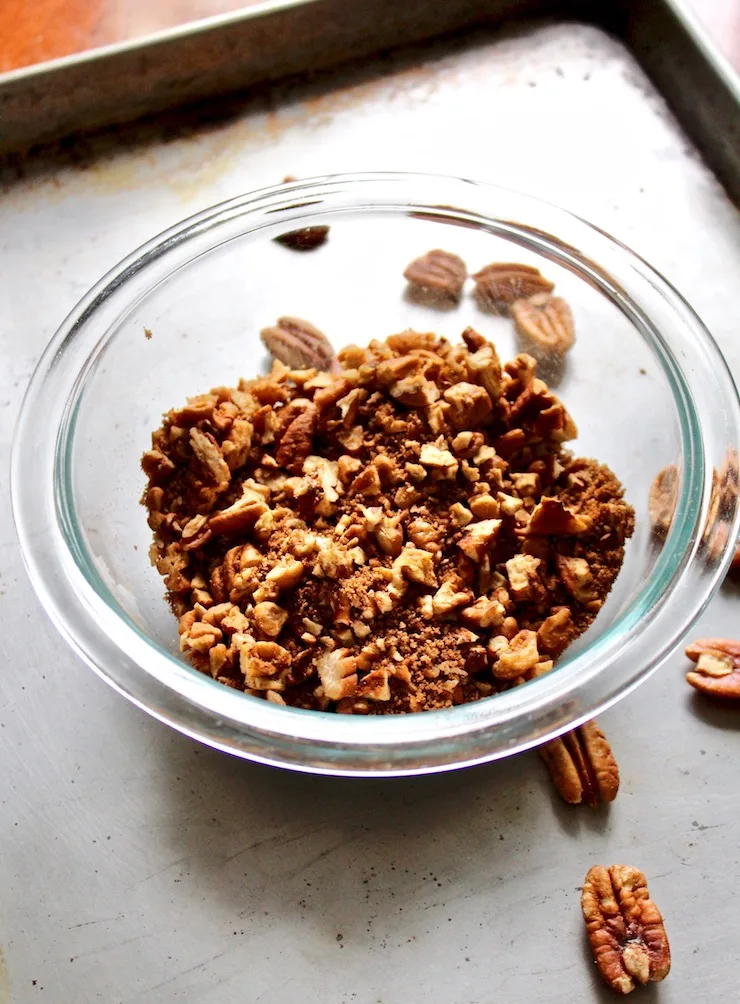 I'm sure we were both feeling the previous night's wine consumption. I pulled a chair up to the counter and we talked nonstop and drank coffee while she prepared the coffee cake.
Next thing I knew it was in the oven and in about an hour it was on the counter cooling. Her husband and kids got up and we all dug into the warm, buttery, cinnamon-y, nutty cake. So comforting and delicious.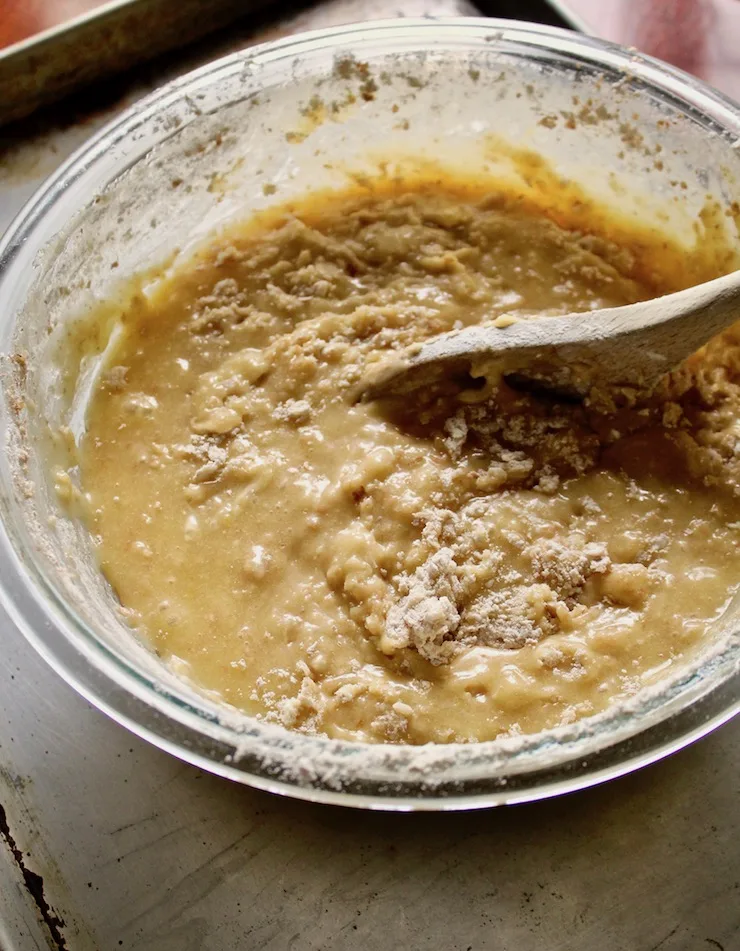 A year or two later I asked her for her sour cream coffee cake recipe. I now make it for my family on special occasions. They love it, too. So I just made this for Father's Day and because I wanted it for a blog post. My husband commented the other day that he thinks my cooking has gotten even better since starting this blog. He is a very happy man. Best, Kelly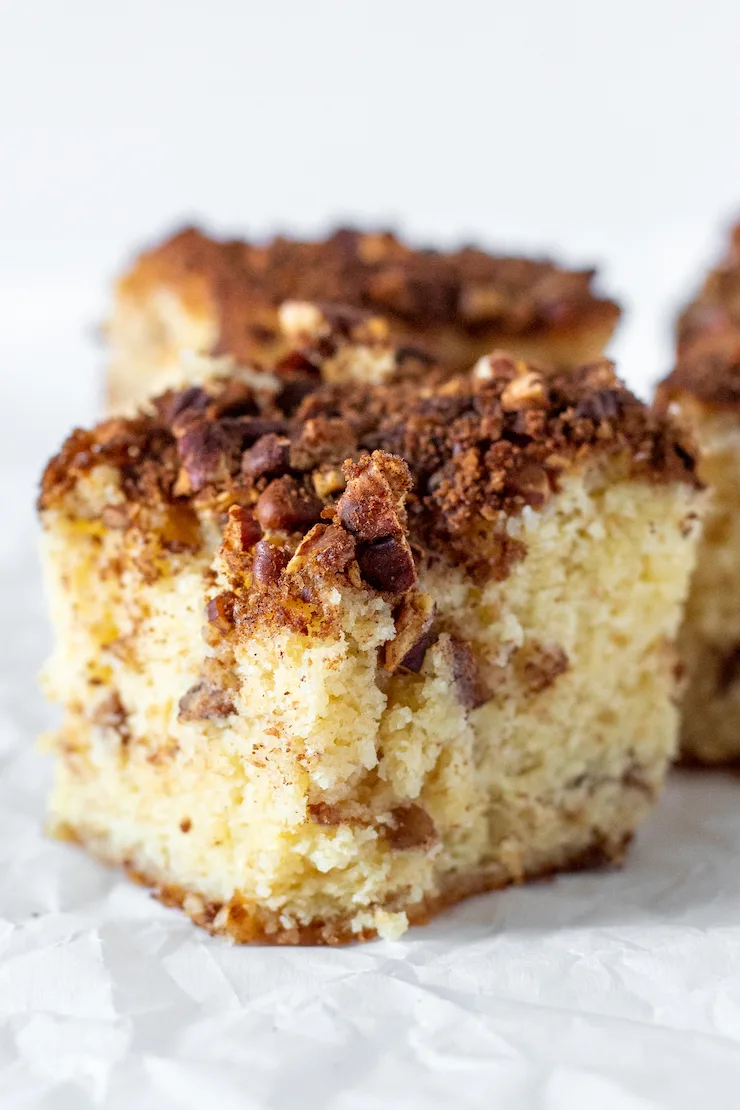 Another baking recipe from Beth you might also like are her Pumpkin Chocolate Chip Muffins, which can easily be made vegan, if you desire. They are really good.
HUNGRY FOR MORE? Subscribe to my Newsletter and come hang out with me on INSTAGRAM, or give me a follow on FACEBOOK or see what I'm pinning on PINTEREST.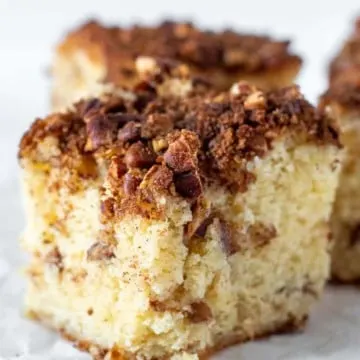 Sour Cream Coffee Cake
Sour Cream Coffee Cake, buttery and tender with a pecan-cinnamon-brown sugar streusel filling and topping. Warm and comforting on a weekend morning.
Print
Pin
Rate
Ingredients
½

lb

unsalted butter, melted and cooled

2

cups

white sugar

2

eggs, beaten

1

cup

sour cream

1

teaspoon

vanilla

1½

cups

flour

¼

cup

wheat germ or bran

1

teaspoon

salt

1

teaspoon

baking powder

1

cup

chopped pecans

2

tablespoon

dark brown sugar

2

teaspoon

ground cinnamon
Instructions
Preheat oven to 350ºF. Butter and flour a 10 x 6 baking dish. (I used an 8 x 8)

In a small bowl, combine chopped pecans, brown sugar and cinnamon and toss to mix.

In a large bowl, combine melted butter, white sugar, eggs, sour cream and vanilla. Mix well.

Stir in the flour, wheat bran, salt and baking powder and mix until just combined. Do not over mix.

Spoon/spread half the batter into the prepared baking dish. Sprinkle on half of the nut mixture. Cover with the remaining batter and sprinkle the rest of the nut mixture on top.

Bake until golden on top and firm, about 40 - 50 minutes. Cool on a rack for at least 10 minutes. Serve warm.
Recipe Notes
I find it takes longer to bake, about 1 hour. If it is jiggly, it's not ready. A toothpick inserted in the middle should have moist crumbs on it.
Also, I have used less butter than the recipe calls for, like a stick and a half or even less. It turns out fine but I think it's better with two full sticks.
Nutrition
Calories:
675
kcal
Carbohydrates:
76
g
Protein:
7
g
Fat:
40
g
Saturated Fat:
19
g
Polyunsaturated Fat:
5
g
Monounsaturated Fat:
13
g
Trans Fat:
1
g
Cholesterol:
119
mg
Sodium:
374
mg
Potassium:
179
mg
Fiber:
3
g
Sugar:
55
g
Vitamin A:
956
IU
Vitamin C:
1
mg
Calcium:
94
mg
Iron:
2
mg