German potato salad like my mother-in-law made, with bacon, hardboiled egg and a warm dressing made with pickle juice.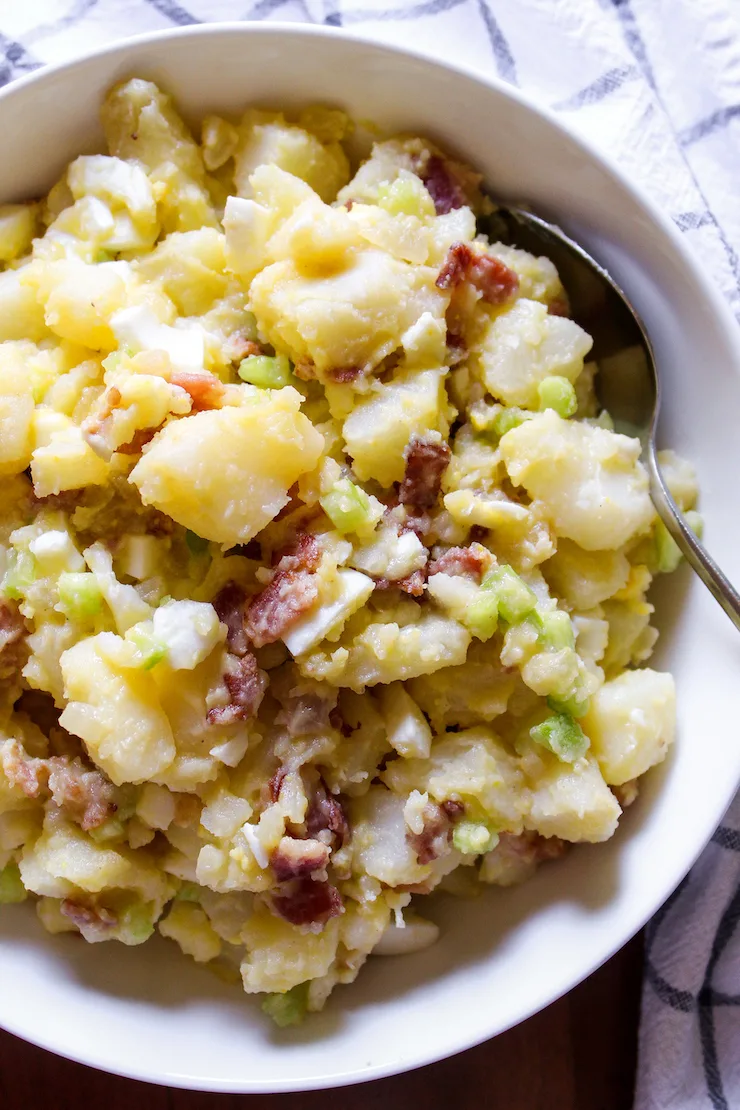 I didn't know my mother-in-law but from what I hear I really missed out. My sister-in-law, Paula, has called her a saint on more than one occasion. My husband says she was always happy and had a great sense of humor. I think these two qualities, sainthood and sense of humor, would be needed to raise seven boys.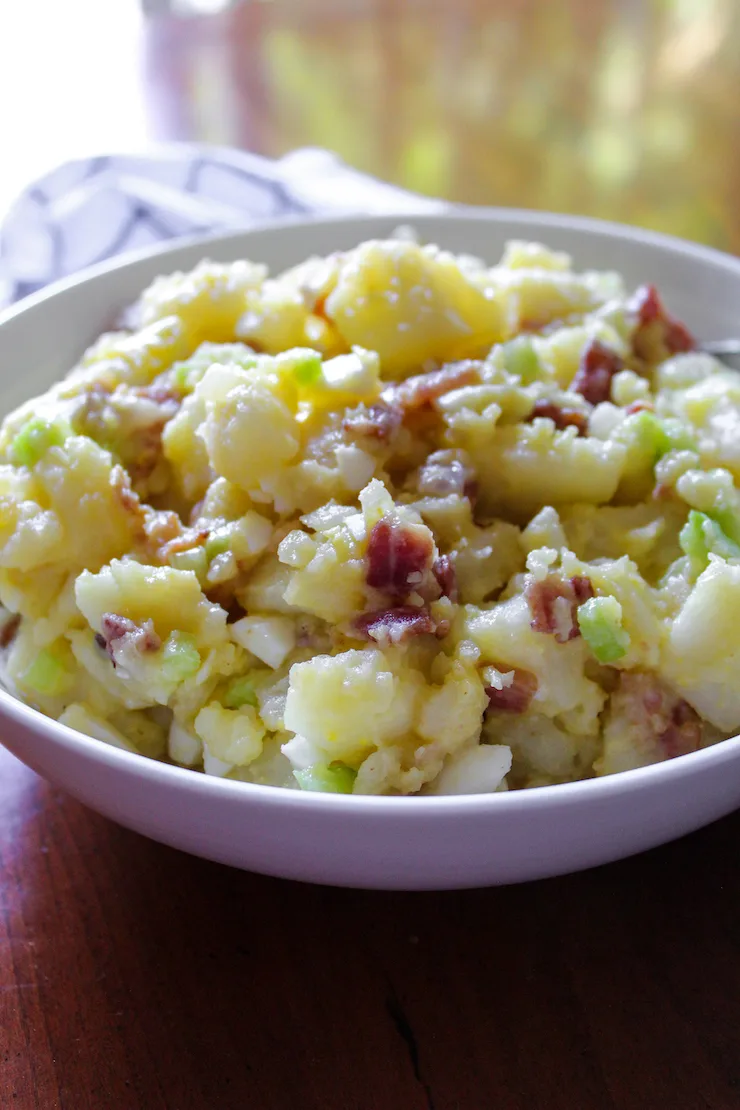 Can you imagine raising seven boys? The stories I have heard about mealtime in their house are hilarious. And get this, Mary's mom, grandma, had seven kids. And his dad's mom had seven kids! What are the odds? She was always in the kitchen or ironing clothes. Mary was steeped in her faith and my husband says she was the most spiritual person he knows. He describes the twinkle in her eye, always present.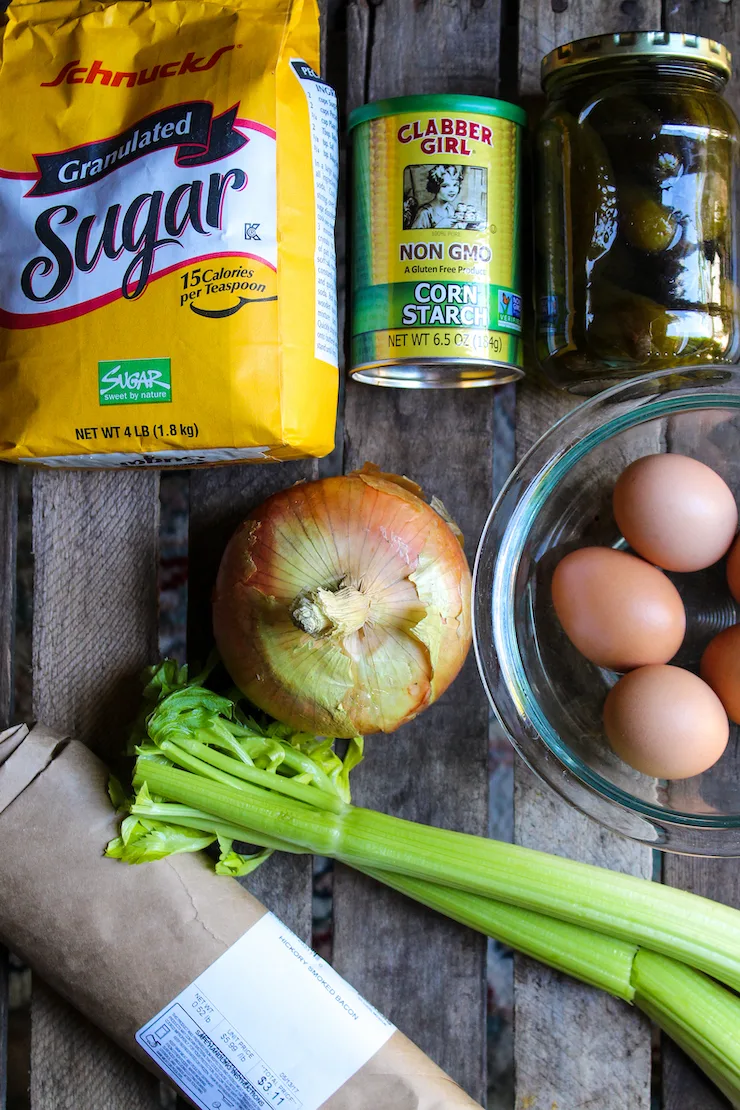 When we go back to Ohio, it is a crowd. Lots of uncles and cousins. On quite a few trips, whether a holiday or a graduation party or a memorial service, Mary's potato salad was on the table or buffet. Paula makes it as Mary taught her and gave me the recipe. I, of course, couldn't figure out what I wrote down -- ingredients, no directions. I tend to do that. I had to call Paula and have her walk me through it. It's the only German potato salad I've ever made. Mary learned how to make it from her mom and they were real deal German.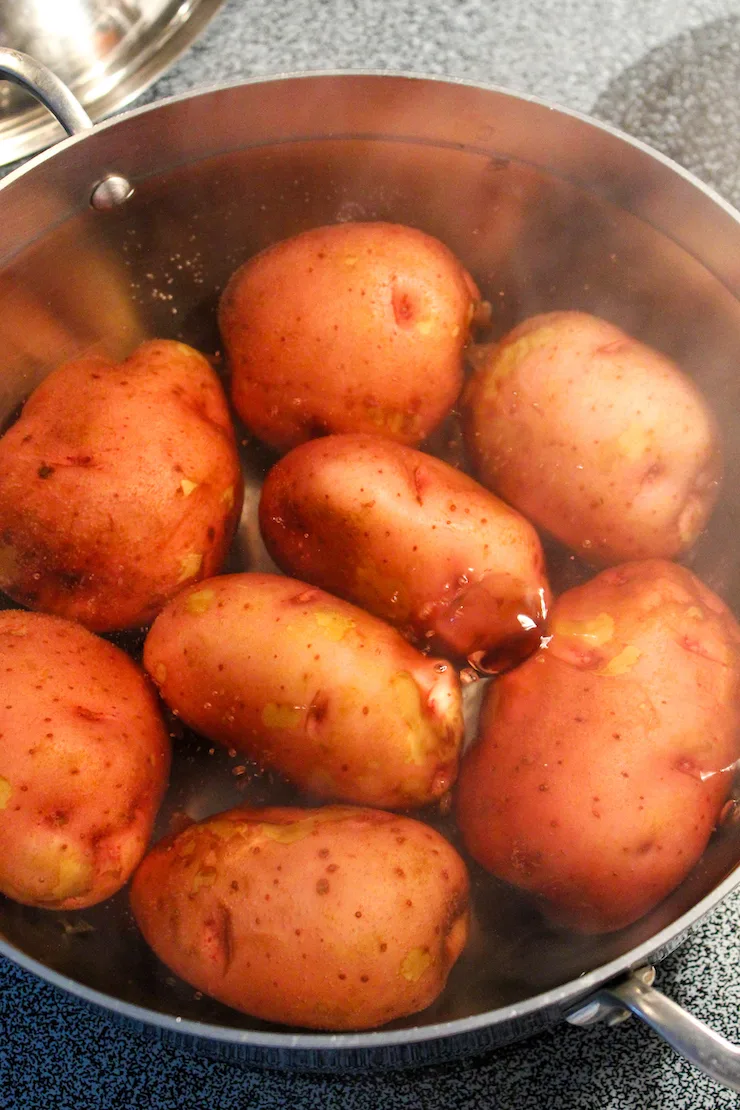 When I was done making it, I called my husband over to taste it. First thing he said was that his mom's potatoes were cut smaller. Ok. Then he tasted it and said mmmm. More salt. Ok. Another taste, a little more salt. He then proclaimed it perfect, tasted even better than his mom's. So I then find out that he hated this potato salad as a kid and never ate it. He is so weird. He says he likes it now and I'm glad because I am definitely making this again.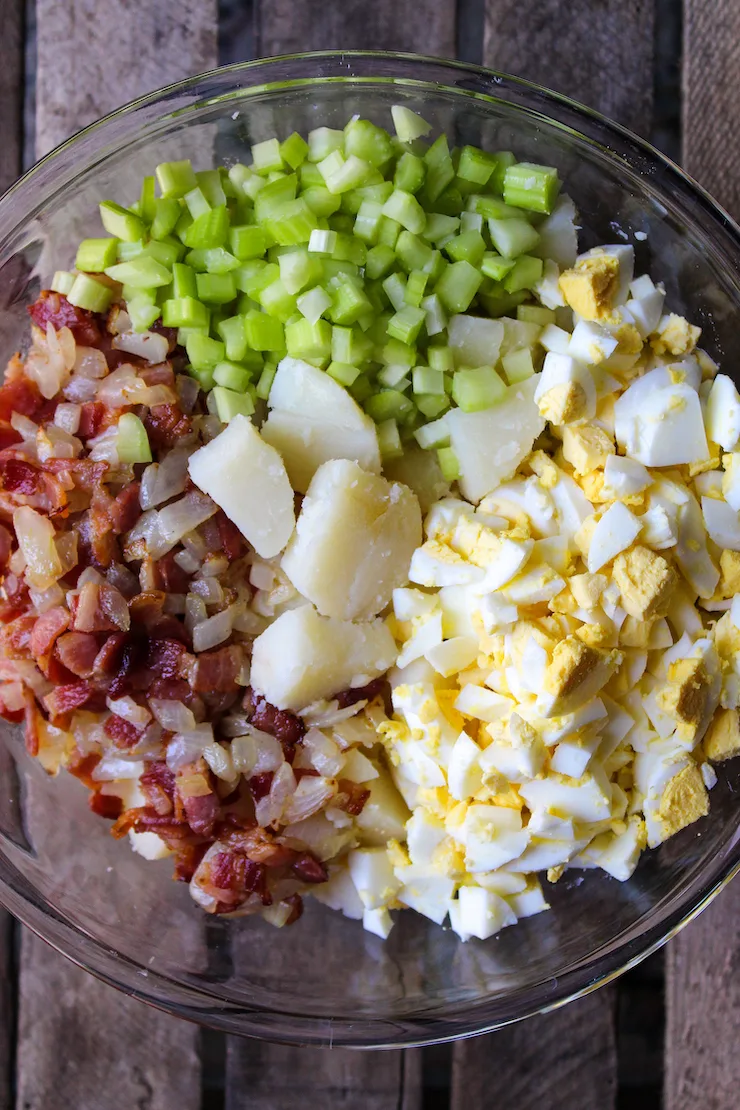 So kids, here's the recipe for your grandma's German potato salad. Now I need to figure out how to make her cabbage rolls, that I know my husband always loved. Best, Kelly
You might also like my mom's friend's classic potato salad that's been handed down for generations in her family, Honey's Potato Salad.
HUNGRY FOR MORE? Subscribe to my Newsletter and come hang out with me on INSTAGRAM, or give me a follow on FACEBOOK or see what I'm pinning on PINTEREST.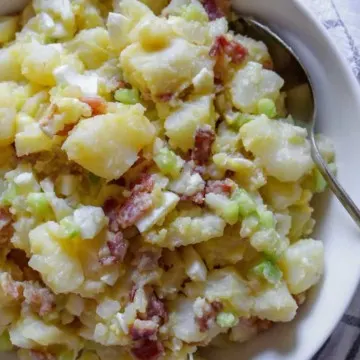 Mary's German Potato Salad
German potato salad like my mother-in-law made, with bacon, hardboiled egg and a warm dressing made with pickle juice.
Print
Pin
Rate
Ingredients
8

medium red potatoes

2

ribs of celery, diced

4 - 5

hard boiled eggs, chopped

5

slices

bacon, chopped

1

small

onion, chopped

1

cup

sugar

1

egg

1

teaspoon

salt

1

tablespoon

corn starch

1

cup

sweet pickle juice

(from a jar of sweet pickles)

Optional: chopped fresh parsley for garnish
Instructions
Put whole red potatoes in pot and cover with cold water. Add a couple good pinches of salt and bring to a boil. Reduce to a simmer and cook until just tender, about 25 minutes. Drain in colander and let cool slightly. Peel with a paring knife and cut into cubes. Put in a large bowl.

Meanwhile, while potatoes are cooling, cook bacon in a skillet until fat is rendered and starting to brown. Add the onion and sprinkle with a little salt. Cook until onion is translucent and bacon is crisp.

Pour all of the bacon/onion mixture over the potatoes, including the drippings.

Add the chopped celery and hard boiled eggs. Mix gently to combine well.

In a saucepan, whisk sugar, egg, salt and cornstarch over medium heat until thick and creamy.

Take pan off the heat and add the pickle juice, whisking constantly.

Return to heat and bring sauce to a boil, stirring frequently. Let boil for 1 minute and then remove from heat.

Add the hot dressing a little at a time and mix gently. Do not add all of the dressing, it will be too much and soupy. Just a couple spoonfuls at a time until desired consistency and taste. Check for salt and season as needed. Sprinkle with some chopped fresh parsley.

Serve warm or at room temp. Refrigerate salad and remaining dressing, bring to room temp and add more dressing if needed. Enjoy.
Recipe Notes
Paula says to add mayonnaise if it is too dry and not moist. She never has and mine definitely didn't need it.
Nutrition
Calories:
415
kcal
Carbohydrates:
64
g
Protein:
14
g
Fat:
12
g
Saturated Fat:
4
g
Polyunsaturated Fat:
2
g
Monounsaturated Fat:
5
g
Trans Fat:
1
g
Cholesterol:
239
mg
Sodium:
950
mg
Potassium:
1114
mg
Fiber:
4
g
Sugar:
29
g
Vitamin A:
387
IU
Vitamin C:
19
mg
Calcium:
60
mg
Iron:
2
mg