Old-fashioned Bread Stuffing with Sausage, just like my dad's ~ almost. Easy, made from scratch bread stuffing with sausage, cooked outside the turkey in a casserole. The best side on the holiday table!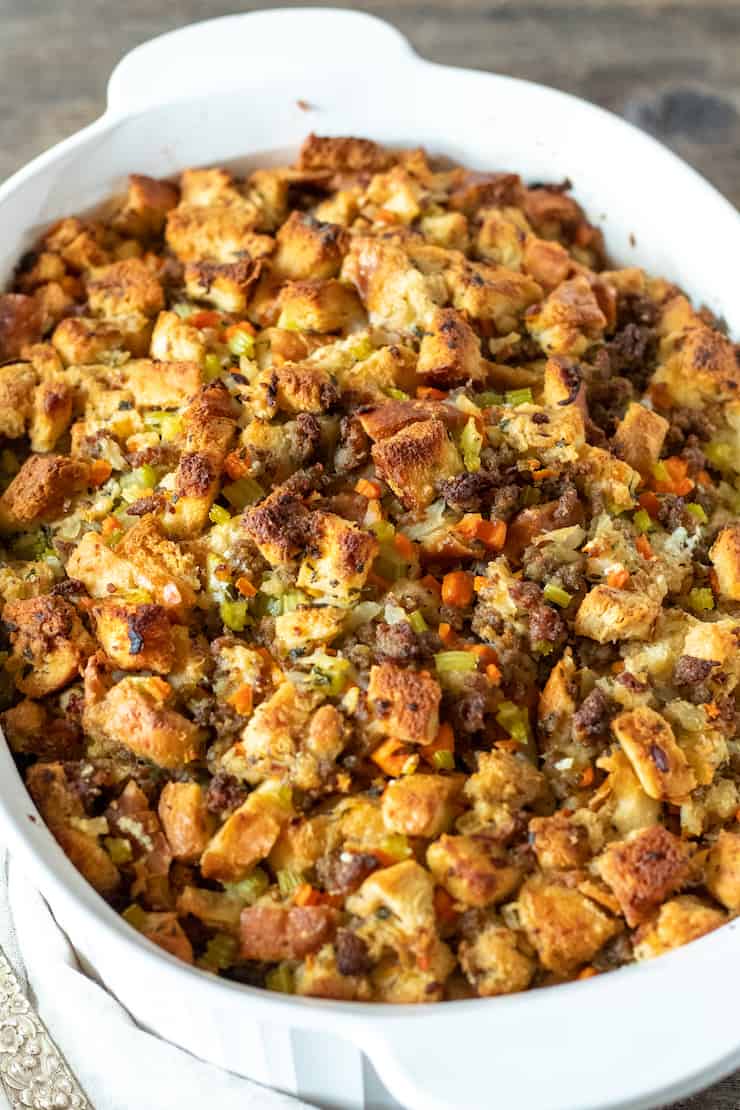 Holidays and food always conjure up memories of my dad. He was such a great cook, I'd say old world through and through, he rarely used a written recipe. But as my dad got older, he was always watching PBS cooking shows and then the new Food Network, and he subscribed to many cooking magazines. He was always clipping recipes and jotting something down he saw on a cooking show, just continually experimenting in the kitchen.
But the holidays, at least Thanksgiving, he didn't mess around with "new" stuff, at least not very often. And his stuffing was always good old-fashioned bread stuffing.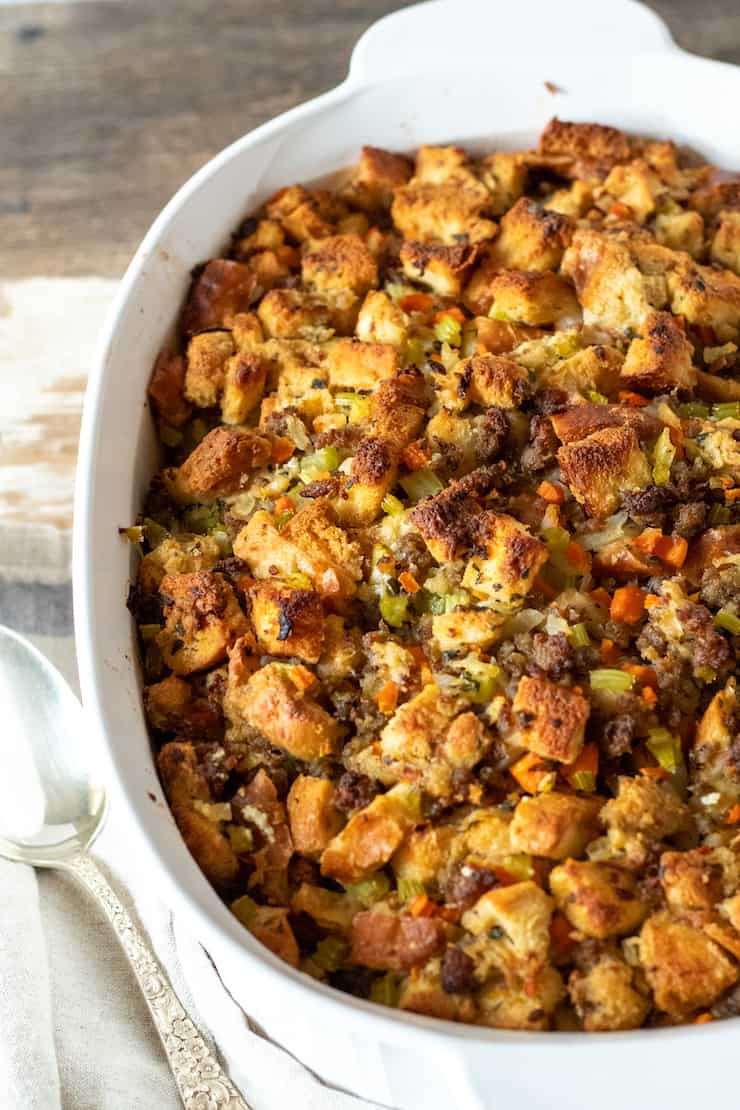 First thing on Thanksgiving morning, I awoke to the best smell coming out of the kitchen. No, not the turkey in the oven, the stuffing my dad was making on the stove. He always stuffed the bird, no big pans of dressing on the side, although there usually was a small casserole of some stuffing that didn't fit in the bird.
No recipe, just his skillet of celery, onion, carrots, butter and dried herbs. In my eyes, dad's stuffing was the best, and any variation ~ like the year he put oysters in it! ~ was always a bit disappointing. Stick with the original, dad. And the best part? The crispy browned pieces poking out of the bird when he pulled it out of the oven.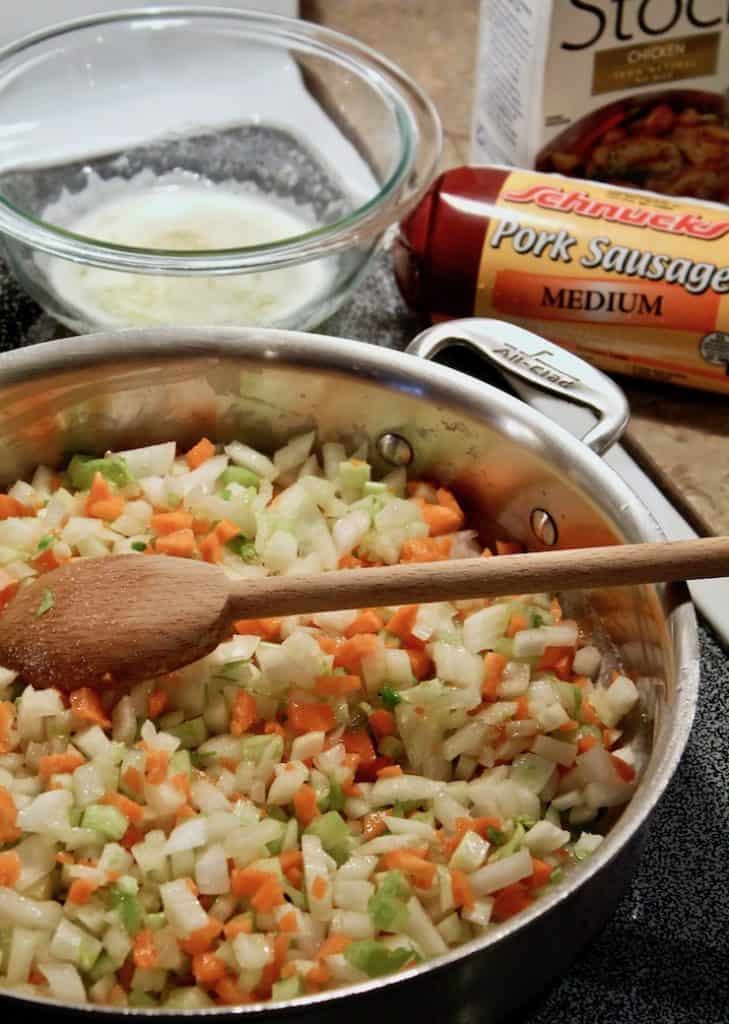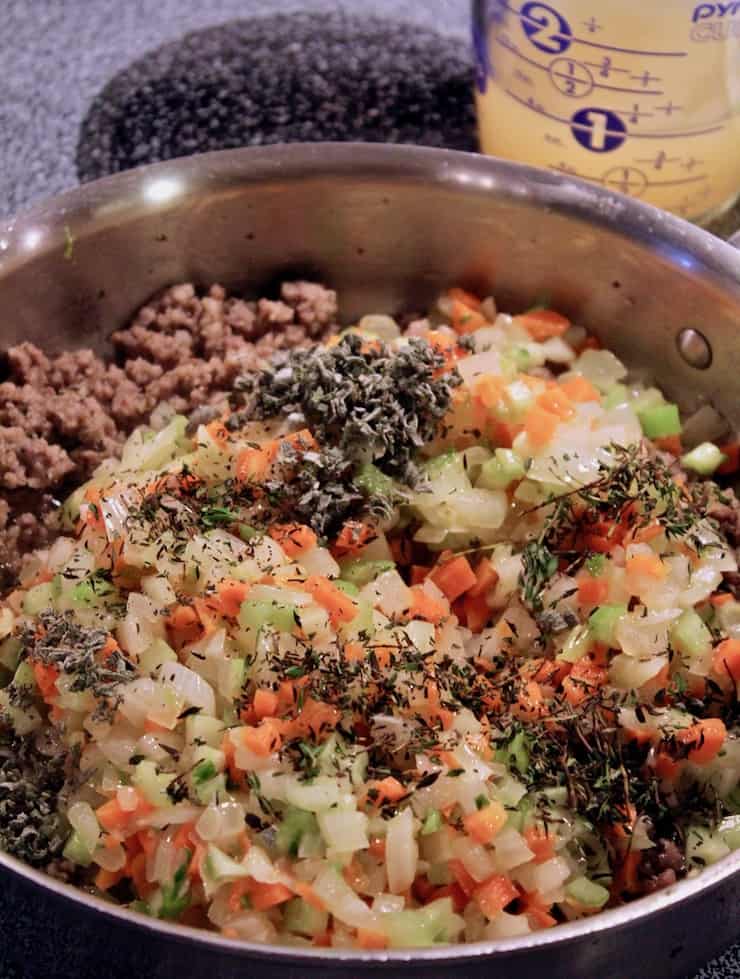 Several years ago, I went from hosting an occasional Thanksgiving to having Thanksgiving at our house every year now. I wanted to make stuffing like my dad, and searched for and read many versions ~ lots of recipes out there ~ before I settled on a recipe that sounded just like my dad's with a little extra something to make it my own.
A traditional bread stuffing with sausage. And technically, this would be considered dressing as I do it on the side, in a big casserole. But that sounds weird, it will always be stuffing to me.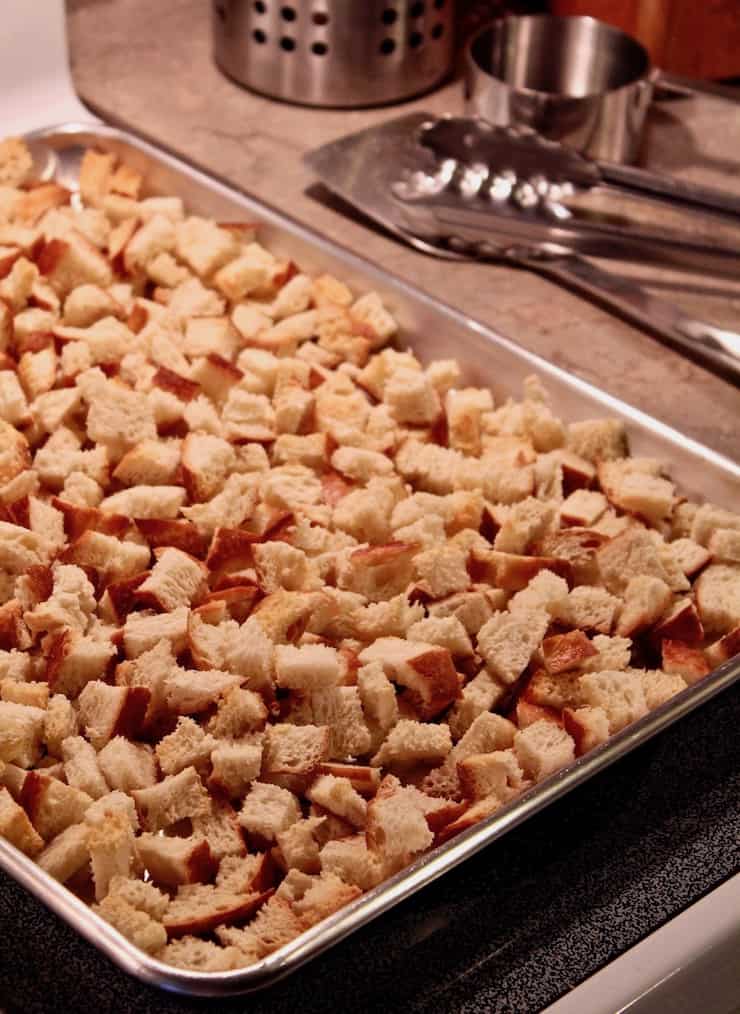 A few things I'm sure of ~ my dad did not make his own bread cubes, he did not use fresh herbs and he most definitely did not put sausage in his stuffing. But as I make this version, it smells just like his and the sausage is a great addition, much better than oysters. My dad did make turkey stock, a lot of turkey stock, to moisten the stuffing and for the gravy.
Shout out to my dad here ~ he made the best gravy, hands down, the best. He was known for his gravies and I have not been able to master that, yet. I'm coming close, but my gravy is never as good as my dad's. No recipe, just my memories of watching him make it so many times.
I, too, make turkey stock each Thanksgiving for the stuffing and gravy. For this stuffing, you can use chicken stock or broth, preferably homemade. I didn't have enough on hand in my freezer when I made this yesterday for this post, so I used store-bought chicken stock and it was just fine. Just for the record, turkey stock is the best though.
We all have our traditions and dishes for the holidays. My favorite side is this old-fashioned herb bread and sausage stuffing, inspired by my dad. My girls really like it, too. Each year now, they ask me "Is this the stuffing you make with the sausage"? Yes, it is ~ and it always will be. Miss you Papa ~ you would like it, too. Happy Thanksgiving! Kelly🍴🐦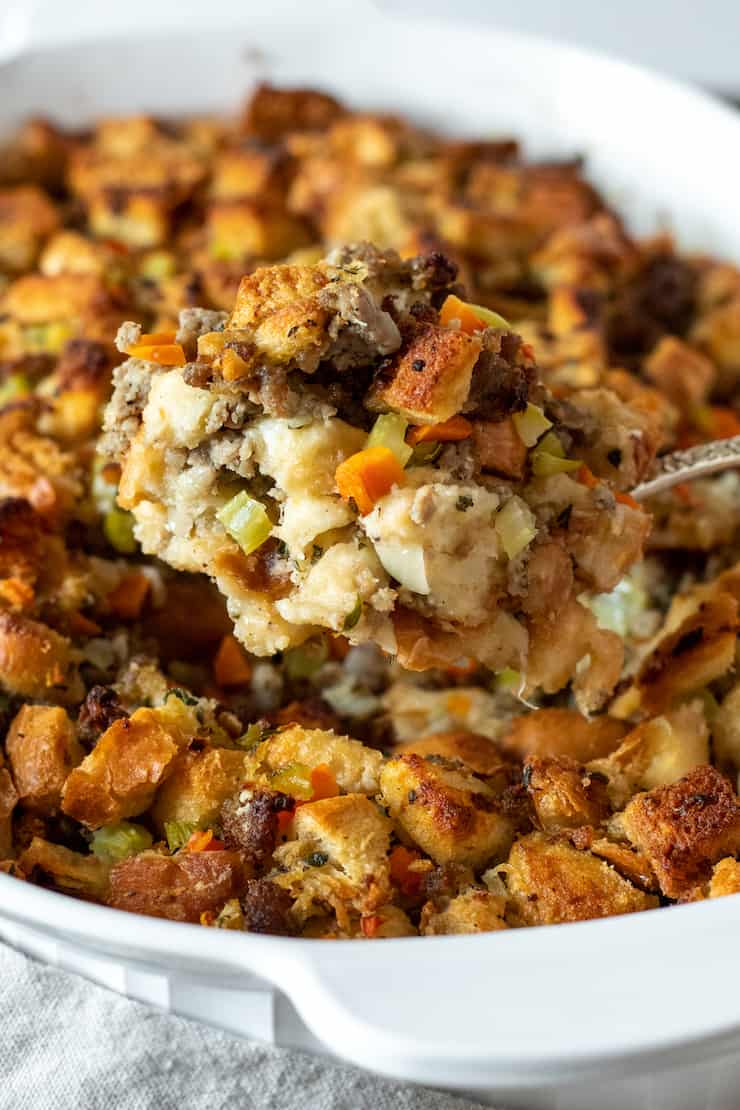 Here are a few more of our favorite holiday side dishes:
HUNGRY FOR MORE? Subscribe to my Newsletter and come hang out with me on INSTAGRAM, or give me a follow on FACEBOOK or see what I'm pinning on PINTEREST.
UPDATED: originally published four years ago in 2016, spruced things up a bit with new photos and a video in October, 2020, with no changes to original recipe.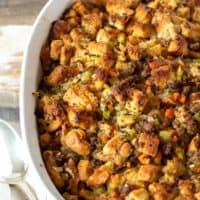 Old-Fashioned Bread Stuffing with Sausage
Traditional bread stuffing with sausage, just like my dad's ~ almost. A favorite and must have on my Thanksgiving table.
Print
Pin
Rate
Course:
Holiday side, Side Dish
Ingredients
½

cup

unsalted butter (1 stick), more for baking dish

2

lbs

good quality white bread, cut into 1-inch cubes

(about 20 cups)

4

ribs

celery, plus some leafy tops, finely diced

(1½ cups)

2

carrots, finely diced

(1 cup)

1

sweet onion, finely diced

(2½ cups)

1

lb

bulk pork breakfast sausage

2

tbsp

finely chopped fresh sage

2

tbsp

finely chopped fresh thyme

3

cups

homemade turkey stock, or chicken broth or stock

Kosher salt and fresh cracked pepper
Instructions
Preheat oven to 350º. Spread bread cubes on two large baking sheets and toast for 30 minutes, stirring and rotating pans, until lightly browned and crisp. Transfer to very large bowl when done.

Meanwhile, in large skillet, melt 1 stick of butter. Pour half the melted butter in a bowl and reserve for later, to brush the top of the stuffing. To the pan with remaining melted butter, add celery, carrots and onion, a sprinkle of salt, and cook and stir over medium-high heat until softened and starting to brown, about 8 to 10 minutes. Transfer vegetables to bowl. Add sausage to skillet in chunks, and cook, breaking it up with wooden spoon, until cooked through and lightly browned, about 6 minutes.

Return vegetable mixture to the skillet and add the sage and thyme, a little salt and pepper, and cook for 1 minute. Add 1 cup of stock, cook and stir up any browned bits, until stock is reduced and cooked down by half, about 5 minutes.

Transfer sausage mixture to bowl with the toasted bread cubes. Add remaining 2 to 2½ cups of stock and toss well until bread cubes are evenly moistened. Taste and season with salt and pepper. Spread stuffing into large, buttered baking dish (about 3½ quart size) and brush with the reserved melted butter.

Bake in center of oven until heated through and nicely browned, about 1 hour, rotating casserole halfway through. Let stuffing rest 10 minutes before serving.
Keyword:
old fashioned stuffing with sausage, bread and sausage stuffing, herb bread stuffing with sausage, old fashioned sausage stuffing
*Adapted from Food & Wine, 2011, and inspired by my dad