The best way to make Brussels sprouts, caramelized with honey and Dijon mustard on the stovetop. Super easy and guaranteed to turn a Brussels sprouts hater into a fan.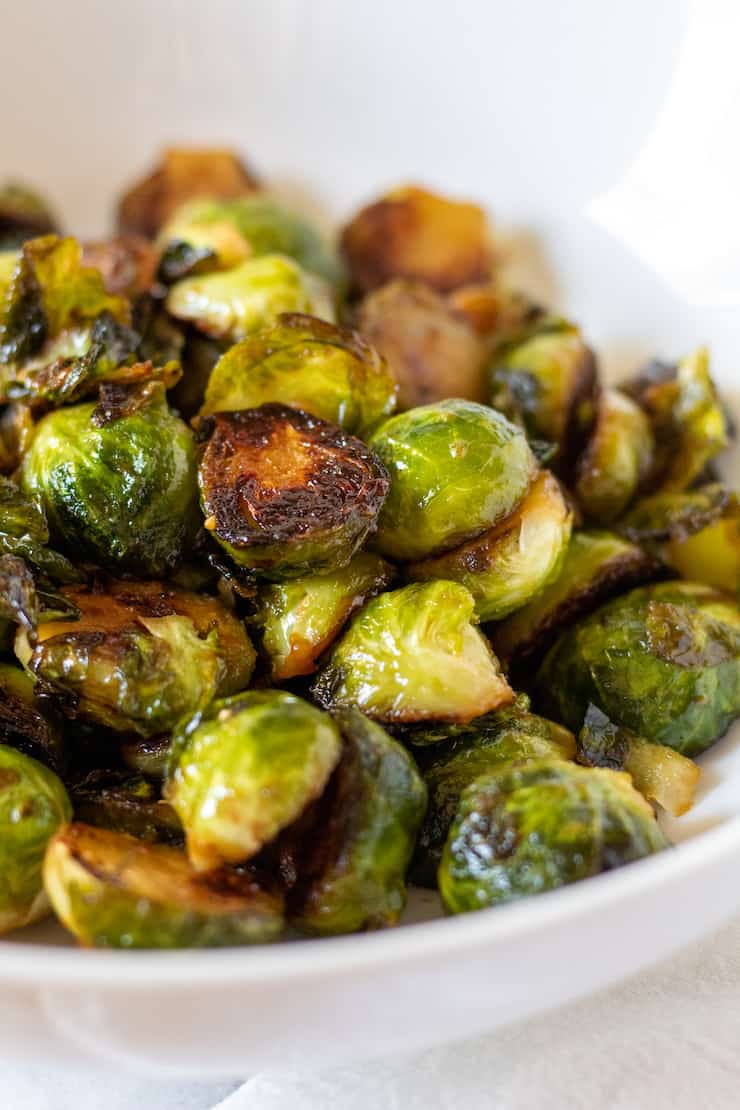 I had Brussels sprouts for the very first time in my 30's. My parents never made them when I was growing up. Then I got married. Oh boy. Lots of things my husband liked I had never had before.
Early in our married life he said he had a hankering for Brussels sprouts. Yes, he said hankering, or maybe our friend Jim said that. Can't remember. So the good wife that I was (and sometimes still am) bought some fresh Brussels sprouts to make for my husband.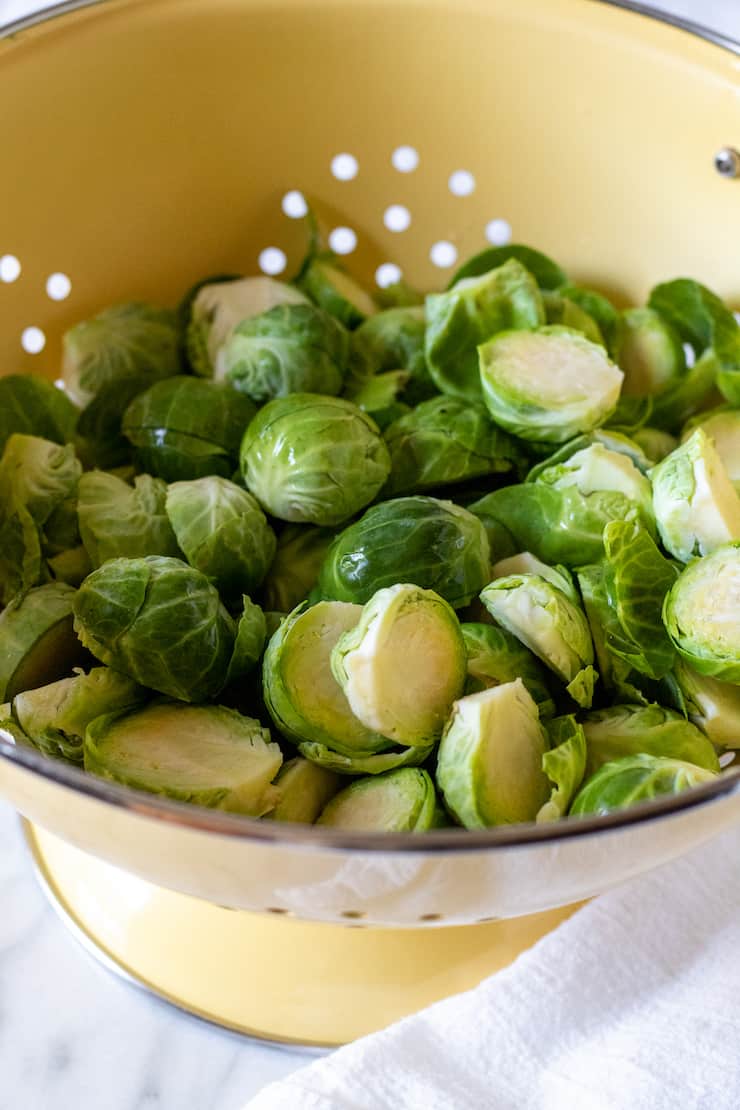 Yuck. Have no idea how I made them, probably boiled or steamed the heck out of them and then put some butter on them. Hated them and the smell.
Fast forward several years and I tried again. This time I hit the jackpot. Fresh Brussels sprouts, sautéed in olive oil and butter until caramelized and crisp-tender. Then, the secret — honey and dijon mustard.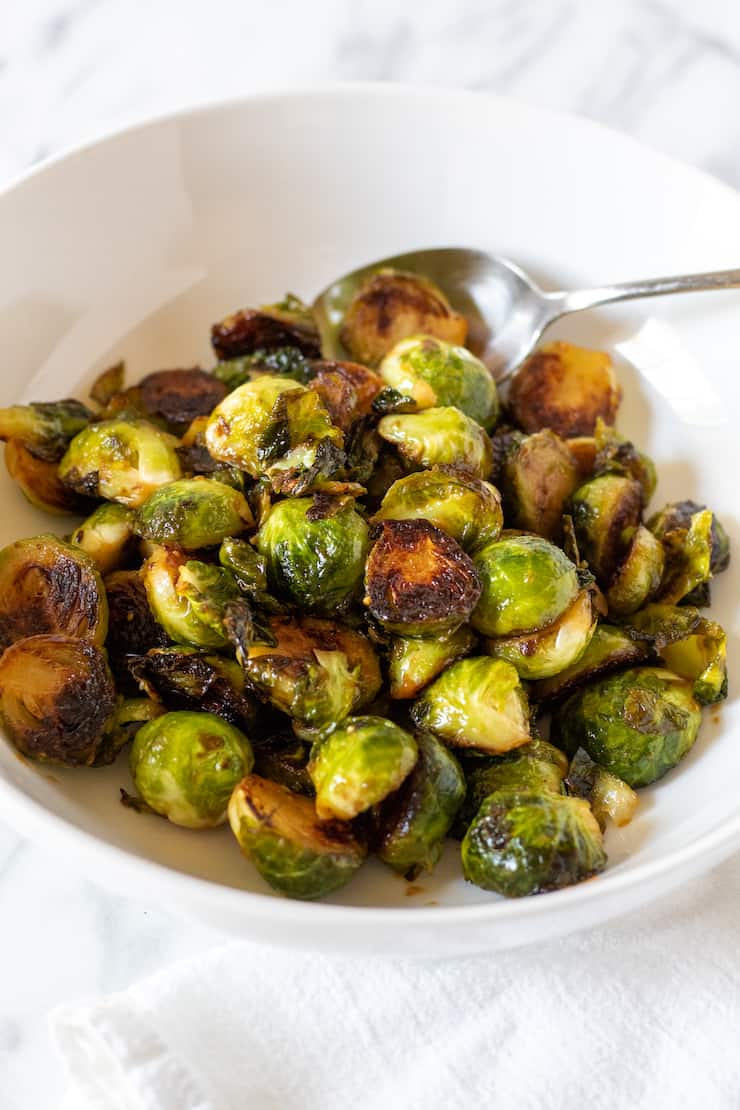 HOW TO CLEAN AND PREPARE BRUSSELS SPROUTS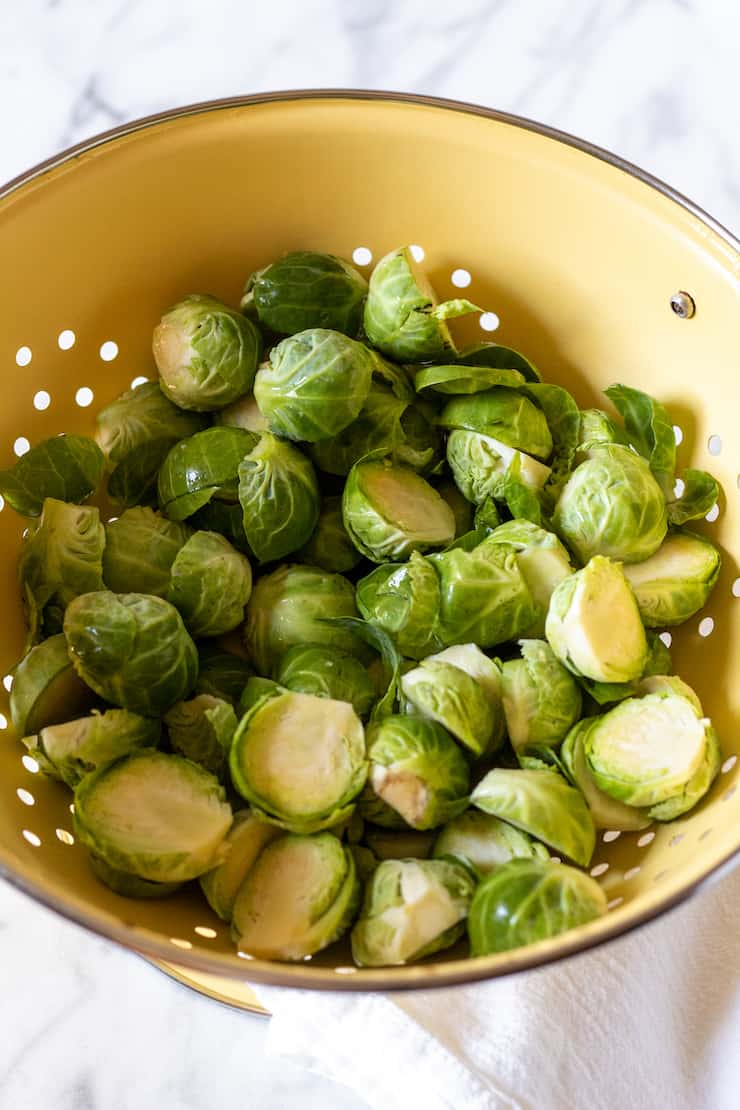 It's easy to prepare fresh sprouts. With a sharp paring knife, trim off the ends. Remove any outer leaves that are discolored, yellowed or brown. Then rinse under cold water. Cut sprouts in half, through the stem, and keep any leaves that fall off in the process. They make the best little crispy pieces. They're ready to go now.
STEP BY STEP INSTRUCTIONS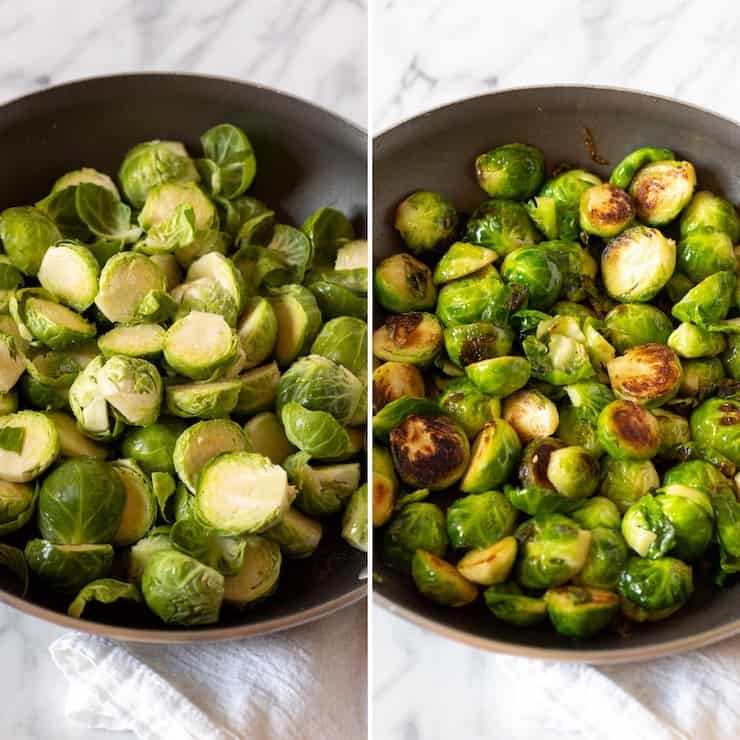 Heat some butter and olive oil in a skillet, add the prepared sprouts and a sprinkle of salt.
Sauté and stir until nicely browned and crisp tender.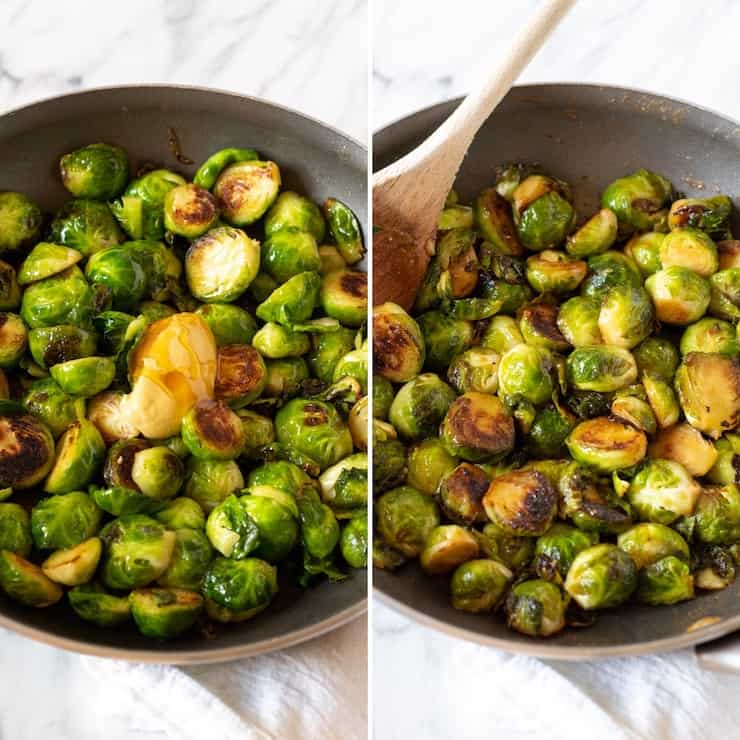 Plop in some Dijon and a swirl or two of honey.
Stir to combine and continue caramelizing a few minutes, season with salt and pepper.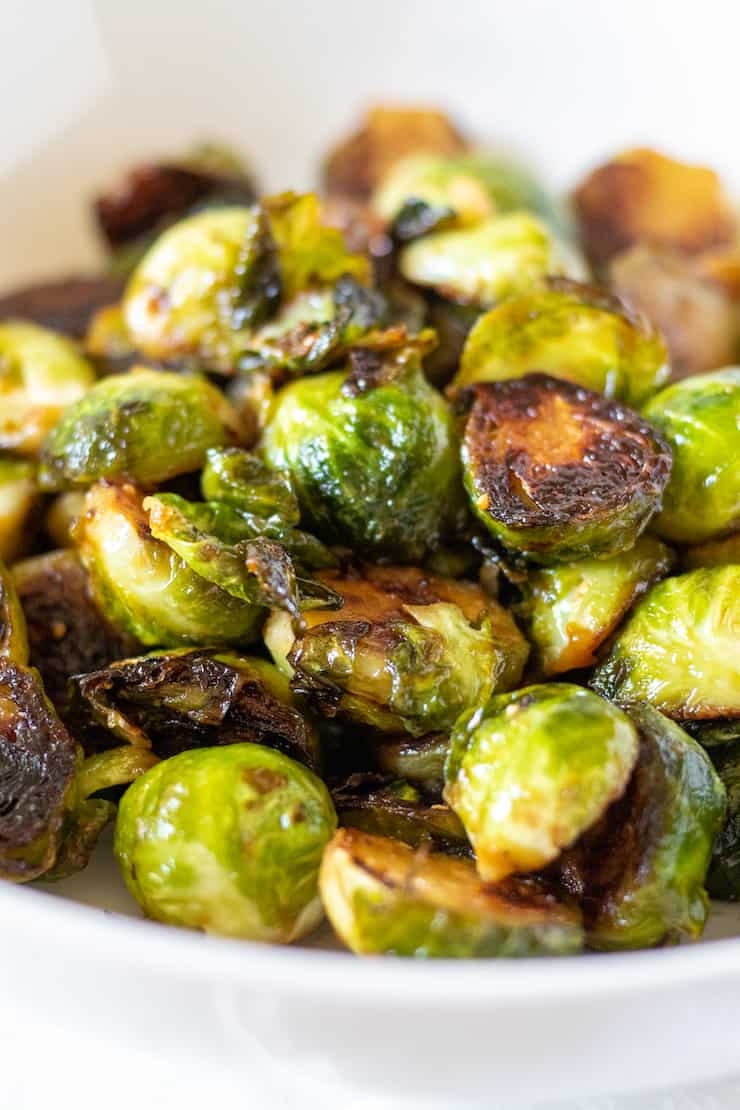 And sometimes I cook and caramelize the sprouts in bacon drippings, because ~ yum ~ and because I almost always save my bacon grease (drippings sounds better) and keep in the fridge. Really, really good in bacon fat. Just sayin'
RECIPE NOTES AND TIPS
Look for smaller Brussels sprouts that are hard and compact. The smaller ones are usually sweeter and just the right size.
Keep any of the good outer leaves that fall off and toss in the pan, too. They make the best crispy bits!
Use a good quality Dijon mustard, like Maille. It has a really good flavor and bite to it.
I just eyeball everything, which is to say that the following "recipe" is open to interpretation. I plop in some mustard and drizzle some honey. I did my best to pay attention to measurements on how I make this. You should start here and then adjust to your tastes.
Try bacon drippings instead of butter and olive oil. Bacon and Brussels sprouts are a match made in heaven.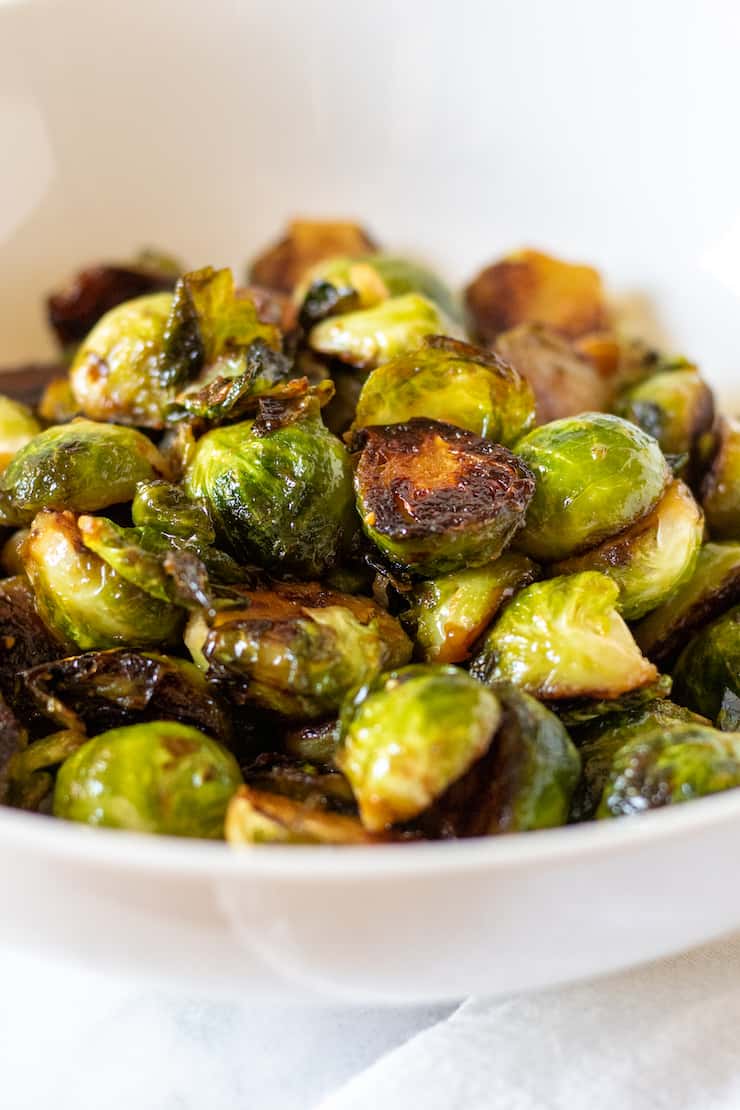 Not too long ago my husband texted from work asking me how I make my Brussels sprouts. I asked why and he said he was telling a couple of women he worked with about them and they wanted the "recipe"… weird.
This is the way we all (yes, the kids too) love Brussels sprouts. Next time you have a hankering for Brussels sprouts, try these. You won't be disappointed. Best, Kelly🍴🐦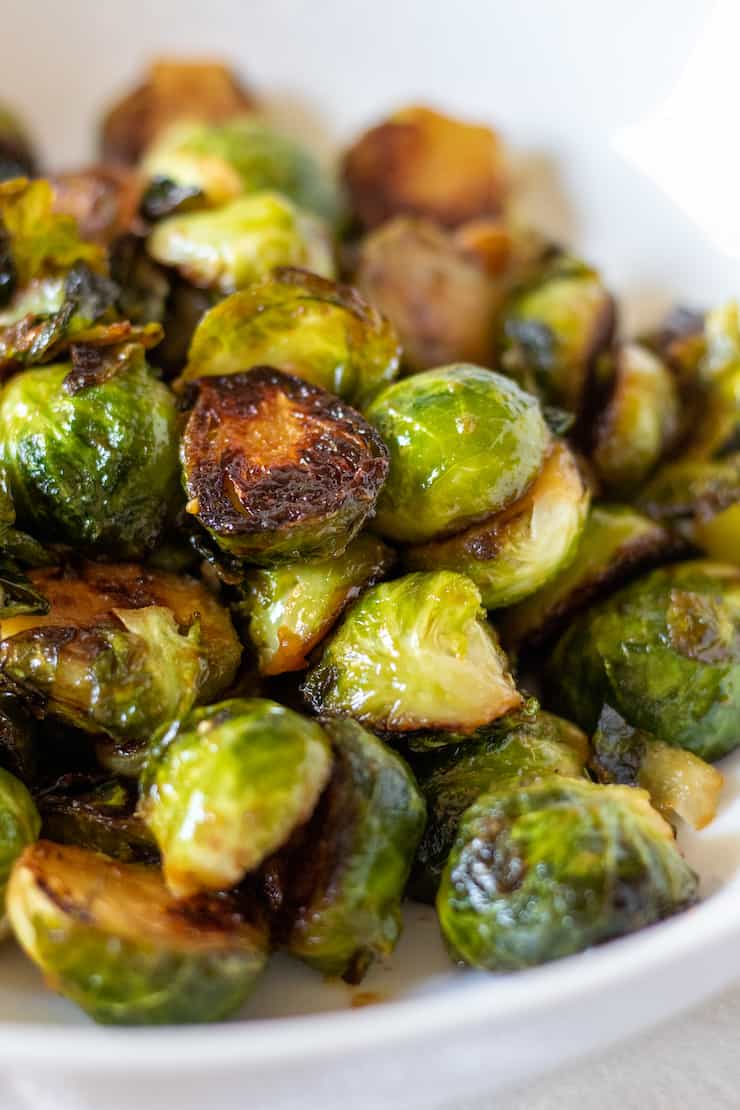 Two other vegetable side dishes my family loves, and you might, too, are Glazed Carrots and Spinach Rockefeller, both perfect for the holiday table.
HUNGRY FOR MORE? Subscribe to my Newsletter and come hang out with me on INSTAGRAM, or give me a follow on FACEBOOK or see what I'm pinning on PINTEREST.
UPDATED: Originally posted in June, 2015, when I first started this blog. Recently updated in November, 2019, with spruced up copy and photos. No changes to original recipe.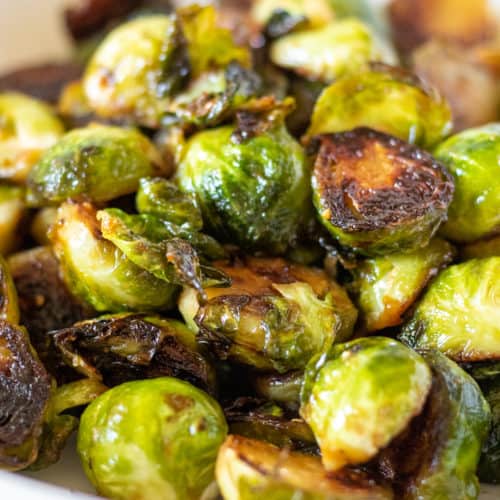 Best Brussels Sprouts
The best way to make Brussels sprouts, caramelized with Dijon and honey on the stovetop. Super easy and guaranteed to turn a Brussels sprouts hater into a fan.
Print
Pin
Rate
Ingredients
1

lb

Brussels sprouts

1

tbsp

unsalted butter

1

tbsp

olive oil

~ or about 2 tbsp or more of bacon drippings, instead of butter and oil

1

tbsp

good quality Dijon mustard

1

tbsp

honey

~ I really do just eyeball the amounts of mustard and honey

Kosher salt and fresh cracked pepper
Instructions
Over medium high heat, melt butter and olive oil in large nonstick pan.

Add brussels sprouts, toss to mix and add a sprinkle of kosher salt. Cook and stir until brown and crisp-tender

Stir in mustard and honey until well combined and caramelized, a minute or two. Season with salt and pepper. Enjoy.
Keyword:
best way to make brussels sprouts, brussels sprouts with honey and mustard, pan sautéed brussels sprouts