Asian ramen noodle salad, crunchy chopped napa cabbage with toasted ramen noodles and nuts in a sweet soy dressing. The best version of that slaw recipe with the ramen noodles you'll ever have ~ fresh, flavorful and a hit at gatherings.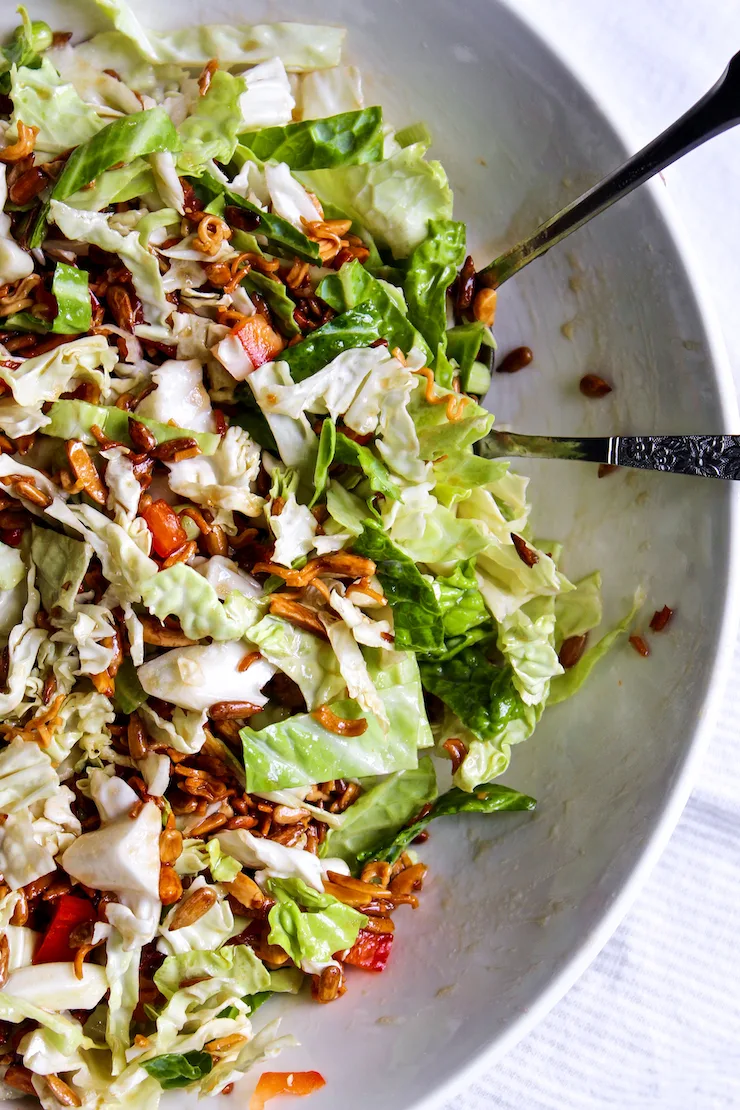 Do you guys remember (or still make) Oriental cole slaw? I don't think that's PC anymore, maybe it's called Asian slaw now. Anyway, it had the ramen noodles from the soup packets crushed up in the salad. For some reason, I think that's strange. And then years ago, in Minnesota, a friend made a salad for a party and I had to know how he made it, it was so good. Over the recent Fourth holiday, I dusted off Timm's Napa Cabbage Salad and made it for a BBQ. It's still so good.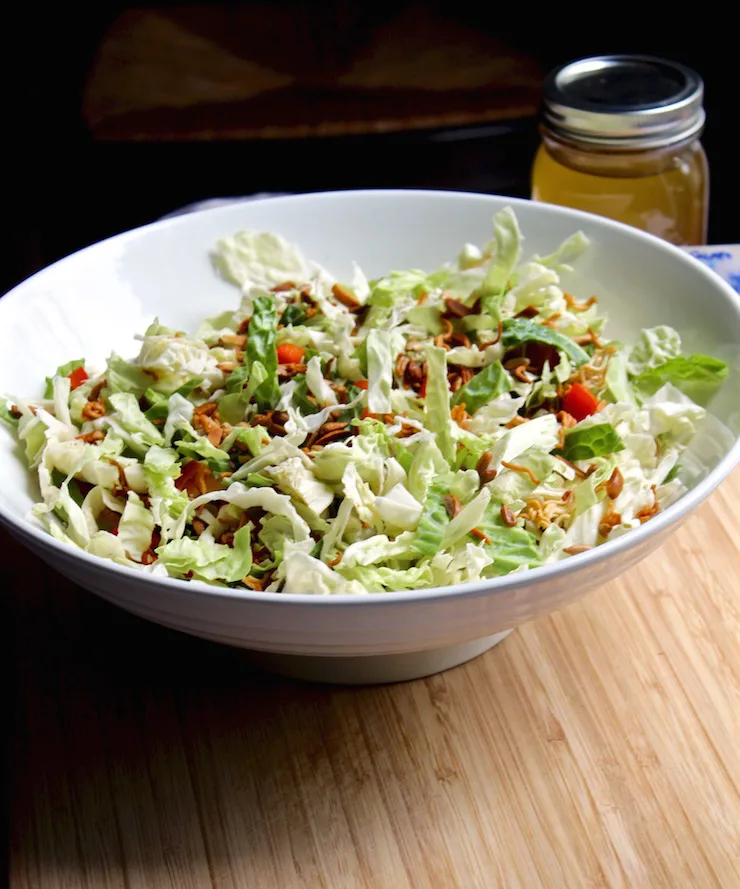 When I say dusted off, I really mean I had to figure out how I made it as the recipe card Timm gave me is mostly illegible. As I do with most recipes, I have them on the counter as I'm cooking and they tend to get a little beat up, this one especially so, as it looks like the ink smeared with all the water and wet hands landing on it. See what I mean?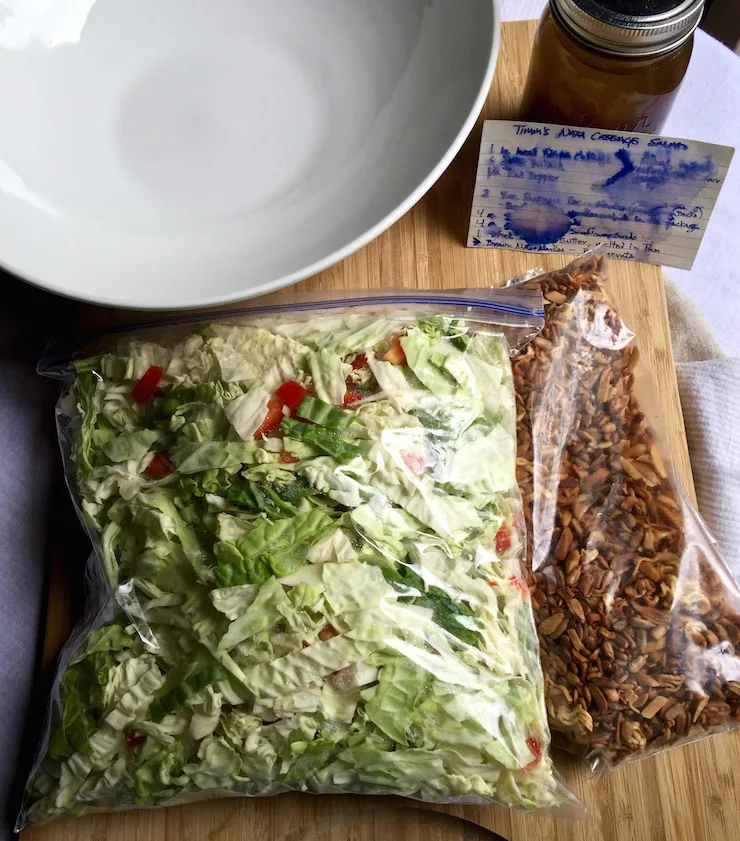 It came back to me though, I'm pretty sure I was able to decipher and remember how to make this. It does use those ramen noodles (not the seasoning packets!) but they're browned in butter with almonds and sunflower nuts. I had to keep swatting Meathead's hand away as the mixture was cooling on paper towels. He thought it was granola or something and said, "This is great!" as another handful went into his mouth. Jeez.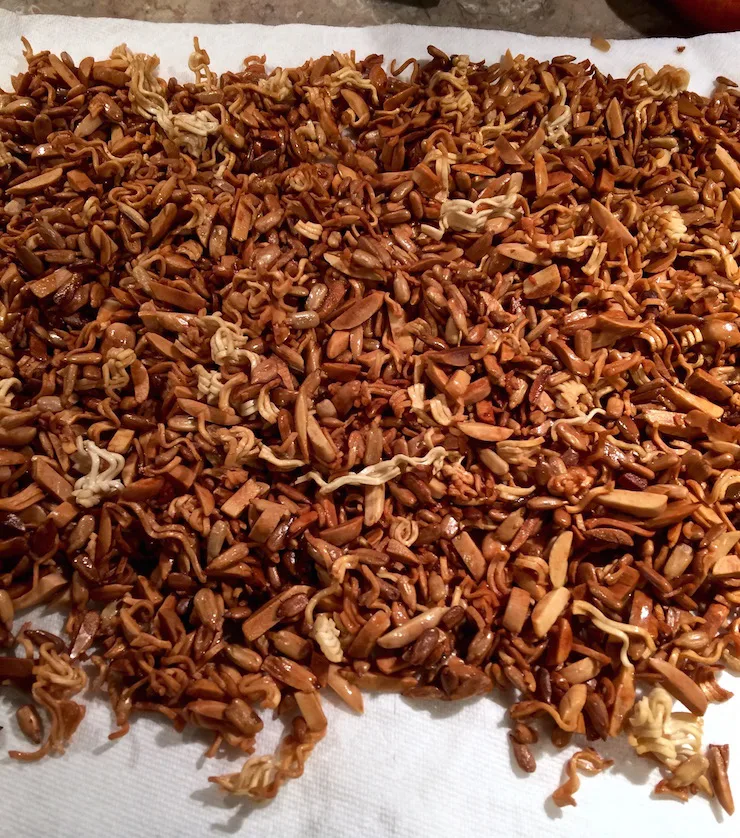 The cabbage is shredded and mixed with red bell pepper and scallions and in a large ziplock it goes to refrigerate over night. The ramen noodles, slivered almonds and sunflower nuts are browned in butter and they go into another plastic bag and into the fridge. Then, a couple hours before serving you mix both bags together in your serving dish, and right before serving, you dress it (with a really good dressing you already made in a jar). It's perfect for a crowd and doesn't tie you up when you're trying to get everything together, heck, you could even turn over the reigns on this salad to someone else, someone who asks how they can help! ?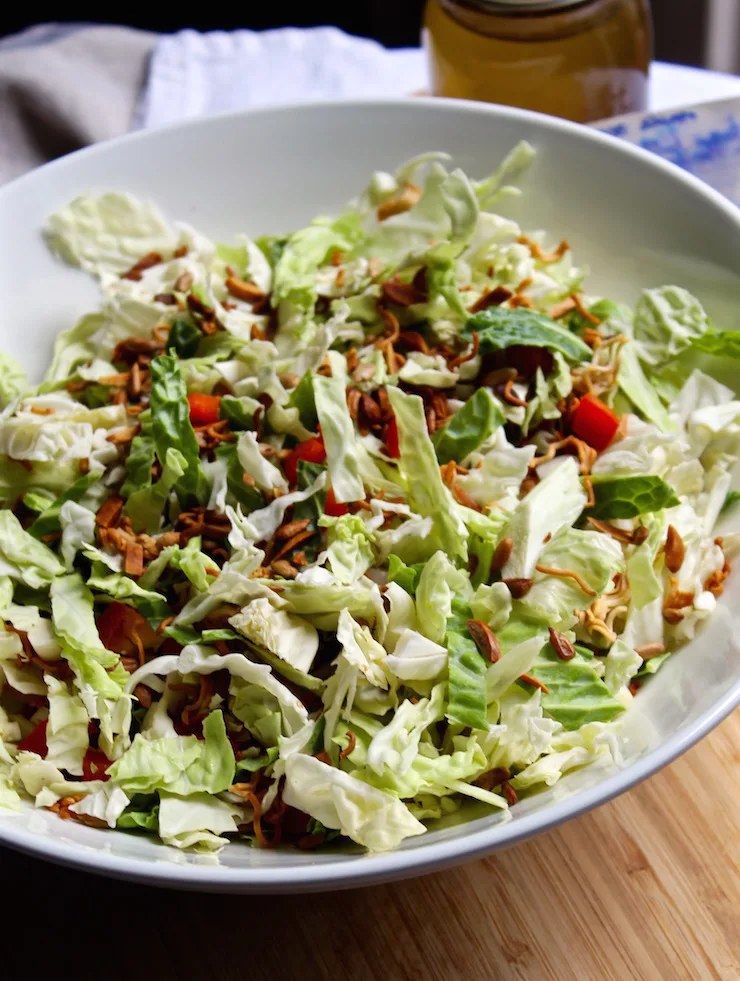 I'm going to have to send this post to Timm and see if he remembers giving me this recipe, I bet he will. I'm not sure how other salads like this stack up, I've only ever had it this way. I will venture to say this is probably one of the better ones, Timm is pretty gourmet and a top shelf kind of guy. I think he'd be tickled I'm still making his Napa Cabbage Salad. Try it, you'll like it. Best, Kelly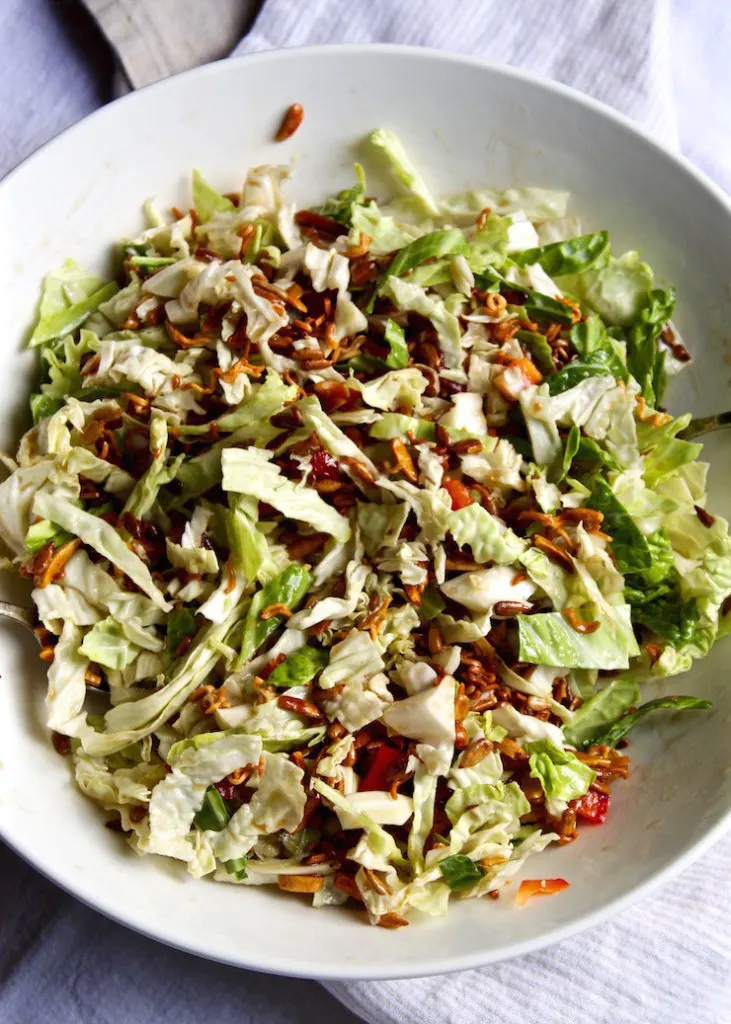 HUNGRY FOR MORE? Subscribe to my Newsletter and come hang out with me on INSTAGRAM, or give me a follow on FACEBOOK or see what I'm pinning on PINTEREST.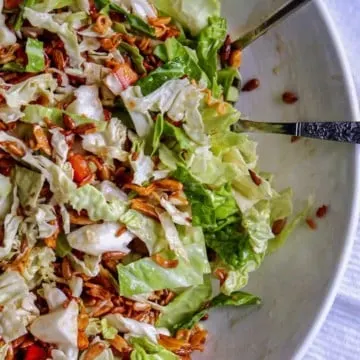 Napa Cabbage Salad
The best version of that slaw recipe with the ramen noodles you'll ever have ~ fresh, flavorful and a hit at gatherings.
Print
Pin
Rate
Ingredients
1

large head napa cabbage, shredded

6

green onions, sliced

½

red bell pepper, diced

2

(4-ounce) packages ramen noodles, seasoning packets discarded, crushed in the package (I use a rolling pin and pound away, but not too much, you want small pieces, not crumbs!)

4

ounces

slivered almonds

4

ounces

sunflowers nuts

1

stick

(8 tbsp) salted butter, or unsalted if you prefer

2

tablespoons

soy sauce

½

cup

sugar

½

cup

tarragon vinegar

(I used apple cider vinegar)

1

cup

saffron or sunflower oil

(uh, yeah, I used canola oil)
Instructions
Combine cabbage, green onion and red pepper and put in a large plastic zip bag. Refrigerate overnight.

In a large skillet, melt stick of butter over medium heat. Add crushed ramen noodles and nuts and brown. Stir frequently and be careful not to burn. Remove to paper towels to drain and cool completely. Place in another plastic zip bag and refrigerate.

Two hours before serving, mix the cabbage mixture with the noodle/nut mixture. Set aside, back in refrigerator. Make the dressing: in a jar with a lid, combine soy sauce, sugar, vinegar and oil, shake well to dissolve sugar, set aside.

Just before serving, dress the salad. Re-shake dressing and add as much as necessary to toss and coat evenly.
Recipe Notes
Recipe from my friend, Timm, in Minnesota
Nutrition
Calories:
546
kcal
Carbohydrates:
29
g
Protein:
8
g
Fat:
46
g
Saturated Fat:
10
g
Polyunsaturated Fat:
11
g
Monounsaturated Fat:
23
g
Trans Fat:
1
g
Cholesterol:
24
mg
Sodium:
631
mg
Potassium:
444
mg
Fiber:
4
g
Sugar:
13
g
Vitamin A:
834
IU
Vitamin C:
33
mg
Calcium:
123
mg
Iron:
2
mg