I have been making this Irish soda bread every St. Patrick's Day for 15 years, ever since I saw it in an issue of Saveur magazine.  It is simple and delicious, and I should make it more often.  There are many, many recipes for Irish soda bread, this one is a traditional and classic version.  For a non-baker like me, this is foolproof.
This bread is crusty and dense, using just flour, sugar, baking soda, butter, raisins, egg and buttermilk.  No kneading is required, just mix it up and form it into a ball.  The ball of dough is scored with an X, which some say symbolizes the cross.  I've also heard not to slice the bread for serving, it should be passed at the table, each person tearing off a chunk.
Irish soda bread is always on my table next to a big platter of corned beef and cabbage every St. Patrick's Day.  This recipe is my favorite and never disappoints.  Any leftover bread is delicious toasted and slathered with butter for breakfast.  I really do need to start making it more than just once a year.  And so should you.
Happy St. Patrick's Day, Kelly
Irish Soda Bread
Makes 1 loaf
Ingredients
4 cups all-purpose, unbleached flour
2 tablespoons sugar
1 teaspoon salt
1 teaspoon baking soda
4 tablespoons cold butter
1 cup raisins
1 egg, lightly beaten
2 cups buttermilk
Instructions
Preheat oven to 425º.  Sift dry ingredients — flour, sugar, salt and baking soda — into a large bowl.
Use a pastry cutter to mix butter into flour mixture until it looks like coarse crumbs.  Stir in raisins.
Make a well in center of flour mixture and add the egg and buttermilk.  Use a wooden spoon to mix the dough until just combined and difficult to stir.  Dust your clean hands with a little flour and gently knead the dough just until it forms a rough ball.  Transfer to a floured board and shape into a round ball with your hands.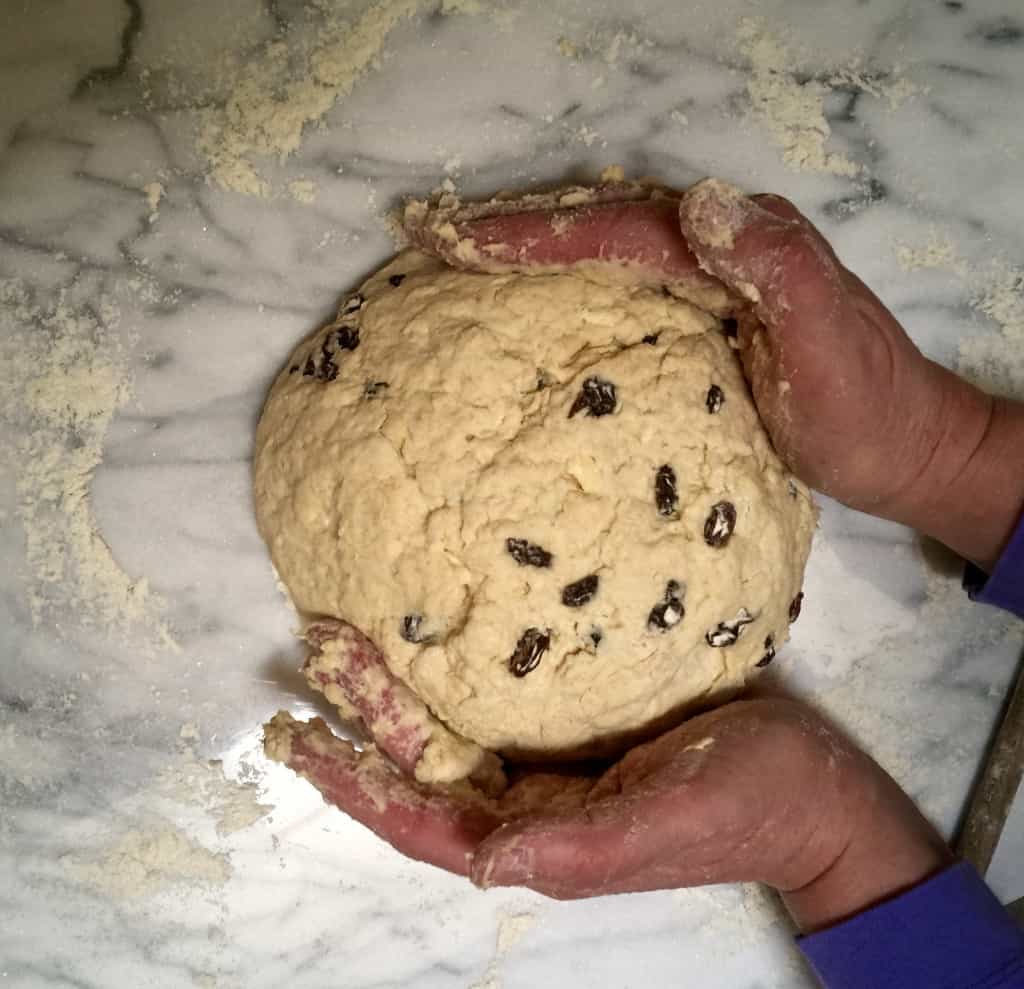 Transfer round dough to a lightly greased baking sheet.  With a serrated knife, cut a ½-inch deep cross on top of dough.  Bake in oven for about 40 minutes, until golden and bottom sounds hollow when tapped.  Let cool briefly on a wire rack.  Serve bread warm, sliced or toasted, with butter!
*Adapted from Saveur magazine, March, 2001