Classic tiramisu recipe with ladyfingers dipped in coffee and rum and layered with a whipped mixture of eggs, sugar and mascarpone cheese, an easy and authentic homemade Italian dessert.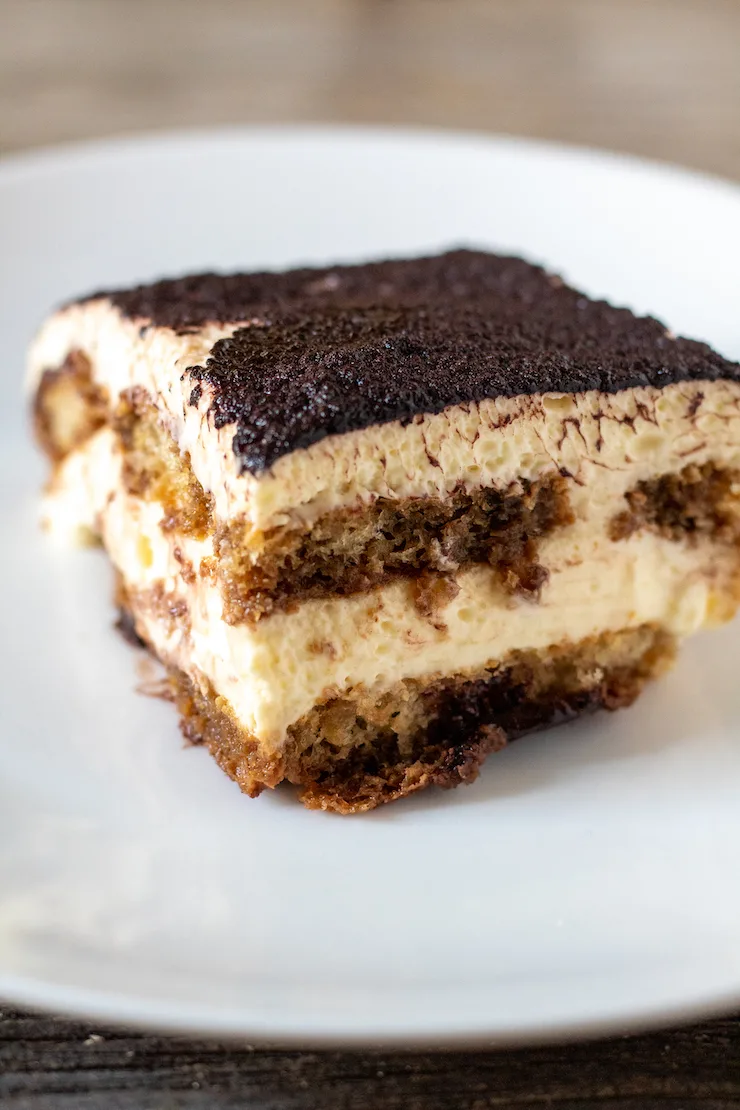 I first had tiramisu many years ago in Chicago at a little neighborhood Italian restaurant run by two sisters. One cooked in the kitchen, the other worked the front room and made the desserts.
Her large pans of tiramisu in the glass case is what I always looked forward to at the end of our meal. Hands down, the best tiramisu I've ever had.
What is tiramisu?
Tiramisu means 'pick me up' or 'cheer me up' in Italian, and is often served as a dessert. It's made with ladyfingers dipped in coffee and rum and layered with a whipped mixture of eggs, sugar and mascarpone cheese.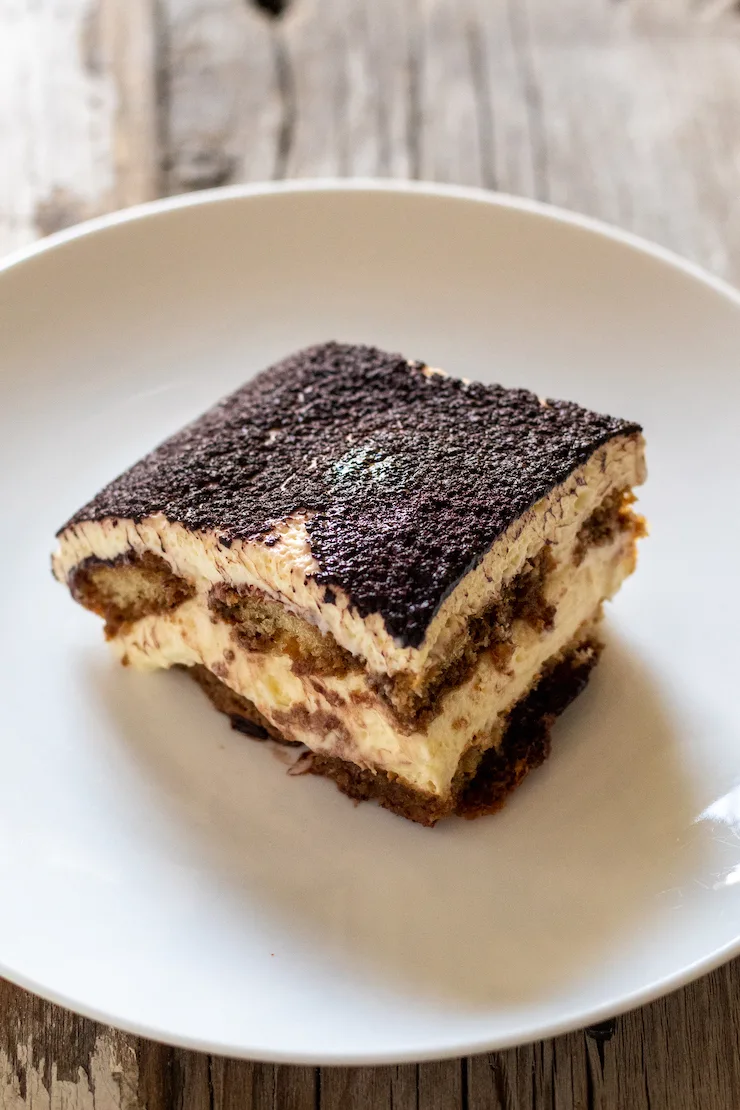 Authentic, traditional tiramisu is made with all eggs, both the creamy yolks and the whites whipped until stiff. If consuming raw egg is not to your liking, this recipe is not for you.
There are also many versions that use whipped cream instead of egg whites and those, too, are very good, like this one from the NYT.
How to make tiramisu, step by step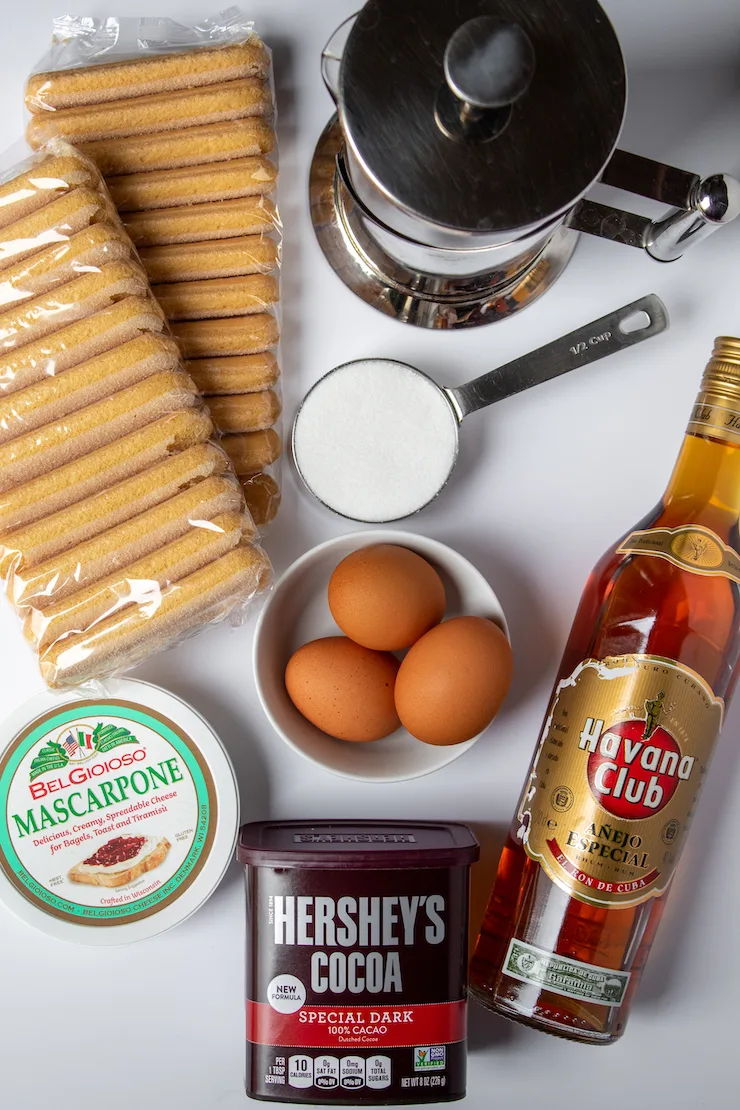 Start by brewing some very strong coffee or espresso. Pour into a shallow dish and add some rum. If you don't like alcohol, omit the rum (but it really makes this dessert the best!).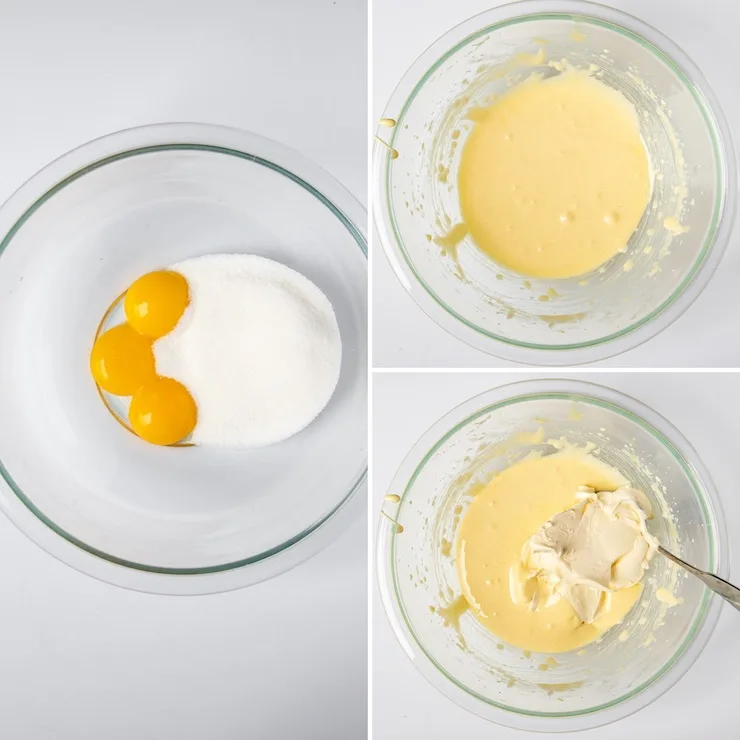 Separate eggs yolks and whites and place in different bowls.
Beat yolks with sugar until pale yellow and thick.
Add mascarpone cheese and beat until mixed, set aside.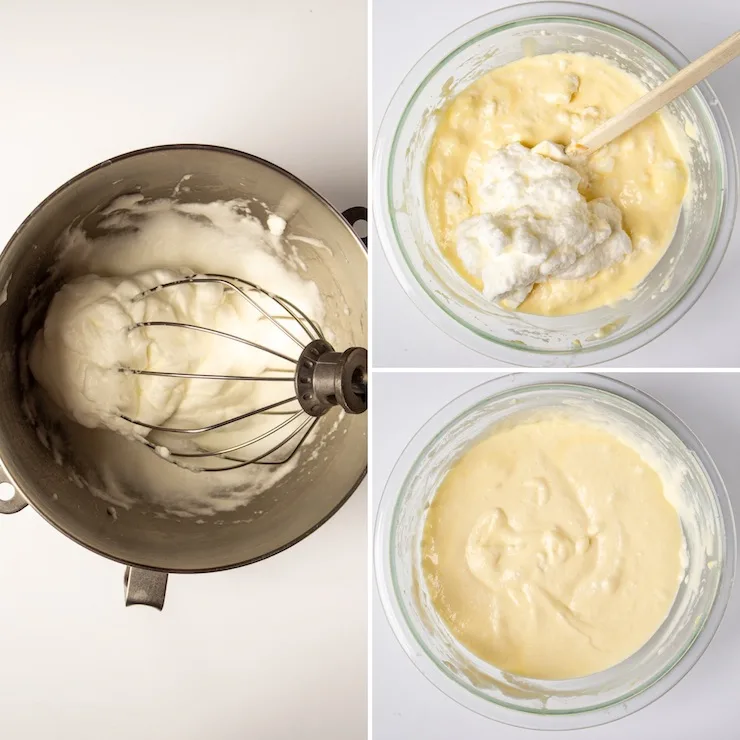 Beat egg whites until very stiff.
Gently fold into the mascarpone mixture.
Mix until just combined, trying not to over mix and deflating the whites.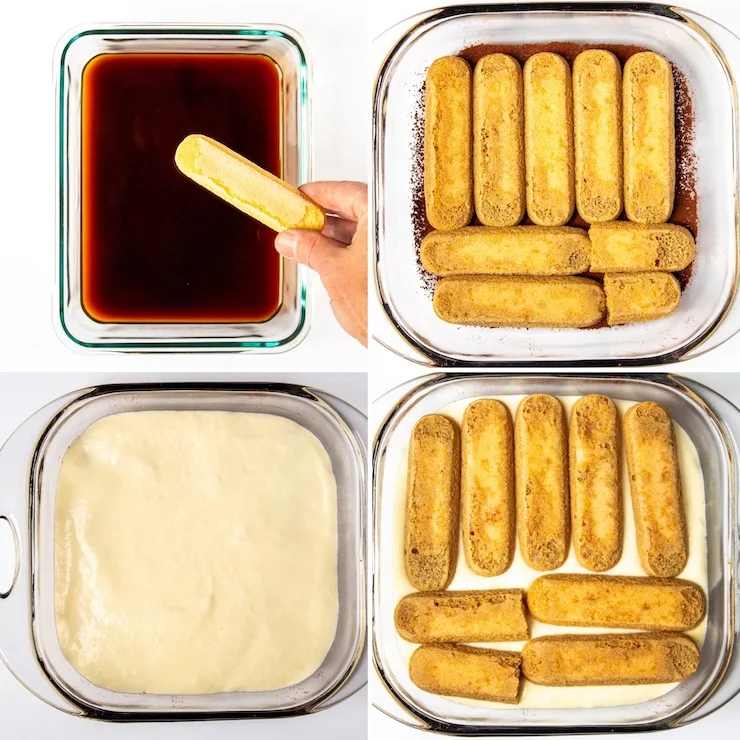 Dust bottom of square dish with cocoa powder.
Dip ladyfingers quickly in coffee/rum mixture and place in dish.
Top with half of the mascarpone cream mixture.
Layer again with dipped ladyfingers, top with remaining cream mixture.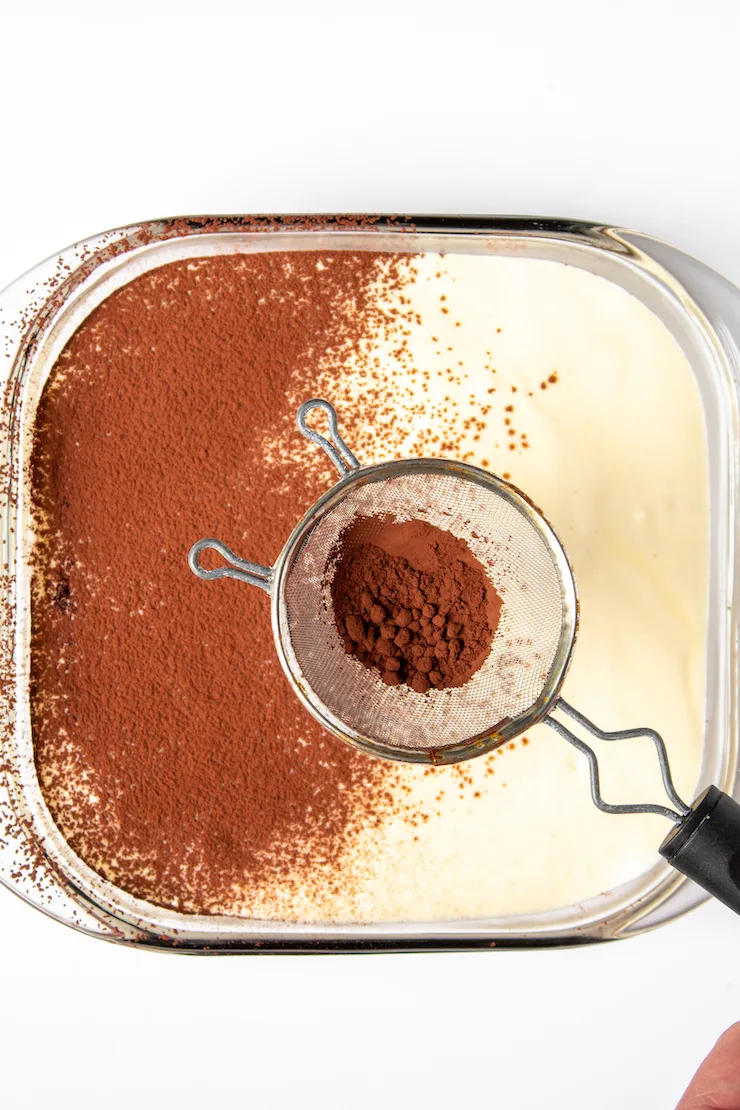 Dust with cocoa and refrigerate for several hours or overnight.
Recipe Notes and Tips
The coffee should be brewed very strong or use espresso, you want the coffee flavor to come through.
If you don't want alcohol, omit it and add a small amount of vanilla instead, about ½ teaspoon.
Use the crunchy type of ladyfingers called Savoiardi, they come in packages like cookies. Dip in coffee quickly, they absorb liquid fast and you don't want them too soggy or falling apart.
You can make this 1 to 2 days in advance and it keeps about 4 days total in the fridge, but I doubt it will be around that long!! It also freezes very well if you so desire.
When whipping egg whites until stiff peaks form, key is to make sure there is no yolk at all present, separate the eggs carefully! It takes several minutes to beat until stiff, you should see peaks on the beaters when you pull them out and be able to turn the bowl around and they don't move.
It's not always easy to cut perfect squares for serving, especially the first piece. It's totally okay to scoop out a serving with a spoon, no worries!
Tiramisu is a classic Italian dessert that's easy to make at home and once you try this, you'll be making it often. It is just as good as the restaurant versions I've had over the years, and almost as good as Anna Maria's. Enjoy, Kelly🍴🐦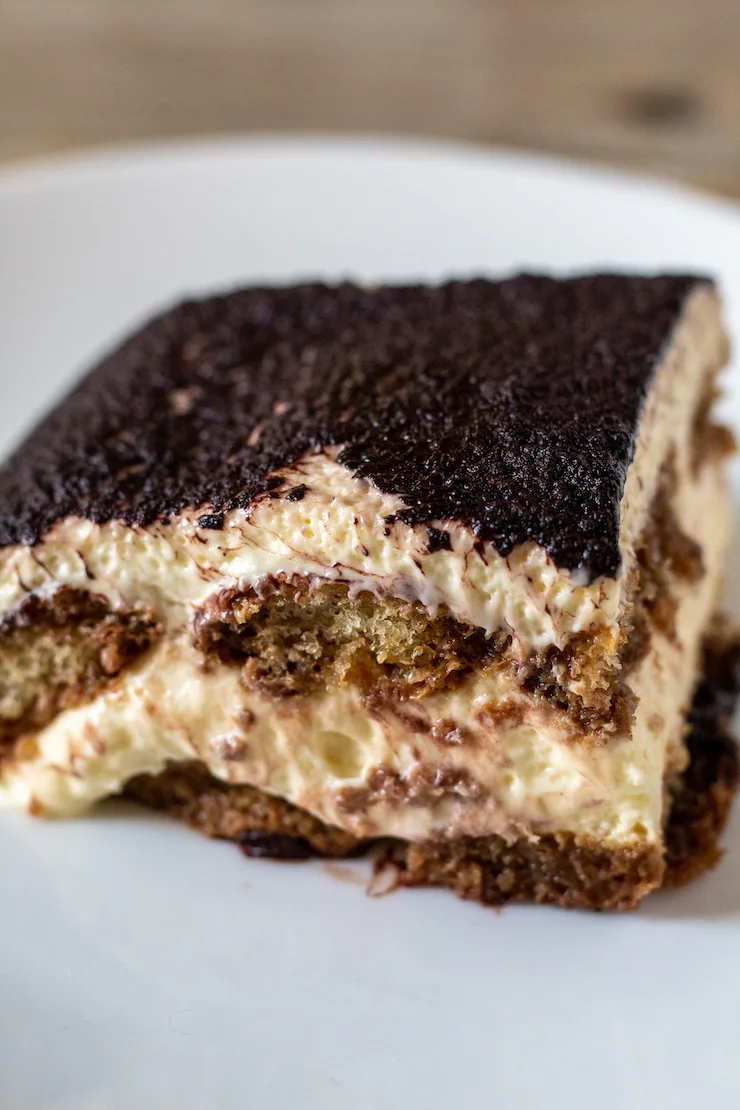 HUNGRY FOR MORE? Subscribe to my Newsletter and come hang out with me on INSTAGRAM, or give me a follow on FACEBOOK or see what I'm pinning on PINTEREST.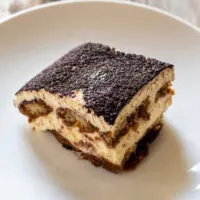 Classic Italian Tiramisu
How to make tiramisu, an easy and traditional recipe with coffee-dipped ladyfingers and mascarpone cream for an authentic Italian dessert.
Print
Pin
Rate
Ingredients
1½

cups

strong brewed coffee or espresso

2

tablespoons

rum

3

eggs, yolks and whites separated

½

cup

sugar

8

ounces

mascarpone cheese

1

package

Italian Savoiardi ladyfingers,

about 18-20 ladyfingers

2

tablespoons

unsweetened cocoa powder

I like Hershey's Special Dark 100% cacao
Instructions
Combine coffee and rum in shallow dish, set aside.

Place separated egg yolks and whites in separate bowls. Combine the yolks and sugar and beat with hand mixer until pale yellow and thick and almost doubled in volume. Add the mascarpone cheese and mix until well combined.

Beat egg whites in stand mixer fitted with whisk, or hand mixer, on high speed until stiff peaks form. Peaks should stick to beaters when they are pulled up. Gently fold stiffly beaten egg whites into mascarpone mixture and mix to just combine.

Dust bottom of 8" square glass dish with 1 tablespoon of cocoa powder. Dip ladyfingers one at a time in coffee mixture, turning quickly to soak each side and arranging sugar-side up in dish (as shown in above photos). Top layer of ladyfingers with ½ the mascarpone cream and spread evenly. Repeat with another layer of coffee-dipped ladyfingers and spread remaining mascarpone cream over top.

Dust top evenly with remaining cocoa powder and refrigerate several hours to overnight. Scoop out with a spoon or cut in squares to serve. Enjoy!
Recipe Notes
Dip ladyfingers quickly, soaking both sides and arranging with the sugar side up.
Use strong brewed coffee or espresso for best flavor.
Crunchy ladyfingers are best, rather than soft.
For best results whipping egg whites until stiff peaks form, make sure to separate carefully with no trace of yolk.
Tastes best after refrigerating 12 to 24 hours.
Nutrition
Calories:
298
kcal
Carbohydrates:
29
g
Protein:
8
g
Fat:
17
g
Saturated Fat:
9
g
Polyunsaturated Fat:
1
g
Monounsaturated Fat:
2
g
Trans Fat:
1
g
Cholesterol:
147
mg
Sodium:
79
mg
Potassium:
104
mg
Fiber:
1
g
Sugar:
13
g
Vitamin A:
624
IU
Calcium:
64
mg
Iron:
1
mg