Fire roasted salsa canning recipe using farm fresh tomatoes and poblano peppers, roasted on the grill for a delicious salsa that's perfect for canning.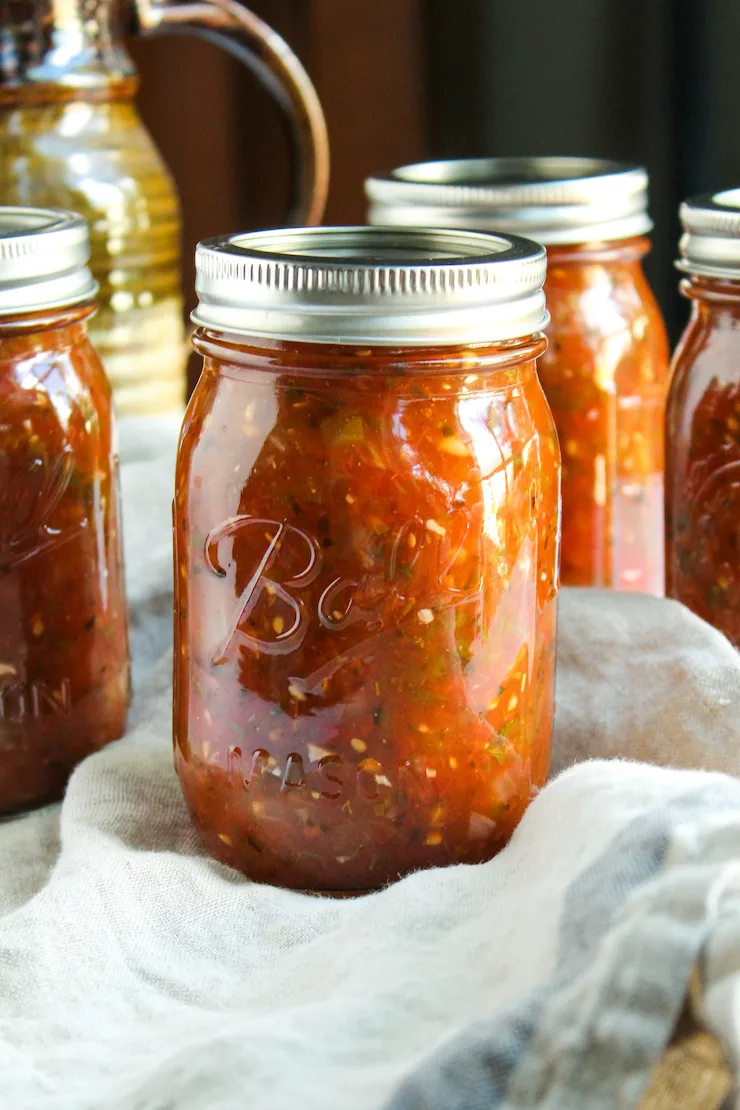 I love tomato season and this year I made salsa. Fire roasted salsa that I canned. I used tomatoes and poblano peppers from the farm stand and roasted them on a hot grill until they were charred and blistered all over.
I love the flavor of grilled tomatoes and peppers. Then you just peel off the skins, chop chop, add a bunch of good stuff to the pot and you've got fire roasted salsa. It's perfect for canning to enjoy year round.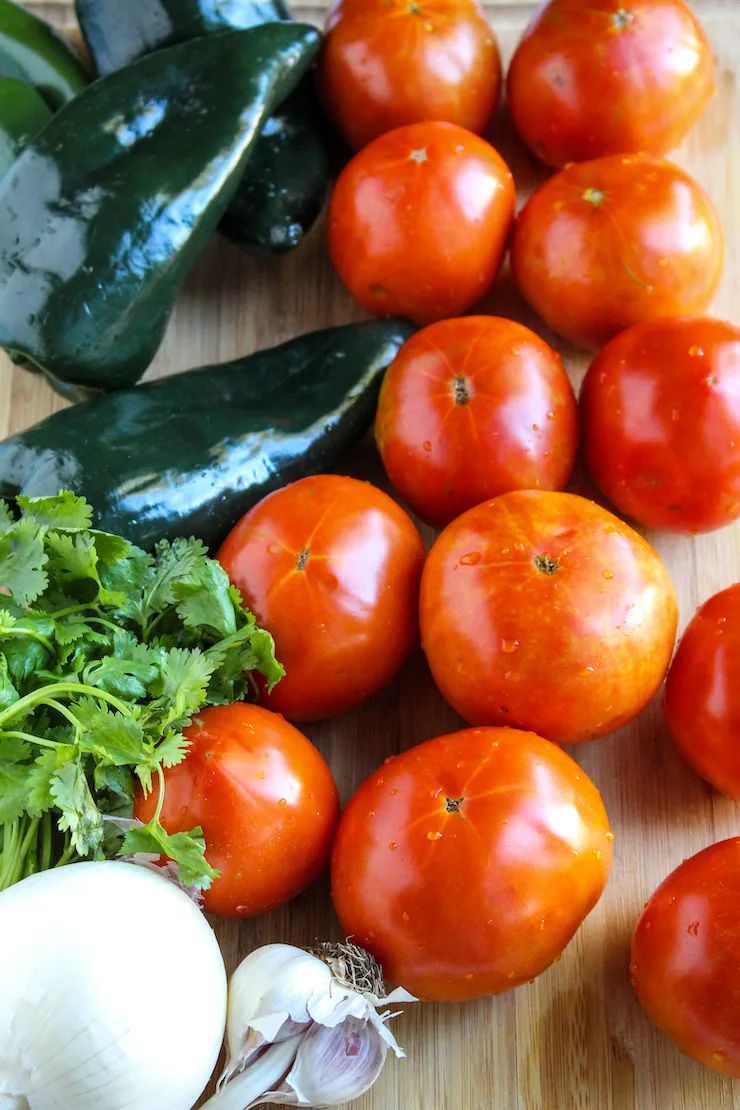 I think canning is pretty easy, my neighbor taught me how to make and can strawberry jam years ago. She doesn't use the boiling water method, but she's old school and you should use a hot water bath for safe canning purposes. There is a little science involved here for safe canning so please use the amounts suggested.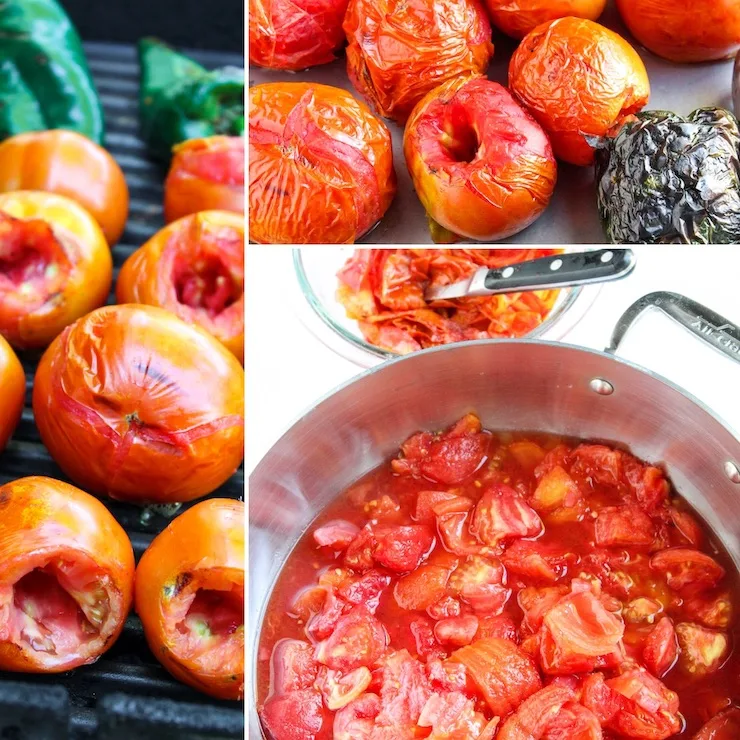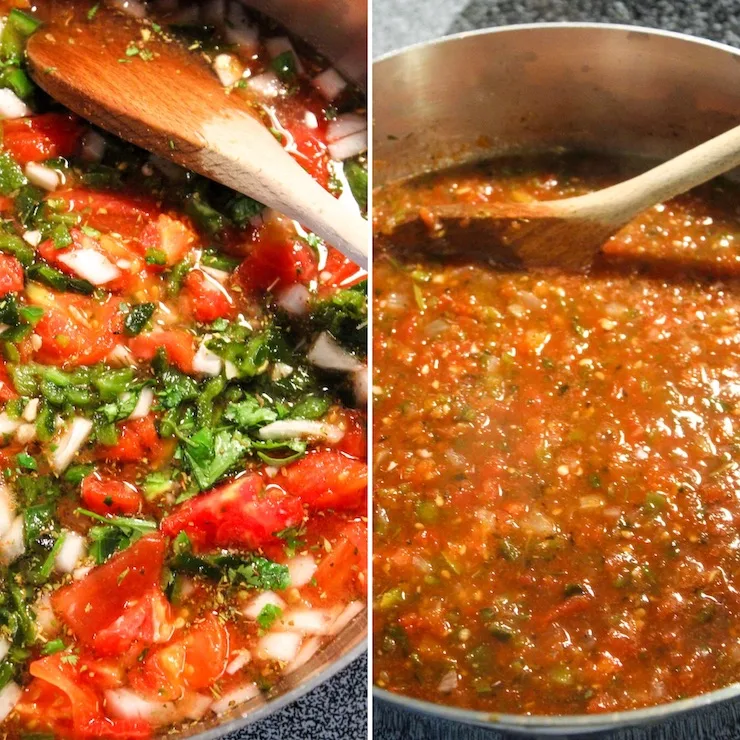 I didn't wear gloves when I was handling the poblanos and jalapeños. Big mistake. My hands were burning, even under my nails, so wear gloves! I didn't think they packed that much heat, but they do. Better safe than sorry.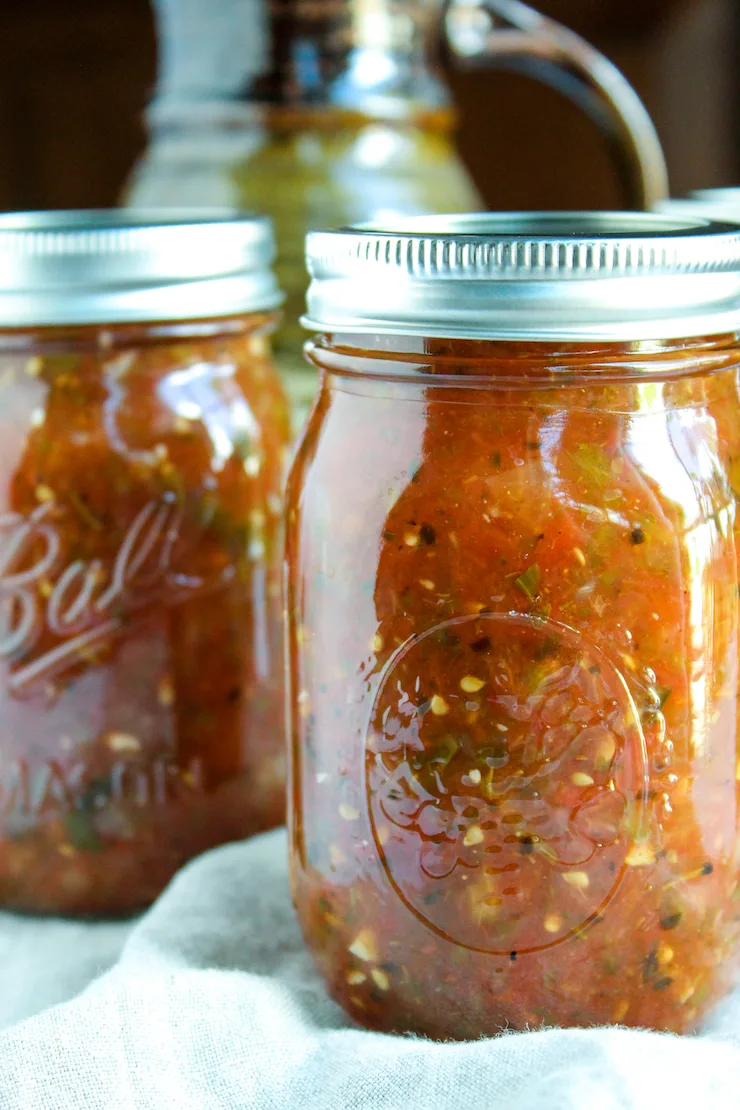 There are still plenty of tomatoes from the farm or maybe you have your own bumper crop going on. This fire roasted salsa is so good and cans beautifully. We've gone through a couple jars already. My favorite part of canning is opening a jar in January ~ a welcome taste of summer in the middle of winter. Kelly🍴🐦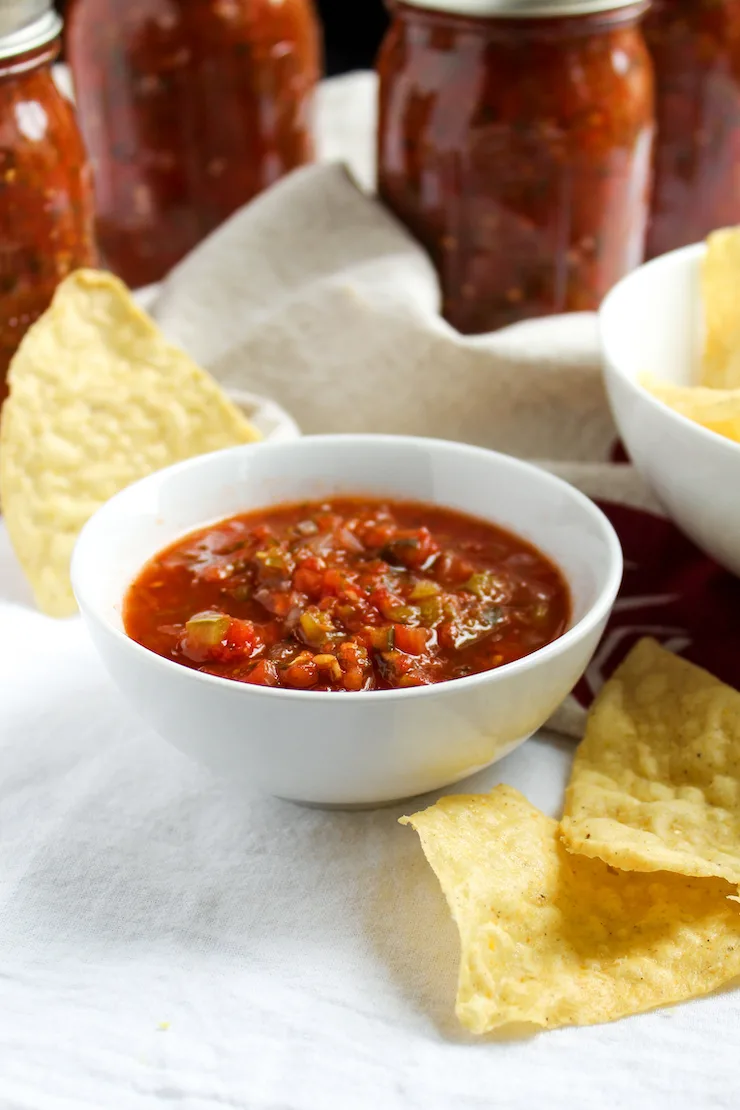 HUNGRY FOR MORE? Subscribe to my Newsletter and come hang out with me on INSTAGRAM, or give me a follow on FACEBOOK or see what I'm pinning on PINTEREST.
Fire Roasted Salsa Canning Recipe
Homemade salsa using fresh summer tomatoes and peppers, roasted on the grill.
Print
Pin
Rate
Ingredients
5

pounds

tomatoes

3

poblano peppers

2

jalapeños, finely chopped ~ wear gloves!

1

large white onion, chopped, 1½ cups

3

garlic cloves, finely chopped

1

cup

apple cider vinegar

½

cup

chopped cilantro

2

teaspoons

dried oregano

½

teaspoon

cumin

2

teaspoons

kosher salt

1 - 2

tablespoons

sugar
Instructions
Heat gas grill on high. If using charcoal, do not use lighter fluid or the tomatoes and peppers will pick up that taste!

Rinse tomatoes and peppers. Core tomatoes and score a small "X" in the blossom end. Place tomatoes and peppers on hot grill and close lid. Turn frequently until peppers are charred and blistered and pretty much black all over. Tomatoes should have some blackened spots and blistered enough to remove the skins. Remove from grill. Place peppers in a bowl and cover with plastic wrap to steam for several minutes. Let tomatoes cool a bit on a cutting board until you can handle.

Peel and chop the tomatoes and place in a large bowl, being sure to include all the juices. You should have 7 to 8 cups of chopped tomatoes and juices from 5 pounds of tomatoes. You need at least 7 cups for safe canning purposes.

Wearing gloves, peel poblano peppers, the blackened skins should come right off. Pull out stem and discard. Cut poblanos open and remove seeds. Finely chop peeled and seeded poblanos. You should have 1 cup, and no more than 1½ cups, again, for canning purposes.

Place fire roasted tomatoes and poblanos in a large pot and add the remaining ingredients, adding just 1 tablespoon of sugar to start. Bring to a boil and then turn down and simmer for 10 minutes.

Using an immersion blender or food processor, carefully purée the salsa to a smoother consistency. In a food processor and working in batches, pulse 8 - 10 times and when all finished, return to the pot. Taste for seasonings and if too vinegary, add another tablespoon or so of sugar. If too sweet, add a little more vinegar to balance. Bring blended salsa back to a boil and simmer a few more minutes.

Have sterilized pint jars and lids and screw caps ready (they should all be washed in very hot water). Use a canning funnel and ladle hot salsa into jars, leaving a ½-inch head space. Wipe rims clean with a damp cloth and carefully place lid on and screw cap in place. Process in a boiling water bath for 15 minutes, then place upright on counter for 24 hours (see recipe notes for link to USDA Canning Guidelines). You will hear popping sounds as the jars seal. If after 24 hours, any haven't sealed, put in refrigerator to use now.

Store jars of salsa in pantry and use within a year. Enjoy!
Recipe Notes
Yields 8 - 10 cups or 4 - 5 pint jars
A hot water bath is recommended for proper sealing and canning safety. Please refer to USDA Home Canning Guidelines for direction.
Nutrition
Serving:
0.5
cup
Calories:
47
kcal
Carbohydrates:
10
g
Protein:
2
g
Fat:
1
g
Saturated Fat:
1
g
Polyunsaturated Fat:
1
g
Monounsaturated Fat:
1
g
Sodium:
300
mg
Potassium:
410
mg
Fiber:
2
g
Sugar:
7
g
Vitamin A:
1321
IU
Vitamin C:
40
mg
Calcium:
25
mg
Iron:
1
mg
*Adapted from Simply Recipes