An easy canning recipe for tasty homemade garlic dill pickles, a summertime favorite to enjoy year round.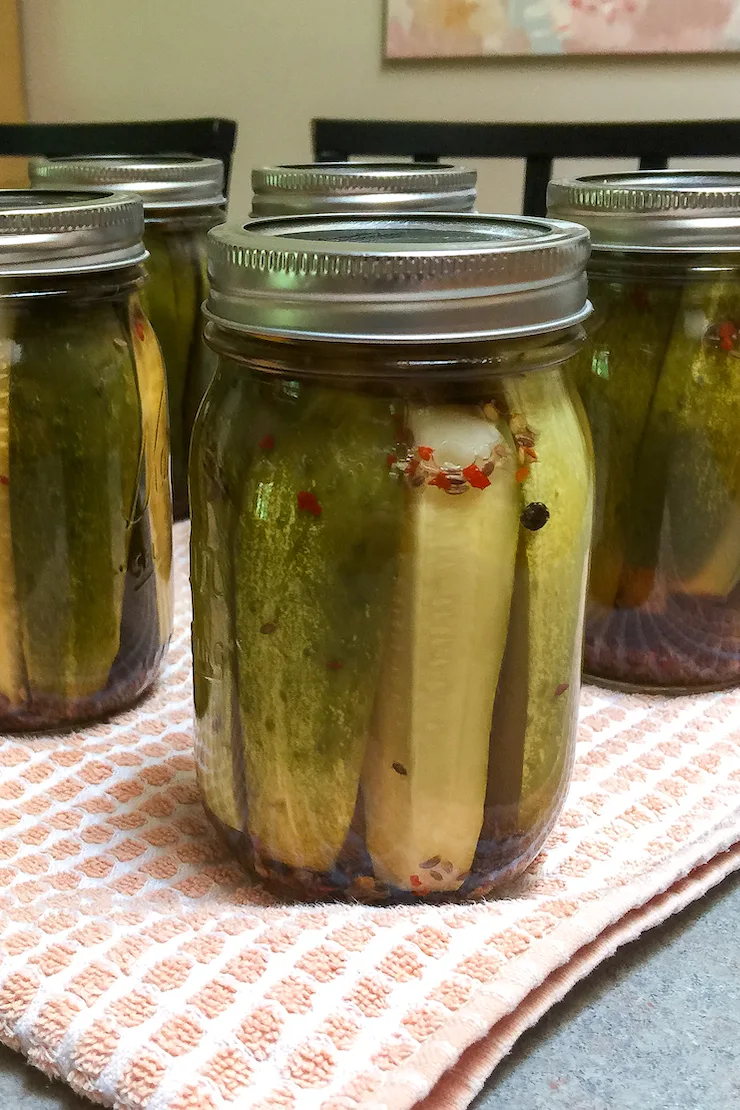 I made pickles this summer! I've always wanted to try canning more but never have gotten around to it. Just strawberry jam which was my very first post on this blog. So I researched, and of course there are a million recipes and methods for pickles. It didn't take me long to come up with the way I wanted to try.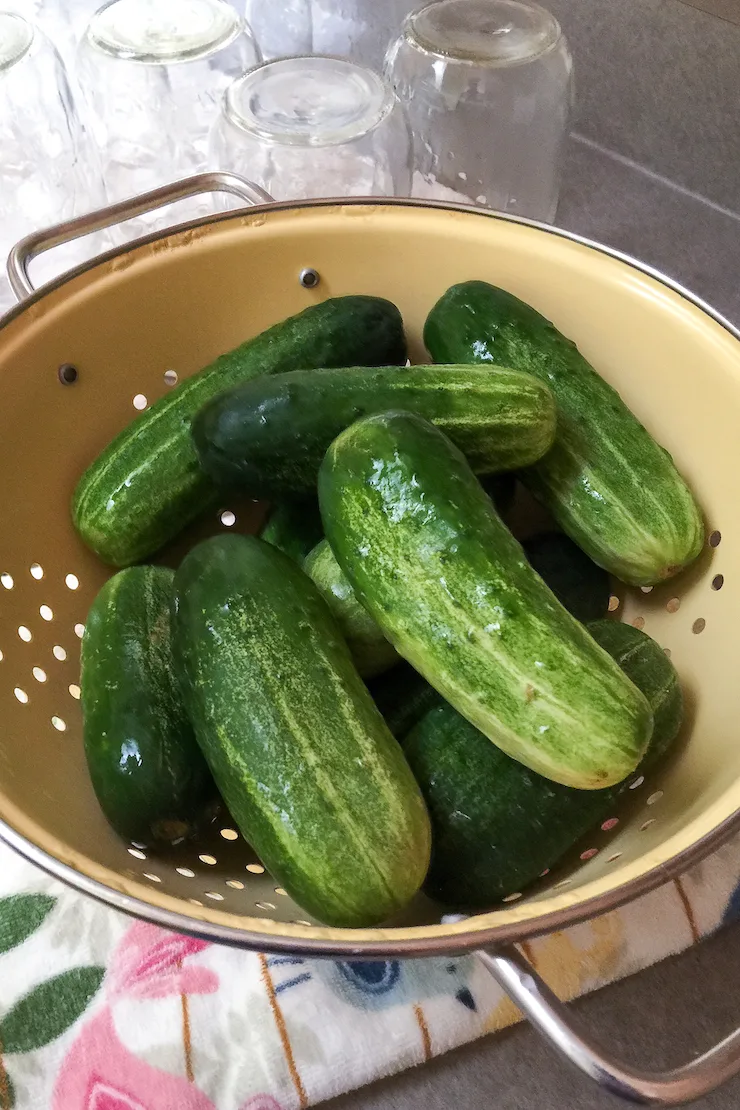 Kirby cucumbers are the type to use, they might be called pickling cucumbers. They are smaller and crisper than regular garden cucumbers. I found some really nice ones at the farmer's market.
Then there is the brine. I used apple cider vinegar, filtered water and Diamond Kosher salt. Almost all of the recipes I read called for pickling salt. Apparently, regular salt has caking agents in it. Diamond Kosher salt is what I always use and it works just fine for pickling, no caking issues.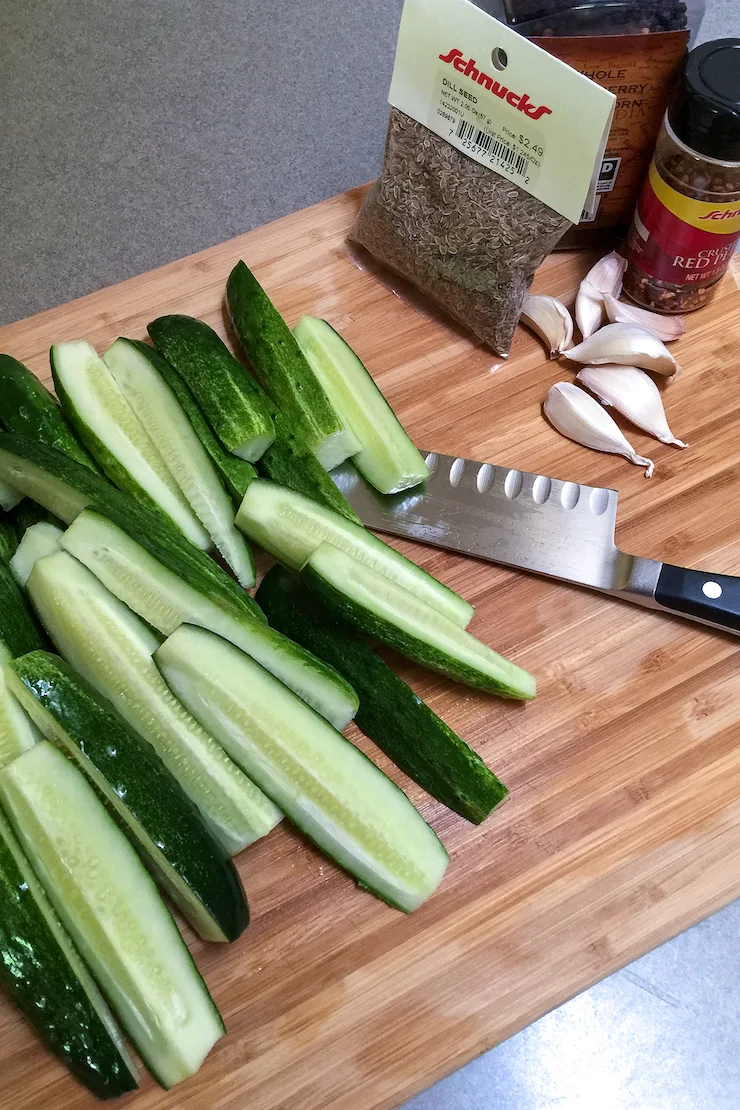 My recipe made 6 pints of pickles. So you need to sterilize 6 pint jars, lids and screw caps. Never reuse lids. I wash in hot soapy water but you can put in boiling water or run through the dishwasher.
To flavor these pickles, I put garlic cloves, dill seed, black peppercorns and crushed red pepper in each jar. Then I packed in the cucumber spears, poured in the hot brine and processed them in a hot water bath for 10 minutes. Pickles!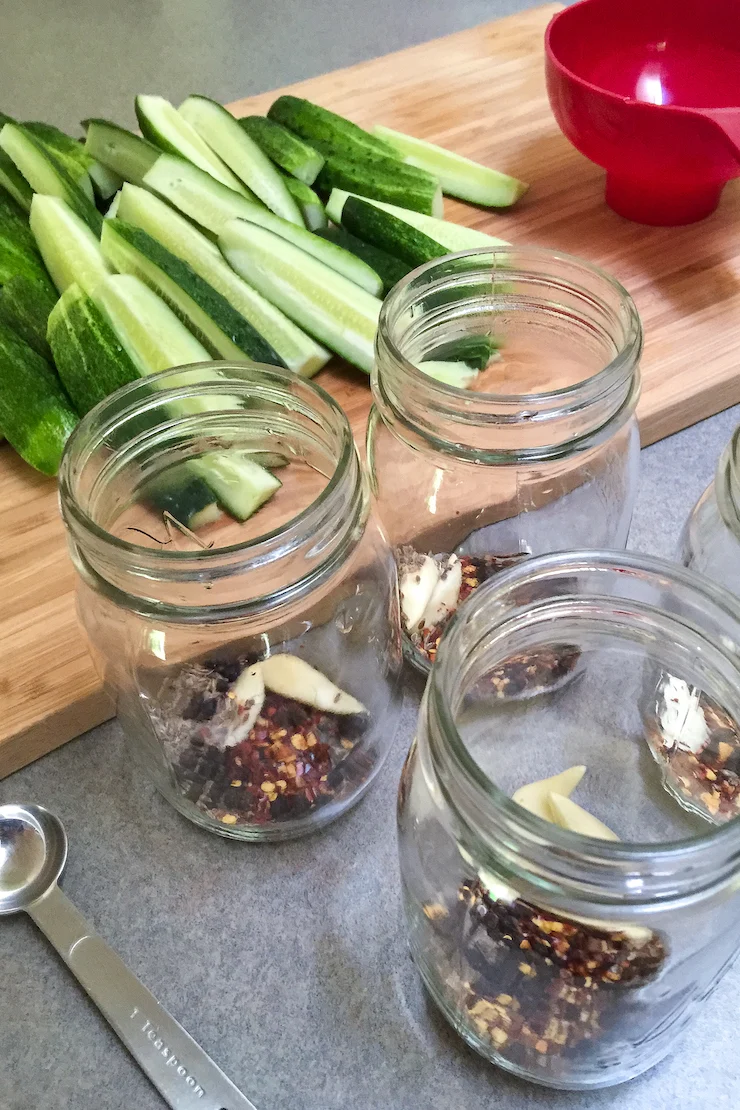 They need to stand a week or two before they are ready to eat. We could hardly wait to try them. We opened a jar and ate the whole thing in one day. Even Picky Eater liked them. I just made bread and butter pickles but they need to sit 4 to 5 weeks. I'll let you know how those turn out next month. And this past spring when asparagus was in season, I made a couple of jars of spicy pickled asparagus. Ate one jar and saving the other for Bloody Mary's with the girlfriends.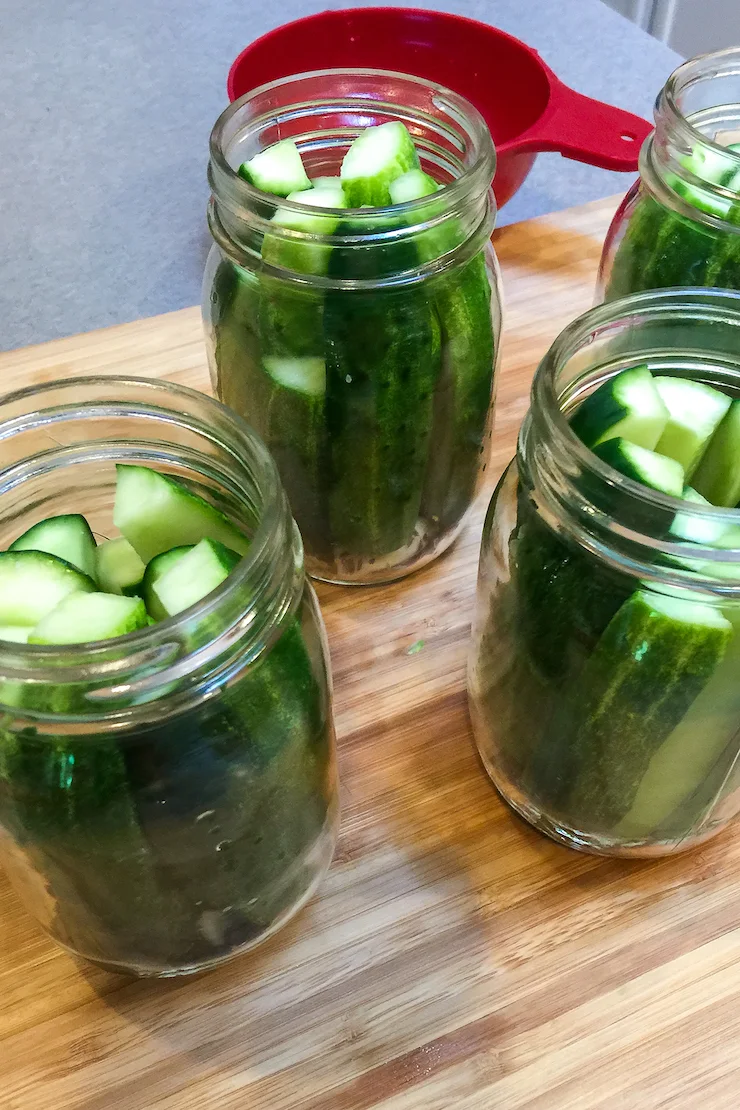 If you've ever wanted to try making pickles, give these a try. They're great and fun to make, I really enjoyed the whole process. So pretty to see all these jars in my pantry. Looking forward to opening them up this winter. That is, if we don't eat them all now. Best, Kelly🍴🐦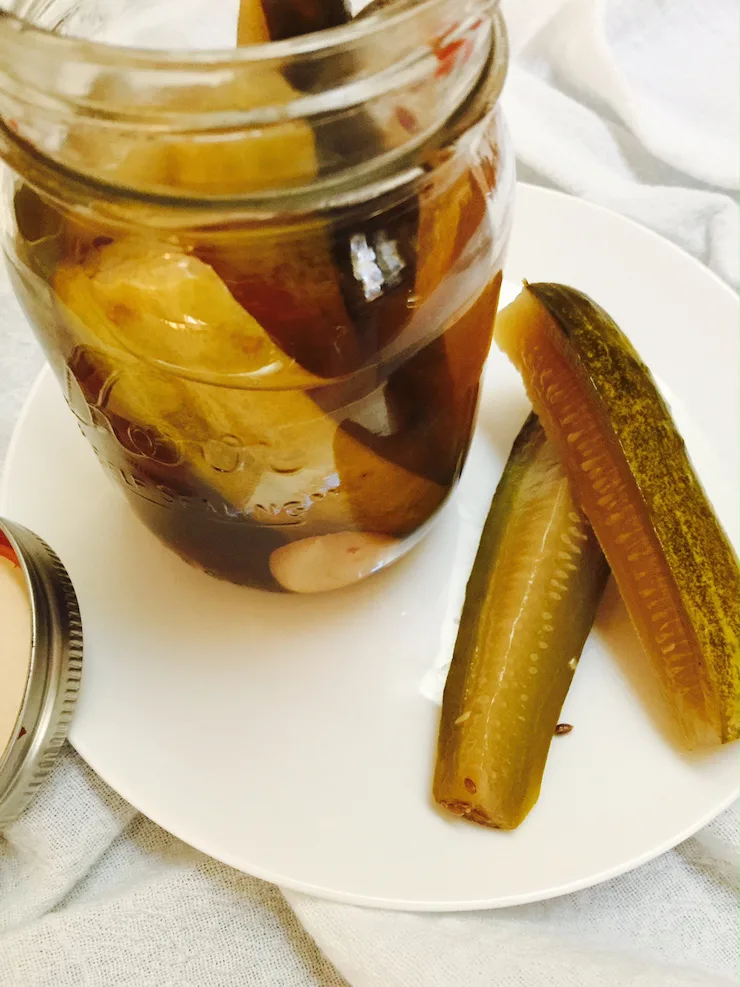 HUNGRY FOR MORE? Subscribe to my Newsletter and come hang out with me on INSTAGRAM, or give me a follow on FACEBOOK or see what I'm pinning on PINTEREST.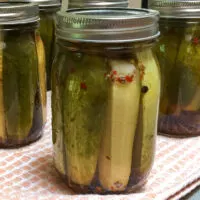 Garlic Dill Pickles
Easy canning recipe for tasty homemade garlic dill pickles, a summertime favorite to enjoy year round.
Print
Pin
Rate
Ingredients
3 ½

pounds

Kirby cucumbers

3

cups

apple cider vinegar

3

cups

filtered water

4

tablespoons

kosher salt

12

garlic cloves

6

teaspoons

dill seed

3

teaspoons

black peppercorns

1 ½

teaspoon

red chili flakes
Instructions
Wash and sterilize 6 pint jars, lids and screw caps.

Rinse and gently scrub cucumbers. Trim off each end and slice into spears.

In a nonreactive pot, combine apple cider vinegar, filtered water and kosher salt. Bring to a boil, then simmer and stir until salt is dissolved. Keep hot, but not boiling.

Fill a large pot with water and bring to a boil. Make sure you have enough water to cover the jars by an inch or two for processing.

Into each jar put 2 garlic cloves, 1 teaspoon dill seed, ½teaspoon black peppercorns and ¼ teaspoon crushed red pepper. Then add the cucumber spears, filling each jar but not crushing them, about 9 - 10 spears per jar. Keep a half inch space at the top of jar, trimming any cucumbers if needed.

Pour the hot brine into the jars over the spears to about ¼ inch from the top. Tap the jars gently to remove any air bubbles. Wipe the rims clean with a damp cloth. Put lids and screw caps on the jars.

Process in the hot boiling water bath for 10 minutes (start timing when water returns to boiling). Carefully remove with jar removing tongs to a clean towel and let stand for 24 hours. You will hear popping sounds as the jars seal, usually they are all sealed within an hour.

If any jars did not seal, pop them in the fridge to use first. Let pickles stand a week or two before opening. They should be good for a year. Enjoy.
Recipe Notes
They need to stand a week or two before they are ready to eat. This also works well with asparagus.
Nutrition
Serving:
1
pint
Calories:
79
kcal
Carbohydrates:
12
g
Protein:
3
g
Fat:
1
g
Saturated Fat:
1
g
Polyunsaturated Fat:
1
g
Monounsaturated Fat:
1
g
Sodium:
4678
mg
Potassium:
536
mg
Fiber:
3
g
Sugar:
4
g
Vitamin A:
352
IU
Vitamin C:
11
mg
Calcium:
106
mg
Iron:
2
mg
* Adapted from Serious Eats.