I love Greek-style anything...lemon, olive oil, garlic, oregano. Lately I have been craving chicken and potatoes, Greek-style. This stems from my single life in Chicago. I lived a couple of blocks from the Athenian Room on Halsted, and I will tell you they make the best Kalamata Chicken. The chicken is great, but the potatoes are heaven. There is no way I could make them at home, I am pretty sure they are fried crispy and come swimming in the lemony, garlicky chicken juices -- wet fries.
But I can make a pretty good version of Greek chicken and potatoes that satisfies my craving and my family loves. I marinate thighs and drumsticks all day. Usually I use all thighs but I had this from when I made stock. Then I toss some potatoes with the marinade and spread it all out on a sheet pan and in the oven it goes. Oh man, it is good. I overheard Picky Eater tell her sister, no, try this, it's not what you think, it's actually good.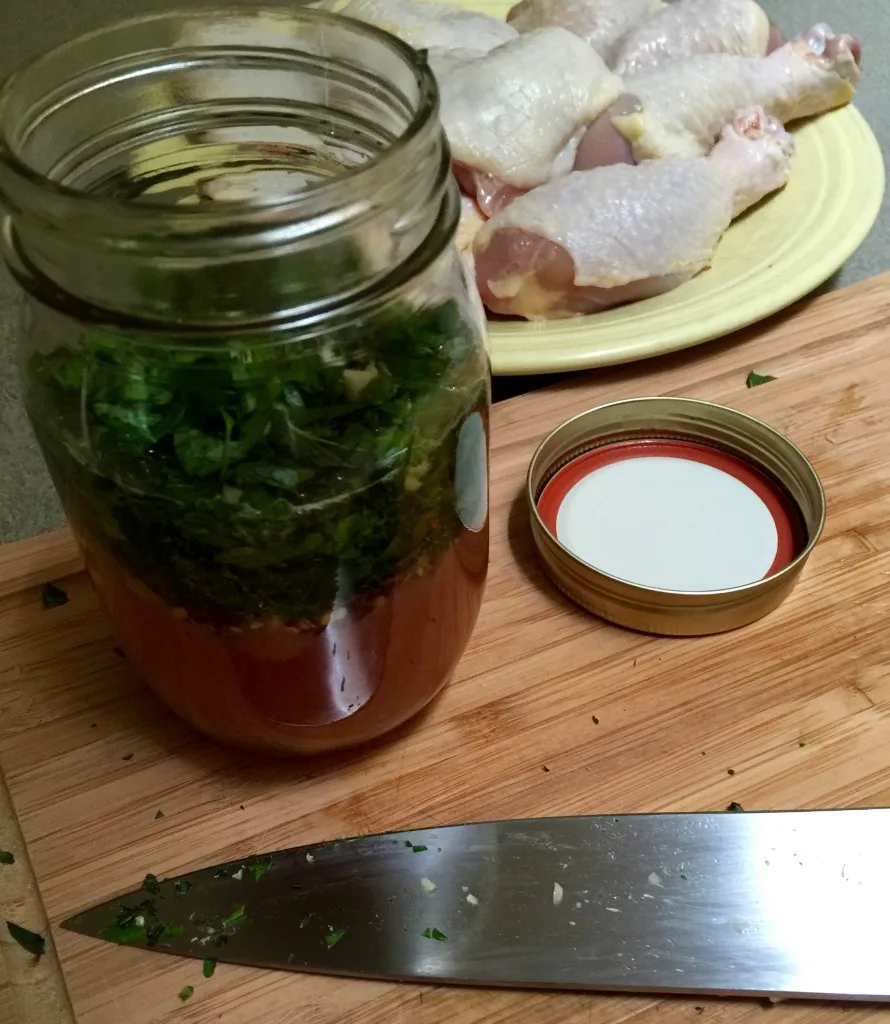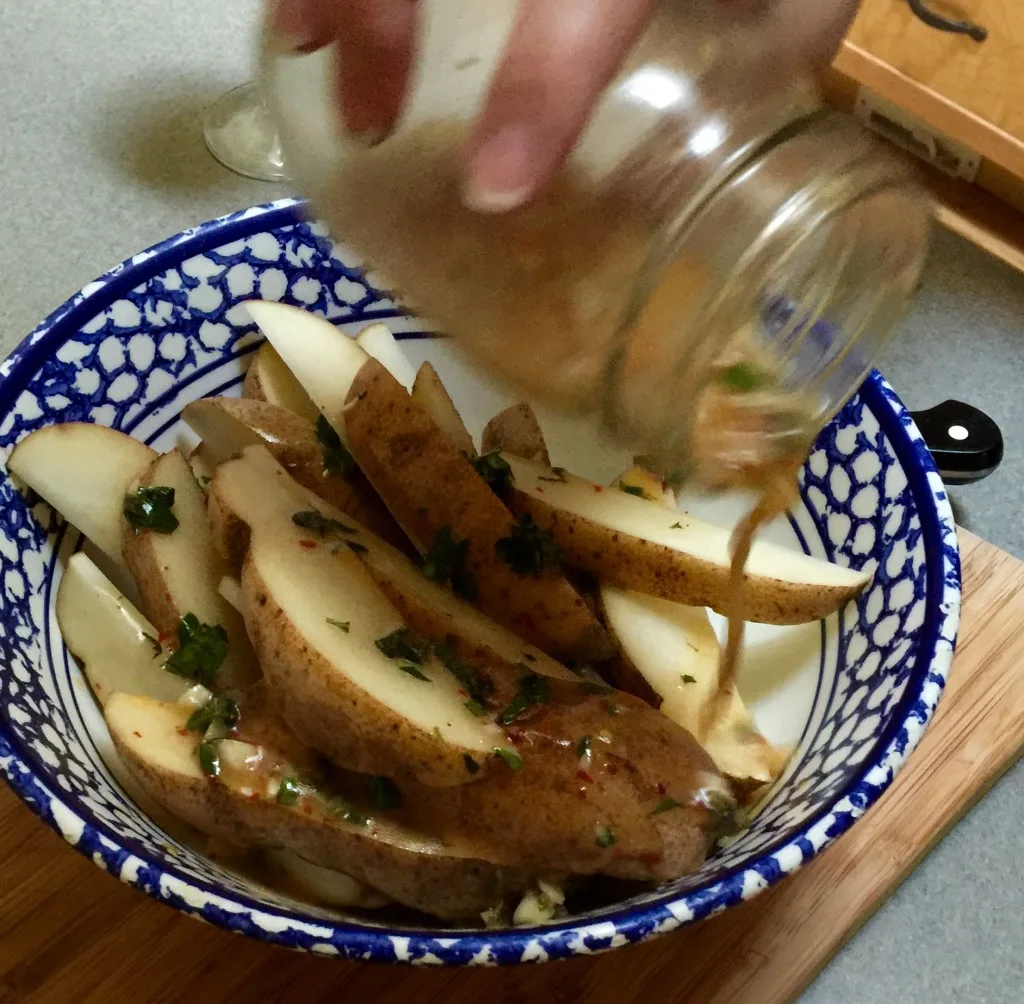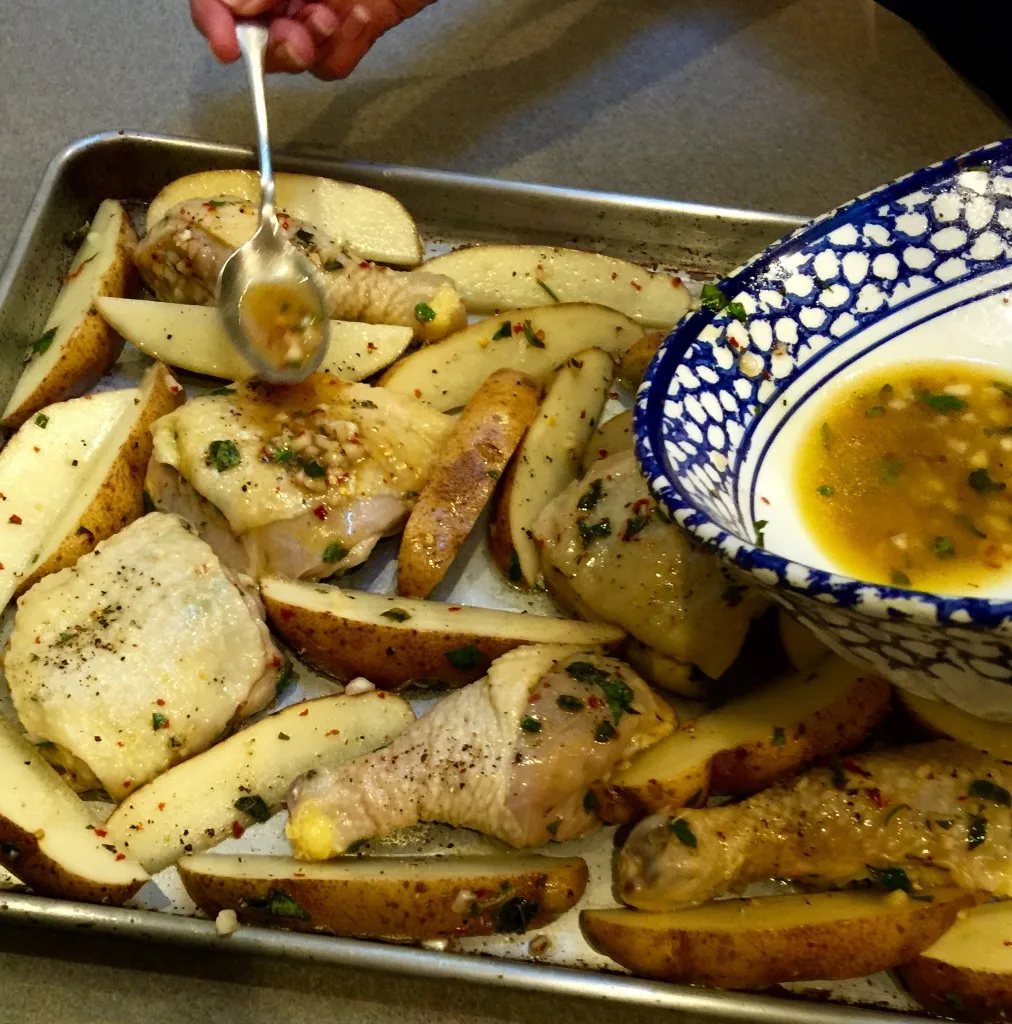 A word about the potatoes. I have used Yukon gold and russet potatoes. I like them both. You will have more pan juices with the Yukon golds than the russets. I think the russets soak up more of the pan juices which is why they are so flavorful. For that reason, I lean towards the russets. Use what you like.
This is a really good one-pan meal. It's not the Athenian Room but it satisfies the craving.
Enjoy, Kelly
Greek Chicken and Potatoes
Serves four
Ingredients:
Marinade:
¾ cup fresh lemon juice
¼ cup red wine vinegar
½ cup olive oil
¼ cup fresh oregano, minced
¼ cup fresh parsley, minced
1 tablespoon fresh thyme, minced
1 teaspoon crushed red pepper
4 cloves garlic, finely chopped
Chicken and potatoes:
4 chicken thighs, 4 drumsticks (or 6-8 thighs)
3 large russet potatoes, scrubbed, cut into wedges (or quartered Yukon gold potatoes)
Greek seasoning (I use Penzey's)
Kosher salt and fresh cracked pepper
Instructions:
Combine marinade ingredients in a mason jar and shake well to combine. Reserve ⅓ - ½ cup marinade for the potatoes.
Put chicken in a large plastic bag and pour in the rest of marinade. Seal and mix around well so all the chicken is coated. Marinate for 4 - 12 hours in the refrigerator.
Preheat oven to 375º
Put potatoes in a large bowl and toss with the reserved marinade, salt and pepper.
Remove chicken from bag, shaking off excess marinade and arrange evenly on a sheet pan. Sprinkle with Greek seasoning and salt and pepper. Discard the chicken marinade in the bag.
Place potatoes evenly around the chicken. Spoon any remaining marinade in the bowl over the chicken pieces.
Bake in the middle of the oven for 1 hour.
Carefully drain some of the pan juices into a small bowl. Put the chicken back in the oven for another 10-15 minutes. Meanwhile, put the drained pan juices in a fat separator or skim off the fat. Reserve and keep warm.
Check that potatoes are done and pull out of oven and pour reserved defatted pan drippings over chicken and potatoes. Transfer to a serving platter, scraping up any of the brown bits in the pan.
Chow down and try not to make a pig out of yourself.
* Marinade adapted from Relish