I keep mentioning in my recipes to use homemade stock if you have it. So I thought I'd let you know how to make really good chicken stock. I usually get a whole chicken, throw it in a pot with some aromatics, cover with water and simmer a few hours. I've seen recipes for stock that call for three whole chickens. Holy moly, I don't have a big enough pot for that.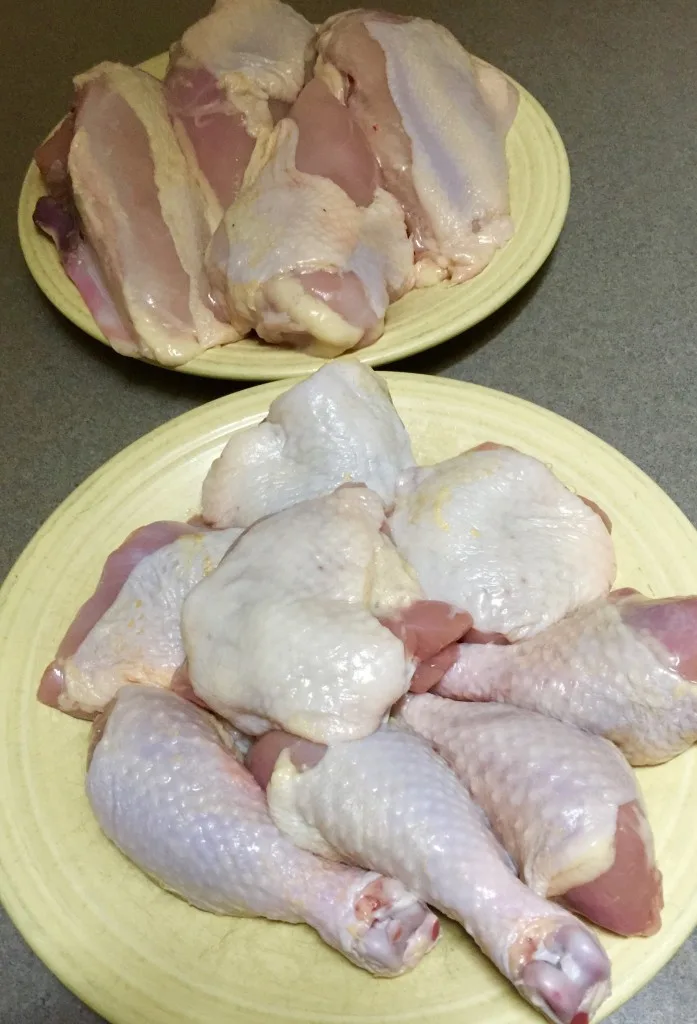 I was at Costco and decided to buy whole chicken and it came two in a package. Each chicken was about 5 pounds, perfect. I figured I'd use one for stock and we'd cut the other one up for the grill. I had never cut up a chicken. Here is a great little tutorial from Melissa Clark of the NY Times. It is not hard at all. Not only did I cut up two chickens but I had the backs to use for the stock. Into my stockpot I put two backs, two necks and four wings. I had four beautiful breasts that became chicken salad, and the eight thighs and drumsticks were tossed on a sheet pan with potatoes for some delicious Greek chicken. You can also make chicken rice soup with some of the hot stock, and freeze the rest.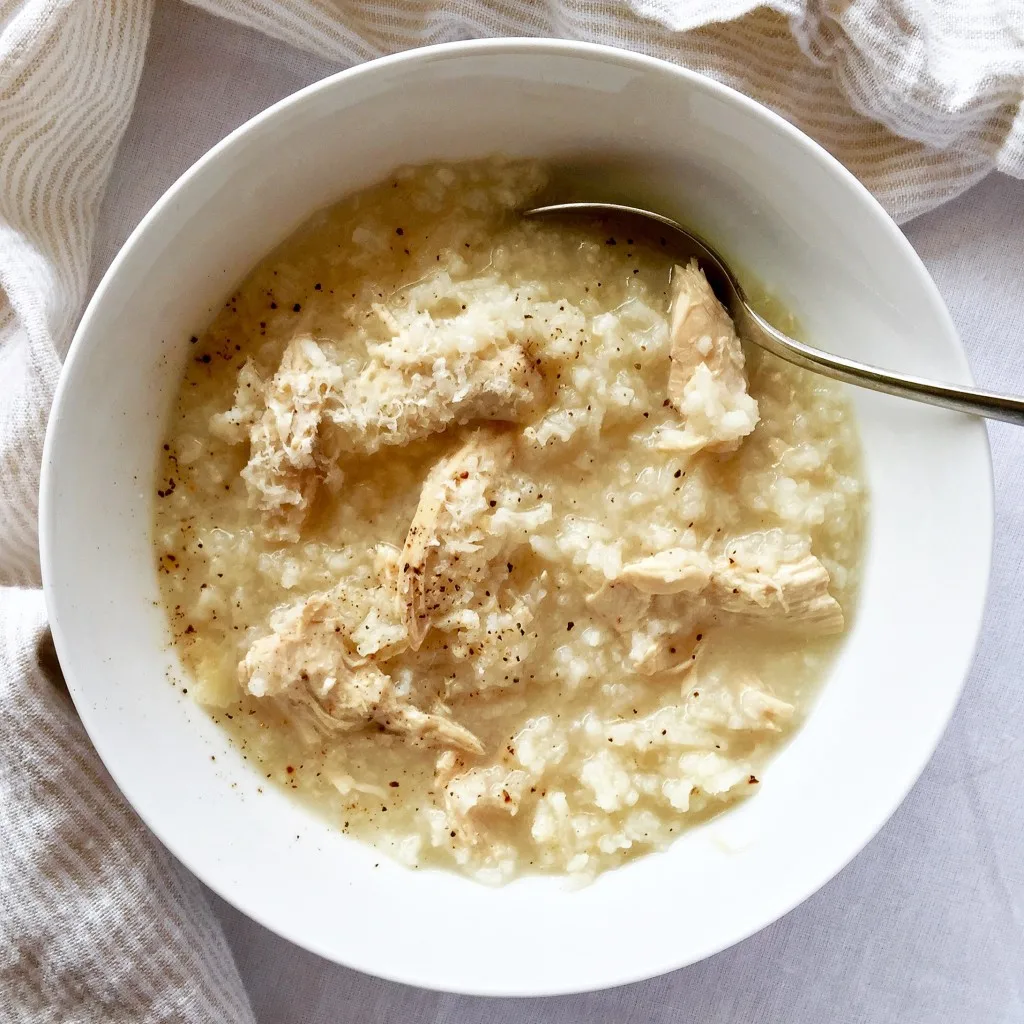 Back to the stock. Raw chicken grosses a lot of people out. I know people who only will use boneless, skinless breasts and will only touch with a fork. This is not for the squeamish. When I was 14 years old, I worked in a broasted chicken takeout place. I did everything at that place and I probably shouldn't have done half the things I did at age 14, where were the child safety laws? Anyway, one of my jobs was to clean chicken. Cases of chicken. I had to pull off any extra fat and dig my thumb in the bone in the back of the thigh to remove the kidneys. It was pretty gross but I think maybe that's why raw chicken and touching it, cleaning it, cutting it up doesn't bother me at all.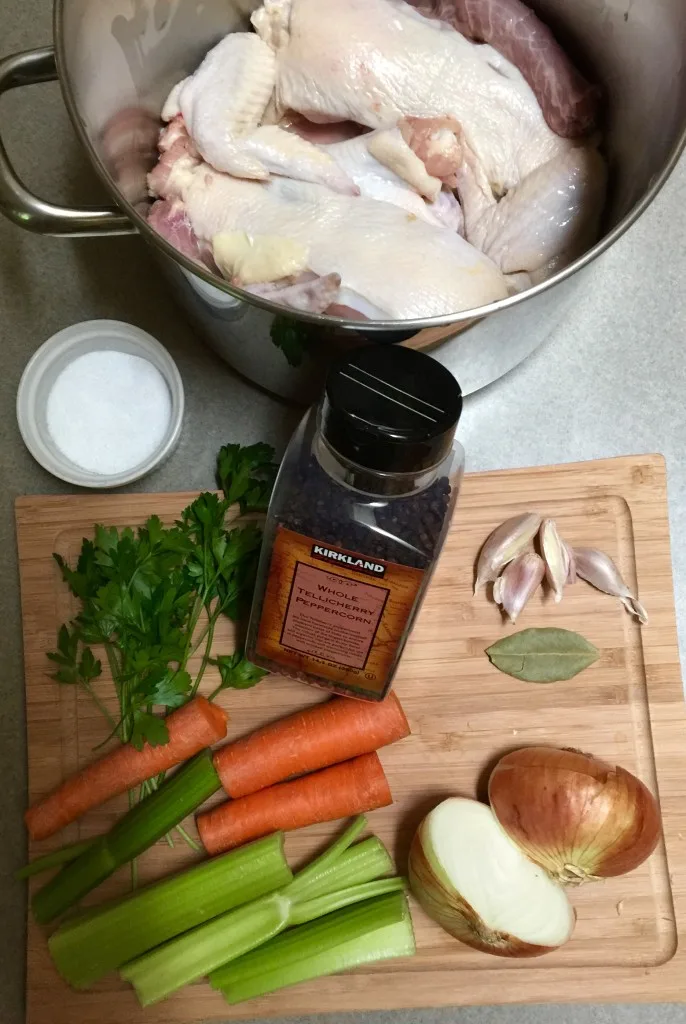 So you have this chicken all cut up. Use the backs and wings for the stock. And there will be a little bag in the chickens with some more gross stuff in it. Use the necks in the stock. Pull off any excess skin and toss the necks in the pot. The other stuff in the little bag does gross me out and I discard it.
Now you add some carrot, celery, onion, parsley, bay leaf, black peppercorns and garlic and then cover it all with water. It's going to simmer for about 3 hours and then you will have chicken stock. Good stuff.
I usually put the stock in different size containers and pop them in the freezer, usually 4-cup, 2-cup and 1-cup sizes. You will be glad you did it this way because it's more economical, you get lots of chicken and you now have homemade stock to make your recipes the best.
Try this way and make your own stock. Have fun and don't be chicken.
Best, Kelly
Chicken Stock
Makes about 4 ½ quarts
Ingredients:
2 chicken backs, excess fat and kidneys removed (yes, dig out the kidneys with your thumb, you can do it!)
2 chicken necks, skin removed
4 chicken wings
6 quarts cold water
2 medium carrots, washed (no need to peel), cut in half
2 ribs of celery, cut in half
1 onion, unpeeled, cut in half
1 bay leaf, slightly crushed/torn to release oils
8 sprigs Italian flat leaf parsley
½ teaspoon whole peppercorns
4 cloves of garlic, smashed
2 tablespoons kosher salt
Instructions:
Put the chicken backs, necks and wings in a large stock pot and cover with 6 quarts of cold water. Put on stove and bring to a boil. Once boiling, turn down to low and simmer gently, partially covered, for 1 hour. With a large spoon, skim off the scum and fat as it appears and put aside in a bowl.
Add rest of ingredients and simmer 2 to 3 more hours. If making chicken rice soup, add the extra breasts or legs to the pot now and simmer 1 hour and then remove to plate to cool.
In a large colander lined with a flour sack towel and set over another pot in the sink, drain pot of chicken and vegetables through the strainer, pushing gently on the chicken and solids to extract all the flavorful stock.
Let cool completely and refrigerate overnight. (If making soup now, measure 8 cups of hot stock into another pot and see footnote.) The next day, remove any fat that hardened on the surface. There won't be much if you skimmed all the foam well.
Ladle your stock into containers and refrigerate some to use now and freeze the rest.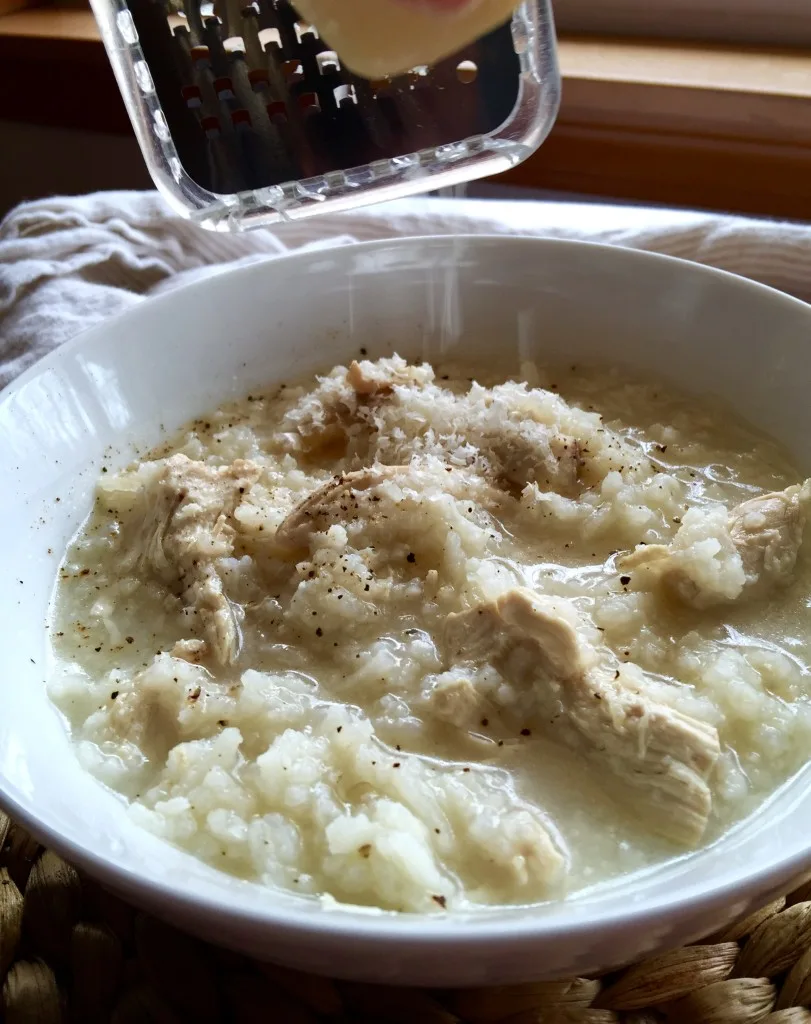 Note:
To make chicken rice soup, put 8 cups of hot stock into a pot. Add 2 cups white long grain rice and simmer for 10-15 minutes. Add the shredded cooked meat from 2 chicken breasts or 2 whole legs. Heat through. Ladle into bowls and sprinkle with sea salt, cracked pepper and freshly grated Parm. I like to rinse the rice several times in a bowl, swirling until the water is cloudy, discarding the water and adding more, swirling and discarding until water stays relatively clear. Then I let it soak in cold water about 30 minutes before adding to the simmering stock. You can cook the breasts or legs in the stock for 1 hour, remove and let cool, and then shred for soup.