Greek Baked White Fish, simple rendition of the Greek church's baked white fish served every Friday for lunch. Using frozen white fish, lemon, butter, Greek seasonings and an unexpected topping of crushed canned fried crispy onions.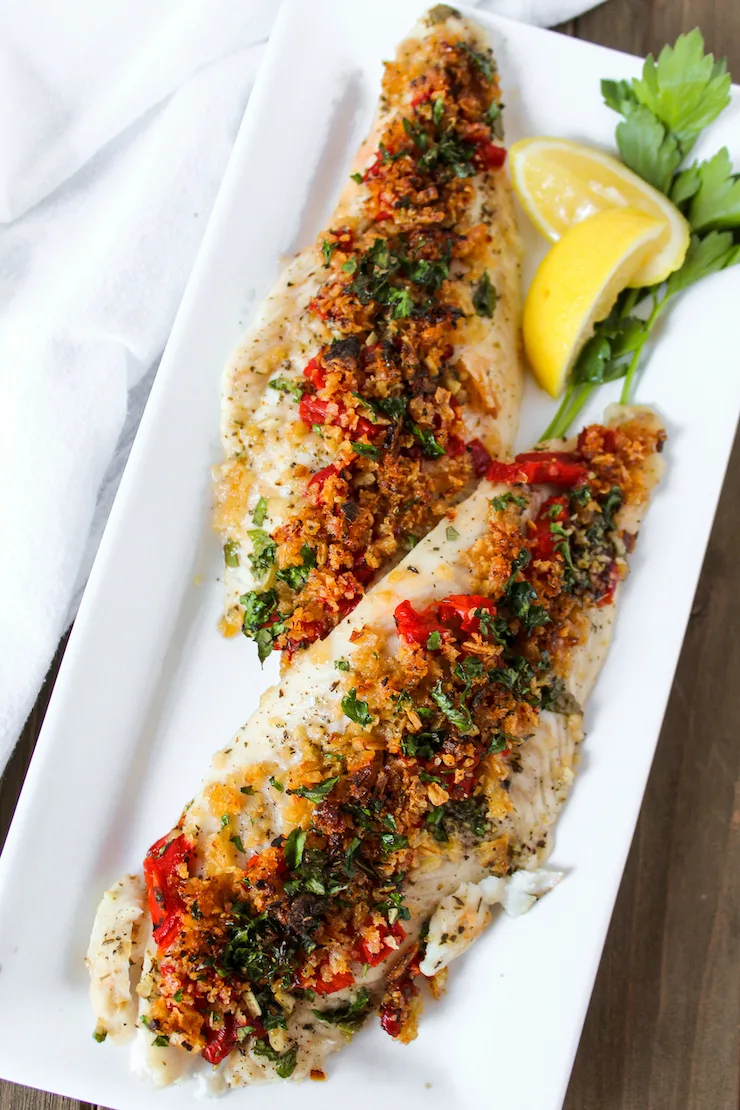 There are a few Greek churches here in St. Louis that have big festivals every year with tons of food and music and dancing and all sorts of fun stuff. Assumption Greek Orthodox Church also has a Friday luncheon year round. I usually work Fridays so I never thought about it.
But this past spring, I had a few Fridays off and we got to go for lunch. I'm crazy about this lunch. The menu changes each week but always has a couple of entrees, a vegetable and rice, soup and gyros and salads and desserts, think baklava.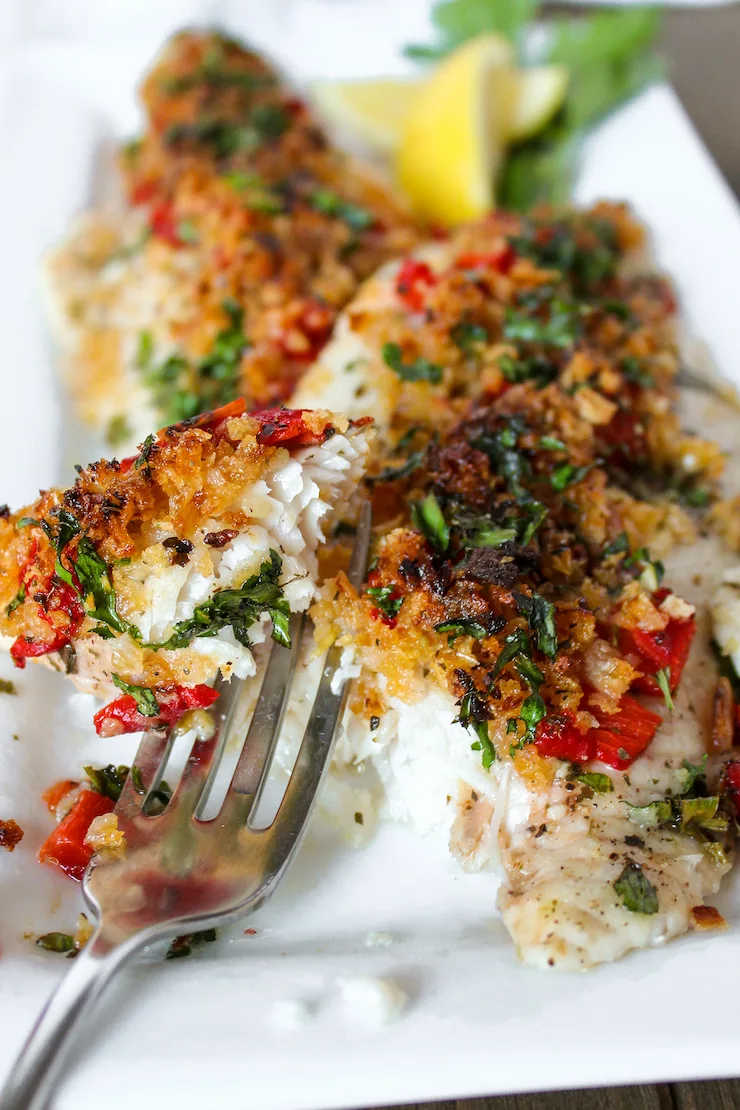 One dish they have every week is their rendition of Greek baked white fish. Big sheet pans of fish come out of the kitchen and look absolutely amazing. I have asked several times what kind of fish is this? The volunteers working the lunch are just the sweetest. The cashier said it's just white fish, don't know the name but it doesn't ever smell and is mild.
The gentleman serving me one Friday said in a thick Greek accent "It's just white fish...with vegetables and pimento...lemon and margarine". He was so cute trying to explain how they make it to me. My husband and daughter would listen to me rave about my fish while they dug into their pastitsio and honey chicken. Picky Eater loves pastitsio and baklava, both of which I have made at home.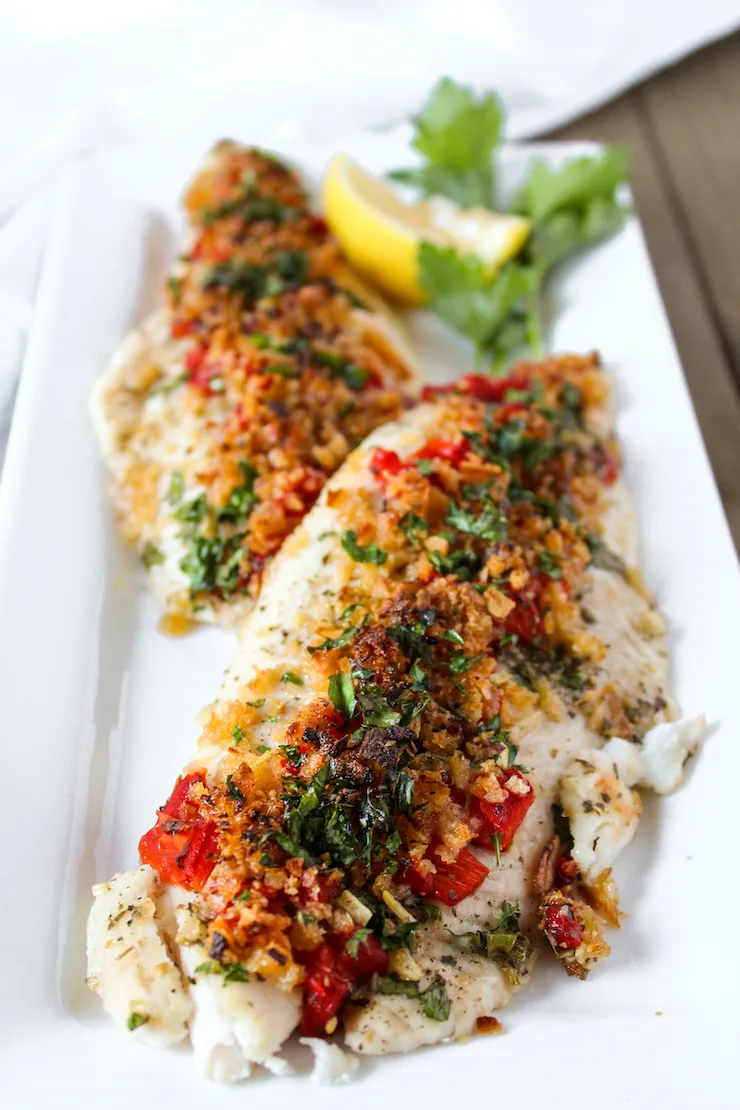 Guess what? A couple of months ago the recipe was in the newspaper! Yep, the column where people ask for their favorite recipe from an area restaurant. I was so excited, so much so that my family thought I was a little wacko about it. And I was really surprised by one particular ingredient -- French's French Fried Onions. The stuff I've only seen on green bean casserole but never tried.
And the white fish nobody could identify for me is swai. Apparently it is a Vietnamese catfish with a mild taste and flaky texture. Who knew? It is inexpensive and my grocery stores carry it in the frozen seafood section. I have seen it "fresh" in the seafood counter but you want it frozen, I'll explain why later.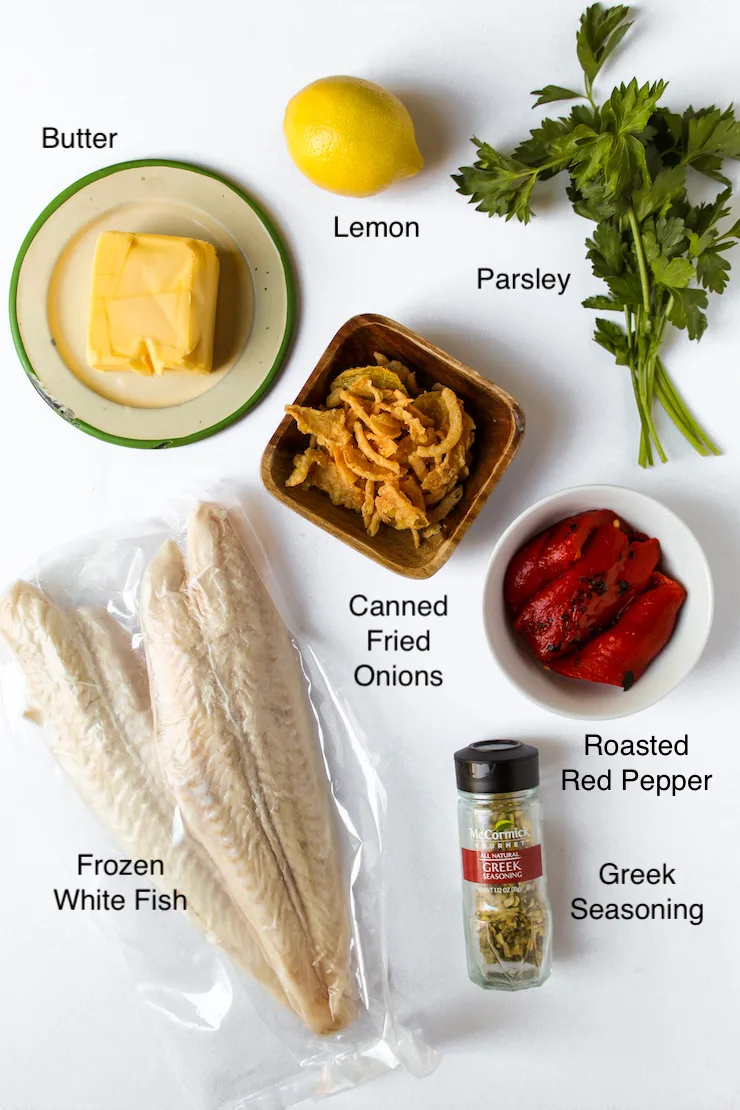 Well, I have been making this at home now almost every week. It tastes just like Assumption's. It is really, really good. They say to use frozen swai because the lemon and butter (not margarine) hardens on the frozen fish and melts into the fish as it bakes.
They also recommend using European-style butter like Plugra, Kerrygold or Lurpak. The recipe is per piece of fish so just make as many as you want. I often make two, sometimes three, Picky Eater is just starting to warm up to it. At least it's not salmon she says.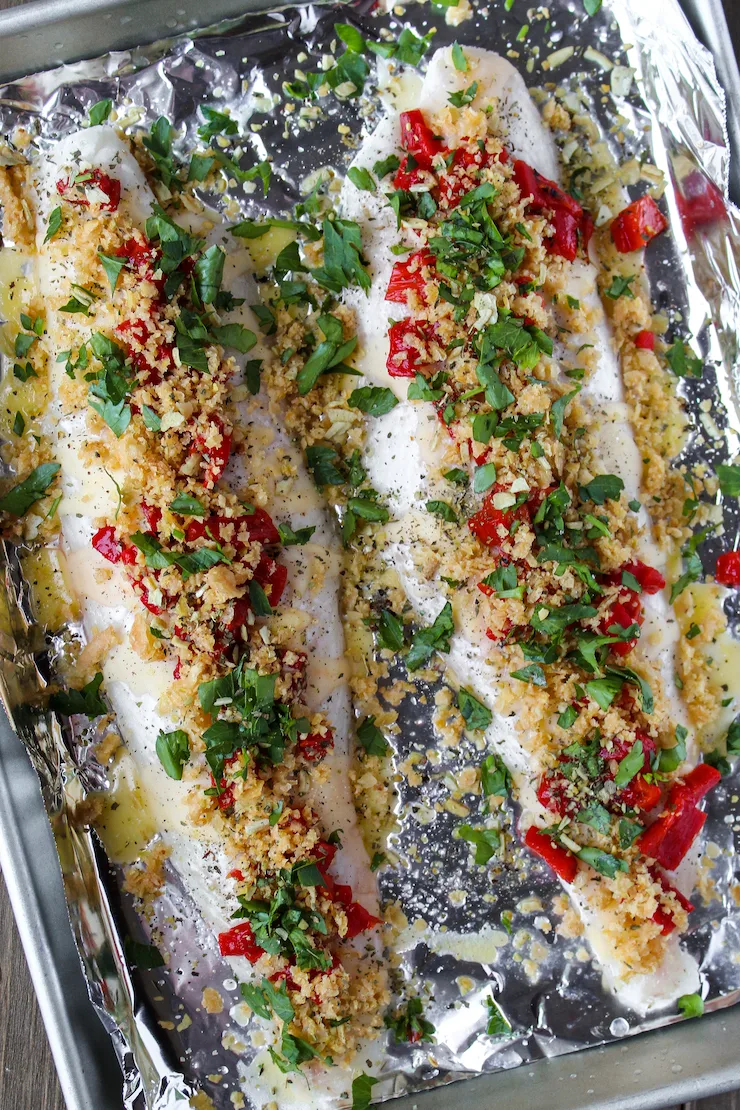 I'm not sure if this is considered Greek-style but it is to me. Thanks Assumption for sharing how you make your baked white fish. Try it, it's really good. Better yet, head over to their Friday lunch some time. Best, Kelly🍴🐦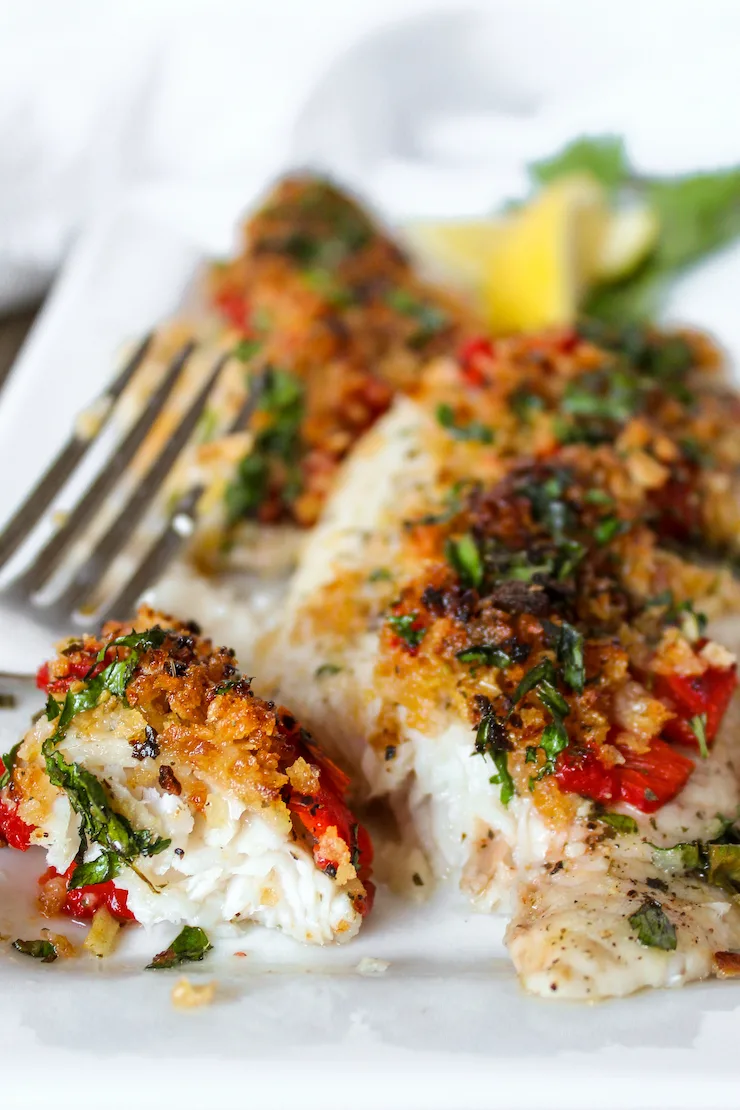 If you share my love for Greek food, then you have to try my recipes for Pastitsio and Baklava, both given to me from my Greek friend who taught me how to make her authentic family dishes. They are superb!
HUNGRY FOR MORE? Subscribe to my Newsletter and come hang out with me on INSTAGRAM, or give me a follow on FACEBOOK or see what I'm pinning on PINTEREST.
Greek Baked White Fish
Simple take on Greek Church luncheon's baked white fish ~ this is how to make one piece, can adjust to how many pieces you want to make. Using frozen Swai, it's a quick, easy and economical weeknight dinner.
Print
Pin
Rate
Ingredients
8 or 9

ounce

frozen swai fillet, or any mild white fish

1

tablespoon

lemon juice

1 ½

tablespoon

butter, European-style, melted

½

teaspoon

roasted garlic seasoning or Greek seasoning

1

tablespoon

diced roasted bell pepper (I use jarred I find in the pickle aisle)

1

tablespoon

crushed French's French Fried Onions (I put in a small plastic bag and crushed with a rolling pin)

1

tablespoon

chopped fresh parsley
Instructions
Heat oven to 400º.

Line a sheet pan with foil and place frozen fish on it.

Drizzle lemon juice and melted butter over fish. I squeeze half a lemon over each piece.

Sprinkle with the seasoning. Any roasted garlic seasoning will work. I have also used Greek seasoning I get at Penzey's. Season with a little salt and fresh cracked pepper.

Then sprinkle with diced roasted red pepper, crushed onions and chopped parsley.

Bake for 30 minutes and serve, spooning pan juices over top of fish.
Recipe Notes
Adapted from newspaper, recipe from Assumption Greek Orthodox Church.
I recommend serving over rice to soak up all the delicious sauce.
Nutrition
Calories:
202
kcal
Carbohydrates:
3
g
Protein:
23
g
Fat:
11
g
Saturated Fat:
6
g
Polyunsaturated Fat:
1
g
Monounsaturated Fat:
3
g
Trans Fat:
1
g
Cholesterol:
79
mg
Sodium:
244
mg
Potassium:
390
mg
Fiber:
1
g
Sugar:
1
g
Vitamin A:
491
IU
Vitamin C:
9
mg
Calcium:
40
mg
Iron:
1
mg
* Adapted from newspaper, recipe from Assumption Greek Orthodox Church.