Prize-winning pumpkin bars recipe for homemade pumpkin sheet cake topped with cream cheese frosting. A fall favorite that feeds a crowd!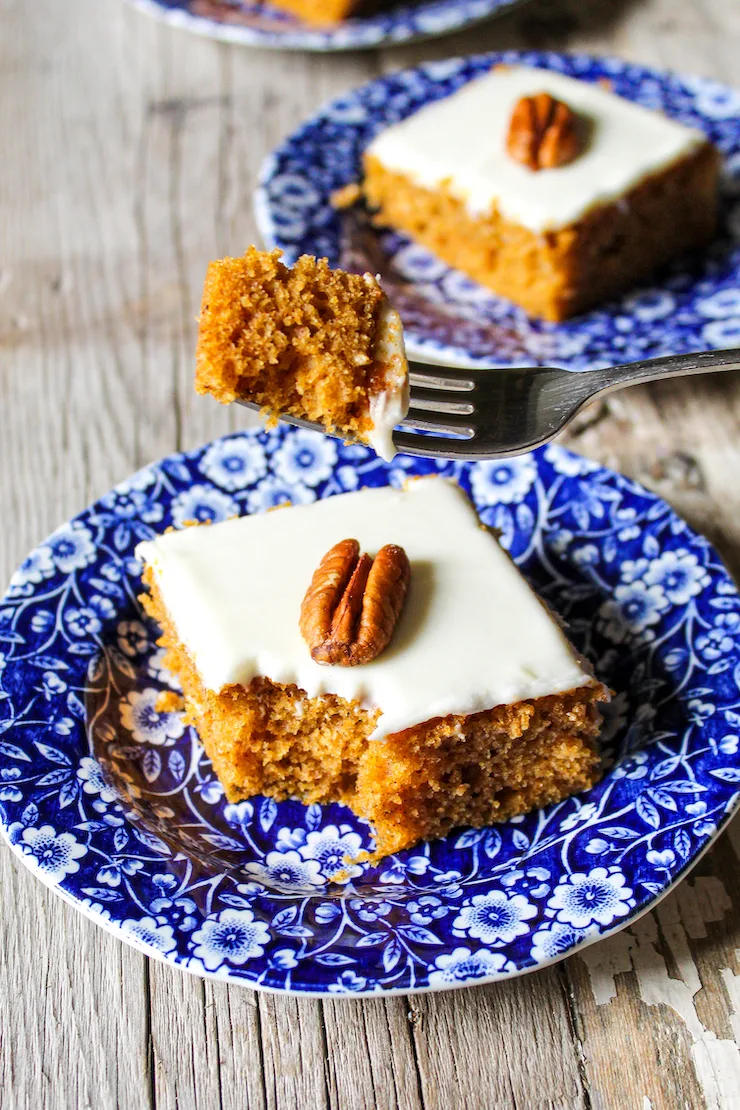 It's October and that means birthdays, Halloween and pumpkin bars in my house. I have shared two of my pumpkin recipes so far, but I think I saved the best for last. These really are prize-winning, they won a blue ribbon at the Minnesota State Fair. Not by me, by Lori Beach.
I had just moved to St. Paul, with two girls under age five and pregnant with my third. The paper that summer of 1996 had profiled Lori Beach, the State Fair winner and her recipe. These are the only pumpkin bars I've ever made, many, many times over the past 23 years. They are the best pumpkin bars and a fall favorite!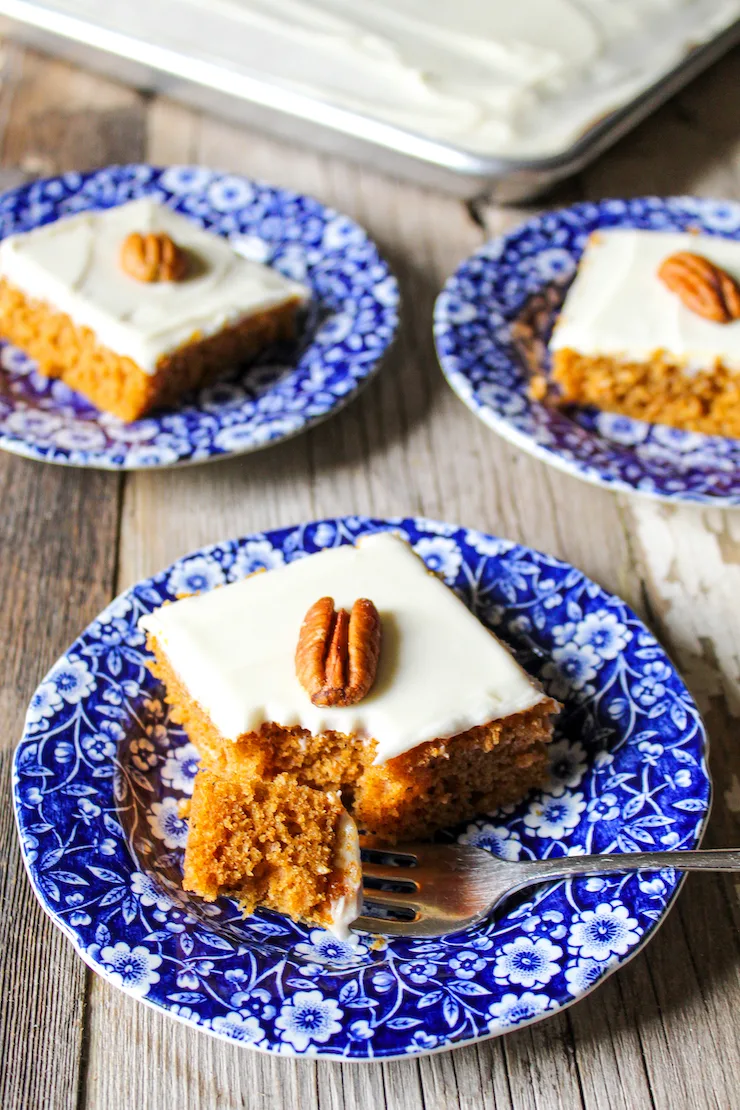 We loved going to the Minnesota State Fair every year. The fairgrounds were literally just down the street from us. Roasted sweet corn, fried cheese curds, weird things on a stick, butter sculpting, livestock barns, rides and so much more. One of the first things the girls always wanted to do was go down the big magic carpet slide, then get back in line and do it again.
The State Fair also had an infamous haunted house and my husband took my daughter who was probably five or six through it. Well, not quite. I waited outside with the other two girls. Next thing we knew, Meathead comes running out of the house with our hysterical little girl screaming and crying her head off. A bit too scary, and we had been warned, but he insisted it would be okay. I think it kind of scarred the poor girl for life.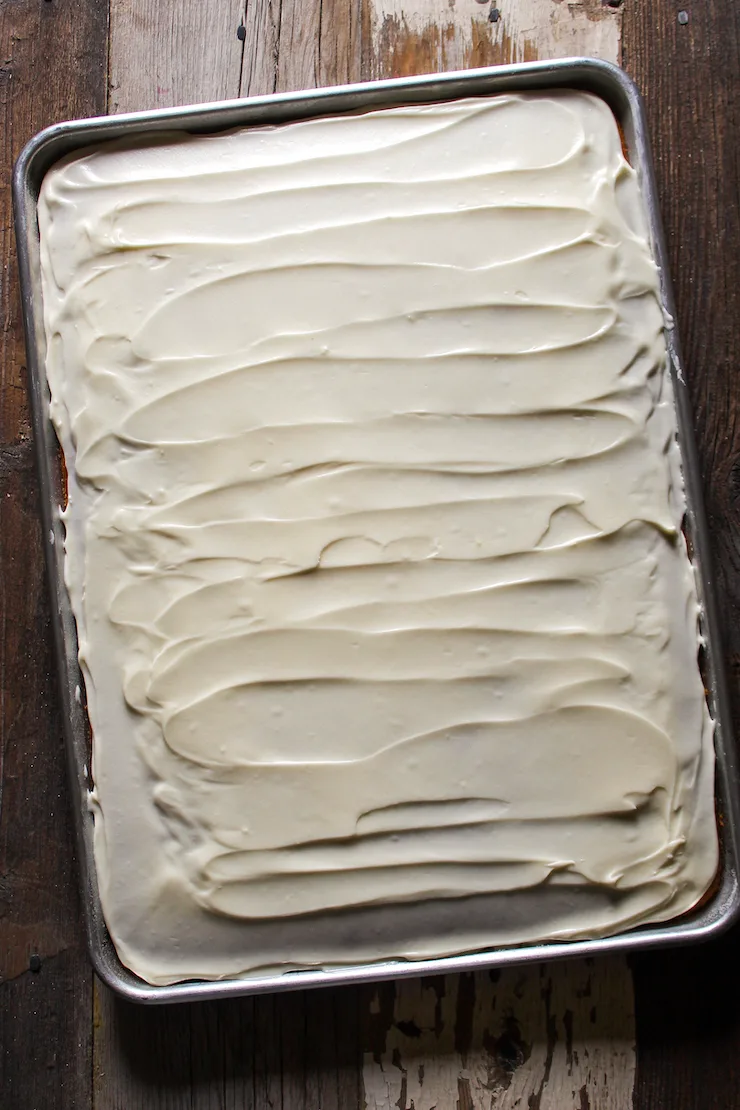 So back to these pumpkin bars. As soon as the weather feels like fall and Halloween is fast approaching, the girls ask me to make pumpkin bars. Then they started requesting them for their birthday cakes. I have also brought them to school functions, mainly for the theatre kids' rehearsals. One of Always Hungry's friends went nuts over them, told her mom, the principal, and the next thing I knew I was emailing them the recipe. They are that good.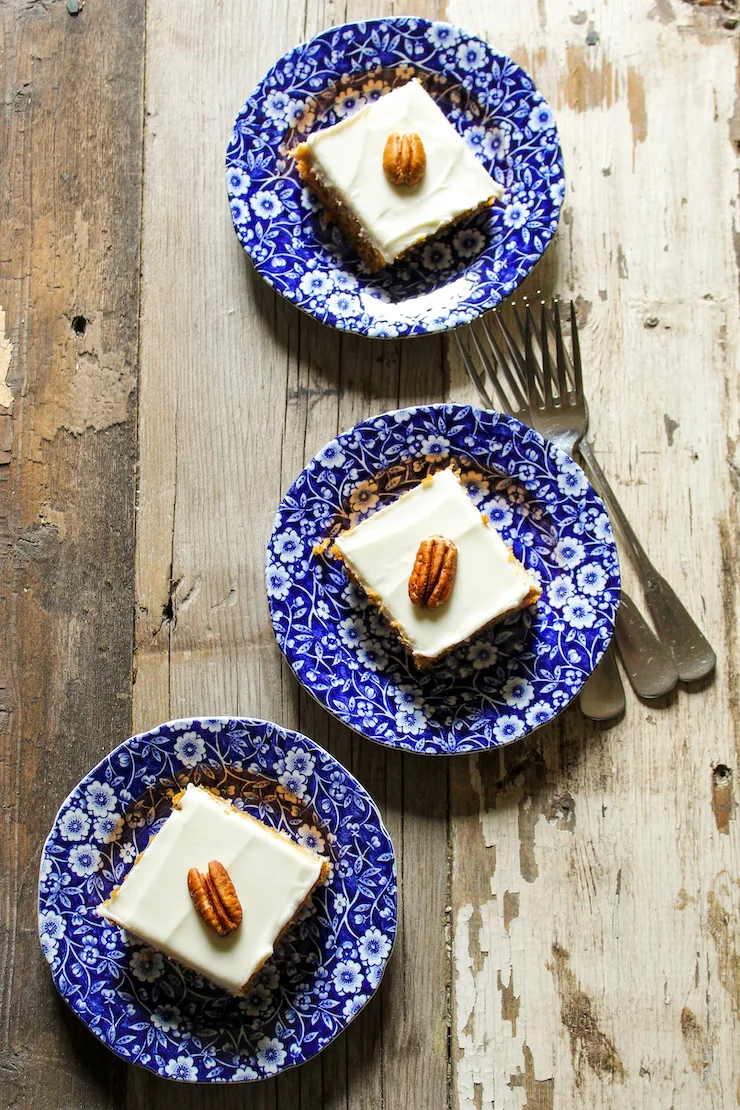 The recipe makes a big sheet pan of pumpkin cake that are cut into bars. They are moist, have just the right amount of spice, and are topped with cream cheese frosting. Can't go wrong with cream cheese and butter icing.
My sheet pan has a lid, and when they are all done and in the refrigerator, it's not long before I hear it open and close, the pan and lid hitting the counter, and the clanking of drawers and plates. Someone is always eating one, for breakfast, a snack, dessert, and then calling the last piece.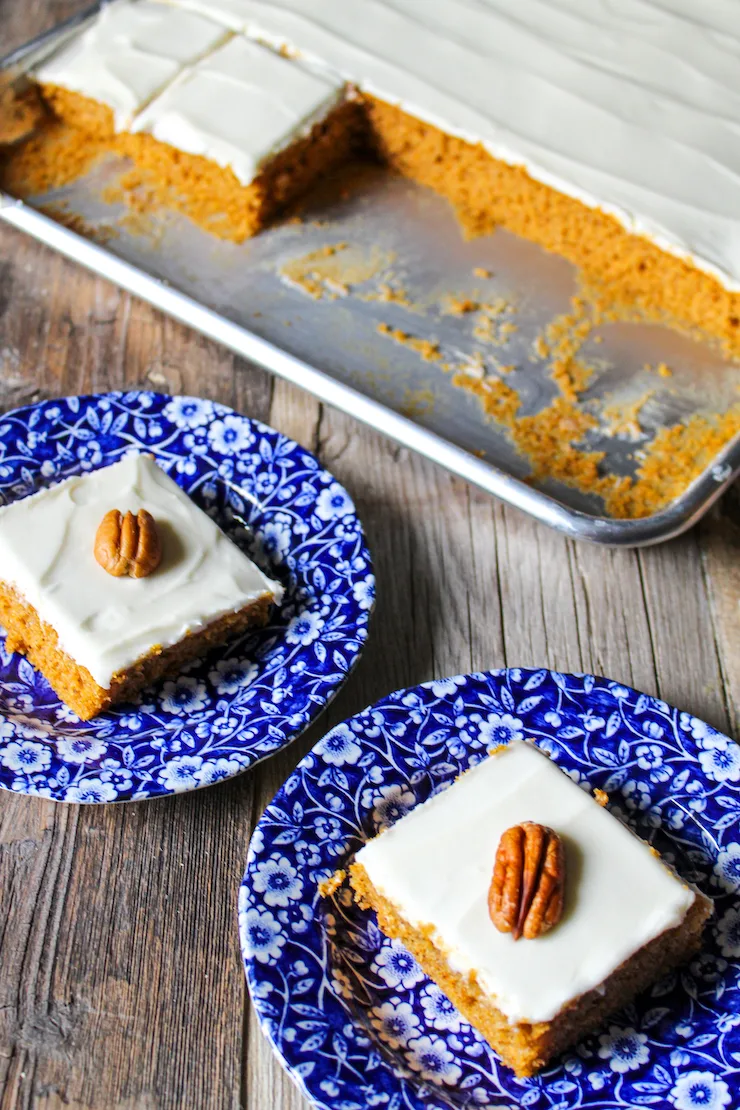 We have three October birthdays, three days apart. Picky Eater is two hours away at college and Always Hungry is in New York. We drove down to celebrate Picky Eater's birthday and brought the dog who has the same birthday. He turned 15. And I brought pumpkin bars. She was so happy, pumpkin bars and her beloved Buddy. Her other sister is also at the same college and they divvied up the pan. The Vegetarian (sort of) said all her roommates and boyfriend loved these pumpkin bars.
Thanks Lori Beach, for sharing your prize-winning recipe with us so many years ago. They are a tradition and a favorite in our house. Here's the recipe girls, you can make them yourselves now. And smile and think of all the great times we had in Minnesota. Enjoy, Kelly🍴🐦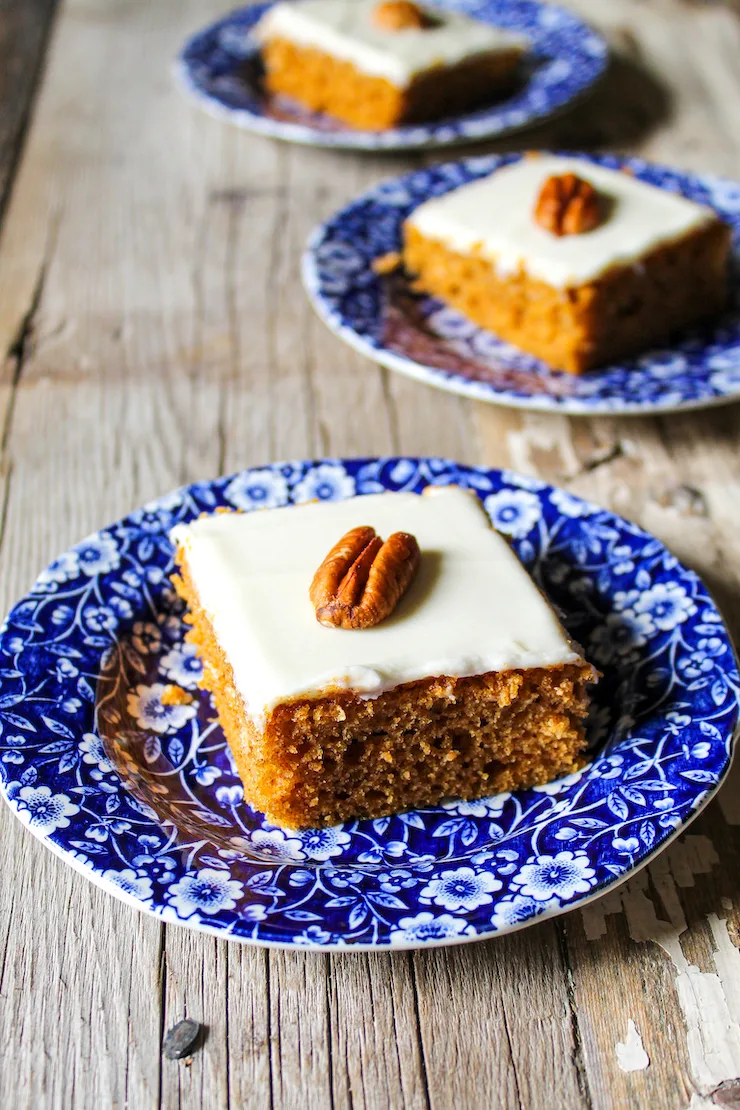 You might also like this Pumpkin Praline Bread, another fall favorite, and Pumpkin Chocolate Chip Muffins.
HUNGRY FOR MORE? Subscribe to my Newsletter and come hang out with me on INSTAGRAM, or give me a follow on FACEBOOK or see what I'm pinning on PINTEREST.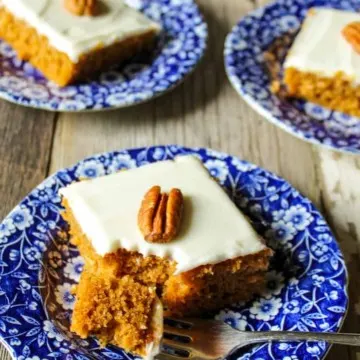 Prize-Winning Pumpkin Bars
The best homemade pumpkin bars topped with cream cheese frosting. A fall favorite that feeds a crowd!
Print
Pin
Rate
Ingredients
2

cups

sugar

1

cup

vegetable oil

4

eggs

1

can

pumpkin

15 oz

2

teaspoons

baking powder

1

teaspoon

baking soda

½

teaspoon

salt

2

teaspoons

cinnamon

½

teaspoon

ground ginger

½

teaspoon

ground cloves

½

teaspoon

ground nutmeg

2

cups

all purpose, unbleached flour

6

ounces

cream cheese, room temp

6

tablespoons

unsalted butter, room temp

1

tablespoon

milk

1

teaspoon

vanilla extract

2

cups

powdered sugar, sifted (original recipe calls for 4 cups, too much for me)
Instructions
Preheat oven to 350º. Grease and flour a 12 x 18 jelly roll pan (baking sheet with a rim).

In a mixer, combine sugar and oil and mix well. Add the eggs, one at a time, and beat well. Next, beat in the pumpkin.

Combine the baking powder, baking soda, salt, spices and flour in a bowl with a whisk. Gradually add the dry ingredients to the mixer, blending well after each addition, until all is mixed well and and batter is smooth.

Spread batter evenly into prepared pan. Drop pan on the counter a few times to release air bubbles. Bake for 25 to 30 minutes, until evenly golden, but not dry. Let cool for at least 1½ hours.

Make frosting by beating together cream cheese, butter, milk and vanilla until smooth. Gradually beat in the powdered sugar. Spread the frosting over the completely cooled bars.

Chill or freeze before cutting into bars of desired size. Keep refrigerated.
Recipe Notes
Top with pecans, whole or chopped, or toasted pumpkin seeds, if desired.
Adapted from the Minneapolis Star Tribune, August, 1996. Lori Beach's Prize-winning Pumpkin Bars.
Nutrition
Calories:
284
kcal
Carbohydrates:
35
g
Protein:
3
g
Fat:
15
g
Saturated Fat:
5
g
Polyunsaturated Fat:
6
g
Monounsaturated Fat:
4
g
Trans Fat:
1
g
Cholesterol:
42
mg
Sodium:
163
mg
Potassium:
35
mg
Fiber:
1
g
Sugar:
27
g
Vitamin A:
227
IU
Vitamin C:
1
mg
Calcium:
36
mg
Iron:
1
mg