Instant Pot Pho Ga, classic Vietnamese chicken pho noodle soup made easy in the pressure cooker. Authentic tasting pho at home, as good as your favorite Vietnamese restaurant.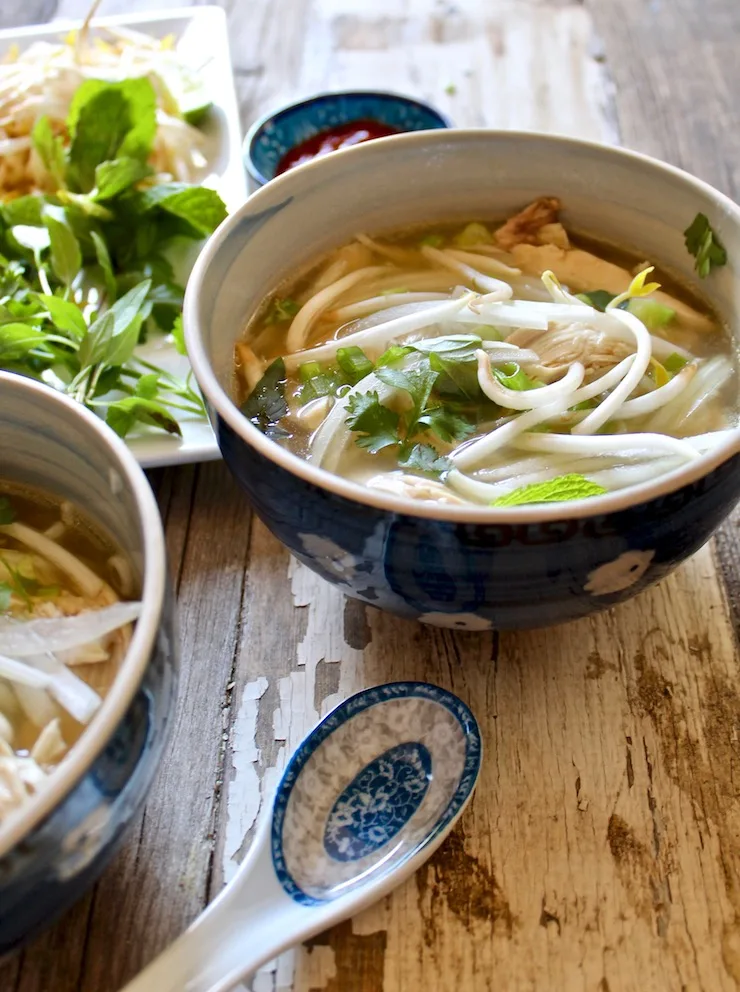 One of my favorite things ever, of all time, is Vietnamese pho ~ pronounced "fuh", not "fo". I could eat a steaming bowl of this Vietnamese noodle soup for breakfast, lunch and dinner.
While my preference is the beef version (Pho Bo), the chicken version known as Pho Ga is what I decided to make at home when I got an Instant Pot. Instant Pot Pho Ga is a delicious, steamy bowl of Vietnamese chicken noodle soup ~ my favorite comfort food in a bowl.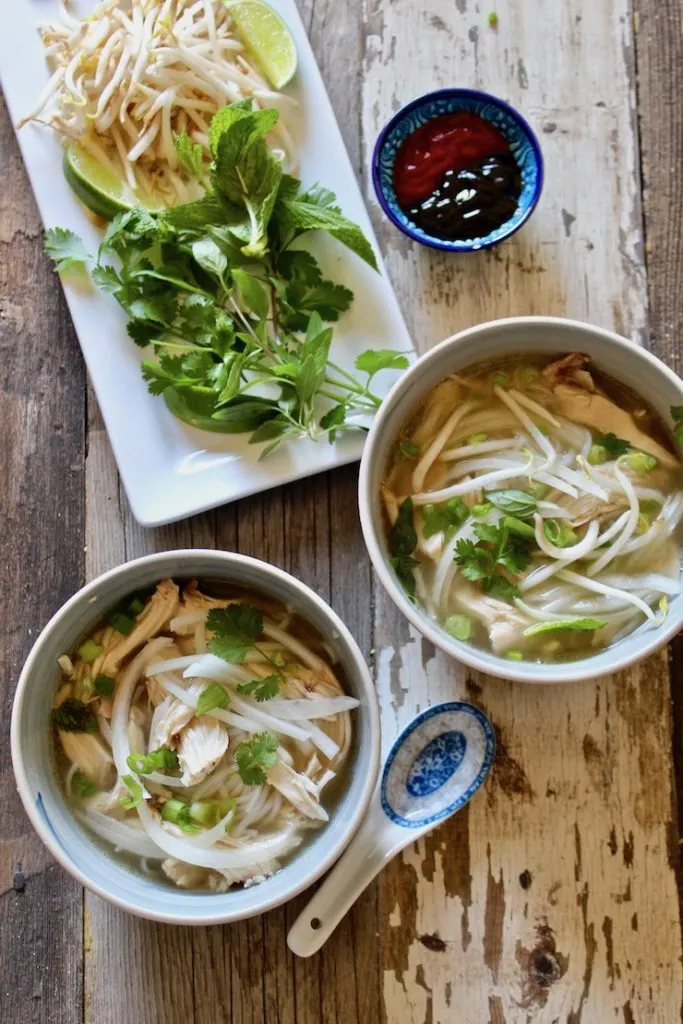 I discovered pho over twenty years ago when we moved to St. Paul, Minnesota. St. Paul has a large Hmong and Vietnamese population, with many mom and pop restaurants lining University Avenue. It was at just such a place, housed in a little white house on a hill, that I discovered Vietnamese food and, more specifically, pho.
I remember watching other diners slurping pho and when I said, "I'll have what they're having", the server brought me a steaming bowl of pho bo and showed me how to eat it ~ which condiments to add, how to doctor it up before that first spoonful.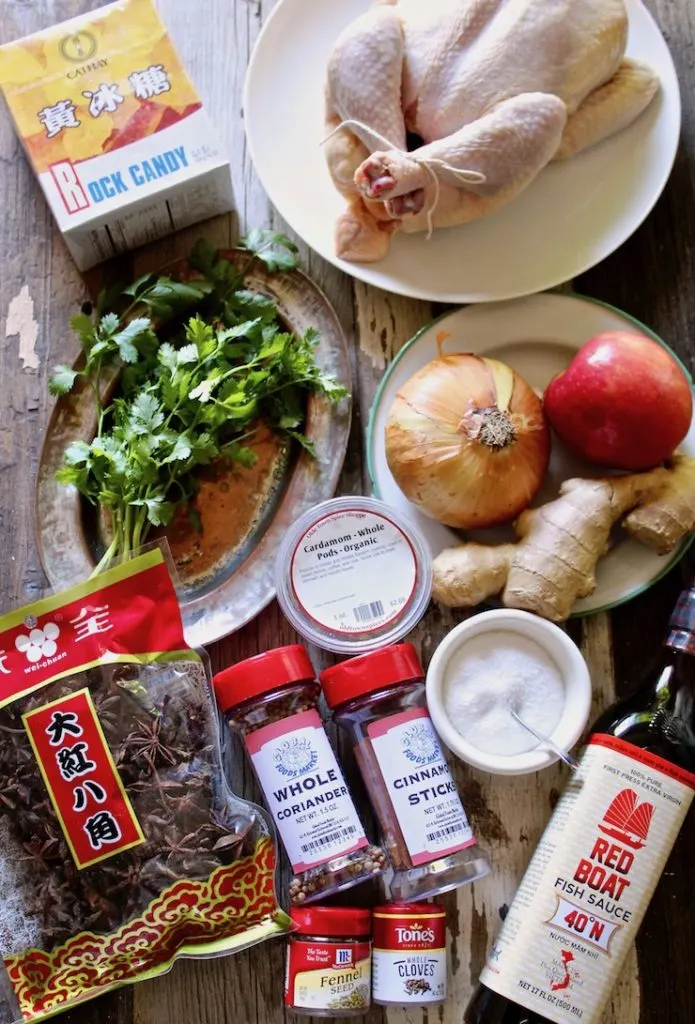 What is pho?
Pho is basically a long simmered, flavorful broth with aromatics, with the addition of beef or chicken and bahn pho (flat rice noodles). It is served with condiments like hot chile sauce, bean sprouts, fresh basil and cilantro. Chicken pho is milder, more delicate than it's beef counterpart, and easier to make at home, especially in a pressure cooker.
I did a lot of research, and was most inspired by this pho ga recipe from Andrea Nguyen that she has shared from her cookbook. After reviewing several recipes and my own experience eating many bowls of pho, I came up with an Instant Pot version of pho ga that can compete with some of my favorite restaurants. It's not hard but it may be your first time for some ingredients, like fish sauce.
Oh, there are many brands out there and some are pretty bad. I like Red Boat, which is at the top of many "best tasting" fish sauce lists, Three Crabs Brand is also good. I buy it at my favorite grocery for specialty food items (Global Foods Market in St. Louis, Missouri). I pretty much get all my ingredients for chicken pho at Global Foods, I doubt you'd be able to find all of it at a regular grocery.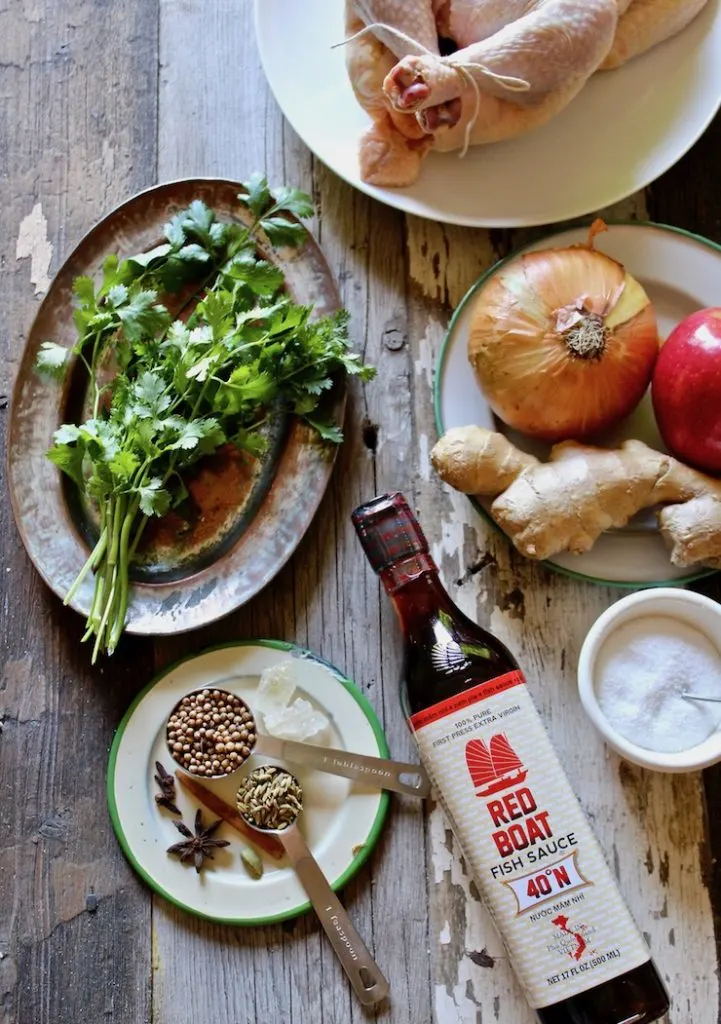 I've tried this with a whole chicken and with just thighs. Both are good but my preference is the thighs. It's just easier in the pressure cooker and we're not huge fans of chicken breasts.
After the chicken and broth has finished cooking, it's time to assemble the bowls of pho. You start with bahn pho noodles in the bottom of the bowl, add some shredded chicken and then ladle the boiling hot broth over the top.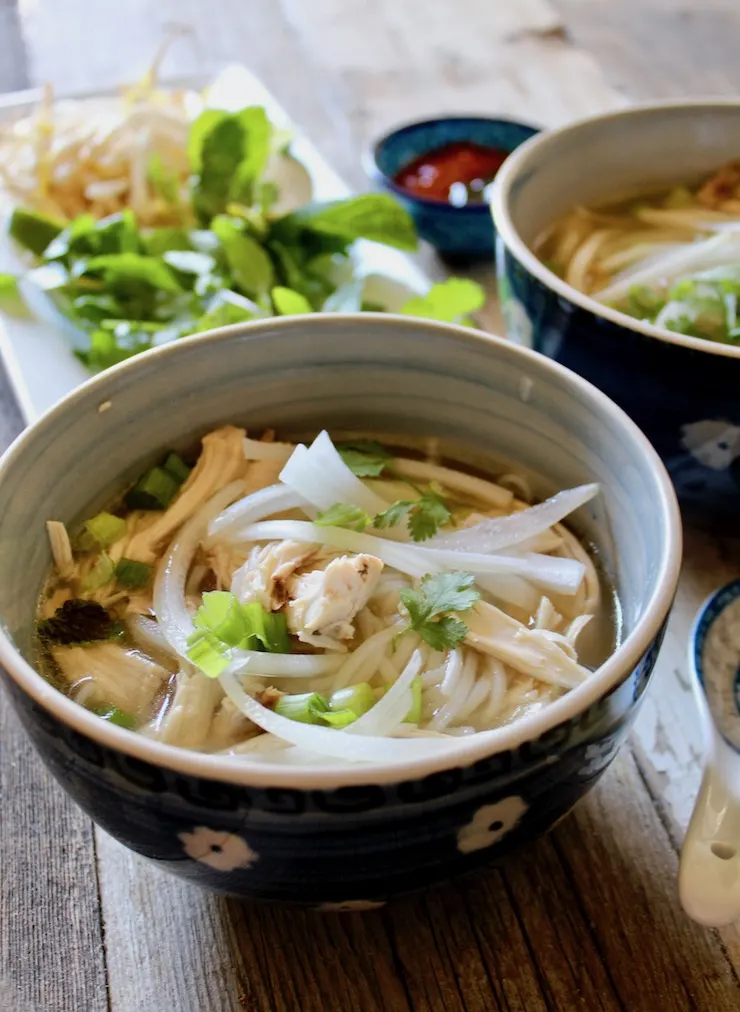 The condiments cause some debate so I'll just tell you what I put out and let you decide ~ Sriracha sauce, hoisin sauce, bean sprouts, Thai basil, cilantro, jalapeño slices and lime wedges. Hoisin sauce isn't typically served with chicken pho, it's served with the beef version, but I like it.
And I'm a dipper, so I squirt Sriracha and hoisin in a small saucer, swirl my noodles and chicken on a fork and swipe into my little sauce bowl. Most normal people add the hot sauce and hoisin to the soup and mix. Sprinkle with some sprouts, add lots of Thai basil and cilantro and a squeeze of citrus, if you'd like (I don't).
Once I tried this Instant Pot Pho Ga, I was hooked. I'm so happy I've learned how to make this at home. I now have the courage to, at some point, try the beef version. And bahn mi sandwiches, too, my other favorite thing to order. Until then, happy slurping! xxo- Best, Kelly🍴🐦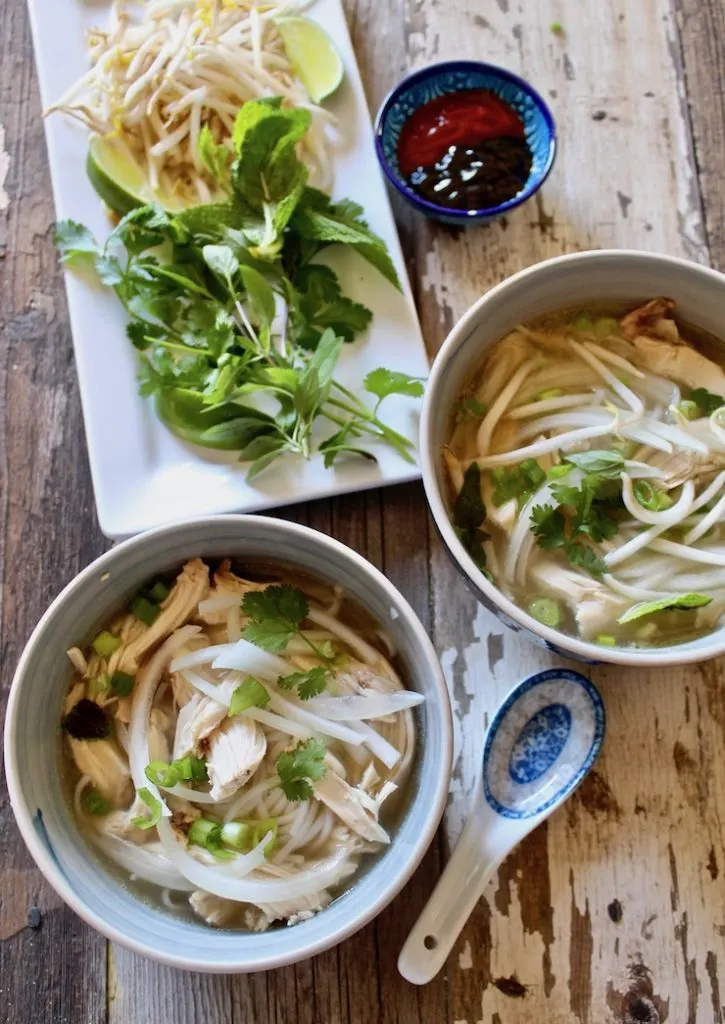 You might also like my recipes for Shrimp Pad See Ew and Wafuu Chicken Curry.
HUNGRY FOR MORE? Subscribe to my Newsletter and come hang out with me on INSTAGRAM, or give me a follow on FACEBOOK or see what I'm pinning on PINTEREST.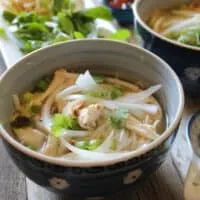 Instant Pot Chicken Pho Noodle Soup
Classic pho ga, Vietnamese chicken noodle soup made easy in the pressure cooker.
Print
Pin
Rate
Ingredients
1

tablespoon

canola oil

1

large

onion, peeled and halved

1

2-inch

piece ginger, peeled, thickly sliced and bruised

3

whole

cloves

1

tablespoon

coriander seeds

1

star anise pod

1

teaspoon

fennel seeds

1

1-inch

piece cinnamon stick

1

cardamom pod, lightly smashed

6

chicken thighs, bone-in, skin-on

(can use 6-8, depending on size)

8

cups

water

1

small

fuji apple, peeled, diced

½

cup

coarsely chopped cilantro

2

tablespoon

fish sauce

1

tablespoon

rock sugar (or rock candy)

1

tablespoon

kosher salt

1

pkg (14-oz.)

Bahn Pho flat rice stick noodles

For serving: Sriracha sauce, sambal oelek, hoisin sauce, bean sprouts, fresh herbs like Thai basil, cilantro and/or mint, jalapeno slices, lime wedges
Instructions
Prepare pho noodles. Place in large bowl and cover with boiling water for 30 to 45 minutes, stirring occasionally to loosen up. Set aside.

Heat oil in insert in Instant Pot on sauté setting until hot. Add halved onions and ginger, cut side down, and cook without moving, until well charred, about 5 minutes. Add spices (cloves, coriander, star anise, fennel, cinnamon stick and cardamom) and cook 1 more minute until fragrant. Turn off sauté function.

Add water to the pot and then carefully add the chicken, diced apple, chopped cilantro, fish sauce, rock sugar and salt. Seal the pressure cooker and cook at high pressure for 15 minutes.

When done, turn off Instant Pot and let pressure naturally release for 10 minutes, release any remaining pressure manually and carefully open lid. Remove chicken thighs to plate and cool slightly.

Pour broth into cheesecloth-lined strainer (or fine mesh strainer) into a clean pot, discard solids. Skim any scum and some fat, if necessary, leaving some surface fat on the broth. Bring to a steady simmer on the stove. Taste for seasonings, adding more salt, pepper and/or fish sauce, if needed.

Remove skin from chicken and meat from bones, shred. Prepare soup bowls; put a serving of strained noodles in bottom of each bowl, top with some chicken, then ladle hot broth over top. Serve immediately with condiments, letting each person choose toppings as they wish. Happy slurping!
Recipe Notes
I like to use chicken thighs, but you can also use a whole chicken, no larger than 4 pounds and reduce the amount of water to 7 cups. Be sure to stay under the maximum fill line on the pot. Shred desired amount of chicken and save the rest for another use, or leftovers.
I have not had to skim fat from the broth, if you have an excessive amount, then skim some of it off. But you want surface droplets of chicken fat on the broth, so don't get rid of all of it.
I find soaking the rice noodles in boiling water (for 30 - 45 minutes) to work just fine but you could follow package instructions, or soak and then cook noodles for just a couple of minutes. Be careful, boil too long and they become gummy!
Nutrition
Calories:
380
kcal
Carbohydrates:
10
g
Protein:
24
g
Fat:
27
g
Saturated Fat:
7
g
Polyunsaturated Fat:
6
g
Monounsaturated Fat:
12
g
Trans Fat:
1
g
Cholesterol:
142
mg
Sodium:
1765
mg
Potassium:
413
mg
Fiber:
2
g
Sugar:
6
g
Vitamin A:
220
IU
Vitamin C:
4
mg
Calcium:
50
mg
Iron:
2
mg
*Adapted from and inspired by Andrea Nguyen and the Vietnamese restaurants on University Avenue in St. Paul, Minnesota.