Warm Japanese-style curry with chicken, carrots and potatoes. Mild and comforting for the family dinner table.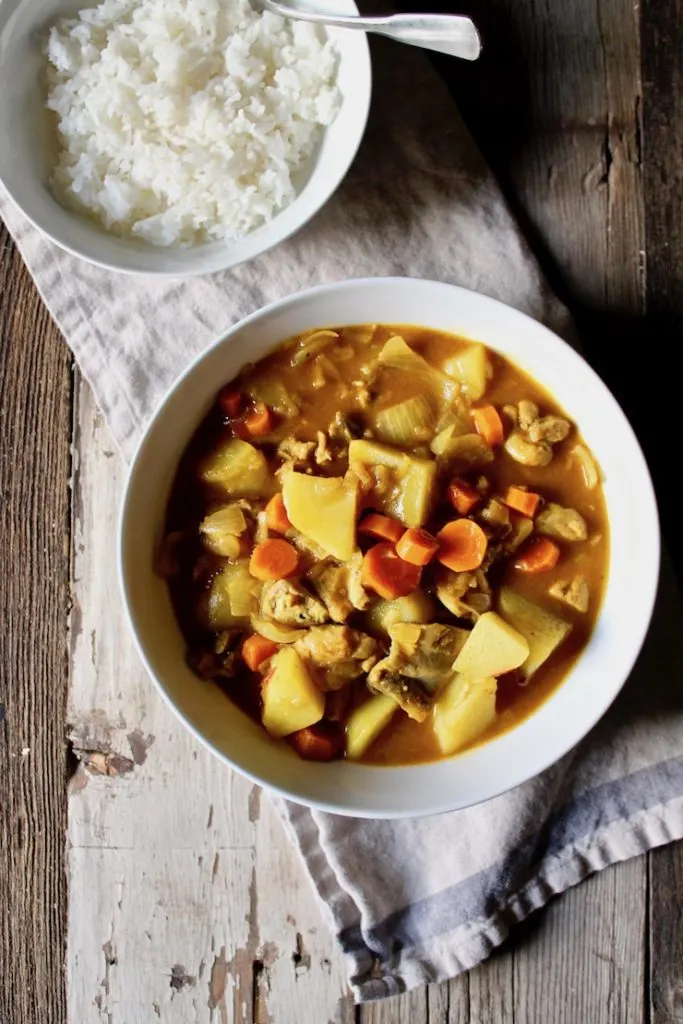 Wafuu curry is a traditional Japanese-style chicken curry. It's mild, comforting, slightly sweet, and it's one of our favorite dishes. Chicken, potatoes, onions and carrots in a richly flavored curry, not too spicy, and comes together fairly easily.
There are many versions of this curry dish. This one comes from SAVEUR magazine, about ten years ago. I've made it quite a few times. Always Hungry loves this dish, especially the potatoes. I agree, I love potatoes in curries, like massaman beef curry. I think the potatoes are the best part. Meathead loves curry anything and this is no exception.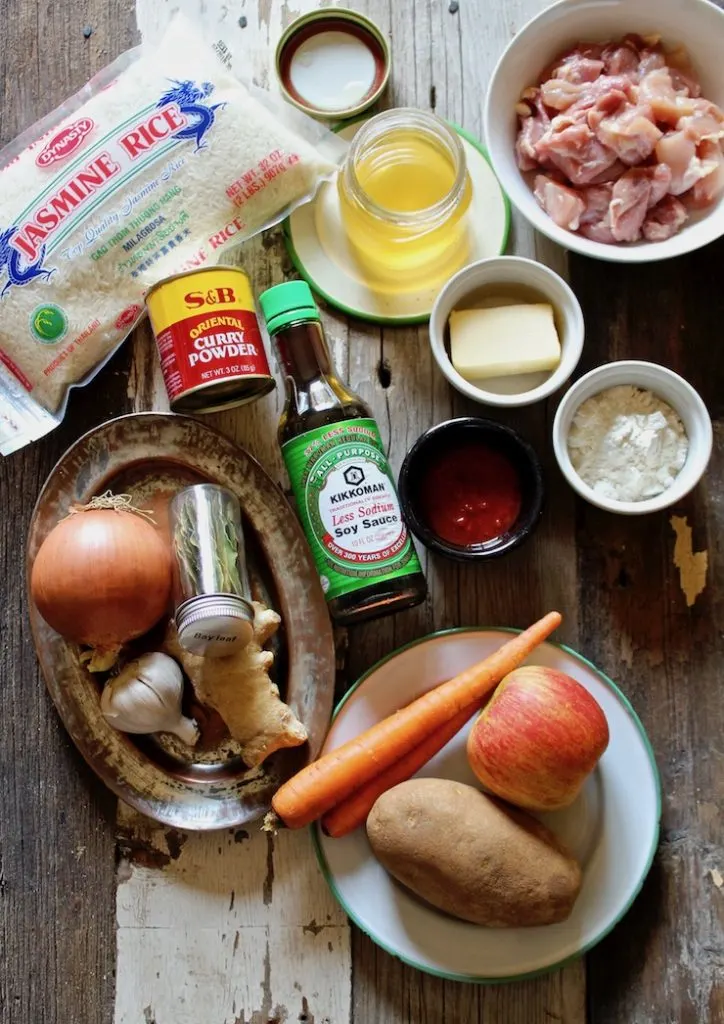 Since my girls are fairly new cooks, I think this dish warrants a quick cooking lesson. I want to talk about mise-en-place, French for "put in place". It took me a long time to figure out the importance of this concept. Having everything chopped and prepped and ready to go before you start cooking makes a world of difference in your cooking experience and outcome. Sometimes things move quickly and you don't want to stop what you're doing to chop up an onion.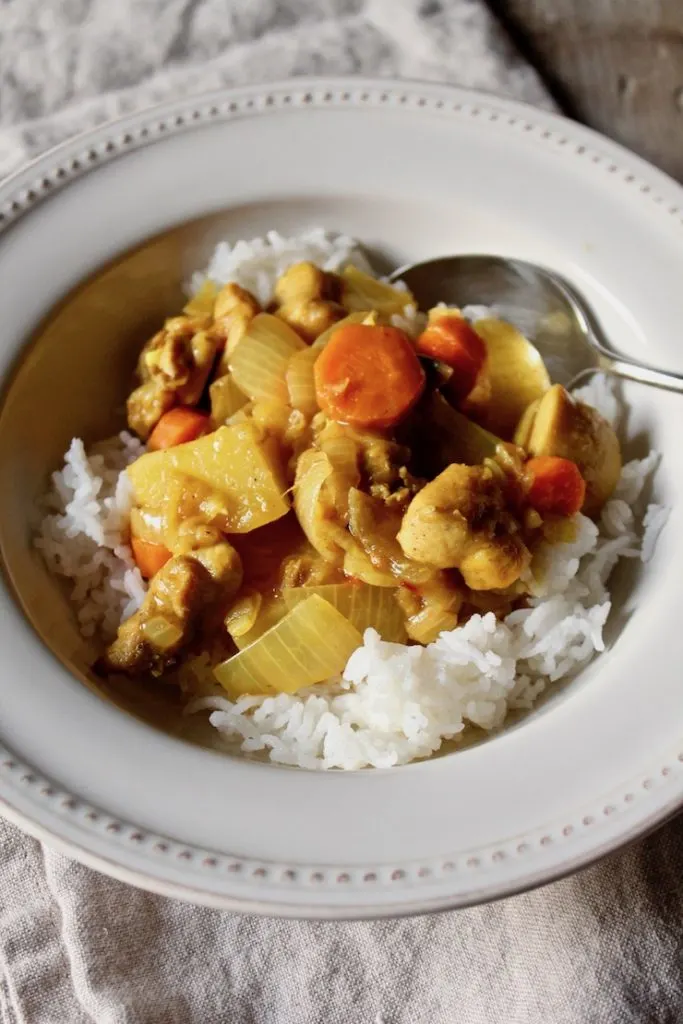 Also, I can dirty up a ton of dishes and pots and pans when I cook. Even something as easy as spaghetti can end up being such a mess to clean up after, along with the dinner table dishes. Whenever possible, I clean up as I go. This curry needed to simmer for 30 minutes, during which time I cleaned up the mess. I then had just the curry on the stove and another pot for the rice. Again, makes life easier, and mealtime and clean up less daunting. This is especially true when entertaining, more time with your guests and really cuts down on stress. 'Nuff said.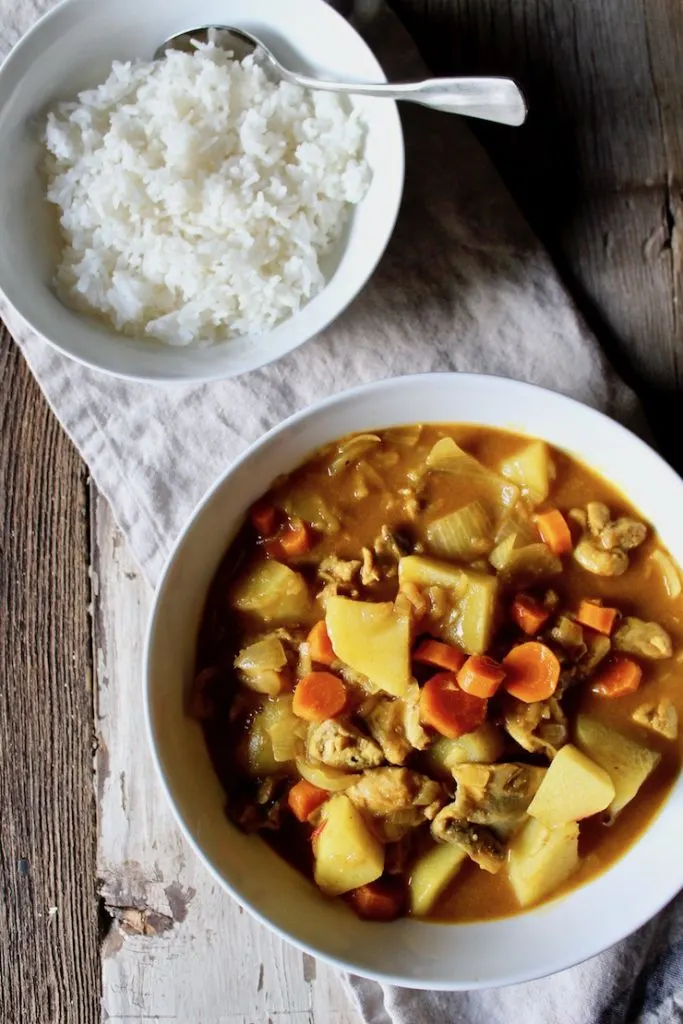 So back to this chicken curry dish. It is thickened with flour, sort of like making a roux. It creates a thick fond on the bottom of the pan, tons of flavor there. It will scrape up when some hot stock is added and that's exactly what you want. The skillet you use is important and should be heavy bottomed and good quality, otherwise it might burn and be difficult to scrape up. Just sayin'.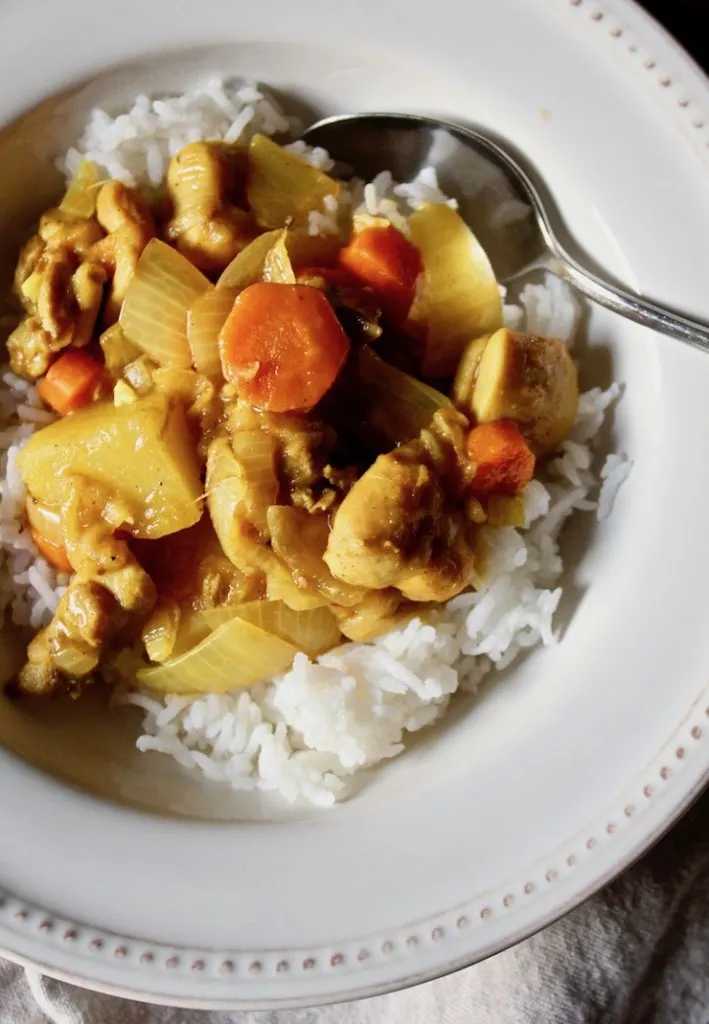 As for the rice, basmati, jasmine, brown rice, they all work. I made white basmati rice. See my note below for a foolproof way to cook it.
For a warm and comforting dinner, try this Japanese-style chicken curry, Wafuu Curry. It will not disappoint. Best, Kelly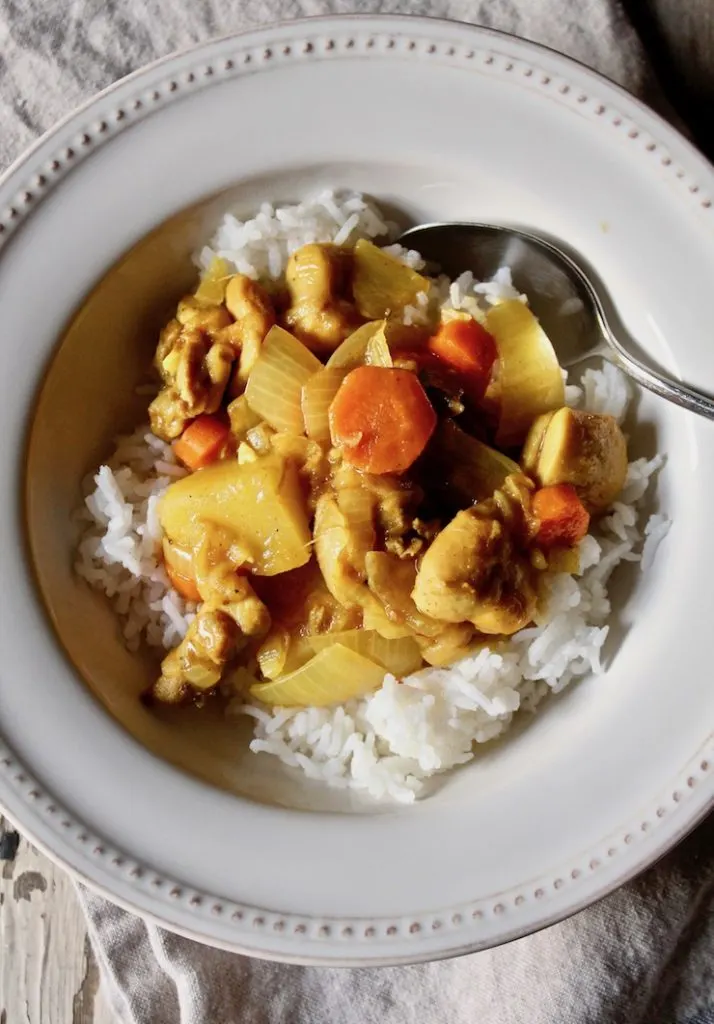 You might also like Pho Ga, Shrimp Pad See Ew and One Pot Coconut Chicken.
If you've tried this recipe, please rate it below in the comments and let me know how it went ~ I love hearing from you! HUNGRY FOR MORE? Subscribe to my Newsletter and come hang out with me on INSTAGRAM, or give me a follow on FACEBOOK or see what I'm pinning on PINTEREST.
Wafuu Chicken Curry
Warm Japanese-style curry with chicken, carrots and potatoes. Mild and comforting for the family dinner table.
Print
Pin
Rate
Ingredients
3

cups

chicken stock, preferably homemade

1

tablespoon

canola oil

1

pound

boneless, skinless chicken thighs, trimmed, cut into 1-inch chunks

kosher salt and freshly ground pepper

3

tablespoons

butter

1

teaspoon

finely chopped peeled ginger, I used a microplane

1

medium onion, ½ finely chopped, ½ cut into 1-inch pieces

1

clove

garlic, finely chopped

3

tablespoons

flour

2

tablespoons

curry powder, preferably S & B brand

2

tablespoons

crushed tomatoes

1

dried bay leaf

1

medium carrot, peeled and cut crosswise into ½-inch rounds

1

medium russet potato, peeled and cut into 1-inch pieces

1

small fuji apple, peeled, cored, and coarsely grated

1

teaspoon

honey

1

tablespoon

soy sauce

steamed short-grain white rice

(see note for perfectly cooked white basmati rice)
Instructions
Bring the chicken stock to a simmer in a medium pot, then reduce heat to maintain simmer. (I put a lid on askew because I don't want the stock to simmer away and reduce too much.)

Heat oil in large skillet over medium-high heat. Season chicken thighs with salt and pepper and add to skillet. Brown on all sides and then remove skillet from heat and transfer chicken to a plate.

Return skillet to medium-high heat and add butter. Add ginger, chopped onions and garlic. Stir often and scrape up any browned bits, until onions are translucent, about 3 minutes.

Sprinkle the flour over the mixture and cook and stir constantly until evenly browned, about 2 minutes. Add the curry powder and tomatoes and stir well. Remove skillet from heat.

Add ½ cup hot chicken stock to the skillet and whisk vigorously to combine, scraping up any browned bits from the bottom of the pan. If the whisk doesn't get the fond up, try a wooden spoon or metal spatula to scrape it up. Remember, this contributes greatly to the color and flavor of the curry.

Whisk the curry mixture from the skillet into the pot of simmering stock and whisk well to combine. Then add the reserved chicken, onion pieces, potatoes, carrots and bay leaf. Bring to a boil and then reduce heat to a simmer, stirring occasionally, until the vegetables are tender and curry has thickened, about 30 minutes. (pot uncovered)

Lastly, stir in the grated apple, honey and soy sauce to the curry. Salt to taste. Simmer over low heat about 5 more minutes. Serve with rice.
Recipe Notes
To cook white basmati rice, put one cup rice in a bowl and cover with water. Swirl water and rice with fingers until cloudy. Drain and repeat, 3-4 more times until water is clear. Cover one more time with water and let sit for 30 minutes. Bring 1 ¾ cups water to a boil, add a little salt and the drained rice. Stir, bring back to boil and then turn down to lowest heat possible, cover and simmer for 15 minutes. Cut heat and rest another 5 minutes. Fluff with a fork and serve. Perfect rice. Thanks Aarti.
Nutrition
Calories:
431
kcal
Carbohydrates:
35
g
Protein:
30
g
Fat:
20
g
Saturated Fat:
8
g
Polyunsaturated Fat:
3
g
Monounsaturated Fat:
7
g
Trans Fat:
1
g
Cholesterol:
136
mg
Sodium:
704
mg
Potassium:
919
mg
Fiber:
4
g
Sugar:
12
g
Vitamin A:
2915
IU
Vitamin C:
10
mg
Calcium:
59
mg
Iron:
3
mg
*Adapted from SAVEUR magazine, February, 2007
*Thanks Aarti.