How to make and preserve strawberry jam, an old-fashioned canning recipe perfect for fresh, seasonal just picked strawberries.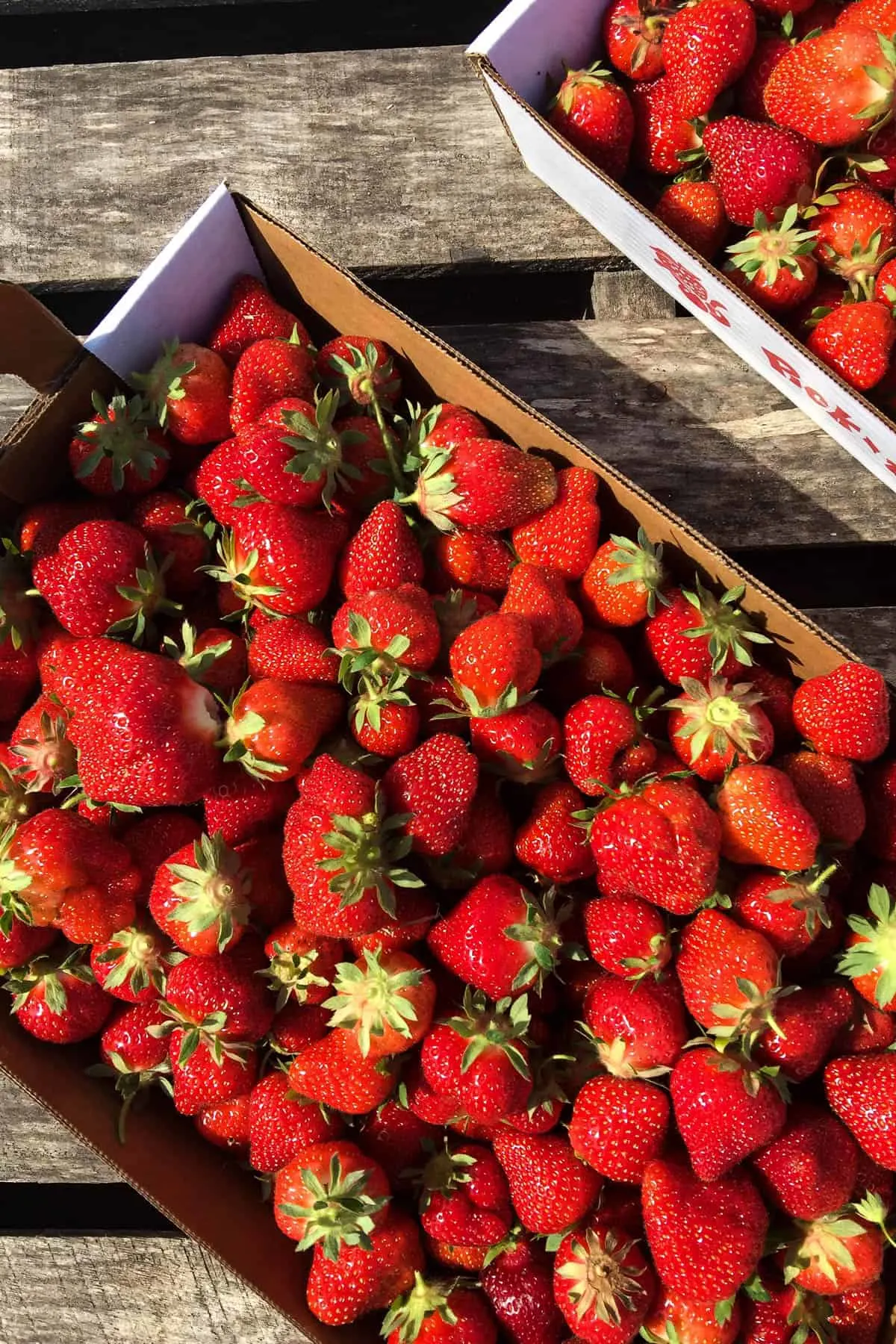 When I lived in St. Paul, MN, I had a truly amazing neighbor named Truus. I was new to the area with three little ones and she was welcoming, helpful and oh so wise.
The incredible food she turned out of her tiny kitchen was delicious! When I came home from the hospital after a difficult childbirth, Truus cooked and brought us dinner several nights in a row. On nice dishes and silver platters! She taught me how to make a few things but it was her strawberry jam I coveted. So I packed up the kids and we went strawberry picking and then Truus spent the afternoon in my tiny kitchen showing me how to make jam.
This really is best with seasonal, local and just picked berries. My youngest daughter, my baby, who just graduated high school, and I went strawberry picking a couple of weeks ago. Don't get me started about her leaving for college this fall, more on that another time.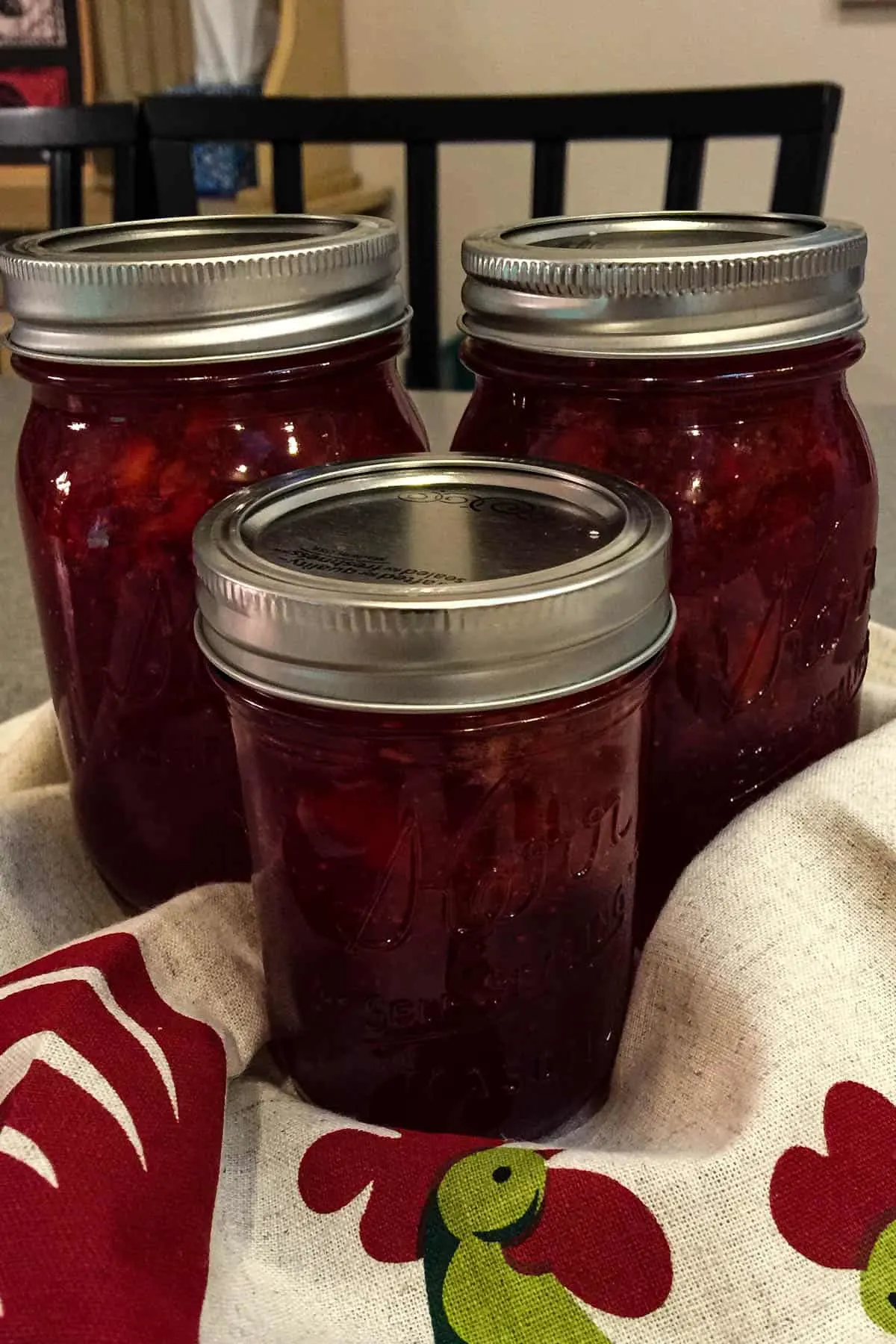 When we got home I got to work and made 24 jars of jam. It isn't hard and I had a great teacher. It's a little bit of science and a lot of art in my opinion.
Ingredients
You want to have everything ready, your jars cleaned, either in hot soapy water or the dishwasher, same for your lids and screw caps.
Here's what you'll need:
All those fresh strawberries you picked!
Boxes of SURE JELL
A little butter, a small pat per batch
Lots of granulated sugar, 7 cups per batch!
How to make this recipe
Clean and hull your strawberries and cut in half. Measure out 7 cups of sugar in a bowl and set aside along with a box of SURE JELL and some butter.
Put 5 heaping cups of strawberries into a large stockpot. Start mashing them up, I use a potato masher, over high heat with the SURE JELL and a small pat of butter.
Bring to a hard boil, mashing to your desired consistency. You want the boil to be strong so when you stir it, it still boils as you're stirring.
Now it's time for the sugar. Add it all at once and stir to mix and dissolve and bring back to a boil.
Once boiling, time for 1 minute and then do a spoon check. Truus showed me this and I can best describe it this way -- dip a teaspoon in the boiling jam and you will see it drip off pretty quickly like water, when the drips slow down to a long drip from the spoon it's done. I find this takes between one and two minutes.
Take off the heat and skim any foam off into a bowl. I use a canning funnel to fill my jars to about ⅛" from the rim. Wipe the rim with a clean damp cloth before you put the lid on. You really want a clean rim so the jar will seal correctly. Put the lid and screw cap on the jar.
Process in a hot water bath for 10 minutes, carefully remove and let sit for 24 hours undisturbed.
You will hear popping sounds as the jars seal. I love that sound. I have never had a jar not seal and they keep for a year perfectly. Truus taught me to make strawberry jam without a hot water bath (by turning the jars over for 5 minutes, then upright for 24 hours). That is not considered a safe method nowadays. A hot water bath is recommended for safe canning and you can refer to that process at USDA Home Canning Guidelines. If you have any jars that didn't seal properly, no worries. Pop them in the fridge and start using now.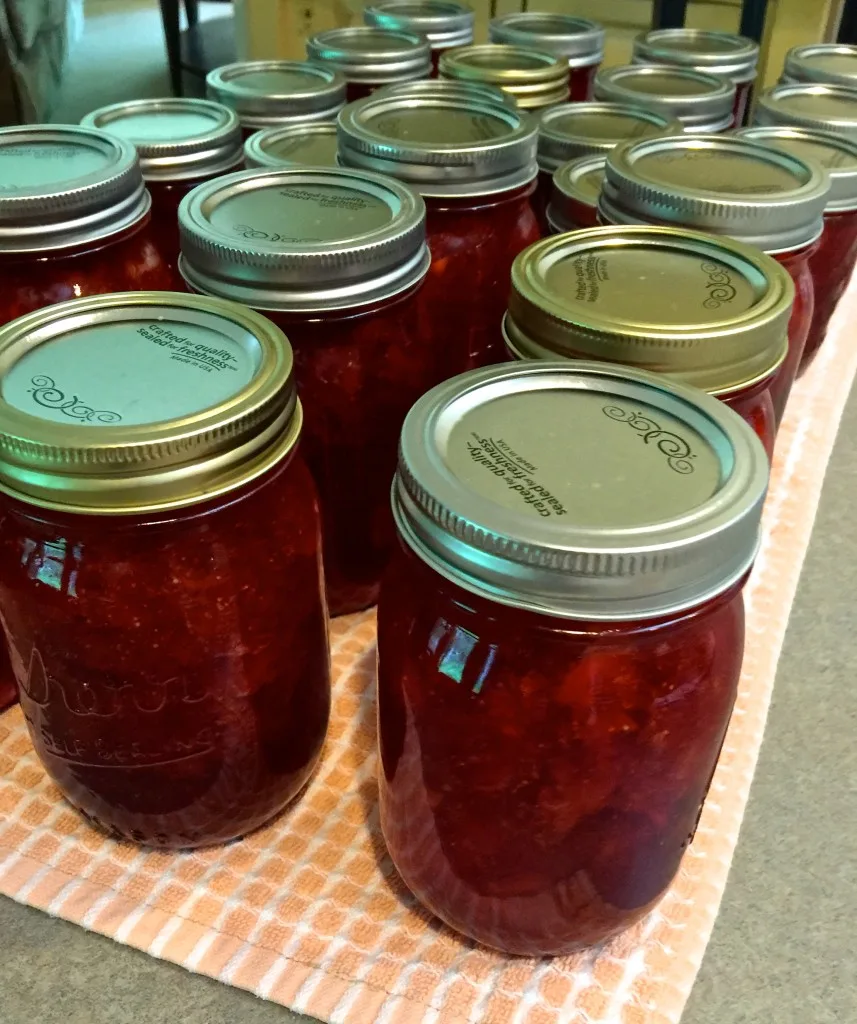 Oh, about that foam. Nothing wrong with it, try it on some good white bakery bread for a treat. If your jam ends up being too thin, spoon it over ice cream or pound cake or try it over plain Greek yogurt.
I have lots of jam for the year in my pantry. A jar makes a nice hostess gift and I always bring some to family and friends when I visit. On a cold winter day, it's like opening up a taste of summer.
Hartelijk bedankt Truus! I miss you. Enjoy! xxo- Kelly🍴🐦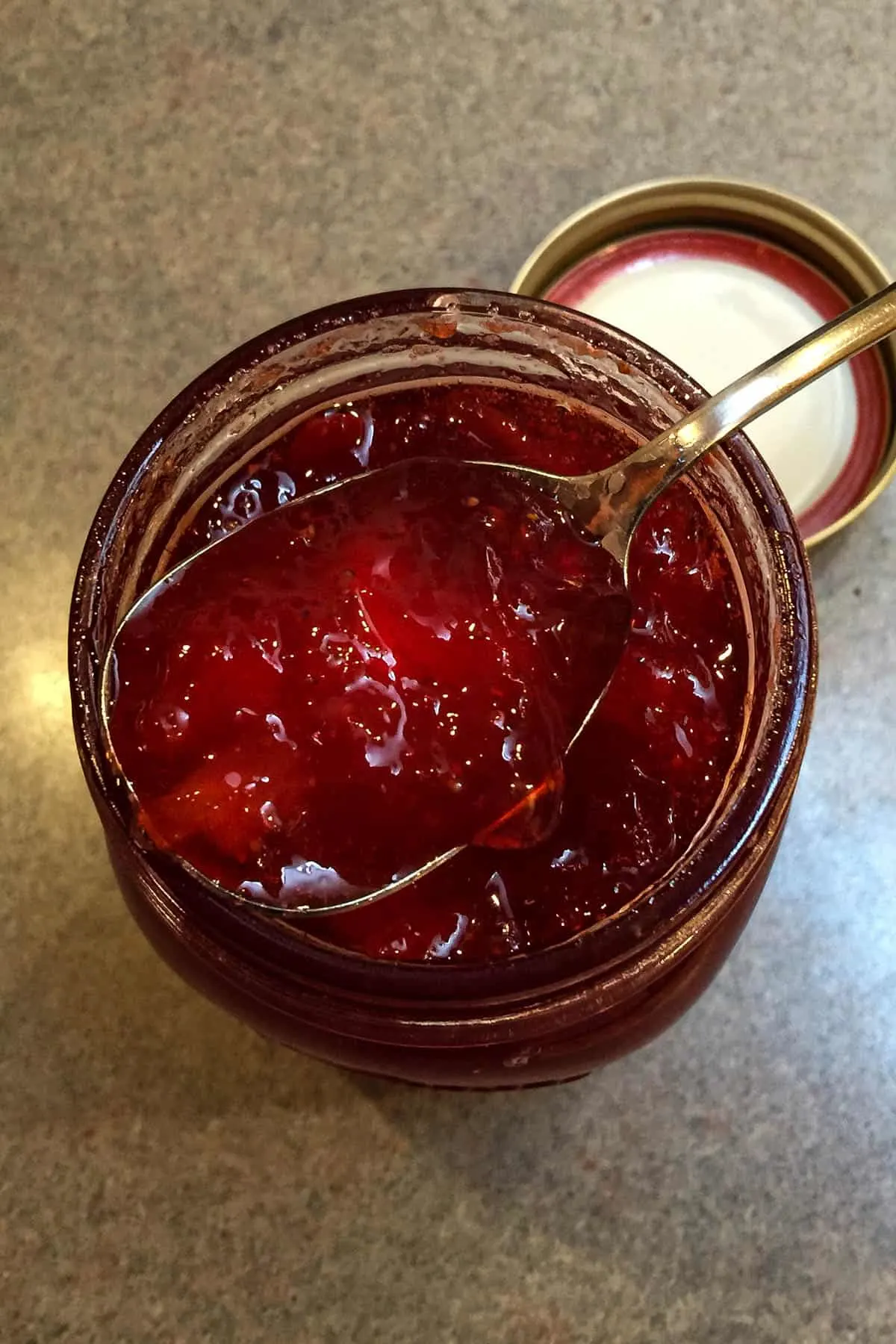 You might also like this balsamic berry sauce made with fresh summer berries. It's not a canning recipe but an easy and dessert delicious sauce.
HUNGRY FOR MORE? Subscribe to my newsletter and follow along on PINTEREST, FACEBOOK and INSTAGRAM for all the latest updates.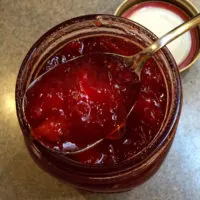 Strawberry Jam
My favorite strawberry jam canning recipe, an old-fashioned recipe taught to me by my dear neighbor Truus in Minnesota.
Print
Pin
Rate
Course:
Breakfast, Condiment, jam, jellies
Ingredients
5

heaping cups strawberries, cleaned and hulled and cut in half

1

box

SURE JELL

small pat

unsalted butter

7

cups

sugar (I use 6 cups)
Instructions
Add strawberries to a large stockpot and start mashing up over high heat. Add SURE JELL and butter and bring to a hard boil.

Add the sugar all at once and stir to mix and dissolve and bring back to a roiling boil.

Time for 1 minute and then do a spoon check as described above.

Pour into prepared jars to ⅛" from the rim. Wipe clean and then put lids and screw caps on the jars.

Bring a large pot of water to a boil. Process for 10 minutes in a boiling water bath, covering the jars by at least one inch of water. Carefully remove and let rest, undisturbed on the counter, for 24 hours. Store any unsealed jars in the refrigerator.
Nutrition
Serving:
2
tablespoons
Calories:
158
kcal
Carbohydrates:
41
g
Protein:
1
g
Fat:
1
g
Saturated Fat:
1
g
Polyunsaturated Fat:
1
g
Monounsaturated Fat:
1
g
Sodium:
4
mg
Potassium:
42
mg
Fiber:
1
g
Sugar:
39
g
Vitamin A:
3
IU
Vitamin C:
16
mg
Calcium:
5
mg
Iron:
1
mg