In my house, chicken with homemade gravy is always greeted with anticipation. Whether with dumplings, noodles or mashed potatoes, it's always a welcome dish. Many years ago, I came across this recipe for Vermont Chicken Pie. Oh my gosh, stewed chicken in a rich broth that becomes gravy, then topped with homemade biscuits and baked until bubbly and browned. It is one of my favorites. A bit labor intensive, but so worth it.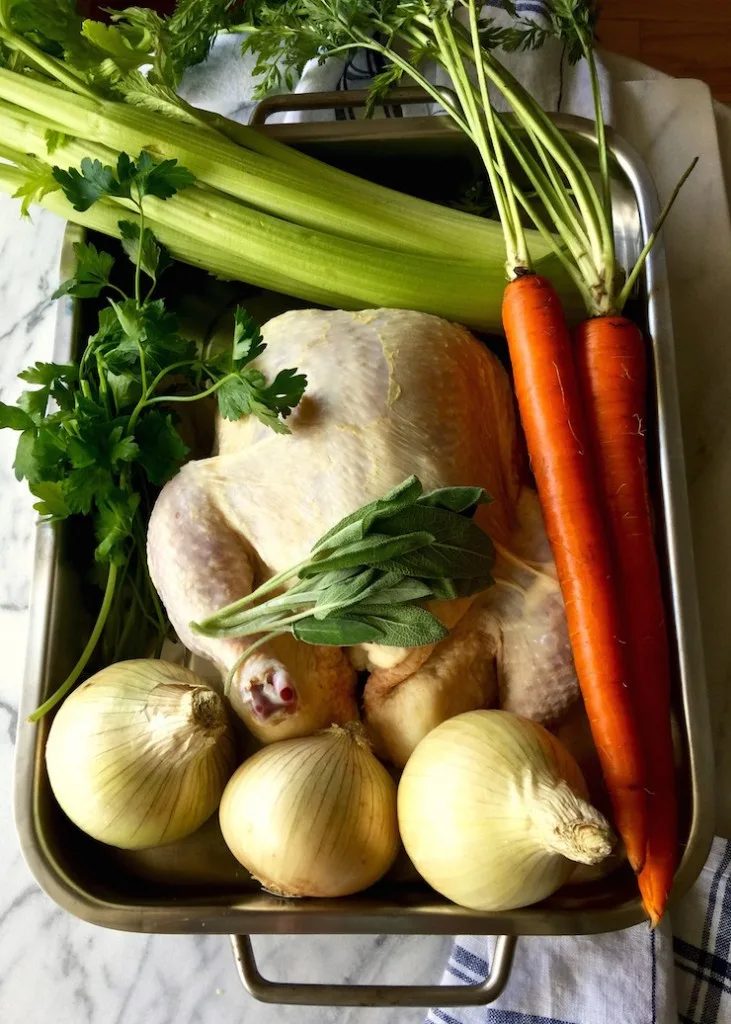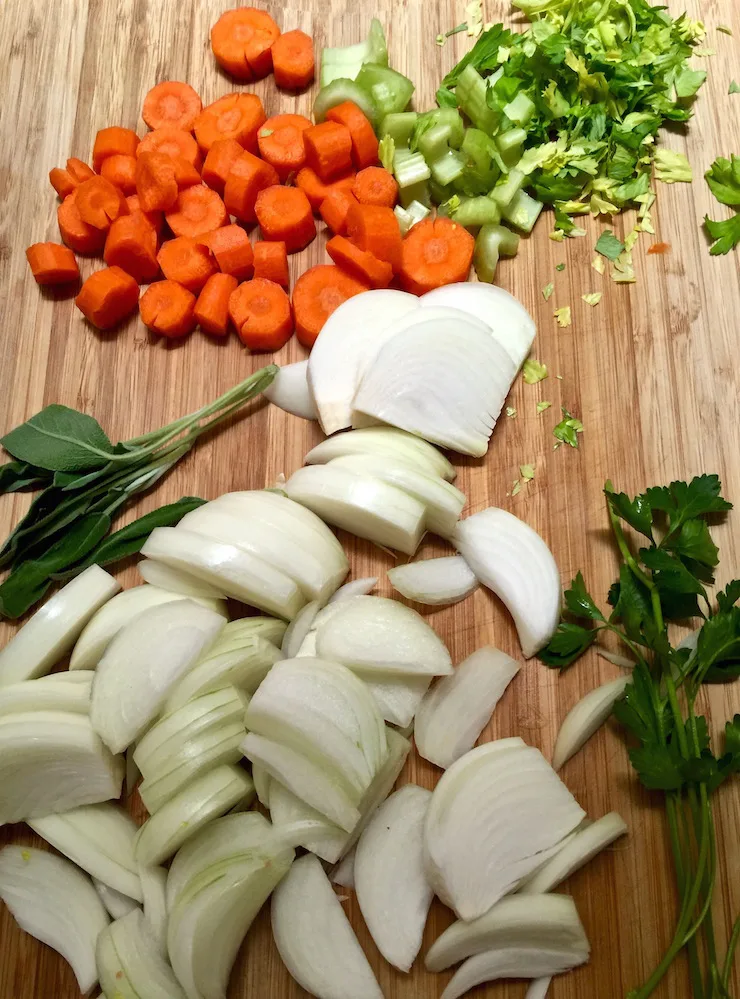 The origins of this pie go way back in Vermont, and it is a church dinner favorite. At some point in the 1800s, biscuit dough became the topping of these pies. Also, unlike other pot pies, there are no vegetables in the Vermont version, just chicken and gravy. Traditionally, old stewing hens (7 to 10 lbs.) are used and they can be hard to find, so use the largest chicken available. Look for those labeled a roaster, typically 5 to 6 pounds, not the smaller fryers.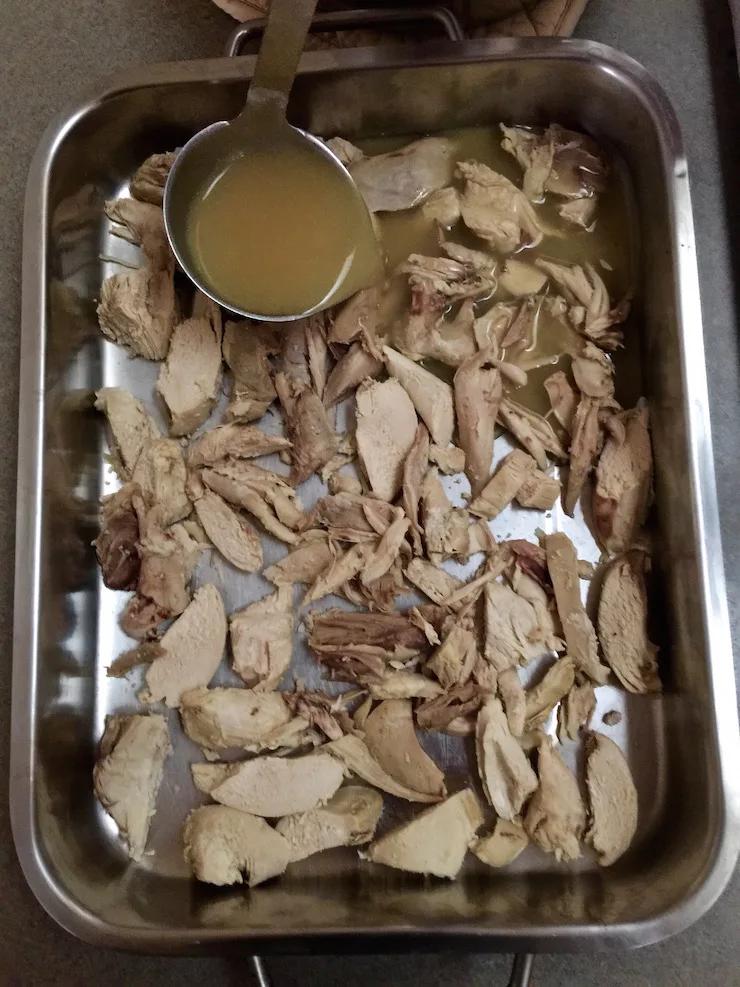 Over the years since I've been making this chicken pie, my biscuits never seemed to turn out as good as those in my recipe-clipping photos. I just chalk it up to my pathetic baking skills. This time, I tried a different biscuit recipe and I had much better success with my biscuits. It's a simple buttermilk biscuit dough that even I didn't mess up, and tasted and looked perfect.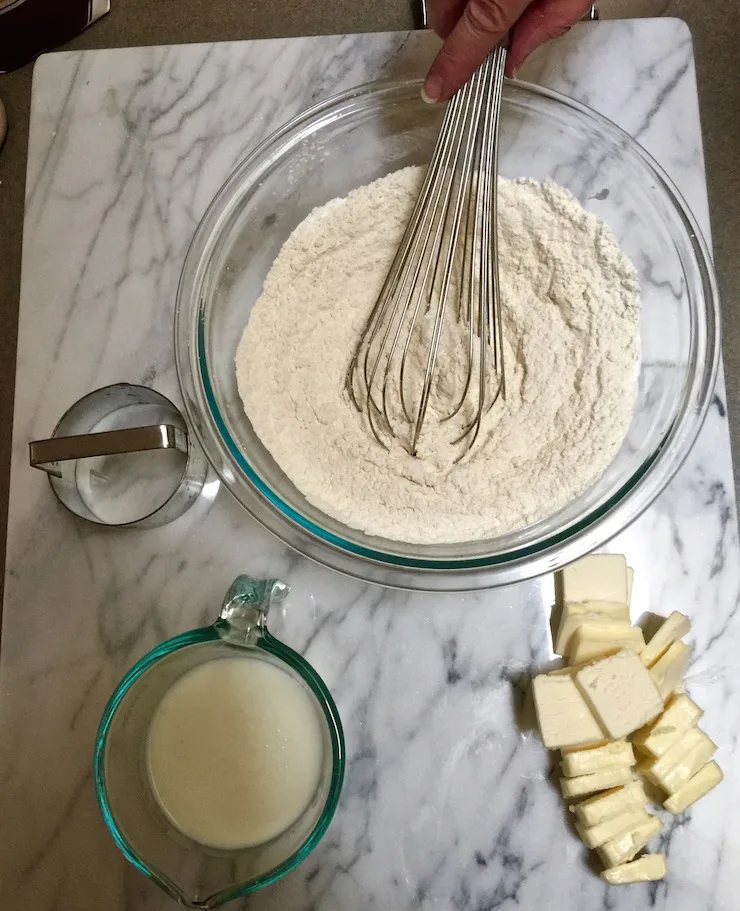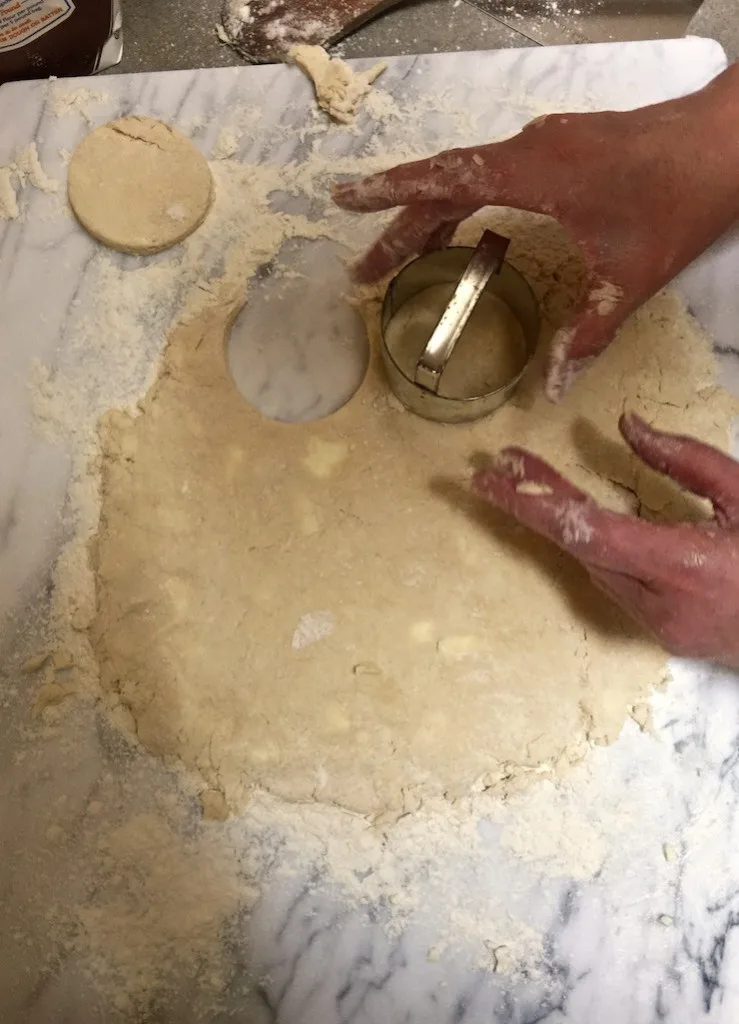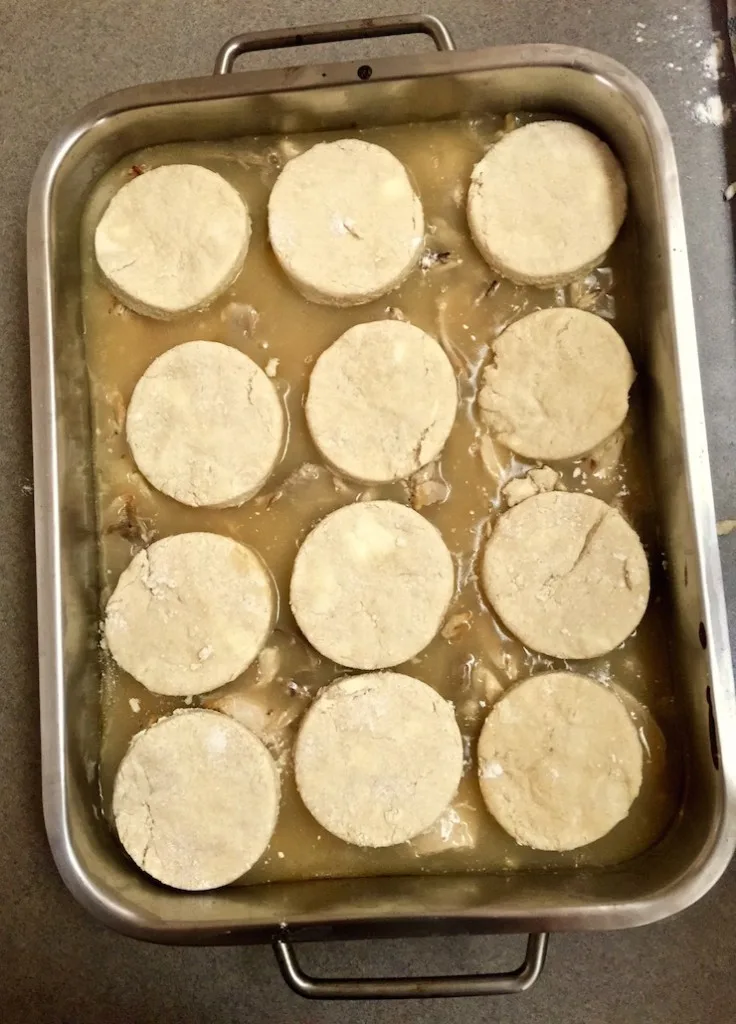 We're in the process of moving and I was trying to use up everything in my freezer. I had a large chicken and decided on Vermont Chicken Pie. It was homey and comforting on that dreary weekend of packing, and the most perfect and welcome Sunday dinner. If you don't have the luxury of attending a Vermont church dinner serving up pans of these chicken pies, make this Vermont Chicken Pie at home, it'll be just as good.
Best, Kelly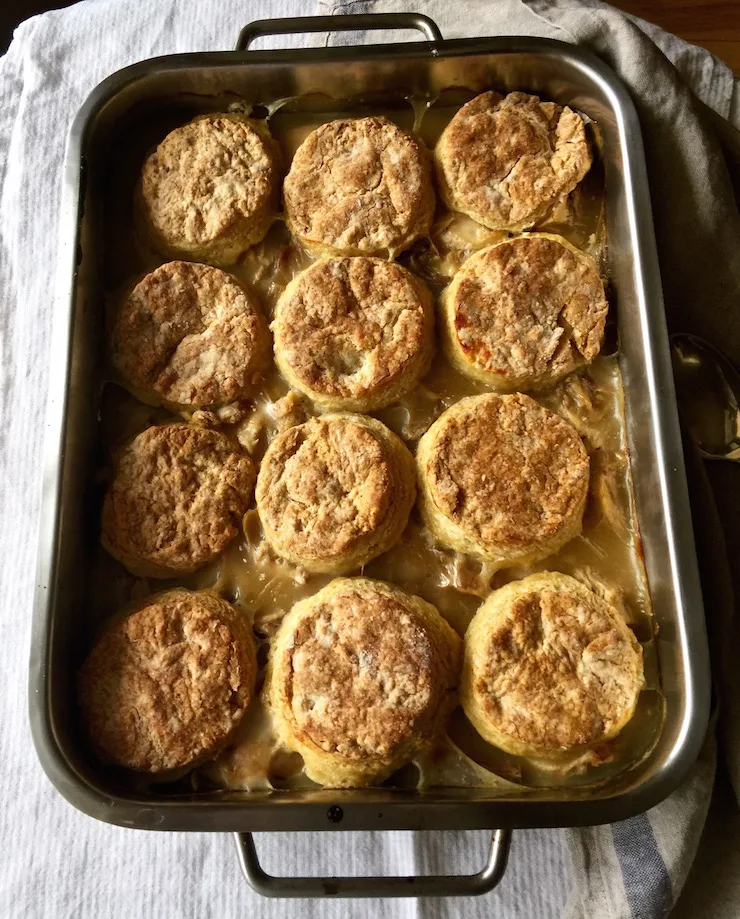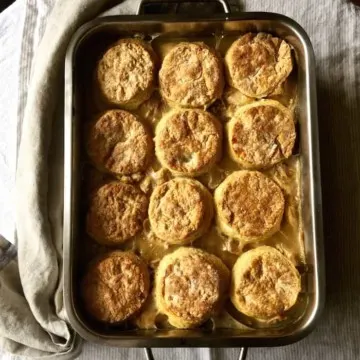 Vermont Chicken Pie
A New England church potluck staple, simple chicken and gravy topped with biscuits.
Print
Pin
Rate
Ingredients
For the filling:
1

large stewing chicken (7-10 lbs.) or 1 (5-6 lb.) chicken, cut into 5 pieces (I include the back as a piece)

3

medium yellow onions, peeled and sliced

2

carrots, peeled and sliced

1

rib celery, sliced

½

cup

celery leaves, chopped

3

sprigs fresh parsley

2

sprigs fresh sage

½

teaspoon

freshly ground white pepper

I used black pepper

½

cup

flour

Kosher salt
For the biscuits:
3

cups

all purpose flour

2

tablespoons

sugar

4

teaspoons

baking powder

1

teaspoon

salt

1

teaspoon

baking soda

1

cup

buttermilk

¾

cup

(1½ sticks) chilled unsalted butter, cut into ¼-inch pieces
Instructions
Into a large pot, put chicken, onions, carrots, celery, chopped celery leaves, parsley, sage, pepper and 14 cups cold water. Bring to a boil, skimming off any foam/impurities that surface. Reduce heat and simmer until chicken is tender, about 1 to 1½ hours, depending on the size of your chicken. Transfer chicken to a bowl or plate and let cool briefly. Remove the meat from the bones and set aside. Discard the skin and return all the bones back to the pot. Cover meat and refrigerate. Increase heat and continue simmering stock until rich and golden, about 2½ more hours. Strain stock, discard solids and let cool. Refrigerate overnight.

The next day, remove solid layer of fat from stock. Transfer to a medium pot and bring to a boil, then reduce to a lively simmer and reduce to about 5 or 6 cups. (My stock was reduced to almost that amount already, so use your judgement.)

Preheat oven to 475º. Cut/shred meat into large pieces and place in a large baking dish. Whisk flour and 1 cup water until smooth, then whisk into simmering stock, whisking constantly until thickened, about 5 minutes. Season to taste with salt (don't be shy!). Ladle gravy over chicken and bake until hot and bubbling, about 10 minutes.

Make the biscuits: Whisk flour, sugar, baking powder, salt and baking soda in a large bowl to blend. Using fingertips, rub chilled butter into dry ingredients until mixture resembles coarse crumbs (or, if you prefer, use a pastry cutter). Add buttermilk and stir to combine and evenly moistened. On a floured surface, turn out dough and press by hand to about ½-inch thickness. Use a 3-inch round cookie cutter to cut 12 rounds.

Remove chicken/gravy from oven and arrange biscuits on top in a single layer. Return to oven and bake until biscuits are golden brown, about 15 to 20 minutes.

Set chicken pie on a wire rack to cool at least 10 minutes before serving.
Recipe Notes
Chicken pot pie, chicken and biscuits. Whatever you call this and whatever you add or omit, this is comfort food at its finest. You can even cheat and use storebought biscuit dough. Just don't tell grandma.
Nutrition
Calories:
296
kcal
Carbohydrates:
35
g
Protein:
7
g
Fat:
14
g
Saturated Fat:
8
g
Polyunsaturated Fat:
1
g
Monounsaturated Fat:
4
g
Trans Fat:
1
g
Cholesterol:
41
mg
Sodium:
476
mg
Potassium:
199
mg
Fiber:
2
g
Sugar:
5
g
Vitamin A:
2182
IU
Vitamin C:
4
mg
Calcium:
127
mg
Iron:
2
mg
*Adapted from Saveur, November, 2001 and Bon Appétit, October, 2000