Pork ribs braised in a low, slow oven with sauerkraut and brown sugar, so easy with just three ingredients! Perfect with mashed potatoes and applesauce for Sunday dinner on a cold winter night.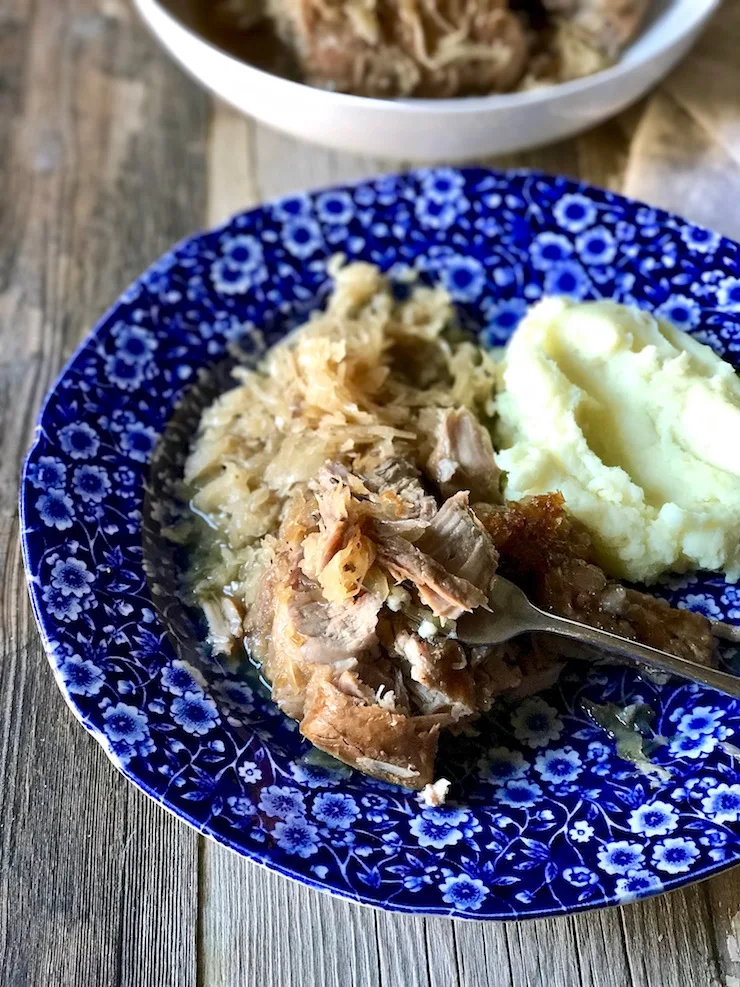 Meathead had a rough week. I knew just the dinner to cheer him up, braised pork and sauerkraut with mashed potatoes. Say comfort food, big time. Pork ribs layered with sauerkraut and brown sugar and slowly braised in the oven for 3 hours. It's just unbelievably good. Meathead also likes baked beans with this, and crushed potato chips on those beans. We'll just ignore that really weird assortment on his plate.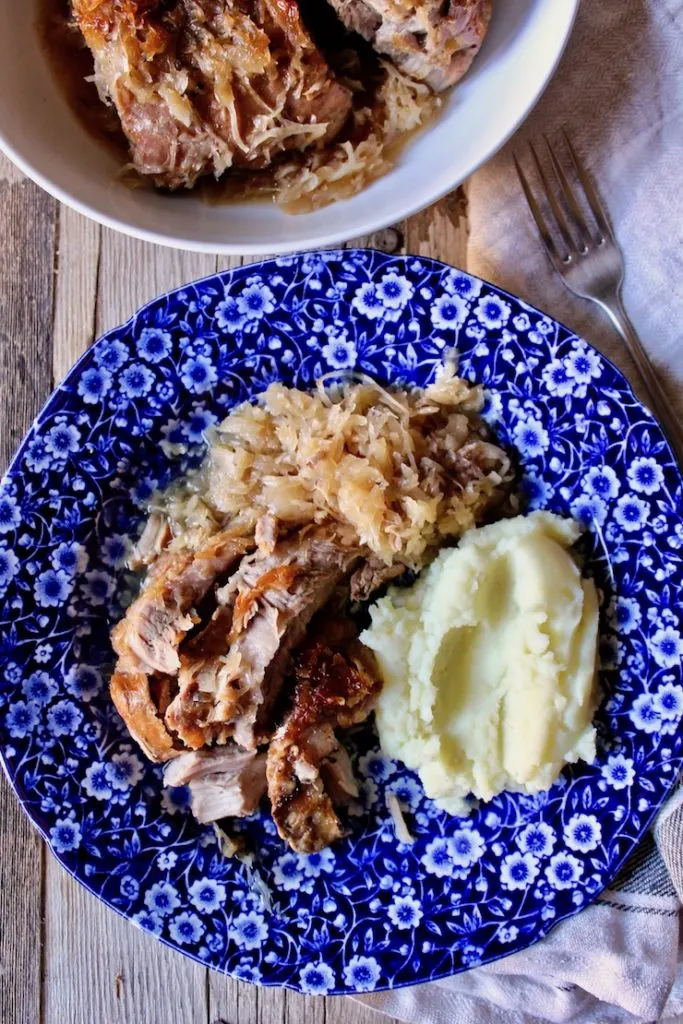 Back in our Minnesota days, my neighbor brought over a casserole dish of pork ribs and sauerkraut. Absolutely delicious on a bitter cold night in Saint Paul. When I asked her how she made it, she said just layer pork ribs with sauerkraut and brown sugar, put in a slow oven for a few hours until the pork is tender and falls off the bones. That's it, so easy and so good.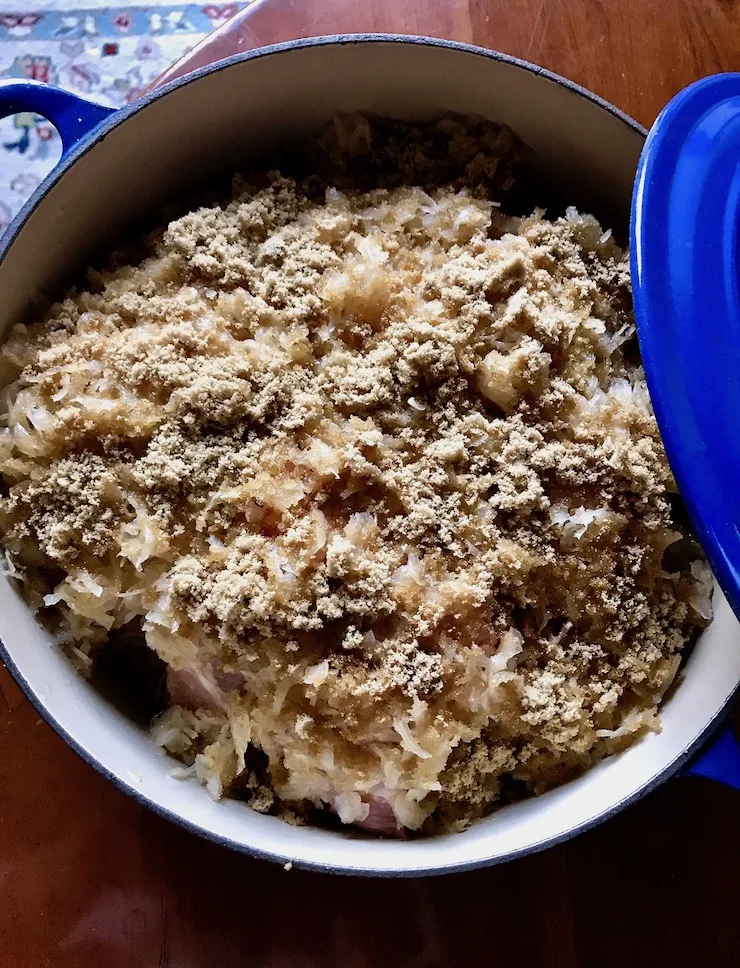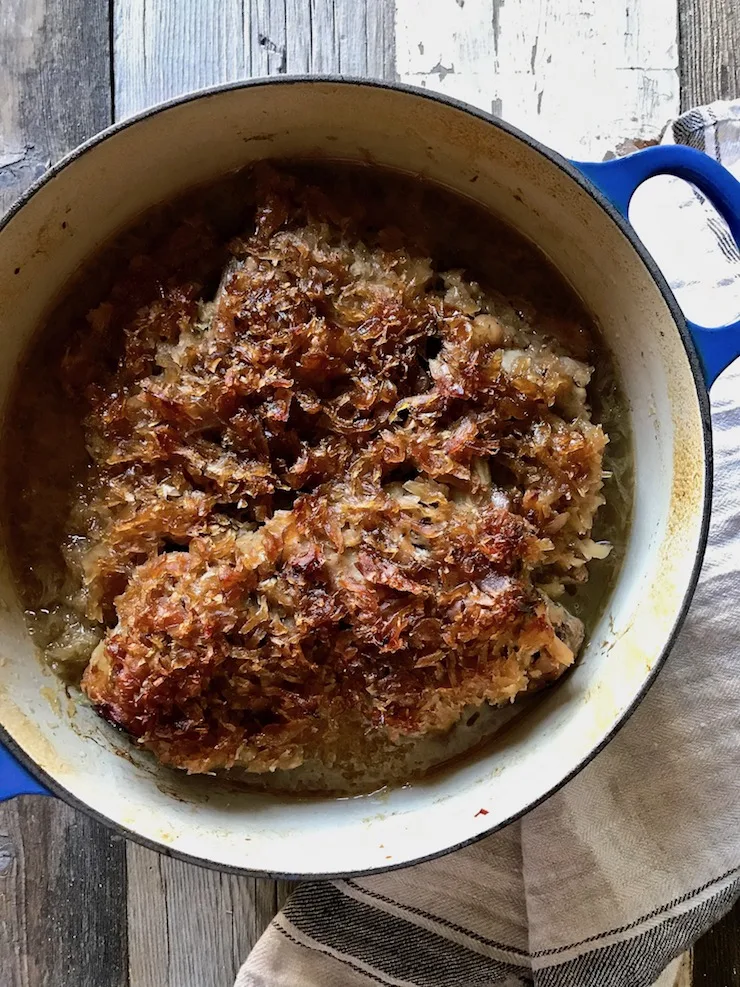 Any pork rib will work, I have used spareribs and country style ribs. Yesterday, I used country style ribs from the pork shoulder. I prefer those over the ones from the loin, which can dry out if cooked too long, and I like the taste better. I also prefer them on the bone. For some reason, not many bones in my ribs this time. If you use spareribs, cut them into 2 to 3-rib sections and trim any major excess fat that you can.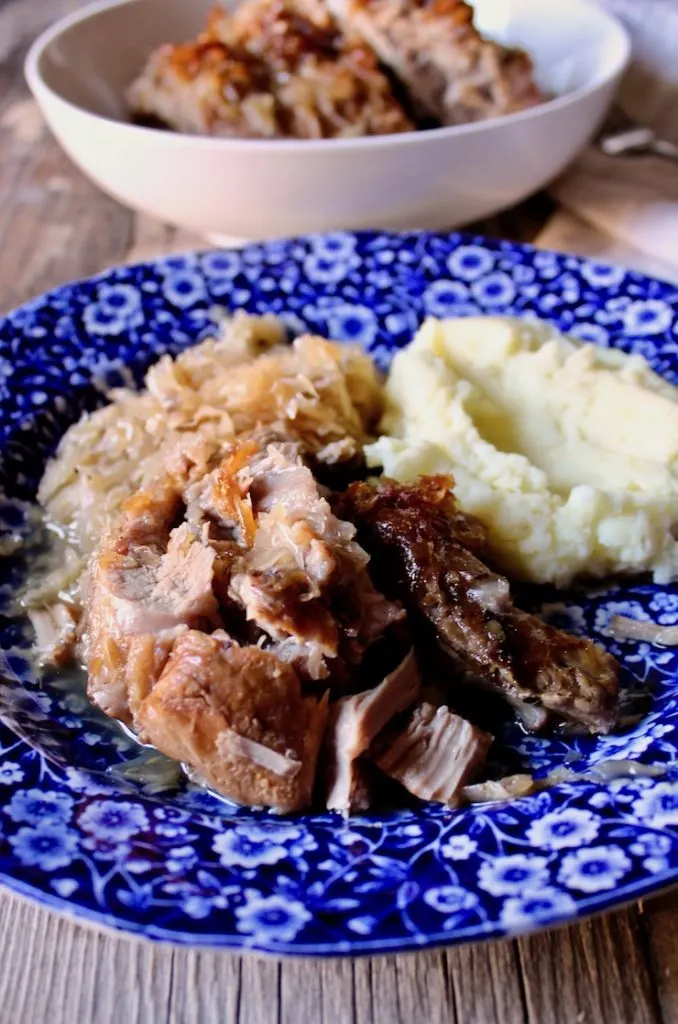 It seems kind of strange not to brown the pork ribs first, but it really isn't needed. The ribs and kraut will get nice and brown in the oven, even with the lid on. And your house will smell amazing while it cooks.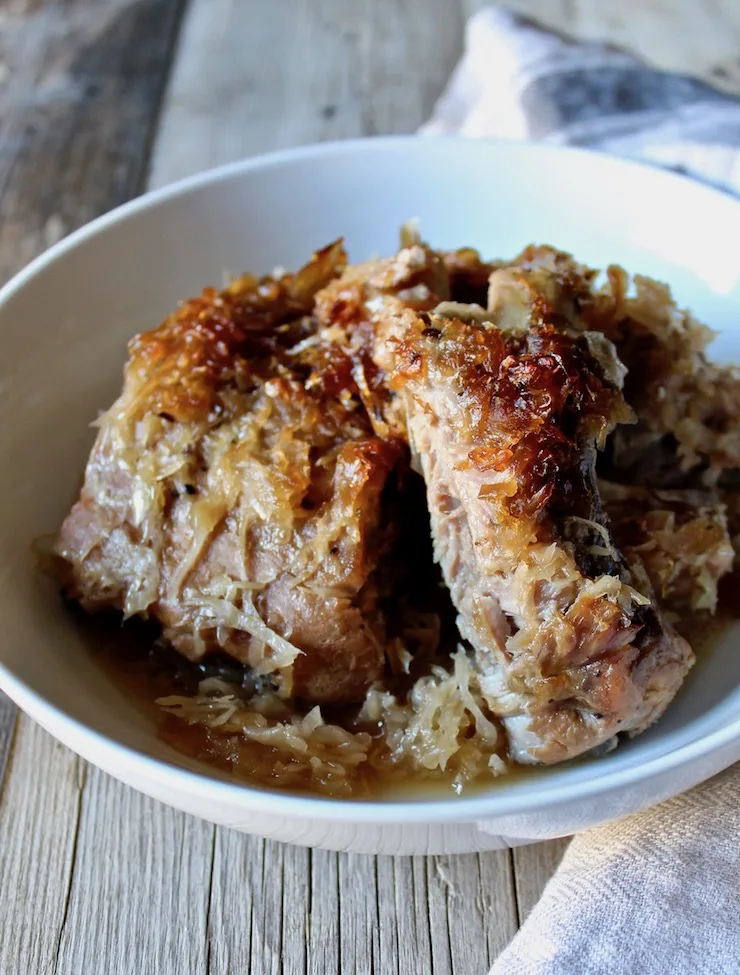 I think of this dish for dinner on a cold Sunday night, but I had the time yesterday and man, we were happy campers on a weeknight. Leftovers tonight and, oh yeah, Meathead is in a much better mood now. Happy winter ~ Kelly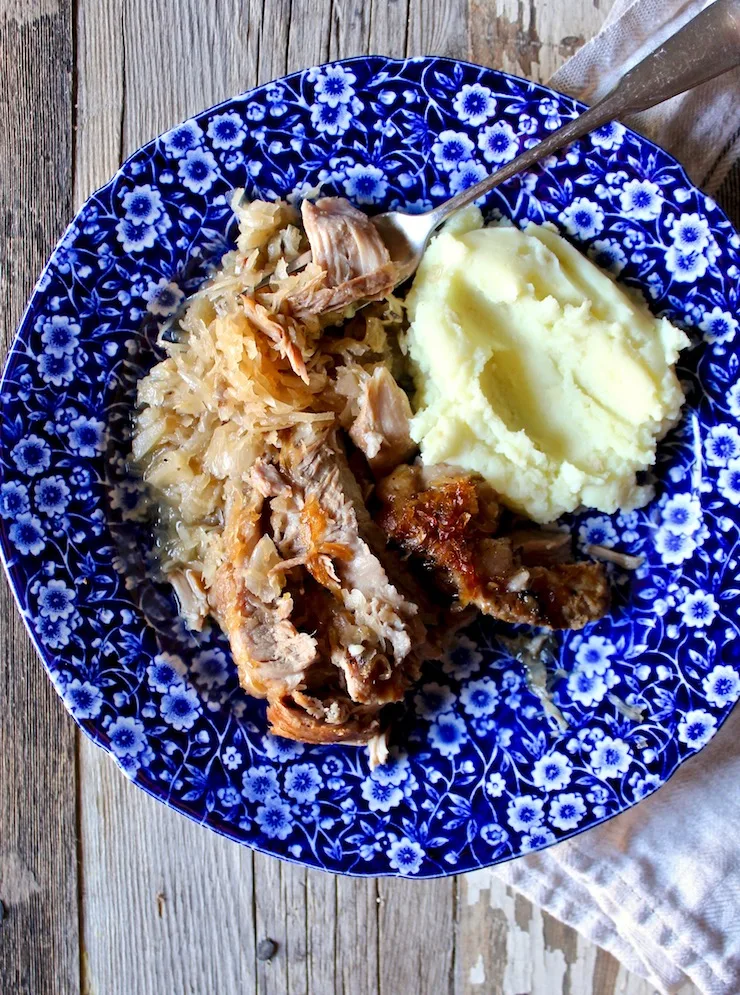 Other dishes to cozy up to:
HUNGRY FOR MORE? Subscribe to my Newsletter and come hang out with me on INSTAGRAM, or give me a follow on FACEBOOK or see what I'm pinning on PINTEREST.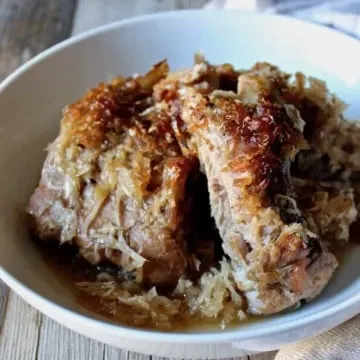 Braised Pork and Sauerkraut
Pork ribs braised in a low, slow oven with sauerkraut and brown sugar. Serve with mashed potatoes for Sunday dinner on a cold winter night.
Print
Pin
Rate
Ingredients
3 - 4

pounds

pork ribs, preferably on the bone, country style or spareribs (if needed, cut into 2 to 3-piece rib sections)

3 - 4

cans

Bavarian style sauerkraut (it's sweeter and has caraway seeds)

14 oz each

Brown sugar (about 1 to 2 cups)

Kosher salt and fresh cracked pepper
Instructions
Preheat oven to 300º. Trim any excess fat from the ribs.

In a large dutch oven, put 1 can of sauerkraut, with juices, into the pot and spread along the bottom. Place one layer of pork ribs on top of sauerkraut. Season with salt and pepper. Add another can of sauerkraut over the ribs. Sprinkle generously with brown sugar. Repeat with another layer of pork ribs, salt and pepper, another can of sauerkraut. Top with brown sugar. (So I did two layers of pork and 3 cans of kraut. You may want or need another can of sauerkraut. Just adjust to your amount and size of ribs and pot.)

Add water to the side of the ribs, enough so liquid comes ¾ of the way up the pork and kraut, I added about ½ can of water. Cover pot with lid.

Place in middle of oven and braise for 2½ - 3 hours, until pork is very tender when pierced. You can remove the lid the last 15 - 30 minutes if you want the top more brown.

Remove from oven and skim any fat from the top. Serve with mashed potatoes, and maybe apple sauce (not baked beans!).
Recipe Notes
You can use spare ribs, back ribs, country ribs, pork shoulder ~ they all work. I used meaty pork loin back ribs in these photos.
I used over 5 pounds in this recipe, two layers in a large Dutch oven.
Sometimes I add a little extra caraway seed, totally optional. I prefer Frank's Bavarian-style kraut for this recipe, which has caraway in it.
The amount of brown sugar is your preference. I just eyeball it and sprinkle away, maybe a cup or so, total. You don't want it too sweet!
Nutrition
Calories:
479
kcal
Carbohydrates:
9
g
Protein:
26
g
Fat:
37
g
Saturated Fat:
12
g
Polyunsaturated Fat:
6
g
Monounsaturated Fat:
14
g
Trans Fat:
1
g
Cholesterol:
127
mg
Sodium:
1487
mg
Potassium:
734
mg
Fiber:
6
g
Sugar:
4
g
Vitamin A:
37
IU
Vitamin C:
30
mg
Calcium:
85
mg
Iron:
4
mg