Classic hummus bi tahini recipe with mellowed garlic, sesame paste and chick-peas. A favorite Middle-Eastern spread served as a dip with pita bread.
I first made hummus years ago when we lived in Chicago. Meathead raved about the hummus at an Armenian restaurant he often went to for lunch, Sayat Nova. I came across a classic hummus recipe in one of my cookbooks and decided to try making it. I thought it was really good but my husband didn't think it was that great, not like Sayat Nova's.
He said theirs comes drizzled with really good olive oil and the Armenian flatbread, lavosh, was the best. So I liked what I made, but no one really ate it but me. I eventually stopped making it. This was the early 90's, hummus was not in the stores and few people I knew made it or even ate it.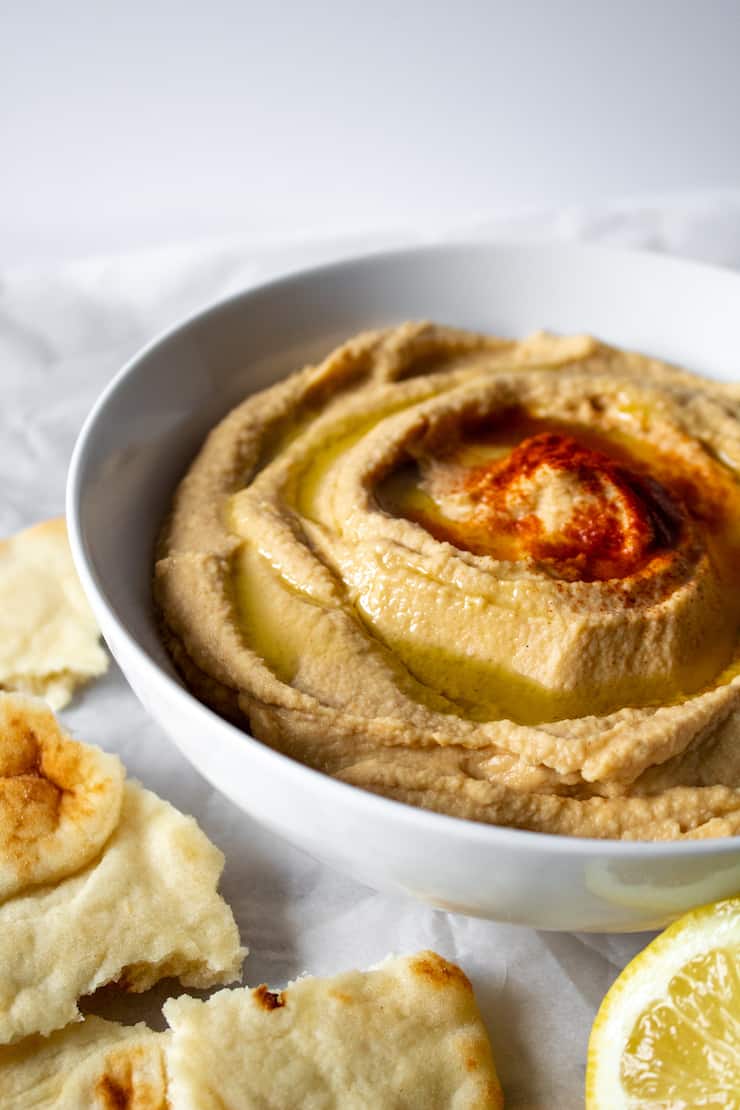 Have you seen all the hummus in the grocery stores now? My stores have huge sections with all kinds of variations and brands. I started buying it and I was the only one eating it again. Then my kids told me they liked hummus, but only the homemade kind.
And I had the Vegetarian in residence. It was time to ditch the store bought stuff and make it from scratch. It's simple and much better. This is a traditional hummus that I updated a bit.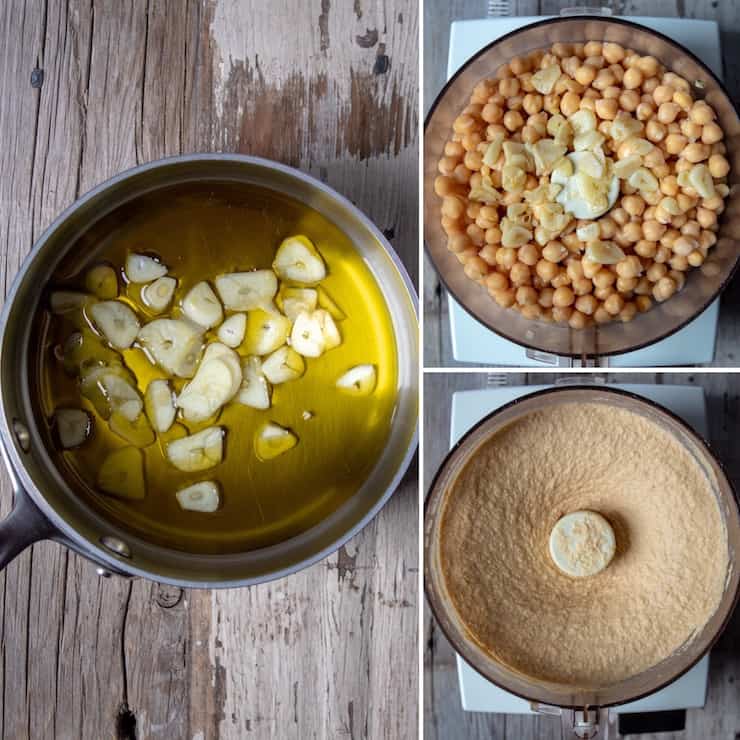 Hummus is basically chick peas, tahini, garlic, olive oil and lemon. A little cumin and salt. That's it. I like garlic but find raw garlic to be too strong so I cook sliced garlic in olive oil to mellow it. And it flavors the olive oil that goes into the hummus.
Along with the cumin I add a little smoked paprika. This is really good stuff. For lunch today, I had a piece of whole grain toast slathered with this hummus and topped with in season tomatoes. A little sea salt and I was loving my lunch.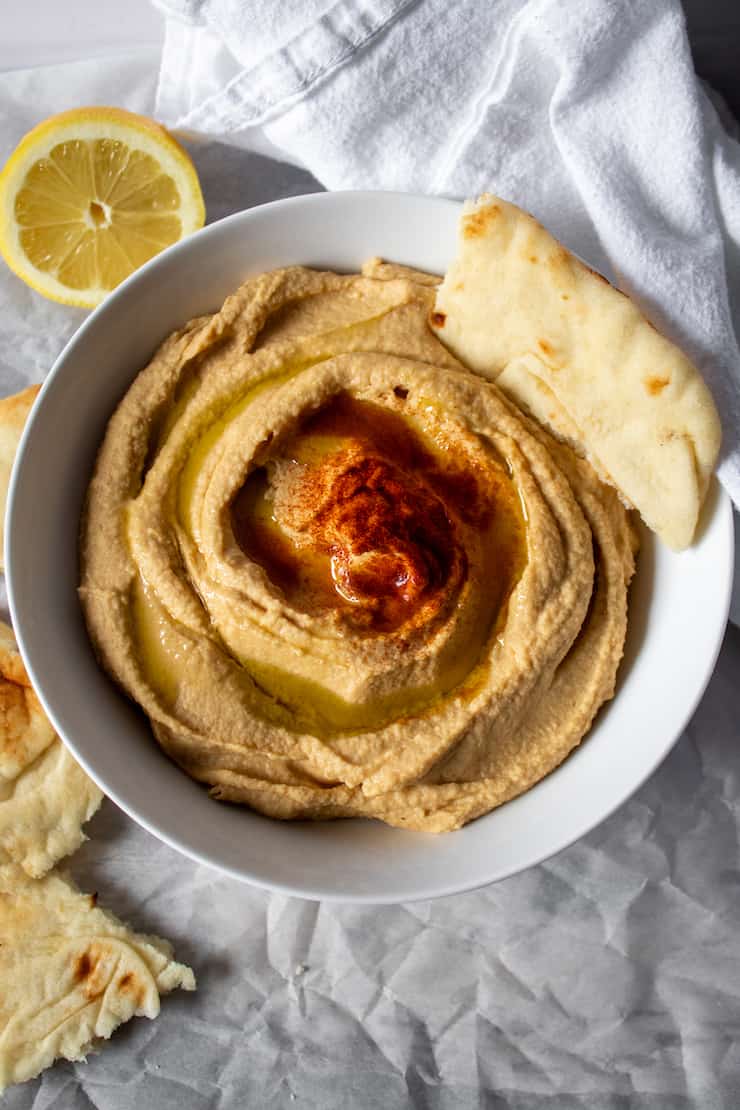 A note about the chickpeas. I use canned and find the brand makes a difference. I have tried a store brand and the garbanzos were small and hard. I like S & W brand. They are plump, tender and creamy. Use a quality brand of chickpeas, unless of course, you want to make from dried ones. No thanks.
Meathead likes this hummus, although he still thinks Sayat Nova's is the best. I'm glad because it is much healthier for him, even if he somehow adds some meat to it. Enjoy, Kelly🍴🐦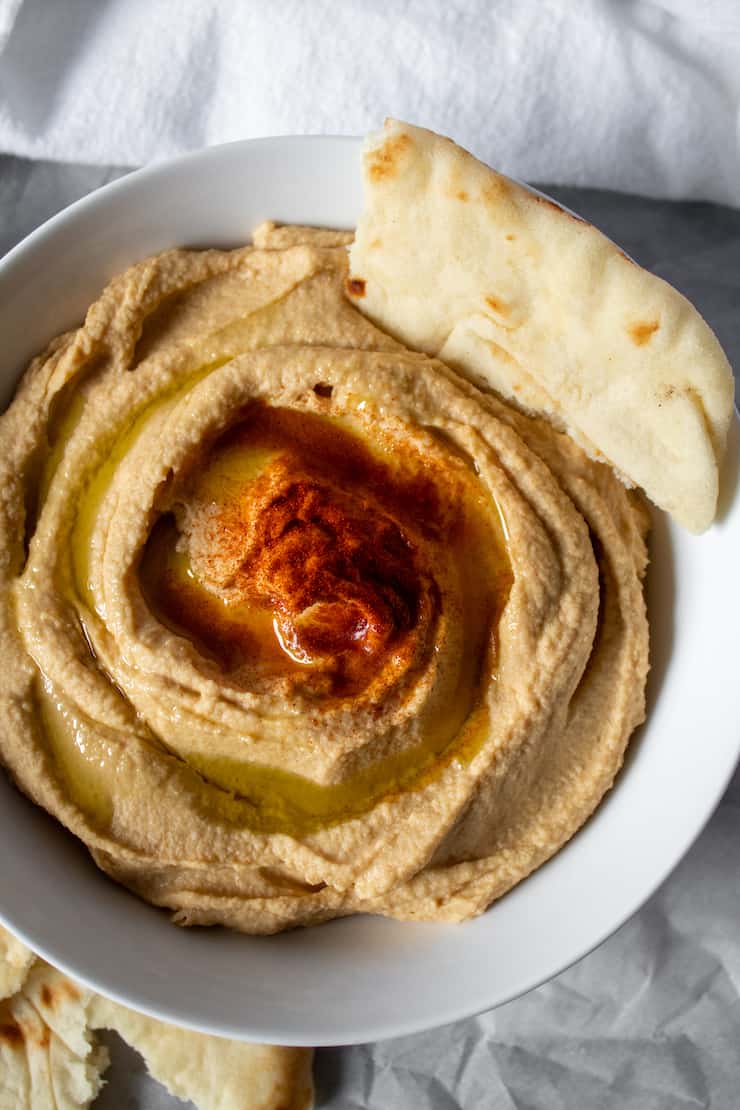 HUNGRY FOR MORE? Subscribe to my Newsletter and come hang out with me on INSTAGRAM, or give me a follow on FACEBOOK or see what I'm pinning on PINTEREST.
UPDATED: March 16, 2019: no changes to original recipe, just spiffed things up a bit.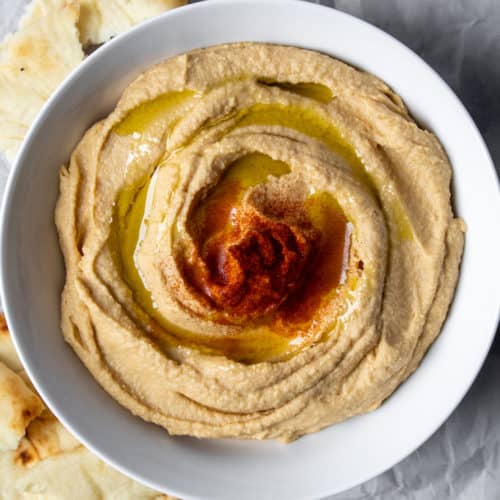 Classic Hummus
Traditional hummus bi tahini recipe with mellowed garlic.
Print
Pin
Rate
Ingredients
⅓

cup

olive oil

more for drizzling

4

large cloves of garlic

thinly sliced

¼

cup

tahini

Juice of 1 - 2 lemons

or more to taste

2

cans garbanzo beans

drained and rinsed, loose skins picked out (I like S & W brand)

¼

cup

warm water

1

teaspoon

ground cumin

½

teaspoon

smoked paprika

Chopped fresh parsley
Instructions
In a small sauce pan, put ⅓ cup olive oil and toss in the sliced garlic. Heat over medium heat to soften and mellow the garlic, about 3 minutes from when it starts to sizzle. Watch carefully, don't brown it or worse, burn it. Remove from heat and cool completely.

Drain and rinse the chickpeas and put in a food processor, picking out any loose skins. Fish out the garlic and also add to the chickpeas. Puree until smooth, scraping down as needed.

With the machine running, slowly add the tahini, juice of one lemon and the ⅓ cup of olive oil you cooked the garlic in. Then add ¼ cup warm water.

Add the cumin and smoked paprika, process. Season with salt and more lemon, at least another half lemon.

Taste and adjust any seasonings. Spread in a serving dish or plate. Drizzle with good olive oil and chopped parsley. If desired, dust with a little smoked paprika or Everything Bagel seasoning. Serve with pita bread or crackers.
Keyword:
hummus, traditional hummus, easy homemade hummus, mellowed garlic