Chicken braised in red wine and aromatics, topped with bacon, onions and mushrooms, coq au vin is classic French comfort food.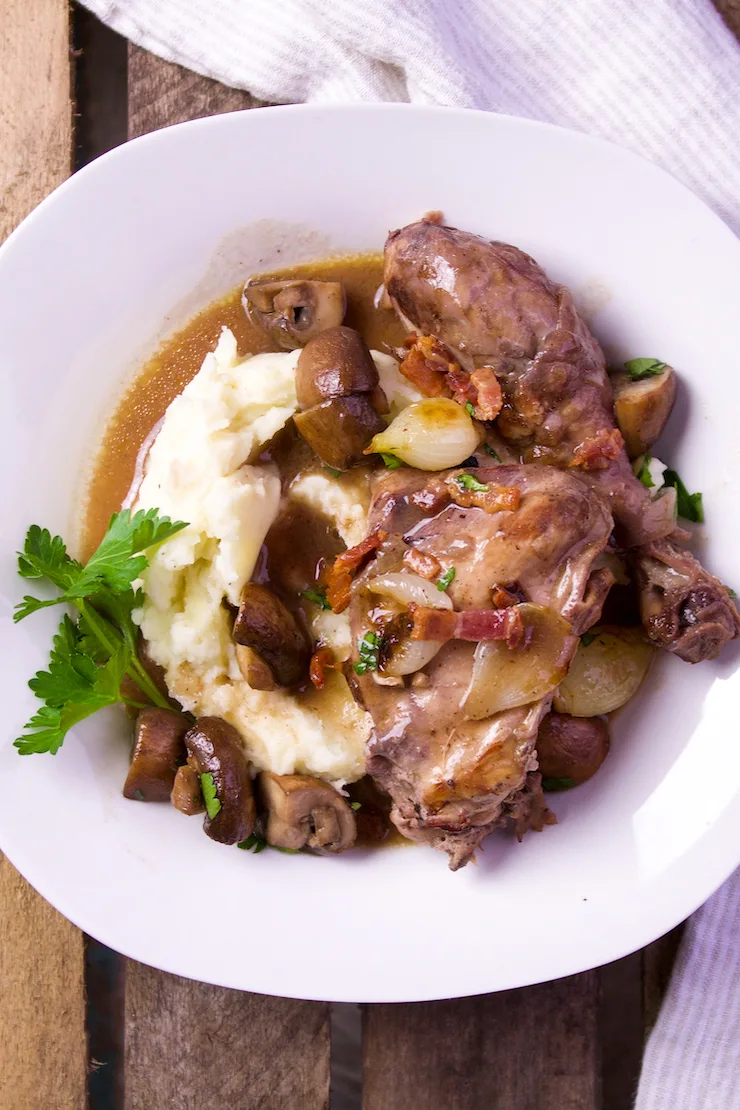 In the middle of December and all the holiday madness, I injured my elbow. On my right arm, of course. I just worked through it, hoping it would go away. It didn't, just got worse and I finally was sidelined while it healed (help of a very nasty cortisone shot). I had already cooked and photographed a few dishes and now, I'm finally getting them on the blog. Starting with some French comfort food ~ Coq Au Vin, which is Chicken Braised in Red Wine.
Don't you just love that name, Coq Au Vin? I've had this dish many times, including at some very nice French restaurants. It's always a little different in preparation but always so good. When I set out to make it at home several years ago, I tried a recipe from Anne Willan, a French cooking authority. I've never tried any other recipe, this is the one for me. Although, I'm sure Julia Child's is very good, too!
What is Coq au Vin?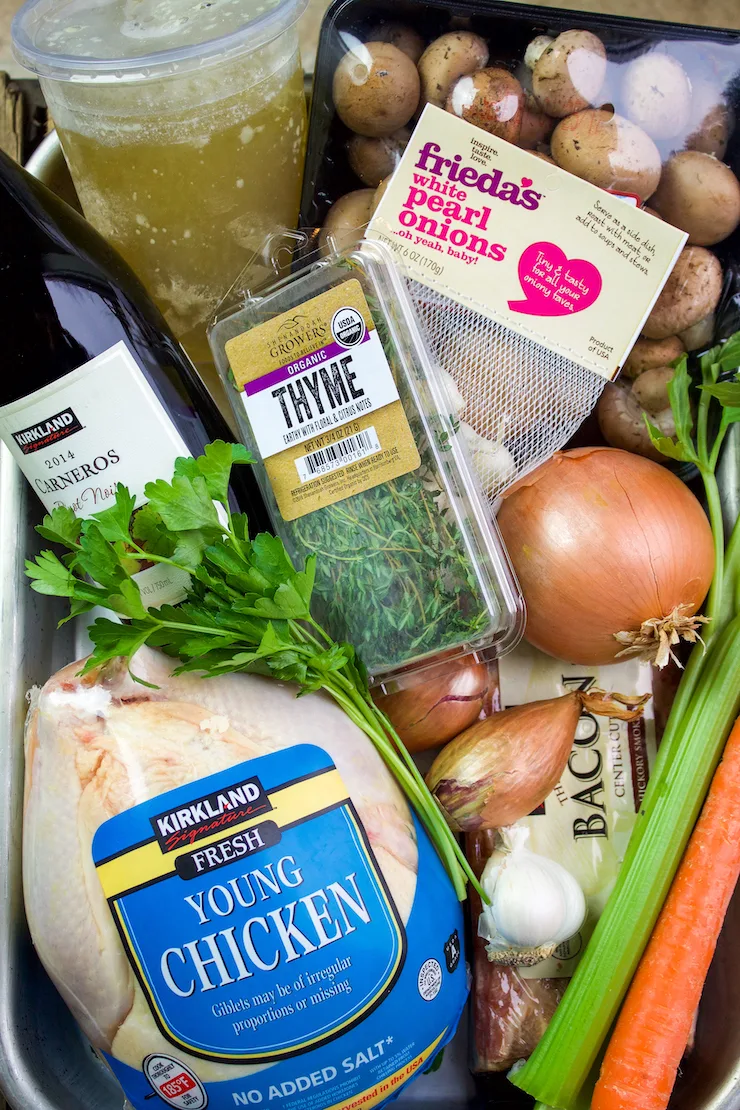 Coq au vin is a French dish that essentially is chicken cooked in wine, literally "rooster in wine". Chicken is marinated overnight in red wine and aromatics, and the next day, is braised with bacon and the wine marinade, some garlic and shallots, and chicken stock. It's then finished off with caramelized pearl onions and mushrooms. The sauce? I can't even.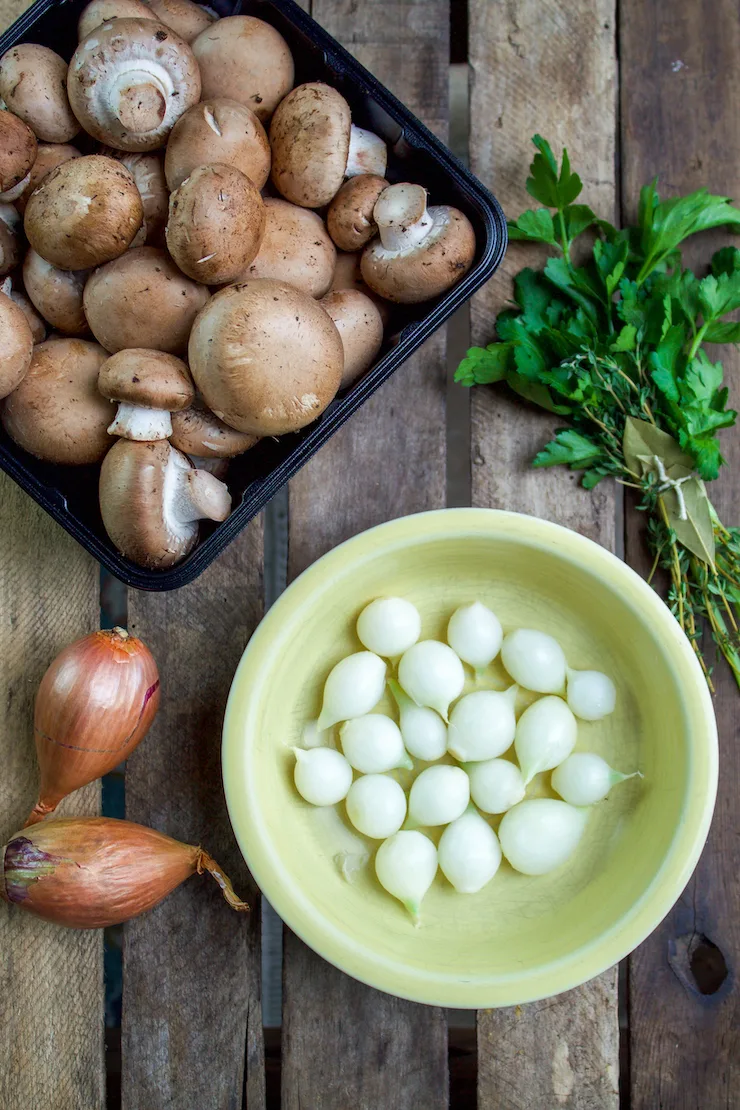 What wine should I use?
A red wine from Burgundy is typically used for coq au vin (just like in beef bourguignon/burgundy). Burgundy is a specific region in France, use any burgundy-style red wine, like pinot noir. Don't break the bank, an inexpensive but good red wine will work just fine and what I use.
What do I serve this with?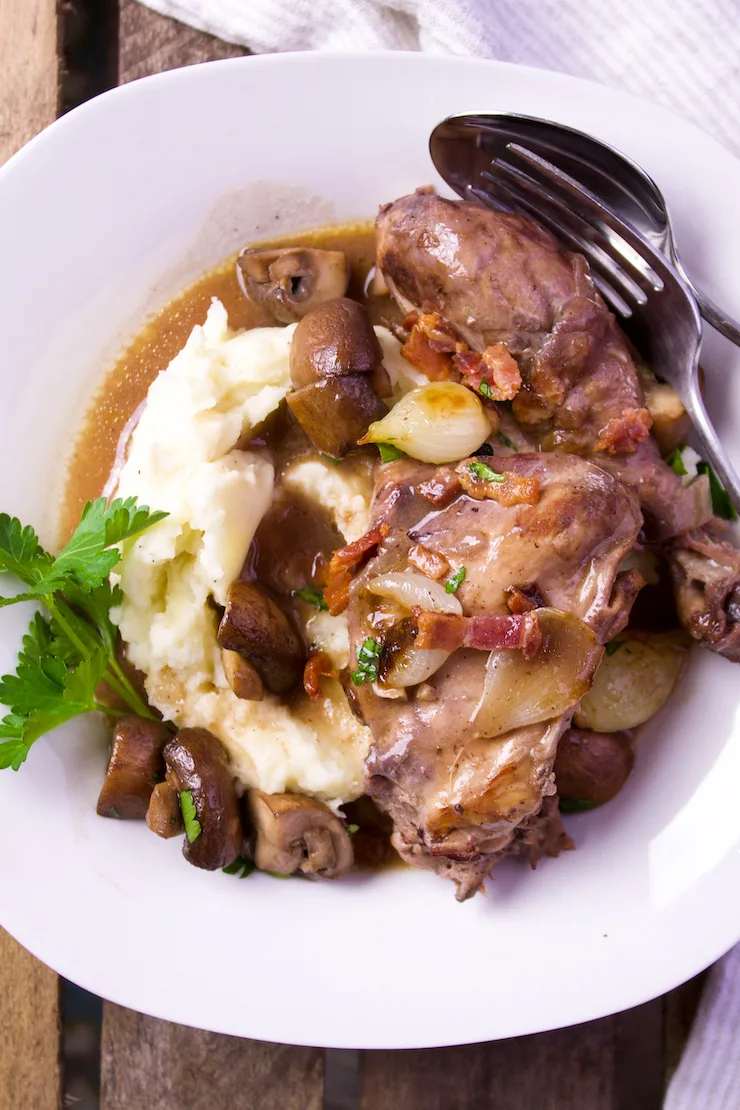 While this chicken stew is delicious on it's own, I like it with mashed potatoes. Buttered noodles or rice are also good choices. Something starchy to slurp up the exquisite sauce is ideal.
For some classic French comfort food at home, try Coq Au Vin. Give yourself the weekend to make it and on Sunday night, your family or friends, will be swooning over your cooking skills. Don't forget some really good mashed potatoes and crusty bread for the delicious sauce. Best, Kelly🍴🐦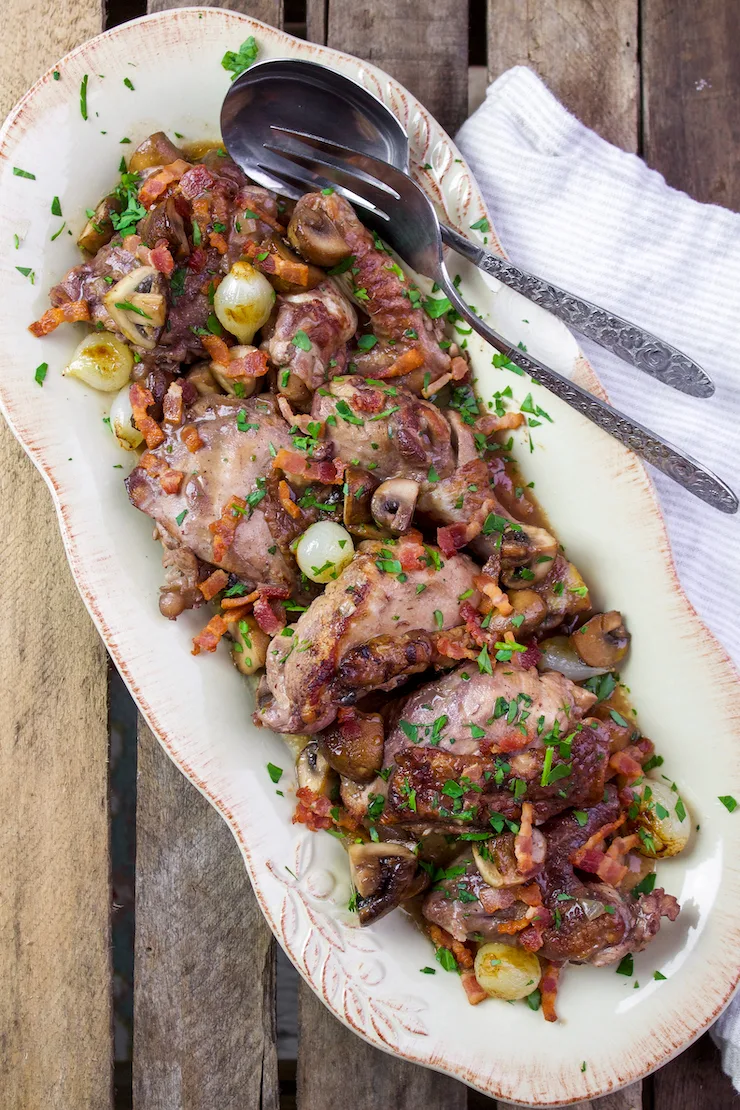 HUNGRY FOR MORE? Subscribe to my Newsletter and come hang out with me on INSTAGRAM, or give me a follow on FACEBOOK or see what I'm pinning on PINTEREST.
UPDATED: Originally posted in February, 2017, and updated in January, 2020. Just spruced things up a bit with photos and copy, no changes to original recipe.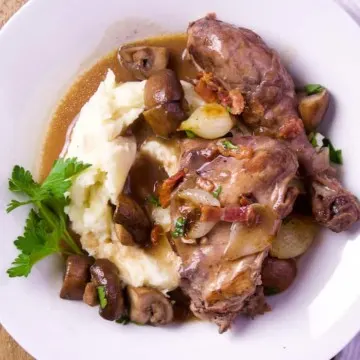 Coq Au Vin
Chicken braised in red wine and aromatics, topped with bacon, onions and mushrooms, coq au vin is classic French comfort food.
Print
Pin
Rate
Ingredients
3

cups

red wine

1

teaspoon

whole black peppercorns

3

cloves

garlic, 1 whole and 2 finely chopped

2

ribs

celery, thinly sliced

1

carrot, thinly sliced

1

yellow onion, thinly sliced

5 to 6 pound chicken, cut into 10 pieces (cut the breasts in half crosswise)

3

tablespoon

olive oil

8

sprigs

flat-leaf parsley plus 1 tablespoon chopped parsley

2

bay leaves (preferably fresh, but dry will work)

2

sprigs

fresh thyme

½

lb

thick-cut bacon, cut into 2-inch long slivers

3

tablespoon

all-purpose flour

2

cups

chicken stock, preferably homemade

2

shallots, finely chopped

Kosher salt and freshly cracked pepper

3

tablespoon

butter (I use salted butter)

18

pearl onions, peeled

(see notes below)

½

lb

cremini mushrooms, cleaned and quartered
Instructions
In medium pot, bring wine, peppercorns, whole garlic, celery, carrots and sliced yellow onion to a boil. Reduce heat and simmer for 5 minutes. Let cool. Place chicken in large bowl and pour cooled wine mixture over the pieces and then drizzle with 1 tablespoon olive oil. Cover and marinate overnight.

Heat oven to 325º and make bouquet garni; tie parsley sprigs, bay leaves and thyme sprigs together, set aside.

Remove chicken from marinade and pat dry. Strain marinade, reserving the solids and liquid separately.

In a large, heavy bottomed pot, heat 1 tablespoon olive oil. Add the bacon and cook until crisp, about 8 minutes. Remove bacon to a bowl with slotted spoon and set aside.

Increase heat to medium high. Working in batches, brown chicken in bacon drippings, 6-8 minutes, and then transfer to a plate. Add the reserved solids and cook until soft, about 10 minutes. Sprinkle with flour and stir and cook for 1 minute. Whisk in reserved liquid and bring to a boil. Stir and simmer for 1 more minute. Stir in remaining garlic, shallots, chicken stock and salt and pepper to taste. Nestle in the chicken and bouquet garni, cover and bake until tender, about 1¼ hours.

When chicken is tender, transfer to a plate and tent with foil. Strain sauce and keep warm on stove.

While chicken is baking, heat 1 tablespoon butter and 1 tablespoon olive oil in a skillet over medium heat. Add peeled pearl onions and cook until lightly browned and golden, about 5 minutes. Reduce heat to low, cover and cook until tender, another 8 minutes or so, stirring occasionally. Combine onions with bacon.

Heat remaining 2 tablespoons butter in skillet over medium high heat. Add mushrooms and cook until tender, about 5 minutes or so. Arrange chicken on a platter, spoon some sauce over and top with bacon, onions, mushrooms and chopped parsley. Seve with mashed potatoes and more sauce on the side. Enjoy.
Recipe Notes
I used an inexpensive but good Pinot Noir for this dish. No need to break the bank.
Cut up a whole chicken into eight pieces (discard the back or use for stock). Cut the two breasts in half crosswise to yield 10 pieces.
To peel pearl onions, trim the root ends and blanch in boiling water for 30 seconds. Remove to an ice bath, cool, then squeeze the stem end of each onion and it should just slip out of the skin. If not, use a paring knife to help remove the skin.
Nutrition
Calories:
530
kcal
Carbohydrates:
25
g
Protein:
14
g
Fat:
32
g
Saturated Fat:
11
g
Polyunsaturated Fat:
4
g
Monounsaturated Fat:
15
g
Trans Fat:
1
g
Cholesterol:
59
mg
Sodium:
457
mg
Potassium:
807
mg
Fiber:
3
g
Sugar:
9
g
Vitamin A:
2120
IU
Vitamin C:
13
mg
Calcium:
72
mg
Iron:
2
mg
*Adapted from SAVEUR 2007