Easy herb butter Instant Pot turkey breast for Thanksgiving. Bone-in turkey breast rubbed with garlic-herb butter cooks up juicy and moist in no time in the pressure cooker, with gravy in minutes. Free up the oven for everybody's favorite part of Thanksgiving ~ the sides!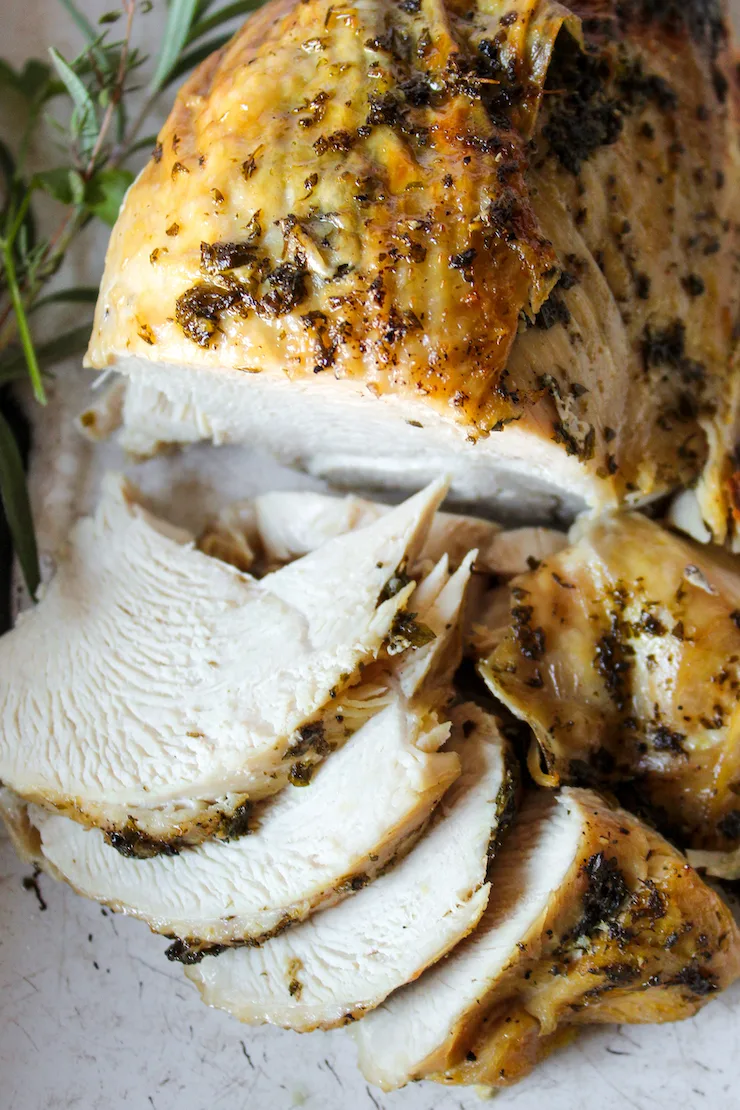 My dilemma every Thanksgiving is that I stress about roasting a whole bird and when it's all said and done (and delicious!), my family barely puts a dent in the turkey. It's all about the sides for them. My girls dutifully take the smallest piece of white meat they can find, leaving my husband and me with the rest and all the leftovers. Not this year, I'm doing an easy bone-in turkey breast in the Instant Pot.
Turkey breast cooks fast in the pressure cooker but it also frees up the oven. Again, another source of stress ~ trying to cook and time all the side dishes. Put the Instant Pot to use, slow cooker too, in anyway they can help. I'm already feeling a sigh of relief for the fast approaching big day.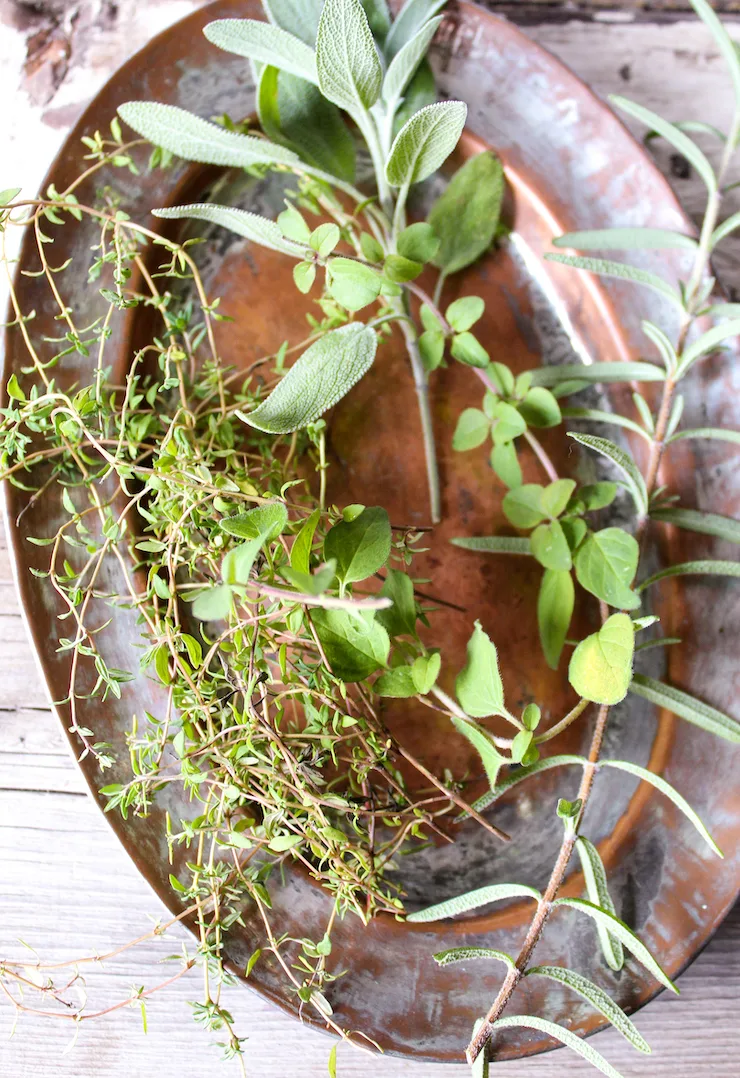 For the herbs, I like fresh thyme, sage, rosemary and oregano. Believe it or not, even in November in St. Louis, my herbs are still thriving outside in pots. I seem to have all I need right at home in my herb garden. This is a good mix of traditional Thanksgiving type herbs, you can mix and match as you wish.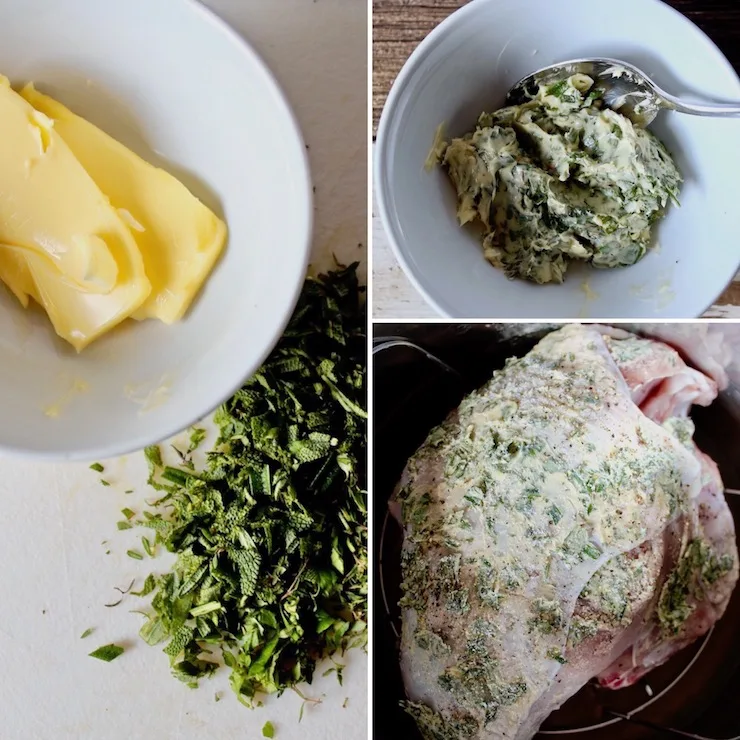 I chose a bone-in turkey breast, I almost always prefer on the bone for any meat if I have a choice in the matter. Then simply rub on some garlic-herb butter and put in the Instant Pot. The only other thing I do is add some homemade turkey stock to the pot, and then I have enough juices when the turkey is done to make some gravy, right in the pot.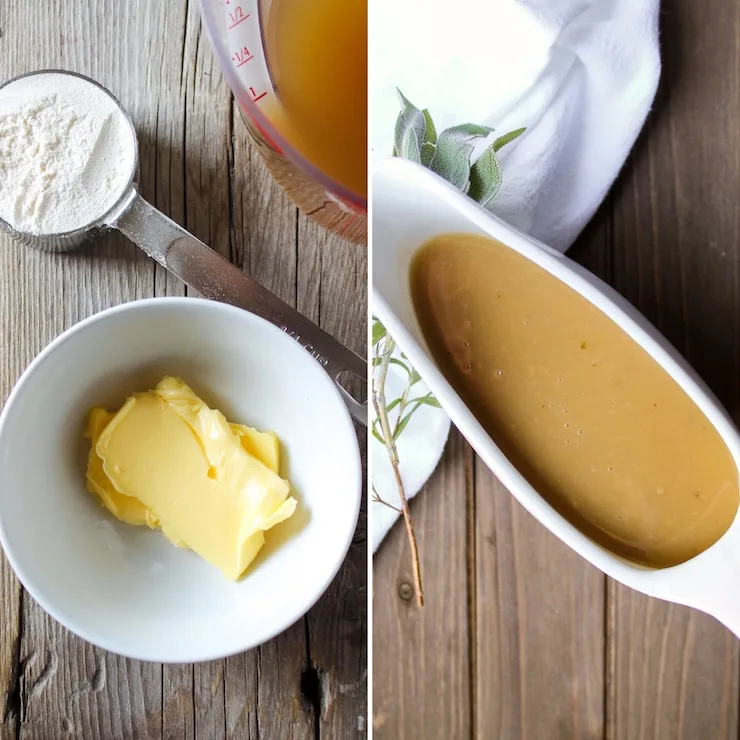 Two things about doing turkey in the Instant Pot, while it's fast and the turkey is juicy, the color is lacking ~ no browned skin. That is remedied with a quick trip under the broiler, to brown the skin while you make the gravy. Just make a simple roux of butter and flour in the Instant Pot and then add the reserved turkey juices. Again, color will be light because of no caramelized drippings from the roasting pan. A little dark soy sauce takes care of that, as well as adding some salty flavor.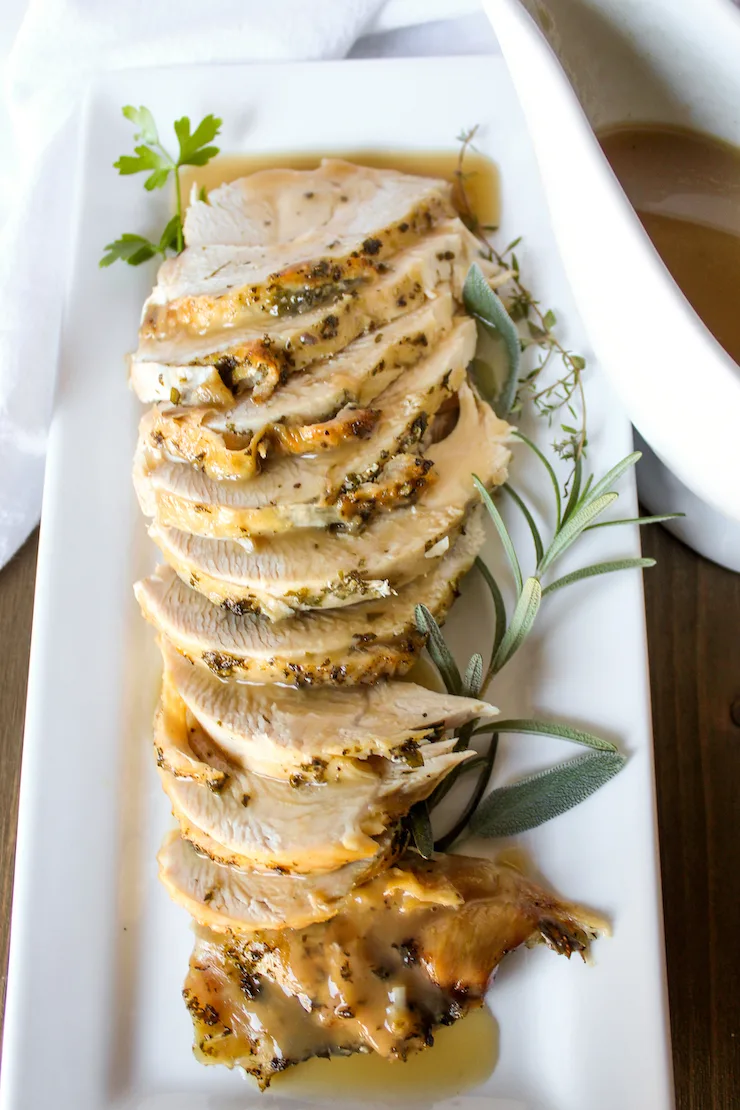 This is my new turkey plan ~ herb butter Instant Pot turkey breast. It's not Thanksgiving without turkey, or mashed potatoes for that matter, another thing my kids can do without, they are so weird. But I know they'll like this turkey, it's the white meat and tender and juicy. Maybe we won't have so much leftover this year. Enjoy ~ Kelly🍴🐦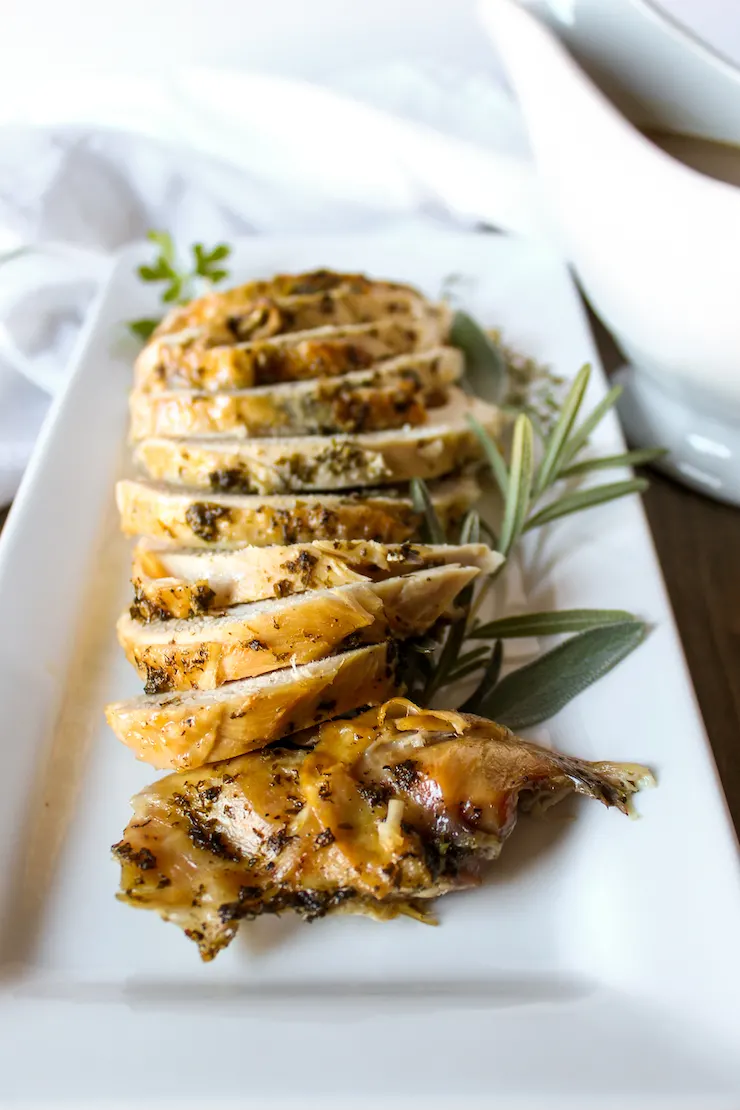 If you have any leftover turkey, try this Turkey Tetrazzini, you will love it!
HUNGRY FOR MORE? Subscribe to my Newsletter and come hang out with me on INSTAGRAM, or give me a follow on FACEBOOK or see what I'm pinning on PINTEREST.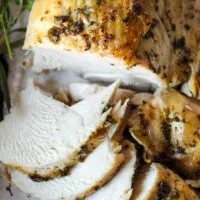 Herb Butter Instant Pot Turkey Breast
Easy herb butter Instant Pot turkey breast for Thanksgiving. Bone-in turkey breast rubbed with a garlic-herb butter that cooks up juicy and moist in no time, with gravy, in the pressure cooker.
Print
Pin
Rate
Ingredients
3 to 4

pound

bone-in turkey breast, with skin

2

tablespoons

butter, very soft but not melted

2

tablespoons

mixed fresh herbs, such as thyme, rosemary, sage and oregano, minced

1

clove

garlic, minced

Kosher salt

1

cup

turkey or chicken stock, preferably homemade
2

tablespoons

butter, or turkey fat from drippings

2

tablespoons

flour

More turkey/chicken stock, if needed, to add to pot drippings to make 2 cups

½ - 1

teaspoon

dark soy sauce, optional
Instructions
In small bowl, combine butter, fresh minced herbs and garlic. Loosen turkey breast skin, rub some butter under skin, and all over the turkey breast. Season all over with salt and pepper.

Place metal trivet in Instant Pot insert and 1 cup of turkey stock. Place turkey breast, skin side up, on rack and seal pot. Cook on high pressure for 25 minutes. Let pressure naturally release for 15 minutes.

Release any remaining pressure and remove turkey breast to sheet pan. Turn on broiler and brown turkey for about 5 minutes, watching closely so not to burn.

Meanwhile, make the gravy. Pour turkey broth in measuring cup, you should have two cups. If not, add more stock to reach two cups. Turn on sauté setting and add butter or turkey fat to pot, melt, then sprinkle with flour. Whisk and cook for a minute or two until golden and flour taste is cooked off. Whisk in about a half cup of stock until smooth and thick, then gradually whisk in remaining stock. Cook a couple of minutes until thickened. Add optional dark soy sauce and taste for seasonings.

Remove bone from turkey. Slice turkey, plate on serving platter and serve with gravy on the side. Enjoy.
Recipe Notes
My turkey breast was 2½ pounds and cooked in 20 minutes. Plan on 25 minutes for 3 to 4 pounds, and 35 minutes for 4 to 7 pounds. Always check for doneness and if need be, seal and cook an additional 5 minutes or so.
The dark soy sauce adds color and salty flavor, my turkey broth was unsalted to start. Start with ½ teaspoon, then taste. If you want more color and it needs salt, add another ½ teaspoon.
Watch the turkey under the broiler carefully, it browns quickly.
If you want more gravy, add another cup or two of stock, and add more flour for the roux, about ¼ cup.
Nutrition
Calories:
321
kcal
Carbohydrates:
4
g
Protein:
50
g
Fat:
12
g
Saturated Fat:
6
g
Polyunsaturated Fat:
1
g
Monounsaturated Fat:
3
g
Trans Fat:
1
g
Cholesterol:
144
mg
Sodium:
668
mg
Potassium:
608
mg
Fiber:
1
g
Sugar:
1
g
Vitamin A:
392
IU
Vitamin C:
2
mg
Calcium:
39
mg
Iron:
2
mg