Kolachkes, traditional Czech pastries/cookies filled with jam, cheese or nuts and dusted with powdered sugar.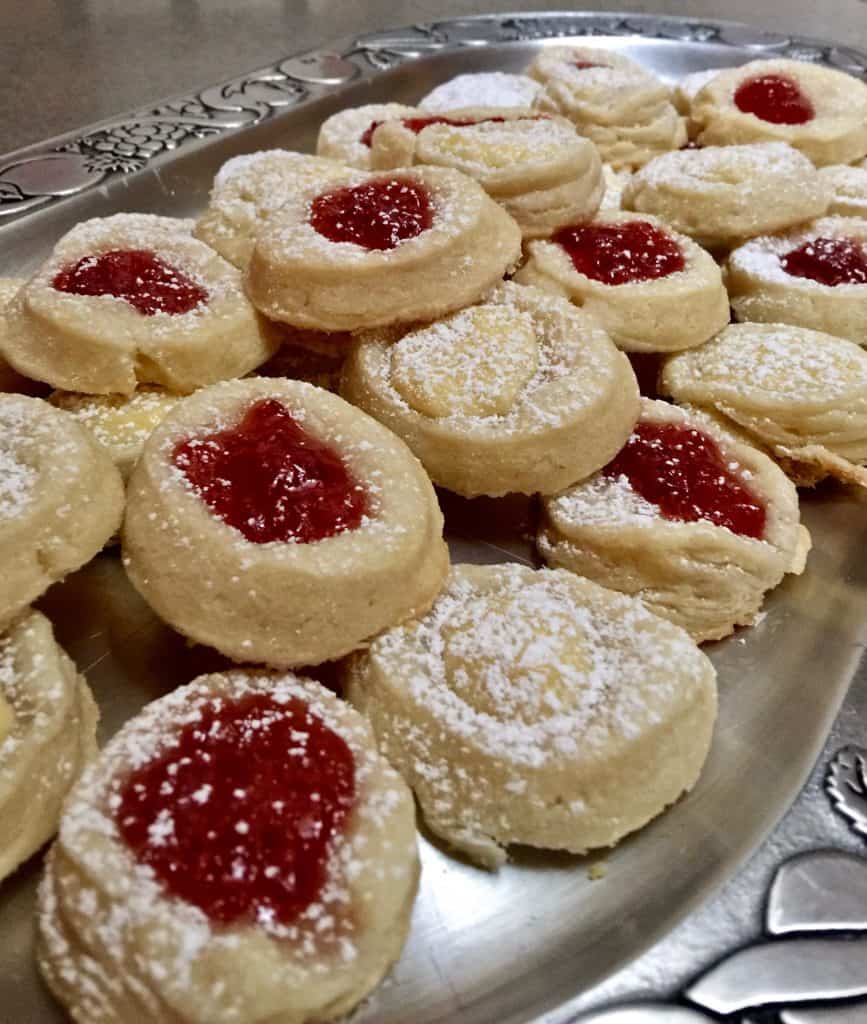 Everyone gets their cookies baked well before Christmas but me. Oh well, when you're not a big baker, this happens. These kolachkes are a must in my house at Christmastime. Luckily, I've been making these forever and I have them down pat, even with my substandard baking skills.
When I was a kid growing up in Chicago, my dad cooked on weekends and headed out to shop on most Saturday mornings. He often headed to Berwyn and Cicero, and he'd come home with things like Rosen's rye bread, prasky, veal knockwurst, houska and kolachkes. A lot of what he brought home didn't appeal to me, but I loved the kolachkes. They were pastries filled with cheese or apricot, and sprinkled with powdered sugar. I knew he got kolachkes because they were always on a cardboard plate, wrapped in white butcher paper and tied with string.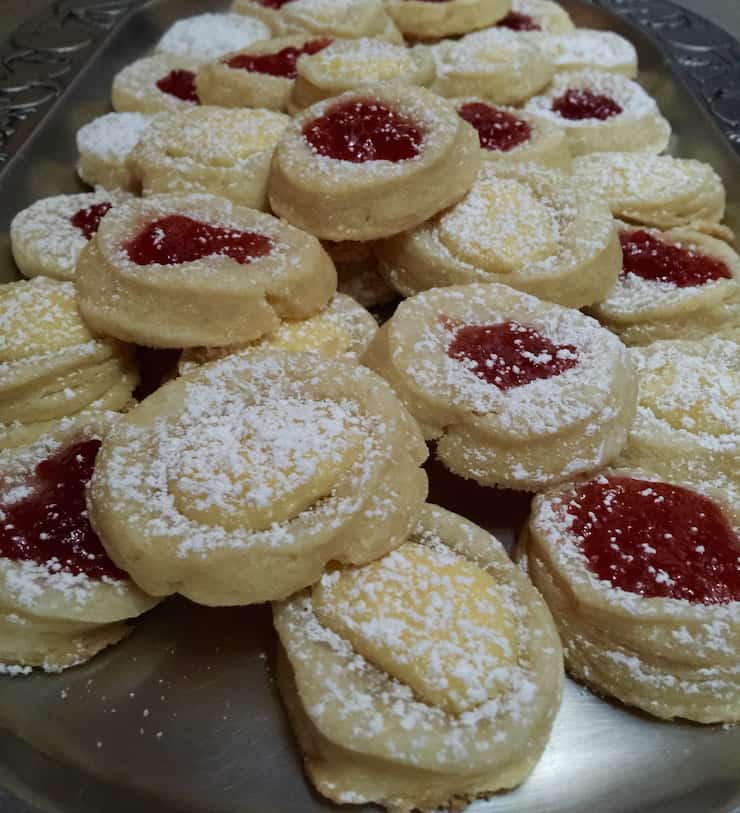 In the early 90's, in Chicago, I came across a recipe for kolachkes that looked just like the kind my dad would bring home from the bakery. To me, Czech kolachkes are cookie-like, not yeasty and puffy. This recipe yields a cookie-like kolachke, not a puffy one. In fact, the ones I always had were pretty dense cookies. These are a little lighter and flakier, and delicious.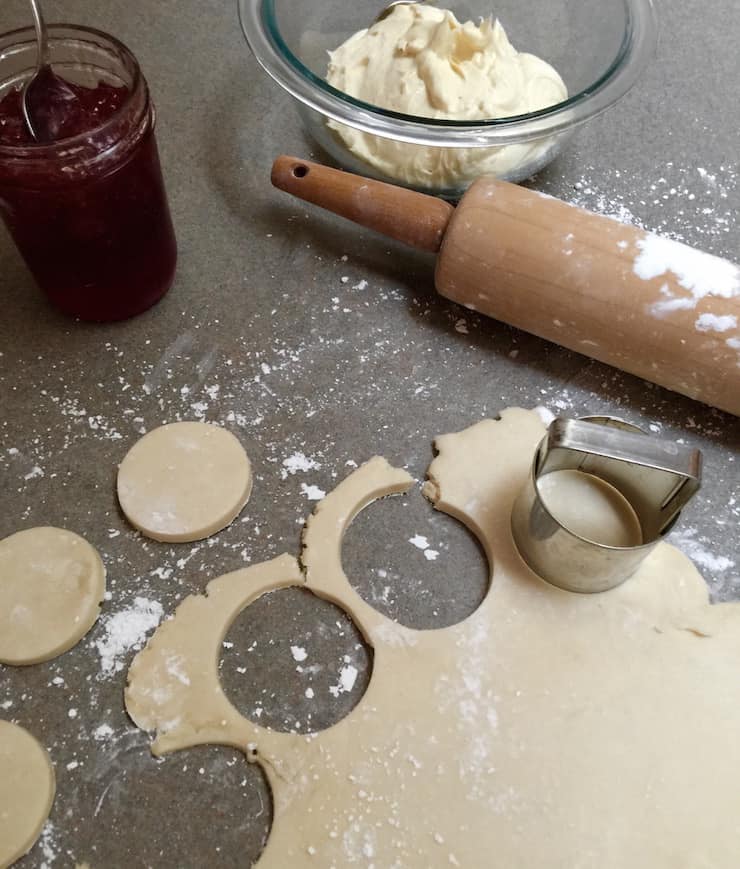 The first time I made these, I made cheese, apricot and strawberry. My dad was so impressed, he couldn't stop eating them, especially the cheese ones. He also said they were the exact kind of Czech kolachke that he liked so much. Huge kudos from my dad.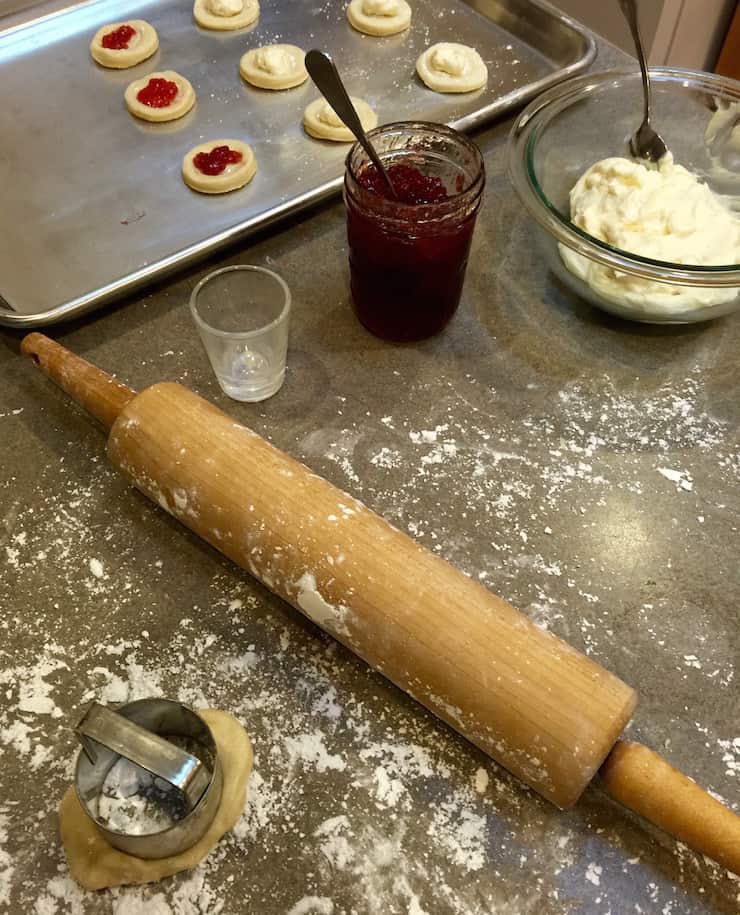 The dough is butter, cream cheese, flour and cream, and has to chill in the fridge overnight. The fillings are typically fruit or cheese or nut. My house likes cheese and strawberry, with my homemade jam. That's what I made yesterday. I asked Meathead for some help with the pictures because my hands were filled with powdered sugar and dough, and I didn't want to keep stopping and washing my hands to take a picture. So we were looking at the photos, and he took one of me rolling out the dough. I said what about this one, and Meathead says, "All I see are old lady hands". Okay, help me think of a new name for Meathead.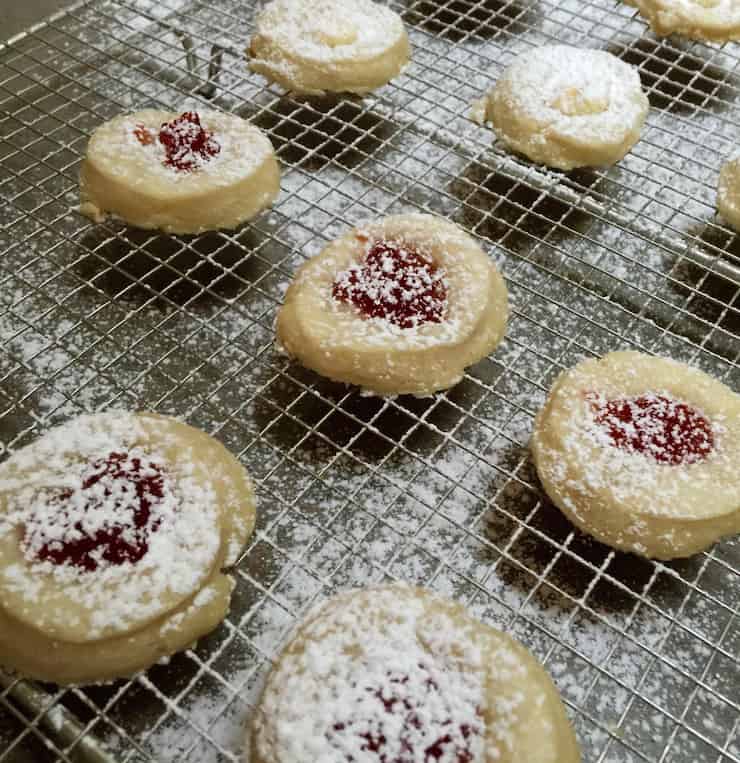 My dad looked forward to these kolachkes every Christmas, and now my kids do the same. They are all worried there won't be any when they get home next week. There will be kolachkes, it wouldn't be Christmas without them. P.S. Where's Santa? Merry Christmas, Kelly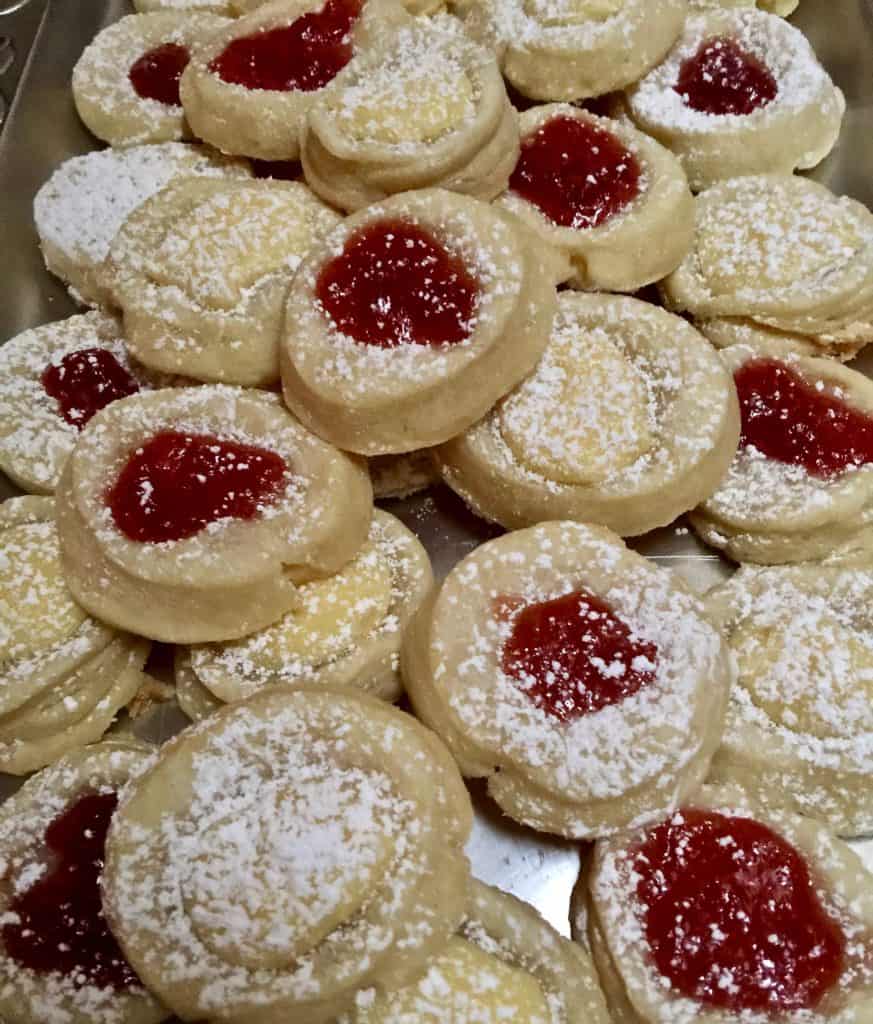 I also like to make these Chocolate Kiss Peanut Butter cookies around the holidays
If you've tried these Kolachkes or any other recipe on the blog, then don't forget to rate the recipe and let me know how yours turned out in the comments below ~ I love hearing from you! You can also FIND ME on FACEBOOK, TWITTER, INSTAGRAM and PINTEREST. Never miss a post ~ sign up for The Hungry Bluebird Newsletter for a weekly email of new content.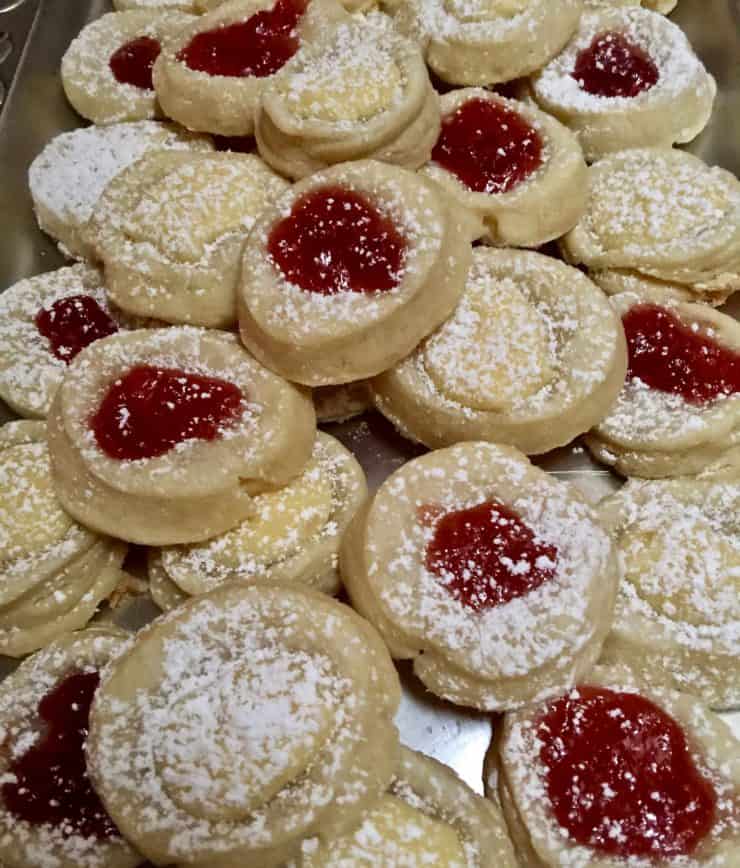 Kolachkes
Kolachkes, traditional Czech pastries/cookies filled with jam, cheese or nuts and dusted with powdered sugar.
Print
Pin
Rate
Course:
Cookies, Holiday cookies/bars
Ingredients
4

sticks unsalted butter,

softened

6

ounces

cream cheese,

softened

3

cups

all-purpose flour,

sifted

6

tablespoons

whipping cream

Confectioners' sugar for rolling and sprinkling

Jam,

jelly or preserves of choice

Cream cheese filling,

optional, recipe follows

Nut filling,

optional, recipe follows
Instructions
Beat butter and cream cheese in bowl of electric mixer until light. Beat in the flour and cream, alternating the flour and cream, until well mixed. The dough will be very soft. Divide into 4 portions and wrap in plastic wrap. Refrigerate overnight.

Preheat oven to 350º and have ungreased cookie sheets ready.

Sprinkle work surface and rolling pin with powdered sugar. Roll out dough portion to about ¼-inch thickness. The dough is really hard to roll at first but then gets easier. If it tears a little in spots, just pinch it back together. Use a small round cutter (2-inch diameter) to cut out cookies and place on baking sheet, about 1 - 2 inches apart.

Make a small depression in the center of each with your fingertip. I used, and prefer, the bottom of a shot glass which I dipped in powdered sugar so it wouldn't stick. Works better for me than with my fingertip. Fill cookies scantily with jam, jelly, preserves, cheese or nut filling. If you use too much filling, it will run out onto the baking sheet.

Bake until bottoms are lightly browned, about 12 - 15 minutes. Cool on wire rack and sprinkle generously with powdered sugar while still warm.
Notes
Cheese Filling: Beat together 1 (8-ounce) package softened cream cheese, 1 egg yolk, ½ cup powdered sugar and 1 teaspoon vanilla until well mixed and smooth.
Nut Filling: Cook 1 cup coarsely ground walnuts in 2 tablespoons unsalted butter, ⅓ cup granulated sugar and 1 teaspoon vanilla until the nuts turn golden. Let cool.
Makes 7 to 8 dozen, recipe can be halved
Keyword:
kolachkes cookies, czech cookies jam, traditional czech cookie recipes, czech kolache cookies