I have been wanting to make this classic Roman pasta dish for some time now, cacio e pepe. It is simply cheese and pepper pasta. And it is simply delicious. If you have cheese, black pepper, olive oil and a box of spaghetti, you can make cacio e pepe.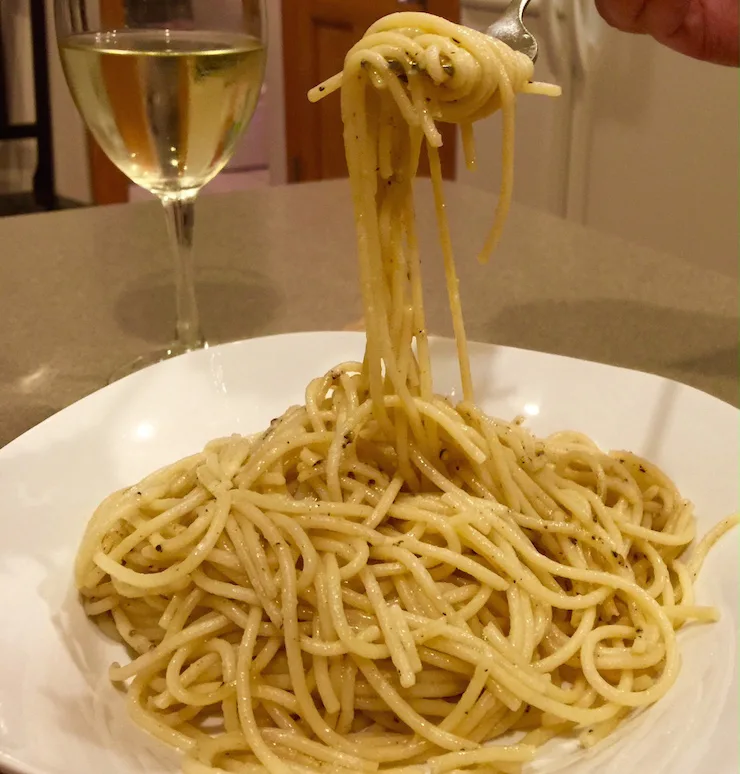 My cousin recently visited Italy and she was telling me about their favorite dish they had in Rome. A simple spaghetti with cheese and black pepper. When she got home, she researched it and started making it herself. Super simple and satisfying. The best dishes sometimes have few ingredients, but come together incredibly well. That's cacio e pepe.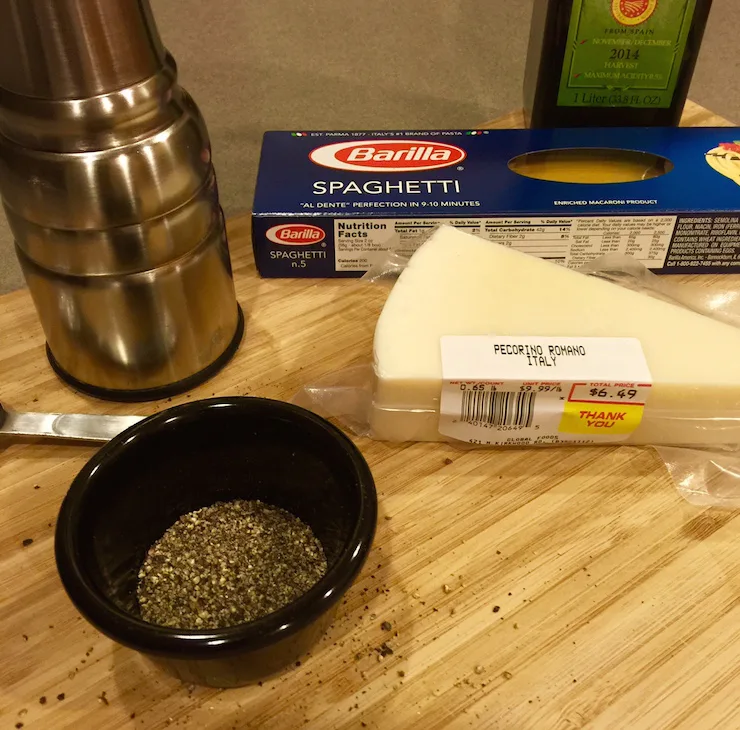 With just a few ingredients, quality matters. The traditional cheese for this dish is Pecorino Romano, an Italian hard sheep's milk cheese. Get the real thing, imported from Italy. I have seen recipes that call for another cheese in addition to the Pecorino Romano, called Cacio de Roma. I could not find that cheese in my stores. If you can find it, great, use that too, otherwise using only Pecorino Romano is perfectly fine.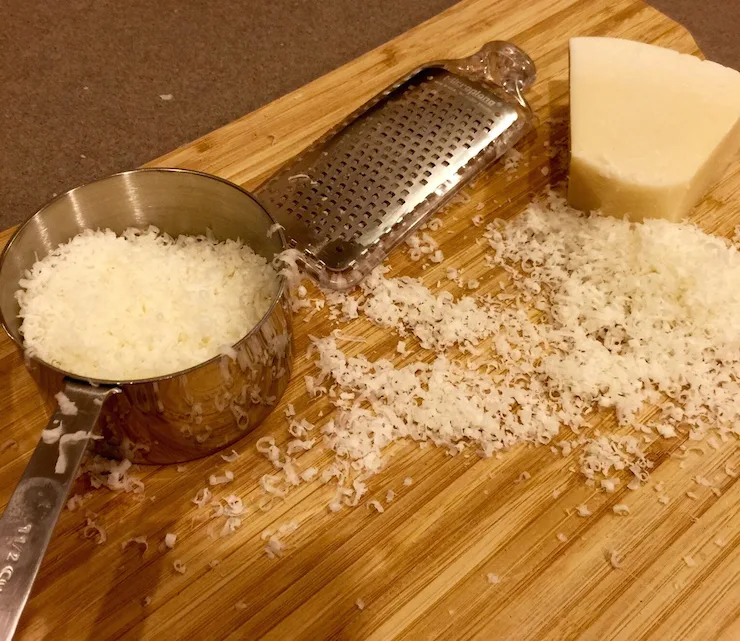 Fresh cracked black pepper and a good olive oil are also key to this dish. Use a quality brand of spaghetti, and if you can find tonnarelli pasta, try that. This simple pepper and cheese sauce comes together with reserved pasta cooking water. While cheese and black pepper are the trademarks of this Roman dish, in Umbria it often has a little pancetta added in. That's sounds pretty good, too.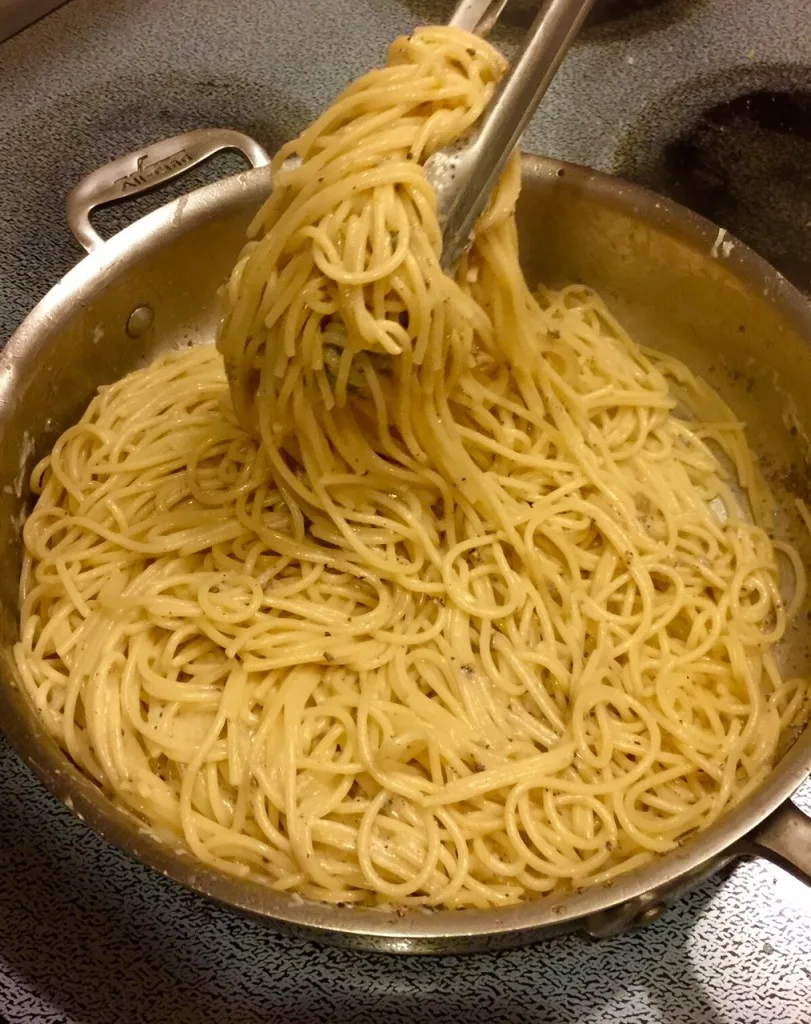 Next time you want a simple and satisfying pasta, try cacio e pepe. It's easy to make and Italian comfort food at it's best. Tutti a tavola a mangiare.
Buon Appetito, Kelly
Here's a little video of this dish. My first cooking video, let me know what you think.
Cacio e Pepe
Serves four
Ingredients
1 pound spaghetti (or tonnarelli)
4 tablespoons good-quality extra virgin olive oil
2 teaspoons cracked black pepper (coarse grind)
1¾ cup finely grated Pecorino Romano cheese (reserve ¼ cup for serving)
Instructions
In a large pot of boiling salted water, cook spaghetti until al dente.
Meanwhile, heat olive oil in a large skillet until shimmering. Add the pepper and cook until fragrant, a minute or two.
Drain the pasta, reserving about 1½ cups of pasta cooking water. Carefully add ¾ cup of pasta water to skillet and bring to a boil.
With tongs, add spaghetti to skillet and sprinkle 1½ cups of Pecorino Romano on top of the pasta (or ¾ cup each Pecorino Romano and Cacio de Roma). Toss the pasta, cheese, and oil and pepper mixture until spaghetti is well coated and creamy, with no lumps of cheese. Add more pasta water as needed.
To serve, transfer to plates and sprinkle with remaining cheese and more black pepper to taste.
*Inspired by Saveur magazine and Italian Food Forever.