Summer is winding down, school is starting across the region and soon I'll be back to subbing at the high school. Not ready. I'm still unpacking, rummaging through boxes trying to find things and adjusting to our new neighborhood. It's been fun exploring and getting to know my way around. Just can't get my head around going back to work.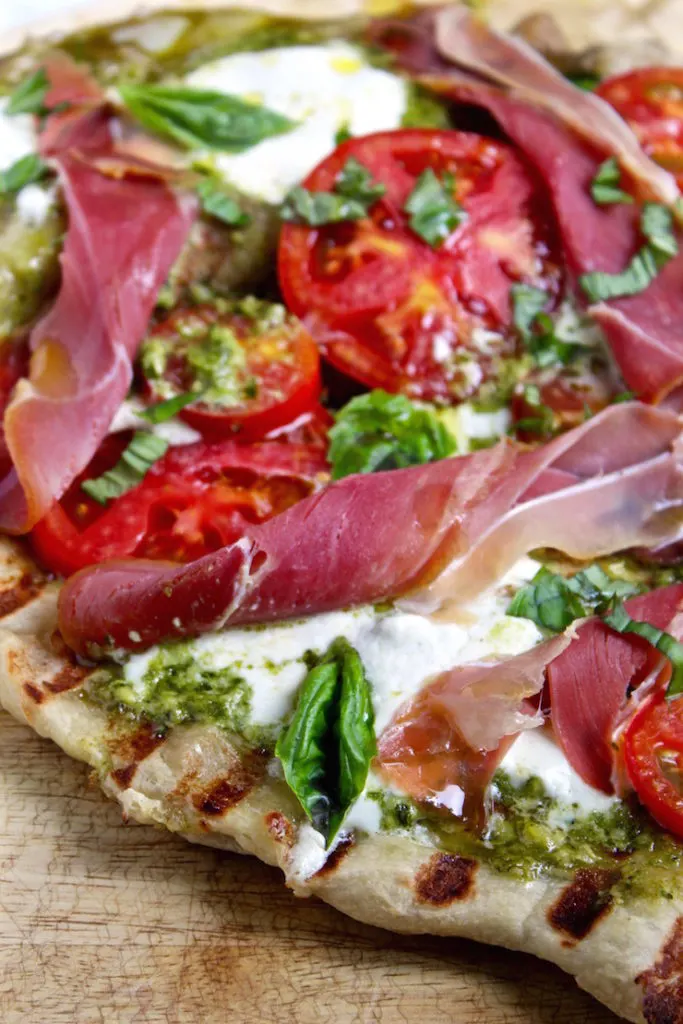 It's still hot here in Missouri and we're still grilling. We've been making pizza on the grill a lot this summer. The grill gets nice and hot and who wants to turn the oven on anyway when it's 100º outside? And the grill marks on the crust, well, can't get those in the oven. The first grilled pizza I made was a pesto, burrata and veggie one ~ it was delicious and I was hooked.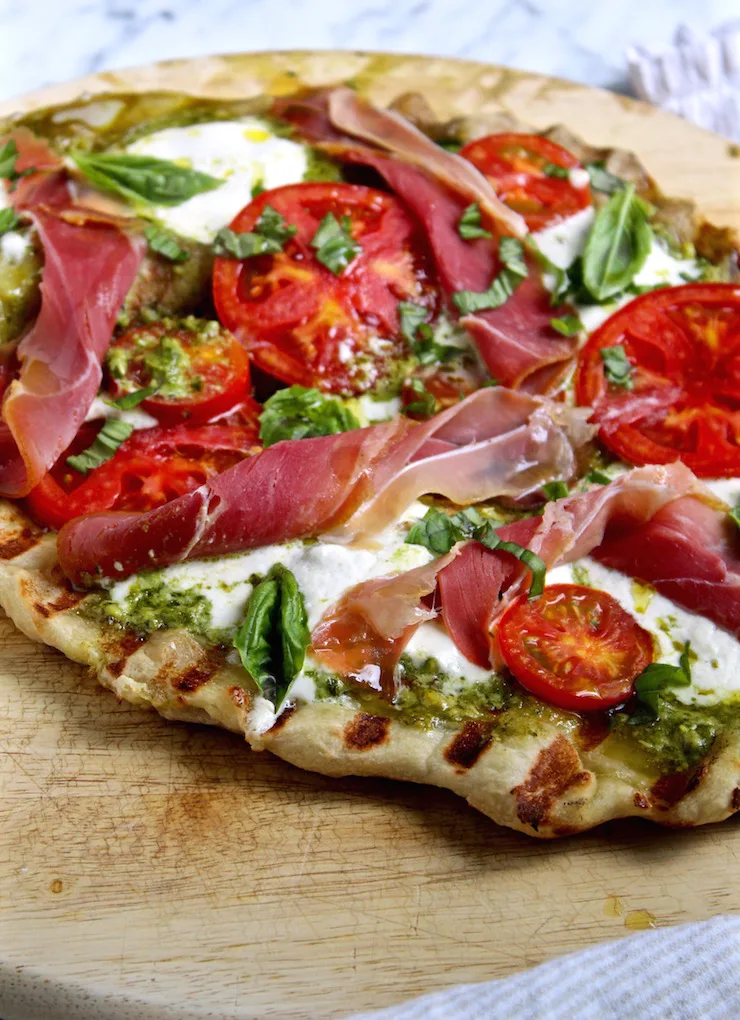 Pizza on the grill is really easy and you can pretty much make it with any toppings you like. I thought I'd share our two favorites this summer, so far at least. Grilled Sopressa, mozzarella and egg with fresh herbs, and grilled pesto, mozz, heirloom tomatoes and prosciutto. I can't decide which I like better. Meathead definitely would say the Sopressa and runny egg version.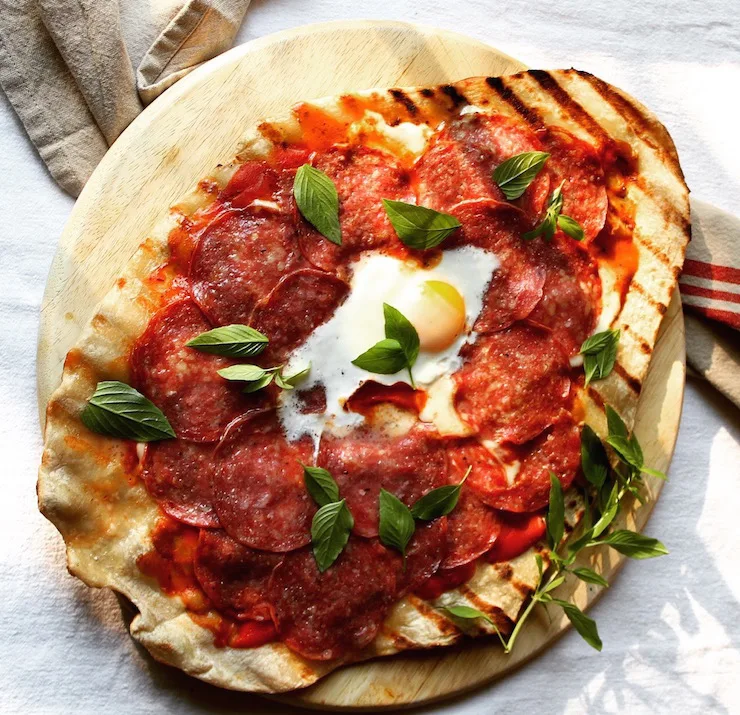 Store-bought dough is just fine, that's what I use ~ frozen dough they make at my Italian meat market. I also use store-bought pesto, can't always make my own pesto and the pesto from Costco is really good.
I get Sopressa from Volpi which is all over St. Louis and on the hill, our Little Italy. They have a prep line in the stores and it was the perfect amount of sliced Sopressa for the pizza. Use whatever you like.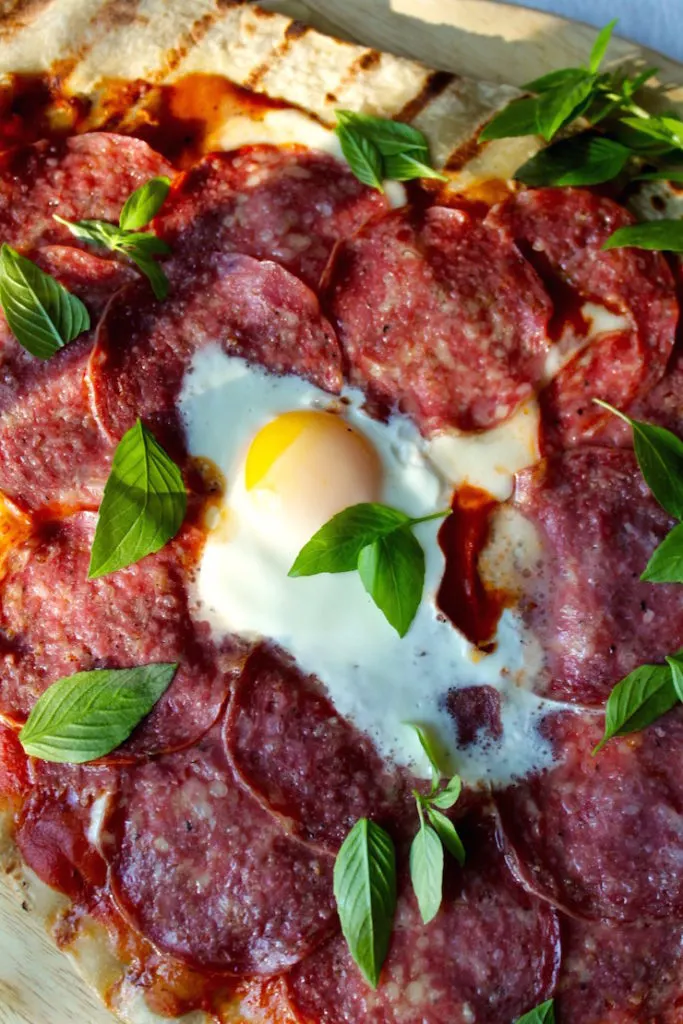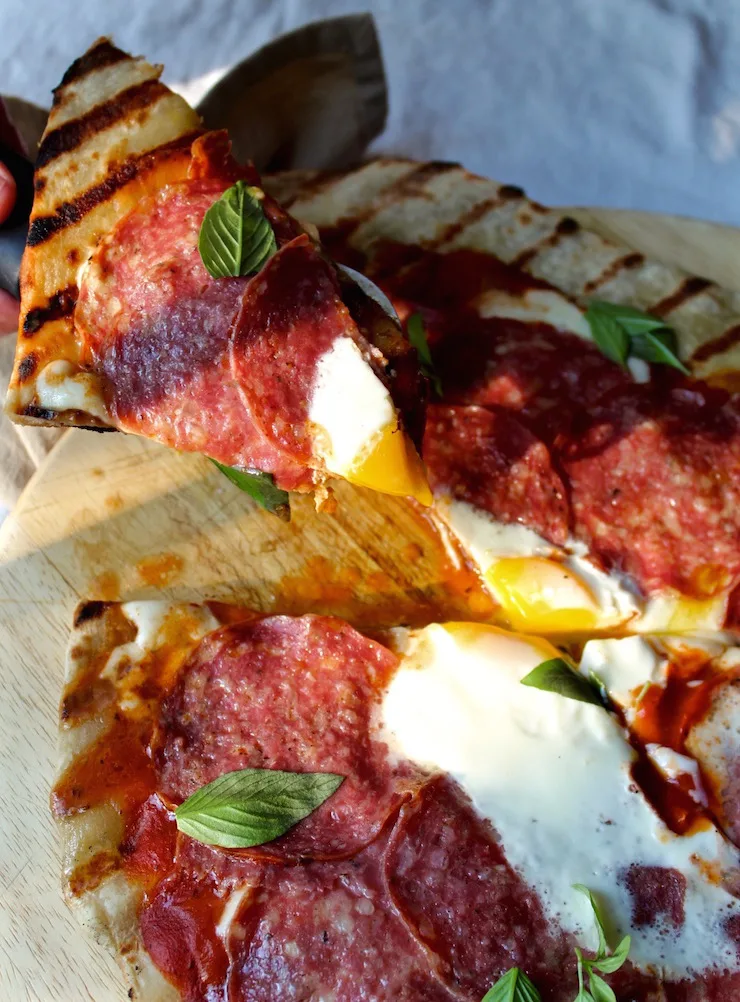 For the cheese, use fresh mozzarella or burrata if you can find it. Burrata is like mozzarella with a creamier center and consistency. I like both and probably use fresh mozzarella more often, it's more readily available and less expensive. Just sayin'.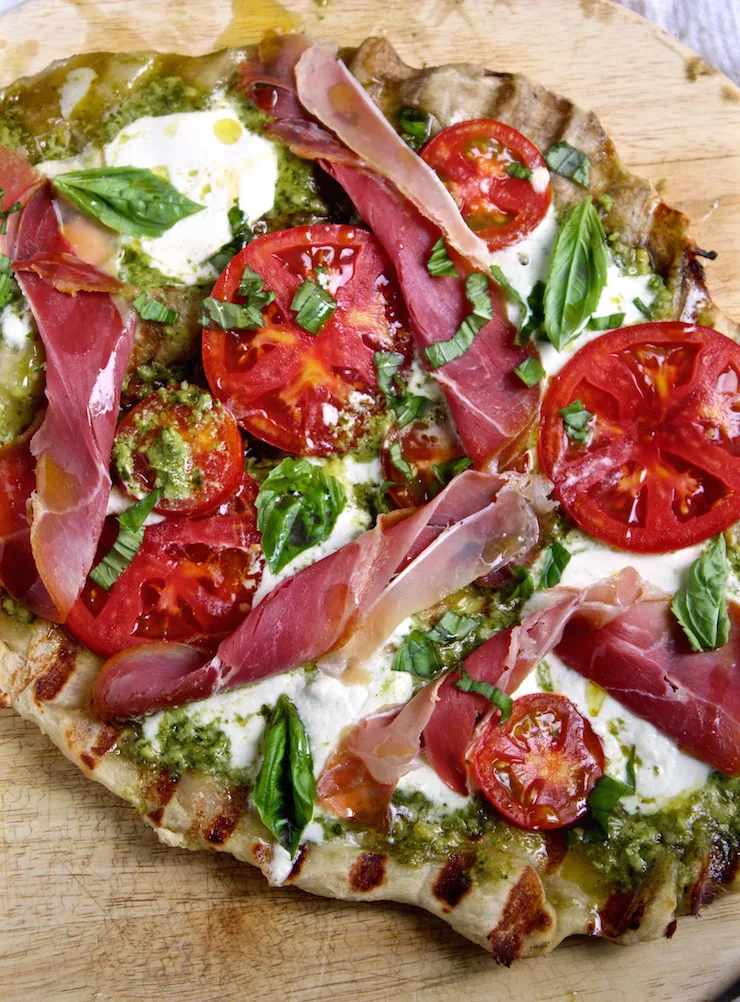 Enjoy these dog days of summer. Get to the pool a few more times, go on a bike ride and grill a pizza or two. Don't forget to pour a glass of rosé for the cook ~ that would be me.
Best, Kelly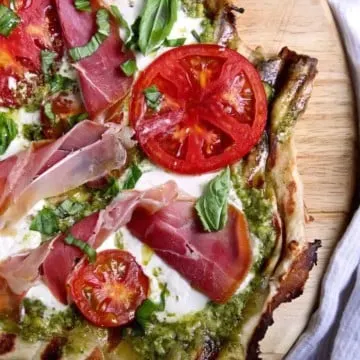 Grilled Pizza
Pizza on the grill, easy and delicious way to make pizza in the summer ~ on the grill with tasty grill marks and fresh ingredients.
Print
Pin
Rate
Ingredients
Sopressa and Egg
1

pound

ball of pizza dough, room temperature, store-bought or homemade

olive oil

jarred pizza or marinara sauce

1

ball

fresh mozzarella, , drained, sliced (or burrata)

thinly sliced Sopressa Veneta or pepperoni, about 6 ounces

1

egg

sea salt and fresh cracked pepper

chopped fresh herbs such as basil, oregano, sage
Pesto, Tomato and Prosciutto
1

pound

ball of pizza dough, room temperature, store-bought or homemade

olive oil

pesto, homemade or store-bought

1

ball burrata, drained, sliced (or fresh mozzarella)

1 - 2

heirloom tomatoes, sliced

sea salt and fresh cracked pepper

6

thinly sliced pieces of prosciutto

torn basil leaves
Instructions
For a gas grill, heat 2 outside burners on high and the middle burner on medium. Clean well with brush and lightly brush grate with olive oil.

Have all your ingredients ~ sauces, cheese and toppings ~ ready to and handy before you put the dough on the grill. It goes fast.

Prepare dough. On a flat surface shape into a large round, being careful not to go too thin that it will tear, use a little flour if needed. It does not have to be perfectly round. Lightly brush or drizzle top side with olive oil. Carefully place on grill, oiled side down. Let cook a few minutes to set, get some good grill marks but be careful not to burn. It will start to bubble up a little. Drizzle a little olive oil on top. Using a spatula and tongs, flip the dough. Let cook a couple minutes. At this point, you can remove the crust, put the toppings on and then return to the grill OR you can put the toppings on while the crust is on the grill.

Working quickly, spoon on the pesto or pizza sauce as evenly as possible. Add the burrata or mozzarella slices. Add the Sopressa, leaving a small round in the middle and crack the egg into the center. Close the lid and cook another 5-6 minutes. When cheese is melted, egg is just set and crust is done, remove to cutting board.

Add the prosciutto if using, twisting pieces and placing on top of pizza. Sprinkle with a little slat and pepper, a drizzle of olive oil and fresh herbs. Cut into wedges and serve.
Recipe Notes
If using charcoal, don't use lighter fluid ~ your crust will taste like lighter fluid. Yuck!
Nutrition
Calories:
410
kcal
Carbohydrates:
48
g
Protein:
20
g
Fat:
16
g
Saturated Fat:
8
g
Polyunsaturated Fat:
1
g
Monounsaturated Fat:
4
g
Cholesterol:
45
mg
Sodium:
1061
mg
Potassium:
43
mg
Fiber:
1
g
Sugar:
7
g
Vitamin A:
382
IU
Calcium:
285
mg
Iron:
3
mg