Famous Juicy Lucy burger of Twin Cities fame, cheese stuffed ground beef patty, with or without jalapeños, cooked on the stovetop or grill.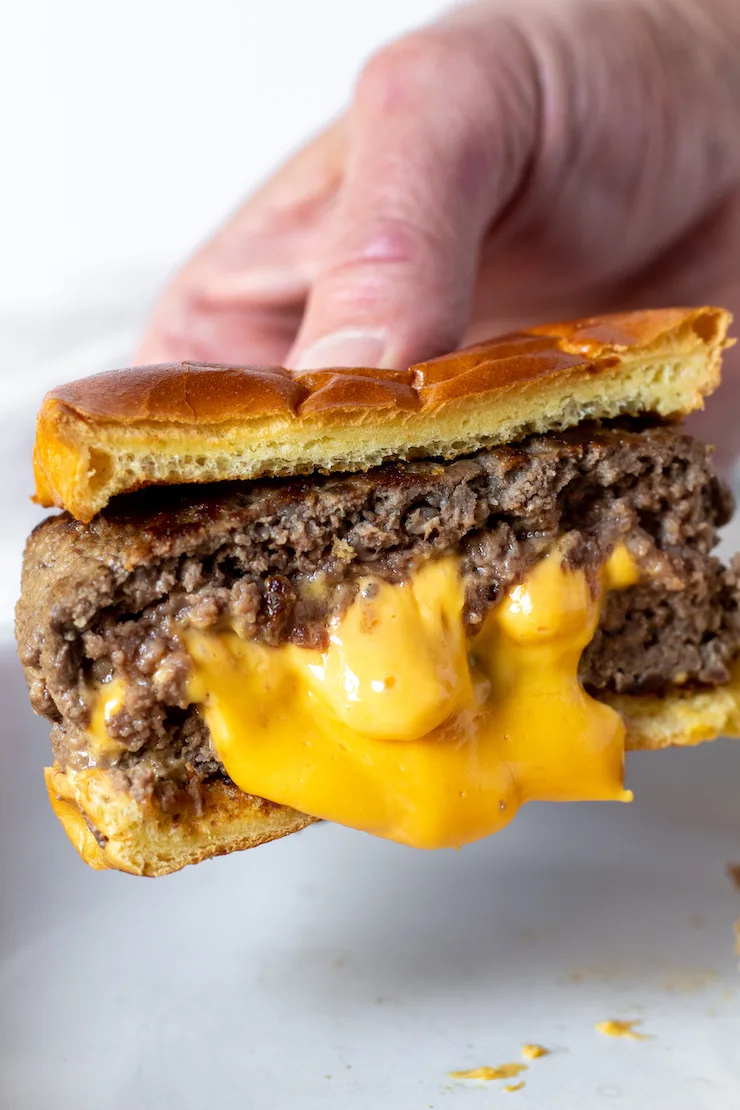 The Juicy Lucy Burger! I'm finally paying homage to our time in St. Paul, Minnesota and to this iconic burger that is popular in the Twin Cities.
I first had a Juicy Lucy at the Groveland Tap, just a block from our house. In fact, this is the only place I've had a Juicy Lucy. I've been hooked ever since, and all these years later, I finally made them at home.
What is a Juicy Lucy burger?
A Juicy Lucy is an inside-out cheeseburger. The cheese is stuffed into the center of two ground beef patties and "sealed" in, then cooked on a griddle, in a cast iron skillet or thrown on the grill.
And the cheese of choice is good old American cheese. Not the shiny individually wrapped slices, at least not for me, I get it sliced to order from the deli. It's better, trust me on this one.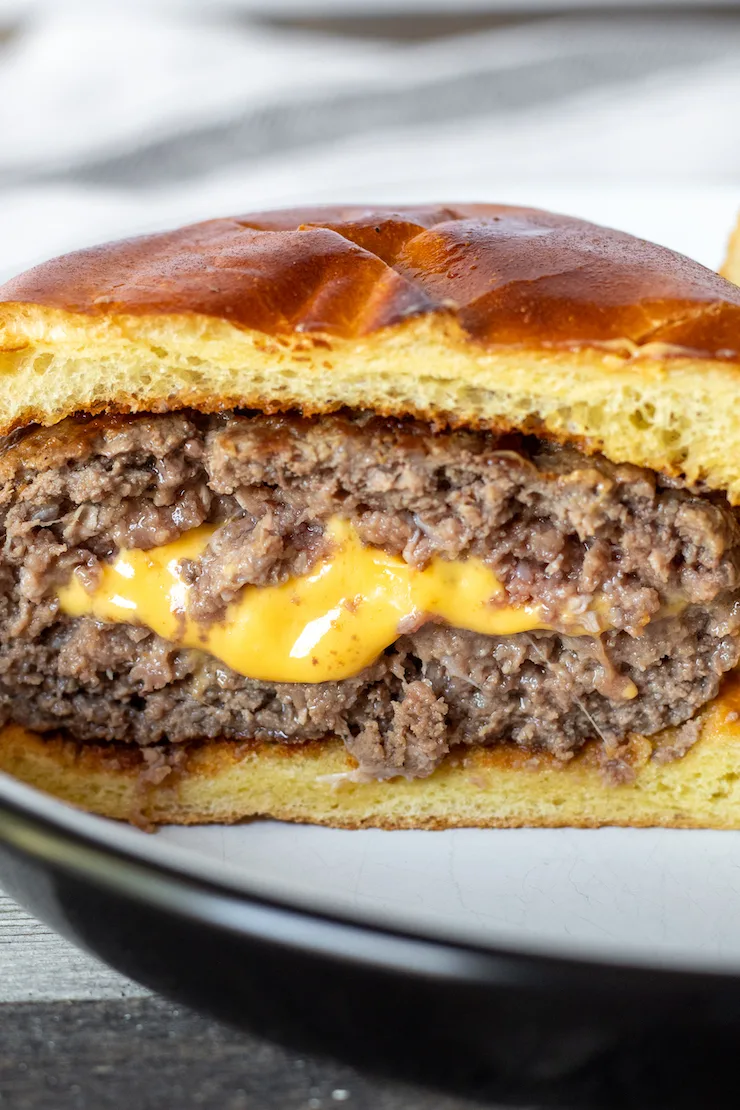 You know what else is good in a Juicy Lucy? Jalapeño peppers. That's my preference, but I leave it out for those that can't take a little heat ~ no worries. That is it, just cheese and maybe jalapeños. Start with this classic version and experiment with fillings, if you must.
Juicy Lucy Ingredients
Pretty simple here, just ground beef, some Worcestershire, said type of American cheese slices, pickled or candied jalapeños (optional) and toasted buns. I like brioche buns but any hamburger bun will work, especially with sesame seeds.
How do you stuff it with cheese?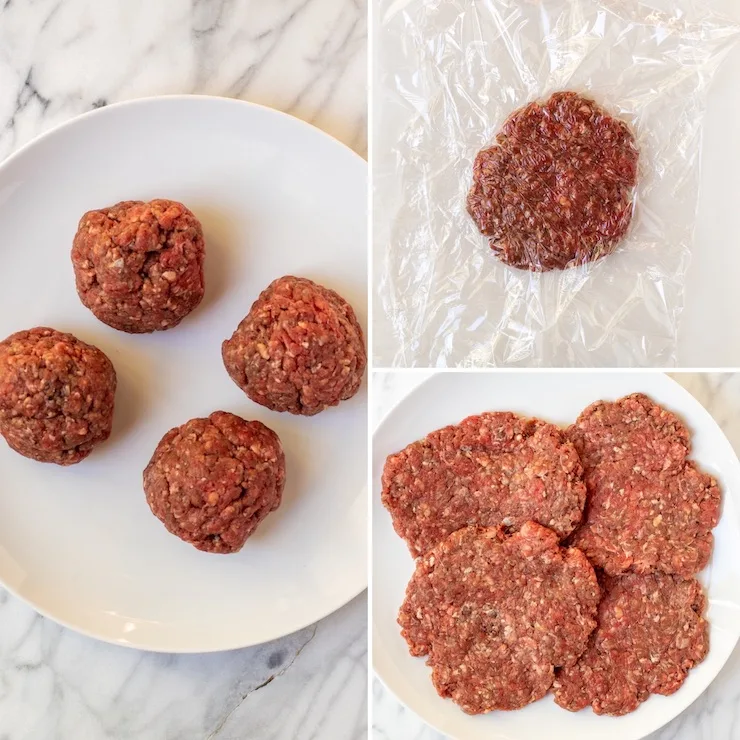 Divide beef into equal portions and form into balls.
Place ball in plastic wrap and flatten into a disc.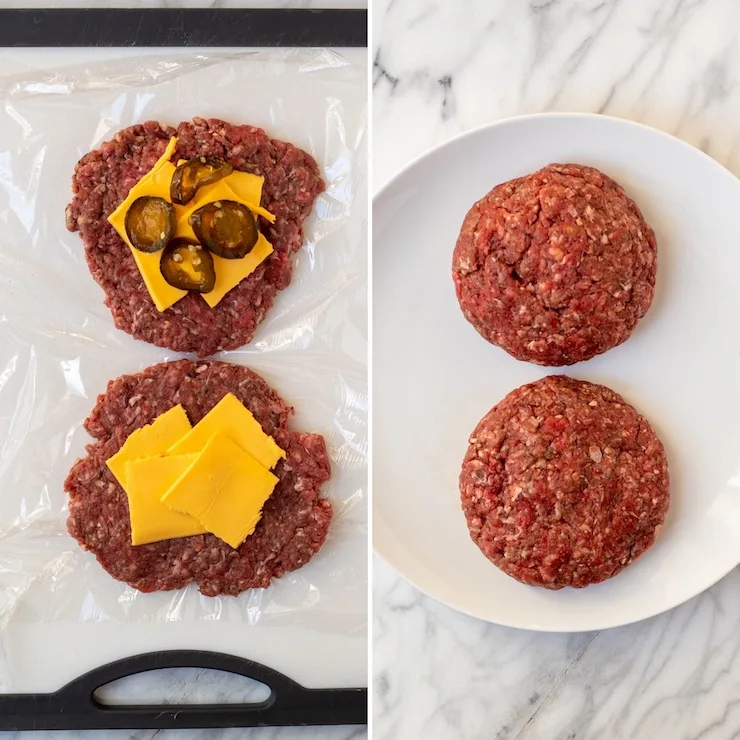 Place American cheese slices into center on one patty.
If desired, add 2-3 slices of jalapeño on top of cheese.
Place another patty on top and then pinch and seal all around the edges.
What do you put on it?
Anything you want and like on a burger! I like a good swipe of mayo and lettuce and tomato, if I have it. And there's nothing better than a seasonal tomato on a grilled burger.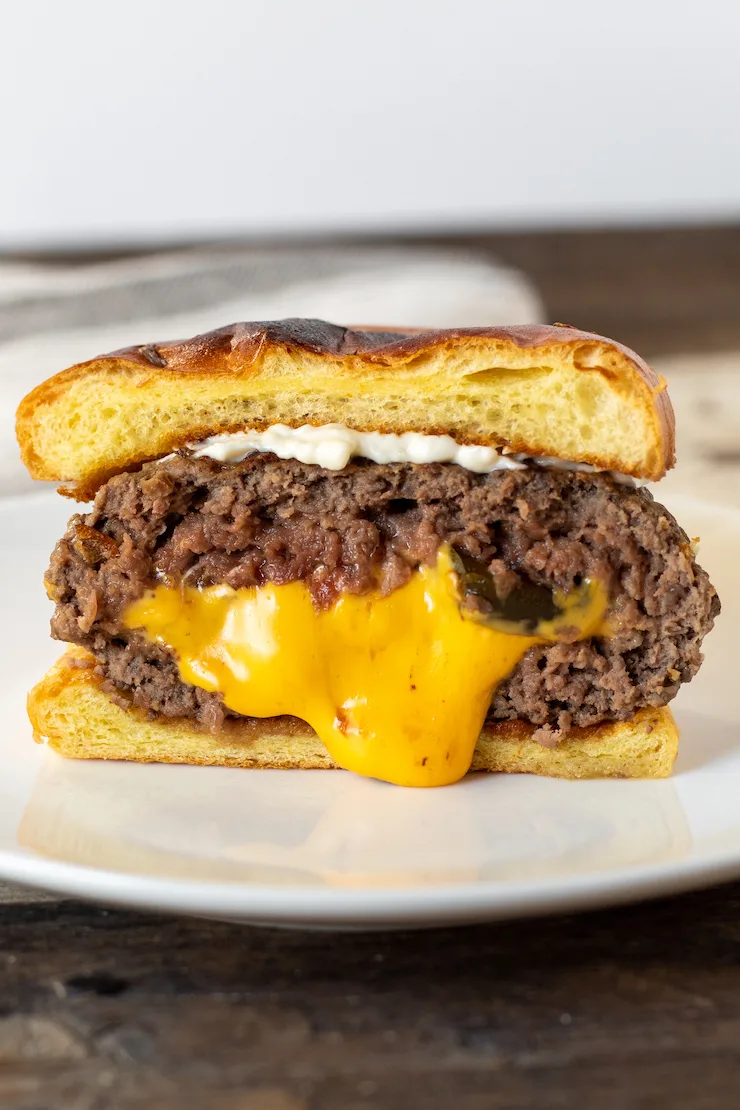 Here's what you'll get with a good burger like this ~ a warning. The center is hot molten cheese, gloriously mixed with beef juices, and when you bite into it, well, be careful! And know there is a good possibility of hot cheesy juices flying across the room, as well. Seriously, it can happen. Miss you, St. Paul. Best, Kelly🍴🐦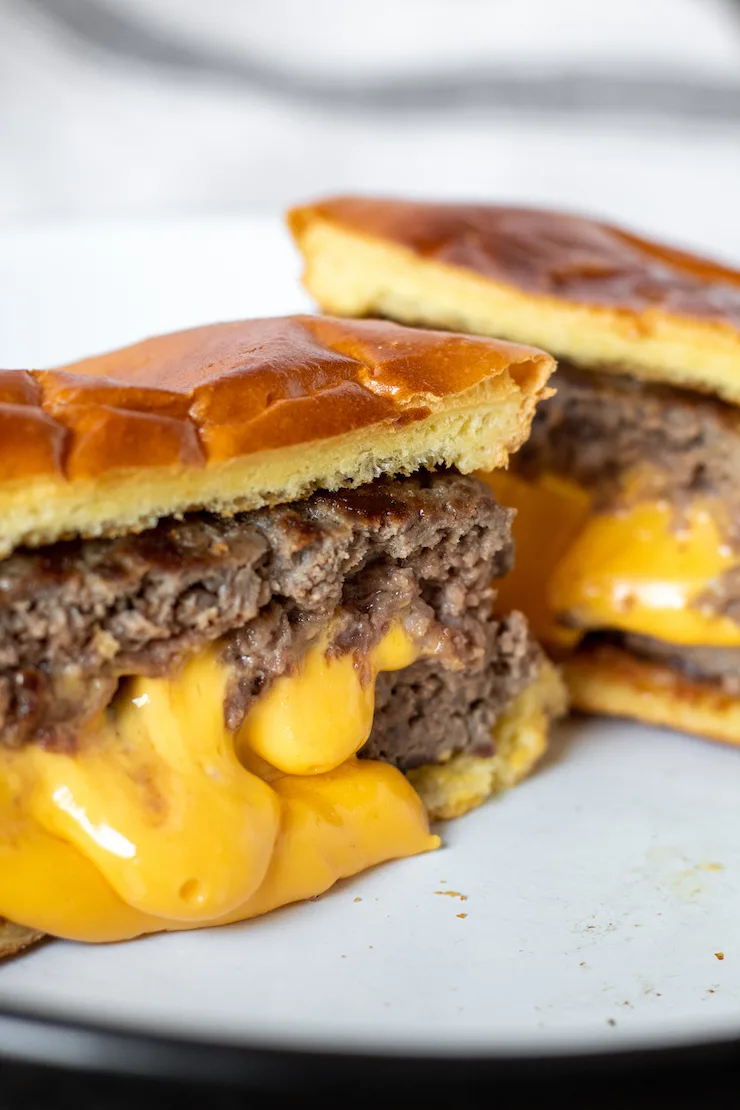 You might also like this classic diner-style patty melt.
HUNGRY FOR MORE? Subscribe to my Newsletter and come hang out with me on INSTAGRAM, or give me a follow on FACEBOOK or see what I'm pinning on PINTEREST.
UPDATED: Spruced things up with new photos and copy in May, 2020, no changes to original recipe.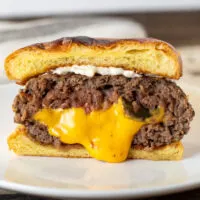 Juicy Lucy Burger
Famous Juicy Lucy Burger of Twin Cities fame, cheese stuffed ground beef patty, with or without jalapeños, cooked on the stovetop or grill.
Print
Pin
Rate
Ingredients
2

lbs

ground beef (preferably chuck)

1

tablespoon

Worcestershire sauce

1

teaspoon

kosher salt

½

teaspoon

black pepper

4

slices

American cheese

Pickled jalapeño slices (optional)

4

brioche hamburger buns (or regular buns)

Optional toppings for serving, such as lettuce, tomato and onion
Instructions
To the ground beef, add Worcestershire, salt and pepper and mix to combine. Divide beef into eight equal portions and form gently into balls. One portion at a time, place ball on piece of plastic wrap, fold over, and flatten into a disk with your hands. It doesn't have to be perfect, but they should all be the same size patties.

Tear each slice of American cheese into 4 pieces/squares. Place 4 torn pieces on the centers of 4 patties. If desired, add 2 to 3 slices of pickled jalapeños on top of cheese. Place another patty on top and then with fingers, pinch and seal all around the edges, completely sealing the cheese in all 4 burgers.

Heat a cast iron skillet or fire up the grill. Cook burgers about 3 minutes a side for medium-rare, a little longer for medium. Remove to a plate and tent with foil and let rest 5 minutes. Meanwhile, lightly toast/grill buns.

Serve Juicy Lucy's on buns with any additional toppings. Careful on that first bite! Enjoy!
Recipe Notes
I don't recommend lean ground beef, for these or any burger. Use ground chuck (or 85% lean)
This recipe makes 4 half-pound burgers. You can make the portions a little smaller if you like, 10 portions of beef yielding 5 burgers.
We like brioche bakery-style buns which are readily available in our supermarket. Regular or sesame seed hamburger buns are great also.
Nutrition
Calories:
775
kcal
Carbohydrates:
23
g
Protein:
47
g
Fat:
54
g
Saturated Fat:
22
g
Polyunsaturated Fat:
2
g
Monounsaturated Fat:
22
g
Trans Fat:
3
g
Cholesterol:
182
mg
Sodium:
1347
mg
Potassium:
729
mg
Fiber:
1
g
Sugar:
4
g
Vitamin A:
204
IU
Vitamin C:
1
mg
Calcium:
327
mg
Iron:
6
mg