My mom's lasagna recipe, classic Italian-American lasagna with ground beef ragù, cottage cheese and mozzarella. Comfort food that never disappoints!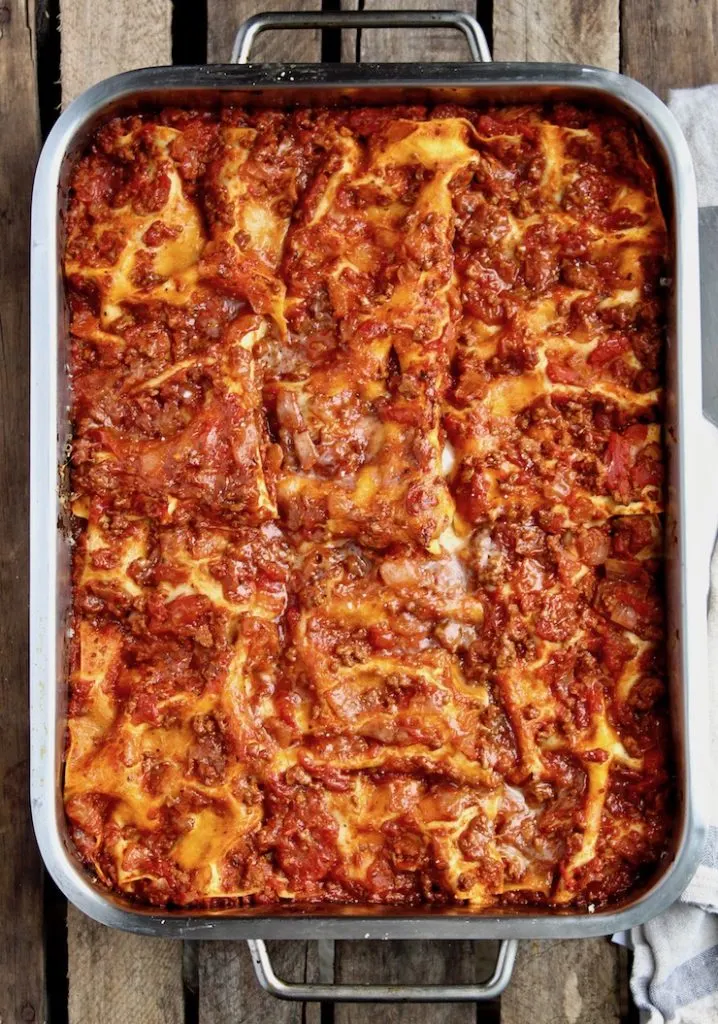 I got a text the other day from Always Hungry in New York. "Can you put your lasagna recipe on your blog soon? I'm craving it." She read my mind as I was planning to make it that weekend. This is the lasagna I have been making my family for years, the lasagna my mom made and I grew up on. Hence the original name I came up with, Mom's Lasagna.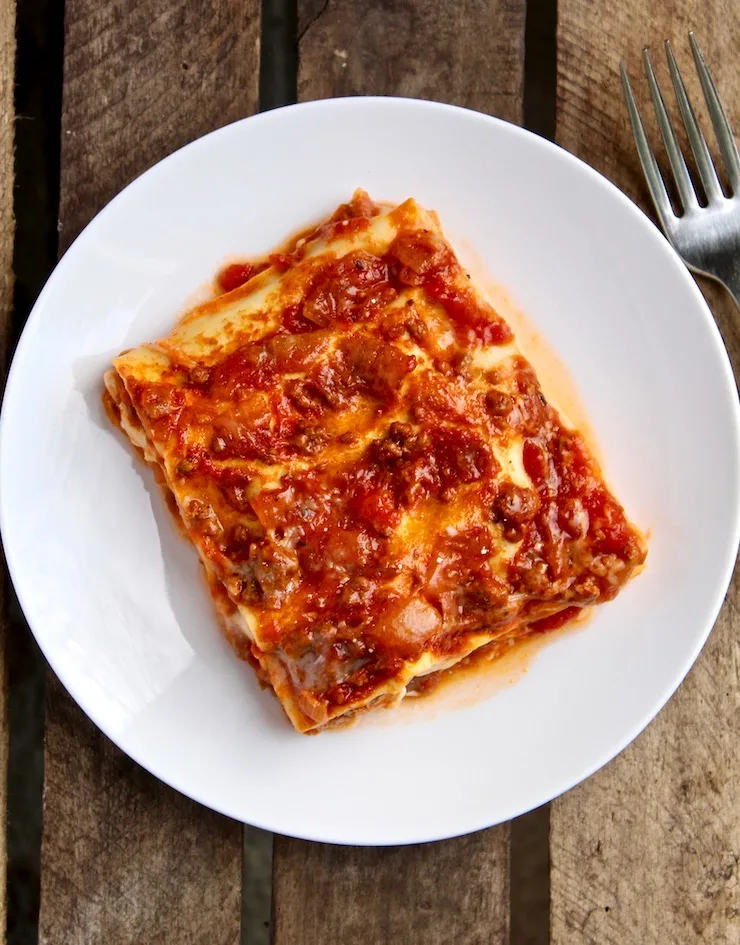 When I was dating my future husband, this lasagna is the first thing I ever cooked for him. I was having him and a good friend over for dinner. I lived in a really cool apartment in Lincoln Park in Chicago, hardwood floors, high ceilings, exposed brick, I just loved that apartment. Anyway, I called my mom and asked her how to make her lasagna.
I wrote down her instructions on a notepad from work, an advertising agency I worked for. I still have that piece of paper, tattered and stained after 25 years. Even though I could make this lasagna with my eyes closed, in my sleep, I always pull it out when I make it. Mainly because, for some reason, I can never remember the layering order.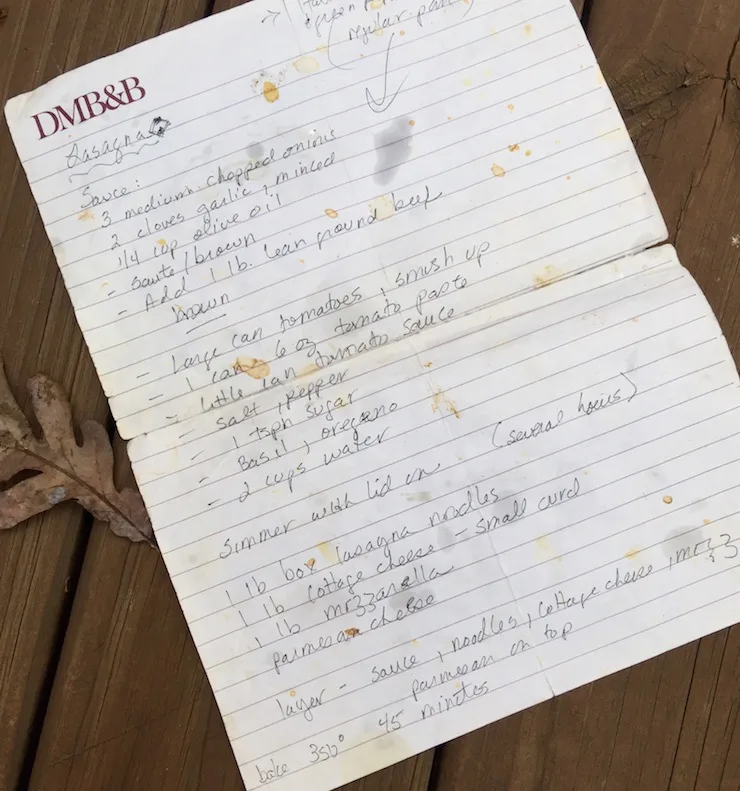 My mom will be the first to admit she's not the greatest cook. That honor went to my dad. However, there were a few things that were all my mom's and this lasagna is my mom's as far as I'm concerned. The funny thing is, she thinks she got it off a box of lasagna noodles back in the 60's.
My aunt Nancy claims to have made it in 1954 after she had it at my aunt Jean's house. And aunt Nancy says the recipe came from a box of noodles. I was recently talking to my mom about it and she doesn't remember getting this from either of her sisters. I think that this lasagna is the same variation my mom and aunts made, probably from the same box of noodles!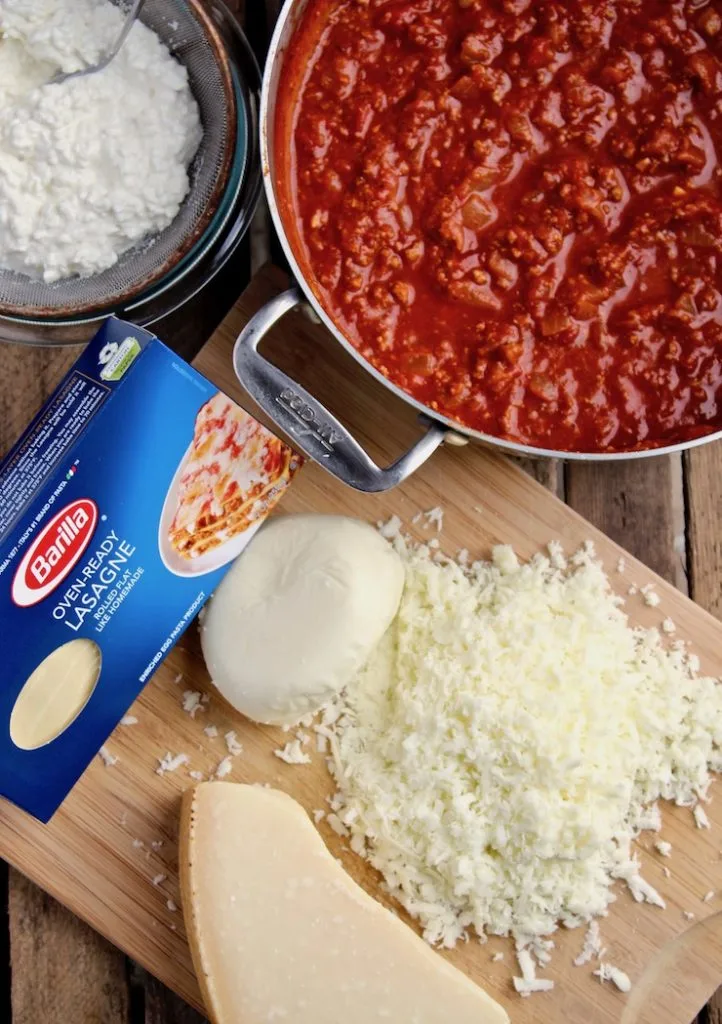 Of course when my mom explained how to make it, she didn't know all the amounts or measurements. A large can of tomatoes, smush them up after you put them in. A little can of tomato sauce. Mom, do you mean 8-ounce or 15-ounce can? Regardless, it turned out just like hers. Meathead and Carol loved it.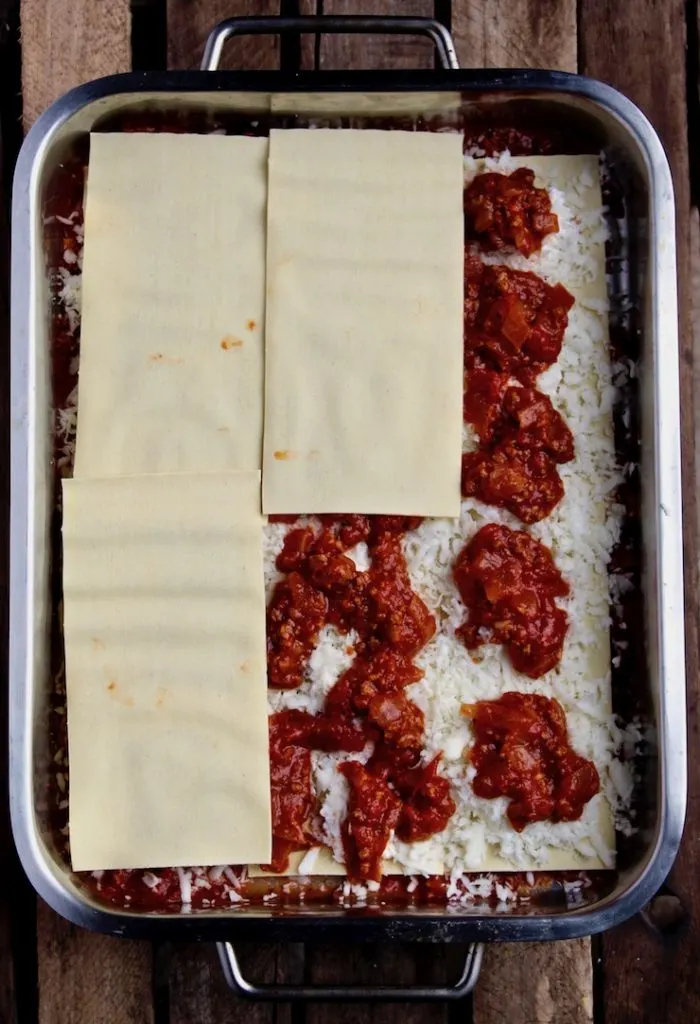 I have made this lasagna for years and the only change I've made is to use no boil lasagna noodles. My cousin makes this same lasagna and she, too, switched over to no boil noodles. I started to pass on making this because of all the work involved, mainly the boiling of the noodles. And the curly edges would hold water if I didn't drain and blot them dry enough which in turn made my lasagna too watery.
The no boil are so easy and I like them better. So does my cousin. My mom liked mine last time she had it here, so she tried it with the no boil noodles. Didn't turn out right she said, and she pitched an entire pan of lasagna. Oops! I don't think she added enough sauce in the layers. Feel free to use regular lasagna noodles if that's your comfort level.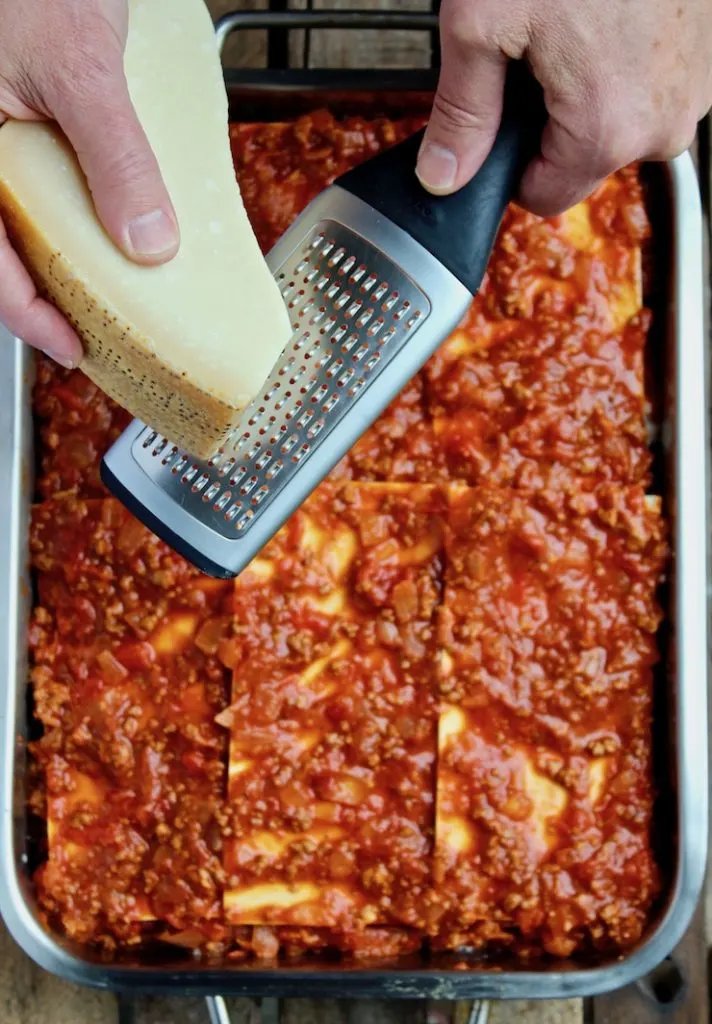 This recipe calls for cottage cheese and again, to avoid watery lasagna, I drain the cottage cheese for an hour or so in the sink. It makes a huge difference. You'll also need a pound of mozzarella cheese. As tempting as it is to buy it already shredded, do not do that.
Grate it yourself, it is way better than the prepackaged stuff. I hate, hate to grate cheese, and I started whining, and Meathead couldn't take it and came over and grated it for me. You gotta do what you gotta do sometimes.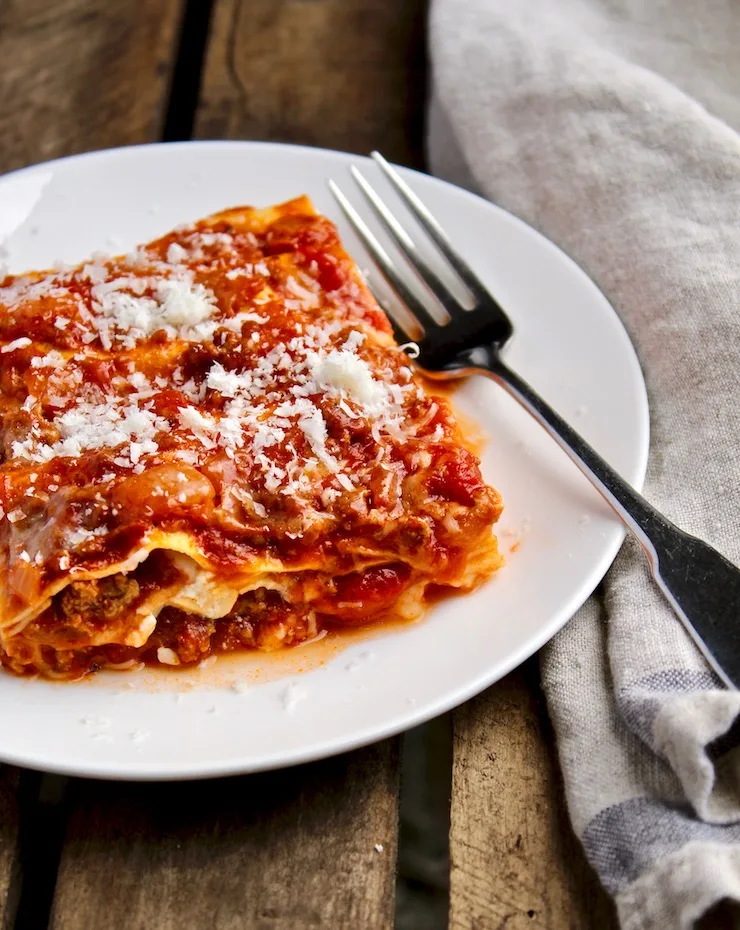 Darling oldest daughter, please let me know when you make this and how it turns out. I'm pretty sure it will be delicious and just like mine. Thanks Mom. Note: She's made it a few times to rave reviews from The Boyfriend and friends ~ I now know my Mom's Lasagna will carry on ~ Kelly🍴🐦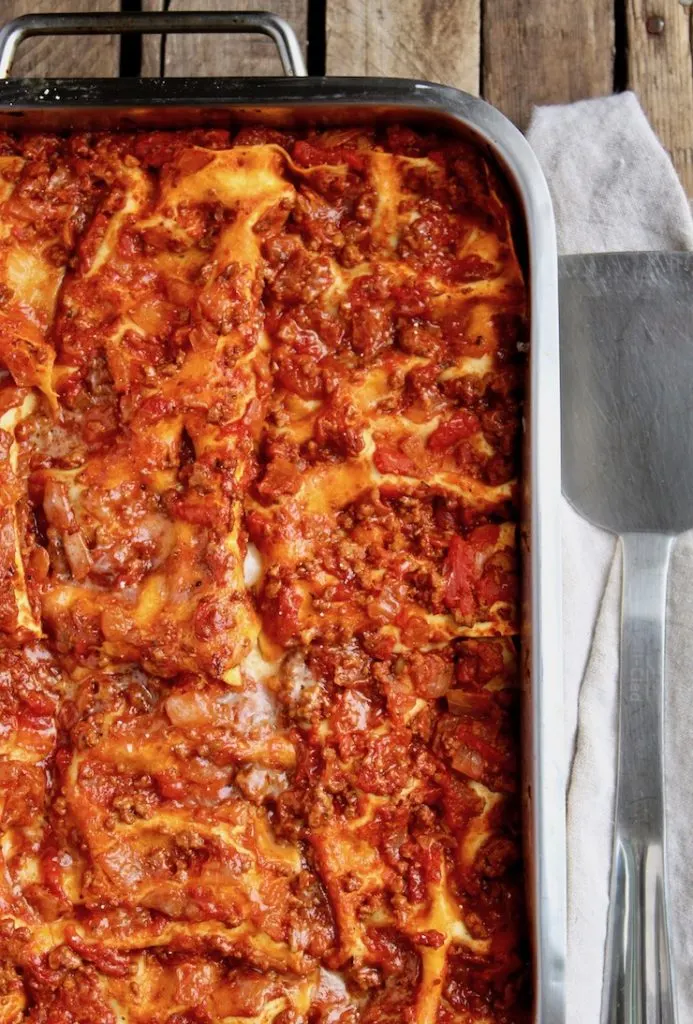 HUNGRY FOR MORE? Subscribe to my Newsletter and come hang out with me on INSTAGRAM, or give me a follow on FACEBOOK or see what I'm pinning on PINTEREST.
You might also like this Pumpkin Sausage Lasagna, especially in the fall, or this authentic Greek Pastitsio.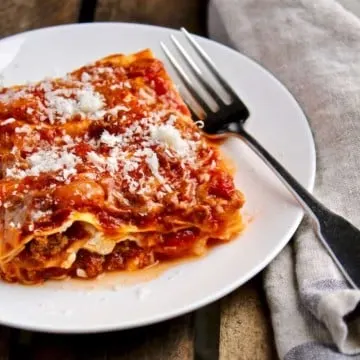 Mom's Lasagna
My mom's lasagna recipe, classic Italian-American meat lasagna with cottage cheese and mozzarella.
Print
Pin
Rate
Ingredients
3

medium onions

chopped

2

cloves

garlic

finely chopped

¼

cup

olive oil

1

lb

lean ground beef

~ I use ground sirloin

1

28-oz

can whole tomatoes

crushed by hand (I prefer San Marzano)

1

14½-oz

can tomato sauce

1

6-oz

can tomato paste

1

teaspoon

each of dried basil and oregano,

crushed in hand to release flavor

About 1 teaspoon of sugar

2

cups

water

salt and pepper

1

lb

box of oven-ready lasagna noodles

no boiling required

1

16-oz

container of whole milk small curd cottage cheese

1

lb

of mozzarella

shredded

Grated parmesan

use the good stuff
Instructions
Heat olive oil in a large heavy bottomed pot. Add onions and a good pinch of salt and sauté until soft and starting to brown. Add the garlic and cook until fragrant, about a minute.

Add the ground beef and brown, breaking up the meat with a wooden spoon until no longer pink.

Add the basil and oregano and mix to combine.

Put the whole tomatoes in a bowl and crush by hand. Add to the meat and onion mixture along with the tomato sauce, tomato paste, water and a generous pinch of sugar. Season with salt and pepper. Bring to a boil and then immediately turn down heat and simmer with a lid on for about 1 ½ hours, stirring occasionally. (My mom's recipe says to simmer for hours, an hour and a half is plenty.)

Let cool and then refrigerate overnight. The sauce is always better the next day and now all you have to do is assemble the lasagna.

Drain the cottage cheese in a fine mesh sieve over the sink until most of the liquid has drained, stirring gently several times. Takes about an hour or two.

Preheat oven to 350º

In a 11 X 15 lasagna pan, ladle in some sauce to cover the bottom of the pan. Arrange 6 noodles, overlapping slightly, over the sauce in the bottom of the pan. Next, spoon half of the drained cottage cheese over the noodles. Sprinkle half the shredded mozzarella over the cottage cheese. Then generously spoon some sauce over the cheese.

Repeat with another 6 noodles, the remaining cottage cheese and follow with the remaining mozzarella. Generously spoon more sauce over this layer.

Top with 6 more noodles. Spoon sauce over entire top of lasagna noodles and also spoon some down the corners and edges. All the noodles should be covered.

Sprinkle with some grated parmesan and then cover pan with foil.

Bake for 45 minutes and then remove the foil and bake, uncovered, for another 15 minutes.

Let lasagna rest 10 minutes or so before serving. Enjoy.
Recipe Notes
Makes an 11 X 15 inch pan
While the noi boil noodles do require plenty of liquid to soften, I still drain the ricotta well. Otherwise we'd have too much liquid. I also make sure and shred my own fresh mozzarella for the best melting.
Nutrition
Calories:
585
kcal
Carbohydrates:
50
g
Protein:
39
g
Fat:
26
g
Saturated Fat:
11
g
Polyunsaturated Fat:
1
g
Monounsaturated Fat:
10
g
Trans Fat:
1
g
Cholesterol:
115
mg
Sodium:
578
mg
Potassium:
503
mg
Fiber:
3
g
Sugar:
5
g
Vitamin A:
467
IU
Vitamin C:
3
mg
Calcium:
354
mg
Iron:
2
mg