Country-style green beans in the pressure cooker with potatoes and smoky ham. Slow cooked flavor in under an hour in the Instant Pot. These tender green beans, potatoes and ham in a wickedly delicious broth are to die for good and perfect for Sunday supper.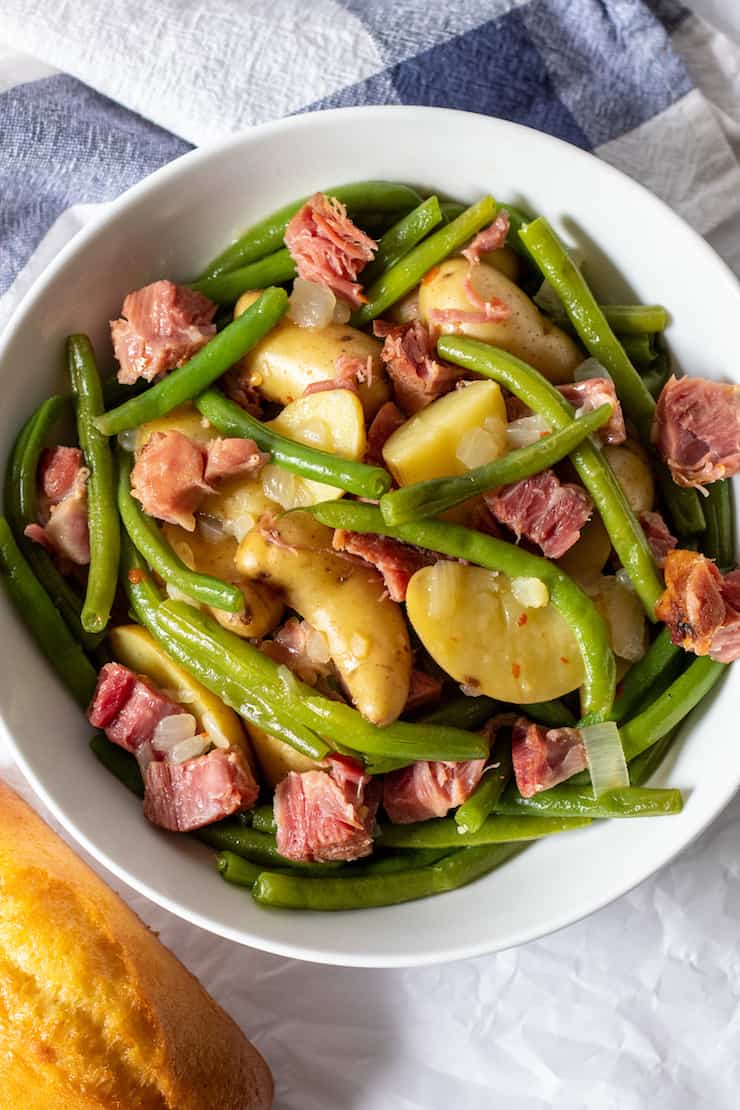 Boy, did August get away from me and the blog, but I'm back! No excuses, just busy and enjoying those dog days of summer. I started working the season at a local farm, just behind my neighborhood. They are known for their tomatoes, but they also have a peach orchard, blackberries and right now, the apple orchard is open and busy.
The stand is stocked with our fruits and vegetables as well as other locally grown produce. I have been inspired by the farm fresh produce and all the customers who share their favorite cooking tips and canning recipes. This recipe for Country Green Beans, Potatoes and Ham in the Instant Pot was inspired from working the farm stand this summer.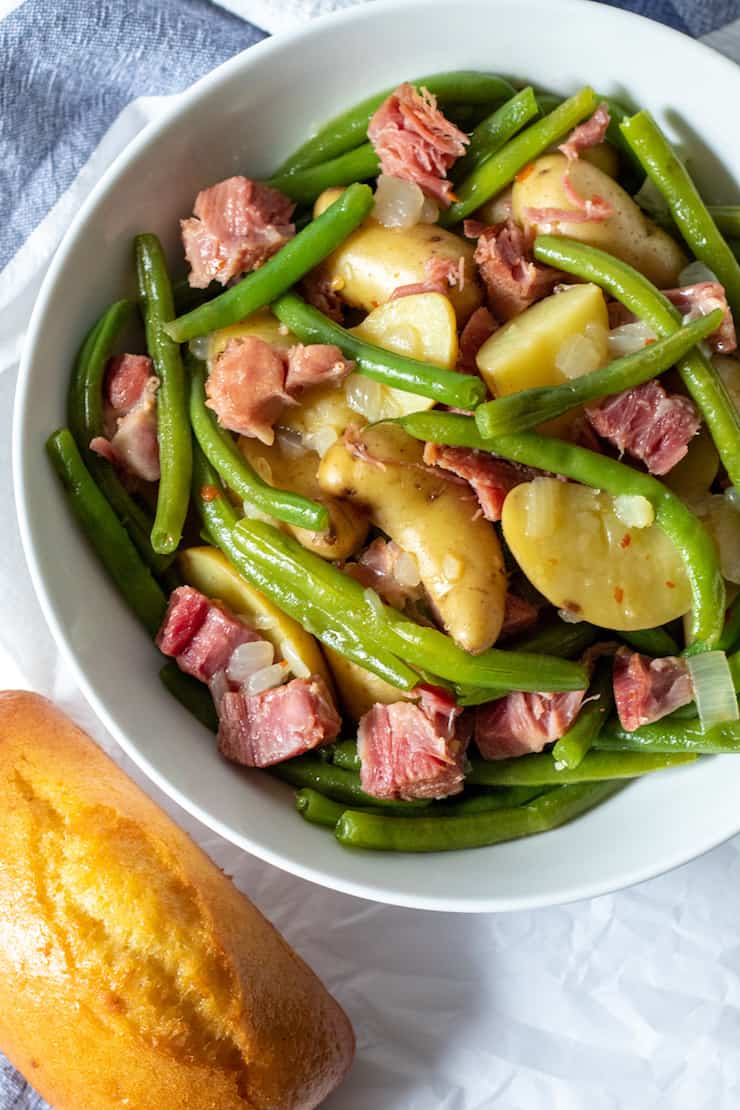 I started overhearing customers talking about making a pot of green beans and potatoes and asked how they were making it. All the answers included green beans, potatoes and ham, in the crockpot or simmered for a long time on the stovetop.
I heard the owner of the farm I work at makes a mean rendition of country-style green beans. Tom explained to me how he makes them, in very precise detail. I took his advice and then proceeded to make country-style green beans in my pressure cooker.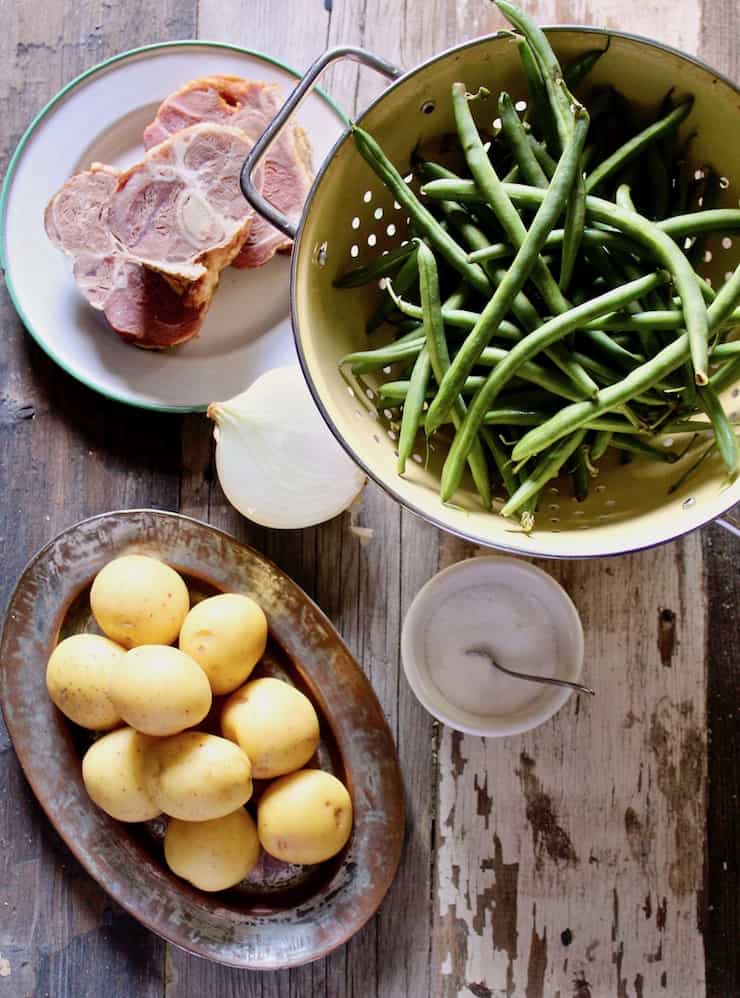 It took several tries to get these green beans just right, each time I played around a little with the seasonings and timing. Each batch was delicious and was gobbled up, especially by Meathead. I'm still learning how to pressure cook ~ researching and adjusting ~ biggest learning curve for me is the whole timing thing. But I'm getting the hang of it.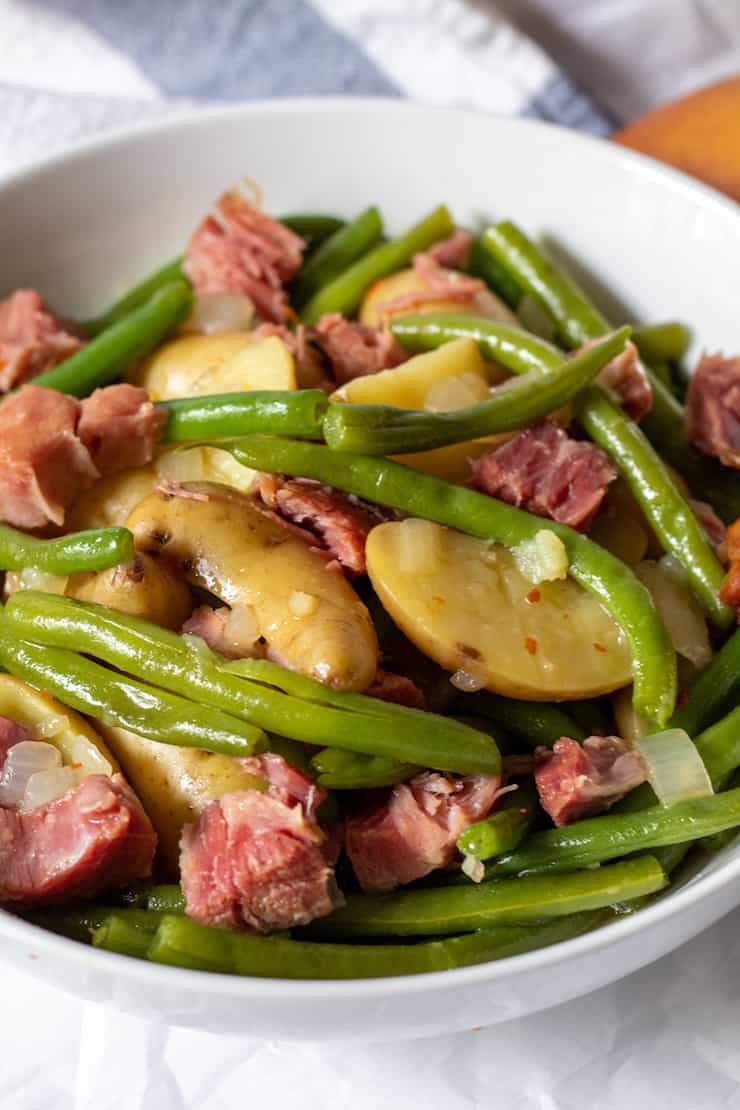 I used fresh, seasonal green beans and red potatoes from the farm, and chicken stock and seasonings. And the most important part? The ham!! I use ham shanks to flavor the broth (or pot liquor) and green beans. They have a nice smoky flavor and there is just enough meat to cut off the bone when done cooking.
That said, you could also use a ham hock (smokier and more fatty, less meat) or a meaty ham bone or piece of ham. A lot of southern-style green bean recipes use bacon, which I'm sure is delicious, but I really like ham in this dish, both for flavor and the meaty pieces.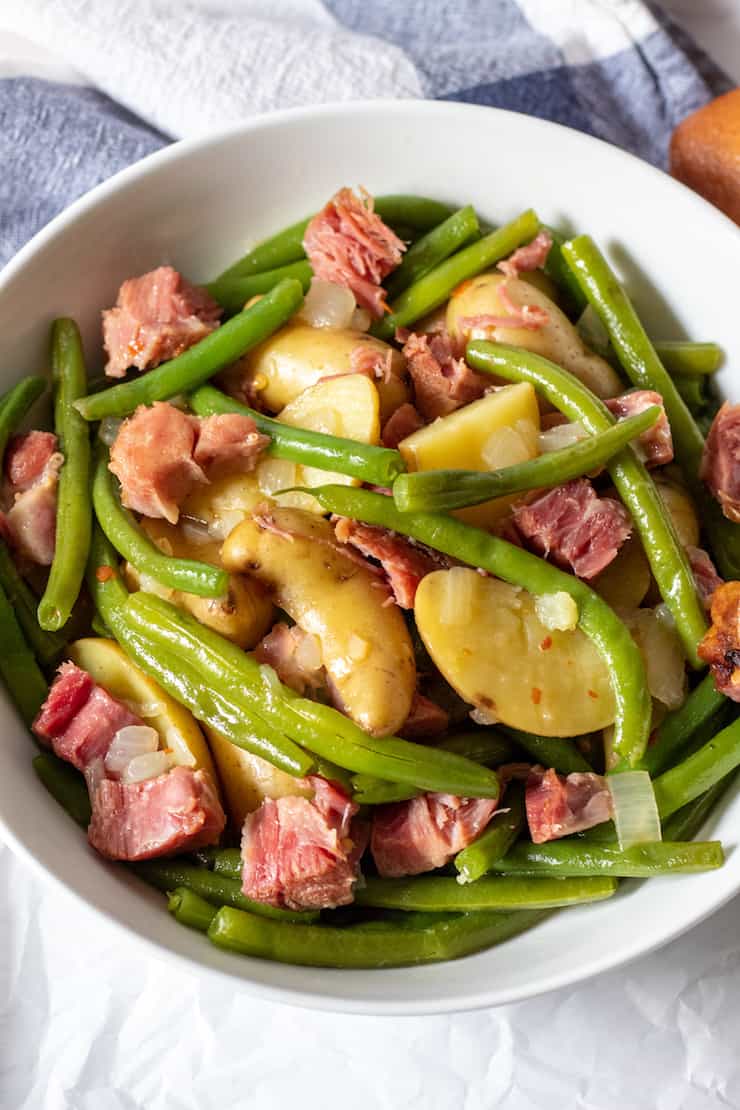 I have been making these country-style green beans almost weekly for the past month, usually for Sunday supper. No complaints from Meathead, in fact he's starting to expect a big bowl of country green beans every weekend, with cornbread to soak up all the 'pot likker'. It's pretty easy to make him happy with this one, it's a keeper ~ Kelly🍴🐦
Oh, speaking of being inspired by working the farm stand, you might like this Blackberry Peach Cobbler or Blackberry Crisp I made from the fruit I picked, or my Fire Roasted Salsa I made from the best tomatoes in the Midwest!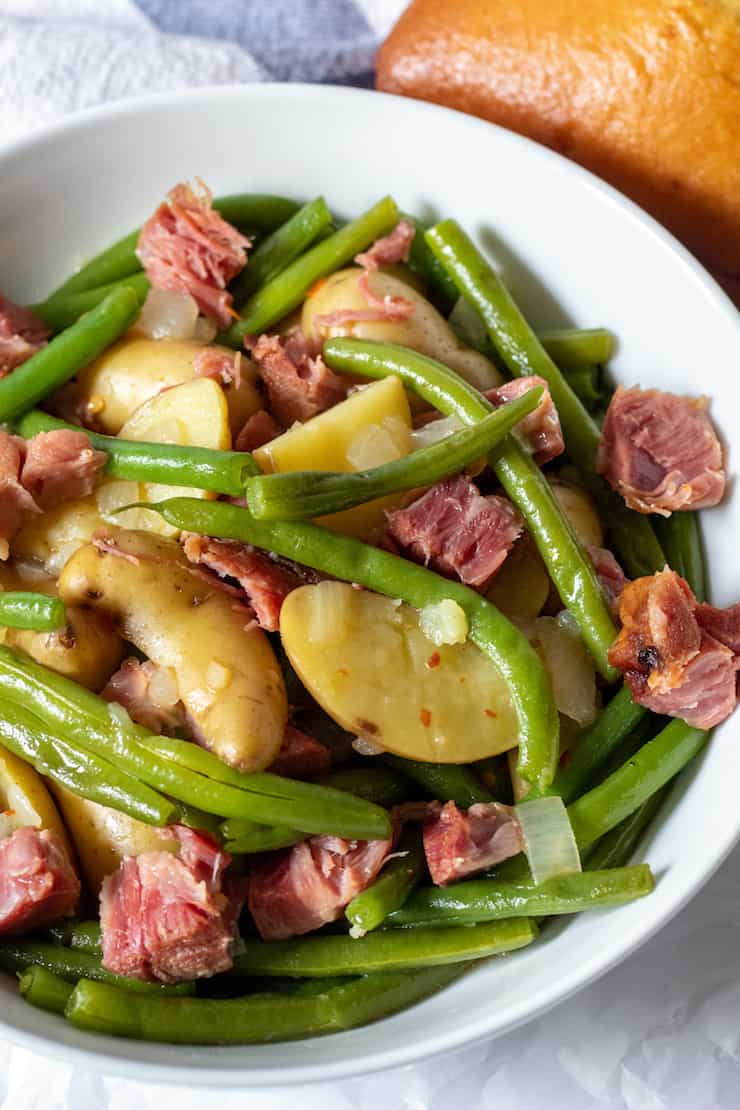 HUNGRY FOR MORE? Subscribe to my Newsletter and come hang out with me on INSTAGRAM, or give me a follow on FACEBOOK or see what I'm pinning on PINTEREST.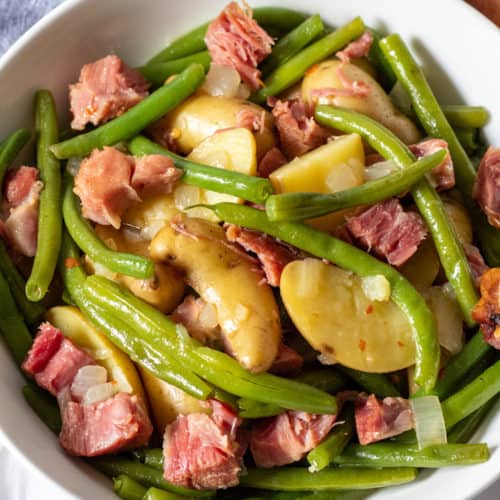 Country Green Beans, Potatoes and Ham in the Instant Pot
Country-style green beans in the pressure cooker with potatoes and smoky ham. Slow cooked flavor in under an hour in the Instant Pot.
Print
Pin
Rate
Course:
Main Course, Side Dish
Ingredients
1½

cups

chicken stock, preferably homemade

½

tsp

seasoned salt

¼

tsp

garlic powder

¼

tsp

crushed red pepper flakes

¼

tsp

liquid smoke (optional)

½

tsp

kosher salt

3

small, meaty ham shank pieces

½

onion, chopped

1¼ - 1½

lbs

fresh green beans, trimmed and snapped in half

8

small red or yellow new potatoes, peeled, cut in halves or quarters (or 3 medium/large potatoes, peeled, cut into small chunks)

1

tbsp

butter, divided
Instructions
Place chicken stock in pressure cooker and add seasonings, stir to combine. Place ham shanks in seasoned broth, seal pressure cooker and cook at high pressure for 20 minutes. Let pressure release naturally for 10 minutes and then manually release any remaining pressure.

Carefully open pressure cooker. Add the chopped onion and then scatter half the potatoes over mixture, followed by half the green beans. Place half the pat of butter on top. Add remaining potatoes, followed by remaining green beans and pat of butter on top. Seal and cook under high pressure for 5 minutes.

Release pressure manually and carefully open pressure cooker. Spoon green beans and potatoes into serving bowl while removing ham shank pieces/bones to cutting board. Cut/shred meat off the ham bones and add to green beans and potatoes. Spoon or pour cooking broth over green beans and potatoes and serve. Enjoy.
Recipe Notes
I like to use ham shanks in this recipe. Use 3 small, meaty pieces. You could also use a ham hock or piece of ham.
I like adding just a smidge of liquid smoke for added flavor but you can certainly omit it.
And lastly, you can play around with the amounts of green beans and potatoes, just don't overfill the pressure cooker.
Nutrition
Calories:
294
kcal
Carbohydrates:
60
g
Protein:
10
g
Fat:
3
g
Saturated Fat:
2
g
Polyunsaturated Fat:
1
g
Monounsaturated Fat:
1
g
Trans Fat:
1
g
Cholesterol:
7
mg
Sodium:
552
mg
Potassium:
1731
mg
Fiber:
10
g
Sugar:
11
g
Vitamin A:
1279
IU
Vitamin C:
46
mg
Calcium:
96
mg
Iron:
4
mg
Keyword:
country style green beans, instant pot ham