I'm working to get stuff on the blog and for the second time today I can't find my notes on how exactly I made something. What is going on? This move has so messed with everything. I guess I accidentally tossed a few recipe notes out amid all the clutter of unpacking. Or I misplaced them and they'll show up, like in a year or so. Ugh. But I have my photos and it's not hard to remember how I made these Middle Eastern Chicken Skewers.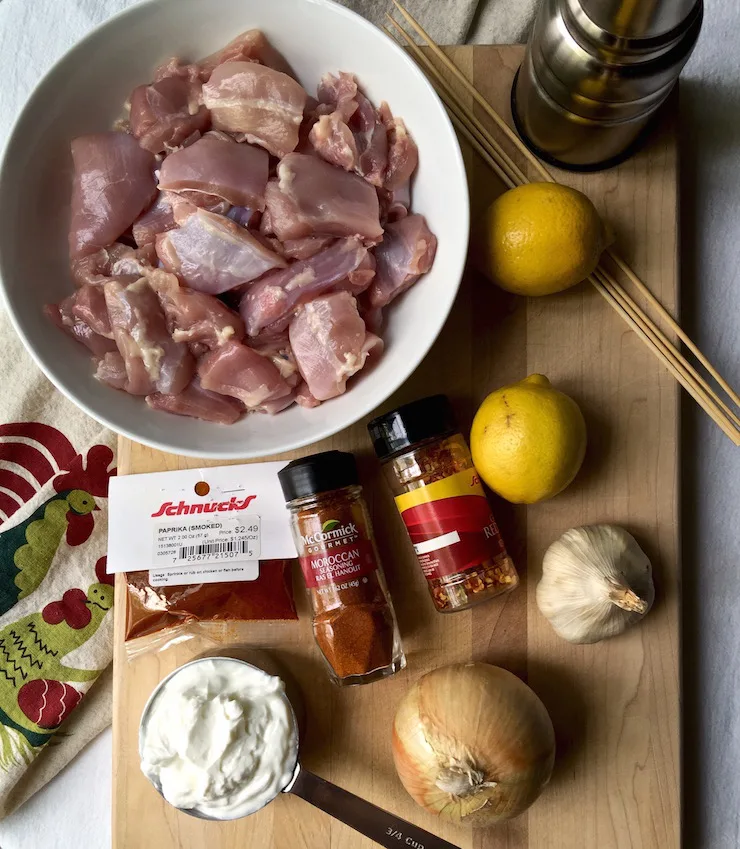 I love Mediterranean spices, especially Greek and Moroccan. While I use Greek seasonings a lot, I've never tried Moroccan at home, although I've ordered it out. I bought a Moroccan seasoning mix, also called ras el hanout. I'm sure you could make your own but I don't know how. Moroccan spice blend includes cumin, cinnamon, coriander, ginger, paprika and turmeric, I think that's it. Maybe cardamom also. Anyway, you can find it at a spice store or your grocery.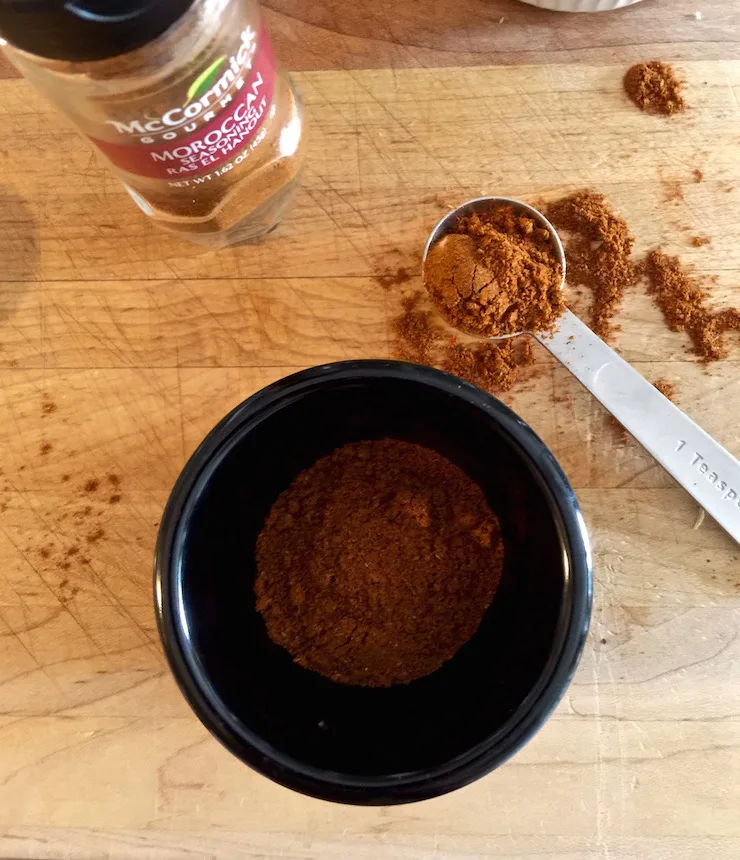 I like boneless chicken thighs for this, cut into chunks, and then marinated in yogurt, garlic, onion, lemon and the Moroccan spices. Then thread them on skewers and grill.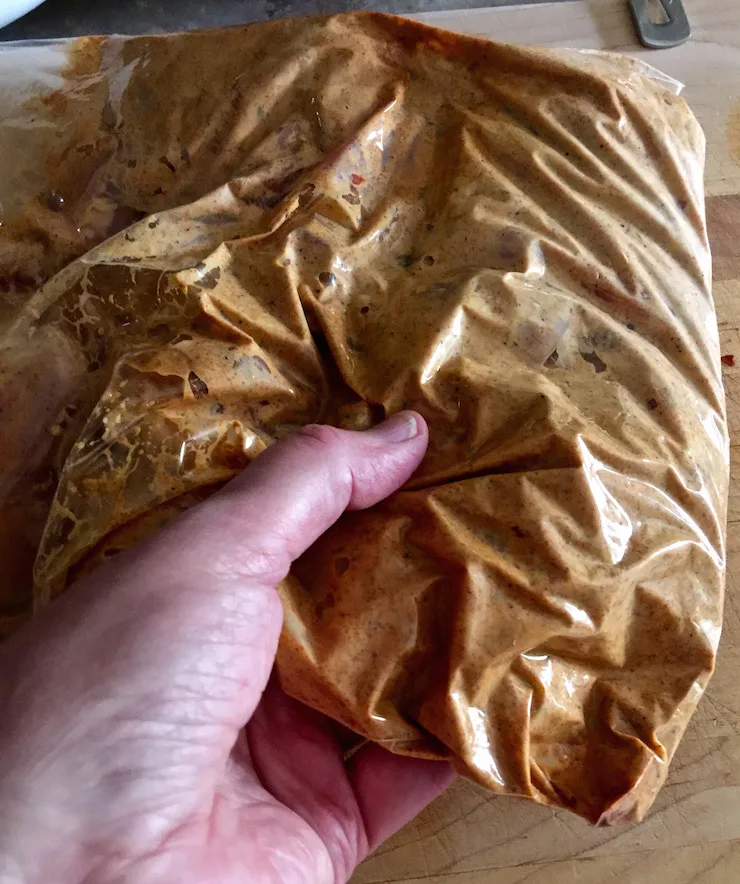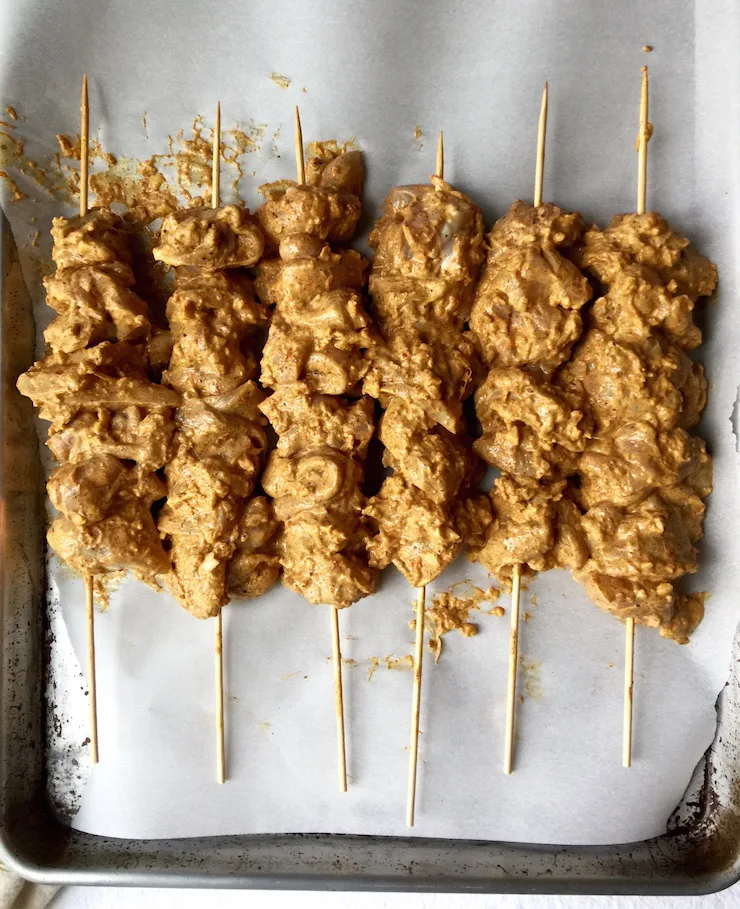 Once the chicken is done, fill some pita bread with the chicken, sweet onion, tomatoes, lettuce and drizzle some tzatziki sauce all over. So good. Tahini dressing is also good, and any leftovers make a great salad. Toss the leftover chicken with mixed greens, feta cheese, cukes, chick peas, onion and tomato, and that tahini dressing I just mentioned. Easy to make, see how below.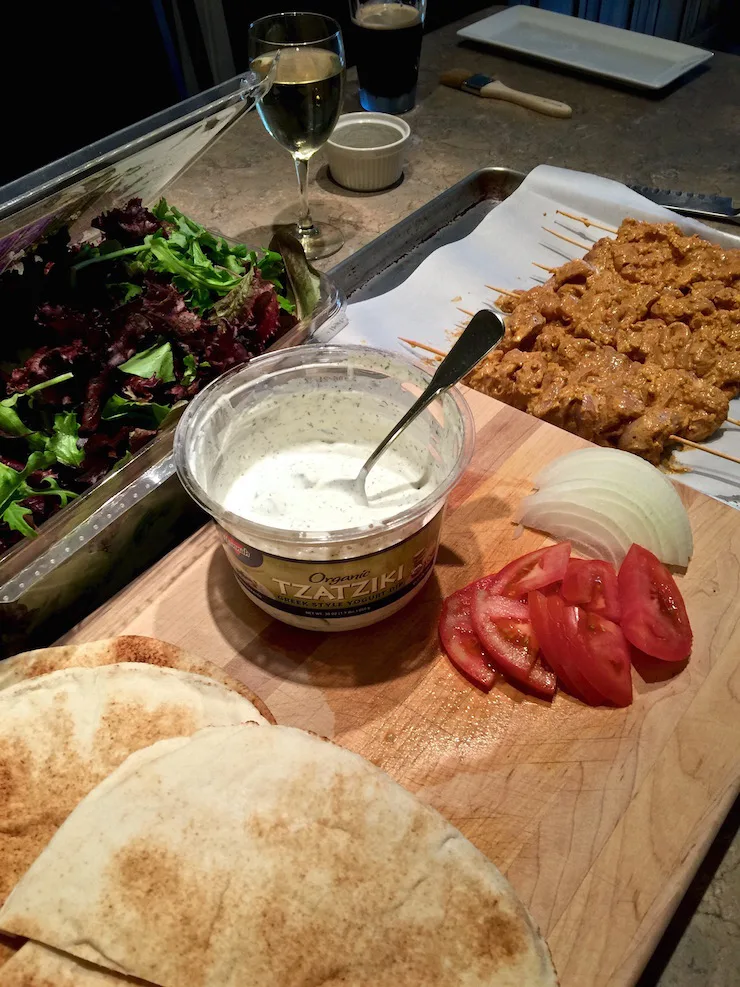 It's summertime, it's grilling time and these Middle Eastern Chicken Skewers are really good. And versatile. Trust me on this one.
Best, Kelly
Middle Eastern Chicken Skewers
Six skewers
Ingredients
2 pounds boneless chicken thighs, trimmed, cut into 1-inch or so chunks
6 wooden skewers, soaked in water
6 cloves garlic, finely minced
1 small onion, peeled and grated
¾ cup plain Greek yogurt, preferably whole milk (I used nonfat because that's what I always have on hand)
3 tablespoons lemon juice
5 teaspoons Moroccan spice mix
1 teaspoon smoked paprika
½ teaspoon crushed red pepper
Instructions
In a bowl, mix garlic, onion, yogurt, lemon juice and spices. Combine well and transfer to a large zip-freezer bag. Add the chicken and push excess air out before you seal the bag. With your hands, massage the bag so all the chicken is coated. Place in refrigerator and marinade at least one hour or overnight.
An hour before ready to grill, soak wooden skewers in water. Thread about 6 pieces of chicken on each skewer.
Clean grill grate and lightly brush with oil. Grill chicken skewers for about 5 minutes, then turn and cook another 3 to 4 minutes. Keep turning until chicken is done and covered in grill marks. Remove to platter and let rest a few minutes.
Serve on pita or flatbread with onion, tomatoes and tzatziki sauce, or whatever you like. Tahini dressing is great for serving or for a salad with any chicken leftovers, check out video below.
*Adapted from David Leibovitz
Tahini Dressing:
⅓ cup tahini
1 clove garlic, minced
1½ lemons, juiced (about 3 - 4 tablespoons)
1 tablespoon maple syrup
Pinch sea salt and fresh cracked pepper
Whisk ingredients in bowl and add hot water to thin to desired consistency.